Day 1: A VERY LONG TRAVEL DAY
On the day that we're leaving LAX, it was December 19th and we were at the Cathay Pacific check-in. Julie and I had spent a lot of time, money, and effort to try to arrange things for this entire trip so we wouldn't have to check-in any bags.
We had it down to those small, medium-sized rolling suitcases that usually fit on the overhead compartments in most of the American Airlines Boeing planes that we were accustomed to. We didn't even pack hiking boots thinking it'd be hot and Keens were enough even for the anticipated Thi Lo Su Waterfall adventure later on in the trip.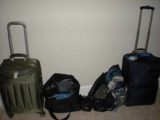 But when we were at the Cathay Pacific check-in desk, the lady didn't believe it when we weren't checking in any bags so she asked us to put our carry-ons on the scale. They both weighed about 12-13kg, but she shook her head and said, they're more than 7kg so we had to check them in.
Julie and I were dumbfounded. That was a ridiculously low number, and despite our efforts to plead our case, she was merely following protocol and doing her job and we had to suck it up.
Worrying about the wheels on Julie's new rolling bag breaking from the usual rough-handling of checked baggage, we knew there was nothing more that could be done. Worrying about it didn't do us any good at this point, but it didn't stop us from worrying anyways.
When we finally arrived in Hong Kong the next morning, we had to go through a long security line (in cynically typical Asian style, it was more like a bottleneck rather than a line) before finally getting to our gate in time for our connecting flight to Bangkok. Eventually, that flight took off on time and we eventually made it to the Suvarnabhumi Airport.
As we had to go to yet another connecting flight here (collecting our luggage and going through immigrations and customs in the process), we finally went on our connecting flight to Phuket.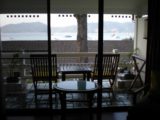 When all was said and done, it was 5:15pm on the 21st of December. There, we were finally settled at the Amari Coral Coast Resort near Patong Beach.
The place was pretty nice as it had the familiar tropical getaway look and feel with the open lobby, views of the ocean as well as Patong Beach in the distance, and we realized that it was probably a reasonable walk away to the somewhat Waikiki-like town. Julie was glad this resort was far enough way from the madness by the town to still feel like a getaway yet be accessible to the action when we desired to get into it.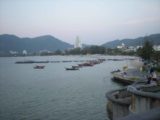 So by 6pm, we did exactly that. We walked into town turning down every tuk tuk (kind of like 3-wheel motorbikes with a canopied passenger sitting attachment) while trying to figure out which Thai restaurant to eat in.
We did all this while still fatigued from our long distance travel combined with jetlag. We ended up eating at some miscellaneous place where I had the familiar duck curry with coconut, but it was really spicy. Something neither of us were that used to. Julie's went safe and got pad thai, but she wasn't thrilled with it.
When we were done eating, we were so fatigued that we didn't bother walking further into Patong Beach Town. We just walked back to the end of town then up the hill and crashed in our room.