Day 2: BOND… JAMES BOND… ISLAND, THAT IS!
It was around 6am when we awoke. We were supposed to be picked up for an excursion to Phangnga Bay at 8am. So we got ready and quickly went to the buffet breakfast.
I always hated buffets because it meant fighting typical urges to stuff yourself silly, but when Julie and I saw chicken satay with peanut sauce as one of the items, we gorged on it and forgot about all the Western stuff (you know, eggs, bacon, ham, quiche, omelets, etc. – all that heavy fattening stuff).
At 8am, we were picked up from our hotel and were shuttled for about an hour (picking up another client along the way). The driving itself was about 30 minutes from the west side of the Phuket Island to the east side.
By around 9am, we got to the Royal Phuket Marina. When we finally identified this orientation (I personally didn't do a whole lot of trip research for this part of the trip), I came to the realization that the west side of Phuket (where Patong Beach was facing) was where the tsunami in 2004 hit (since the upthrust of the fault from the Sumatra quake was further west).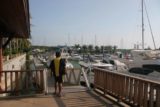 At that point, we met our tour guide, who called himself "Bam Bam" and the owner of the tour we were who was named Jenny. Soon thereafter, we were on the boat and set off for the excursion.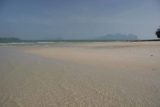 At 9:30am, we made a brief stop at some island where we could see some distinct karst peaks in the distance. The view of those islands were rather hazy, but we learned later that the haze came from the industrial pollution emitted by China.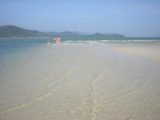 The beach island we were on was quiet and there we were given delicious banana bread as well as some fruits (including the southeast Asian dragonfruit as well as grapefruit-like palmelos). It was a pretty relaxing way to start off the trip considering we hadn't really done anything other than ride a boat to this beach and just chill out for a few.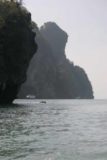 At around 10:30am-ish, we returned to the boat and went amongst some of the karst islets we had seen earlier through the haze. Upon inspection of the karst cliffs as we got close to the islets, we noticed many of them were overhanging.
There were also lots of tiny sea arches, which attested to how porous the limestone was as well as to how corrosive the forces of the sea were. Since we were also into arches as well as waterfalls, we took note, but many of the arches were rather insignificant and probably wouldn't excite people in much the same way that trickling or tiny waterfalls might have the same effect for waterfallers.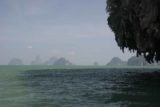 Some of the karstic cliffs seemed like whole sections were overhanging. The cliffs themselves were very rough and seemingly skeletal towards the bottom as it would frequently interact with the rising and falling tides.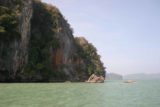 This part of the boat ride probably persisted for almost the next hour as we would just soak in the bright sunshine, the tall karstic mounds, and other boats that happened to be in our line of sight.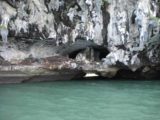 When there were natural arches along the way, we definitely noted those, but most of them happened to be very small and probably just a dime-a-dozen consequence of the porous nature of limestone interacting with water.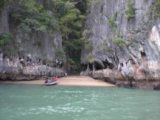 Somewhere along the way, we made a brief stop at a cove on one of the islets. It seemed kind of like a wild place as there were no docks, and we merely landed on a small sandy beach.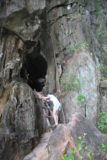 We were then given headlamps as we were told that we could get off the boat and head up a ladder leading up into a cave. The owner and a guide joined the group to ensure that everyone was accounted for.
We definitely needed the headlamps as the long cave definitely blocked out much of the total brightness of the sunny day. The surface itself was slippery in places in the darkness so we had to be extra cautious of our footing.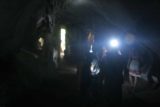 The guide explained to us some thing about the cave (though I honestly forgot a much of what he said). And as usual, there were stalctites and stalagmites (signature features of almost every cave) as well as sleeping bats hanging on the ceilings of the cave.
Eventually, the path ended at the other end of the cave where an opening faced a dropoff and a secluded (albeit inaccessible) body of water sandwiched between the karstic cliffs. I guess since this cave had no dead-end, it was technically a natural tunnel or natural arch (depending on one's definition of it). But there wasn't much more to this cave so we headed back.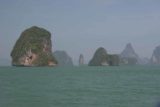 Next, we continued our boat journey amongst more impressive karstic islands as we were making our way closer to the so-called James Bond Island.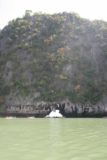 At 11:30am-ish, we passed James Bond Island and headed for a sea kayak pontoon. We were told that we'd return to James Bond Island later in the day so that allayed our fears that one of the checklist items on our itinerary would be skipped.
Here, we rode a sea kayak paddled by a local that went through a big sea arch (the breeze through here was nice breeze given the heat of the area). We passed by more overhanging cliffs as well as smaller sea arches. The paddler eventually took us to some outcrop. No other kayakers were doing this so this part of the tour felt kind of weird.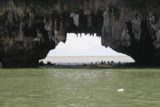 When we stopped onto the outcrop (barefoot), the rocks were sharp and painful. We were encouraged by the local guide to scramble further onto the sharp coral outcrop to get some photos. But truthfully, I wasn't sure this little side photo stop was really worth it.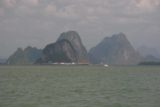 Anyways, when that was little photo stop was mercifully over, we rejoined the main kayaking route that everyone seemed to be taking and returned to go back under the sea arch before returning to the pontoon where we'd regain the larger boat.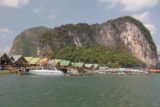 From there, we headed to lunch at some place called Panyee, which seemed to be a collection of buildings that were half-stilted and half-floating. The lunch itself was quite good because it consisted of some local food (mostly seafood influenced) but there was also some fried stuff for Westerners needing some sort of familiarity. In all, it was a nice mix of local catches and fruits in a BBQ lunch style that really hit the spot.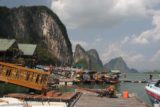 After the lunch, we walked around the Panyee town. Part of this walk was to satisfy our curiosity of what there was to see here, but I was also motivated to walk off some of the calories we had gained up to this point.
The town itself was interesting because it seemed like it was completely rested on stilts to deal with the tidal variations. However, it was disturbing to see some of the locals walking around town with baby gibbons trying to coerce you to take photos with them to get paid.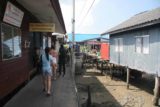 We learned that these gibbons were taken from their pregnant mothers in the jungles. Plus, only 1 in 10 gibbons survive the fall from the tree when the mother's killed. When all's said and done, typically for every gibbon taken from their natural habitat, 19 gibbons die. That seemed to be a rather unsustainable practice yet it's being done because there must be some profits to be gained that was substantially more than what doing it the "right way" would fetch in order for locals to be engaging in this practice.
We didn't need to be told twice about shunning this practice and not paying attention to the peddlers walking around town with the gibbons, but one of the kids who was on tour with us really wanted to do it. I guess he's too young to understand or he didn't care, and I guess that was probably the very thing driving the demand (how could one resist?).
Meanwhile, while walking around town, we checked out a school, a market, and even a mosque.
Shortly after the brief tour of Panyee town, we were back on the big boat and we departed Panyee for Julie's big ticket attraction – James Bond Island.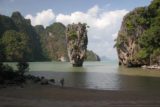 By around 2pm, we arrived at James Bond Island. At that point, we joined the crowds and tried to get that familiar photo of us back-to-back with that protruding thumb rock rising out of the bay. The shadows from this time in the afternoon didn't help the photography, but at least we could say that we were there.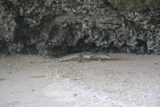 Just before we hopped onto the boat to depart James Bond Island, some of the tour participants spotted some kind of small alligator-looking thing. For some reason, I thought it was some kind of molitor lizard or something. But whatever it was, we all wanted to take photos of it, but none of us wanted to get near it.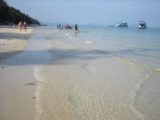 At around 4pm, we made it to another sprawling beach where some people were riding waverunners while others were just chilling out on the beach itself. We opted to just do the chilling out thing. Of course as the afternoon wore on, we could see sandflies were wanting a piece of our legs.
Nonetheless, all this was tempered by an additional helping of cut fruits for our tour group.
At 5pm, we were back at the marina, which ended our seafaring part of the tour. And an hour later, we were taxied back at the Amari Coral Coast Resort, which gave us a little bit of time to get changed and try to look up a place to eat in Patong.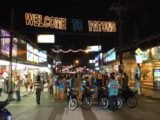 At 7pm, we walked back into town in the dark. We ended up walking well into the bustling town at a place called Savoey. It wasn't cheap (at least by Thai standards), but the fish was good (although the sweet chili was quite spicy) and Julie loved her Tom Yum Goong. The Thai Iced Tea also helped temper the fiery food we were eating and it really tasted like tea (unlike some of the ones we were used to back home in Los Angeles).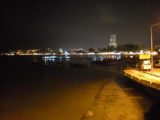 At 10:30pm, after weaving through lots of foreigners and peddlers (and probably some scam artists), we were back at the resort. It was yet another long day of touring. We still have another one to go tomorrow…