Day 3: MAYA ON THE PLAYA
Next morning. Same drill. Get ready, eat buffet breakfast. Except this time, the breakfast didn't have chicken satay and peanut sauce anymore! Doh! Only Chicken Tikka Masala, which itself isn't bad, but it's not good here and it's cold. The Nan was also kinda hard.
At 8am, we went through the familiar drill of getting picked up along with other tourists joining us on the van ride to the other side of Phuket Island. This particular tour seemed to be much busier and more popular than yesterday's. We were headed to Phi Phi Island today.
At around 9am-ish, we were back at the Royal Marina. The guides were once again Jenny (the owner) and Bam Bam as well as other supporting crew.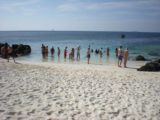 The first order of business as we left the marina was to boat over to some small island with some beaches and an area for snorkeling. The ride to get here was rather bumpy as we were cutting through some choppy waters instead of the inlets of yesterday's tour.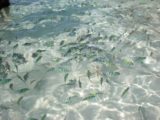 At around 10am, we'd arrive at the small island. At first, it didn't look like a promising place to go snorkeling because the waters were choppy, but then we walked to the other side of the tiny island and saw hordes of people in a tiny twin bay. It was here where the snorkeling was to occur.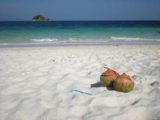 There was a good deal of guides throwing food into the water to get the fish to cluster around their paying customers for photo ops. I wasn't sure about this practice. I also was reminded once again that I can get seasick snorkeling as my headaches were slowly starting to return. Nothing some more banana bread and fruits couldn't fix I suppose, so we munched on those.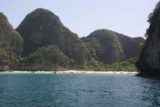 At around 10:45am, we started on the long journey to Ko Phi Phi Don Island. Again, it was bumpy and I tried to position myself in the boat to minimize the oscillating up-and-down motion to mitigate my oncoming seasickness.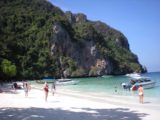 At around 11:30am, we got to some cove in a place called Monkey Island, which was one of the islands near Ko Phi Phi Don. This was a very busy place as it was loaded with lots of tour boats and people on the beach.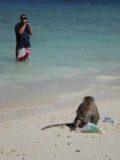 When we get off the boat and out of the chopping waters onto the shell (and glass) ridden beach, we quickly saw why the island got its name.
Barely a few minutes walk, we could see guides throwing bananas to a whole troop of monkeys. I think they're still gibbons (not unlike the baby ones we saw yesterday at Panyee Town in Phangnga Bay). I wasn't too keen on humans giving handouts to wild organisms, and we could see that these monkeys were totally dependent on people now. Some were even abnormally fat.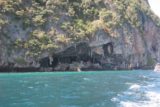 At around 12pm, we took off and briefly glanced at some kind of cave with some decorations that were somewhat facing the beach at Monkey Island. It was merely a photo subject as we didn't stop for a closer look.
Next, we then headed over to the resorty part of Phi Phi Don's dumbbell peninsula. It was here that the tsunami hit the area on both sides killing thousands. From the distance, it looked like this area had already recovered, but it might've been interesting to stop by here to check out the scene and get those postcard views of the two-sided beach. Not so on this trip though as we quickly turned away and headed to a different part of the island.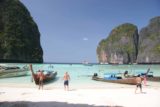 A few more bumpy minutes later, we got to lovely bay and beach known as Maya Bay (which I think is on Phi Phi Lei Island). This was Julie's holy grail as she said she saw this on some movie called "The Beach."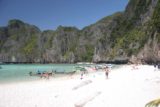 To her, the juxtaposition of blue-green shallow water with blindingly bright white sands and towering karst cliffs made this place on par with the Whitsundays in Australia or even the beaches and lagoons of Bora Bora. I might be inclined to agree with her if only this place wasn't so crowded.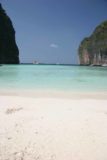 We picknicked here and took photos. Though I wasn't sure if any were of post card quality. There was one moment where we had someone on tour with us take a photo of Julie and I on the scene. However, I overlooked the fact that that tourist had hands wet with sea water handling the finicky Canon. Little did I realize what kind of impact that would have later on on this trip!
We walked around the small island after lunch and a quick time playing in the shallow beach. We got to know some other tour members (namely a Vietnamese lady and Cambodian guy from Silicon Valley).
By about 1:30pm, we snorkeled in some rough waters directly behind Maya Bay on the other side of the small islet we were on. Some of the coral reefs here were quite strikingly colorful (especially the pulsating purple ones), but the rough waters exacerbated my seasickness so I had to cut the snorkeling short.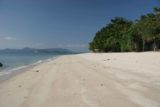 On the long haul back to Phuket, I tried to close my eyes and nap the headaches away. But before that, we briefly stopped at some place called Rang Yai Island at around 4pm. This place was another small islet with a white sandy beach.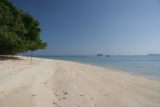 So we chilled here for a bit munching on more fruits while getting to know an Australian couple from the Gold Coast. I was teasing the lady about Triple J Radio (my favorite radio station) since she was working for a commercial competitor as a news reader.
At 5pm, we were back at the marina. And once again at 6pm, we were back at the Amari Coral Coast Resort.
It wasn't until around 7:30pm that we walked into town. But this time, we ate at some place called Patong Seafood. But we didn't buy any more of the expensive fishes like yesterday. Just a simple spicy crab curry and a pad thai did the trick.
Afterwards, we walked around the very busy town. There were some night markets here, but we weren't really in any mood to buy. Little did we know that this type of bustling night market scene would captivate us later on in the trip.
In any case, we dodged the tourists, peddlers, tuk tuk requests, massage requests, and shopowners urging you to check out their wares, and eventually made it back to the Amari Coral Coast Resort at around 9pm. Considering that we really wanted to unwind and recoup from another long day of touring and walking around, we were glad this resort was far enough away from the night life of Patong Beach but still within walking distance.
At 10pm-ish, I managed to catch some show about Global Warming Part 1 of 2. Wish I could've watched part 2 of it. The contents were nothing new considering this was an issue I worry about a lot and I already knew what was involved and why it's such a hard battle to overcome. However, I saw on the show that it seemed the people really holding the key to cracking this problem (as far as US politics was concerned) were the Swing States. Unfortunately, these were also the states that emitted the most pollution because they had most of the coal mining and burning facilities. So it was not surprising I suppose that these were the same states that voted Republican and re-elected Bush.
Anyways, we're on holiday right now. No need to get my blood boiling about this so I was glad I was tired and slept without any further thought on the matter.