Day 4: ONE NIGHT IN BANGKOK
Our flight back to Bangkok that was supposed to be for around 9am-ish this morning was cancelled so we had to settle for a flight around 1pm. This was a bummer because we wouldn't have as much time to walk around the city of Bangkok as we had wanted to. So all this time, Julie and I were scheming to try to figure out what sights to see and what to do in the limited evening we had in town.
We woke up without an alarm on this day knowing that there would be some down time this morning after brekkie before we'd be picked up to go to the airport to fly to Bangkok. The thing that probably got us to get out of bed sooner rather than later was the brekkie.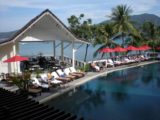 Once again, they didn't have the satay or the other Asian stuff we were looking for to. That was a bummer. So when we were done with the brekkie, we had some time to kill.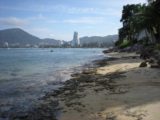 We briefly walked around the property as it was probably the first time we actually took a brief tour of the place we had been staying at for the past couple of days. Funny how we were finally getting to know the property on the morning that we were about to leave.
It wasn't until around 10:30am that we were picked up from the airport. This late start and down time gave me a chance to get caught up on some trip musings up to this point as well as organizing the photos. However, somehow, Julie lost her REI hat. We're not sure how, but it's gone now.
At 11:15am, we made it to the Phuket Airport. No incident so far… except for an unannounced gate change…
It wasn't until around 3:50pm that we made it to the Baan Chantra Guesthouse. Given the feedback that the taxi driver (who worked for this place) told us, we made our minds to try to get some sightseeing done tonight (for the recommended Wat Arun and Wat Pho) and make changes to our itinerary tomorrow to see the Grand Palace, which should've occurred earlier today.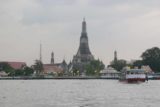 We had to make some phone calls with our tour operator first thing tomorrow morning, but in the mean time, we wasted no time getting the very helpful and friendly receptionist to help us book a tuk tuk ride to one of the frequent ferry wharfs to get to Wat Arun.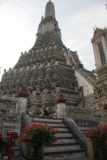 Within minutes, the three-wheeled tiny tuk tuk navigated the city streets and dropped us off within a short hop to the riverbank. There, we walked through an unfamiliar side street and little market before seeing the ferry crossing for a measly 6 Baht.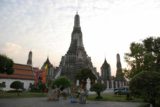 Not much later, we crossed the river getting decent shots of Wat Arun on the other side. When we landed, we quickly zig zagged to the towering temple (not quite knowing exactly where the entrance was). Along the way, Julie noticed some unattended cardboard cutouts before a view of the Wat Arun. She wasted no time putting her face through one of the face openings and I obliged with a photo.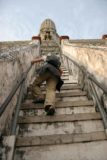 Just then, a guy came out to me and demanded money.
Julie and I looked at each other dumbfounded. Then, the guy pointed to the lower part of the cardboard cutout where 40B was written.
I sighed and reminded Julie of how something similar to this happened in Seydisfjordur, Iceland.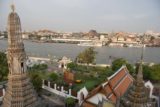 Anyhow, we paid, then continued on into the Wat Arun. There, we climbed up the very steep and exposed steps. There were two main flights of steps and it was tough not to feel butterflies in the stomach whenever we looked back the other way.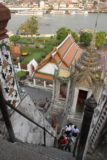 Still, there were nice views of the city and the river cutting through it. We spent nearly an hour here before Julie started pressing me to hurry up. She was worried that the other temple we were to visit (Wat Pho) would close soon.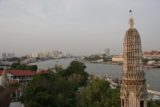 It was difficult to pry ourselves away from Wat Arun given this sense of urgency to move onto the next place. For each nook and cranny we explored while amongst the tall and narrow tower, we saw more views of the city or more interesting things about the tower itself that we didn't notice before.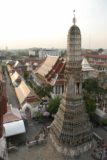 After putting up with butterflies in the stomach as we carefully made our way back down, we took some more parting shots of the impressive Wat Arun – both of its steps as well as from its base.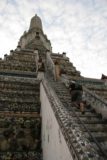 We seriously could have spent hours here trying to play photography games in an effort to communicate to imagined viewers just how steep and vertiginous this structure was. But all that came to an end when Julie hastened the pace further by forcefully making me stop and heading back towards the ferry to cross the river again.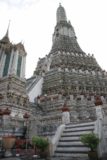 So by 5:30pm, we were back at the boat dock and 15 minutes later, we made it to Wat Pho. What made this place stand out was that there was a giant reclining Buddha. When we got to the ticket booth, we noticed the place was supposed to close at 6pm so we managed to make it in time I suppose.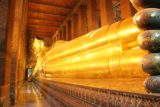 We took off our shoes at the entrance to the buddha shrine and then proceeded to walk around the massive idol trying to get photos of it.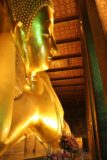 Julie's observation of the spiky head ornament on this Buddha's head prompted her to say, "His head looks like durian!" Clearly, having this southeast Asian fruit fresh was on her mind.
It was hard to get a photo of this giant idol in one go unless we photographed it from severe angles. And so that we did, though I'd imagine our photos wouldn't come close to communicating its scale.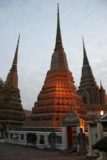 With the fading light of the day, we quickly made our way outside to check out the structures of Wat Pho knowing that there wasn't much time left.
Given the low light, we were forced to hold our breaths taking pictures of the chedis and fancy-roofed structures of Wat Pho. It wasn't an easy thing to do so quite a few of our shots turned out blurry since we didn't have our tripod with us at the time.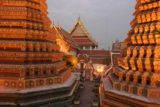 Still, with limited time to explore this place, we did whatever we could to explore it without any real sense of what else we were supposed to see here. That probably compromised the efficiency with which we were to tour the attractions.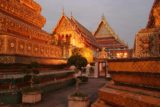 It turned out later on that there were a few more things we could've checked out, but they were either closed or we didn't know about them (since we didn't really know too much about Wat Pho prior to visiting it). Indeed, it felt a bit rushed, but I guess that was what happened when our flight departure was four hours later than what was planned.
So we eventually had enough and sought out a taxi to get back to the Baan Chantra.
Of course, a nearby taxi jumped at the opportunity seeing our need and offered his services. However, after being aware of the scams that can take place with taxi drivers and tuk tuk drivers, we worried about being another one of the victims.
Still, we quickly stepped in to the taxi and we headed off. It was pretty clear that the taxi driver didn't have a command of english that would facilitate meaningful conversation. On the other hand, the taxi driver asked us where we were from as well as whether we had eaten yet.
As a matter of fact, the taxi driver kept asking us if we wanted to have dinner and that he knew of some great places to eat. Fully aware of the joyriding schemes from both tuk tuk drivers and taxi drivers in Bangkok, we insisted on having him "just take us to the hotel, please."
So the driver continued zig zagging through the rush hour traffic. I kept my eye on the meter fully aware that the nice lady at the Baan Chantra reception told us we shouldn't have to pay more than 50 Baht to get back from Wat Pho to the hotel. Despite this, we were going on roads that didn't look familiar and eventually when the meter stopped at 58 Baht, the taxi driver stopped the car then said something that we couldn't quite understand in his limited english.
Julie started to freak and said, "Where's the hotel?" in a raise voice.
The taxi driver pointed to the alley way. This definitely didn't look like the street we arrived to the Baan Chantra in. In any case, it looked like we were had and now we had to figure out where we were and how to get back to the hotel.
At first, we walked down the small alleyway. Julie insisted that we not continue down this path. As the streets looked to get smaller and smaller, we turned back to the place the taxi driver dropped us off.
Thinking that we might have to catch another taxi just to get back to the hotel, Julie was getting really pissed at this point.
Next, we made a left and followed the main street hoping to find the Baan Chantra along the way (recalling the taxi driver saying it was a block away). But after walking a couple of blocks, we started to ask some people where our place was.
One particular exchange took place with a tuk tuk driver. Of course they offered us a ride, but we were more interested in knowing where we were and how to get back to our hotel.
So since I had a feeling we were dealing with another con artist, I was in a mood to be a smart ass when one of the drivers asked us, "Where you from?"
"Uh. China," I told him. I'm not a real good liar so I couldn't stifle my smile very well.
After a brief pause, the Thai guy said, "I know you come from another country. People from China speak little english. You speak english too well."
"Well, uh…" said I, and then I said nothing more. By that point, Julie figured we'll turn around and walk back the other way.
The next stop was some convenience store. Julie once again asked a local behind a cash register where the Baan Chantra was. The conversation didn't seem to be going anywhere because it seemed that hardly anyone in Thailand spoke english.
Then, someone in line who was a Caucasian living in Thailand jumped in and told Julie that our hotel was back the way we came (towards the place where the taxi dropped us off). She knew it was a "boutique hotel" so it was a relief to get this kind of help.
From that point on, we were back at the Baan Chantra at 7pm – finally!
So we briefly recovered and then asked the friendly receptionist where was a good place to eat authentic Thai food. Well, she suggested this Thai place right on the riverfront and about a block or two away on a really small street.
She already earned our trust earlier on when we checked in and got a tuk tuk ride to Wat Arun thanks to her so we didn't hesitate to take up on her suggestion. By around 7:30pm, we were at the restaurant.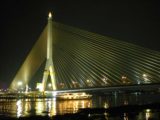 The restaurant was bustling with customers both Thai as well as farang (foreigners). It was interesting to see scantily clad women in short skirts and heels serving food and taking orders. These were the type of women you'd expect to see at some Asian car show I reckoned. Nonetheless, it was eye candy, but Julie would pinch me when she noticed I was staring.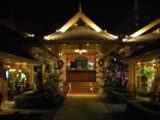 Plus, there was the usual live music, which we were familiar with back in Thai Town in Hollywood. The food was pretty good, though expensive. Still, it was reasonable by US standards considering we got three different seafood dishes. We continued our mission not to repeat the food poisoning I had from two previous trips (in Peru and in Kenya) by avoiding uncooked veggies.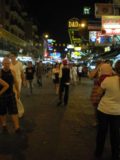 After our delicious but expensive by Thai standards dinner, we made it a point to walk a couple blocks to the famous Khao San Road. This was a very happening street with lots of foot traffic as well as shops, bars, clubs, etc.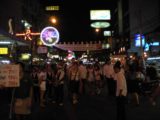 Again, there were even more of those Thai women dressed like Asian car show models plus there was a band playing funky music featuring a didgeridoo. That didge brought me back to our brief time at the Mindil Beach Night Market near Darwin, Australia.
By 9:45pm, we were back at the Baan Chantra, where we showered and slept despite the constant traffic noise just outside. At least we were tired so sleeping wasn't difficult at all.