Day 5: MONKS AND DRUNKS
It was about 8am when we finished breakfast (a nice curry with rice breakfast; I thought it was unusual to have foods that could've been lunch or dinner for breakfast) and took care of a lot of things while in the Baan Chantra lobby. There, we met our guide for the next 3 days who calls herself Pang.
She actually had pretty good command of english so Julie explained the situation to her (about changing up the itinerary for today) and reinforced that we should try to see the Grand Palace this morning and then try to fit in the Erawan Waterfall later today while forsaking the Sai Yak Noi Waterfall (which after some research on it, seemed to be a worthwhile collateral for the Grand Palace).
We also learned from the owner of the Baan Chantra that Thai Iced Tea was really a Chinese invention by those who migrated to Southern Thailand. We inquired about the history or authenticity of this drink we saw so often at Thai restaurants since some places didn't seem to know what we were talking about when we mentioned Thai Iced Tea. Thus, Chinese Thai would have this drink, but other places are probably not likely to have them.
She also told us that Phuket is more Chinese than Thai. She also said downtown Bangkok wouldn't have Thai Iced Tea.
In any case, she briefly disappeared and came back with a couple cartons of Thai Iced Tea.
Julie reached into her pocket to get out some Thai Baht to compensate, but the hotel owner said, "Don't worry. I'm happy to see our guests enjoying Thai food."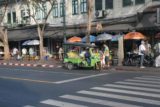 As Pang and the driver took us from the Baan Chantra to the Grand Palace, Pang asked us what we did last night. When we told her of our Khao San Road experience, Pang relayed to us some funny stories about how usually at this time of day, you get drunks who partied too hard and at the same time you get monks who do their morning rounds fielding offers for food.
The image of disciplined monks on the same street with staggering drunks was comical. Monks and drunks! Indeed!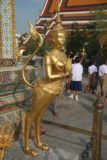 It was around 8:30am when the Grand Palace opened its doors. After loitering outside for a few minutes (since we got there too early), we walked into the huge place. It was difficult to try to capture it all in photographs as the complex was so massive and buildings were so tall and grand so we had to be selective about our photo subjects.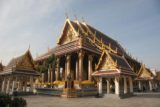 During this tour, we were quite glad that Pang could communicate easily with us so we better understood the history of the place and the significance of some of the attractions within.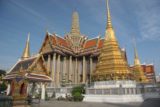 There was also quite a few places where you had to take off your shoes and walk barefoot anywhere close to a sheltered Buddha statue. We had read about this in our pre-trip travels, but little did we know that this would be a recurring practice in almost every temple we went to.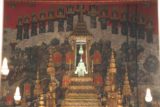 Our tour through the Grand Palace was a whirlwind of one temple after another. I recalled staring into a small temple where there was a jade Buddha perched high up on its little altar with quite a few people looking in.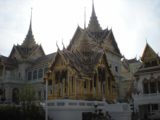 We also spent a bit of time trying to somehow compose our photographs and convey the intricate yet extravagant architecture of the sharp chedis and prangs adorned in bright gold (or some kind of shiny gold-like coating) which would really stand out whenever they were lit up by the sun. But since it was still pretty early morning, we were still within the shadows of these buildings and only some of the time we saw the full gold effect from the sun's light.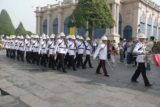 Towards the end of our tour of this place around 10am, we noticed a troop of Royal Guards marching while playing snare drums as they proceeded into the forbidden Royal Quarters. Pang said they were training for processions in the future.
The next nearly three hours were spent in the car. We got more familiar with Pang and her of us. But eventually, the long drive drove both Julie and I to sleep. I guess for once I wasn't doing the driving so I can now understand why sometimes Julie conks out while I'm driving when we go out on road trips.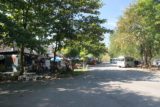 At 12:45pm, we made it to the rather busy Erawan Waterfall Car park. There, we ate some Thai BBQ and other local stuff. The Thai BBQ was finally something that was familiar to us as there was a multitude of these types of places back at home. And of course, it was fresh and yummy here. The sweet chili sauce was a bit spicier than Julie would've liked though.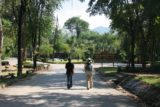 At 1:30pm, we finally stopped stuffing ourselves and proceeded to start the walk to take in the Erawan Waterfalls.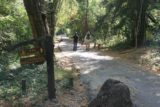 The hike began with about a 600m walk to the first of seven parts of the waterfall. We noticed that you could take a go cart for this stretch if you didn't want to walk, but we needed the excercise. Besides, we didn't want to pay extra for that.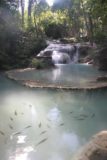 Once we were at the first tier, we took this opportunity to take photographs and bask in the shaded forest scenery. What was cool about this waterfall was that there was a multitude of fish at some of the plunge pools beneath. I couldn't remember any time in our travels where so much fish appeared in a waterfall photo.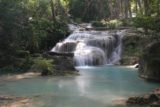 We spent some time at this first waterfall trying to capture both the waterfall and the fish together. We figured it wasn't often that we could combine the two things in one shot.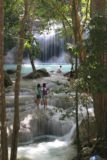 A few minutes later, we continued on to the second tier. This one was way busier than the first. As we were approaching the falls, we saw there were numerous little travertine pools and natural dams where people would chill out in their bathing attire to offset the somewhat tropical heat of the jungle.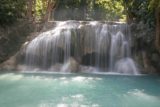 This was the level where you could see people stand in a tiny limestone shelter behind the waterfall. Speaking of limestone, there were also several components of the waterfall where the limestone gave the waterfall a texture and color that was very attractive.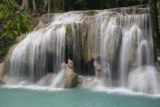 Julie and I spent some time just chilling out by one of these travertine dams while admiring the scene. We didn't join the folks here for a swim as we were quite content with the view and the atmosphere.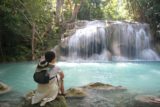 And like the first waterfall, we saw there were many fish swimming about right in front of tier 2 of Erawan Waterfalls.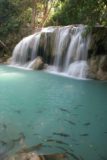 In most circumstances, this second tier would've been sufficient for most waterfall attractions before returning home, but we knew there were still another 5 levels to go. So onwards we continued (and spared Pang further boredom by lingering at tier 2).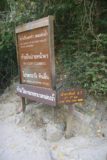 As the trail proceeded to climb above the 2nd falls, we were supposed to deposit some Thai baht for bringing plastic bottled water. It was an interesting system and the more I thought about it, the more it made sense. After all, if you want your money back, you'd better not litter. The only thing that could've improved this system was to charge more than what they were charging.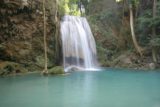 It was also at this time that we learned that the park was to close at 5pm. That only gave us about 90 minutes to check out the rest of the waterfalls…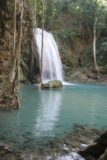 The third tier was only a few minutes walk past the 2nd tier involving a bridge that offered a view of an attractive cascade that didn't count. Unlike the first two tiers, the third tier was a tall, plunging type waterfall. Once again, there were some fish at its plunge pool. We didn't linger here for too long as we didn't have a whole lot of time to see the rest. So onwards we proceeded.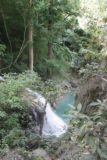 The path climbed up past the top of the third tier, which yielded a slight view of some smaller waterfall (or the brink of the third waterfall; we weren't sure), but it really didn't amount of much visually.
It seemed like a while before we finally got to the fourth waterfall. We had to climb up a long series of steps, bypassed an overlook, and even noticed some fair-sized cascades that easily could've counted towards the seven (but didn't).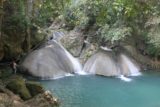 At one point, I noticed there was a real loud noise of falling water that could only mean that it had a pretty significant drop. Unfortunately, that big drop wasn't very visible.
Eventually, we'd get to what they called the fourth falls, which was merely a segmented cascade where one of the segments was a water slide. We just happened to catch one person doing the slide.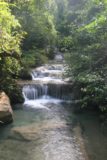 The fifth level involved quite a bit more uphill walking. There were even a few trees wrapped in what looked like prayer garments. Pang said those were supposedly holy trees or sacred trees and that these trees were not to be felled due to their sacred nature.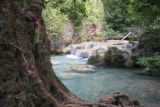 In addition to the garment-wrapped trees, we saw even more tiny cascades with pretty and colorful pools. It seemed that the further up we went, the fewer people we noticed swimming or hiking. If we weren't so pressed for time, I could easily envision making a stop and either swimming or just admiring the scene.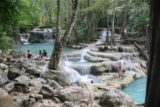 We once again passed more cascades that easily could've counted but didn't. When we got to the fifth waterfall, it was a bit anticlimactic. Although the falls were wide and had attractive limestone segments, it wasn't all that impressive. It was really merely one you can swim in.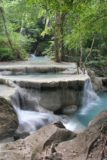 Continuing on.
The next bit of hiking was through more jungle as we were passing by some attractive but small limestone cascades. These didn't count as legit waterfalls in our minds so we snapped a few photos but kept pushing on.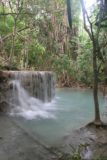 We'd eventually get to tier 6 after passing by yet more attractive limestone cascades that didn't count. The trail involved a few steps and rickety ladders, but nothing difficult.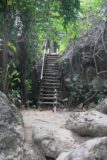 At this tier, there were a bunch of smaller cascades that you walk over until you get to the main part of the stream. With our Keens, this was no problem. Once at the main part of the stream, we could see several tiers further upstream as well as a wide attractive one at its bottom.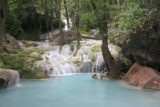 Once again, there was fish in the plunge pools to add to the allure of the place. There also appeared to be lower cascades further downstream but we couldn't see them since we're above them.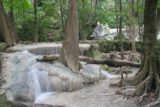 When we had our fill of the 6th falls, we now had to continue pushing our way upstream. The hiking was certainly rougher as we had to hike through parts of some streams (with slippery footing on the limestone) as well as hiking over tree roots and more rickety ladders.
There were also a few instances where we had to use all of our limbs in some spots that felt more like a scramble than a hike.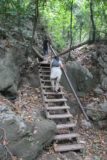 By this time, it was almost 5pm. I thought Pang was going to lead us back to the visitor center, but I was surprised when she pointed us further upstream where the trail continued to degenerate into even more of a scramble.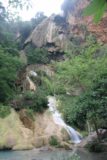 There were a few tricky and slippery parts, but eventually, we made it to level 7. At its current state, it wasn't anything special. Supposedly there were upper cascades falling over some overhanging limestone cliffs. If water was flowing over the cliff, you'd get three segmented columns of water each resembling elephant trunks. Since Erawan was supposedly a 3-elephant-headed Hindu god, it became clear why this water was so named.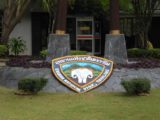 Still, Pang said it had been years (maybe four years ago) since water had come over that upper tier (even counting the wet season). She thinks it might have something to do with Global Warming.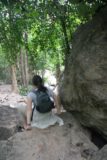 After taking our photographs of this attraction, we quickly made our way back to the Visitor Center, recovered our deposit, and then returned to the car park where the driver was awaiting us.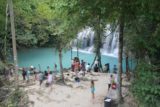 With this excursion over and with us forsaking the Sai Yok Noi Waterfall, we were now in a position to have plenty of time for the next two days to see temples in Ayutthaya and waterfalls in Khao Yai National Park. The prior version of this itinerary made things a bit tight as Erawan would've been done tomorrow morning…
At 6:30pm, we made it to docking area. There were a lot of cars here so apparently our Jungle Raft accommodation tonight was going to be pretty full of people.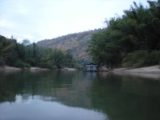 We next loaded up a smaller canopied motorized long boat and got in. Then, the boat took off upstream. Within a few minutes, we were at the Jungle Raft accommodation. We could see rooms floating on the river as well as the lobby area floating. Our pre-trip research indicated to us that this isn't a luxury experience as the shower is cold, the "shower stall" shares the same floor space as the toilet, the toilet doesn't flush (you have to dump water into the toilet after use), and you have to provide your own light source. But upon checking in and seeing our room, it was actually quite charming.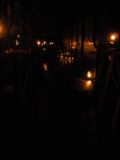 We spent Christmas Night having more Thai food (which some of them actually seemed more like Chinese food) accompanied by a large tour group of what seemed to be German tourists and few other individuals touring independently.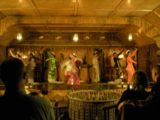 At 8pm, we checked out an ear-splitting dance show by the local Hmong People. The Hmong People are said to have come from Myanmar (Burma) as refugees who are now providing cheap labor on the western border regions of Western Thailand. Apparently, they have some Chinese descendence, which might explain some of the cultural similarities that we noticed.
As for the dance show, no one really explained what the dances mean. So all we did was just watch the local performers move about and some of the more muscular guys do backflips. The live music, which resembled Chinese opera, was very loud!
As the night wore on, Julie and I tried to sleep. This was made difficult because you can pretty much hear what your neighbor's doing and every time a river boat would pass by, the wake generated by that boat would rock everyone's rooms. The noise from the boat wasn't exactly good for the ears either.
But like I said earlier, luxury accommodation this is not!