Day 6: GETTING TEMPLED OUT
Despite the shortcomings of the accommodation conspiring to keep us from sleeping, we awoke at 6:30am fairly well rested.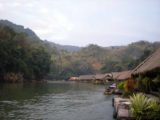 I spent the morning reflecting back on the experience of this place. It kind of reminded me of the Lacam Lodge at Sipi Falls, Uganda since it was also a back-to-nature type accommodation where there was no electricity and you had to bury your waste in their makeshift toilet. But this Jungle Raft had far more people as it probably had something like 40 to 50 rooms.
Still, I wondered about the environmental impact of this place considering that everything gets dumped into the river. Not only that, but all the boats going up and down the river must be releasing some of the fumes and fuel into the river as well.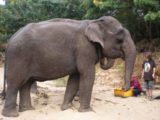 Over breakfast, Julie noticed that there was some commotion on the bridge connecting the raft with the main land. That was caused by some domesticated elephants who made an appearance for some feeding. Being used to seeing wild elephants in Africa, it felt kind of weird to be this close to these elephants.
At 8:30am, we left the raft. Now it was time to get to Ayutthaya.
The drive eastwards was pretty much through an extensive flat area dominated by rice paddies. The driver seemed to have a penchant for driving very fast. Since there wasn't a whole lot of traffic on the roads here, I guess we were a little more at ease than if we were to be frequently weaving in and out of oncoming traffic passing drivers in front of us.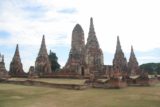 At 11:15am, we arrived at something called the Wat Chai Wat Tanaram. Here, the ruins looked old, but preserved enough to have chedis and prangs standing tall.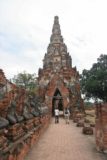 There were lots of beheaded Buddha statues here and we were able to climb up the steep stairs of one of the faces of the central tower. Once again, the stairs were steep and we really had to watch our step so we can avoid a rather nasty fall.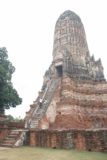 The steepness of the steps were probably more of an issue going down since we were constantly facing the long drop. It was interesting to see Pang confidently standing as she side-stepped her way down as she clearly must've been here many times. Meanwhile, Julie and I were employing the sit-and-scoot maneuver to minimize the risk of taking a potentially fatal fall.
Since this ruin was by the river, Pang explained to us that the city of Ayutthaya was strategically surrounded by several rivers. In fact, it was the capital of Thailand before Bangkok and after Sukhothai.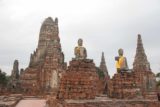 On the other side of Wat Chai Wat Tanaram, there were Buddha statues sitting facing the river before the main chedis. At least these statues weren't beheaded like the rest.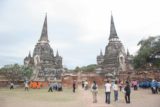 After lunch, which consisted of more spicy Thai curries, we went to the big ruins called Wat Phra Si Sanphet. A whole army of kids were out running amok. On top of that, there were quite a few other people touring the place as well.
Apparently what makes this ruin famous is that there were still three big chedis standing as well as a giant Buddha shrine nearby. It was difficult to try to capture these chedis since they were so big.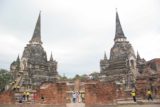 Perhaps the best that I could pull off was just to focus on fewer chedis and try to compose them in a way that somehow dwarfed the tourists to convey the scale of these things.
After walking around the big chedis, we walked to a neighboring building that housed a big sitting Buddha. Once again, it was shoes off here.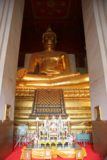 Seemed like there were lots of Thais in this attraction. In fact, many of them were here praying before the statue itself fronted by burning incense.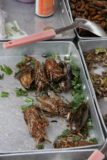 With all the ruins and temples seen so far, I was already starting to get templed out. So we made a quick walk amongst some local street vendors around the Wat Phra Si Sanphet. There, we noticed some rather unappetizing giant water bugs for snacking.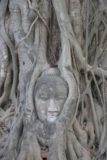 The next ruin we visited was basically famous for having a Buddha head covered in tree roots. It gate the sensation that a statue was either coming out through the roots, or the roots managed to decapitate the Buddha.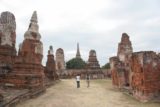 There were more ruins within this complex afterwards, which we quickly checked out before moving on.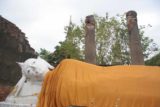 There was yet another one to seen at Wat Yai Chai Mongkhon, which featured an outdoor reclining buddha as well as one of the tallest chedis (possibly the tallest) in Ayutthaya.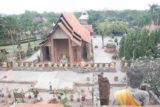 So we spent some time walking around the premises checking out more Buddha statues (many of them lined in a row, each wearing a golden sash across their torsos). There were some sections where we could climb up some of the steps for the lower chedis while soaking in the view around us.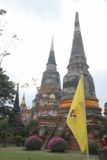 Meanwhile, the tall chedi drew a few more camera clicks from us, but it didn't really stand out much compared to many of the chedis we had seen so far. As a matter of fact, we were getting pretty "ruined out" at this point, and we could use a little change of scenery. Hopefully, Khao Yai might do the trick since we were going to head there tomorrow.
By 4pm, Julie and I were finally dropped off at our hotel to end the day and rest up for tomorrow.