Day 7: CROWD YAI
We left for Khao Yai National Park at 9am. Julie and I were sleeping during the car ride (again, not my usual MO since I try to get as much input as possible on every trip), but when we awoke, we were greeted to standstill traffic. Pang intended to take us to some local market before going to Khao Yai, but it looked like we had to go straight to Khao Yai.
Both Julie and I also noticed some strange grinding sounds whenever the driver had to brake. I wondered if this had anything to do with the guy going over the speed bumps too fast or if he brakes are just totally worn out.
The road to Khao Yai was interesting as it looked like there were giant caves suspended high up on the cliffs of nearby mountains. The scene was also noticeably more lush than the more urbanized scenery we'd been exposed to in Ayutthaya. Even with that said, it was strange to see the trees with leaves of changing color (since Thailand is technically in or close to the tropics).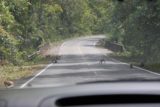 At 11am, we had lunch. It was a bit early but Pang managed to get the chef to get over his desires to wait another hour and just cook the food now.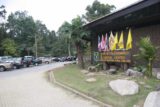 After lunch, we drove to the Khao Yai visitor center getting there at 12:50pm. Along the way, we noticed there were a bunch of monkeys along the road looking for handouts. Apparently, people have been feeding them and now they'll settle for nothing less than high-carb human food. I guess some people will never get it.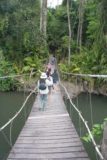 It also gave us an excuse to ask about tigers, which are the critically endangered cats of this part of the world. Pang said four years ago there were 10 left, but she fears they're either all gone or there are much fewer left now. That's a shame.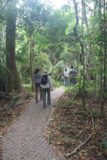 Come to think of it, I haven't even noticed any tiger carvings in the local markets. Mostly Buddhas, temples, and elephants. Even monkeys and lions (there's lions in these parts?). But no tiger. If only Thais (and especially the Chinese) could respect this species and let them live, but deforestation and poaching (especially for Chinese medicine) is all but assuring their extinction…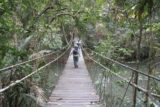 The visitor center was really busy. Pang took us on a rainforest loop hike, but there wasn't any waterfalls despite signs here indicating that the Kong Kaeo Waterfall (or Gong Gheo Waterfall) was only 100m from the visitor center. The one waterfall that was on the rainforest trail could only be experienced from the top. I think we could've done without this part.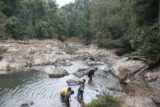 However, I wondered if we somehow overlooked the Kong Kaeo Waterfall because the amount of people we saw on the rainforest trail did not correlate to the number of cars in the car park. Clearly, those people must've been somewhere we weren't.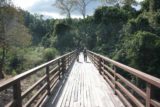 We next drove to Heaw Narok (I've also seen it spelled Haeo Narok) and got there at around 2pm. This was the waterfall I was looking forward to see because it seemed to drop in multiple stages for a cumulative drop of roughly 150m. After seeing how crowded the visitor center was (for an attraction we thought wasn't a big deal), it wasn't surprising to see another large crowd at the car park for this waterfall.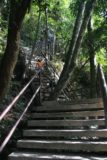 The 1km walk to the viewpoint of the falls involved going down lots of steep temple-like steps. The trail was paved the entire way and I noticed some people even walked the trail dressed in slippers or even dress shoes.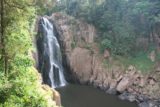 The view of the falls was the one where you only get to see the top 50 or 60m. There was only one overlook here and there wasn't another way to see the falls doing it this way.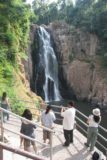 I was disappointed that we didn't get a chance to see the whole view of the falls like I saw on the internet photo of the falls taken by the Thailand Association of Tourism, I think (or TAT). At first Pang thought this view of the waterfall we showed her was from a helicopter, but we showed her multiple shots of the full view of the falls at different times of the year which made it seem unlikely that those people photographed it from the same spot in the air.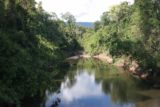 So I was disappointed that we didn't get to see the whole of Heaw Narok. Here was one instance where we might've been more persistent and flexible enough to seek out the overlook of the whole of the falls, but since Julie went with the guided tour, we had to take the hearsay and move on.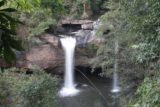 Next up, we drove to the car park of Haew Suwat waterfall. Along the way, we passed by a couple of campgrounds. The campgrounds were so densely packed with tents, you could probably open your tent and look right into your neighbor's. I don't think I had ever seen anything quite like this because we're used to assigned camp spots. It seemed like it's a free-for-all in Thailand.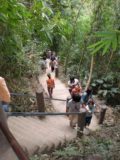 By 3:30pm, we were at the car park for Heaw Suwat. This was also a very busy and popular spot. It's difficult to try to get the photographs you want (especially if it involves setting up the tripod) without someone walking right into your photo.
This waterfall seemed to have a couple of drops side-by-side. Even though it wasn't tall, the fairly low volume of the water seemed to give it some character. I can imagine in the wet season how much of a raging mess this falls would be and therefore be unattractive.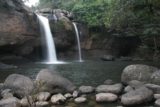 At 4:15pm, we were back at the car. Pang, sympathetic to my desire to see the whole of Heaw Narok, asked the staff about that viewpoint. At first, the person she asked also said it was probably from a helicopter. But then when I voiced my doubts because it's not likely you get the same shot from the air, the guy thought about it further and said (with Pang translating) that it was one of those things where someone guided a photographer from Thailand Tourism and is not a publicly accessible viewpoint. I guess that made sense since one of the photos in my trip research was accredited to TAT. So in the end, I just dropped the issue. I'm still not sure whether I buy these explanations, but that was that.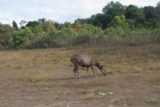 I wasn't accustomed to seeing deer in these parts, but it was interesting nonetheless. These guys seemed a little different in that they had a small head with big bodies. They were proportionally different than what we were used to in the Sierras, Rockies, or even in Utah.
However, we did stop to photograph a panorama, but the low lying cloud cover pretty much limited our visibility and kept all the forested peaks in the distance concealed.
At 5pm, we made it back to the Juldis Khao Yai Resort. We noticed there was some kind of cowboy festival on the outskirts of town. In fact, it seemed that the Thais in these parts were into the whole cowboy thing. I even saw a show about it on a Thai channel on TV. Pang said it's a Khao Yai thing probably due to the farming and agriculture outside the park.