Day 8: FINALLY, A PEACEFUL WATERFALL
With some time leftover, Pang decided we should check out another waterfall near the Heaw Suwat Waterfall before we leave for the Bangkok Airport. So we got an early start at a little after 7:30am.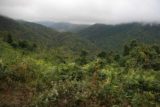 Before getting deep onto the road leading to Haew Suwat, we stopped at an overlook. This one yielded views of a valley in the distance along with lush scenery within the park boundaries. But the park sign was brutally honest when it flat out said that if it weren't for Khao Yai being a National Park, this viewpoint would've been nothing but farms and corn fields.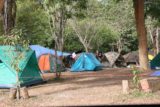 And by almost 8:30am, we were back at the Heaw Suwat car park once again passing by the crowded campsites. The car park now seemed much quieter than it was yesterday afternoon. Pang says that's because the Thais haven't woken up yet.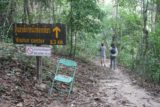 So we walked down the familiar path to get to Heaw Suwat Waterfall, but then we took a detour at a signed turnoff where you're supposed to take it with a guide. Since Pang was our guide, we followed her onto the more primitive path (i.e. some overgrowth and no concrete).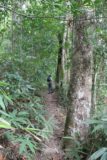 The path was a little steep in places as we descended down to the falls itself. There were a few downed trees to get over and some narrow ledges to stay on so I can easily see why they want you to come with a guide.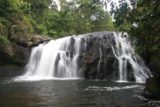 The falls itself wasn't all that tall as I'm guessing 5m or so. But the one thing this one had going for it was that it was peaceful and quiet here. Just us and the sound of rushing water and even a few songs of birds perched invisibly to us somewhere in the forest canopy.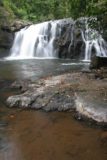 By 9:30am, we were back in the car. I think the walk for the Heaw Sai Waterfall (which I later learned was its name) was about 1km each way. But the steepness and scrambling nature of the hike definitely made it seem like it was a bit more strenuous than the other waterfalls we had visited in Khao Yai thus far.
As we exited Khao Yai National Park, we noticed another one of those Asian deers grazing in the grass in one of the more open areas. If we weren't so intent on going back to the airport at this time, we might've been inclined to stop for it.
The drive back to the Suvarnabhumi Airport in Bangkok was uneventful as far as I was concerned because I was once again asleep. This is why I prefer to do my own driving, but Julie feared that I might get in an accident what with how crazy the driving is in the cities here.
And by 12:30pm, we bid farewell to Pang and the driver (not the talkative type). And so concluded the Southern Thailand portion of this trip. Next up was Northern Thailand; starting with Chiang Mai, which was where we were flying to next.