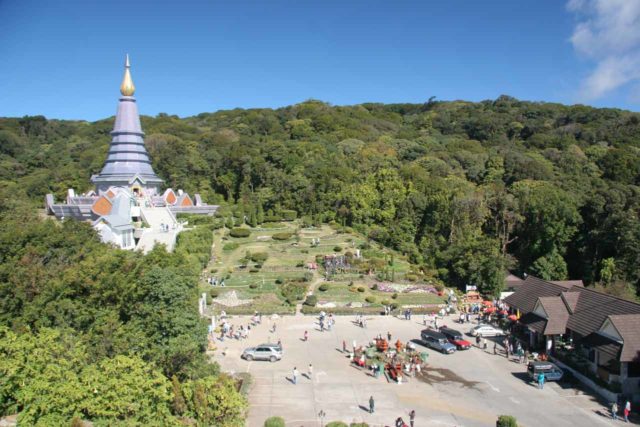 28-December 2008 to 7-January 2009:
At this point, I was getting worried because the last time this happened was back in Peru and even though it was kind of working now, it was merely a matter of moments before the lens would become stuck completely. Since we're not even half way through our trip, this was worrisome.
And sure enough after a few more minutes of touring the temples at Doi Inthanon, the lens got completely stuck. So from now on, it was wide angle mode from here on out…
Day 8: THE WALKING STREET CONVEYOR BELT
We arrived in Chiang Mai at a little before 5pm and met our guide Udon along with our driver Mr. Dop.
Unlike Pang, Udon's english was more limited and we had to make a effort to try to meet him half way and understand what he was saying. Still, it was better than most Thai people we've encountered who spoke little or no english. Plus, I didn't have a prayer to try to learn the language and get my head around the Thai script; especially when I'm in the middle of trying to learn how to read and write Chinese.
The airport wasn't far from Chiang Mai city. In fact, it was nothing more than say 15 minutes. So we noted that the central part of Chiang Mai was surrounded by a moat with several "gates" on each side. And like Bangkok, it was busy but not as busy as I had anticipated.
So at 5:15pm, we got to the De Naga Hotel, which we promptly were shown to our room which was quite nice and get settled. We were going to meet up with Udon again at 9am tomorrow morning to continue the tour, but in the mean time, we wanted to check out the night life scene in Chiang Mai.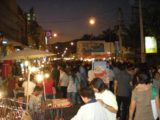 And the timing couldn't have been better. That's because tonight was Sunday and that meant the so-called Sunday Walking Street was on today. So by 6:15pm, we immersed ourselves in the chaos that was the Sunday Walking Street (not to be confused with the daily Chiang Mai Night Bazaar), which was a few downtown city blocks transformed into a giant swap meet of handicrafts, local Thai foods, street performers, and lots and lots of people.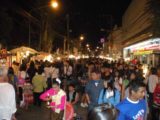 The scene was electric, but as the night wore on, it seemed that the place get even more crowded. We came in thinking we might be able to check out the end of the Sunday Walking Street (probably around 1.5km one way), but when we got to a busy intersection (again all pedestrian traffic at this time), we saw that there was still yet another city block to go.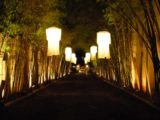 Given how difficult it was to move from place to place while being in this Walking Street Conveyor Belt of humanity (while being cognizant of pickpockets for sure), we decided against going further and headed back to our hotel.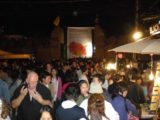 By 10pm, we were back at our room. We bought a few souvenirs to take home (a nontrivial feat since there wasn't much room in our luggage which would've been carry-ons on say American Airlines but not so for Cathay Pacific) and also munched on some snacks like the mango sticky rice with coconut milk and some tasty jackfruit. Julie wouldn't let me eat some of the cheap Thai food on offer on the walking street so we settled on some restaurant we knew catered to farang (foreigners) but was still relatively cheap at around $10 USD for the whole dinner.
Day 9: MORK FA LA LA LA LA
At 9am, we left the hotel and made our way north to this place called the Mae Malai Market. It was on the outskirts of Northern Chiang Mai.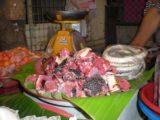 The place featured a bunch of local products from crickets to worms to waterbugs, grasshoppers, spices, pork organs, snake, iguana, etc. We actually saw insects being served on a street cart when we were touring in Ayutthaya so this market didn't really surprise us.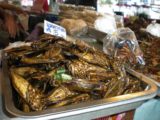 Udon told us that many tourists don't believe that we can eat insects. But to be honest, some of the big water bugs, crickets, and grasshoppers didn't look all that appetizing. Still, I wondered what crickets would taste like, especially since they seem to plague our home back in LA.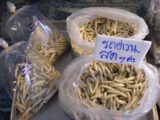 Just walking around this market was kind of an adventure in itself. Just about every stall or aisle had more insects, snakes, or other conventional meats like chicken or frog. Julie and I wondered if any of these stalls or aisles carried stuff that wouldn't shock farangs like us. Perhaps the most normal things we saw at the market were the spices and chilis. We knew that Thai food could get very spicy and these were the reasons why.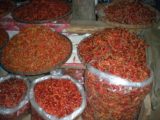 In any case, as tempted as I was to take a dive and try out one of these insects, I think my conscience got the better of me. So Julie and I eventually left the market empty-handed and returned to Mr Dop's car along with Udon.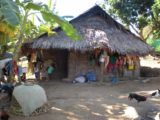 At 10:25am, we paid a brief visit to the Mork Fah Village. There wasn't anything here, but we did get a glimpse of how poor the villagers here are and even got a glimpse inside one of their homes. I think we could've done without this part of the trip though.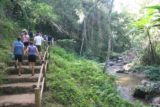 At 10:45am, we made it to the Mork-Fa Waterfall car park. Udon said this waterfall was small and there wasn't much water, which kind of dampened my expectations about this place. In fact, I had expected this to be one of those dinky unknown waterfalls, but you wouldn't know it from how busy the car park was.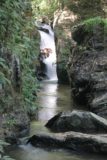 After walking along with a line of other visitors for roughly 20 minutes (passing the Ob Noi Waterfall along the way), we made it to the falls itself, which was much bigger than we expected. I'd say the falls has to be at least 25-30m tall though Udon said it was about 60m tall.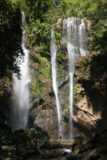 Now if Udon said this waterfall was small, I was beginning to wonder what the other waterfalls that he said was "small" would be like.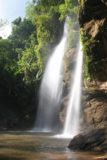 Once again, there were heaps of people around the falls which made photographing it rather tricky and stressful. We took a lot of time photographing this attraction in between people scrambling in and out of each others' pictures.
At 11:30am, we were back at the car park where we next proceeded to head to Pong Dueat, which was said to be a hot springs and geyser area. Such geological phenomena wasn't what expected to see in Thailand, but nonetheless, our program called for it and so we went.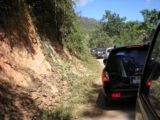 At 12:40pm, we got to the Pong Dueat Geyser Ticket Booth, which was backed up by several cars in a traffic jam. Apparently, the rate of processing at the gate couldn't surpass the rate of people coming into the park.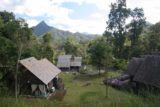 I couldn't believe there was traffic here considering how much mountain roads and narrow, winding unpaved spur roads you had to take to get here.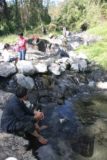 We stopped for a brief lunch here before chilling out for a bit on one of the thermal streams. We dipped our feet into the stream, which felt pretty hot. A lot of other people were engaging in this activity, too. The thought did cross my mind whether the small cascade responsible for these hot pools could've counted as a waterfall, but I decided to just leave that be since the waterfall wasn't obvious.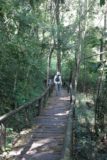 Then, we proceeded to walk on a boardwalk in a rainforest setting as we were making our way over to the Pong Dueat Geyser. Usually, we'd associate rainforest walks like this to a waterfall, but given the subtropical environment of northern Thailand, I guess it wasn't all that surprising to have these settings in more diverse environments.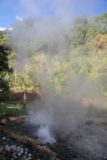 Ultimately, we got to a view of the Pong Dueat Geyser, which was nothing more than a couple of sputtering vents. Still, that didn't keep the throngs of visitors from surrounding the overlook and making this a very busy scene.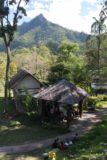 At a little after 2pm, it was time to check out the Mae Sa Waterfall. By 3:30pm, we were at the car park. Given how late in the day it was, we were beginning to wonder if we'll have time to visit Doi Suthep, which was also on the program today. Udon wasn't worried, but that kind of made things rushed for the Mae Sa Waterfall experience (that made me kind of wish skipped the local market and village visit).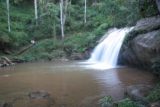 The Mae Sa Waterfall was similar to the Erawan Waterfall in that it had multiple steps to it. This time, it had supposedly 9 levels instead of 7. We began our touring at the furthest parking lot, which was close to level 4. Most of the falls that we saw weren't anything special as they consisted mostly of cascades.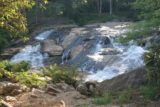 So we spent the next hour or so just collecting the waterfalls before heading back. Falls 9 and 10 weren't really anything to write home about. Falls 4-8 were the most interesting. Falls 1-3 were cascades though Falls 2 and 3 were such that I don't think we saw them or that they were so small that they could've easily been missed.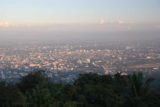 At 5:20pm, we made it to Doi Suthep, which surprise surprise, it was crowded! This temple sat on a hill overlooking the greater Chiang Mai area. Suffocating incense fumes filled the area around the main temple itself and the floor was dusty, which we could tell because we had to remove our shoes.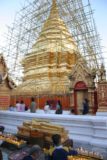 The chedi at the middle of the temple was surrounded by scaffoldings, which made photographing this attraction a real bummer. It was almost time for the monks to do their chantings so we stayed until we were kicked out.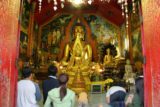 Next, we explored more of the complex, which consisted of more worshipping quarters, each of which had Buddha statues in them. I recalled we looked into one of them that even had a golden Buddha (though we weren't sure if they were real gold or not).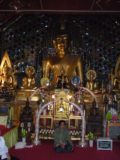 In other sections, there were more lit up candles with people praying and bowing before other Buddha statues. This practice kind of reminded me of my childhood when Dad would encourage me to engage in the same practice where we had a little altar in the house dedicated to Dad's dad.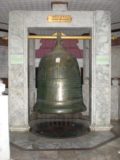 At 6:15pm, we got back to the car, and then proceeded to head back down into town. We did manage to stop at a pullout to get a view of the city in night lights. But other than that, it wasn't anything special.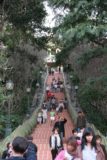 But now that it was rush hour, Mr. Dop took numerous side streets and narrow back alleys to get to the De Naga Hotel. He really seemed to know his van well because there were numerous tight spots where you had to pass other cars as well as deal with people of scooters or motorbikes on these tight streets. I guess it's times like these that having a driver who knows the area pays off.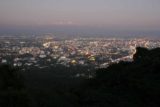 By 7:15pm, we were back at the hotel. With the night being young, we decided to head back into town and do some walking to some restaurant called Whole Earth. But when we saw that the majority of customers were farang, we started to wonder if this restaurant was overrated.
Nonetheless, we got our food here and it was certainly priced like it was food for farang.
At 10pm, then walked a small portion of the Chiang Mai night bazaar which was on the way. We figured we'll be back to this area tomorrow night. But clearly, this lacked the electricity and energy of the Sunday Walking Street.
Day 10: ANOTHER CAMERA FAILURE
We got an early start today at 7am. We managed to leave the busy streets of Chiang Mai, which were eerily quiet. Clearly, as Udon had said, the rest of the city did not wake up yet. We headed south to Udon's home town Chom Thong before heading inland to the top of Doi Inthanon.
During the drive up the mountain, I couldn't help but notice the quantity of full-sized SUVs and pickups passing us. Apparently, the American car makers got to Thais and appealed to their love of driving. Clearly this isn't a good sign for the country's environment as well as oil addiction.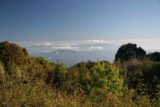 At around 9am, we made it to the Doi Inthanon Summit at some 2565m, making it the tallest point in Thailand. It was already crowded when we got here plus it was pretty cold (say around 40-50 degrees F), but nothing Julie and I hadn't seem before. However, it was comical to watch Thais suffering because clearly they're more accustomed to warmer weather.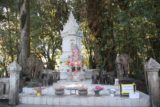 We spent some time walking the Ang-ka Nature Trail, which went through some temperate forest as well as pass by the ashes of the 7th King of Thailand. In fact, the name of this place "Inthanon" relates to the name of the king.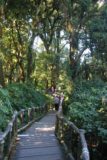 The rest of the nature trail was a quiet stroll on a boardwalk amongst wetlands and forest that were perpetually wet due to the condensation of the cold weather up here mixed with the warmer weather a short distance down the mountain.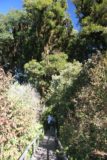 The walk itself was quite pleasant albeit a little crowded. The sun started to penetrate parts of the trail, which started to warm things up a bit. We could definitely start telling the difference in temperature between the sunny zones versus the shadowy zones.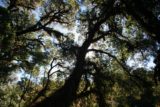 But given the consistent moisture that this area typically saw, we noticed how fuzzy the tree trunks and branches were around us. When looking against the light, they created some pretty funky patterns that drew a few random camera clicks from us.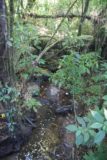 We even saw the source of one of the watercourses that were to feed some of the larger waterfalls here. It was hard to envision how something so small and modest could quickly grow into much larger rivers feeding gushing waterfalls not much further downstream.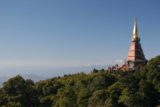 Unfortunately, people thoughtlessly threw coins. Dunno if these folks realize that people downstream probably drink this stuff.
At 9:45am, we made it down to the two chedis and it was even more crowded down here.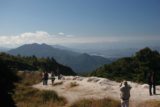 The chedis with their gold or brass covers were shining in the blue skies today. And thus they made excellent photo subjects. However, I had already noticed that the zoom lens had a tendency to get stuck and required a bit of coercion to get it moving past the stuck point.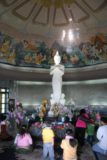 That was when I thought about the guy who took our picture at Maya Beach with hands wet from seawater. I should've let the guide do it who also offered. Big mistake!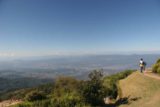 At this point, I was getting worried because the last time this happened was back in Peru and even though it was kind of working now, it was merely a matter of moments before the lens would become stuck completely. Since we're not even half way through our trip, this was worrisome.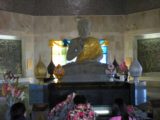 And sure enough after a few more minutes of touring the temples at Doi Inthanon, the lens got completely stuck. So, it was wide angle mode from here on out.
Inside the chedis, there were circular rooms with Buddha statues situated right in the center of the rooms. Once again, many of the Thais here viewed them as holy and kneeled to do their worship.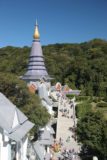 Trying not to let this setback ruin the mood, we continued exploring both chedis, which Udon said one was made for heaven and other was made for hell. At an overlook from one of the chedis, we could see signs of complete deforestation in a neighboring valley. Udon said he could remember when all of it was forest. Now, we said that valley is prone to landslides and flooding. Clearly, he lamented this development as I was disturbed by it.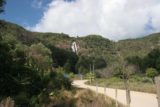 By 10:40am, we were back in the car. It was during this time that we toyed with the idea of stopping by a camera shop at the end of the day in Chiang Mai to try to replace the broken lens. So there seemed to be some sense of hope that all was not lost on this trip. Nonetheless, at least the photos taken today would be handicapped by the stuck lens.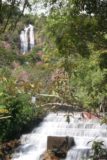 At 11am, we made it to the Siriphum Waterfall. This consisted of a pair of giant waterfalls, but it wasn't easy getting a clean view of the falls due to the vegetation in the foreground. It seemed that the car park and entrance was for some sort of botannical garden but it didn't improve our views of the waterfall so we decided against walking around there.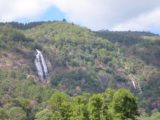 On the way out, I had Udon and Mr. Dop stop at a hilltop. It was here that I thought we had the best views of the Siriphum Waterfall because we can see them dwarf the buildings below it.
Then, we continued to head down the mountain. Julie noticed many Hmong people dressed in ornate, dark clothes. Udon said there's some kind of New Year's celebration and they're wearing their traditional clothes.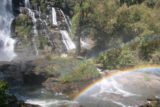 At 11:40am, we made it to the Wachirathan Waterfall (though I also have seen it spelled with a "V"). We passed by the Sirithat Waterfall on the way down, but Udon said it was small. Still, I kind of wished that we got to see it since after all, Udon though Mork Fa was small, and it was certainly legit.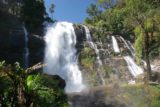 This waterfall was actually quite nice. It was also quite crowded. There was enough water to set off mist and spray that muddied up the lower parts of the trail while producing rainbows.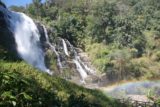 Udon said this falls was about 80m tall, but my guess is between 50-60m. But regardless of height, this one's impressive.
At 12:30pm, we ate at a restaurant that served up some delicious som tam (papaya salad) as well as the usual northern Thai curries and Chinese-style stir fry vegetables.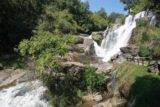 After a satisfying lunch, we went to visit the Mae Klang Waterfall. At 1:30pm, we made it there and wasted no time walking towards the overlook.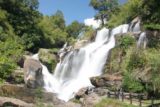 Now this was another one of those waterfalls that Udon said that was small and didn't have much water. But when we all arrived at the viewpoints and got to see the falls in person, I told Udon, "I don't believe you anymore when you say a waterfall is not big."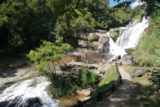 The Mae Klang Waterfall consisted of a main drop followed by several cascades further downstream. You couldn't get the whole scene in one shot. So we took our time taking photos and posing at the waterfall before leaving.
Come to think of it, the Mae Klang Waterfall experience was actually quiet and peaceful compared to just about all the other Thai waterfall attractions we had seen up to this point. All in all, it was pleasant.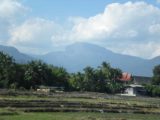 So we left for the last waterfall of the day, Mae Ya, at a little before 2pm. It was some 50km to get there so we got there in about a half hour. Along the way we looked back towards the summit of Doi Inthanon, which was now partially shrouded in what looked like pop-up thunderclouds.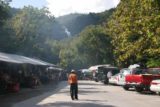 This was the waterfall we anticipated because in our trip research, we had seen what a massive fan-type waterfall it was. It was also Udon's favorite waterfall though he might be biased because he's from the neighboring town of Chom Thong.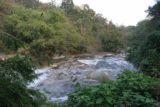 Anyways, we could see the top of the falls from the car park and with the shadows growing longer due to the fading daylight, we wasted no time to walk the 600m from the car park along the river to the base of the falls.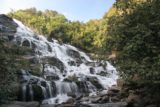 The long shadows made the lighting mostly even so we took this opportunity to take long exposure photos of the attractive waterfall. There were a lot of people here so it was a challenge to get the desired photos without people walking in and out of it. Eventually, the light would hide behind the top of the falls so the overall lighting beneath the falls was completely even and in shadow, which were perfect conditions for long exposures.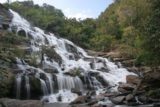 Udon said this waterfall was around 260m tall and 100m wide. I'm not so sure about the 260m figure for the height of the falls, but it was impressive nonetheless. In fact, Julie and I agreed that this was by far the best waterfall in Thailand that we've seen so far.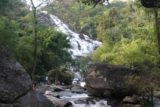 So we left the Mae Ya Waterfall at around 3:15pm and headed back to Chiang Mai with the goal of finding a camera shop for that damned replacement lens. It's times like these that I really wished I got a Nikon D70 or something like that instead of a Canon EOS 20D. Julie told me that your camera should fit your lifestyle and not the other way around. Good point, but with all the money we've invested, it's hard to let go of it and all the filters, batteries, memories, etc. that goes with it.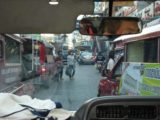 Anyways, at 5pm, we weaved through lots of traffic and went into the Pantip Plaza. This was sort of an electronics center and sure enough, we managed to find a camera shop that sold the exact lens that was one my camera. So we went ahead and bought it (it's no cheaper here than back home which was a bummer) and I was back in business again.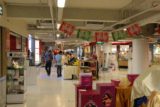 Meanwhile, we noticed Udon was busy buying clothes at some bargain basement prices while waiting for us. That kind of got us to do the same and we found a bunch of docker-like pants that I could wear to work. We ended up buying four of them for the price of one if we had bought it back home in the States. I didn't care if they were knockoffs or not.
By about 6pm, we were back at our hotel. Right before Mr. Dop and Udon were about to drop us off, they noticed a lady boy.
"Hey Lady Boy," Udon yelled out the window.
Julie thought they were being mean to the person. I then thought about a friend of ours who visited a cabaret show in Thailand featuring Kathoeys (lady boys). She said they were really pretty, and given the ones we think we had seen in our night market wanderings earlier on in the trip, I wondered how they could tell if the person was a man or a woman.
Udon said to look at their legs. I don't know about that test, but there's no denying that there are definitely lady boys in Thailand who can blur the transgender lines better than most examples I can think of back at home. Apparently, there's also still some social stigma to crossdressers and/or transvestites, again very much like back at home.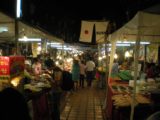 After getting settled again, we headed back out into town this time to check out the bustling scene at one of the gates atop the moat. It was right across from the Sunday Walking Street.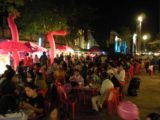 It turned out that the scene atop of moat was part of the New Years Festival. So we braved the dirt cheap street food on offer here and got things like som tam, BBQ chicken, pad thai, satays, etc. Clearly we weren't alone in our train of thought as the place was packed with loads of other farang.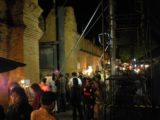 There was live music in much the same spirit as we recalled from the live performances at Thai restaurants back in Hollywood. And with all the foot traffic, picnic tables, and ambience on this festive evening, it all combined to create an atmosphere that really made us bask in the scene.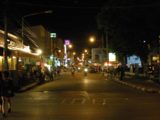 By contrast, I took a sneak peak at the street that was the Sunday Walking Street, and it was just a quiet street again with vehicular traffic. It's hard to believe that that was the scene of the human conveyor belt two nights earlier.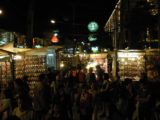 After spending time at the New Year's Festival, we walked a couple of blocks towards the Chiang Mai Night Bazaar again. But we didn't see anything we liked so after weaving through the human traffic, which got increasingly more dense as the night wore on, we walked back to our hotel.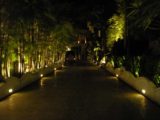 I'd have to say the night life scene in Chiang Mai was something to behold. Each night we were here, we were caught up in this night life. Now I'm not normally one to travel for night life, but I can certainly understand its allure and the tendency to feel the heartbeat of the city with its mix of farang and locals all in one spot. But tonight would be the end of our Chiang Mai portion of the trip as tomorrow, we're heading further south and then towards the Myanmar (Burma) border.
Day 11: ON THE ROAD TO SUKHOTHAI
We left Chiang Mai at 9am. It felt like we were leaving what was perhaps the place that left the largest impression on us in Northern Thailand. But now it was time to turn the page and move on to more sightseeing in the country.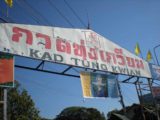 It was quite a long drive to get to our destination, which was Sukhothai. So along the way, we checked out the Kad Tung Kwian Local Market near Lampang. Here, they sold "wild animals" which was kind of disconcerting. However, Udon did say that some of these animals have become farm-raised now.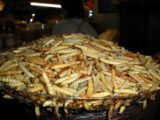 Like the market we were in northern Chiang Mai city, this place also sold an assortment of bugs, chilis, and spices in addition to the "wild animals." And seeing how we walked away from that other market empty-handed, I decided to go ahead and try one of the fried insects this time around.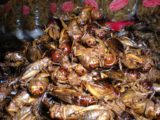 The huge grasshoppers and waterbugs were a bit much for me, so I decided to try some worms, which were fried and actually looked very much like shrimp chips, except these worms had an eye at one tip. But the less I thought about it, the more I realized that they tasted pretty much like shrimp chips as well. I only tried one, but we probably could have bought a handful and snacked on them while on the road.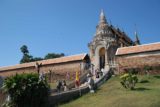 At 10:45am, we went to the Wat Phra That Lampang Luang. Even for a seemingly-out-of-the-way place like this (as far as tourists are concerned), it was still crowded and we saw quite a few farang.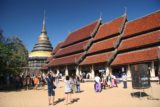 This particular wat had you remove your shoes for a very large portion of the complex. With sand everywhere, we could see how some of it got in peoples' shoes and some inconsiderate folks even walked on other peoples' shoes to get to his own.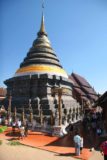 Still, the tile that was used was surprisingly cool considering how much the sun beats down on it. But it was still dusty and sandy and our feet could feel every grain.
Unlike the temples we had seen so far, this one looked and felt old and traditional. Maybe it was the fact that some of the buildings were completely made in teak.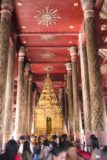 Each temple or worshipping spot was crowded with people. On the one hand, it was atmospheric, but on the other hand, it was also a bit hectic. All throughout, I kept a hand in my pocket while watching Julie's back in case of pickpockets.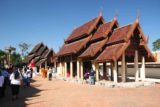 A couple of particularly interesting spots involved reflections of the chedi simply by putting a hole in a building in the right spot and reflecting it onto cloth. No mirrors. Just a hole.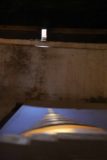 While it was difficult to take photos and observe the phenomenon in peace in this mens only house (where no ladies were allowed in because supposedly Buddha's footprints were there), a separate building had the display for the public to see, though it was rightside up instead of upside down like in the men's only place.
I don't know what kind of optical phenomena caused this (probably having to do with the correct focal length and some refraction), but it was pretty cool (though I did think it was the same phenomenon as the Camera Obscura at the Griffith Park Observatory, but they used mirrors and this temple only used a pinhole). Also kinda cool that people figured this out several centuries ago.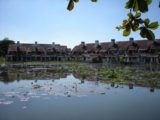 At 11:45pm, we returned to the car where we then proceeded into the town of Lampang for lunch. I noticed there was a sign for the Wang Kaew Waterfall, but since it wasn't on our program, we weren't going to do it. Udon said he had never been to that waterfall. Yet another reminder of why I wished Julie didn't talk me into giving in on the guided tour thing as opposed to self driving.
By 1:15pm, we were back on the road to Sukhothai. It was a pretty long drive so this time was spent sleeping (again, not my usual MO). Though I did try to stay awake in a couple of moments when I noticed Udon was conked out (just so Mr. Dop doesn't doze off).
In those moments when I did notice the surroundings, the scene contained lots of hills and forests.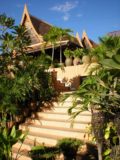 At 4:15pm, we arrived at the Ruean Thai Sukhothai Hotel. The first thing we noticed when we arrived was how hot and flat it was. In contrast to the Chiang Mai night life, Sukhothai was very different.
So we spent a rather low key New Years Eve in the hotel. Though it was a challenge to fall asleep because of the fireworks going off loudly outside. It sounded like a warzone with all these things going off (some of which are like the M80s as well as the usual firecracker varieties).
Day 12: HAPPY IN THE HEART
A little after 9am, we left the Ruean Thai Hotel and went right into the Sukhothai Historical Park. On the way there, I noticed a Tat Dao Waterfall sign, but again we weren't going to do it.
Something different about this excursion was that we were going to ride the good old bicycle to get around. The park was simply too big to walk and driving seemed like overkill.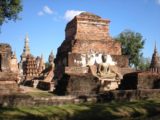 What was a little nontrivial was trying to take photographs with one hand on the bike while trying to both capture the scenes while also trying to keep pace with both Julie and Udon.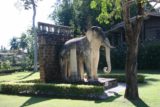 Along the way, we passed by some interesting statues and ruins. One of them was an elephant attesting to how these animals were quite an important part of Thai society back in the day (and even now).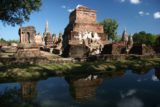 Our first stop was a museum. It was inside the museum that there were numerous artifacts and info signs as well as recovered Buddha heads. It was also inside this museum that one of the signs broke down some of the Thai language. With Sukho=happy and Thai=heart, Udon said, "Sukhothai means happy in the heart."
At around 10:30am, we finally left the museum to check out the rest of the historical park. Among the ruins we saw were Wat Maharat, Wat Sra Si, some unknown ruin, and the Wat Si Chum.
I was still somewhat templed out, but the Wat Si Chum and its giant sitting Buddha statue behind a narrow entrance was interesting.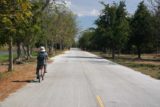 At 12:40pm, we left Wat Si Chum, and did a bit of a ride back out of the quiet park and into the busier streets closer to where Mr Dop's car was parked.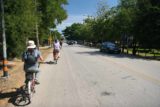 The streets got progressively busier and louder and we really had to be cognizant of not becoming roadkill towards the end.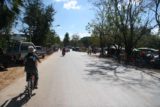 Then, we returned the bicycles (great exercise for the amount of touring we did), and had lunch at Legendha. Again, it was the usual but good Thai food of stir frys, curries, and spicy salads.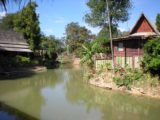 The lunch spot itself was near some kind of watercourse. We were a little concerned about mosquitoes, but the view kind of helped to put us even more at ease after the rather relaxing tour of Sukhothai's historical park.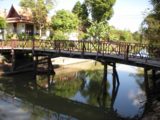 When we were done eating, Julie then decided to tour some of the rooms and the property itself since she was in the travel business and wanted to see if this was the kind of place worth referring clients to.
By 2:15pm, we were back on the road to Mae Sot and the Burmese-Thai border. Once again, due to the long drive and the fact that I wasn't driving, I fell asleep along this stretch.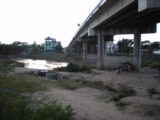 At 4:30pm, we made it to Mae Sot. I noticed a few more waterfall signs as I awoke from my nap and entered town. Again, I wished we got to check them out. When I brought this up with Julie, she'd roll her eyes and say, "Whatever!"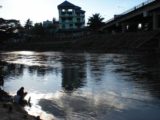 Mae Sot seemed like a gritty town with lots of Burmese people. Udon said to watch for men wearing sarongs.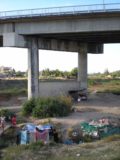 We drove a little further west to the Friendship Bridge. This was the bridge that crossed the Moeri River into the Myanmar border. It was kind of dingy under the bridge and its surroundings. We even noticed some people shacked up in makeshift tents and even a lady who set up shop besides one of the bridge columns as well as another lady using the water (looks kinda toxic to me) to wash clothes.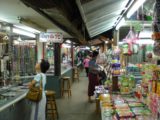 It was pretty evident that many of these people were Burmese refugees. Especially in light of the Burmese's government's handling of the Cyclone last May and the fighting between some of the tribespeople (like the Karen and Hmong) against the current regime itself, it comes as no surprise to see people in such poor living conditions here.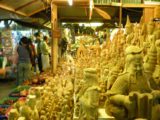 Next, we took some time checking out yet another local market. This time, Udon said Thai people would come here to buy furniture because even though teak logging was illegal, sometimes good deals from teak smuggling from Burma could be gained.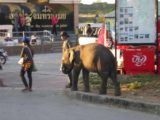 We spent most of the time here walking through another local market. Udon said Thai people come here to buy furniture because even though teak logging is illegal, sometimes you get good deals from teak smuggled from Burma.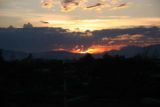 At around 5:30pm, we left the local market and headed to the Centara Mae Sot Hotel where we checked in by 6pm (just in time for sunset).
At 7pm, we had dinner with Udon where we discussed things regarding family, work, farming, and even the ins and outs of the travel business. All this was over some more authentic Thai dishes (many of which still reminded me of Chinese). I was curious about trying Burmese food, but Udon said he didn't like it.
By 9pm, we were back at the hotel to unwind.
Day 13: SLASH AND BURN
At 8:30am, we left Mae Sot for Umphang (pronounced Oom Pong instead of um fang as previously thought). There were a pair of waterfalls to see along the way so that was the first order of business.
A little after 9am, we saw a sign for Pha Charoen. We turned off and checked out this waterfall, but that must've meant that we missed the Thararak Waterfall along the way.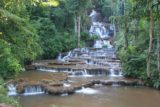 In any case, there were a lot of people here both at the campground and around the falls. Still, the crowds weren't as overwhelming. The falls itself was an attractive terraced waterfall. We managed to get here before the sun got to the falls and wreak havoc on the lighting.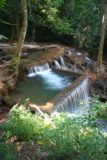 We spent a few more moments walking to the top of the falls. The trail near the top was particularly steep and potentially dangerous, but we were glad it was pretty dry and hadn't rained in a while. Otherwise, this part of the trail would not be a good idea.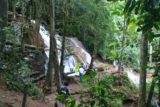 I also remembered seeing a sign saying there were some 97 levels to the falls, but it was clear we weren't going to see most of them. In fact, after inspecting some of the trail further along, Udon was already headed back my way saying there's nothing up there except some picnic tables and a pool for swimming.
By around 10am we were back at the car. Now, we backtracked to find the Thararak Waterfall.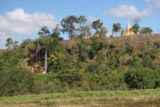 At first, we weren't sure how to find it because there wasn't a signpost for it. It was only when we noticed a gold chedi atop a hill (called Chedi Kho) did we manage to spot the waterfall from the road.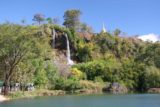 Clearly, this was a locals only waterfall. There wasn't anything that special about this waterfall either compared to the other ones we've seen. However, the one thing that made this waterfall stand out was that you could photograph it with a chedi. How many waterfalls can have this claim?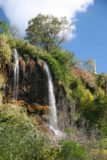 We noticed other cars of visitors show up so certainly this wasn't an unknown waterfall. Some of the people basking near the base of the waterfall seemed like Burmese people.
At 10:45am, we returned to the car and proceeded to head further south to Umphang.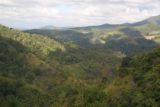 Along the way, we noticed an alarming amount of deforestation, especially around the winding and curvy roads going up and down through the mountains. There were even some plantations like sugar cane crops that run up besides the road.
Udon noticed this and was also not happy to see it. He noted that those farms and the forest clearing near the roads results in landslides.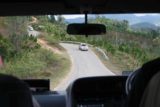 It just seemed that any corner you turn, you can see some cleared or logged path of forest land. Udon speculated it might be Burmese Karen people who tend to slash and burn as their way of life. They tend to deforest and consume forest land before its usefulness is expired, and then they relocate and repeat the slash and burn process. He said the Thai government tried to get them to change their ways, but when they're left to their own devices, they go right back to doing what they're used to doing.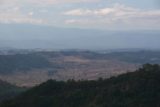 Of course you can't pin it all on the Karen people. It might also be because there's an increasing amount of development between Mae Sot and Umphang (especially near Um Piam). That was evident with the amount of sugar, corn, and other fields of crops that have taken the place of the forest.
Speaking of which, we had lunch at a seemingly popular roadside stop in Um Piam. There, we had ourselves some Chinese food as well as some usual Thai BBQ and more spicy curry with rice.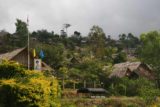 We also met someone who happened to be from Torrance (a suburb in the South Bay of Los Angeles County). Actually, she overheard Julie and I talking to each other in english and had to acknowledge herself to us.
She was here as a missionary doing her 2 year mission based in Chiang Mai. She actually got to see the Thi Lor Su waterfall, which was what we went all the way this way for.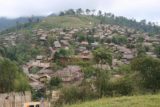 After the lunch, we continued further to Umphang while noticing a whole mountainside of Burmese refugee camps with the humble shacks stacked right up against each other. With this being both Udon and Dop's first time in this part of the country, they were also playing the role of tourist and taking photos along with us.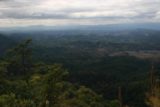 Continuing further south, the mountainous road treated us to more panoramas and expansive views. Eventually, we descended into the forests and hills below, and that was where I suspected Umphang would lie.
At around 3:10pm, we finally made it to the Tukasu Hotel in Umphang. The town itself looked surprisingly more developed than thought. The accommodation was basic and could've been somewhat charming if not for those damned roosters cockling all day and night! The electric heater on the shower was also tricky to work, but at least we got some hot water and a chance to clean ourselves before roughing it tomorrow night.
Day 14: THE UMPHANG WILDLIFE SANCTUARY
We had breakfast at a little after 7:30am. We were quite surprised as to how busy the Tukasu was.
Afterwards, we got our stuff packed and stored away in Mr. Dop's van. Meanwhile, my backpack was stuffed with some basic necessities (namely a headlamp, flashlight, towels, sleeping bag liners, jackets, and some other of Julie's needs) thinking we were about to embark on a trek involving 4 hours each way.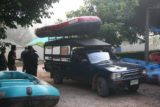 However, we recently learned that the hike is really nothing more than an hour each way, and that most of the trekking is replaced by a raft ride through the Umphang Wildlife Sanctuary itself along the Mae Khlong River, which ultimately makes its way to Kanchanaburi, where we were at earlier when we visited the Erawan Waterfalls and the River Kwai.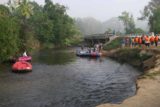 It was a bit of a foggy morning, but we had faith that this fog would clear up the later in the day it became. So we weren't at all worried about it.
So by 9am, we set off on an inflatable raft joined by Udon and Mr. Dop who are now playing the role of tourists as well as our local guide Martin (who also goes by Mel). This was apparently a popular way to get to the Thi Lor Su Waterfall because there were numerous rafts that were actually going past us.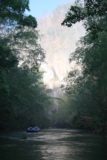 The rafting tour was quite interesting as we were passing through mostly pristine jungles. Apparently the only way through this place was by river like what we were doing. And as we were surrounded by the dense jungle canopy, when there was a opening, we could see tall cliffs and foliage changing colors through the bright and hazy fog that was burning off.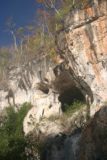 Somewhere along the way, we noticed a cave perched way up on the neighboring cliffs. We weren't sure if it was accessible, but it sure looked like a bit of a photo subject. Perhaps animals with good climbing skills or certain kinds of birds might use that cave for one reason or another.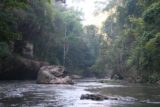 The fog was quickly burning off as the day got warmer. That exposed more of the surrounding scenery but it was also quickly warming up the jungle as the crisp cool air was slowly giving way to the typically humid air of the jungle climate.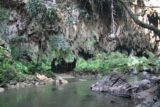 A lot of the waterfall action occurred in the early part of the rafting journey. There, we saw some weeping-wall-type waterfalls coming down moss-covered overhanging cliffs and looking like rain. I don't remember the name of the first series of falls, but the line of waterfalls shortly thereafter must've been the Thi Lor Jor Waterfall.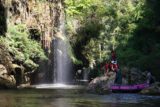 A lot of rafters stopped here for a photo, especially with the rainbow that happened to show up while we were there.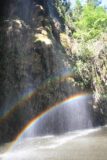 Once we got our shot of that photo op before part of Thi Lor Jor, we then continued our run alongside the long and weepy waterfall. It was hard to take a clean photo from the boat given the low light, the motion, and obstructions (i.e. peoples' heads and torsos), but when we got to the other side of the falls, we could take advantage of the sidelight of the morning sun to really bring out the weeping nature of the falls.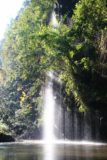 Later on in the trip, we made a brief stop along with hordes of other tourists at some place nearby a local village. There were hong nam (toilet), a hot spring for swimming in, and a comical swinging gibbon who was swinging on a makeshift swing made out of cloth in much the same way you'd expect kids to do on the playground.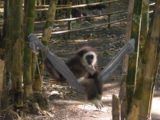 But the more I thought about it, the more my laughter turned to concern as Julie and I suspected this monkey was probably taken from its family and natural habitat (perhaps the elders were killed like with the gibbons we saw in Phang-nga Bay). Still, this monkey attracted a crowd, and at one point, I could've swore the monkey was saying "No no!" when the handler was trying to get it to do something against the monkey's will.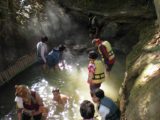 Meanwhile, we saw quite a few people enjoying themselves at what appeared to be a hot spring. I guess for this hot spring alone, it explained why this tour might be as popular as we managed to see it on this day.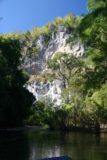 Continuing beyond the village, the scenery kind of quieted down a bit as the scenery remained a mix of jungle and tall cliffs. We didn't spot any more waterfalls during this leg of the rafting trip, but we knew that the main draw of Thi Lor Su was later on this day.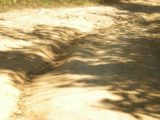 Afterwards, we left on a songthaew (a pick-up truck with additional seats and a canopy in its cab for passengers) for an hour-long bumpy ride 4×4 ride to the Thi Lor Su Campground.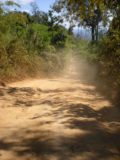 The ride was as bumpy as it was because there were quite a few ruts and little gullies that were probably formed whenever the Wet Season rains would inundate the road with lots of water, which would then look for a place to escape as it would make its way into the ground or towards a watercourse that would eventually return to the sea.
It was probably for this reason that there would be no Wet Season access to the falls unless you were willing to slog through the muddy road for a very long time.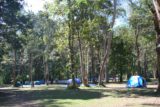 At 1pm, we were at the campground, which was very busy. Considering how difficult it was to even get here, this was surprising to see. I can only imagine the shock and perhaps disappointment that those who choose to do the 4-hour one-way trek to get here the hard way must be thinking when this would be their reward for their hard work.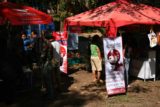 There was a lot of activity going on here at the main campground and car park for the Teelorsu waterfall (also spelled Thi Lo Su as well as Ti lo su amongst others). We heard someone playing some music, we saw a tent labeled Thailand Post (which not only sold post cards but offered to send them out!), and even some folks picnicking on provided benches and shelters.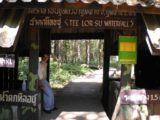 It wasn't exactly back-to-nature if you ask me. But I guess it was close enough to the New Year while many Thais were out traveling during the holiday season that perhaps what we observed was more of the exception rather than the rule.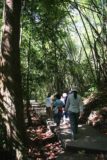 At first, we crossed the wide open lawn areas as we followed the signs towards the actual trail. I believe we had to pay an admission to get onto the trail so basically our visit on this afternoon would be it. There would be no chance to return tomorrow (time permitting) unless we wanted to spend again on the admission.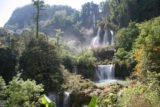 Anyways, we walked onto the mostly paved trail which was kind of narrow enough that passing slower groups wasn't easy. So the amount of time we spent walking was probably a little longer than we would've liked since we wanted to get the falls as soon as we could.
At around 1:40pm, we finally made it to the overlook for the Thi Lor Su Waterfall. Again, it was quite crowded and the sun was against us so photography was difficult. But since we were camping in the area tonight and we weren't about to come back, we figured we mind as well spend as much time here as possible so we can wait out the sun and get better photographs later in the day.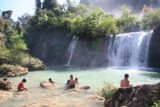 In the mean time, we decided to walk up to some of the cascades further up the waterfall to get up close to some of its accessible tiers and swimming holes (though we weren't interested in swimming).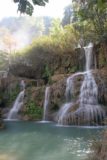 It was a good thing we were wearing Keens, but we knew they were going to stink thanks to all that water. But at least we were able to cross streams without much problem. However, some parts of the trail were rather steep and required caution.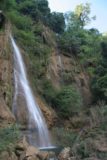 When you get up close to this kind of waterfall, the experience is totally different. Instead of trying to take in the whole waterfall in the scene, you focus on an individual cascade and plunge pool. Many of the visitors did just that by going for a cold swim.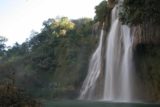 Later on, Julie and I continued climbing up to the highest point we could safely go, which offered a profile view of one of the taller tiers of the waterfall. It was a tad misty down here but there were fewer tourists so we enjoyed this spot all the same.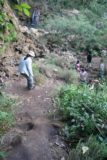 By 3:15pm, we were back at the main viewpoint where Udon was waiting for us. The sun was still up shining its rays directly in the line of sight to onlookers at the overlook. So we figured we mind as well wait out the sun during this time.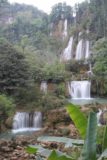 That was when we talked to Udon some more and learned that he wasn't all that impressed with the Thi Lor Su Waterfall and thinks Mae Ya is better. Now I could chalk that opinion up to some hometown bias, but in this case, I actually do think he has a point. That said, Thi Lo Su did have its merits and I guess it was all a matter of perspective, especially in light of the vastly differing opinions on what would rank a waterfall higher than another in terms of scenic allure.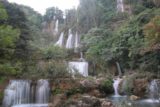 Thi Lor Su reported consists of three separate waterfalls of 200, 300, and 400m in height. The 300m and 400m seems like a lofty measure in my mind. The main waterfall is the most interesting one as it descends in multiple distinct drops while vegetation covers the breaks between drops. The two smaller waterfalls to the far right aren't anything that special, and it's hard to capture the whole seen with one shot especially if you're trying to include the smaller cascades to the right.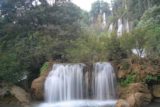 By around 4pm, the sun finally started to sink behind the cliffs at the top of the falls. That's when we made our move (it was considerably less crowded at this time though there were still lots of people). We took the next several minutes snapping photos though I wished it wasn't under such hasty circumstances (i.e. Julie ready to go back to camp and other visitors taking the platform hostage for what seemed like a photo shoot for the family posing before the waterfall).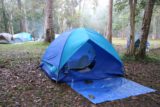 Anyways, at 4:40pm, we were back at camp. Udon, the local guide Martin, and Mr Dop brought supplies as well as the tent we were using along with some foam mats. There was no Therm-a-rest air pads that we were used to so I knew that we probably wouldn't have a very comfortable night of sleep.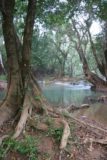 The rest of the evening was spent with just Julie and I talking about the trip over a makeshift candleholder that Martin made for us out of bamboo. It was actually pretty nifty as he said he learned that from his days in the military. So we were entertaining ourselves putting on at least 5 candles at a time and talking.
Martin joined our conversation for a bit. He told us that last night was very crowded. But that we got lucky tonight as most of them left. Otherwise, our campsite near the river wouldn't have been available.
When it came time to use the toilets, we walked in and immediately observed that they were disgusting. Sometimes I wondered if pit toilets were the better way to go instead of giant bathrooms with wet concrete floors, stale water, a putrid smell, and lots of giant insects. I can only imagine how nasty it would be for a woman to have to use these facilities (i.e. Julie must've been disgusted herself).
And so we went to sleep underneath the starry skies in a pretty cool evening.
Day 15: SONGTHAEW TROUBLES
It was 6:30am when we got up. We awoke to a cold, foggy morning. Our backs were stiff due to the hard ground and the foam pad that didn't do a whole lot to offset that (well, at least they were better than nothing right?). It's times like these I wished I had my Thermarest with me.
Since we hadn't done a Thai massage up to this point, I joked to Julie that maybe this is the excuse to go for one when we get back to civilization.
Our feet were still smelly thanks to the damp Keens from yesterday.
With all the breakfast pleasantries and breaking camp out of the way, we hopped back on the Songthaew and endured the two-hour bumpy 4wd road back to the entrance to the Umphang Wildlife Sanctuary.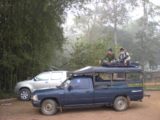 At around 10am, we were finally back at the sanctuary entrance where there was a much needed break for the hong nam (toilet). And like the Thi Lor Su Waterfall signs, this place also had multiple spellings of Teelorsu or Tilosu, etc. etc. all in one shot.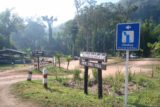 About 20 minutes later, the songthaew we were on looked like it was having problems. That was when the truck stopped in front of someone's home (presuming someone from our group knows these folks) and started to let the vehicle vent and smoke its way to cooling down.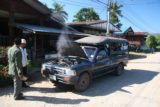 Apparently, the songthaew either overheated or was on the verge of doing so. Upon further inspection, it looked like the water pump wasn't working so the engine wasn't getting the cooling it needed. It was rather dicey to see the driver open the radiator cap and pour in water in between geyser-like eruptions thanks to the extreme heat of the engine. At least that gave us an indication of why geysers go off like they do in Yellowstone or in Rotorua.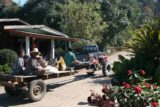 It was good thing this problem occurred near town and not on the remote 4wd road. Otherwise, the delay could've been a lot longer.
"Why do we always have car problems on our trips?" asked Julie to me rhetorically.
In any case, we killed time while watching some locals pass by with their tractor-driven passenger towing vehicles. At 10:50am, we were back on the road. Ten minutes later, we were back at Tukasu where we recovered Mr. Dop's van along with our belongings and headed back on the road northwards to Mae Sot.
A little after noon, we had gotten to the narrow and winding stretch of mountain road again. Along the way, Udon and Mr. Dop noticed some people were in trouble as their vehicle was stuck in one of the ditches. So they stopped the car and tried to investigate what was going on.
After 15 more minutes of helping them out, one of the locals who had towing capabilities showed up and that was our cue to continue onwards. Udon said that there were a couple of ladies in the car and apparently they're inexperienced in mountain driving because the driver didn't shift gears fast enough from 2 to 1 when the car was struggling to go up the steep hill. So it rolled backwards in neutral until it landed in the ditch. They were very lucky they didn't roll off the mountainside or onto oncoming traffic.
Indeed, those ladies could've easily gone over the ledge and tumble for hundreds of meters leading to certain death. I guess it just goes to show you how dangerous this road can be. I know it used to be called the Death Highway, but I think these days it's taking on a whole different meaning than what it was back in the days of guerrilla warfare having to do with the troubles in Burma.
At around 1:20pm, we had ourselves a lunch at the familiar rest stop in Um Piam. Then just before 2pm, we were on the road again.
Once again, Julie and I got sleepy and so the rest of this part of the road trip was a blur until we arrived back at the Centara Mae Sot Hill at 3:30pm.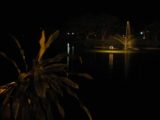 The rest of the afternoon and evening was low key. We even checked out the pond-side floating restaurant with live entertainment. And while Julie was tired of Thai food at this point, she was even more disappointed when the employees offered up bolognese and the spaghetti she got was creamy white.
I remembered one of the employees here (upon hearing that we were going to Kamphaeng Phet next) was correcting our pronounciation of that place. So I kept hearing in my head (long after our conversation with him ended) the words, "kam-PAAAING-pet, kam-PAAAING-pet…"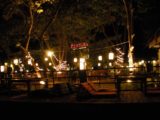 The live entertainment (in the usual Thai style) involved some classic Chinese songs that Julie said her mom loves and I'm sure my parents like, too (after all, I subconsciously knew those songs probably since I heard them growing up). With the dark, candlelit pondside setting, fountain running in the distance, and bright Christmas lights before the performers, it was a fittingly laid back end to the activities of the day.
Other than that, we watched a couple of movies that happened to be on TV (one involving Mark Wahlberg as some kind of sniper who was set up and the other being the classic "Ghost").
Day 16: A PAINFUL AND BRUISING MASSAGE
Before 9am, we left Mae Sot and headed east to Kamphaeng Phet. During the drive, I noticed how lush and green the area was between Mae Sot and Lan Sang National Park. In fact, the degree of deforestation was no where near as apparent as the shocker we saw between Mae Sot and Umphang (especially near Um Piam). I also noticed a Lan Sang Waterfall sign, which we passed by as it wasn't on the program.
By 10:40am, we were on the main road connecting Bangkok to Chiang Mai. We never really noticed the conditions of the highways until we got on this road. For some reason, this one was in pretty bad shape and uneven. Udon thinks they used bad asphalt and speculated that someone must've gotten away with this. After all, sometimes things don't have to make sense in Thailand.
At 12pm, we lunched at the entrance to Khlong Lan National Park. In contrast to the many other National Parks we've visited on this trip, this place was eerily quiet. We had ourselves some BBQ as well as some som tam (papaya salad).
At 12:40pm, we proceeded to go further into the park. Udon pointed to a series of steps to our right that would've led to an overlook 1km away. That same overlook would've also revealed the Khlong Lan Waterfall (the one we're about to see) from a distance. However, we passed on it and Udon left the possibility of returning to do it later, but I somehow doubted that would take place.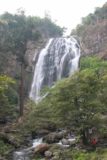 When we got to the waterfall, there were a few cars here so it wasn't as empty as we had hoped. Upon seeing this waterfall for the first time, Udon said this one was nice. The literature says this waterfall is 100m tall and 40m wide, and it's possible that these figures may have merit.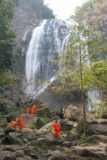 The only problem with this waterfall is that there's always foliage blocking an unobstructed view of the falls. Add to that the many people who walk in and out of your pictures and you could sense the degree of patience that needs to be exercised to truly enjoy and capture this place.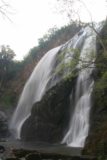 At 2:15pm, we returned to the car. Sure enough, we skipped the walk to the overlook, but neither Julie nor I were really in that much of a mood to do that hike. So we went to Kamphaeng Phet arriving at around 3:10pm.
After checking in and getting settled (and having fun testing the receptionists' Mandarin Chinese skills upon learning that she knew Mandarin; even though we're not that much better ourselves), we showed up early enough to go for a Thai massage. After all, you can't go to Thailand and not try an authentic Thai massage, right?
So at around 4pm, both Julie and I got our massage. I can't speak for Julie's experience (she seemed pretty relaxed as she was lying in a bed next to me with her masseuse working on her), but I can honestly say that my Thai massage made me sore and bruised. It was actually quite painful and I'm not so sure you get a Thai massage to relax.
I recalled that same friend who went to Thailand earlier who also got a Thai massage and told us that it, "huuuurts!" I think I can vouch for her comment now.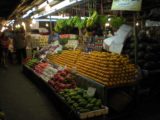 The rest of the evening was spent walking to the little local market just down the street from our hotel. There, we had some soup, satays, and some som tam. They served up other things like insects, organs, and a whole assortment of fruits, but we were happy with our selection and you couldn't complain about the dirt cheap prices we paid to get stuffed.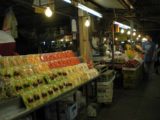 Meanwhile, we checked out the fruit stands, and we eventually bought a jackfruit. Seeing how the local who cut up the fruit for us essentially had all the sticky coating from the jackfruit stuck to the knife, I was sure glad we didn't have to cut open the fruit ourselves.
Days 17-18: ANOTHER NIGHT IN BANGKOK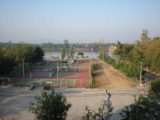 When we awoke at the hotel in Kamphaeng Phet, we looked out the window and saw that we weren't far from some kind of river. We didn't know that there was a river view from our room!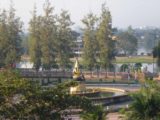 We also noticed that there was also a small and shiny chedi (probably belonging to the hotel) nearby as well. I'm sure we could've explored this town a little more, but we were getting mentally ready for the Cambodia part of the trip, which was coming up tomorrow.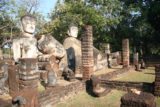 Just before 9am we left our hotel and headed for the Kamphaeng Phet Historical Park. Despite this place being a UNESCO World Heritage site full of more preserved chedis and corroded Buddha statues, I was pretty templed out.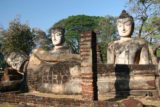 This place was an outpost of the old Sukhothai and Ayutthaya kingdoms so there was clearly some historical significance here. It's just not nearly as touristed probably because the ruins aren't nearly as well preserved and it's a bit out of the way of most tourist circuits.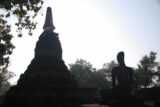 First up was what I think contained Wat Phra Kaew and Wat Phra That. We spent spent around an hour here walking around checking out the crumbled walls while paying particular attention to the chedis left standing and some of the real interesting corroded Buddhas resembling you might expect out of the Close Encounters of the Third Kind. There was also a spot where there were two sitting buddhas behind a reclining one all facing a chedi (along with one of the alien-like ones sitting closer to it).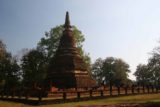 Near the main entrance, there was a modern chedi along with a shrine that people were actively worshipping at. Speaking of chedis, some of the taller ones looked quite aged and red, probably worn over the years by the tropical elements.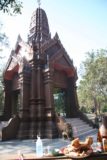 There was also a whole array of pigs' heads which Udon said were offerings. What was funny about this place was that motorists would always honk their horns whenever they passed by. We weren't sure why that was.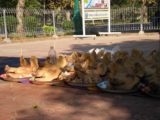 In any case, it was kind of freaky to see so many pigs' heads arranged the way they were. It was almost as if they came out of some horror show where several decapitated heads were left out on display where the rest of their bodies were nowhere to be found.
Next, we went beyond the city walls of the Old City and towards what I think was Wat Phra Non, Wat Phra Si Iriyabot, Wat Sing, and Wat Chang Rop. Wat Phra Non I remembered because there was a chedi that looked like it was about to implode if not for some stilts trying to stabilize it.
Wat Sing was where there was a sitting Buddha in which someone put a sash over it surrounded by crumbling walls.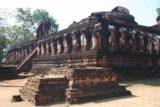 Wat Chang Rob was the last main ruin we saw here. This consisted of a square foundation with elephants holding up the foundation. Above it used to be a chedi.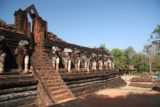 There were lots of school kids were here but it was nowhere near as chaotic as the army of kids we saw at Ayutthaya.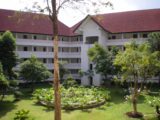 So by 11:15am we began the drive back to Sukhothai. After a lunch at this place called Pailyn, it was still only 1:40pm which was way too early for our roughly 5pm flight back to Bangkok.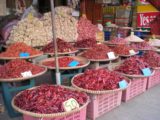 So we killed some more time in a really small local market in Sukhothai and then spent even more time at a real tiny outdoor market by the Sukhothai Airport turnoff. But finally at 3:15pm, we were at the surprisingly resort-like Sukhothai Airport.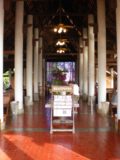 After knowing Udon and Mr. Dop for about 10 days, we said our farewells in the now-customary Thai greetings with hands in prayer position and bowing with the words Kahp Kewn Krap (or Kaa if Julie was saying it).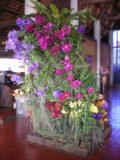 Julie and I figured that because Bangkok Air pretty much runs this airport that they get to call the shots. And since this airline seems to pay a lot of attention to detail and customer service, you can really see it here with complementary drinks and snacks, loads of magazines to read, a couple of TVs tuned to Al Jazeera, and that pseudo-outdoor lobby with couches and fans that resembles something you might expect at a decked out resort lobby. And all this was surrounded by some manmade ponds with fountains and even a chedi as you look towards the runways. If only other airports could come anywhere close to this level of detail and service instead of herding you like cattle…
Murray Head's 80's song "One Night In Bangkok" said it "makes the hard man humble." So I wondered what another night in Bangkok would do. We were soon about to find out.
About 7pm, we checked into the Queen's Garden Resort. This place was a dump. But we kind of knew this going into it because it was close to the airport and we weren't going to do any more sightseeing so why throw money away on something more upscale? It's just one of those things where you get what you paid for.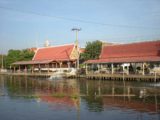 On the bright side, it was next to a river so I guess it could be nice, but then again, the water wasn't exactly moving so that pretty much meant mosquito-haven.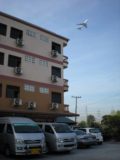 Well, I think we might have miscalculated on several fronts because by close-to-the-airport, this place was literally sitting right beneath the flight path of 747s. You could hear the planes landing and taking off, which went on all the way into about 1am. I managed to sleep wearing the bulky noise cancellation headphones to at least dampen the noise.
The bathroom had the old familiar shower space shared with the toilet scheme. That meant for a wet floor all night long. It was also a tight room and a mozzie haven while the alleyway the hotel was next to seemed to get heavy traffic both motorized and foot well into the wee hours of the night.
When we awoke the next morning to await our 9am shuttle to the Suvarnabhumi Airport, we had an American-only breakfast. Neither Thai nor Chinese food for brekkie was on offer this time around. Judging by the farangs who also stayed here, this was more of a backpackers and budget travelers' joint.
And on schedule, we were back at the airport at around 9:15am awaiting our flight to Siem Reap for our holiday in Cambodia.
Visitor Comments:
Got something you'd like to share or say to keep the conversation going? Feel free to leave a comment below...
No users have replied to the content on this page