Day 16: A PAINFUL AND BRUISING MASSAGE
Before 9am, we left Mae Sot and headed east to Kamphaeng Phet. During the drive, I noticed how lush and green the area was between Mae Sot and Lan Sang National Park. In fact, the degree of deforestation was no where near as apparent as the shocker we saw between Mae Sot and Umphang (especially near Um Piam). I also noticed a Lan Sang Waterfall sign, which we passed by as it wasn't on the program.
By 10:40am, we were on the main road connecting Bangkok to Chiang Mai. We never really noticed the conditions of the highways until we got on this road. For some reason, this one was in pretty bad shape and uneven. Udon thinks they used bad asphalt and speculated that someone must've gotten away with this. After all, sometimes things don't have to make sense in Thailand.
At 12pm, we lunched at the entrance to Khlong Lan National Park. In contrast to the many other National Parks we've visited on this trip, this place was eerily quiet. We had ourselves some BBQ as well as some som tam (papaya salad).
At 12:40pm, we proceeded to go further into the park. Udon pointed to a series of steps to our right that would've led to an overlook 1km away. That same overlook would've also revealed the Khlong Lan Waterfall (the one we're about to see) from a distance. However, we passed on it and Udon left the possibility of returning to do it later, but I somehow doubted that would take place.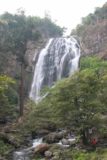 When we got to the waterfall, there were a few cars here so it wasn't as empty as we had hoped. Upon seeing this waterfall for the first time, Udon said this one was nice. The literature says this waterfall is 100m tall and 40m wide, and it's possible that these figures may have merit.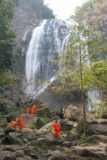 The only problem with this waterfall is that there's always foliage blocking an unobstructed view of the falls. Add to that the many people who walk in and out of your pictures and you could sense the degree of patience that needs to be exercised to truly enjoy and capture this place.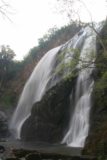 At 2:15pm, we returned to the car. Sure enough, we skipped the walk to the overlook, but neither Julie nor I were really in that much of a mood to do that hike. So we went to Kamphaeng Phet arriving at around 3:10pm.
After checking in and getting settled (and having fun testing the receptionists' Mandarin Chinese skills upon learning that she knew Mandarin; even though we're not that much better ourselves), we showed up early enough to go for a Thai massage. After all, you can't go to Thailand and not try an authentic Thai massage, right?
So at around 4pm, both Julie and I got our massage. I can't speak for Julie's experience (she seemed pretty relaxed as she was lying in a bed next to me with her masseuse working on her), but I can honestly say that my Thai massage made me sore and bruised. It was actually quite painful and I'm not so sure you get a Thai massage to relax.
I recalled that same friend who went to Thailand earlier who also got a Thai massage and told us that it, "huuuurts!" I think I can vouch for her comment now.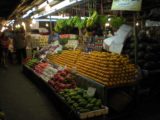 The rest of the evening was spent walking to the little local market just down the street from our hotel. There, we had some soup, satays, and some som tam. They served up other things like insects, organs, and a whole assortment of fruits, but we were happy with our selection and you couldn't complain about the dirt cheap prices we paid to get stuffed.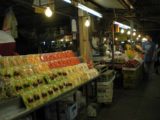 Meanwhile, we checked out the fruit stands, and we eventually bought a jackfruit. Seeing how the local who cut up the fruit for us essentially had all the sticky coating from the jackfruit stuck to the knife, I was sure glad we didn't have to cut open the fruit ourselves.
Visitor Comments:
Got something you'd like to share or say to keep the conversation going? Feel free to leave a comment below...
No users have replied to the content on this page