Days 17-18: ANOTHER NIGHT IN BANGKOK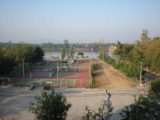 When we awoke at the hotel in Kamphaeng Phet, we looked out the window and saw that we weren't far from some kind of river. We didn't know that there was a river view from our room!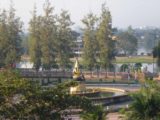 We also noticed that there was also a small and shiny chedi (probably belonging to the hotel) nearby as well. I'm sure we could've explored this town a little more, but we were getting mentally ready for the Cambodia part of the trip, which was coming up tomorrow.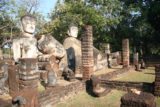 Just before 9am we left our hotel and headed for the Kamphaeng Phet Historical Park. Despite this place being a UNESCO World Heritage site full of more preserved chedis and corroded Buddha statues, I was pretty templed out.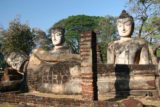 This place was an outpost of the old Sukhothai and Ayutthaya kingdoms so there was clearly some historical significance here. It's just not nearly as touristed probably because the ruins aren't nearly as well preserved and it's a bit out of the way of most tourist circuits.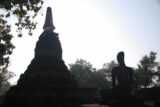 First up was what I think contained Wat Phra Kaew and Wat Phra That. We spent spent around an hour here walking around checking out the crumbled walls while paying particular attention to the chedis left standing and some of the real interesting corroded Buddhas resembling you might expect out of the Close Encounters of the Third Kind. There was also a spot where there were two sitting buddhas behind a reclining one all facing a chedi (along with one of the alien-like ones sitting closer to it).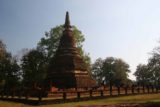 Near the main entrance, there was a modern chedi along with a shrine that people were actively worshipping at. Speaking of chedis, some of the taller ones looked quite aged and red, probably worn over the years by the tropical elements.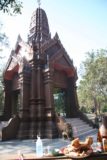 There was also a whole array of pigs' heads which Udon said were offerings. What was funny about this place was that motorists would always honk their horns whenever they passed by. We weren't sure why that was.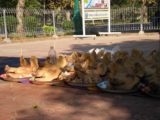 In any case, it was kind of freaky to see so many pigs' heads arranged the way they were. It was almost as if they came out of some horror show where several decapitated heads were left out on display where the rest of their bodies were nowhere to be found.
Next, we went beyond the city walls of the Old City and towards what I think was Wat Phra Non, Wat Phra Si Iriyabot, Wat Sing, and Wat Chang Rop. Wat Phra Non I remembered because there was a chedi that looked like it was about to implode if not for some stilts trying to stabilize it.
Wat Sing was where there was a sitting Buddha in which someone put a sash over it surrounded by crumbling walls.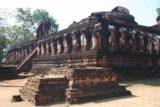 Wat Chang Rob was the last main ruin we saw here. This consisted of a square foundation with elephants holding up the foundation. Above it used to be a chedi.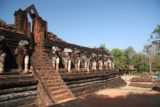 There were lots of school kids were here but it was nowhere near as chaotic as the army of kids we saw at Ayutthaya.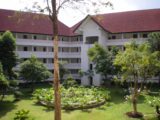 So by 11:15am we began the drive back to Sukhothai. After a lunch at this place called Pailyn, it was still only 1:40pm which was way too early for our roughly 5pm flight back to Bangkok.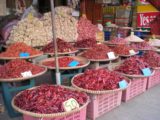 So we killed some more time in a really small local market in Sukhothai and then spent even more time at a real tiny outdoor market by the Sukhothai Airport turnoff. But finally at 3:15pm, we were at the surprisingly resort-like Sukhothai Airport.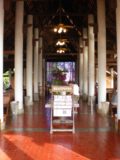 After knowing Udon and Mr. Dop for about 10 days, we said our farewells in the now-customary Thai greetings with hands in prayer position and bowing with the words Kahp Kewn Krap (or Kaa if Julie was saying it).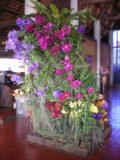 Julie and I figured that because Bangkok Air pretty much runs this airport that they get to call the shots. And since this airline seems to pay a lot of attention to detail and customer service, you can really see it here with complementary drinks and snacks, loads of magazines to read, a couple of TVs tuned to Al Jazeera, and that pseudo-outdoor lobby with couches and fans that resembles something you might expect at a decked out resort lobby. And all this was surrounded by some manmade ponds with fountains and even a chedi as you look towards the runways. If only other airports could come anywhere close to this level of detail and service instead of herding you like cattle…
Murray Head's 80's song "One Night In Bangkok" said it "makes the hard man humble." So I wondered what another night in Bangkok would do. We were soon about to find out.
About 7pm, we checked into the Queen's Garden Resort. This place was a dump. But we kind of knew this going into it because it was close to the airport and we weren't going to do any more sightseeing so why throw money away on something more upscale? It's just one of those things where you get what you paid for.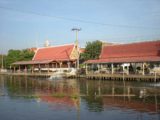 On the bright side, it was next to a river so I guess it could be nice, but then again, the water wasn't exactly moving so that pretty much meant mosquito-haven.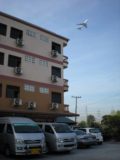 Well, I think we might have miscalculated on several fronts because by close-to-the-airport, this place was literally sitting right beneath the flight path of 747s. You could hear the planes landing and taking off, which went on all the way into about 1am. I managed to sleep wearing the bulky noise cancellation headphones to at least dampen the noise.
The bathroom had the old familiar shower space shared with the toilet scheme. That meant for a wet floor all night long. It was also a tight room and a mozzie haven while the alleyway the hotel was next to seemed to get heavy traffic both motorized and foot well into the wee hours of the night.
When we awoke the next morning to await our 9am shuttle to the Suvarnabhumi Airport, we had an American-only breakfast. Neither Thai nor Chinese food for brekkie was on offer this time around. Judging by the farangs who also stayed here, this was more of a backpackers and budget travelers' joint.
And on schedule, we were back at the airport at around 9:15am awaiting our flight to Siem Reap for our holiday in Cambodia.
Visitor Comments:
Got something you'd like to share or say to keep the conversation going? Feel free to leave a comment below...
No users have replied to the content on this page