Day 8: THE WALKING STREET CONVEYOR BELT
We arrived in Chiang Mai at a little before 5pm and met our guide Udon along with our driver Mr. Dop.
Unlike Pang, Udon's english was more limited and we had to make a effort to try to meet him half way and understand what he was saying. Still, it was better than most Thai people we've encountered who spoke little or no english. Plus, I didn't have a prayer to try to learn the language and get my head around the Thai script; especially when I'm in the middle of trying to learn how to read and write Chinese.
The airport wasn't far from Chiang Mai city. In fact, it was nothing more than say 15 minutes. So we noted that the central part of Chiang Mai was surrounded by a moat with several "gates" on each side. And like Bangkok, it was busy but not as busy as I had anticipated.
So at 5:15pm, we got to the De Naga Hotel, which we promptly were shown to our room which was quite nice and get settled. We were going to meet up with Udon again at 9am tomorrow morning to continue the tour, but in the mean time, we wanted to check out the night life scene in Chiang Mai.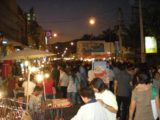 And the timing couldn't have been better. That's because tonight was Sunday and that meant the so-called Sunday Walking Street was on today. So by 6:15pm, we immersed ourselves in the chaos that was the Sunday Walking Street (not to be confused with the daily Chiang Mai Night Bazaar), which was a few downtown city blocks transformed into a giant swap meet of handicrafts, local Thai foods, street performers, and lots and lots of people.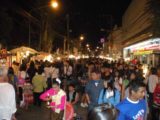 The scene was electric, but as the night wore on, it seemed that the place get even more crowded. We came in thinking we might be able to check out the end of the Sunday Walking Street (probably around 1.5km one way), but when we got to a busy intersection (again all pedestrian traffic at this time), we saw that there was still yet another city block to go.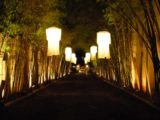 Given how difficult it was to move from place to place while being in this Walking Street Conveyor Belt of humanity (while being cognizant of pickpockets for sure), we decided against going further and headed back to our hotel.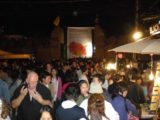 By 10pm, we were back at our room. We bought a few souvenirs to take home (a nontrivial feat since there wasn't much room in our luggage which would've been carry-ons on say American Airlines but not so for Cathay Pacific) and also munched on some snacks like the mango sticky rice with coconut milk and some tasty jackfruit. Julie wouldn't let me eat some of the cheap Thai food on offer on the walking street so we settled on some restaurant we knew catered to farang (foreigners) but was still relatively cheap at around $10 USD for the whole dinner.
Visitor Comments:
Got something you'd like to share or say to keep the conversation going? Feel free to leave a comment below...
No users have replied to the content on this page