Day 9: MORK FA LA LA LA LA
At 9am, we left the hotel and made our way north to this place called the Mae Malai Market. It was on the outskirts of Northern Chiang Mai.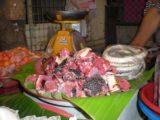 The place featured a bunch of local products from crickets to worms to waterbugs, grasshoppers, spices, pork organs, snake, iguana, etc. We actually saw insects being served on a street cart when we were touring in Ayutthaya so this market didn't really surprise us.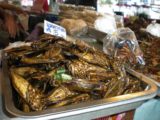 Udon told us that many tourists don't believe that we can eat insects. But to be honest, some of the big water bugs, crickets, and grasshoppers didn't look all that appetizing. Still, I wondered what crickets would taste like, especially since they seem to plague our home back in LA.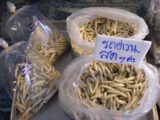 Just walking around this market was kind of an adventure in itself. Just about every stall or aisle had more insects, snakes, or other conventional meats like chicken or frog. Julie and I wondered if any of these stalls or aisles carried stuff that wouldn't shock farangs like us. Perhaps the most normal things we saw at the market were the spices and chilis. We knew that Thai food could get very spicy and these were the reasons why.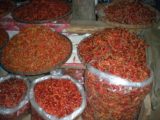 In any case, as tempted as I was to take a dive and try out one of these insects, I think my conscience got the better of me. So Julie and I eventually left the market empty-handed and returned to Mr Dop's car along with Udon.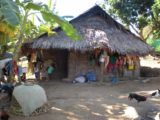 At 10:25am, we paid a brief visit to the Mork Fah Village. There wasn't anything here, but we did get a glimpse of how poor the villagers here are and even got a glimpse inside one of their homes. I think we could've done without this part of the trip though.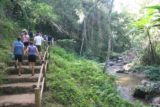 At 10:45am, we made it to the Mork-Fa Waterfall car park. Udon said this waterfall was small and there wasn't much water, which kind of dampened my expectations about this place. In fact, I had expected this to be one of those dinky unknown waterfalls, but you wouldn't know it from how busy the car park was.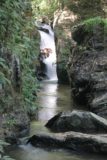 After walking along with a line of other visitors for roughly 20 minutes (passing the Ob Noi Waterfall along the way), we made it to the falls itself, which was much bigger than we expected. I'd say the falls has to be at least 25-30m tall though Udon said it was about 60m tall.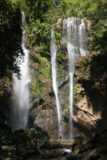 Now if Udon said this waterfall was small, I was beginning to wonder what the other waterfalls that he said was "small" would be like.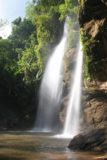 Once again, there were heaps of people around the falls which made photographing it rather tricky and stressful. We took a lot of time photographing this attraction in between people scrambling in and out of each others' pictures.
At 11:30am, we were back at the car park where we next proceeded to head to Pong Dueat, which was said to be a hot springs and geyser area. Such geological phenomena wasn't what expected to see in Thailand, but nonetheless, our program called for it and so we went.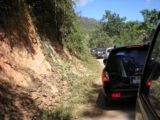 At 12:40pm, we got to the Pong Dueat Geyser Ticket Booth, which was backed up by several cars in a traffic jam. Apparently, the rate of processing at the gate couldn't surpass the rate of people coming into the park.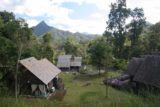 I couldn't believe there was traffic here considering how much mountain roads and narrow, winding unpaved spur roads you had to take to get here.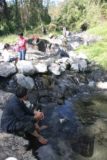 We stopped for a brief lunch here before chilling out for a bit on one of the thermal streams. We dipped our feet into the stream, which felt pretty hot. A lot of other people were engaging in this activity, too. The thought did cross my mind whether the small cascade responsible for these hot pools could've counted as a waterfall, but I decided to just leave that be since the waterfall wasn't obvious.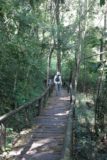 Then, we proceeded to walk on a boardwalk in a rainforest setting as we were making our way over to the Pong Dueat Geyser. Usually, we'd associate rainforest walks like this to a waterfall, but given the subtropical environment of northern Thailand, I guess it wasn't all that surprising to have these settings in more diverse environments.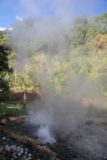 Ultimately, we got to a view of the Pong Dueat Geyser, which was nothing more than a couple of sputtering vents. Still, that didn't keep the throngs of visitors from surrounding the overlook and making this a very busy scene.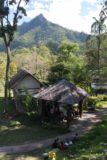 At a little after 2pm, it was time to check out the Mae Sa Waterfall. By 3:30pm, we were at the car park. Given how late in the day it was, we were beginning to wonder if we'll have time to visit Doi Suthep, which was also on the program today. Udon wasn't worried, but that kind of made things rushed for the Mae Sa Waterfall experience (that made me kind of wish skipped the local market and village visit).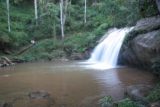 The Mae Sa Waterfall was similar to the Erawan Waterfall in that it had multiple steps to it. This time, it had supposedly 9 levels instead of 7. We began our touring at the furthest parking lot, which was close to level 4. Most of the falls that we saw weren't anything special as they consisted mostly of cascades.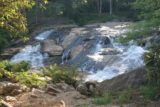 So we spent the next hour or so just collecting the waterfalls before heading back. Falls 9 and 10 weren't really anything to write home about. Falls 4-8 were the most interesting. Falls 1-3 were cascades though Falls 2 and 3 were such that I don't think we saw them or that they were so small that they could've easily been missed.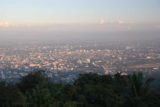 At 5:20pm, we made it to Doi Suthep, which surprise surprise, it was crowded! This temple sat on a hill overlooking the greater Chiang Mai area. Suffocating incense fumes filled the area around the main temple itself and the floor was dusty, which we could tell because we had to remove our shoes.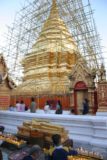 The chedi at the middle of the temple was surrounded by scaffoldings, which made photographing this attraction a real bummer. It was almost time for the monks to do their chantings so we stayed until we were kicked out.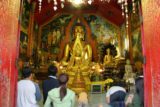 Next, we explored more of the complex, which consisted of more worshipping quarters, each of which had Buddha statues in them. I recalled we looked into one of them that even had a golden Buddha (though we weren't sure if they were real gold or not).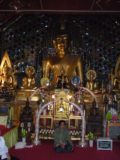 In other sections, there were more lit up candles with people praying and bowing before other Buddha statues. This practice kind of reminded me of my childhood when Dad would encourage me to engage in the same practice where we had a little altar in the house dedicated to Dad's dad.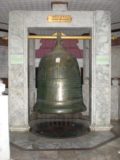 At 6:15pm, we got back to the car, and then proceeded to head back down into town. We did manage to stop at a pullout to get a view of the city in night lights. But other than that, it wasn't anything special.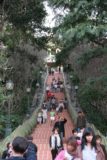 But now that it was rush hour, Mr. Dop took numerous side streets and narrow back alleys to get to the De Naga Hotel. He really seemed to know his van well because there were numerous tight spots where you had to pass other cars as well as deal with people of scooters or motorbikes on these tight streets. I guess it's times like these that having a driver who knows the area pays off.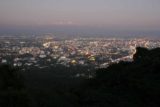 By 7:15pm, we were back at the hotel. With the night being young, we decided to head back into town and do some walking to some restaurant called Whole Earth. But when we saw that the majority of customers were farang, we started to wonder if this restaurant was overrated.
Nonetheless, we got our food here and it was certainly priced like it was food for farang.
At 10pm, then walked a small portion of the Chiang Mai night bazaar which was on the way. We figured we'll be back to this area tomorrow night. But clearly, this lacked the electricity and energy of the Sunday Walking Street.
Visitor Comments:
Got something you'd like to share or say to keep the conversation going? Feel free to leave a comment below...
No users have replied to the content on this page