Day 10: ANOTHER CAMERA FAILURE
We got an early start today at 7am. We managed to leave the busy streets of Chiang Mai, which were eerily quiet. Clearly, as Udon had said, the rest of the city did not wake up yet. We headed south to Udon's home town Chom Thong before heading inland to the top of Doi Inthanon.
During the drive up the mountain, I couldn't help but notice the quantity of full-sized SUVs and pickups passing us. Apparently, the American car makers got to Thais and appealed to their love of driving. Clearly this isn't a good sign for the country's environment as well as oil addiction.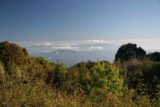 At around 9am, we made it to the Doi Inthanon Summit at some 2565m, making it the tallest point in Thailand. It was already crowded when we got here plus it was pretty cold (say around 40-50 degrees F), but nothing Julie and I hadn't seem before. However, it was comical to watch Thais suffering because clearly they're more accustomed to warmer weather.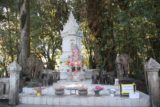 We spent some time walking the Ang-ka Nature Trail, which went through some temperate forest as well as pass by the ashes of the 7th King of Thailand. In fact, the name of this place "Inthanon" relates to the name of the king.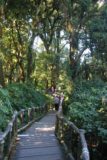 The rest of the nature trail was a quiet stroll on a boardwalk amongst wetlands and forest that were perpetually wet due to the condensation of the cold weather up here mixed with the warmer weather a short distance down the mountain.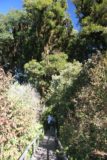 The walk itself was quite pleasant albeit a little crowded. The sun started to penetrate parts of the trail, which started to warm things up a bit. We could definitely start telling the difference in temperature between the sunny zones versus the shadowy zones.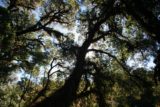 But given the consistent moisture that this area typically saw, we noticed how fuzzy the tree trunks and branches were around us. When looking against the light, they created some pretty funky patterns that drew a few random camera clicks from us.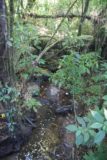 We even saw the source of one of the watercourses that were to feed some of the larger waterfalls here. It was hard to envision how something so small and modest could quickly grow into much larger rivers feeding gushing waterfalls not much further downstream.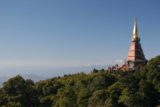 Unfortunately, people thoughtlessly threw coins. Dunno if these folks realize that people downstream probably drink this stuff.
At 9:45am, we made it down to the two chedis and it was even more crowded down here.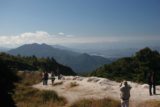 The chedis with their gold or brass covers were shining in the blue skies today. And thus they made excellent photo subjects. However, I had already noticed that the zoom lens had a tendency to get stuck and required a bit of coercion to get it moving past the stuck point.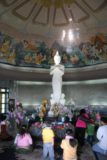 That was when I thought about the guy who took our picture at Maya Beach with hands wet from seawater. I should've let the guide do it who also offered. Big mistake!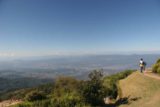 At this point, I was getting worried because the last time this happened was back in Peru and even though it was kind of working now, it was merely a matter of moments before the lens would become stuck completely. Since we're not even half way through our trip, this was worrisome.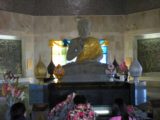 And sure enough after a few more minutes of touring the temples at Doi Inthanon, the lens got completely stuck. So, it was wide angle mode from here on out.
Inside the chedis, there were circular rooms with Buddha statues situated right in the center of the rooms. Once again, many of the Thais here viewed them as holy and kneeled to do their worship.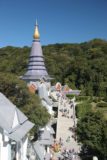 Trying not to let this setback ruin the mood, we continued exploring both chedis, which Udon said one was made for heaven and other was made for hell. At an overlook from one of the chedis, we could see signs of complete deforestation in a neighboring valley. Udon said he could remember when all of it was forest. Now, we said that valley is prone to landslides and flooding. Clearly, he lamented this development as I was disturbed by it.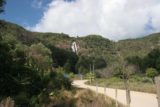 By 10:40am, we were back in the car. It was during this time that we toyed with the idea of stopping by a camera shop at the end of the day in Chiang Mai to try to replace the broken lens. So there seemed to be some sense of hope that all was not lost on this trip. Nonetheless, at least the photos taken today would be handicapped by the stuck lens.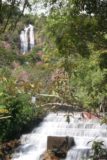 At 11am, we made it to the Siriphum Waterfall. This consisted of a pair of giant waterfalls, but it wasn't easy getting a clean view of the falls due to the vegetation in the foreground. It seemed that the car park and entrance was for some sort of botannical garden but it didn't improve our views of the waterfall so we decided against walking around there.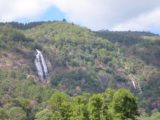 On the way out, I had Udon and Mr. Dop stop at a hilltop. It was here that I thought we had the best views of the Siriphum Waterfall because we can see them dwarf the buildings below it.
Then, we continued to head down the mountain. Julie noticed many Hmong people dressed in ornate, dark clothes. Udon said there's some kind of New Year's celebration and they're wearing their traditional clothes.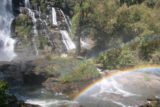 At 11:40am, we made it to the Wachirathan Waterfall (though I also have seen it spelled with a "V"). We passed by the Sirithat Waterfall on the way down, but Udon said it was small. Still, I kind of wished that we got to see it since after all, Udon though Mork Fa was small, and it was certainly legit.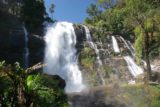 This waterfall was actually quite nice. It was also quite crowded. There was enough water to set off mist and spray that muddied up the lower parts of the trail while producing rainbows.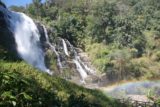 Udon said this falls was about 80m tall, but my guess is between 50-60m. But regardless of height, this one's impressive.
At 12:30pm, we ate at a restaurant that served up some delicious som tam (papaya salad) as well as the usual northern Thai curries and Chinese-style stir fry vegetables.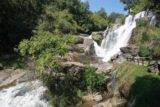 After a satisfying lunch, we went to visit the Mae Klang Waterfall. At 1:30pm, we made it there and wasted no time walking towards the overlook.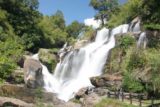 Now this was another one of those waterfalls that Udon said that was small and didn't have much water. But when we all arrived at the viewpoints and got to see the falls in person, I told Udon, "I don't believe you anymore when you say a waterfall is not big."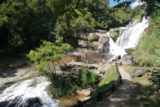 The Mae Klang Waterfall consisted of a main drop followed by several cascades further downstream. You couldn't get the whole scene in one shot. So we took our time taking photos and posing at the waterfall before leaving.
Come to think of it, the Mae Klang Waterfall experience was actually quiet and peaceful compared to just about all the other Thai waterfall attractions we had seen up to this point. All in all, it was pleasant.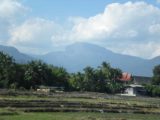 So we left for the last waterfall of the day, Mae Ya, at a little before 2pm. It was some 50km to get there so we got there in about a half hour. Along the way we looked back towards the summit of Doi Inthanon, which was now partially shrouded in what looked like pop-up thunderclouds.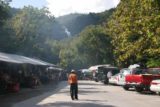 This was the waterfall we anticipated because in our trip research, we had seen what a massive fan-type waterfall it was. It was also Udon's favorite waterfall though he might be biased because he's from the neighboring town of Chom Thong.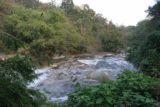 Anyways, we could see the top of the falls from the car park and with the shadows growing longer due to the fading daylight, we wasted no time to walk the 600m from the car park along the river to the base of the falls.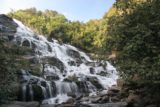 The long shadows made the lighting mostly even so we took this opportunity to take long exposure photos of the attractive waterfall. There were a lot of people here so it was a challenge to get the desired photos without people walking in and out of it. Eventually, the light would hide behind the top of the falls so the overall lighting beneath the falls was completely even and in shadow, which were perfect conditions for long exposures.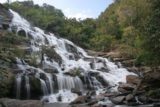 Udon said this waterfall was around 260m tall and 100m wide. I'm not so sure about the 260m figure for the height of the falls, but it was impressive nonetheless. In fact, Julie and I agreed that this was by far the best waterfall in Thailand that we've seen so far.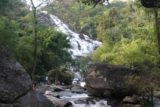 So we left the Mae Ya Waterfall at around 3:15pm and headed back to Chiang Mai with the goal of finding a camera shop for that damned replacement lens. It's times like these that I really wished I got a Nikon D70 or something like that instead of a Canon EOS 20D. Julie told me that your camera should fit your lifestyle and not the other way around. Good point, but with all the money we've invested, it's hard to let go of it and all the filters, batteries, memories, etc. that goes with it.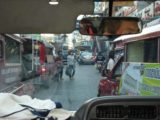 Anyways, at 5pm, we weaved through lots of traffic and went into the Pantip Plaza. This was sort of an electronics center and sure enough, we managed to find a camera shop that sold the exact lens that was one my camera. So we went ahead and bought it (it's no cheaper here than back home which was a bummer) and I was back in business again.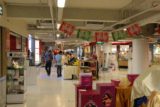 Meanwhile, we noticed Udon was busy buying clothes at some bargain basement prices while waiting for us. That kind of got us to do the same and we found a bunch of docker-like pants that I could wear to work. We ended up buying four of them for the price of one if we had bought it back home in the States. I didn't care if they were knockoffs or not.
By about 6pm, we were back at our hotel. Right before Mr. Dop and Udon were about to drop us off, they noticed a lady boy.
"Hey Lady Boy," Udon yelled out the window.
Julie thought they were being mean to the person. I then thought about a friend of ours who visited a cabaret show in Thailand featuring Kathoeys (lady boys). She said they were really pretty, and given the ones we think we had seen in our night market wanderings earlier on in the trip, I wondered how they could tell if the person was a man or a woman.
Udon said to look at their legs. I don't know about that test, but there's no denying that there are definitely lady boys in Thailand who can blur the transgender lines better than most examples I can think of back at home. Apparently, there's also still some social stigma to crossdressers and/or transvestites, again very much like back at home.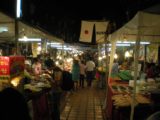 After getting settled again, we headed back out into town this time to check out the bustling scene at one of the gates atop the moat. It was right across from the Sunday Walking Street.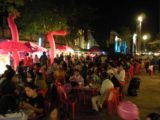 It turned out that the scene atop of moat was part of the New Years Festival. So we braved the dirt cheap street food on offer here and got things like som tam, BBQ chicken, pad thai, satays, etc. Clearly we weren't alone in our train of thought as the place was packed with loads of other farang.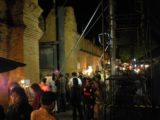 There was live music in much the same spirit as we recalled from the live performances at Thai restaurants back in Hollywood. And with all the foot traffic, picnic tables, and ambience on this festive evening, it all combined to create an atmosphere that really made us bask in the scene.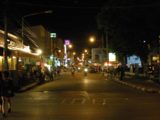 By contrast, I took a sneak peak at the street that was the Sunday Walking Street, and it was just a quiet street again with vehicular traffic. It's hard to believe that that was the scene of the human conveyor belt two nights earlier.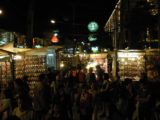 After spending time at the New Year's Festival, we walked a couple of blocks towards the Chiang Mai Night Bazaar again. But we didn't see anything we liked so after weaving through the human traffic, which got increasingly more dense as the night wore on, we walked back to our hotel.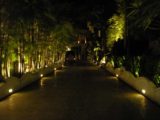 I'd have to say the night life scene in Chiang Mai was something to behold. Each night we were here, we were caught up in this night life. Now I'm not normally one to travel for night life, but I can certainly understand its allure and the tendency to feel the heartbeat of the city with its mix of farang and locals all in one spot. But tonight would be the end of our Chiang Mai portion of the trip as tomorrow, we're heading further south and then towards the Myanmar (Burma) border.
Visitor Comments:
Got something you'd like to share or say to keep the conversation going? Feel free to leave a comment below...
No users have replied to the content on this page