Day 11: ON THE ROAD TO SUKHOTHAI
We left Chiang Mai at 9am. It felt like we were leaving what was perhaps the place that left the largest impression on us in Northern Thailand. But now it was time to turn the page and move on to more sightseeing in the country.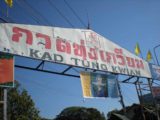 It was quite a long drive to get to our destination, which was Sukhothai. So along the way, we checked out the Kad Tung Kwian Local Market near Lampang. Here, they sold "wild animals" which was kind of disconcerting. However, Udon did say that some of these animals have become farm-raised now.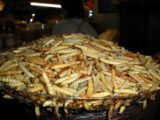 Like the market we were in northern Chiang Mai city, this place also sold an assortment of bugs, chilis, and spices in addition to the "wild animals." And seeing how we walked away from that other market empty-handed, I decided to go ahead and try one of the fried insects this time around.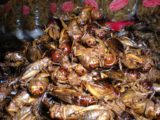 The huge grasshoppers and waterbugs were a bit much for me, so I decided to try some worms, which were fried and actually looked very much like shrimp chips, except these worms had an eye at one tip. But the less I thought about it, the more I realized that they tasted pretty much like shrimp chips as well. I only tried one, but we probably could have bought a handful and snacked on them while on the road.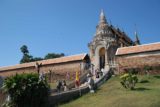 At 10:45am, we went to the Wat Phra That Lampang Luang. Even for a seemingly-out-of-the-way place like this (as far as tourists are concerned), it was still crowded and we saw quite a few farang.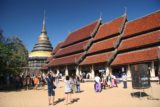 This particular wat had you remove your shoes for a very large portion of the complex. With sand everywhere, we could see how some of it got in peoples' shoes and some inconsiderate folks even walked on other peoples' shoes to get to his own.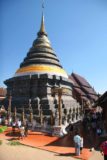 Still, the tile that was used was surprisingly cool considering how much the sun beats down on it. But it was still dusty and sandy and our feet could feel every grain.
Unlike the temples we had seen so far, this one looked and felt old and traditional. Maybe it was the fact that some of the buildings were completely made in teak.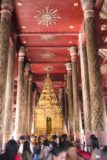 Each temple or worshipping spot was crowded with people. On the one hand, it was atmospheric, but on the other hand, it was also a bit hectic. All throughout, I kept a hand in my pocket while watching Julie's back in case of pickpockets.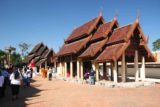 A couple of particularly interesting spots involved reflections of the chedi simply by putting a hole in a building in the right spot and reflecting it onto cloth. No mirrors. Just a hole.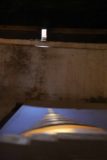 While it was difficult to take photos and observe the phenomenon in peace in this mens only house (where no ladies were allowed in because supposedly Buddha's footprints were there), a separate building had the display for the public to see, though it was rightside up instead of upside down like in the men's only place.
I don't know what kind of optical phenomena caused this (probably having to do with the correct focal length and some refraction), but it was pretty cool (though I did think it was the same phenomenon as the Camera Obscura at the Griffith Park Observatory, but they used mirrors and this temple only used a pinhole). Also kinda cool that people figured this out several centuries ago.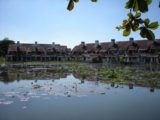 At 11:45pm, we returned to the car where we then proceeded into the town of Lampang for lunch. I noticed there was a sign for the Wang Kaew Waterfall, but since it wasn't on our program, we weren't going to do it. Udon said he had never been to that waterfall. Yet another reminder of why I wished Julie didn't talk me into giving in on the guided tour thing as opposed to self driving.
By 1:15pm, we were back on the road to Sukhothai. It was a pretty long drive so this time was spent sleeping (again, not my usual MO). Though I did try to stay awake in a couple of moments when I noticed Udon was conked out (just so Mr. Dop doesn't doze off).
In those moments when I did notice the surroundings, the scene contained lots of hills and forests.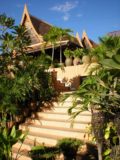 At 4:15pm, we arrived at the Ruean Thai Sukhothai Hotel. The first thing we noticed when we arrived was how hot and flat it was. In contrast to the Chiang Mai night life, Sukhothai was very different.
So we spent a rather low key New Years Eve in the hotel. Though it was a challenge to fall asleep because of the fireworks going off loudly outside. It sounded like a warzone with all these things going off (some of which are like the M80s as well as the usual firecracker varieties).