Day 12: HAPPY IN THE HEART
A little after 9am, we left the Ruean Thai Hotel and went right into the Sukhothai Historical Park. On the way there, I noticed a Tat Dao Waterfall sign, but again we weren't going to do it.
Something different about this excursion was that we were going to ride the good old bicycle to get around. The park was simply too big to walk and driving seemed like overkill.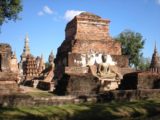 What was a little nontrivial was trying to take photographs with one hand on the bike while trying to both capture the scenes while also trying to keep pace with both Julie and Udon.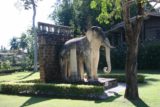 Along the way, we passed by some interesting statues and ruins. One of them was an elephant attesting to how these animals were quite an important part of Thai society back in the day (and even now).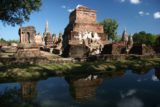 Our first stop was a museum. It was inside the museum that there were numerous artifacts and info signs as well as recovered Buddha heads. It was also inside this museum that one of the signs broke down some of the Thai language. With Sukho=happy and Thai=heart, Udon said, "Sukhothai means happy in the heart."
At around 10:30am, we finally left the museum to check out the rest of the historical park. Among the ruins we saw were Wat Maharat, Wat Sra Si, some unknown ruin, and the Wat Si Chum.
I was still somewhat templed out, but the Wat Si Chum and its giant sitting Buddha statue behind a narrow entrance was interesting.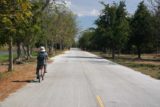 At 12:40pm, we left Wat Si Chum, and did a bit of a ride back out of the quiet park and into the busier streets closer to where Mr Dop's car was parked.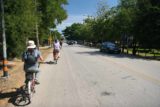 The streets got progressively busier and louder and we really had to be cognizant of not becoming roadkill towards the end.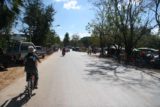 Then, we returned the bicycles (great exercise for the amount of touring we did), and had lunch at Legendha. Again, it was the usual but good Thai food of stir frys, curries, and spicy salads.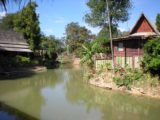 The lunch spot itself was near some kind of watercourse. We were a little concerned about mosquitoes, but the view kind of helped to put us even more at ease after the rather relaxing tour of Sukhothai's historical park.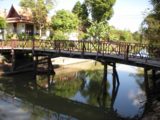 When we were done eating, Julie then decided to tour some of the rooms and the property itself since she was in the travel business and wanted to see if this was the kind of place worth referring clients to.
By 2:15pm, we were back on the road to Mae Sot and the Burmese-Thai border. Once again, due to the long drive and the fact that I wasn't driving, I fell asleep along this stretch.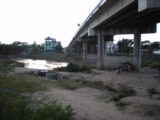 At 4:30pm, we made it to Mae Sot. I noticed a few more waterfall signs as I awoke from my nap and entered town. Again, I wished we got to check them out. When I brought this up with Julie, she'd roll her eyes and say, "Whatever!"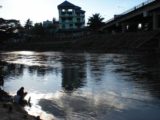 Mae Sot seemed like a gritty town with lots of Burmese people. Udon said to watch for men wearing sarongs.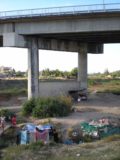 We drove a little further west to the Friendship Bridge. This was the bridge that crossed the Moeri River into the Myanmar border. It was kind of dingy under the bridge and its surroundings. We even noticed some people shacked up in makeshift tents and even a lady who set up shop besides one of the bridge columns as well as another lady using the water (looks kinda toxic to me) to wash clothes.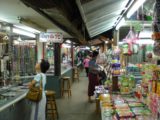 It was pretty evident that many of these people were Burmese refugees. Especially in light of the Burmese's government's handling of the Cyclone last May and the fighting between some of the tribespeople (like the Karen and Hmong) against the current regime itself, it comes as no surprise to see people in such poor living conditions here.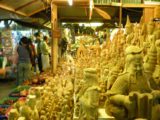 Next, we took some time checking out yet another local market. This time, Udon said Thai people would come here to buy furniture because even though teak logging was illegal, sometimes good deals from teak smuggling from Burma could be gained.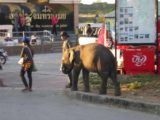 We spent most of the time here walking through another local market. Udon said Thai people come here to buy furniture because even though teak logging is illegal, sometimes you get good deals from teak smuggled from Burma.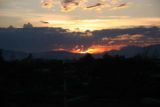 At around 5:30pm, we left the local market and headed to the Centara Mae Sot Hotel where we checked in by 6pm (just in time for sunset).
At 7pm, we had dinner with Udon where we discussed things regarding family, work, farming, and even the ins and outs of the travel business. All this was over some more authentic Thai dishes (many of which still reminded me of Chinese). I was curious about trying Burmese food, but Udon said he didn't like it.
By 9pm, we were back at the hotel to unwind.