Day 13: SLASH AND BURN
At 8:30am, we left Mae Sot for Umphang (pronounced Oom Pong instead of um fang as previously thought). There were a pair of waterfalls to see along the way so that was the first order of business.
A little after 9am, we saw a sign for Pha Charoen. We turned off and checked out this waterfall, but that must've meant that we missed the Thararak Waterfall along the way.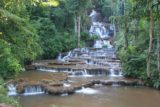 In any case, there were a lot of people here both at the campground and around the falls. Still, the crowds weren't as overwhelming. The falls itself was an attractive terraced waterfall. We managed to get here before the sun got to the falls and wreak havoc on the lighting.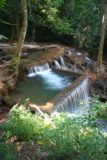 We spent a few more moments walking to the top of the falls. The trail near the top was particularly steep and potentially dangerous, but we were glad it was pretty dry and hadn't rained in a while. Otherwise, this part of the trail would not be a good idea.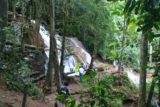 I also remembered seeing a sign saying there were some 97 levels to the falls, but it was clear we weren't going to see most of them. In fact, after inspecting some of the trail further along, Udon was already headed back my way saying there's nothing up there except some picnic tables and a pool for swimming.
By around 10am we were back at the car. Now, we backtracked to find the Thararak Waterfall.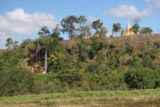 At first, we weren't sure how to find it because there wasn't a signpost for it. It was only when we noticed a gold chedi atop a hill (called Chedi Kho) did we manage to spot the waterfall from the road.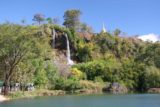 Clearly, this was a locals only waterfall. There wasn't anything that special about this waterfall either compared to the other ones we've seen. However, the one thing that made this waterfall stand out was that you could photograph it with a chedi. How many waterfalls can have this claim?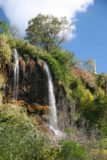 We noticed other cars of visitors show up so certainly this wasn't an unknown waterfall. Some of the people basking near the base of the waterfall seemed like Burmese people.
At 10:45am, we returned to the car and proceeded to head further south to Umphang.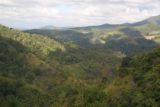 Along the way, we noticed an alarming amount of deforestation, especially around the winding and curvy roads going up and down through the mountains. There were even some plantations like sugar cane crops that run up besides the road.
Udon noticed this and was also not happy to see it. He noted that those farms and the forest clearing near the roads results in landslides.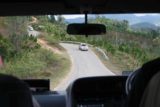 It just seemed that any corner you turn, you can see some cleared or logged path of forest land. Udon speculated it might be Burmese Karen people who tend to slash and burn as their way of life. They tend to deforest and consume forest land before its usefulness is expired, and then they relocate and repeat the slash and burn process. He said the Thai government tried to get them to change their ways, but when they're left to their own devices, they go right back to doing what they're used to doing.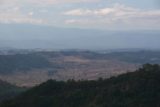 Of course you can't pin it all on the Karen people. It might also be because there's an increasing amount of development between Mae Sot and Umphang (especially near Um Piam). That was evident with the amount of sugar, corn, and other fields of crops that have taken the place of the forest.
Speaking of which, we had lunch at a seemingly popular roadside stop in Um Piam. There, we had ourselves some Chinese food as well as some usual Thai BBQ and more spicy curry with rice.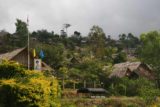 We also met someone who happened to be from Torrance (a suburb in the South Bay of Los Angeles County). Actually, she overheard Julie and I talking to each other in english and had to acknowledge herself to us.
She was here as a missionary doing her 2 year mission based in Chiang Mai. She actually got to see the Thi Lor Su waterfall, which was what we went all the way this way for.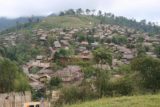 After the lunch, we continued further to Umphang while noticing a whole mountainside of Burmese refugee camps with the humble shacks stacked right up against each other. With this being both Udon and Dop's first time in this part of the country, they were also playing the role of tourist and taking photos along with us.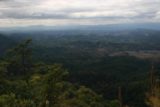 Continuing further south, the mountainous road treated us to more panoramas and expansive views. Eventually, we descended into the forests and hills below, and that was where I suspected Umphang would lie.
At around 3:10pm, we finally made it to the Tukasu Hotel in Umphang. The town itself looked surprisingly more developed than thought. The accommodation was basic and could've been somewhat charming if not for those damned roosters cockling all day and night! The electric heater on the shower was also tricky to work, but at least we got some hot water and a chance to clean ourselves before roughing it tomorrow night.
Visitor Comments:
Got something you'd like to share or say to keep the conversation going? Feel free to leave a comment below...
No users have replied to the content on this page