Day 14: THE UMPHANG WILDLIFE SANCTUARY
We had breakfast at a little after 7:30am. We were quite surprised as to how busy the Tukasu was.
Afterwards, we got our stuff packed and stored away in Mr. Dop's van. Meanwhile, my backpack was stuffed with some basic necessities (namely a headlamp, flashlight, towels, sleeping bag liners, jackets, and some other of Julie's needs) thinking we were about to embark on a trek involving 4 hours each way.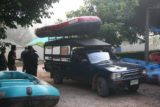 However, we recently learned that the hike is really nothing more than an hour each way, and that most of the trekking is replaced by a raft ride through the Umphang Wildlife Sanctuary itself along the Mae Khlong River, which ultimately makes its way to Kanchanaburi, where we were at earlier when we visited the Erawan Waterfalls and the River Kwai.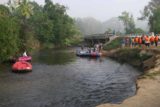 It was a bit of a foggy morning, but we had faith that this fog would clear up the later in the day it became. So we weren't at all worried about it.
So by 9am, we set off on an inflatable raft joined by Udon and Mr. Dop who are now playing the role of tourists as well as our local guide Martin (who also goes by Mel). This was apparently a popular way to get to the Thi Lor Su Waterfall because there were numerous rafts that were actually going past us.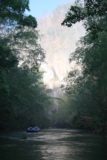 The rafting tour was quite interesting as we were passing through mostly pristine jungles. Apparently the only way through this place was by river like what we were doing. And as we were surrounded by the dense jungle canopy, when there was a opening, we could see tall cliffs and foliage changing colors through the bright and hazy fog that was burning off.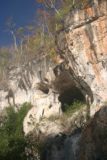 Somewhere along the way, we noticed a cave perched way up on the neighboring cliffs. We weren't sure if it was accessible, but it sure looked like a bit of a photo subject. Perhaps animals with good climbing skills or certain kinds of birds might use that cave for one reason or another.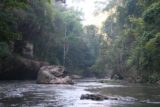 The fog was quickly burning off as the day got warmer. That exposed more of the surrounding scenery but it was also quickly warming up the jungle as the crisp cool air was slowly giving way to the typically humid air of the jungle climate.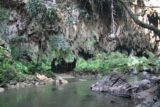 A lot of the waterfall action occurred in the early part of the rafting journey. There, we saw some weeping-wall-type waterfalls coming down moss-covered overhanging cliffs and looking like rain. I don't remember the name of the first series of falls, but the line of waterfalls shortly thereafter must've been the Thi Lor Jor Waterfall.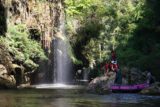 A lot of rafters stopped here for a photo, especially with the rainbow that happened to show up while we were there.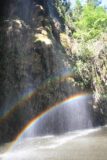 Once we got our shot of that photo op before part of Thi Lor Jor, we then continued our run alongside the long and weepy waterfall. It was hard to take a clean photo from the boat given the low light, the motion, and obstructions (i.e. peoples' heads and torsos), but when we got to the other side of the falls, we could take advantage of the sidelight of the morning sun to really bring out the weeping nature of the falls.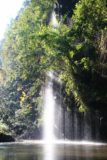 Later on in the trip, we made a brief stop along with hordes of other tourists at some place nearby a local village. There were hong nam (toilet), a hot spring for swimming in, and a comical swinging gibbon who was swinging on a makeshift swing made out of cloth in much the same way you'd expect kids to do on the playground.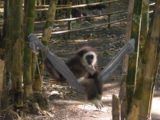 But the more I thought about it, the more my laughter turned to concern as Julie and I suspected this monkey was probably taken from its family and natural habitat (perhaps the elders were killed like with the gibbons we saw in Phang-nga Bay). Still, this monkey attracted a crowd, and at one point, I could've swore the monkey was saying "No no!" when the handler was trying to get it to do something against the monkey's will.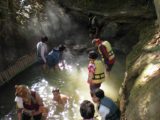 Meanwhile, we saw quite a few people enjoying themselves at what appeared to be a hot spring. I guess for this hot spring alone, it explained why this tour might be as popular as we managed to see it on this day.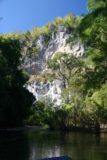 Continuing beyond the village, the scenery kind of quieted down a bit as the scenery remained a mix of jungle and tall cliffs. We didn't spot any more waterfalls during this leg of the rafting trip, but we knew that the main draw of Thi Lor Su was later on this day.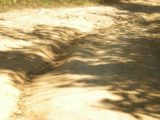 Afterwards, we left on a songthaew (a pick-up truck with additional seats and a canopy in its cab for passengers) for an hour-long bumpy ride 4×4 ride to the Thi Lor Su Campground.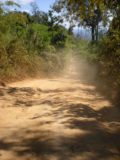 The ride was as bumpy as it was because there were quite a few ruts and little gullies that were probably formed whenever the Wet Season rains would inundate the road with lots of water, which would then look for a place to escape as it would make its way into the ground or towards a watercourse that would eventually return to the sea.
It was probably for this reason that there would be no Wet Season access to the falls unless you were willing to slog through the muddy road for a very long time.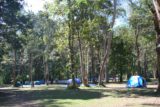 At 1pm, we were at the campground, which was very busy. Considering how difficult it was to even get here, this was surprising to see. I can only imagine the shock and perhaps disappointment that those who choose to do the 4-hour one-way trek to get here the hard way must be thinking when this would be their reward for their hard work.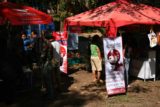 There was a lot of activity going on here at the main campground and car park for the Teelorsu waterfall (also spelled Thi Lo Su as well as Ti lo su amongst others). We heard someone playing some music, we saw a tent labeled Thailand Post (which not only sold post cards but offered to send them out!), and even some folks picnicking on provided benches and shelters.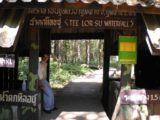 It wasn't exactly back-to-nature if you ask me. But I guess it was close enough to the New Year while many Thais were out traveling during the holiday season that perhaps what we observed was more of the exception rather than the rule.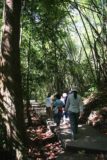 At first, we crossed the wide open lawn areas as we followed the signs towards the actual trail. I believe we had to pay an admission to get onto the trail so basically our visit on this afternoon would be it. There would be no chance to return tomorrow (time permitting) unless we wanted to spend again on the admission.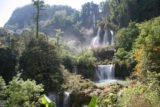 Anyways, we walked onto the mostly paved trail which was kind of narrow enough that passing slower groups wasn't easy. So the amount of time we spent walking was probably a little longer than we would've liked since we wanted to get the falls as soon as we could.
At around 1:40pm, we finally made it to the overlook for the Thi Lor Su Waterfall. Again, it was quite crowded and the sun was against us so photography was difficult. But since we were camping in the area tonight and we weren't about to come back, we figured we mind as well spend as much time here as possible so we can wait out the sun and get better photographs later in the day.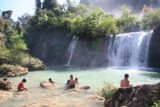 In the mean time, we decided to walk up to some of the cascades further up the waterfall to get up close to some of its accessible tiers and swimming holes (though we weren't interested in swimming).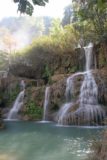 It was a good thing we were wearing Keens, but we knew they were going to stink thanks to all that water. But at least we were able to cross streams without much problem. However, some parts of the trail were rather steep and required caution.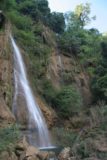 When you get up close to this kind of waterfall, the experience is totally different. Instead of trying to take in the whole waterfall in the scene, you focus on an individual cascade and plunge pool. Many of the visitors did just that by going for a cold swim.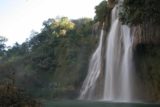 Later on, Julie and I continued climbing up to the highest point we could safely go, which offered a profile view of one of the taller tiers of the waterfall. It was a tad misty down here but there were fewer tourists so we enjoyed this spot all the same.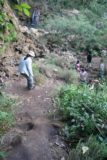 By 3:15pm, we were back at the main viewpoint where Udon was waiting for us. The sun was still up shining its rays directly in the line of sight to onlookers at the overlook. So we figured we mind as well wait out the sun during this time.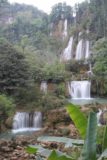 That was when we talked to Udon some more and learned that he wasn't all that impressed with the Thi Lor Su Waterfall and thinks Mae Ya is better. Now I could chalk that opinion up to some hometown bias, but in this case, I actually do think he has a point. That said, Thi Lo Su did have its merits and I guess it was all a matter of perspective, especially in light of the vastly differing opinions on what would rank a waterfall higher than another in terms of scenic allure.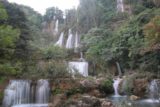 Thi Lor Su reported consists of three separate waterfalls of 200, 300, and 400m in height. The 300m and 400m seems like a lofty measure in my mind. The main waterfall is the most interesting one as it descends in multiple distinct drops while vegetation covers the breaks between drops. The two smaller waterfalls to the far right aren't anything that special, and it's hard to capture the whole seen with one shot especially if you're trying to include the smaller cascades to the right.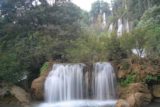 By around 4pm, the sun finally started to sink behind the cliffs at the top of the falls. That's when we made our move (it was considerably less crowded at this time though there were still lots of people). We took the next several minutes snapping photos though I wished it wasn't under such hasty circumstances (i.e. Julie ready to go back to camp and other visitors taking the platform hostage for what seemed like a photo shoot for the family posing before the waterfall).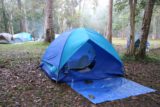 Anyways, at 4:40pm, we were back at camp. Udon, the local guide Martin, and Mr Dop brought supplies as well as the tent we were using along with some foam mats. There was no Therm-a-rest air pads that we were used to so I knew that we probably wouldn't have a very comfortable night of sleep.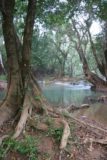 The rest of the evening was spent with just Julie and I talking about the trip over a makeshift candleholder that Martin made for us out of bamboo. It was actually pretty nifty as he said he learned that from his days in the military. So we were entertaining ourselves putting on at least 5 candles at a time and talking.
Martin joined our conversation for a bit. He told us that last night was very crowded. But that we got lucky tonight as most of them left. Otherwise, our campsite near the river wouldn't have been available.
When it came time to use the toilets, we walked in and immediately observed that they were disgusting. Sometimes I wondered if pit toilets were the better way to go instead of giant bathrooms with wet concrete floors, stale water, a putrid smell, and lots of giant insects. I can only imagine how nasty it would be for a woman to have to use these facilities (i.e. Julie must've been disgusted herself).
And so we went to sleep underneath the starry skies in a pretty cool evening.
Visitor Comments:
Got something you'd like to share or say to keep the conversation going? Feel free to leave a comment below...
No users have replied to the content on this page