Day 15: SONGTHAEW TROUBLES
It was 6:30am when we got up. We awoke to a cold, foggy morning. Our backs were stiff due to the hard ground and the foam pad that didn't do a whole lot to offset that (well, at least they were better than nothing right?). It's times like these I wished I had my Thermarest with me.
Since we hadn't done a Thai massage up to this point, I joked to Julie that maybe this is the excuse to go for one when we get back to civilization.
Our feet were still smelly thanks to the damp Keens from yesterday.
With all the breakfast pleasantries and breaking camp out of the way, we hopped back on the Songthaew and endured the two-hour bumpy 4wd road back to the entrance to the Umphang Wildlife Sanctuary.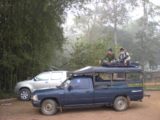 At around 10am, we were finally back at the sanctuary entrance where there was a much needed break for the hong nam (toilet). And like the Thi Lor Su Waterfall signs, this place also had multiple spellings of Teelorsu or Tilosu, etc. etc. all in one shot.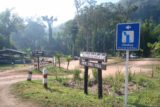 About 20 minutes later, the songthaew we were on looked like it was having problems. That was when the truck stopped in front of someone's home (presuming someone from our group knows these folks) and started to let the vehicle vent and smoke its way to cooling down.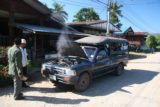 Apparently, the songthaew either overheated or was on the verge of doing so. Upon further inspection, it looked like the water pump wasn't working so the engine wasn't getting the cooling it needed. It was rather dicey to see the driver open the radiator cap and pour in water in between geyser-like eruptions thanks to the extreme heat of the engine. At least that gave us an indication of why geysers go off like they do in Yellowstone or in Rotorua.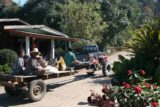 It was good thing this problem occurred near town and not on the remote 4wd road. Otherwise, the delay could've been a lot longer.
"Why do we always have car problems on our trips?" asked Julie to me rhetorically.
In any case, we killed time while watching some locals pass by with their tractor-driven passenger towing vehicles. At 10:50am, we were back on the road. Ten minutes later, we were back at Tukasu where we recovered Mr. Dop's van along with our belongings and headed back on the road northwards to Mae Sot.
A little after noon, we had gotten to the narrow and winding stretch of mountain road again. Along the way, Udon and Mr. Dop noticed some people were in trouble as their vehicle was stuck in one of the ditches. So they stopped the car and tried to investigate what was going on.
After 15 more minutes of helping them out, one of the locals who had towing capabilities showed up and that was our cue to continue onwards. Udon said that there were a couple of ladies in the car and apparently they're inexperienced in mountain driving because the driver didn't shift gears fast enough from 2 to 1 when the car was struggling to go up the steep hill. So it rolled backwards in neutral until it landed in the ditch. They were very lucky they didn't roll off the mountainside or onto oncoming traffic.
Indeed, those ladies could've easily gone over the ledge and tumble for hundreds of meters leading to certain death. I guess it just goes to show you how dangerous this road can be. I know it used to be called the Death Highway, but I think these days it's taking on a whole different meaning than what it was back in the days of guerrilla warfare having to do with the troubles in Burma.
At around 1:20pm, we had ourselves a lunch at the familiar rest stop in Um Piam. Then just before 2pm, we were on the road again.
Once again, Julie and I got sleepy and so the rest of this part of the road trip was a blur until we arrived back at the Centara Mae Sot Hill at 3:30pm.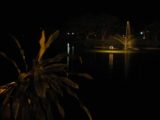 The rest of the afternoon and evening was low key. We even checked out the pond-side floating restaurant with live entertainment. And while Julie was tired of Thai food at this point, she was even more disappointed when the employees offered up bolognese and the spaghetti she got was creamy white.
I remembered one of the employees here (upon hearing that we were going to Kamphaeng Phet next) was correcting our pronounciation of that place. So I kept hearing in my head (long after our conversation with him ended) the words, "kam-PAAAING-pet, kam-PAAAING-pet…"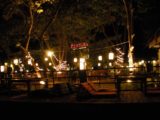 The live entertainment (in the usual Thai style) involved some classic Chinese songs that Julie said her mom loves and I'm sure my parents like, too (after all, I subconsciously knew those songs probably since I heard them growing up). With the dark, candlelit pondside setting, fountain running in the distance, and bright Christmas lights before the performers, it was a fittingly laid back end to the activities of the day.
Other than that, we watched a couple of movies that happened to be on TV (one involving Mark Wahlberg as some kind of sniper who was set up and the other being the classic "Ghost").
Visitor Comments:
Got something you'd like to share or say to keep the conversation going? Feel free to leave a comment below...
No users have replied to the content on this page