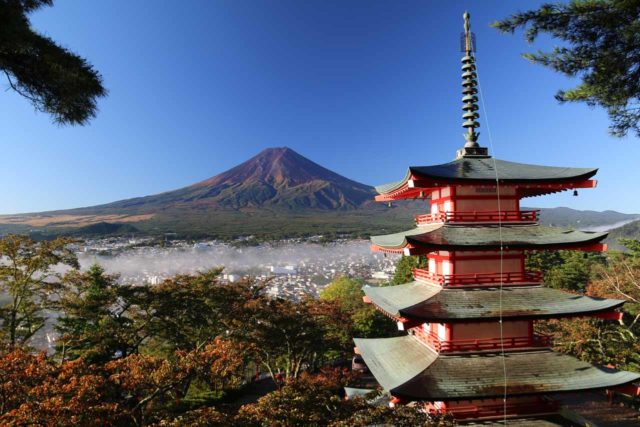 13-October 2016 to 26-October 2016:
Eventually, we caught the 7:32am train hoping that this was the 7:30 bullet train going to Mito, but it didn't take long before an english announcement said that the train would stop at every station after Abiko. So from that point on, we had a decision to make. Should we get off the next stop and take the next train back to Ueno hoping that we'd arrive in time to catch the 8am train back to Mito? Or should we keep going on this slow train hoping to still catch the 9:22am train from Mito to Fukuroda.
Well, we decided to keep going thinking that with this train having the 28-minute head start, it couldn't beat us to Mito, could it?…
Days 1-3 (October 13-15, 2016 – Tokyo, Japan): "Going Back And Forth"
It was about 9pm when we arrived at LAX, which was quite busy. Mom and Dad used an Uber-like service (or maybe it was an Uber driver, dunno) and I guess he took us on some interesting back roads near Aviation Blvd to get to LAX via Century Blvd. It was an approach we hadn't taken before, but he said it was due to traffic. Had we been in a rush, I kept thinking that it was probably better if we took the lower level for arrivals then walked upstairs to the Tom Bradley Terminal.
Anyways, once we were there, we promptly went to the China Airlines counter to get our boarding passes and check in our bags. And by 9:55am, we were waiting for a while at the Gate 154, which was interesting in that we already had known our gate well before the monitors were supposed to tell us our departure gate. I guess this was one example where China Airlines to Taipei probably always had a designated gate or something.
I was pretty tired by the time we were in the gate and I badly wanted to just sleep, but I knew that it would be interrupted and uneasy sleep until we'd get onto the plane. Sure enough, I dozed off, and eventually by around 11pm, I woke up again. We pretty much boarded on time at 11:25pm, and then the plane took off shortly after midnight as scheduled.
It was hard to fall asleep at first because they kept the lights on until they served dinner. But eventually after the dinner and dozing off to the sounds of Mr and Mrs Smith
, that was when I fell asleep for the next 6-7 hours.
The sleep wasn't easy because the seats felt kind of hard and they made my bottom sore. So I kept tossing and turning left and right to keep the butt from getting too uncomfortably sore. Still, that ensured that the sleep wasn't going to be that restful, but at least I did get more shut eye than I had been getting for the last two or three weeks due to lots of work and lots of work on the website when I wasn't on the job.
When I eventually came around with still about 5.5 hours left of the 13-hour flight, I found myself finishing off watching Mr and Mrs Smith
, then I watched the very interesting Adjustment Bureau
before watching part of the movie In Time with Justin Timberlake
. And at about 5:15am, we finally arrived at the Taoyuan International Airport west of Taipei.
It was still too early for most of the terminal to be open so it felt kind of dead. Further adding to the mood was that the weather outside was quite foul as it seemed to be pouring rain. It got Mom and I wondering about whether we'd have to be hiking in this weather nearly two weeks later. Perhaps even more disconcerting was how much of Taiwan we might not be able to see as a result of the typhoons a few weeks ago followed by the saturation rains that they still seem to be getting in the north and east of the island.
But nevertheless, we got through a more expedited security line before getting into the general terminal area where Dad decided to have a seat near the gate A8 for our next flight to Narita while Mom and I were walking around the airport just to see what else was here since we had nearly 3 hours to kill before our scheduled boarding time of 8:25am.
So we wound up walking quite a while on the D Terminal which seemed kind of dead though they had some interesting sections displaying Taiwanese food themes, a childrens play area, an arcade area, and even an Alishan-inspired area with lots of aboriginal cultural artifacts. Whenever we looked out the windows of the airport, we saw how depressingly rainy and dark it was, and we worried that wouldn't bode well for us when it would come time to tour Taiwan 12-13 days later (after visiting Japan). When Mom and I backtracked and saw a busier corridor leading to Terminals B and C, that was when we finally found the luxury lounges as well as more extensive food courts.
When we finally rounded up Dad, we all grabbed our stuff and killed the next hour or some from 7:15am eating some beef noodle soup, soup dumplings, and other small Taiwanese snacks. The food was definitely better than what we had on the plane, so we were quite satisfied with what we got on this quick meal.
At 8am, we made it back to gate A8. By now, there were a lot more people waiting to get onto the next flight to Narita. Unfortunately, we had a feeling that our flight would be delayed because the plane still hadn't arrived at the gate at this time. So with this unexpected delay plus the 3.5-hour flight plus the customs and passport control, and the 60-minute+ train ride from Narita to downtown Tokyo, I knew that we were in for yet another brutally long journey day!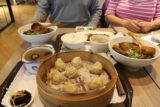 By 8:35am, the plane still hadn't arrived, and that was whem it was announced that the flight would be delayed and the new boarding time would be at 9am instead of 8:25am. While we were patiently waiting for our delayed flight, we saw that the skies were somewhat clearing and that a nice rainbow even appeared to the north.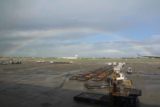 But aside from that, we'd finally get on the plane at the promised time of around 9am, but it would take forever until we'd finally be able to take off, which was at around 10:30am. So the flight was pretty much delayed by 90 minutes.
So it wouldn't be until around 2pm that our flight would finally land at the Narita Airport. And after getting through the passport and customs formalities, we then promptly got our Tokyo Wide Pass and waited for the next Narita Express train at 3:18pm to get us to Shinagawa Station, which was where the ANA Strings Hotel was located (which was where we were staying).
It wouldn't be until 5pm when we were finally checked into our room. We had a little trouble finding this place because the reception was on the 26th floor and the signage for the Strings Hotel wasn't apparent until a kind security officer showed us the correct building to walk to. We also managed to get over the drama of check-in without Julie, who was home tending to some health issues while also watching Tahia.
When we were all settled in, we headed back downstairs at 5:35pm, and that was when we asked the concierge about a possible place to hang out on this evening in Tokyo. She suggested checking out Shibuya, and that was where we ultimately wound up going. When I asked her about the Tsukiji Market, she also mentioned to me that it would be closed on Sunday (tomorrow).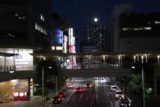 When we left the Strings Hotel, twilight was already almost over, but we were greeted with a pretty bright full moon that kept the night from getting too dark. Plus, the Tokyo city lights were also coming on, further adding to the night time brightness.
We took advantage of our JR Tokyo Wide Pass to take the Yamanote line from Shinagawa to Shibuya. And after a few tentative rounds around the block looking for a place to eat in the Shibuya district, we'd eventually eat at this vending-machine-scheme place at 6:25pm where we ordered our ramen dish via machine, then handed the ticket to the cook, who would then promptly bring out the stuff to our table. It was quite efficient, especially with the potential language barrier problems.
When we were done eating our ramen meal, we then walked around the really happening part of Shibuya, where the energy of the place was electric and quite reminiscent of what the tempo that Times Square in New York would have. There were lots of young people out and about on this Saturday night, and at the same time, there were lots of people just getting off work.
While all of us were a little past our prime in terms of prolonging our experiences here in the busy Shibuya District, but it felt good to just be in the moment and taking it all in. Mom and Dad were definitely mentally comparing this experience to the night markets you'd commonly see in many cities around Taiwan.
After randomly meandering about several spots in the Shibuya area, we'd eventually head back to the room but not before asking some JR Exmployees about advanced ticket reservations as kind of our forcing function to commit to our planned time early in the morning but no as if we would be rushing after a nice Tsukiji-market sushi experience.
At 8:05pm, we finally made it back to our room, and then we all crashed for the night though I would have to improve by sleeping on the couch. I guess since we got these first two nights of this trip on a combination of anniversary night and points, I can't really complain about sleeping on the couch without a legitimate blanket.
With a full spate of activities tomorrow (mostly for mass transit to and from Tokyo to Fukuroda), this was one plan we'd really have to execute or else risk losing ourselfs in the past…
Day 4 (October 16, 2016 – Tokyo, Japan): "The Turtle Theory"
It was about 5:30am when we awoke to the alarm. Mom and I had momentarily awoken at around 2am from the jetlag, but I eventually fell back asleep until the alarm. With the Tsukiji markets closed on Sundays, we didn't have to stress about trying to get sushi on this day, but now the next issue was ensuring that we'd follow the spate of JR trains and connections all the way to the Fukuroda Falls and back. In one of these connections was a three-minute window to get from one train to the next, which made me real nervous. And if we missed that connection, then we'd be looking at nearly another two hours of more waiting before the next train.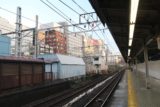 So at 6am, we headed back downstairs and then promptly to the JR Station at Shinagawa. At about 6:15am, we read the signs and wound up waiting for an orange line train taking us from Shinagawa to Ueno. The wait seemed a bit long for something so frequent, and I guess I didn't realize that we could have taken the blue or green lines to get to Ueno from Shinagawa as well. So anyways, we finally boarded the 6:33am train (waiting about 15-20 minutes in the process), and finally got to the Ueno Station at almost 7am.
Our shinkansen train to Mito was supposed to be at 8am so we thought we could kill some time buying some breakfast before hopping on the train. But as I was studying the timetables last night, I thought that perhaps we should take the 7:30am bullet train from Ueno to Mito to give us a bit more than 3 minutes to connect there onto the Suigun Line to Fukuroda.
But unfortunately without knowing the correct platform that had the correct bullet train, the only one we saw near the breakfast place was one that left at 7:32am on platform 9 or 10, which was next to some ramen place that we had our quick brekkie at.
Eventually, we caught the 7:32am train hoping that this was the 7:30 bullet train going to Mito, but it didn't take long before an english announcement said that the train would stop at every station after Abiko. So from that point on, we had a decision to make. Should we get off the next stop and take the next train back to Ueno hoping that we'd arrive in time to catch the 8am train back to Mito? Or should we keep going on this slow train hoping to still catch the 9:22am train from Mito to Fukuroda.
Well, we decided to keep going thinking that with this train having the 28-minute head start, it couldn't beat us to Mito, could it?
Well, as the time went by, Mom had this theory that perhaps we could get off at Abiko and hopefully intercept the bullet train we were supposed to be taking there to get to Mito. But we ultimately decided to stay with this slow train with the 17 stops between Abiko and Mito because we weren't sure if the shinkansen would even stop at Abiko at all. Dad said, sometimes you're better off being the tortoise (he called it the turtle) than the hare, and that eventually we'd get there.
Then, at 8:40am, it turned out that we had to switch from one of the cars (we were sitting in car 3) to one of the rear cars because the first 5 were being detached. That caused us another moment of nervousness before we finally got on the right set of cars to continue onto Mito.
At 8:55am, we saw a bullet train that zoomed by us while we were stopped at the Takahama Station. That was when I knew that there was no way we'd make the 9:22am train from Mito to Fukuroda and that would pretty much blow up the plans of making it back to Tokyo at a reasonable hour after having visited the Fukuroda Falls.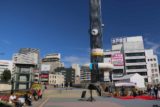 It wouldn't be until about 9:40am when we finally arrived at the Mito Station. We saw that on the Suigun Line, there was a 10:22am train as well as an 11:15am train. But we had to make sure we were taking the correct train after the initial snafu we made that caused this mess in the first place. So we got back out of the platform area and went to the JR Ticket Office to ask for some printed timetables as well as an explanation of which trains we were supposed to be taking. And it was a good thing we asked because it turned out that the 10:22am train would not go to Fukuroda and we'd be screwed.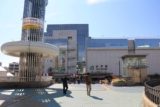 So knowing that we'd have to take the 11:15am train, Mom and Dad killed some time at a nearby Starbucks in the Mito Station, while I saw some signage saying that the Mito Castle and some birthplace of Tokugawa Mitsubani were both near the train station. So I took the time to walk to both spots.
It turned out that the castle required a paid admission of 1100 yen (about $11 USD) but with such limited time, I decided to just check out the exterior of the premises. Then I walked over to some bridge that had some historical significance before I started walking back in the direction of the JR Mito Station.
Next, I then walked east towards a shrine at the Mito Komon Shrine (i.e. the birthplace of Tokugawa Mitsubani). When I finally got to that shrine, it was basically a humble open-door shrine sandwiched between a road and some tall buildings. It looked important and peaceful, but could easily be overlooked given its humble appearance.
When I returned to the Mito Station, I saw some large kiddie band playing, which was pretty cool to check out. They had a handful of people looking on, but I think they were more rehearsing than putting on an actual show at the time.
Eventually at 11:10am, we finally got onto our scheduled 11:15am train to Fukuroda, but this train from Mito to Fukuroda was only a local train. I don't think they had a more express train. Anyways, there was another 16 stops or so to get from here to there, and it looked like the amount of time it would take would be well over an hour.
The train ride was uneventful as we looked out the window and saw the countryside scenery go from buildings to parks to farms and long stretches of forest. We'd eventually get into some mountain scenery as well as a river following alongside the general direction of the tracks.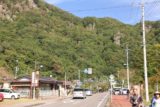 Mercifully, the train finally arrived at the small Fukuroda Station. There was a bus waiting there, and we promptly spent 210 yen per person (630 total) to take the quick 10-minute ride up to the nearest stop to the Fukuroda Falls at the Takimoto stop. We'd get off the bus at 12:40pm, and we next pretty much followed the small crowd of people heading in the same general direction.
It wasn't obvious exactly where we were supposed to be walking to get to the falls, but all these people couldn't be wrong could they? So based on that, following the herd was probably a sure thing to get to the falls. As we were walking, Mom realized that she had left a bag on the bus and we resigned ourselves to perhaps losing that bag full of lunches.
Eventually, we'd reach a small town where there were lots of yakitori stands as well as a handful of restaurants. We kept pushing forward as we saw the Fukuroda-no-taki sign in kanji pointing us to the left going up some hill past some steep garden where a sign implored people not to use the terrace as steps to get up.
Next, we got to another entrance, which required 300 yen per adult, and we then entered some interesting tunnel that took us past some shrine, then past a junction with some Lover's Retreat area or something like that, and then past another intersection that led to a bridge before finally reaching the last trio of junctions where the sound of the falls could be heard.
At 1pm, we finally got to a lower view of Fukuroda Falls, which was quite in-your-face. The view from down here wasn't the greatest, but it did bring us very close to the base of the rather unique-looking Fukuroda Falls.
After having our fill of this spot, we then queued up at a different part of the tunnel to take an elevator up to the upper decks. From there, we followed some wooden steps up to a pair of platforms with a more elevated view of all the tiers of the falls. However, both of the platforms up here were pretty packed with people, which made the experience a bit hectic.
Still, we basked in the victory of finally getting to experience this waterfall. Unfortunately, the falls wasn't flanked by fall colors as we were hoping so there wouldn't be that much color accentuating this waterfall. So we took what movies and photos that we could of the falls from this vantage point before queueing up for the descent.
Once we got down to the bottom, we then took the junction we skipped earlier, which got us down to a bouncy suspension bridge that afforded us an angled view of Fukuroda Falls as well as making it darn near impossible to get a still photo with all the foot traffic on the suspension bridge causing everyone on it bounce and wobble.
When we got to the other side of the bridge, there was a steep set of stairs leading up to what appeared to be the top of the Fukuroda Falls. I figured that since we were already here, why not go up there and see what it was about.
Well, it turned out to be a bit of a mistake because there really weren't any views of the falls nor were there legitimate views back down to town given all the overgrowth around us. So in the end, I decided we should turn back, which I promptly did at 1:45pm. I also warned Mom and Dad not to go any further when I saw them since the amount of effort for such a seemingly small amount of reward (if none at all) wasn't justified.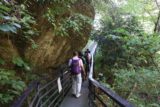 So as we were a sweaty mess, we headed back down the steps, then continued to finish off the loop hike on the opposite side of the river. And when we realized that the next bus back to the Fukuroda Station was at 2:10pm while it was 2pm when we checked, we hastened our walking pace until we'd eventually catch the bus just in time, and we'd be back at the Fukuroda Station at 2:20pm.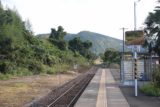 But unfortunately, the next train back to Mito wasn't until 3:42pm so we pretty much had a nearly 90-minute wait. It was these wait times that comprised most of our delays on this trip to Fukuroda Falls from Tokyo, and in hindsight, driving this part was probably the smarter choice. Of course, in second-guessing myself, the main reason why we chose to do this by train instead of by car was that I didn't want to drive through the congestion of the greater Tokyo area.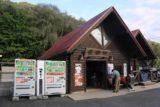 At 3:15pm, we then saw the bus drop off another load of people at the Fukuroda Station from Fukuroda Falls, which meant that we probably didn't need to have hastened our walking to catch the 2:10 bus. I guess we could've killed some time having yakitori or something after all.
Nevertheless, there was a Shanghai person why was waiting at the train station striking up a conversation with my parents. I guess without that language barrier, their conversation was very welcome. And when we finally got onto the 3:42pm train, Dad and this 31-year-old guy continued their conversation until we'd eventually make it to the Mito Station just as the sun was setting.
We got to the Mito Station just before 5pm, and then after parting ways with the Chinese guy we were talking with, we went back out of the terminal area so we could talk to the familiar ticket office guy who recognized us. This time, we caught the shinkansen train back from Mito to Shinagawa, and when we finally boarded the train at 5:30pm, we saw that it was quite busy and seemingly festive (at least with the group of folks in the back who seemed to have had quite a bit to drink).
Anyways, going back to the Turtle Theory, we tested Mom's idea out by seeing if this train would stop at Abiko at all on the way back. And well, it turned out that this train went straight from Mito to Ueno, which meant that had we got off at Abiko earlier in the morning, we could've been even more screwed and not even see the Fukuroda Falls at all!
So moral of the lesson here was that when in doubt, ask the JR Ticket Office about the correct platform no matter which station we were at as well as getting timetables so we'd know what we'd have to do to get from one place to the next and when. Never make the mistake of trying to outthink outselves and come up with alternates without the proper information at hand.
Anyways, at 7:20pm, we were back at the Tokyo Strings Hotel. While Mom and Dad went back up to the room, I spoke with the concierge about the Tsukiji Market and the earliest possible trains we could take. It turned out that the earliest train on the Keikyu Line to the Higashi-ginza stop (about 10 minutes walk from Tsukiji Market) was at 4:57am and the next train was at 5:28am. The ride was said to last 11 minutes.
With the rain forecast for tomorrow, we were really hoping that it might deter most people from showing up. But I guess we'll find out just how bad the wait can get tomorrow.
The next question I had for the concierge was picking up some probiotics for Julie. Eventually, she found where they sold it, which ultimately meant that I had to walk across the Shinagawa Station to the Prince Hotel Annex Tower to get at a chemist there. And by 8:05pm, I was finally back at the room with the products in hand (costing me some 6200 yen) that was apparently in a new style compared to the box cut out that Julie taped to my notebook. Hopefully it'll do because it didn't seem all that obvious to find, especially with the language barrier…
And so ended this hectic day with tomorrow promising to be yet another hectic day given the expected Tsukiji Market complications. But hey. If you're already here, you mind as well go for it since who know when we'll be coming back to Tokyo?…
Day 5 (October 17, 2016 – Kawaguchiko, Japan): "The Gamut of Japanese Experiences"
It was 3:45am when both Dad and I awoke. We didn't need an alarm to get up and ready (thanks to the jetlag) so while Mom was getting her last bit of sleep, Dad and I were busy freshening up before doing some packing up of our belongings to reduce the amount of stuff to do when we'd get back from the anticipated visit to the Tsukiji Market for some sushi place over there.
We were aiming to go to either Sushi Dai or Daiwa Sushi, but we knew that there would be a long wait for those places. And if it wasn't possible to get in and out of there within two hours, then we didn't mind falling back to one of the other sushi spots over there.
In any case, Mom and Dad probably had no idea what they were in for in going to the Tsukiji Market because their attitude going into this was that it was "my" sushi experience that I was going for and that they could have sushi back at home so why go through so much trouble for this place? Indeed, sushi for breakfast was not exactly something Mom was into doing.
Anyways, once Mom got up, she quickly got freshened up and ready to go, and by 4:15am, we quickly headed downstairs and towards the Shinagawa Station where we tried to catch the Keikyu Line entrance. But when we got there at around 4:25am, we saw that the gate wasn't open and neither were the ticket machines. So we would have to wait.
Not only that, but even the ATMs weren't operational in the station yet either. But when we finally tried to use the ATMs, apparently, these machines would only work with Japanese-issued credit cards and bank cards or Suica Cards. They wouldn't take our ATM cards.
So with that, we were getting worried that we were going to be a bit short on cash, especially since the sushi dives were not likely to be accepting any credit cards.
Nonetheless, we pressed on. Eventually, a few minutes after 4:45am, the ticket machines started to open up at the Keikyu Line entrance, and so we eventually put in some coins (all 360 yen x 3 of it) before we then had to figure out which train to get onto in order to get to the Higashi-ginza station from Shinagawa.
With the confirmation of an elderly lady already riding the train bound for Higashi-ginza, we were on our way promptly at 4:57am. Then, by around 5:10am, we were up and out of the Higashi-ginza station and started walking in the dark towards the Tsukiji Market. After getting a little disoriented at first, we were eventually pointed in the right direction towards the market by some locals whom we asked, and then we eventually saw some signs pointing the way.
At around 5:15am, we finally made it to some shrine near the heart of the Tsukiji Fish Market. It was definitely a bustling place as this was a working area where it was big business here, and the workers had no time to be nice to folks who were getting in the way.
As we continued to try to feel our way towards the Sushi Dai and Daiwa Sushi joints, we eventually saw some monstrous line eventually leading to one of the alley ways where there was another long line. It turned out that the line we first noticed was for Sushi Dai. The secondary line was for the Daiwa Sushi place. At first, Mom, Dad, and I got into the Daiwa Sushi line, but when we learned that the wait from our spot was 90 minutes, we decided to just go to the sushi dive sandwiched in between these restaurants.
I didn't expect the quality of this place to be that great, but we certainly weren't prepared to give up a whole half day just for sushi. That was something that we just couldn't justify. In fact, this experience kind of reminded me of the crazy Texas barbeque experience in Austin where we couldn't bring ourselves to line up and wait for four or more hours to eat at Franklins.
And so by about 5:40am, we were promptly seated and we kind of enjoyed the intimate and cozy setting. There were already some Japanese folks eating sushi here, but ourselves as well as another couple (a French guy and a Spanish lady) were the foreign visitors.
This place served up the typical nigiri sushi as well as some choices of chirashi fare. There wasn't any omakase at this place. So we pretty much got their 3900 yen package for 11 pieces plus miso soup. We probably could have ordered a la carte and loaded up on the good stuff like toro, uni, or other expensive seafood, but we just kept it simple and got our sushi dishes from their combo menu. We certainly weren't going to make things harder than they needed to be given the language barrier.
The sushi itself was ok. I knew we had better in other places, but we certainly weren't going to take part in the TripAdvisor lemmings effect for the other sushi joints.
Anyways, we were done with the sushi brekkie at around 6:40am, and when we got out, it seemed like the lines had grown a bit for Daiwa sushi while the Sushi Dai line wasn't as crazy, but it still was crazy. Plus, the skies turned grey and the rain finally started to come down. Even the place we had just eaten at had a little bit of a line.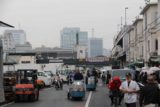 On the way back, we took a different route to save a little bit of cash (though not that much). So we took the Tsukijijo Station and took that to the Daimon stop, which costed us 180 yen per person. We then caught the JR line back to Shinagawa Station as we continued to take advantage of our Tokyo wide pass.
At 7:10am, we were back at the Strings Hotel, where we wrapped up some last minute packing then promptly went back downstairs with our belongings. While Dad and Mom were making their way down, I had already started the process to check out. We didn't owe the hotel anything so we were quite relieved that they didn't give us a hard time for fitting Dad into the room, and that we were successfully able to stay the two nights for free using both the anniversary night as well as some 50k points for the second night.
Next, we headed back to the Shinagawa Station where we decided that we were going to take the slower JR Tokaido Line local train to Odawara instead of the shinkansen. The shinkansen would only take around 30 minutes while the local train would take about an hour and 15 minutes. With about $100 USD at stake had we paid out-of-pocket for the shinkansen, we ultimately decided that losing out on more money over a time savings of nearly an hour wasn't justified.
And so we managed to get into the crowded JR part of the Shinagawa Station then aimed right for platform 12, which was for trains on the Tokaido Line. We then caught the 7:37am local train bound for Atami, and we joined the crowds of people packing into the trains like sardines.
It was a bit awkward lugging our luggages onto the local trains, but we eventually managed to snag a spot near the doors connecting adjacent trains after awkwardly standing kind of in the middle of the throughfare as we were surrounded by lots of other people on the sardine-packed trains. I guess that was what the green cars were for after all, though we couldn't have booked it in advance given the uncertainty of how much time the Tsukiji experience would take.
Regardless, we made it work, and after somewhat ignoring whatever the silent radio was saying about some world news events as well as some worrying tickers saying something about the suspension of service for some of the current lines on the JR network (including the JR Tokaido Line that we were on), we would finally arrive at the Odawara station at around 8:55am.
It took us some time to squeeze onto the escalators and then near the Starbucks there as Mom was busy buying some coffee while Dad had to do a much-needed potty break. But afterwards, we then saw that it was raining pretty hard and we next had to find the Nissan Rent-a-car so we could put our stuff in our rental car and finally move about independently without being slaved to the train schedules and other things.
One thing that had gotten us worried though was that we weren't successful in finding an ATM that would take our bank card or credit card nor could we find a foreign exchange counter within the Odawara Station. So with the sushi place cleaning out the last of our big bills, we only had around 6k-7k yen left. We weren't sure if that was going to hold us over for the toll roads and such as well as snacks or eats along the way.
It wasn't until about 9:20am when we finally got the rental car. Instead of a four door sedan, we ended up with a four-door hatchback, which had plenty of space for our luggage though I did wonder whether our somewhat larger car might make it difficult to drive in some of the tighter roads or parking spaces throughout the next 7-8 days of our trip.
Our luggages and myself was starting to become a soaked mess, but we were successful in finally getting our stuff into the car. The next step now was to get our GPS
going as well as figuring out how to enter the coordinates of the included Japanese GPS (though it was English speaking). Since we were now headed for the Joren Falls, we had to enter coordinates but the format wasn't quite the way we had it on our Mapsource software and the GPS Nuvi unit we were using (from New Zealand) somehow didn't let us route any of our waypoints. So we were pretty much relegated to logging our driving progress with our own GPS
while using the Japanese one for navigation.
So with all the formalities in the beginning, it wasn't until about 9:35am when we finally started to drive off. First up, we drove out of the train station and was in search of a bank to exchange some money since we knew that we were pretty short on cash, and cash is king in Japan.
With the rain coming down so hard, we saw the attractive Odawara Castle whilst driving, but we didn't get a chance to stop the car and take photos of it. Maybe another time when we could tour more of the Fujisan and Hakone area could we take a little more time here and check out the castle in better weather.
As we continued driving, we stopped by another bank along the way. Dad and I went in but after trying to talk to the teller about exchanging our US currency into Japanese currency, the lady at the teller told us (in Japanese) that we couldn't do it. They didn't do currency exchanges there.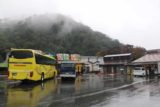 And so off we went with still not so much cash on hand. And we then pretty much followed the Japanese GPS as it led us through the Hakone Pass and then onto the Hwy 136 south then the Hwy 414 south into the heart of the Izu Peninsula. Again with the rain coming down so hard, we opted not to stop by any of the planned side attractions like the Shuzenji Temple along the way and headed straight for the Joren no-taki waterfall.
We had to pay a couple of 200 yen tolls along the way but we'd ultimately get to the large and well-signed parking area for Joren no-taki at about 11:15am. There were tour buses here plus a handful of cars despite the nasty rain.
So after donning our rain gear (Mom and Dad brought their small umbrellas while I was using the old blue rain poncho), we promptly braved the moderate to heavy rain and went down the steps leading to the base of the Joren Falls. There were a handful of shops and stands along the way down before the steps became more consecutive and steeper, and then we'd eventually get down to some ice cream cafe as well as some kind of fish shop near the bottom.
The Joren Falls was a gushing waterfall but it was hard to fully appreciate the experience because it was hard to take photos without risking damage to the camera from all the water from the rains as well as some of the waterfall's spray. It kind of reminded me of some of the wet experiences in our Oregon trip where Julie and I struggled a bit with some of the foul weather on our first ever trip to the state years ago.
I kept feeling that my clothes were a bit soaking wet, and when we returned to the car park at 12:05pm, I realized that not only was the rain poncho I was using ineffective, but it was also shedding some of the underlying plastic layer that give it the waterproofing property for so many years. So I guess now it was time to retire it and switch to Julie's maroon poncho for the next waterfall.
As we were driving off back towards the north en route to Syasui Falls, we stopped by one of the 7-11s in the Izu Hanto. To our delight, the ATM machine in there accepted my bank card, and even the cashier accepted my credit card for our purchase of food and water. So by 12:25pm, we were pretty fully stocked with some snacks, cooked snacks, and water as well as some much-needed Japanese yen.
Next, we could now focus on driving to the Syasui Waterfall, which was said to be another 90 minutes drive away. With not much sunlight left in the day, we had to be real serious about making it there before continuing on to Kawaguchiko where we were to spend the night. Clearly, there'd be no view of Mt Fuji on this day.
The drive went on pretty uneventfully though we had to negotiate a spate of some more toll roads, including a few long distance ones that included some long tunnels. We ultimately got onto the New Tomei Expressway, which actually overshot the town of Yamakita, which was near where the Syasui Falls was, and when we finally got to the offramp for the expressway, that was when we had to backtrack on the more local roads before finally getting in the vicinity of where we expected the falls to be.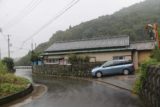 At first, we followed the Japanese GPS, which strangely had us going up some driveway-looking road before curling around towards a curious steep ramp leading down to where we could clearly see the entrance to the Syasui Waterfall. However, we couldn't find official parking up here, and it was said that we couldn't drive down the steep ramp to get down to the entrance.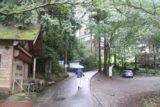 So we spent some minutes awkward parking near someone's home before we walked down the ramp and towards the entrance. Once we were down there, we quickly noticed that there were more abundant and official parking spaces down there, and I knew that we must've taken the wrong road to get here. So I headed back up to the car so we could re-position it at the more official car parks while Mom and Dad waited for me at the trailhead.
Eventually at 2:15pm, we finally parked the car near the bridge by the trailhead, and then we donned our wet weather gear (this time I wore waterproof pants so nothing in my pants would risk getting soaking wet), and we were off. With the rain still coming down, it was once again difficult to take trail photos without risk of damage to the camera from all the water.
Still, the walk was short as we passed by some hotels (that didn't seem to be accepting guests this time of year or this time of the week). And even with the rain, the walk was peacefully serene and beautiful as there were lots of trees, and we even passed by some steep steps leading up to a shrine that we vowed to return to once we were done with the Syasui Waterfall.
Eventually, we would get to one of the steps leading up to a "Photo Spot", and when I got up there while Mom and Dad continued on the main trail, I immediately saw that there was the attractively tall and graceful Syasui Falls framed by tall trees. There was also an attractive red bridge down below, which added a little more color contrast to the greenery and the white of the falling water.
When I re-joined Mom and Dad, they took photos stopping short of the red bridge. Upon closer inspection from the bridge, we could see that there were more steps leading right up to the base of the main drop of the falls, but we couldn't get onto the bridge because of a rock slide that occurred on the other side. In fact, it seemed to have blown out a second bridge, and it also seemed to have caused damage to the bridge we couldn't cross.
So we were content to take photos, and then slowly start making our way back to the car park. But along the way, Mom and Dad were having fun with some spring or fountain next to the trail where it was possible to sample the water. Mom had a taste and said it had somewhat of a sweet flavor to it. And when Dad put two and two together, he realized that the kanji for Syasui Falls translated into something like Wine Falls probably because the water was said to taste sweet.
After Mom and Dad experienced the Photo Spot, we then went up a ramp that led right to a pair of attractive shrines. One of them actually had an open door where it was possible to remove the shoes and do a little prayer. But at the larger and very photogenic shrine just a few paces away, that one's door couldn't be opened. So we were content to take more photos and bask in the atmosphere of this seemingly sacred spot. In fact, when we arrived, there seemed to be some kind of greeing music or something playing to further add to the mysticism of this spot.
At 3:10pm, we were finally back at the car. The rain appeared to let up somewhat by this time so we weren't quite the soaking mess that we were back at the Joren no-taki waterfall. Still, with daylight fading quickly, it was now time to drive to our next accommodation at Kawaguchiko, which was the Mizuno Hotel. And on the way out, we took the road we should've taken in the first place. Sure enough, we saw large signs indicating the Syasui Falls was on this turnoff…
Julie and I stayed right across from the Kawaguchiko Train Station, but this time, we were staying further away on the other side of Lake Kawaguchiko (River's Mouth Lake?) at the Mizuno Hotel, where it promised to yield gorgeous views over the lake towards Fuji-san. Unfortunately with the weather stubbornly remaining misty and rainy, the views weren't going to happen on this day.
The rest of the drive went fairly uneventfully though Mom and Dad were keeping me company during the drive, especially regarding trying to read the kanji, and Dad demonstrating his limited knowledge of the Japanese language from having worked near Numazu back in the early 70s. He was intent on teaching me katakana, which were the Japanese sound words to help guide the spelling and/or pronunciation of words introduced to the Japanese language from another foreign language not already covered by Chinese.
Eventually at about 4:35pm we finally arrived at the Mizuno Hotel, which was way up a hill overlooking Lake Kawaguchiko. While I had a little trouble trying to park our large car, I let the employee use our keys and finish the job for me while we were unloading the vehicle of our luggage and our soaking wet bags and equipment.
At about 5pm, we finally checked into our attractive Japanese-style tatami room, which was something Mom and Dad wasn't familiar with (yet another new experience that they'd never be getting on one of those Chinese group tours). Anyways, we were savoring the experience over some tea, and we'd eventually decide not to eat out and take the hotel up on the offer for dinner in their dining area.
In fact, the whole lobby area was pretty decked out in elaborate decorations and it had that kind of charming decor that Julie could totally appreciate. The ambience was even more amped up towards the twilight hours as we would make it back down to the lobby and dining area between 5-6 where I took some photos to try to capture the decor, and then we'd have our 6pm dinner which was a little of everything as Dad got his bento box, Mom got her shabu shabu, and I got sukiyaki (something I don't think I recalled having before).
The dinner on site turned out to be a good call as the food was adequately filling and pretty tasty. Sure the sashimi wasn't all that great after having had our Tsukiji experience (which itself wasn't all that great either), and we wound up having a pretty special family dinner where we enjoyed our accomplishments of the day while also letting it sink in the new experiences that Mom and Dad were having. It even ended off with some Japanese pear, orange, and mochi dessert, so for sure we didn't leave the dinner table hungry.
By 7pm, we were back in our room, where it didn't take long before Mom and Dad quickly crashed and tried to get caught up on sleep after our early wakeup this morning. We intended to sleep in a little for tomorrow morning, though I'm sure how much activities we'd be doing on that day would be dependent on how willing Mt Fuji would reveal herself…
Day 6 (October 18, 2016 – Matsumoto, Japan): "Losing Faith in the GPS"
It was 4:30am when we awoke. We still didn't need an alarm as our bodies were still getting adjusted to Japan time. Nonetheless, these early wake-ups were welcome as we knew we could spend every precious minute of daylight engaging in activities we want to be doing (like sightseeing) and less time being wasted.
Even though it was still dark outside, I could tell that it was foggy as the lights from the buildings opposite Lake Kawaguchiko now could not be seen. I was a little worried that perhaps seeing the top of Mt Fuji might not be happening. However, I was also holding out hope that the fog was nothing more than low lying clouds that would ultimately be burning off as well as being low enough that if we managed to find a higher vantage point, we ought to be able to see the entirety of Mt Fuji above the clouds.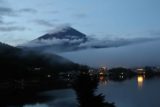 At 5:25am, as the darkness was slowly giving way to light, I started to see the silhouette of the signature conical top of Mt Fuji. When Mom noticed this, she immediately went out to our balcony and took photos with her iPhone. When I finally got around to it, some of the fog started to roll in to our line of sight.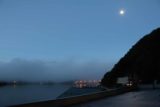 I also did a little more exploring of the Mizuno Hotel hoping to find some kind of rooftop access for perhaps a better view of the mountain, but it turned out that the best I could do was to take one of the emergency exits which took me out to a back alleyway where I managed to get some more open partial views of Mt Fuji, but with the fog continuing to obstruct the mountain, I didn't linger much longer as the photo ops were going away.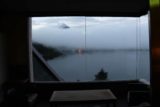 When we were all done and packed up, we checked out at 6:15am. By this time, the fog had completely obscured Mt Fuji and we figured that we mind as well seek out the Chureito Pagoda in the hopes that the viewing experience would be much better up there.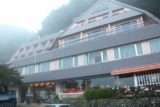 And so as we drove off, when we left Lake Kawaguchiko, the sun was starting to show itself as we had probably reached the end of the boundary of the fog. Right before a railroad crossing, we took the signed turnoff to our left leading to the Chureito Pagoda. When we got up to the park, there was a fork in the road where the signs suggested that the car park was left. The ramp on the right looked steep, but I'm sure it was drivable.
In any case, we ultimately decided to just park the car at 6:40am and walk up to the pagoda seeing from a map sign there that it was a mere 15 minutes or so. We also noticed on the same map sign that there were a pair of waterfalls in the park as well called Odana and Kodana. We took a mental note of it that perhaps we should pursue those waterfalls before continuing our drive northwards towards Matsumoto with a couple of waterfall stops in between.
As we walked up the steps, we were greeted with an attractive shrine that kind of reminded me of some of the shrines that Julie and I encountered in Nikko some 7 years ago. Except in this instance, this temple or shrine was a bit less ornate. There was also a red torii gate further downslope past another car park opposite the shrine.
Then, we continued walking up the road where on the first switchback, we noticed some steps that seemed to go up forever. Dad ultimately decided to keep walking up the switchbacking road while Mom and I took the steps.
As we got up to the top of the steps, I turned around and saw Mt Fuji majestically rising high above whatever fog was left at its base as well as the buildings of Kawaguchiko or whatever other town that was at the mountain's base. The buildings themselves were dwarfed by the mountain attesting to its size.
The top of the steps also had the red Chureito Pagoda so I knew that the desired viewpoint of both Mt Fuji with the pagoda was soon at hand. I also noticed that there was indeed another parking lot (albeit small) right at the top of this hill. Indeed, we could've driven up here, but I guess that it was just as rewarding to do the walk and fully take in the experience.
As we got past the pagoda, we reached an overlook that once again swept towards Mt Fuji with the city of Kawaguchiko dwarfed. The morning sun was providing nearly perfect backlighting as well as burning off the residual fog. So after a brief moment of taking our snaps from this spot, I then continued up some steps leading to the gorgeous view of the Chureito Pagoda juxtaposed with Mt Fuji.
There was already one elderly photographer taking his snaps of the divine scene. And since I didn't bring my tripod, I had to be content with just taking my photos without that steadying tool. When Mom and Dad finally caught up to me, their reaction said it all as Mom said, "Wow!" just as she saw the picture postcard scene unfold.
So we went crazy taking our snaps. A few foreign tourists also showed up to this spot just as we were starting to have our fill of the scene. I guess that just testified to the fame and quality of this view.
By about 7:40am, we returned to the car, but not before Mom had us take some photos from the red torii gate near the bottom of the steps. It turned out that the view from here was also quite nice though it would've been more pronounced had the koyo made it this far south in lattitude. I guess we were roughly 2-3 weeks early.
Next, we decided to see if we could drive closer to both the Odana and Kodana Falls on the far west side of this park that contained the Chureito Pagoda. And that led us through a handful of narrow residential roads that were surprisingly busy. But eventually at about 7:50am, we found ourselves parked at an informal shoulder near the Yama Shrine (which my parents called San lin shi based on the kanji translated into Chinese).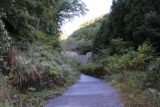 The reason why we stopped the car here was that the road that continued to climb narrowed to the point that it wasn't wise to drive through the overgrowth. So instead, we hiked uphill on the concrete path though that kind of made things rather slippery on both the ascent and descent.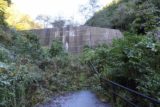 I decided to push ahead and scout out the path, but I'd eventually reach a part where there was a dam that pretty much blocked most of the waterflow further downstream. But what was worse was that the walking path degenerated even more into a straight scramble as somehow we were supposed to scale or climb up and around this dam. But from where I was standing, it didn't look realistic nor practical to push through the wet overgrowth (which wetted my pants in the process), especially since the trail really became ill-defined here.
So with bigger waterfalls to pursue on this day, we just decided to go back down the slippery slope and eventually to our parked car. By 8am, we started leaving the park empty handed. Then, the GPS had us go a different route than what we had started with as we left the Mizuno Hotel. So instead of going the familiar roads towards the expressway, we wound up going a somewhat roundabout route that involved going through rush hour traffic in Kawaguchiko. So that costed us a few minutes of delay.
But once we got onto the Chuo Expressway, the drive was pretty smooth as we were routed to the Senga Waterfall, which was the next target. Indeed, the drive was pretty uneventful as we eventually got off the expressway near the town of Sutama. As we continued navigating through the town, we noticed a supermarket where we promptly stopped and picked up some supplies (at 9:35am), especially some fresh baked goods that included a tasty curry.
Next, we headed east up some mountainous road. The drive seemed to go through some popular onsen spots, but as we continued our drive, we started to get into some wildlife sanctuary as the road became narrower and a little more beat up.
At about 10:45am when I finally realized that the flag in our own GPS unit
marking where Senga Falls was supposed to be was nowhere to be found, I realized that perhaps the Japanese GPS unit was somehow off. So when we stopped the car, double checked the research notes, and re-entered the GPS coordinates, we saw that indeed, we had gone too far north. Now, in order to backtrack and get back to Senga Falls, it was going to take about a couple of hours from where we were at, which was not feasible.
I don't know how we were so far off, but perhaps I must've mistook a "4" for a "9" when I entered the GPS coordinates.
Anyways, since Shoji Falls was the bigger priority waterfall, we figured that perhaps we should try to visit that waterfall first, then see if there was enough daylight left in the day to visit Senga Falls before driving all the way north to Matsumoto, where we were spending the night.
At about 11:30am, we finally made it back down the hill to the Sutama Town. And then, we continued driving west as we followed the Japanese GPS' directions towards Shoji Falls. This time, she took us on some other unsigned back roads through what appeared to be a working area before following some pretty beat up roads (including some unpaved roads) alongside a river channel, then up some pretty mountain roads, where again we were starting to have doubts as there was no signage pertaining to Shoji Falls anywhere to be found.
Eventually, we would reach a part where the GPS wanted us to turn onto a really narrow road that was gated off. Now, we know something was off. However, as I checked with our own GPS unit, I saw that the Shoji Falls flag was not that far off from where we were at. Plus, upon further inspection of the research notes and our GPS map, I saw that there was a connecting road leading down to where we should've been in the first place. Or at least that was my hunch.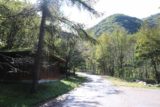 Despite backseat protests from my parents, we eventually hooked up with a signposted turnoff for Shoji Falls, and finally at 12:40pm we made it to the car park, where there were a couple of portapotty toilets as well as an established car park. Clearly, with the direction that the turnoff was facing, we should've come here from the north instead of directly from the east in the first place. So I took a mental note that when we leave this place, we should drive the way we should've gone and forget going back the way we came despite the GPS' inevitable protests.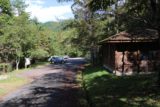 And so we promptly got ready and onto the trail, which started off with a long suspension bridge traversing a rocky river with a dam with two slits on one side and just the river scenery looking downstream. On the other side of the bridge, the trail then passed by some signs indicating that the walk would be about 40 minutes in each direction, and that there were some other sights to see along the way including the Shoji Falls.
The hike at first was pretty straightforward as we followed along conventional dirt path, but once we started to get closer to a trio of waterfalls (which the signs labeled as "Falls 1" through "Falls 3" in kanji), that was when the trail became a bit rockier with some tricky scrambling sections where the spraypainted red arrows on some of the rocks helped to guide us through the most head-scratching moments.
The three falls themselves were also quite impressive as there were some suspension bridges spanning the river as well as some steep ladders scaling the steep cliffs alongside these falls. But beyond the three falls, the trail did indeed go through even more rocky sections as well as some more bridges and ladders.
Since Mom and Dad were going at a pretty deliberate pace, I pushed my own pace and left them to catch up to me. Finally at about 1:35pm, I had arrived at the lookout of the Shoji Falls, where there were a handful of local Japanese visitors who greeted me with a "Konichiwa".
But the scene before me was a sublime show of the 121m waterfall dropping in a pair of tall plunges. It was too bad the koyo (Autumn colors) weren't in effect at this time, but the experience was still sweet and sublime as I gladly documented the falls whilst unaware that the folks who were already here had already left.
When Mom and Dad finally caught up, Mom's first reaction was "Oh wow!" when she saw the falls. And with that, we decided to rest here for a few more minutes to have ourselves our picnic lunch while staring at the falls. Indeed, this was the kind of experience that you simply can't get from one of those Chinese group tours that Mom and Dad had been used to in the past.
There was another lone Japanese visitor wielding a tripod who showed up and started to set himself up for a photo session. With the language barrier, we couldn't really communicate with him as it seemed like he was trying to tell us something during the course of his setup. In any case, this was our turnaround point, and so we headed back down and to the car park.
We'd eventually get back to the car park for the Shoji Falls at 2:40pm. This meant that we had under 3 hours more of daylight to go, and we decided that we ought to try to snatch the Senga Falls from the jaws of defeat.
And so we followed the Japanese GPS navigation, which had us go south on the expressway (attesting just to how much we whiffed on the first go around) before it told us to exit at the Nirasaki IC. I was a bit surprised that she had us get off here instead of at Kofu. But whatever, we weren't in a possible to protest where she was telling us to go since we weren't familiar with the roads here.
At some point, we had this sinking feeling of deja vu that the Japanese GPS was taking us yet on another unnecessary ride. Indeed, the roads once again didn't indicate anything about a Senga Falls, but it did say something about the Shosenkyo Gorge, which was an encouraging sign that perhaps the Senga Falls was indeed inside that gorge.
Eventually, we'd show up at the well-developed tourist town just north of the Senga Falls. And by 3:55pm, we had finally arrived at the official car park for the falls. We promptly got out of the car, then crossed the bridge before walking past some shops alongside the gorge in the downstream direction.
After going down some steps, we got to see the gushing Senga Falls, which reminded us a lot of the Joren Falls on the Izu Peninsula though this particular waterfall was no slouch in its own right.
When we had our fill of the falls, Dad headed back up to the parked car while Mom and I decided to see where the trail continued to go as it seemed to keep going downstream. And almost immediately around the bend, we were greeted with overhanging rocks (including one right above the trail) as well as impressively tall and vertical cliffs with some knobby shape.
We kept walking downstream along this path as there were a handful of more small rapids and cascades within the river. But we'd eventually turn around at another car park and snack center (albeit way less developed than further upstream where we had come from). And finally at around 4:40pm, Mom and I made it back to the car.
Now, we had to make the final leg of the drive to Matsumoto, but at first, that involved driving downslope of the mountain roads. However, once we got to the outskirts of the Kofu City, I noticed that the GPS wasn't having me follow the green signs for the Chuo Expressway. In any case, it was yet another costly detour it had taken us on as we now had to face rush hour traffic just so we could get back on the expressway towards Matsumoto.
With daylight fading fast, we pretty much spent this two-hour drive in the dark. And it wouldn't be until about 6:25pm when we finally made it within the city center of Matsumoto. However, we first made a stop at the local 7-11 in this part of town, where we ATM'ed a few more notes of Japanese yen as well as stocked up on some more supplies like bottled water.
As we continued driving towards our accommodation across the street from Matsumoto Station (called Tokyu REI Hotel), we'd eventually make it to the hotel at about 7pm. That was when the receptionist gave me a piece of paper indicating where the sanctioned parking lots were. And so when I got back in the car and started pursuing the parking spots, the one attached to the hotel seemed to be a bit tight. And as I was trying to wait for a prior visitor to finish up with her meal, that was when I noticed that I was blocking traffic while waiting for the lady to get out of the lot. Unfortunately, I couldn't just sit where I was so I kept driving off in pursuit of the other sanctioned car park.
When we finally got to the secondary sanctioned car park at 7:10pm, we then got our belongings out of the car and rolled our stuff back up to our room. And at 7:35pm, we were finally checked in, where space was definitely tight as we had three beds.
Upon the receptionists' recomendations for places to eat, he suggested Banrai on the one hand and some other dive that I think was the Soba Noodle Shop (the name was in Japanese and I didn't recall there being it written using Romanized letters).
We ultimately decided on going to Banrai, which was really a pub with interesting yakitori dishes. Mom and Dad weren't particularly pleased with having dinner at this place, but we wound up doing as the locals did and had ourselves nice yakitori downed with either beer or sake.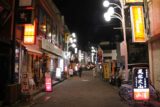 Of course, this place was also an opportunity to try out basashi, which was something I hadn't had in 7 years. Basashi was basically raw horse meat. The rest of the food was chicken teriyaki on a stick, squid on a stick, other little snacks designs to be eaten with either beer or sake. We were told that they had sake there that couldn't be found anywhere else, but I couldn't figure out which one it was so I ended up getting a small bottle of cold sake, which was way more than enough liquor for me. Mom and Dad each got a big beer mug (considered "medium-sized").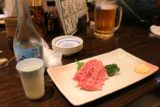 Mom and Dad weren't exactly enthused about the food we had as they studied the menu for a long time, but we finally just got some stuff that didn't look like brain or guts or something even though I ended up with my basashi, which they didn't want to touch.
By the time we got back to the room at around 9pm, all of us were either buzzed or not feeling particularly well due to the amount of alcohol. We all ended up crashing to sleep as I had a hard time staying awake.
We were hoping that as much alcohol we had drank for dinner, that the side effects wouldn't carry over onto the next morning, when we'd have to drive again.
And with that, we ended off this fairly successful day with some much needed rest…
Day 7 (October 19, 2016 – Matsumoto, Japan): "The Koyo Band"
It was 4am when we awoke. I had a little bit of a headache from the sake last night. We took some time to wake up and get ready, and by 5:50am, we were finally heading downstairs just as the day was becoming lighter.
After walking to the parking lot with the paid voucher from the hotel (saving me about 400 yen from the 1500 normal rate for overnight), we then started driving off at 6am. By this time, there was definitely plenty of morning light but the skies were very overcast and looked like they were threatening rain.
It didn't take long before we got onto the expressway bound for Nagano. But at some time around 7am, the GPS surprisingly had us take the Joshinnetsu expressway instead of staying on the Nagano expressway. And so with that bit of confusion, we ended up taking the 144 instead of the expected 292 bound for Kusatsu Onsen.
We made a brief stop at the Lawson Station near Ueda, and we stocked up on bento lunches. We then continued driving behind one slow driver after another through the mountain roads where we were finally starting to see the Autumn colors (koyo) en route. It took some time before we finally hooked up with the 59 (by which time we finally left a very long and busy caravan of cars behind slow trucks) and then went behind another slow caravan of local cars before it finally met up with the busy town of Kusatsu Onsen just as we hooked up with the Hwy 292.
Now, we headed northwest on the 292 after passing through the busy town, and then we finally stopped the car at some P-6 parking lot according to the literature about Jofu-no-taki at about 8:50am. There was actually a lack of signage of the falls which was quite unlike the rest of the waterfalls we had encountered throughout Japan which all had good signage and some degree of notoriety or crowds.
When we got out of the car and started hiking along the forest road leading to Jofu-no-taki at about 9am, we were having doubts about whether the path we were on was correct. Mom became more vocal about asking someone in that facility we had just passed by near the car park before continuing on. And I eventually heeded Mom's request so both Dad and I backtracked to the facility where we saw someone working out in a weight room in one of the buildings next to the road or trail by the car park.
The person in the weight room eventually heeded our request for help and Dad started busting out his limited Japanese asking about Jofu-no-taki. Upon hearing that, the guy helped us draw a map of where we were supposed to hike as apparently the path we were on was blocked probably due to trail damage (at least that was what we gathered from his drawings as verbal communication was difficult). Sometimes pictures are worth a thousand words, especially when there's a language barrier.
He eventually told us that there was a trail with parking for 1 car, and drawing back from our memory of driving around Kusatsu Onsen in search of this car park, I visualized the place he was talking about. So going off of those instructions, we proceeded to return to the car and drive over to the trailhead he talked about.
And so at 9:20am, we parked the car at the actual trailhead for Jofu Falls, but there wasn't a real parking area. We just parked the car there at the guy's suggestion ("1 car" he said), but in hindsight, I'd bet that we should've left the car either at the P-6 lot, the P-5 lot (which was closed), or some other larger lot across the Hwy 292, then walk along the road past the bridge to the trailhead. There was actually a group of Japanese hikers about to do the hike before us probably wondering why we were parked there.
Oh well, so off we went. The hikers in front of us were wearing bear bells, and it made us wonder whether we should be doing the same. So we tried to stay close to them to at least provide power in numbers just in case there would be a bear encounter as we were in bear country.
The hike was mostly uphill passing by some open trenches that appeared to drain the golf course on the other side of the trees to our right (probably to prevent flooding). As we went higher up the trail, the koyo started to become more prominent as we finally started to see more reds and oranges in the foliage.
The trail continued along some ridge where there were dropoffs on both sides, and then we got to a trail junction where there was a closure sign to our left. That must've been from the trail we would have taken originally until we were told accurately that it was blocked. And then we followed some concrete-wall-flanked path with some water channels cutting right through the trail as we continued further uphill.
After the next junction, there was a signpost leading to the "Jofounotaki" overlook. It was basically an opening in the foliage allowing us a distant but partial view of the main part of the Jofu Falls. But it left more to be desired. The real benefit of this lookout was that we could see the falls surrounded by beautiful Fall colors.
We got there at about 10:15am, but we knew that we should continue hiking as it seemed like getting closer to the falls wasn't going to be easy given the steep terrain around us. But at about 10:25am, we made it to the trail junction with the Jofu Falls spur trail, but it was closed. From Dad's translation of the kanji, there was a mud slide en route and thus the conditions were dangerous.
As tempted as we were to continue past the barricade, I knew that it wouldn't be wise to push our luck, especially since my parents were in their 60s.
And so we declared defeat and headed back. And at 10:35am, we were back at the view again, where now the falls was under shadow while the rest of the gorge was under light. It wasn't ideal conditions, but we took a few more snaps before returning to the trailhead.
Finally at 11:15am, we were back at the car, where we quickly got in and carefully backed out into the busy road before leaving. Now, we took the 292 towards Nagano, which was actually a twisty mountain road that seemed to keep climbing forever.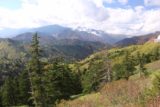 Throughout the drive, we were tempted to pullover and take photos, but I guess knowing that we had a full day of touring still ahead, we had to make the painful decision of leaving some things be knowing that we might regret some of these decisions later on. We can't see everything in such limited time so something had to go. And indeed, we could have stopped for some overlooks showing steam rising from the mountains (showing we were driving on some geothermally active mountain) as well as some overlooks with clouds draping nearby mountains. But we kept the eye on the prize, which was to visit the Naena Waterfall, which was our next target.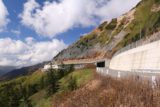 At around 11:50am, we stopped at some random pullout near the highest point of the 292 highway. Apparently, the mountain we had just driven was some active volcano where we could see steaming clouds rising from the mountain itself along with some of that familiar sulphur smell.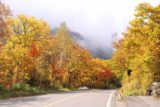 Then, after taking our snaps from this busy spot, we then went steeply downhill before the abundance of koyo became too beautiful to ignore. And so we stopped to take photos of the koyo at 12:20pm though after we had driven off, we saw that there were better places to take photos like one with koyo and a reflective pond as well as a booming hillside full of color.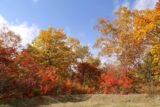 I wanted to stop for it, but we still had to get to the Naena Waterfall, and I had a feeling that daylight was running out sooner rather than later even though it was only around noon time right now.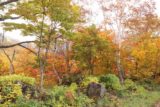 Eventually, we'd make it onto the expressway headed north towards Joetsu, but we weren't going to go all the way to that city. Instead, we were supposed to get off somewhere near Suginosawa for Naena-no-taki. However, for some reason, the GPS had us continue north past that area, and I couldn't understand why it led us away from our GPS flag.
It ended up being a pretty costly 24km detour as we wound up paying an extra 480 yen to leave and get back on to get off the correct stop. It also costed us some valuable time as well. Once again, the Japanese GPS let us down (or the numeric coordinates I had entered must've been me mistaking a "1" for "7").
Whatever the case, we ended up getting off the Myokokogen IC exit then followed the signs for Suginosawa. By then, there were brown signs for Naena Falls (even in English so we knew it'd be popular), and we eventually ended up at the quite busy car park for the falls at 1:45pm.
We wasted no time to get ready and out the car on the very well-developed trail. There were shops and music playing at the car park. The trail then went on a long suspension bridge fronting some unsightly dam. There were lots of beautiful Fall colors behind the dam and so we continued with the hike eager to see more of the koyo.
We had to essentially try to squeeze through the large tour groups also sharing the 500m trail. Eventually, we would reach an area where we could see the lovely plunging falls surrounded by koyo and fronted by a suspension bridge.
Continuing further, we then got onto the bridge itself, which was bouncy from all the people walking on it. But still this was probably the best spot to take photos if not for the bounciness. On the other side of the bridge, there was a shelter and some signage in kanji. The view from here was a bit more unbalanced and angled, but we noticed some other folks scrambled onto the rocks to get as close to the falls as they could get.
Going back across the bridge, there was a muddy and slippery steep trail going up somewhere. I wasn't sure where it was going, but it offered up a couple of precarious views and nothing more. So we went back down to the bridge to take our last shots before we then continued back to the trailhead before the rest of the tour group would overwhelm us.
We were back at the car park at 2:55pm where I had my very late bento box lunch. Then, we continued driving back towards Matsumoto. My original plan of visiting the Zenko-ji Temple was probably not going to happen due to the time constraint as we were hoping to get lucky to visit the Matsumoto Castle before they closed.
Anyways, we drove on the familiar Nagano Expressway, which was full of tunnels and expensive tolls, and then we were finally back at the room at 4:45pm. The congestion in the city was not nearly as bad as last night. Plus, this time we parked in the lot next to the hotel, which was this very interesting vertical rotating machine, which I guess was for saving space. This was something I had never seen before, but I had only heard about it from my brother many years back when he went to Taiwan and Japan with my father.
I guess now we saw how it worked. Quite ingenious.
Anyways, we walked from our hotel about 1km towards the Matsumoto Castle. We got there well after 5pm (their closing time) so we wouldn't be going inside. However, the views from across its moat was pretty nice nonetheless. With the fading light, we were busy taking twilight shots before it got dark, then they turned on the lights for the castle a little after 5:30pm.
Next, we walked the narrow alleyways of the Nakamachi-dori, which was the familiar alleyways alongside the river that Julie and I did a few years ago. We went looking for one of those hole-in-the-wall soba spots, but we couldn't find it (I tried to do it off of memory). There were a handful of places tucked away in alleyways where seemingly there was no foot traffic, but yet they were in business. But none of these were soba places.
So we decided to walk all the way back to the Matsumoto Station area, where we tried to eat at the recommended Soba Noodle Shop place (or something like that). But when we got there, we were told that since we didn't have reservations, they were booked out. So we continued walking along the alleyways near here and picked some random spot that didn't have anyone inside (a worrying sign). We got there at 6:20pm.
But at least this place had soba noodles, which was what I was craving, especially since it was one of the specialties of the region. And so we got in there and through the language barrier, eventually got two different kinds of soba noodles (the traditional cold one and one dipped in hot soup with duck inside it). A French mother and son combo also went in the restaurant, too, and they were struggling with the language though in their case, the mother was vegetarian.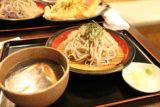 Anyways, the dinner was surprisingly good. And so it turned out to be a good call to just do this place despite the lack of crowds. The theory was that the other spots were more social joints for after work socializing. But that didn't say that this place wasn't good, and it turned out that our hunch was right.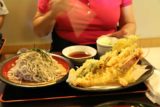 As much as I wanted one last go at the basashi, Mom recommended against it due to how not-so-busy this place was.
At 7:15pm, we were back at the room to call it a night. And so ended our little stint in Matsumoto. Tomorrow, we were headed west in the mountains towards Takayama, where I would be celebrating my birthday…
Day 8 (October 20, 2016 – Takayama, Japan): "The Makeup Waterfalling Bonanza"
It was 3:50am when we all woke up. It started with Mom browsing on her phone thinking that it was past our expected 5am wakeup. But instead she woke up prematurely (as we were still pretty accustomed to getting up early naturally as a result of a combination of jetlag and us being early birds) and we all wound up using the extra time in the morning to finish packing and getting ready for the day.
At about 5:40am, we went downstairs to check out. However, I was warned by the receptionist that the car park wasn't open until 6am. So we had a few minutes to kill, and we spent that time going to the Circle K across the street from the Matsumoto Station to pick up some something to eat to go. On our way, a couple of cops were asking us where we were going and we pointed to the Circle K behind them. I guess they were tasked with security and they were out probing to make sure that no one unruly was out and about before the day began.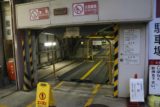 As Mom and I grabbed some takeaway soba noodles, we then headed back to the car park next to the Tokyu REI Hotel. Apparently, Dad already gave the attendant the ticket and proof of payment, and so our rental car was already at the ground floor. Now, it was time for me to carefully back up and then load it up with our stuff.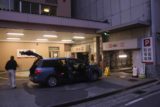 By 5:50pm, we were ready to go into the Norikura Highlands.
It was still foggy in the morning so it was kind of gloomy in the city. However, as we drove further to the west, the fog was fading as we had reached its boundaries. Then, we pretty much followed a truck for a good chunk of the drive as the Japanese GPS had us proceeding on the Hwy 158.
Julie and I had a little experience with the Norikura Highlands in that we tried to come here from Matsumoto using a combination of trains and buses. But that prior experience turned out to be a bit of a disappointment largely because of how limiting and inconvenient it was to use the public transport to do this, and the language barrier didn't help either.
So this time around, we had the advantage of our own wheels, and I had a feeling that we ought to be successful in seeing both the desired quantity of the falls that we should've seen in the first place as well as getting a good quality of experiences given that we wouldn't have to be slaved to someone else's schedule.
As we got deeper into the Norikura Highlands (I didn't remember our bus ride seven years ago going through this many tunnels), I started to notice that the Japanese GPS had us going on what appeared to be an incorrect road. Fortunately, I was now pretty familiar with this part of Japan as far as geography was concerned (due to our last experience – Julie's and mine – being a bit troublesome with the language barrier and the fact that trying to visit a series of waterfalls by bus wasn't the way to go). Plus, given our history with the Japanese GPS taking us on some wild goose chases, I got wise to this particular snafu and made the turn to get off the Hwy 158 and get right on the road to Bandokoro Falls and others.
At 6:50am, we arrived at the signposed Bandokoro Falls parking lot, which charged 200 yen per car. There were some Fall colors at the trailhead, but they were more spotty as we walked down towards the familiar lookout platform that Julie and I went to some 7 years ago.
But unlike that last experience, it seemed like the trail was closed going along the river as well as going further downstream towards some hydro scheme. Dad noticed that there were dents on the handrails along the lone part of the trail that was open (which was to the lookout platform), and we suspected that there were rock falls making other parts of the hike unsafe.
I didn't recall there being this many steps leading down to the lookout platform, but I guess this just goes to show you how fallible memory can be. Anyways, this time's experience with the falls was less frustrating as there wasn't as much mist being thrown up at us. Plus, there were some hints of Fall colors around the falls.
With this platform being the only way to experience the falls, it didn't take long before we had our fill and headed back up. By 7:25am, we were back at the car park and continued on. Everything we were doing from here on out was an improvement over our last experience here when we tried to visit multiple waterfalls in the Norikura Highlands by local bus and local train from Matsumoto.
Next up, we were headed towards Sanbondaki, which according to the kanji made us think that it could probably be interpreted as Triple Falls in English.
As we continued driving the Norikura Highlands road past more numbered bus stops (bringing back memories of the episode of confusion and frustration from the last visit here by bus), we got to a village area where we were looking for trailheads for Zengoro Falls along the way as well as the Shirahone Onsen turnoff (both of which we intended to do on the way to Takayama). Once we continued driving up past the village, the road climbed and that was when we saw a signposted trailhead for Zengoro Falls, which wasn't next to a bridge by some stream as I was expecting in my pre-trip research.
We kept a mental note of that then kept going up as we then saw a sign for Sanbon Falls, which had a car park area as well as a trail sign saying it was a 2.2km hike from there. However, the car park was roped off, and it made me worried that perhaps this falls might be closed.
We continued driving up the mountain when we saw some kind of accommodation or onsen with lots of cars parked in front of it. We stopped the car at 7:35am and looked at a map sign, where we found the falls we were seeking, but it suggested that we should keep driving up the mountain.
So we got back in the car and kept driving up the switchbacks. Finally, at about 7:55am, we found the signposted car park for Sanbon Falls. There was a fairly large amount of space for plenty of cars fronting some building. There was also a ski lift here though it wasn't in use. However, the road kept going up but there were cones set up so I guess the public couldn't continue driving up.
We were asked by some man about something though at first we weren't sure. Then, Dad finally figured out that he was pushing for taxis to go past the cones and up to the end of the road where there were supposed to be 360 degree panoramic views. Well, we didn't do that, and instead focused on doing the Sanbon Falls Trail, which was said to be 900m from where we were at (said to take about 50 minutes round trip).
We wasted no time getting ready for a hike, and we were pretty much headed down past the building and onto a wide clearing leading past some sign saying there was a fork in the path ahead. As we reached the fork, we initially tried to go left as apparently both paths led down to the falls, but we saw that the path went down steps and seemed a little steeper so we changed our minds and went on the path to the right instead seeing that it seemed to be gentler.
The path ultimately veered left and into a more conventional trail as we meandered through a serene forest past some gurgling streams and amongst some koyo. We got to another fork in the path where we continued on, but I briefly made the brief detour down to a bridge where I got to check out a couple of smaller tiers spilling into an attractive pool before the water continued to flow downstream.
As I caught up to Mom and Dad on the trail, we crossed a suspension bridge past a couple more waterfalls before the path then became a little bit rougher just as we started to see parts of the main drop of Sanbondaki. As we rounded another large rock, we started to see other waterfalls and before we knew it, we were right at the end of the trail where we saw three parallel drops corresponding to the three waterfalls we expected to see as the name of the falls had indicated.
The falls on the right corresponded to an attractive sloping drop that seemed to fan out. The middle drop was more of a plunging type though it seemed to have some kind of colorful underlying wall. The drop on the far left was a thinner one and seemingly more seasonal though I'm sure the rain from a few days ago must've helped keep it flowing pretty well.
There were already a handful of other Japanese visitors with large tripods trying to capture the scene, but I'm sure they needed to bracket exposures and do some photoshopping to overcome the high dynamic range requirements of the current conditions as there were bright sunlight sections of the falls to our right but then pure shadow further below.
As more photographers started showing up, we decided that we had our fill of this spot and headed back down the trail. As we did so, we started to pass by a lot more people headed to the falls, suggesting how popular it was.
By about 9:05am, we were back at the car park. But before we headed off, we decided to have a brief picnic breakfast of our takeaway soba noodles before heading off. It was a pretty satisfying brekkie and it seemed to further open up Mom and Dad to the idea of having cold soba noodles which I'm sure they weren't used to having before.
At 9:30am, we were done with the brekkie and continued driving down in search of the shortest path for Zengoro Falls. By about 9:45am, we went down to some kind of signposted P-3 parking lot but there wasn't a sign for Zengoro Falls. That said, from looking at the maps, we seemed to be next to a bridge and I was under the impression that indeed this was the shortest path to get to the falls.
The car park itself was merely a huge clearing with some construction equipment in the far end of it. It certainly didn't seem like a likely spot for a trailhead.
So we just went ahead and started hiking and sure enough, we picked up a trail on the far end of the clearing where the path promptly descended amongst more koyo making this a very enjoyable and shady hike.
It didn't take long before we descended down to a signposted lookout where we could see the Zengoro Falls backed by some attractive Norikura Highlands mountains. The falls was still in shadow, but the view itself was sublime.
Continuing down the trail (we knew it was going to be a bit taxing on the way back up), we then reached another fork where it stated that another car park was a mere 0.4km away from this spot, and it made me wonder if we were at the shortest hiking route or not. Whatever the case, our route at least let us get by the nice lookout whereas the other path would've forced us to make a detour.
Next, the path continued going down several steps before reaching a couple of bridges. Once we got to the last bridge, we were finally in front of the rectangular Zengoro Falls. With it being mostly in shadow, it was conducive to taking some long exposure shots (using the railing as the steadying tool), though the surrounding foliage above tended to get washed out due to the high contrast.
We noticed there was another trail that kept going up but we didn't pursue it as it kept going up past the falls. Perhaps it was for a different trailhead that started even higher up the mountain.
When we had our fill of this falls, we headed back up the trail and we paid a bit more attention to some of the things along the trail like this long pipes acting as bells. From reading the kanji, Dad said that they were essentially bear bells that you're supposed to bang on to try to scare the bears away. As we got back up to the overlook, we saw that there was another one of these bells.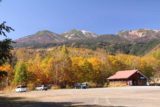 At 10:45am, we were back at the car park. And as we were walking across the clearing, we were attracted to the nice mountain view fronted by the koyo though we had to walk past the construction vehicles for a more compelling shot.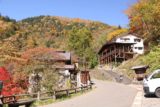 Next, we drove towards the Shirahone Onsen for a bit of a change of pace. We knew that there would be koyo there, but we weren't quite sure how long we should linger there. But given that we had already seen three waterfalls in the span of about 3-4 hours, perhaps the Shirahone Onsen experience might be what we needed to mix things up a bit.
So we drove up some more winding roads before getting to a somewhat developed area amongst steep scenery. We ultimately decided to park the car here at 11:15am and take some photos. And as we were looking at the signs, we saw that there was also some kind of Dragon God Waterfall (according to the kanji though we didn't know what it was called in Japanese), which was a mere 2 minutes walk downhill.
The falls were roadside and they were basically a series of springs coming out of the mountain and down past the road before spilling into the gorge below where it looked the like river featured more cascades. We didn't hike all the way down the bridge down there, and instead decided to walk up towards the buildings further up the hill.
It turned out that each of these buildings were essentially onsens. And given the quantity of these buildings, there must be some pretty tight competition amongst the owners of each of these spas. Mom actually had an urge to soak in one of these onsens, and so after walking around a bit, we wound up at this spot that also served ice cream as well as soba lunches.
So we went ahead and did that for the next hour or so, and eventually by about 1:05pm, we finally got back to the car pretty relaxed while indulging in some soft serves. We could have eaten soba noodles here, which looked very good, but we were holding out for a hida steak place in Takayama later tonight.
I guess the onsen experience (which was outdoors) was quite nice as we were staring at the koyo somewhat against the sun (so we were worried about sunburn). But it was also a bit strange and awkward to be bathing buck naked with my Dad and a bunch of other strangers.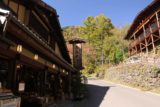 Anyways, we drove off and continued onto the Hwy 158 where we followed a caravan of tour buses and trucks as we went through tunnel after tunnel on the way towards Hirayu Onsen. We'd eventually get past a toll gate and then onto the signposted car park for the Hirayu Falls, which costed us 500 yen to park. Had I realized just how close the car park was to the main road, we probably could've done what a bunch of other folks were doing, which was to park closer to the main road and walk up to save that money.
So we stopped the car at 1:40pm and then promptly walked towards the paid bus stop area, where it looked like a shuttle bus was about to take off. For just 100 yen per person, we decided to just take the shuttle and save time, and within a couple of minutes, we were right up to the beautiful falls, which was fronted by reddish bush that really made the scene at the falls quite colorful.
We spent the next hour walking about the trail here and enjoying the 63m plunging falls that started to make me reconsider whether it's up there with Kegon-no-taki and Nachi-no-taki as one of the best waterfalling experiences in the country.
We got up to a barricaded end of the trail where we got nice views of the falls, but we couldn't go any further due to the rockfall danger. When we had our fill of the falls, we ultimately decided to walk our way down the trail instead of taking the shuttle bus back. And that walk was also full of koyo as well as some pleasant pond and garden area near some restaurant (not in operation at the time).
At 2:40pm, we were back at the car. We then continued driving towards Takayama along the Hwy 158. At first, we passed by some signposted Choshi Falls, but we didn't have the time to do it since we were aiming to have a hida steak dinner and we wanted to check in.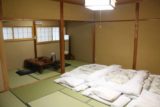 And eventually at 3:45pm, we made it to the Ryokan Murayama, which was quite a ways outside of Central Takayama. We couldn't eat straight away because it was a bit hard to navigate the city by vehicle so we ultimately got settled then got a suggestion from the reception to try this place called Azikuma for hida steak, which was next to the JR station.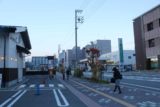 So after getting to our tatami-style room at 4pm (though the toilets were shared and the showers were an onsen facility but no provided towels), we then headed back down into town by car for a grocery run. The restaurant didn't open until 5pm but we thought we could first stock up on supplies before getting our fix of hida steak.
The grocery store didn't take credit card unfortunately (which was kind of a rarity), but we got our stuff and then got right to the restaurant right when they opened at 5pm. We got one of their most expensive set courses of beef steak (which had all sorts of hida steak cuts) and did the Japanese barbeque thing while driving a pitcher of beer. It was a nice way to celebrate my birthday with the parents.
The meat was quite tender and a bit different from the kobe beef experience that Julie and I had years ago. Anyways, when all was said and done, the dinner itself wasn't too pricey as it was about 13k yen for all three of us. We easily paid nearly 30k yen for the kobe beef experience and that was just for Julie and I!
At 6:10pm, we were back in the car, and five minutes later, we parked near the city center at some random spot. They apparently charged 1000 yen for the night in a flat rate. Anyways, we figured we probably got ripped off for parking, but walked around the city center just to see what this place was about.
But as we crossed the river and found the historic alleyways, we saw that it was quite dark through these corridors so it wasn't very conducive to taking photos. Nevertheless, we enjoyed walking at least part of these corridors which featured traditional homes and was very atmospheric. We vowed to come back here during the daytime tomorrow to properly experience this spot.
At 7:20pm, we were back in the car. They actually refunded us half the money seeing that we were only here for a little over an hour. So that was fair. And by 7:40pm, we were back at the ryokan, where I actually stayed up past 11pm so I could FaceTime Julie and Tahia who were also wishing me a happy birthday. It was nice to see them (albeit virtually) since we hadn't done so since we left.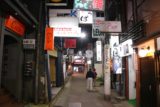 But with the basic shower facilities, all three of us just crashed soon afterwards (without showering again), and perhaps we'd have to buy a towel in town to at least have one clean up before continuing on the day after tomorrow as we were spending one more night in this little sleapeazy…
Day 9 (October 21, 2016 – Takayama, Japan): "Culture and Tradition"
It was about 5:05am when we awoke. I ultimately decided on a change of plans as it seemed like a bit of a full day to go with the original plan of going to Neo Falls (or Neodaki Falls), which involved a bit of a four-hour hike as well as a 90-minute drive in each direction. That was just something we couldn't afford to do without another night's stay, especially since we wanted to experience some of the charm and culture of the Takayama and Shirakawago area. Besides, after the waterfall bonanza of yesterday, we needed a bit of a waterfall break.
And so the new plan was to focus more on Shirakawago and Takayama in a waterfall-free day. This was ultimately why we did the late wakeup (relatively speaking compared to the rest of the trip). And by 6:15am, we drove off.
But as we were driving out of Takayama, we followed the signs that initially had us heading north on the Hwy 41, then I followed a sign telling us to head west away from the Hwy 41 towards Shirakawago. We weren't able to enter the GPS coordinates for Ogimachi because the laptop was back in the room, and we didn't purchase a sim card so Mom or Dad could use their smart phone in Japan. So indeed we were winging it hoping that the signs were enough.
At that point, we pretty much followed the highway through a pair of tunnels before we reached a fork in the highway but none of the signs on the fork indicated Shirakawa. So I took a guess that we were heading towards Gedo or Toyama or something (knowing from past experience that it was north and not south towards Gifu), and then we were hoping that we made the right decision.
Well, as the drive went on, we passed through what seemed like an endless series of long tunnels. The last tunnel was about 11km long, which was the longest one we've gone through on this trip so far. Indeed, the amount of tunnels we'd been going through on this trip definitely rivaled the amount of tunnels I had to go through while driving in Norway.
When we exited the last tunnel, we got off the Shirakawa IC exit, and we were pretty much next to the pre-trip flag I had marked for Ogimachi. So indeed, we had guessed right about the route and eventually made our way to the parking area for the Gassho village in Ogimachi within the Shirakawa area.
We got there at about 7:15am, and it turned out that we had showed up a bit too early. So we drove back towards what appeared to be a restaurant where a guy was greeting everyone who would show up early. And we pretty much decided that we'd kill some time by having a breakfast (and a pretty expensive one at that) that consisted of Hida steak as well as some "local" dishes.
The whole thing ended up costing us some 14k yen for all of us, making it the most expensive meal of this trip so far (even surpassing last night's Hida steak Japanese BBQ), but at least we can say that we weren't going to go hungry on this visit.
By about 8:15am, we were done eating. We then proceeded to walk towards the bridge over the river leading to the traditional homes at Ogimachi. It started off as a pretty atmospheric walk though none of the shops were open at the time. Maybe there was only one shrine that was open that allowed visitors to come inside.
And so we spent the next few minutes aimlessly meandering about the village before we finally realized that we needed a map. So we went back to pick one up and then we walked towards a lookout over the village.
Along the way, we took random photos of the village homes and buildings with their thatched roofs and rice fields or gardens fronting and flanking these structures. But I also noticed some private cars were driving on the main road through Ogimachi Village, which made me wonder whether we had wasted precious time at that restaurant and we technically could have driven to this viewpoint instead of walking at least some 35 minutes in each direction to get there.
Thinking that we had seen what we needed to see, we decided to take our snaps and then head back down the hill. Little did we realize (until it was too late) that we didn't go all the way up to the actual "observatory".
Nevertheless, we thought the views from where we were at were good enough, and that the high lookout (which looked crowded) wasn't different enough to warrant going back and finishing the job.
So by about 10:10am, we were finally back at the car. We decided not to go visit the Outdoor Folk Museum, which costed about 600 yen per adult, but we were short on time on this day. That said, it seemed like we had left just in time because we started to see busloads of tourists start leaving the tour buses and heading into the complex. Indeed, self driving does have its advantages.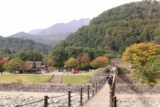 Next, we drove back towards Takayama. This time used the Japanese GPS since we already had the Ryokan Murayama in the history. And well, it turned out that the way we took this morning was indeed the correct route because we pretty much went back the way we came as we followed the Japanese GPS.
After a little bit of congestion back at Takayama, we finally found parking at a paid lot that charged about 100 yen every 20 minutes. We made it back at about 11:10am. Then, we promptly walked towards the morning market to see what this place was about. It was basically series of tented stalls on the riverside of the alleyway street with some buildings with their doors and windows open that sold foodstuffs, curios, and other things.
It seemed like pretty much a made-for-tourist area.
Then, after getting the flavor of this place, we continued walking east along the Hwy 158 in search of this soba place that I had read about last night called Miyabian. But after spending several minutes trying to find this place, it was clearly not along the main road that we were on.
So we were relegated to asking a stranger where this place was. And luckily, we happened to find a Japanese tourist with a smart phone who used it to look up this place, and saw that we were only a couple of minutes walk from where we found him.
Then, he was so kind so as to walk us to this place, and sure enough, we finally found this place at 11:50am. That was really nice of him to do this, and if it wasn't for his help, we wouldn't have found this place because it was off on a side street that didn't seem to have a lot of tourists around.
When we went inside, there was a friendly hostess that seated us and showed us an English menu, where we each got different soba noodle set meals. I got the one with some slices of Hida steak while Dad got one with duck soup, and Mom got the standard cold soba noodle meal.
When the initial condiments came out, the waitress showed us how to grate the wasabi as well as how to properly prepare the sauces that we'd dip the soba into. The meal was very delicious and filling, and when we were done with lunch at 12:30pm, we were pretty stuffed.
Next, we walked towards the Sanmachi alleyway that we had strolled through last night, but this time, it was a very bustling street. There were lots of people crowding the alleyways though it seemed like the crowds came in waves mostly because of tour groups (seemingly mostly Taiwanese ones) as well as student groups and the odd Japanese groups as well.
It definitely felt livelier but far less intimate than last night. It was also hard to take the right kinds of photos of the scene without the ability to somehow take photos from a higher vantage point than the ground level.
As we were walking about, we noticed a line for some hida steak sushi, and even though we were full from lunch, we decided to give it a try. So we spent some cash to order a pair of sirloin hida steak as well as some other cut of the beef. Something like the A and X set, but we couldn't get the C set (which was one of each) because the B set ran out.
What was ingenious about this takeaway place was that the "plate" was actually on a rugged shrimp cracker that you can eat when you're done with the sushi. Totally no landfill from this joint, and it makes you wonder why more places around the world aren't anywhere near as diligent as the Japanese when it comes to cleanliness, and the zero-waste idea.
Anyways, we continued strolling along this busy alleyway checking out the charming homes though it seemed like most of these were really souvenir or food shops. In fact, I swore that this Sanmachi alleyway was pretty much a made-for-tourist route, which on the one hand made it attractive eye candy, but on the other hand, it made it feel less than authentic.
When we had our fill of the Sanmachi alleyway, we then walked briefly into other preserved areas, but they were far less active than Sanmachi mostly because they allowed vehicles through those other streets (which were a bit on the wider side). And so we ultimately abandoned fully exploring these other alleyways in favor of going to the National Treasure building (called Takayamabetsuin according to GoogleMaps), which was like some kind of shrine as well as an exhibit about the life of an influential woman who lived fully besides not having both of her hands.
By about 2pm, we were back at the car park. We then drove back to the Ryokan Murayama getting there at 2:20pm. Whilst there, I paid for our room early knowing that we had a really long day of driving ahead of us tomorrow. Then, we then dropped off most of our excess stuff and Mom and I then walked over to the Hida Folk Village (Hida-no-sato) while Dad stayed in our room – sore legs and swollen hand and all.
By about 3pm, Mom and I had finally finished the 500m uphill walk or so towards the Hida-no-sato and paid our 700 yen per person entrance fee. We then went into the complex and pretty much took some pictures of the view back over parts of Takayama towards the alps as well as back in the other direction across a pond looking up towards some traditional homes.
Mom and I pretty much went in a clockwise direction though we zig-zagged as we took our time visiting each of the homes that let us go in with our shoes off. It was quite interesting to see how the people lived in these homes, but for each of the homes that had kitchens or hearths, I was having a hard time breathing with the smoke smell that seemed to dominate.
In fact, even though none of the hearths or kitchens were burning, I suspected the fine particles from the burnt matter (i.e. the ashes) might have been fine enough to start filling up our lungs. I'm sure it took years off our lives from the air pollution due to the lack of circulation.
I frequently wondered how most of these wooden buildings would have survived those hundreds of years if there were fires being set within these homes. Wouldn't there be accidental embers that might light up the paper windows or walls or even the wood that was everywhere?
I guess they must've been very careful about these things. So we just left it at that and kept walking from home to home. Eventually we got all the way around to the homes 26-30, but most of those were locked up as the staff was apparently closing them up in preparation for closing the outdoor museum at 5pm. We still had around 60 minutes to go when we started to notice homes that were locked up.
So with that, we left the Hida-no-Sato shortly thereafter, and we ended up back at our ryokan at 4:45pm. Since the restaurant we were going to was gonna open at 5pm, we thought perhaps we could show up early to our 6pm dinner reservation. I only asked for the 6pm reservation thinking that we would need for time to get down there.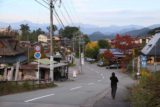 In any case, we drove off shortly thereafter, and then we used the same car park that we had used earlier in the day. We were sure how the machine would reconcile the fact that we showed up before their 6pm cutoff before they'd switch up to the overnight rate or something like that. But in any case, the drive was hassle free and we knew how to use this machine.
Next, we had a little trouble trying to find this place called Heianraku mostly because we followed the instructions of the receptionist who circled the wrong spot on the map. It turned out that we only had to walk a few paces to our left instead of right to get to the restaurant, and when we went in at 5:25pm, there were already a handful of foreign tourists there.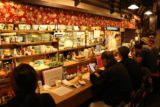 We were greeted warmly by the wife who was working with her husband behind the counter. And we each got different set menus just so we could try as many different things as we could. We also augmented our meal with plum wine as well as some kind of homemade ginger ale.
Indeed, this place was like being fed as a guest in someone's home. And after having three consecutive meals of Hida steak, I was a little tired of it so we had to do something a bit different, and this place fit the bill.
Our meal consisted of pork meat balls, crispy chicken, some local tofu and potatos, gyoza, fried rice, white rice, and soup. We also got some of the homemade banana bread, which was really good.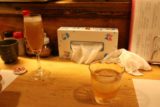 We traded stories with some of the other guests here though we spoke mostly with a young lady from Israel who was on a three week tour of Japan by herself. We also briefly talked to a guy who was on a 5 month world tour from Montreal.
During the dinner we learned that there had been a major earthquake in the Tottori Prefecture, which was not good news for us because we were going there late tomorrow. We weren't sure if we'd be affected by aftershocks as a result. That said, since we'd be in the mountains hiking, we had to be wary of landslides if an earthquake happened.
Anyways, when all was said and done, we left the restaurant some time after 6:30pm. The extraordinarily friendly wife was effusive in her politeness and friendliness as we had a very long sendoff. While we've encountered mostly friendly and polite Japanese people, the folks at this restaurant seemed to be another notch above that, which was really saying something.
Well, when we got back to the ryokan at 6:45pm, we figured out that our room did indeed have towels as well as kimonos. And so all three of us took advantage of these basic things and took our much needed showers in the indoor onsen area. For each of us, we were the only ones in the public baths so we had a pretty easy time taking our showers buck naked with no strangers sharing the facilities with us at the time.
And when that was done, we could finally call it day. Indeed, it was a day where we didn't do any waterfalling, but that would hopefully change tomorrow as we'd be making a very long drive from Takayama to Inuyama to Tottori, whilst visiting the Amida Falls, Inuyama Castle, and Yoro Falls.
Day 10 (October 22, 2016 – Tottori, Japan): "Covering A Lot Of Ground"
It was about 4am when we awoke to the alarm. Since it was still dark outside and everyone else was sleeping, we had to be as discreet as possible whilst packing and getting freshened up and organized. After all, this accommodation had pretty thin walls so I'd imagine it wouldn't take much before someone else could hear what was going on.
By about 4:35am, we loaded up the car. I returned the room keys to the owner, who saw that I had paid last night. They didn't have a key drop box so I guess it was good that I returned the keys to him in person, but I felt bad for waking him up.
And so we headed off into the pre-dawn darkness as we drove pretty deliberately to give us some time to get to Amida Falls and time it right for the sunrise so we wouldn't have to be hiking in the dark. Thus, I shouldn't be having any problems with speeding given the really low speed limits on the expressways that most of the locals (including truck drivers) seemed to ignore.
By about 5:50am, we made it to the end of the narrow road for the Amida Falls. It was well signposted once we got onto the Hwy 156 after leaving the Tokai-Hokoriku Expressway at the Takasu IC. To our surprise, there was already one guy who had just showed up before we did!
Given the fairly low light even the sun was about to breach the horizon, I decided to bring the tripod along on this excursion. It was the first time all trip long that I decided to use it.
The hike up to the falls was kind of a loop that followed along the stream responsible for the falls. We followed the trail uphill in a counterclockwise manner, and it only took us a little over 5 minutes (passing by a shrine en route) before we got to see the tall but slender waterfall.
The guy who showed up just before we did was trying to fly a drone here (probably to take unusual photos of the falls from the air), but he somehow crashed it and now he had to take photos the old fashioned way. Even though this guy had a mishap, it seemed to me that drones were a pretty big deal in Japan because this had to have been at least the third time on this trip that we had seen one.
As we were enjoying the waterfall, I went up the steps above the right side of the plunge pool, which led up to a misty and drippy alcove that I didn't feel like getting wet and going into. There was what appeared to be a rock shrine or something within the alcove. When Dad joined me at this spot, he was telling me that the signs indicated that the Amida Falls was so named because apparently a monk that named it thought that the rock upon which the falls crashed on looked like a Buddha in prayer ("amida" apparently meant "god" or something like that).
I then went across the bridge back by the trail and took more photos of the falls with the tripod. Then, I made a slippery scramble up to the other side of the plunge pool, but the views from here were too misty, and the rocks were way too wet.
So after having my fill of this spot, I headed back down to the trailhead via the other side of the stream. This trail actually revealed a few more smaller cascades en route. Mom was already down at the trailhead, and Dad went back the way we came. When we were all back down by the car at 6:55am, we were surprised to see a handful of more people show up to this waterfall.
Now, we had to continue the drive further south as we headed to the Inuyama Castle. Having missed the closing time for Matsumoto Castle (at least Julie and I had already seen that one together years ago), my parents were looking forward to the castle experience at Inuyama, which was said to be the oldest standing castle in Japan.
The drive south went pretty uneventfully as we picked up the Tokai-Hokuriku Expressway at the Shirotori IC entrance after taking the Hwy 156 south for a bit to the Hwy 158. And as usual, we drove through lots of tunnels before the Japanese GPS eventually had us get off and take a bunch of local roads at the Seki IC exit.
After a little bit of confusing instructions, we finally made it to the P1 parking area for the Inuyama Castle, which had plenty of parking space because we showed up at 8:25am. It costed us 500 yen to park here, but given its proximity to the castle, it was worth it in our minds.
Upon looking at the kanji for Inuyama, it translated into something like quan-shan or "dog mountain" where "quan" was an old Chinese word for dog. We weren't sure what the significance of that was, but we figured that there had to be something to do with a dog about this place.
Anyways, after parking the car, we took our time strolling towards the castle entrance. Along the way were a bunch of shrines and some religious stuff going on. Sure enough, we saw quite a few dog statues, which confirmed our suspiscion that we were indeed at Dog Mountain. We even saw a small version of a torii tunnel that we were hoping to see in Kyoto once again later in this trip. Dad saw the kanji on each of the torii, and he said that these were the names or companies of donors. I guess that would explain what the kanji would be saying in the Kyoto version of the torii tunnels at the Fushimi-Inari Shrine.
As we slowly walked up the steps towards the castle gate, we were right in front of the ticket office at 8:50am. Along the way, we were getting a few somewhat panoramic views of the city as well as checking out a handful of more shrine-related stuff. Dad noted that in one spot, people were washing money, which I guess would make an offering to the gods more worthy.
There was a crowd that was quickly building around the ticket office especially since there was a tour group that was showing up. And eventually by 9am, the ticket office opened and we each purchased our ticket, which was 550 yen per person. We didn't bother adding other packaged visits since the castle was our focus and we still had a long day ahead of us.
Once we were inside, we eagerly took a few photos of the castle exterior though it looked like juxtaposing it with Autumn colors wasn't as pronounced as what was shown in the posters and the literature. It appeared that most of the leaves had fallen already here at Inuyama, which was surprising since the koyo was pretty intense at higher elevations, but down here in the basin on the outskirts of Nagoya, we would have expected that the koyo hadn't arrived yet given the warmer temperatures.
Still, we realized that we really should make the castle visit before it got even more crowded so we promptly walked up to the castle itself, then we removed our shoes. They handed out plastic bags to put our shoes in as apparently we were supposed to carry them with us. Then, we promptly went up a pair of very steep ladder-like steps, which made me cringe a little concerning my parents' knees (especially my Dad's).
But they took it fine. The next obstacle was bumping our heads on some of the low beams, but we got through those ok.
We pretty much headed straight to the top through about four floors of steps. We decided that we should go up first then slowly make our way down exploring each floor as we went. Once we got up to the red-carpeted top, we were at a vertigo-inducing tower with 360 degree views over the city of Inuyama as well as the Kisogawa or Kiso River (said to be Japan's version of the Rhine).
With the somewhat overcast skies with the sun breaking through from time to time, it was a pretty gray scene with lots of industry all around us. It was a typical city view, but the fact that we were high up above it with a commanding view was made this spot pretty nice. So we walked around the tower one time taking photos as we went, then we went back to the red-carpeted interior where we saw pictures and drawings of former owners of the castle as it seemed to be passed down from one generation to the next.
Next, we went down one flight and started examining each floor one by one. The stairs were getting pretty crowded so going up first then slowly back down seemed to be the right thing to do. Anyways, when we got to the next floor of interest, we were seeing other examples of the oldest standing castles in Japan, which included the Matsumoto Castle as well as the Himeji Castle. There were still others that we didn't get a chance to visit, but it was interesting that some other castles weren't shown like the Odawara Castle or the Osaka Castle, and I suspect that they were probably rebuilt or were too modern or something, which was why they weren't included in this Hall of Fame of castles.
There were also scaled replicas of the Inuyama Castle showing how the all-wooden castle was built and supported. Apparently my parents had translated the kanji and saw that the head person who lived in here actually lived in the lower floors, and the upper floors were more for strategic military positions. This was unlike the European castles where the royalty tended to live at the top to maintain their class status against the lesser peoples.
On the lowest floor of interest, we saw some samurai armor and other artifacts. And eventually at 9:25am, we were pretty much done with the castle part of the visit. What was interesting to us was that most of the visitors we had seen were Asian though it was quite a mix of Taiwanese and Japanese visitors. We only saw one trio of Caucasian visitors who happened to be Russian. I guess this place wasn't exactly on the tourist radar compared to saw Matsumoto-jo and Himeji-jo or even Takayama.
So we spent a bit more time walking around the courtyard of the castle before we finally left and got back to the car at 10am (which was actually two hours earlier than I had anticipated according to our schedule). When we returned to the car, the P1 lot was now packed. So given our schedule margin, we took our time driving into the heart of the city to find a 7-11 to get some more cash as well as stock up on some more takeaway foods since we hadn't had breakfast yet.
We'd eventually be done with the supply stop at 10:30am and next the Japanese GPS had us drive further south on the Hwy 41 towards Nagoya before getting onto the Meishin Expressway at the Komaki IC. There was a lot of traffic on the Hwy 41 even for a Saturday, and in hindsight, it was probably better to go back across the river and take the Hwy 21 towards the Tokai-Hokuriku Expressway before merging onto the Meishin Expressway to avoid all this traffic.
That said, we were seeing that there was a lot of industry around this part of the northern suburbs of Nagoya, which made us think that cities in general were pretty ugly (especially after having been conditioned to seeing lots of Nature and small cities on this trip so far).
When we got onto the Meishin Expressway, we were cruising along when the GPS told us to exit the Ogaki IC onto the Hwy 258. But seeing there was a sign saying the Yoro exit was another 3km away, I decided to rebel and go to the next stop since the next waterfall, which was the Waterfall of Yoro, was our target.
But we apparently missed our exit because we thought it was taking us to a different expressway. But it turned out that we had to drive some 10km all the way to the Sekigahara IC exit. But thinking that we really should try the Yoro exit, which had the right name (there weren't waterfall signs or Yoro Park signs at this point), we backtracked on the expressway and finally took the Yoro exit.
But that exit actually had us go further north towards Obatagawa before finally having us exit. Then we followed the signs back south towards Yoro, and when we approached the town after going through several traffic lights, we finally started to see signs for Yoro Park. I guess in hindsight, we should've listened to the Japanese GPS after all and gotten off at Ogaki. That would've at least saved us from all this local driving.
Anyways, when we finally started to pick up the signs for Yoro Park, we followed it to a junction on a local road. We first saw the kanji for parking for the Yoro Falls on our right, which said it was 2km away. I wondered where the other more obvious road straight ahead went as this road we wound up taking became steeper and much narrower (single lane with a few pullouts for passing).
At 12:10pm, we finally arrived at the Yoro Waterfall parking lot, but it costed us a whopping 1000 yen, and the detours that we took wound up costing us at least 30-45 minutes as well as an addition 670 yen in toll costs. So that chewed into our two-hour margin a bit (and made us a little lighter in cash once again).
This car park had an elevated view back down towards the basin of Yoro, which was actually a pretty ugly industrial town as the view was mostly industrial-sized farms and smoke stacks in the distance (probably from burning coal or something). The mountains we were on were probably the lone pockets of Nature in this intensely developed part of Japan.
And the haze that we saw in the distance, I suspected, was pollution as opposed to natural haze.
Anyways, we walked down the steps and picked up the trail leading us past a yakitori tent and onto a rest area where we could see the impressive Yoro Waterfall. Similar to the Amida Falls, it was tall, but this one was a little shorter and it had a bit more growth around it.
There was a shrine area next to the plunge pool of the falls, but we also noticed that there was a more well-used trail that followed along the waterfall's stream. That got us curious about whether there was another way to go to reach this waterfall.
So after experiencing Yoro Falls from these obvious spots, we started to walk down along the stream for a few more views of the main waterfall before continuing down to see where it went. However, the further down we went, the more we knew that it was going to be a bit of a long climb back up.
We eventually got down near a spot where the trail split near the Yoro Camp. There were some buildings here, but after looking at another map sign, apparently it was still another 1.3km to get down to this place of Changing Destiny or something like that. And so we figured that it might not be worth walking all the way back to the central part of Yoro Park just to satisfy our curiosity.
Still, there were way more people walking along this trail than the way we had come from, and most of the people were families (probably local) enjoying this place on the weekend. We suspected that the parking at the central part of the park was probably not as crazy as 1000 yen and so we made a mental note to drive to the main entrance to see.
So we walked all the way back up the main waterfall again. Then, we headed back up to the car (getting there at 1:15pm) and ate our takeaway lunches before driving off again at 1:40pm. We headed back down the narrow road, which now had a few more cars on it, which made for some interesting moments as some people had to back up to find the nearest pullout before letting our caravan of cars pass by downhill (there were about 4 cars in our group for every single car going up).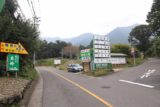 When we got back down the hill, we drove along the road that we probably should've followed in the first place and reached a pretty big car park flanked by some park. It turned out that parking down here was 300 yen, and this was probably why so many people opted to do the longer walk (probably 2km each way) instead of spending the extra 700 yen for a shorter walk (more like 0.5km in each direction or something).
Well, we then drove off and started to long haul all the way to Tottori after filling up on gas. We got onto the Meishin Expressway at the familiar Sekigahara IC, and then headed west. We eventually stopped at the Taga IC at 2:45pm where we switched drivers. But at this rest stop, we saw that there were lots of food places to choose from as well as a trash and recycle bins that Mom was excited to finally find as they were hard to come by throughout our travels so far.
So Dad spent the next couple of hours driving through the busy areas of Kyoto and Osaka, and we'd eventually make another stop at the P in Kasai. That was where we had ourselves a dinner of cutlets, udons, and some kind of beef over rice bowl. The stop was convenient and satisfying, and maybe we should do this more often, we thought.
At 5:40pm, we resumed the drive, but this time I took over again. We were now pretty much driving in the dark for the next 90 minutes or so. When we got to the toll gate, we had to pay a whopping 60k yen (think $60 USD), but I guess as expensive as it was, it was justified considering how much infrastructure was put in these roads, and that they went by the logical prinicple that you should pay for your usage as opposed to making people who aren't going to use it pay for it (like at home).
As we drove the Tottori Expressway northwards through several tunnels (so it didn't matter as much that we were driving in the dark), we noticed signs showing a tree and a car shake, and we knew that it had something to do with the earthquake that happened yesterday. I think Dad eventually translated the sign to indicate that we were entering an earthquake zone. Hopefully, none of the aftershocks would be bad enough to cause any additional road closures or trail closures.
Speaking of road and/or trail closures, we were kind of expecting something like that to happen whilst in Taiwan though given the flooding and typhoons that have happened all Summer and now Autumn long.
We'd eventually get to the city of Tottori, where we filled up at a Shell Gas station near our hotel. But since it was a self serve station (every one of our gas stops had full service to this point), we had a little trouble with the kanji (no English). But at least our credit card worked and we started to fill up gas when an attendant ran to us and had us stop!
It turned out that we had just put 4L of kerosene in our gas tank! So that kind of worried us a bit and the attendant didn't want us to start the car as we had to figure out what to do next. But eventually another attendant started the car and drove to the next pump. He must've thought we were idiots as it was now obvious that that there was english saying which was regular, premium, and diesel. But I guess we had chosen the wrong pump thinking it was the lone full service one (and it turned out to be a kerosene pump!).
So with 4L out of our fill up of 14L and the rest of the tank being the correct fuel, I guess our little blend of kerosene with the gas would make our car burn inefficiently, but at least that was over with. And so at 7:25pm, we finally parked the car at the APA Hotel Ekimae Tottori, and at 7:40pm, we finally checked into our rooms. We got two separate rooms since they were small. And we agreed that we'd meet up tomorrow at 6am for our last full day of self-driving before returning it in Osaka the day after…
Day 11 (October 23, 2016 – Tottori, Japan): "Footprints In The Sand, Change of Plans…"
It was 5am when I awoke to the alarm. I took some time to get ready as yesterday was a very long day. Then, I went up to my parents' room at 6:05am, but no one was answering the door. However, when I got to the elevator, I went back down to the 10th floor to see if my parents were checking on me at my room, and that was when I saw Mom as the elevator door opened. Apparently, they had been waiting downstairs already, but Mom went because she had a hunch that I'd be looking for them. And so we went downstairs where Dad was waiting, and we were in the car and leaving by 6:10am.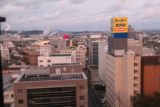 The original plan called for us to make the long drive to Kamba Falls, but like with Neo Falls near Takayama, I thought that it was too great of a time commitment to do this so we opted instead to drive straight to Harafudo Falls.
The Japanese GPS had us take the Route 29 straight to the falls for about a 90-minute drive (at least according to her predicted arrival time), but I don't think she was counting the number of traffic lights we had to stop for. The Japanese didn't do smart traffic lights (interesting because everything else seemed to be so smart and efficient) so for each traffic light that was red, we had to stop a very long time even when no one was crossing the street or no one was using their green light and going across traffic. So at some point, I decided to make the executive decision to take the expressway, which seemed to be toll free throughout the Tottori Prefecture.
We'd eventually get off the expressway near Nishimachi, and then we took the Hwy 429 which eventually connected with the Hwy 29. The 429 was a bit of a narrow and twisty road as it traversed a pass. Once we finally got onto the Hwy 29, we headed northwest and eventually encountered a sign for Harafudo Falls, which was well signed from the highway. Then, we followed its spur road to the signed parking area near the end of the road at 7:55am.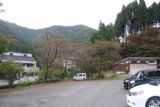 This wasn't far off from the GPS-predicted arrival time of 7:48am had we taken the Hwy 29 all the way, but with all the traffic light stops that she didn't count on, I'd be willing to bet that the amount of time it would've taken to get from Tottori to here would have been about the same.
So we promptly got onto the trail, which went by some shop as well as a shrine with a mini Bake-jizo-like row of statues wearing red caps and some kind of bib. Not long after that, we crossed over a couple of bridges then got to the entrance of the falls area. However, the ticket booth wasn't open until 8:30am, but we still had some 20 minutes or so to go.
Thus, we decided to continue walking as the 15-minute trail didn't seem to be closed or blockaded at all. We figured that when we return, we can make the payment of 200 yen per person later. We just didn't want to idle and waste precious daylight hours.
And so we got onto the long suspension bridge traversing the stream responsible for the Harafudo-no-taki, and then after the bridge, the trail promptly climbed a series of steps. Eventually, we'd reach a fork, where it was obvious that we should keep right to descend down to the suspension bridge with a nice view directly towards all of the tiers of the falls.
However, wires that held up the suspension bridge also got in the way of our views, and it conspired to make us not take good photos at all. It made me wonder whether this falls could've even been properly viewed or accessible if not for all this infrastructure devoted to the falls. Well, if not for this infrastructure, I'm sure access would be more difficult yet at the same time, it probably wouldn't cost money to maintain and build.
By the way, Dad and Mom translated the kanji for this waterfall's name as the "Stand Still" Waterfall (yuan bu dong). We didn't know of it was the correct translation for the falls, especially since it didn't make sense to us, but it was an interesting way to remember this falls.
After having our fill of checking out the Harafudo Falls from the last suspension bridge, I was curious to see where the trail that continued to our left went. Well, as we walked up more steps, we eventually reached a barricaded part, where I guess a landslide might have caused its closure or something.
Anyways, when we turned around, we saw a bit more of the upper tier of the Harafudo Falls and took some photos up here before making our way down. There was a lone lady hiker who also made it up here after us, but I guess she had to stop short at the barricade as well.
With that, we went all the way back down towards the ticket counter at the start of the official trail, but no one was at the booth collecting money even though it was past the opening time of 8:30am. However, we did notice an honor system coin drop slot, and we dropped 600 yen for all three of us (200 yen per person), and then as we returned to the start of the trail, we were asked by a lady who was sweeping the trail if we had paid (in Japanese, of course). We told her that we had already paid, and then we eventually got back to the car park at about 9:05am.
Before taking off, we ate some of the takeaway breads and soba that we still had in our possession. That served as our breakfast. Then at about 9:15am, we headed out.
As we drove towards the next waterfall, which was the Tendaki Waterfall ("Sky Falls" or "Heaven Falls"), we started to go over some pass en route to Yabu and Ooya. As we crossed over the pass, the weather changed and it started to rain. The rain looked like it was a mix of light rain while at the same time, we had moments when the rain came down pretty hard as well.
Eventually at 9:55am, we followed the signs towards the Tendaki Falls, which had plenty of signs marking the way, and for the last kilometer, we had to go up a pretty narrow single-lane road before finally reaching the limited car parking space near the trailhead for the falls.
When we got started on the hike, the rain came down again so I donned waterproof pants as well as a rain poncho. Mom and Dad each relied on their own umbrellas.
As we hiked up the road, the trail then became an uphill dirt trail with lots of steps every now and then. It turned out that the trail featured some seven minor waterfalls before reaching the Tendaki Falls. Most of these minor falls did indeed have names, but they were mostly unimpressive on their own, and they really served as ambience for it was nice and relaxing to hike to the sound of rushing water.
The uphill nature of the hike was pretty relentless, and it seemed like the 1.2km hike (in each direction) was a test of our thighs and our endurance as our cardio session was in full effect. But the rain was also running on and off though the tree cover seemed to have made this trail drier than we would have expected.
When we got up to the 6th and 7th waterfalls, it turned out that these were pretty impressive in their own right (especially the 7th one). But here was also where the trail climbed steeply once again. Initially after the 7th falls, the trail went up a series of switchbacks before hugging some cliff with some chain-linked handholds for the unsure.
Then, we finally arrived at our first glimpse of the Tendaki Falls, where a small lookout provided us with an angled upwards view of the falls. So we went up the metal ladders then up a few more steps and switchbacks before finally arriving at the Tendaki Falls as well as a shrine.
There was a Japanese lady who had passed us earlier in the hike, and she was now praying at this waterfall's shrine. The weather started rain a bit again though it was once again on and off so while the conditions were not ideal, it wasn't prohibitive for taking photos and making memories.
Thus, we were busy documenting our experience of the falls, and I even explored a little beyond this shrine just to see where the continuation of the trail went. However, it appeared that a landslide or something caused the trail to become a bit of scramble not long after the shrine, and I opted to not continue on in the interest of time and safety.
That said, the partial view I got of the Tendaki Falls from this spot allowed me to show some koyo (Fall colors) with the falls, which was something I couldn't get from the main viewing area by the shrine. Anyways, a few elderly couples showed up as well as a family, and I guess that was our cue that we should be heading back down to the trailhead as more and more visitors were getting to the falls now.
The hike back down went pretty uneventfully though we did notice quite a few more hikers going up to the falls. The weather really calmed down as well when we headed back. When we got back to the trailhead at about 11:45am, the parking lot we were at was full! It was a far cry from us being the third vehicle to show up. Now there had to have been at least a dozen or so, and one person that had just showed up would have been SOL had it not been for us about to leave.
Next, we were headed to the Saruo Falls, but on the way between Yabu and Hirotani, we saw a grocery store and decided to make a spontaneous stop for it. It was now 12pm, but since none of us had a real meal, we figured that their food section ought to have a combo of takeaways and something hot that we could eat in the car or something.
So we went in and loaded up on tempuras, hot curry over rice, a couple of wrapped up fishes, cutlets, and some water and snacks. It ended up being around 4200 yen for everything, but since they didn't take my credit card, it was a pretty painful visit as we were burning through what's left of our cash reserves pretty quickly given these large chunks of spending.
We opted to eat our lunch outside the supermarket on a bench. As we were eating, the rain came back and seemed to come down fairly hard. We were sheltered by the awning over the vending machines and the bench we were sitting on so we got to watch it all unfold without being part of the weather.
We did manage to spill some of our food and drinks because the bench wasn't anchored down and I was sitting on one side of the bench while Mom and Dad got up from the other side. But other than that, the lunch was uneventful and we returned to the car at 1pm.
As we were about to leave, Mom did notice a sign and commented to me that there was some kind of earthquake discount for the ice cream. I wasn't sure why they'd do something like that (was the machine broke or something?), but we refrained from taking in even more sugar. It seemed like we've been overeating for the past few days and I'm sure I picked up about 10 pounds or so during this last week-and-a-half.
Next, we drove towards the Saruo Falls. We managed to get to the Hwy 9 and as we followed this route, we saw a sign for the falls pointing to our right (thus heading east), and that was the first mention that I had seen of the falls while driving. So this sign came up quickly and it was because the GPS gave me the heads up that I was prepared to turn. But I could totally see us missing this turn if we weren't expecting it.
At 1:35pm, we arrived at the signed car park for the Saruo Falls. Like with other waterfalls, there was a restaurant and/or souvenir vendor as well as toilets. There seemed to be ample parking space so this might have been helped by the rains.
It was raining when we got out of the car, but the rain stopped as we were walking towards the falls, which had to have been less than 2 minutes or so. The path was concrete and on one side of the stream, and it began by passing by some religious stuff as well as a mailbox?!?!
Once we got up to the falls, we could see that it had a tall two-tiered series of drops, but it was thin. So I'd give this one a scenic rating of 2.5 tops. Nevertheless, it was still attractive and considered one of Japan's Top 100 Waterfalls, and we kept thinking that this program the Japanese have going for them tended to range in quality from 2.5s to 4s out of 5 in terms of how we'd evaluate these falls. We hadn't seen one that we would say would be worthy of a 4.5 or 5 and none so disappointing that it was more of a 2 or lower.
When we had our fill of the Saruo Falls (which Dad and Mom translated it to mean Ape's Tail or something like that, and I guess we could see why), we then headed back to the car park at 2:15pm. Before taking off, we studied one of the cartoony map signs which showed that we could take the Hwy 9 to Hwy 258 then Hwy 4 leading up towards the Hwy 178 near Kasumi (as opposed to the Hwy 9 directly back to Tottori).
We opted to try for the scenic route this time around just to enjoy the Northern Coast of Japan. Along the way, we saw just how violent the seas could get on this side of the country. We also noticed those giant jacks-like concerete pieces that were positioned along some parts of the shoreline to act as wave breaks as well as provide some ammo against a tsunami if it was to happen again.
We continued driving along the Hwy 178, which also afforded us some nice coastal views like the Anami Coast. This was the first time all trip long that we got to experience coastal scenery as we had either been in the city or the mountains with the farmlands in between for just about the entire trip to this point. We took some photos from where there was a signpost talking about the origins of the Anami Coast, and then we continued on towards the Tottori Sand Dunes.
At about 4pm, we finally made it to the Tottori Sand Dunes. The parking was free, and once we crossed the street and walked onto the sand itself, we could immediately see just how vast the dunes were.
Julie and I had seen big dunes before like the Oregon Sand Dunes or the Sleeping Bear Dunes in Michigan. But this one seemed to have a lot of people going up and down these sand dunes while braving the fast winds coming from the Sea of Japan. The winds closest to the ocean were really strong, and it was even stinging any bit of bare skin that came in contact with the sand acting as projectiles thanks to the wind.
Mom and Dad seemed to enjoy the dunes experience as they were way ahead of me and eagerly walking to the apex of the next dune hill, which looked steeper than the one I was standing on (closest to the main road).
I had also noticed a handful of camels were for rent. After getting ripped off on such a tour in Cairo, we had no interest in doing that.
While there were footprints criss-crossing the dunes, there were also lots of wind ripples, and I could easily see them forming with the strong winds that were coming from the north. It was loads of fun, and we could even see other locals (didn't see a single foreign tourist besides ourselves here) having fun as well.
Finally at about 4:45pm, we were back in the car as the lighting from the day was fading fast. We next wanted to seek out the Hakuto Jinja Shrine (or the White Rabbit Shrine). Whether it was open or closed, I wanted to see what it would be like and take mental notes to see if we wanted to fork over the money to do something like that.
Anyways, we were looking for it along the Hwy 178, but we happened to miss the attraction as apparently the GPS waypoint I had entered wasn't correct (which I got from some website that was probably incorrect to begin with). So all this extra driving kept us from getting back to our room in a timely maner. But eventually at about 5:35pm, we were finally back at the hotel in Tottori.
The receptionist recommended that we go to Karazusi for our sushi fix (thinking that Tottori was a seaside town and so the fish ought to be fresh). It turned out to be a very popular dive for locals, especially as far as a conveyor belt sushi joint was concerned. I had never done one of these before so we all came in without much expectation for quality (at least I didn't).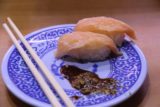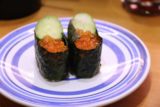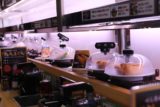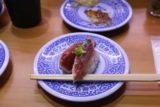 It was a good thing that Dad knew some of the numbers in Japanese when he heard the verbal announcements (otherwise we would've been waiting forever without even knowing when we were up). They did have numbers flashing on the screen, but they seemed to lag behind. When Dad heard our number in Japanese, the numerical display didn't even show 44 – our number. Regardless, once we were ushered to our seats, we were given numerical clipboards which corresponded to our seat numbers. Then, we proceeded to start grabbing sushi as they zoomed past us on the conveyor belt.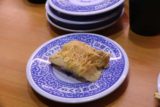 The system was interesting in that we were only supposed to touch the plates, which would open up the covering container. And by doing that, it meant that you bought it. Then, you were supposed to deposit your spent plates (they wanted us to do 5 at a time) down the slot in front of us. Based on the type of plates that were collected, that was how they'd tally up the total amount of sushi eaten.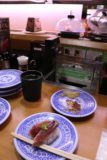 We loaded up on uni, tuna, toro, salmon, beef tataki, and a handful of other things. When all was said and done, we only paid about 3500 yen for all three of us, which was actually dirt cheap as far as sushi was concerned (as it was under 1200 yen per person). No wonder why this place was so busy! Of course sushi this low on price made me wonder about the quality of the fish.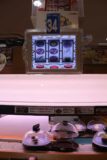 Anyways when all was said and done, we were fully stuffed and ready to drive back to the APA Hotel. We ultimately got back to our room at 7:30pm. Mom called the receptionist to help us open the window here because the our rooms smelled like smoke. However, it seemed like someone was smoking near my room and the open window seemed to introduce even more cigarette smoke. So I just dealt with it.
After fighting sleep for the next few hours, I realized that it was 11pm again, and so I Facetimed Julie and Tahia once again. By the time we finished our overseas talk (it was 7am in the morning over there), that was when I finally went to bad. And so ended this very long and eventful day despite the on-and-off again rain. Tomorrow would be our last day with the rental car, but we'd have to make the long drive back to Osaka from Tottori with at least two more waterfalls to go…
Day 12 (October 24, 2016 – Osaka, Japan): "More GPS Adventures"
It was 4:25am when we awoke without the alarm. It was surprising since I had stayed up to midnight to talk to Julie and Tahia via Facetime. So we took some time to get all packed and ready to go, and eventually by 6:15am, we all went down together from my parents' room. And then we loaded up the car and were headed off from Tottori.
First up, we went for the Amedaki Waterfall. To our surprise, there were signs from the city of Tottori leading to the falls so it wasn't hard at all to find. That said, the GPS wanted to take us on some other small roads to some miscellaneous spot on the map for some reason, but at least this waterfall was so well-signed that we deviated from her wishes.
And we eventually made it to the P1 car park for the Amedaki Falls at 6:45am. It was quite chilly here (said to be 9C or something) but with the skies being mostly sunny this early in the morning, it was shaping up to be a nice day.
So we first went up to a fork where the path on the right went to the overlook, and the path going down to our left went to the toilet. We went right first, and it it only took a minute to get to a partial view of the Amedaki Falls. Clearly, this path wasn't the right path so we went down to the fork again, and headed down to the bathrooms.
And then, we followed some steps down to the bottom where we could see right away there was the Nunobiki Falls (or sometimes called the Amedaki Nunobiki Falls to distinguish it from the Nunobiki Falls in Kobe), which was thin but had some decent Autumn foliage around it. Then, we walked for a couple of minutes past a shelter and up some path leading up to the impressive Amedaki Falls, which plunged down from a cliff. There was a small shrine near its base, and it was possible to walk closer to the plunge pool, but it was quite misty down there so we opted to spend most of our time at the bridge over the waterfall's stream.
With the low light, I did use the tripod. But I also used the railing on the wooden bridge to help steady the camera as well. We took our time enjoying this spot, especially since we were all alone on this morning. I'm sure this would've been quite the crowded place had we showed up here yesterday (Sunday).
Personally, given all the waterfall action (there was also a cascade tumbling by the shelter and bridge across from Nunobiki Falls and picnic tables), I'd give this falls a 3. It was kind of middle of the road after having seen many other Japan Top 100 Waterfalls on this trip. In a way, we were kind of conditioned to the excellent waterfalls of that program after having seen so many on this trip.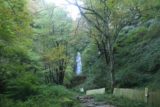 Next, we got back in the car at 7:45am, and started the long drive southwest towards Osaka. The remaining waterfalls on this trip would not be in the Japan Top 100 so we tempered our expectations, but they were at least close to the cities of Osaka (Minoh Waterfall) and Kyoto (Otonashi Waterfall by the Sanzen-in Temple).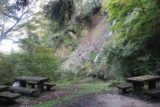 I had originally planned on using public transport to visit these falls, but since we had a rental car and it was early enough in the day, we figured that we mind as well take advantage of our freedom and make tomorrow a totally free day using mass transit to visit the city sights in Kyoto and/or Osaka.
Fortunately for us, the Minoh Waterfall had a phone number, which we got from the web this morning before checking out from the hotel. So it had no problems searching for the falls and we'd follow the Japanese GPS' instructions leading to the Minoh Waterfall with a bit more faith than entering in straight Latlon coordinates.
Anyways, the drive along the Toll-free Tottori Expressway went pretty uneventfully, and then we'd follow the Meishin Expressway into Osaka, which was very busy. When we exited, there were many cars and lots of them waiting at red light signals. Still, as we were headed north to Minoh after getting off the Chugoku-Ikeda IC, then following the Route 171 before making a left onto a narrow mountain road that was well signed for Mino Park.
Since we were heading north away from the busy city of Osaka, the drive was much easier the higher up in the mountains we went, and eventually at 11am, we made it to the Minoh Park, where they charged 1000 yen to park. It was a pretty steep price, but we weren't local so we couldn't figure out how to beat the system and avoid paying the fee by parking somewhere else on the road and walking.
As we got out of the car under the nice sunny day, we then walked along the road following the stream responsible for the Minoh Falls. We saw that there was former trail leading closer to the stream down below, but it appeared that it hadn't been used in a while given the overgrowth. We suspected that there might have been flood that killed off the old trail and now we pretty much walked along the road, then besides a tunnel, before going down a couple of ramping switchbacks.
Speaking of ramps, this trail had a lot of families pushing strollers so it was both stroller friendly as well as wheelchair friendly. We eventually got down to the shops and cafes alongside the stream and then approached the impressive Minoh Falls, which was fronted by a red bridge as well as a viewing area arranged like a theater or something.
Lots of people were using these seats to take in the falls, which still wasn't quite juxtaposed with koyo yet as we had probably showed up 2-3 weeks too soon for that to happen. That was too bad since the koyo would have really made this falls stand out. Still, we did see a slight rainbow at its base given the fine weather, and we spent a few minutes to just enjoy this spot before we headed back up the ramp and back to the car park, eventually getting there at 12pm.
Given that we still had another 5 hours of daylight left, we didn't have to return the rental car just yet. So we decided that we should drive towards the Sanzen-in Temple and the Otonashi Waterfall near Kyoto. Sure we'd have to drive at least an hour in each direction from our spot in Osaka, but at least we'd get this out of the way.
We still hadn't had a formal brekkie yet so we thought perhaps we could stop by a P along the way to the temple. However, before we could get to a P that wasn't a mere coffee stop, the Japanese GPS had us get off at the Kyoto-Minami IC. And as soon as we got off the expressway, we could see straight away that we were right in the thick of the city traffic. I had a bad feeling that the GPS had us take the shortest route to the temple, and she did so by routing us through the city center, which I knew was a bad idea. But since we didn't know the area, we couldn't have just rebelled and taken ourselves for a joyride through all the city congestion.
Anyways, through this escapade, we made a random 7-11 stop in Kyoto at 1pm. Once again, it was takeaway food and we just didn't feel like losing more time at a sit down spot (assuming we could stop for one amidst all the traffic).
We'd finally resume again at 1:35pm, but as we drove through the city, it was frustratingly slow as we were driving through the eastern parts of Kyoto City Center. In fact, we were near the Kyomizu-dera, which was one of the spots that Julie and I were walking in the Gion District some 7 years ago, so I knew that we were driving through spots that we probably shouldn't have driven through.
Eventually, we finally got onto the Route 367 north which went into the mountains again, and then, we'd follow a confusing array of narrow roads (trying to follow the Sanzen-in Temple signs) before we finally settled on some parking area further up the hill that seemingly seemed like someone's private spot with a view down towards the valley. We paid 400 yen to park here, which was better than the 500 yen that we would've been charged had we parked down at the bottom then walked up the hill to get here.
It was now 2:40pm when we finally got out of the car. I'd say that all the congestion and GPS misadventures probably costed us some 30 minutes or so. And so with the late arrival to this spot, we decided to visit the Sanzen-in Temple first since that one had the limited hours, then we'd go for the Otonashi Falls later.
Once we got to the entrance, Mom and I paid the 700 yen per adult to get in. Dad wasn't interested so he went back to the car. And as soon as we walked in after removing our shoes, we could see right away that this spot was pretty impressive.
There seemed to be an emphasis on traditional Japanese tatami rooms and architecture, but there was also a relaxing Japanese garden around the temple area, where there was a real blurring of the lines between what's outside and what's inside.
It was easily a spot where we could just sit and stare at the garden from within the pseudo-open-air temple for hours and just zen out.
Still, we followed through the one-way tour ultimately getting before even more shrines and interesting corridors before we had to put our shoes back on again, and then we walked through more gardens and other detached temples. Indeed, this place was bigger than we imagined, and the 700 yen per adult seemed to be worth the price of admission.
Eventually at around 4pm, we were done visiting the paid part of the Sanzen-in Temple, and then we walked back towards a fork before we turned left and headed uphill. It was said to be a 10-minute walk from this point, but as we got past a few more temples and the end of the pavement, we saw that another sign said it was another 10 minutes more to get to the waterfall (where the kanji translated into something like the Soundless Waterfall). Clearly, this excursion was going to take longer than 10 minutes in each direction at this rate.
It was an atmospheric walk because we only saw two other people throughout the walk (although it was getting late in the afternoon at this time). We'd eventually get to the Otonashi Falls, which was tiny and probably on par with some of the local waterfalls that we were used to back at home in LA. So we didn't spend too much time here, and did what we had to in order to document the experience.
As we walked back down to the car, it was now 4:30pm. The temples that we had passed on the way up were now closed when we headed down. But we spent some 20 minutes to finish up compacting our luggage since we were about to return the car. However, we couldn't find the car rental confirmation that had the phone number of the office we were to return it to. So we had to settle for entering Latlon coordinates, and I knew that the GPS would most likely take us for a joyride given all the misadventures we've had on this trip.
Still, it was what it was, and we had no choice but to push forward. We didn't have a sim card either (my parents didn't bother gettting one) and so we were stuck with what we had.
Anyways, now that I was wiser, we took the 367 then the 182 to get onto the expressway. But it was still congested even going this other way (the GPS insisted on taking us back through the city of Kyoto) but I rebelled.
Next, we followed the Meishin Expressway west back to Osaka, and it eventually had us get off at the Chugoku-Toyonaka IC. It was hard to follow the city streets at this point, especially with all the congestion, but we eventually learned at that point that the GPS routed us to some random spot several blocks away from where we needed to go at the Nissan Rent-a-Car. We also still had to fill up gas.
So the next 30-45 minutes or so were spent navigating the city streets amidst all the congestion before we'd eventually get onto the 176 going south. Then, we'd finally find a Mobil Station (though it didn't take my credit card, which was annoying), and then we'd finally arrive at the Nissan Rent-a-Car at 6:55pm.
The office offered to take us to the Itami Airport, which we took them up on, and soon after we arrived at the airport, we walked around looking for a place to buy some rail pass (I thought the Kansai Thru Pass was what we wanted). However, after rocking up to the office that sold it and getting an explanation from the lady working there on its limits, we realized that the pass was not what we wanted (it was more for private lines and subways). So, we ultimately avoided spending 15,600 yen for the three of us for this pass, and just went a-la-carte to get to the Bentencho Station, where the Hotel Osaka Bay Tower was located.
We quickly caught the very busy 7:35pm bus, and then we took the JR train on the Osaka Loop Line. We priced out the Kyoto train as well as the Kansai Airport lines, and getting the JR West Pass wasn't justified.
Finally at 9am, after some confusion about where the hotel was after getting to the Bentencho Station, we were finally checked into our room. Indeed, it was yet another adventure using the public transportation. But at least we finally got here, and we were relieved to learn that there was a direct train getting to the Kansai Airport from the Bentencho Station. So that would help us on the day we leave…
After getting settled in the room, we promptly went downstairs and pretty much to some Japanese-Italian restaurant on the 2nd floor. I don't think I had ever had a hotel restaurant food when there were other choices, but I guess since my parents were pretty beat and my Dad was starting to feel like he was coming under the weather, we just did what was easy.
That said, we each had a spaghetti dish, where I got squid ink, Mom got something like pork bits (acting as bacon), and Dad got some kind of rich cheese over penne pasta dish. It wasn't anything extraordinary but it was filling, and it was just what we needed since we hadn't had a meal since our late 7-11 takeaway lunch earlier in the day.
It was too bad that the hotel restaurant discount didn't work at this place, but the food was actually cheap nonetheless as we wound up paying around less than $10 USD per person or less than 1000 yen per person.
So with that, we were back in our room at 10:20pm, and we could finally call it a day. With tomorrow being pretty much unplanned (especially since we knocked off the Sanzen-in Temple and Otonashi Waterfall visit today), then perhaps it wouldn't feel like such a long travel day was in order. But then again, I had a feeling that even with our unplanned day, we were still going to have a full day one way or another. I just know it…
Day 13 (October 25, 2016 – Osaka, Japan): "Rain Culture"
I didn't set the alarm last night in anticipation of sleeping in a bit. So it wasn't until about 6:05am when I awoke. It was definitely cloudy outside today, and we were seeing that the forecast had called for rain in the Osaka area at around 5pm today.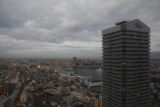 Still, it took some time for everyone to get ready so it wasn't until about 7:20am when we were finally headed downstairs and towards the JR Train Station, where we were going to take the loop line to Osaka Station, and then we were going to take one of the trains from there to Kyoto.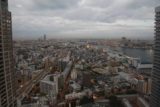 We wound up taking some Rapid Express Line, which had some 10 stops or so, but in hindsight, we really should have taken the Special Rapid Express Line, which would have only stopped 5 times or less. We had that feeling of deja vu again, as we saw that special rapid transit train zoom by us when we still had about 3-4 stops to go.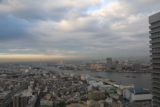 Still, we got to Kyoto Station at around 8:50am or so, and then we promptly walked up to the main part of the Kyoto Station, where we saw that it was already raining somewhat here. We made a dash for the city bus ticket office, where we bought a one-day city bus pass for 500 yen per person.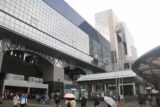 Then at 9am, we got a pretty useful bus map and we promptly took the #50 bus all the way to the Ritsumeikan Daigaku-mae Stop, which was the very last stop of this line. It was all the way to the northwest extreme of the red coverage area of the day pass.
The reason why we did this was to visit the Ryoan-ji Temple ("Dragon Peace Temple" according to the kanji translated into Chinese?). Mom had expressed interest in rock gardens and sand art, and this seemed to be the place to do that. So when we were dropped off at the bus stop, we saw that it was raining, and so we decided to wait for the #59 bus to the Ryoanji-mae stop to minimize the amount of walking in the rain. The temple was still nearly 800m away from where we were at.
Eventually, the #59 bus showed up, and then we promptly got into the temple complex itself at 9:50am, where we paid for admission, then continued walking around the east side of a large pond before going up more steps leading up to the attractive temple area itself.
Once we got up to the temple, we showed our purchased ticket and then took off our shoes to walk around its interior. Like with the Sanzen-in Temple yesterday, this one also blended the outdoors with the indoors seamlessly. There was also an elongated sand art rock garden that the temple overlooked. But the more we looked around within this temple, the more we realized that this was pretty much it in terms of how many rock gardens we'd be seeing.
When we had our fill of this building, we then walked back out onto the garden area, and they had us walk in more or less a counterclockwise loop around the large pond. We chanced upon some WWII memorial though my parents were telling me of some of the war crimes that happened during WWII, where these folks that would be villified by those victims during WWII would have the opposite reaction to this display than what the Japanese would say who might consider the people laid to rest here as heros.
By about 10:40am, we were done with our visit. I must say that this visit was a bit on the disappointing side (especially given how far it was from Kyoto Station) and how few rock art gardens we saw (only one). But at least we got to see what it was about, and the temple itself was pretty nice.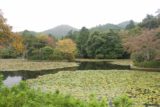 But by the time we were outside the paid area for the Ryoan-ji Temple, we were pretty much relegated to either walking the 760m back to the bus station where we could catch the 50 line or the 12 line to Nijo Castle, or we could catch the #59 bus again and stop at the bus station at Ritsumeikan Daigaku-mae.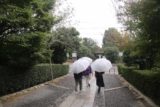 The rain started to come down harder once again. So that pretty much sealed the deal for us to wait for the #59 bus to take us back to the next bus stop. Since we had the City Bus Pass, why not take advantage of it?
By about 11:25am, we were finally at the Nijo Castle. Once again the rain started coming down, so we hastily bought our entrance tickets, then made our way to the familiar palace part of the Nijojo. Mom got herself an audio guide before going in so she could better appreciate the experience here. Meanwhile, a guard near the beginning of the walking tour within the castle was busy trying to keep people from taking photos as apparently photos weren't allowed throughout the palace area.
Beyond the first few turns of the palace visit, a tour guide let one of his clients take photos with a smart phone, and I saw a few others do the same. I guess this no photo policy couldn't be strictly enforced if the guy in the front was the only guy enforcing it.
Anyways, the stroll through the palace was mostly an exhibition of a lot of wall art that seemed to reflect nature themes. Mom and I thought that since we had seen the real thing throughout the countryside of Japan, we wondered just how busy the shogun or other authorities might have been had they not been able to consistently find Nature given how busy they'd be running certain parts of the country.
Since it was raining outside, we took our time to walk through the one-way route going from one room to the next. Perhaps the most telling of the replicated rooms were the ones with figures of kneeling geishas in the waiting rooms before the kneeling shogun was awaiting whatever guests were coming his way.
We also recalled the squeaking floors that were said to be mockingbird or nightingale floors given the chirping sounds that they made. This was said to be intentional so the shogun could hear who was coming at all times.
When we had our fill of the inner palace part, we finally got to take pictures again as we were outside. The route continued to go through a Japanese garden on the outside of the main palace before being routed over to the ruins of a different palace (which I believe was called the Honmana Palace). And near that palace, we were able to go up some steps to a lookout overlooking the Nijojo complex though the rain started to fall again when we got up there.
The Fall colors still hadn't made it to this part of Japan so the garden area wasn't nearly as colorful as we had hoped. We were probably here too early by about 2-3 weeks. That said, the place was quite scenic just as I had recalled when Julie and I did this excursion 7 years ago. However, when we got to a fork near the northern end of the property, we opted to go left instead of right (which was the way that Julie and I went to as it passed through more gardens).
I was curious to see what the left path had featured, but as we walked it, we noticed that the paths were wide and the opportunities for shade were limited, which was especially a bummer because the rain was falling more intensely at the time.
Finally at around 1:10pm, we were finished with our visit of the Nijojo. We wound up taking the express bus 101 leading back down to the Kyoto Station. And once we were back at the station, we went downstairs to the main food court and shopping area, where we randomly found this place that served up different styles of hot udon noodles in soup, which seemed to be the perfect kind of dish for the conditions right now.
So at 1:45pm, we were finally having lunch. We sat in some bar seating but the chairs weren't movable and the leg space was tight. That said, we each had a different set of meals, and eventually by 2:25pm, we were done eating. Now that we were finally sated after not having had a real meal all morning long, we decided to attempt to visit the Inari Shrine, which was another one of those things that Julie and I had done seven years ago.
We ultimately passed on strolling about the alleyways of the Gion District because of the rain and the amount of walking we'd have to do to get to the best parts of the traditional homes flanking the narrow alleyways (quintessential Kyoto).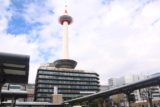 We eventually took the 105 bus which took some time to go around to the backside of the Kyoto Station (closer to the Kintetsu and Keihan Lines, which appeared to be private lines not affiliated with JR) before making its last stop at the Inariji-mae stop.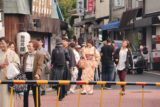 When we got off the bus, we walked towards the busy street that traversed two railroad crossings before getting into a real busy part of the street leading up to the Fushimi Inari-taisha Shrine.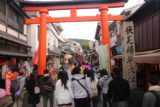 I never recalled there being so many people around the shrine by the time we rocked up to it at 3:25pm. There were scores of tourists not just the street we had just walked to the shrine entrance, but there were even more people packed into the bus area. This was a far cry from what Julie and I experienced 7 years ago when we visited this shrine and it was nearly empty!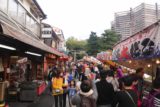 At first, I couldn't understand why such the big difference. Has this place changed in popularity that much over the last seven years? Well, then I finally realized that perhaps our visit in the past happened to be at a time when most of the shops were closed as we were there late in the afternoon (almost early evening), and perhaps that meant the activity was gone.
The visit back then was more atmospheric and even eerie. However, this time around, it seemed like more of a fun fest of lots of people crowding the torii tunnels as well as the general shrine area at the front. One thing we noticed this time around was that there were trail maps on signs, and apparently we could've kept hiking up more torii tunnels all the way to the summit of Mt Inari.
But instead, we were content to take our photos after making a loop. One thing I noticed while doing our loop was that I overheard a tour guide say to his client that this shrine area with all the torii tunnels was really done for business purposes (i.e. it attracted tourist dollars and donations). Not only that, but we saw numerous women dressed in traditional Japanese dresses but quite a few of them spoke Chinese!
Clearly, they were doing it for selfies or something to share with their friends in an effort to gain social currency by social media. Not only that but perhaps one of the biggest reasons for the big jump in visitor numbers here could very well be that there were numerous Chinese visitors from the mainland. Whatever the case was, it was clear that times change.
Eventually by about 4:15pm, we were back on the bus (this time we took the South 5 bus) back to the Kyoto Station, where we'd eventually be back on the train platform waiting for the special rapid express train back to Osaka at around 4:40pm.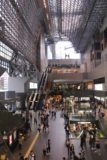 Once we got on the train, we were quickly back to the Osaka Station within 30 minutes, which was definitely about half the time it took for us to get to Kyoto via the Rapid Express Train which made 10 stops instead of just 5.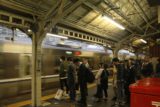 We actually put in a balance of 800 yen per ticket under the guise that we were going to take the train back to Bentencho, but we overpaid by 240 yen when we realized that we could just get off at the Osaka Station and take the subway to Dontonbori for a little night life and dinner. In any case, the turnstiles ate our overpaid tickets and we were pretty screwed out of about 720 yen total.
Oh well, lesson learned. We're better off underpaying and paying the remaining the balance at the fare adjustment machine as opposed to overpaying and being out the difference…
At 5:45pm, we finally made it to the familiar Dontonbori, which was a series of narrow walking streets and arcades flanked by big bright signs and filled in with plenty of foot traffic that made the Shibuya experience in downtown Tokyo seem a lot less busier than this spot. We saw the familiar giant crab near the beginning of the walking block, and as the rain started to fall hard again, we retreated to some random restaurant called Ganko Dontonbori (basically a few businesses further to the east of the big crab place), and I was expecting some non-quality fare especially in a tourist area like Dontonbori.
Our meal consisted of Mom having shabu shabu and Dad and I splitting an assorted combo of sushi (including some real fresh crab meat) while I also supplemented the meal with toro, uni, crab innards, and other exotic sushi dishes that weren't included in the assorted sushi plate.
When all was said and done, the entire meal for all three of us ended up being less than 8500 yen, and it surprisingly exceeded my expectations in terms of quality. Anyways, we had our last little family dinner while out in Japan as tomorrow we were going to fly to Taiwan. So we savored this last meal, and then after 6:45pm, we were back out on the streets of Dontonbori where we tried to walk off all that food that we had eaten.
Indeed, the happening streets seemed to get even busier as the night progressed. Even along the river, we saw that the alleyways there were also busy though nowhere near the extent that the arcades and main street we had just walked were.
Mom and I thought that if this place was so busy and happening (in other words "electric") on a rainy Tuesday night, how much crazier would this place be on a Saturday night in fine weather (let alone during the Summertime)?
Well, when we were all getting our fill of the energy of Dontonbori, we headed back in the direction of the Namba subway stop. But not before we had ourselves one last helping of crab from that place with the giant crab sign. I guess crab was a very big deal in Osaka. We also didn't have the courage to try fugu (puffer fish) even though many joints in this street seemed to offer it.
Finally after taking the subway back from Namba station to Bentencho Station via Hommachi Station, we were back in the room at 8pm. It had been a long (albeit unplanned day), and just like I had suspected, it wound up being a full day. We'd still have one more adventure left before we would leave Japan, and that would be to ensure that we'd be carrying our luggage through the busy Bentencho Station while figuring out which would be the correct platform and correct train leading to the Kansai Airport.
And with more on the line in terms of an international flight, we had better not screw this up!!!
Day 14 (October 26, 2016 – Taipei, Taiwan): "The Last Adventure"
It was 5am when I awoke to my alarm. Mom and Dad were already up. We took some time to get ready with the final packing and freshening up. Then, we promptly went downstairs check out of the hotel. Seeing the timetable that we were given, the trains to the Kansai Airport from the Bentencho Station (probably a stop along the way from Osaka Station) wasn't that frequent. In fact, if we had missed the 6:13am train to the airport from here, then we'd have to wait nearly another hour before the next train would show up.
It was about 5:55am when we checked out so now we had to figure out where to walk, especially since the direct 2nd floor exit to the JR station in Bentencho was closed at this hour. So we wound leaving the hotel downstairs and then tried to find our way to the JR Station from there. It turned out that we briefly walked over to the subway station, which wasn't correct, and then we had to backtrack and make our way up to the JR Station.
After buying up our 1190 yen per person ticket, we then got to Platform 1 at the Bentencho Station (there were only 2 platforms), and we were well in time for our train to arrive as we had at least 5 minutes to spare.
Once the train arrived, we saw that wasn't anything like the Narita Express where there were places to store the luggage and just find a seat. Nope, this was one of the typical commuter lines though there were enough spaces near the doors to essentially stand with our luggage though it was a bit of a task to try to stay out of the way and not block people from coming in and out of the train.
At 6:45am, we were happily sitting in our seats next to our luggage when a conductor was doing the rounds and wanted to talk to us. At first, I thought he wanted to see our proof of payment, but I knew that wasn't what he was after when he was trying to show us something.
It turned out that we were sitting in car 6 of the train, but the train would detach and keep only the first 4 cars to go to the Kansai Airport. The rest of the cars would go to Wakayama. So it was a good thing he told us this as we managed to get off the train, walk over to car 4 and then get into the much more crowded train, where we were standing the rest of the way (though my parents managed to find a couple of seats with luggage in tow).
Indeed, the train detachment happened at the Hineno Station, which was 3 stops before the Kansai Airport. So in hindsight, we had time to switch trains and probably could have sat a little longer, but it was better to be safe than sorry.
Finally after walking from the JR Station to the Terminal 1 area, we found the ticket counter, checked in our bags (we were allowed to bring the well-made Japanese umbrella into the cabin, which could come in handy in Taiwan given the foul weather they'd been having), and got into the security line then passport control afterwards at 7:45am.
Once we got through that, we spent the next 80 minutes or so spending the rest of our yen for food and some gifts for relatives and my daughter (hopefully, she'll appreciate the Hello Kitty in the geisha or kimono outfit).
We boarded on time at 9:30am (we were actually one of the last ones to board), and then the flight went pretty uneventfully as I got a little caught up on sleep before finishing the watching of Project Almanac. Aside from that, this concluded our Japan part of the trip. Next up, Taiwan, where I hadn't been in over 20 years!
Visitor Comments:
Got something you'd like to share or say to keep the conversation going? Feel free to leave a comment below...
No users have replied to the content on this page