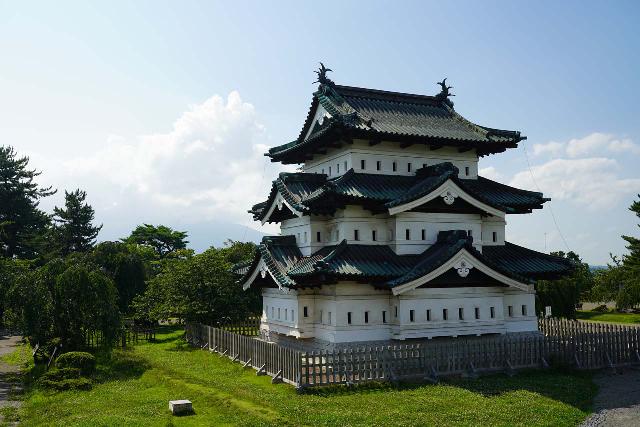 3-July 2023 to 12-July 2023:
After calling them, we learned that their ETC wasn't working and they were stuck, which required a person to aid them.
Eventually, they got through, but then we were about 5km or so ahead of them so we slowed down trying to wait for them to catch up to us, but then they passed us and were about 300-500m ahead of us so we had to catch up to them.
Finally, when we took the lead and they were behind us, we then went through another ETC gate where I asked Mom and Dad to try the same ETC gate as us just to make sure it was their card that was defective or something.
When that happened, I realized that we needed to have a change of plans…
Day 28 (July 3, 2023 – Osaka, Japan): "Another Misadventure For The Parents"
(continued from "It's A Family Affair")…
It took some time for us to finally get through the immigration and customs though the QR code queue definitely helped us along (which we managed to pre-fill out at the last-minute last night).
By about 1:15pm, we were in the non-secure area with our luggages and proceeded to get a SIM card as well as exchange our Taiwan Dollars right into Japanese Yen (at a rate of something like 4.14 yen for every Taiwan Dollar).
It was weird that there was an adjacent foreign exchange kiosk that had slightly poorer rates, which made me wonder why they did that.
Not surprisingly, most people went to this cash only one that had the slightly better exchange rates (the other one had something like 3.83 yen per Taiwan Dollar).
I also looked at the USD to Japanese Yen exchange rate, and one was 141 yen per $1 USD while the other was 138 yen per $1 USD.
Anyways, it was a bit on the hot and sweaty side at the Kansai International Airport though it wasn't quite as stifling as the heat and humidity in Taiwan thus far.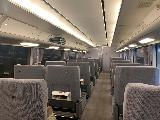 We ultimately decided on taking the Airport Rapid Line going right to the Shin-Osaka Station, which we promptly boarded at 1:40pm.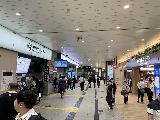 Once we got off the train with our belongings, we then had a bit of an adventure trying to navigate the maze of corridors and shopping areas along with the constant stream of people (lots of them have somewhere to go).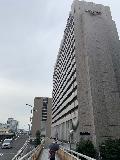 After trying to figure out which exit we needed to get out of (as it wasn't all that obvious), we finally found the McDonald's landmark near the North Exit, and then we got to the Courtyard by Marriott Shin Osaka Station at 3pm.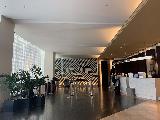 Once we dropped off our stuff (while Julie and Tahia had to fight the urge to just sleep), we went back downstairs at 3:20pm.
Since it would still take a while for the rest of the Cheng Army to show up since they took a later flight while we also had an opportunity to meet up with Stacey, Andy, and Evan (friends from LA who happen to be in Japan) but they just started to leave Kyoto for Osaka, we had some time for ourselves.
So we used that time to take the mass transit for the Osaka Castle, which was something Julie and I did on our first visit back in 2009 though I was keen on trying to go inside the castle this time.
But we wound up getting either distracted or having subway misadventures (in one case Tahia almost left a bag of water and other stuff on the train just as we had left it and had to get back on it, which meant we had to sit on the train back and forth for an extra stop).
And so it wouldn't be until about 4:40pm when we finally started walking to the Osaka Castle, which was not looking good for our visit to go inside since they're closed at 5pm.
I'm sure there's a last entry time an hour or thirty minutes before, and we still had a bit of a hike to get all the way to the entrance of the castle from our subway station.
Indeed, by the time we got to the Osaka Castle entrance at around 4:55pm, the ticket windows were all closed and so we were relegated to just taking exterior pictures again – all a hot and sweaty mess once again.
So after taking some obligatory photos, we then sat at a bench there trying to figure out what to do next.
As soon as we got a text from Stacey that they just checked into their Air BnB near the Dotombori District of Osaka, we went ahead and took the mass transit right to that area.
However, in the meantime, I got a text from Mom lamenting that they've been stuck at the Kansai Airport for 2 hours and counting due to a rather horrible immigration queue as soon as they got off a terminal hopping train.
Apparently, there's just too many flights arriving at the same time and not enough processing bandwith to handle that surge in arrivals.
Their misadventure was a far cry from the relatively smooth process that we went through earlier today though there were also lots of people when we were there.
Anyways, by about 5:50pm, we were back in the subway and we headed right to the Dotombori District getting off the Namba Station.
We eventually got to the famous crab at 6:15pm, where we waited to meet up with Stacey and Andy and Evan, and it was definitely a happening place to soak in the ambience as we waited for them.
We also had some trouble finding the yakitori place that we thought might be good for the kids (Tahia and Evan) but it wasn't until I found out that our joint was upstairs, which was why we had trouble finding it at the surface level.
Once we met up and had dinner at the tight joint, I was quite surprised that they were able to accommodate all six of us.
We then proceeded to catch up while having a dinner that was pretty much all about chicken done all sorts of different ways.
We also had some shrimp skewer (lightly breaded) as well as some kind of pork balls on a skewer washed down with some fizzy drinks (I actually had a nice Yuzu-tasting fizzy drink).
Ultimately by about 7:55pm, we were done with dinner (now this place had a queue to get in), and then we walked around Dotombori a bit more in search of a dessert joint.
Now, this place had a more magical night time ambience as all the lights were on (including white lanterns suspended overhead), and it was especially scenic when we got to the river.
We had some trouble finding some dessert joints within the Dotombori area, and we ultimately had our fill of this happening district before retreating to some other place closer to the Namba Walk.
When we had trouble finding that place, I realized that this place must be underground where there's a mall along the subway, and ultimately by about 8:50pm, we got there.
So we bonded a bit more over shave ice where we doubled up on strawberry shave ice as well as some traditional green tea shave ice.
And finally by about 9:30pm, we were done with the dessert (and feeling a little cold by this time).
By this time, I learned that Mom said they were on the taxi on the way to the accommodation, and we said our goodbyes to Stacey, Andy, and Evan since we're already in the metro.
I had surmised that we'll likely meet up with the parents right at the accommodation when we get back there, and ultimately by 10:10pm, my guess was correct.
Mom was at the reception getting checked in just as we arrived, and finally we were re-united as the Cheng Army once again.
Apparently they've been at the airport for four hours, and we knew they had a long day as a result.
It seemed like the parents can't buy a break (first the tire situation and now this?), but at least tomorrow, we'll be leaving Osaka (I don't think they missed out on much) and headed to Kyoto (where we'll want to be spending a lot of time anyways)…
Day 29 (July 4, 2023 – Kyoto, Japan): "Life Accelerating Moments"
It was about 5:20am when I awoke naturally around the same time that Tahia did (though in her case, she was eager to chat and play game with her friends back in the US).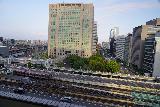 Nevertheless, I took quite a bit of time to get caught up on photo processing as well as blogging about yesterday's eventful day.
Eventually by around 7:45am, we checked out of our hotel at the Courtyard Shin Osaka, and then we proceeded to walk towards the Toyota Rent-a-car right behind our hotel.
They actually took us in a few minutes early, and ultimately by around 8:15am, we were all squared away and ready to go.
Unfortunately, I wasn't able to find my GPS holder or mount that attaches to the windshield, and thus it was hard to not only get reception but also check my speed in a readily-visible position.
Heck, even the Nuvi itself wasn't receiving anything as we were driving in Osaka.
Not only that, but it took GoogleMaps some time to get us oriented (a little too little too late as we were going in the wrong direction before getting our bearings).
Due to our little flying blind situation with GoogleMaps, we had to drive past some pedestrianized areas that were quite busy (even earning a stare or glare from one pedestrian in a suit though I wasn't sure exactly what we did that irked him).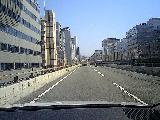 But eventually, we got onto the main streets with Dad following close behind.
Then, we ultimately got to the Meishin Expressway before heading on the Kyoto-Jukan Expressway E9.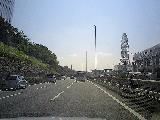 However, as we started to pass through the first ETC gate, we were able to get through no problem, but then I noticed that Mom and Dad weren't behind us.
After calling them, we learned that their ETC wasn't working and they were stuck, which required a person to aid them.
Eventually, they got through, but then we were about 5km or so ahead of them so we slowed down trying to wait for them to catch up to us, but then they passed us and were about 300-500m ahead of us so we had to catch up to them.
Finally, when we took the lead and they were behind us, we then went through another ETC gate where I asked Mom and Dad to try the same ETC gate as us just to make sure it was their card that was defective or something.
When that happened, I realized that we needed to have a change of plans.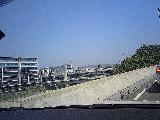 So whatever intentions we had of going to the Nijo Castle and the Kiyomizu Dera would have to be trumped by a visit to the Toyota Rent-a-car Center in Kyoto.
That would be our last chance to try to rectify this situation before continuing on with our journey, because every ETC gate misadventure would make it that much more difficult for Dad and Mom to follow us (and they're not used to driving in Japan let alone other parts of the world).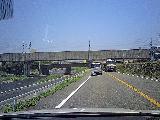 And thus, we ultimately switched our routing from the Cross Hotel to the Toyota Rent-a-car Office somewhere near the Kyoto Station, and thus we got there at 9:40am to try to address the situation.
It took some time to try to communicate our issue with the staff, where one lady kind of took the lead in terms of talking to us and trying to direct us on when to wait or when to intervene.
She also seemed to do a lot of things at the office like drive the cars, work the front desk, and talk on the phone with the Osaka Toyota Rent-a-car office.
We certainly spent the next couple of hours anxiously waiting for this situation to be rectified, which we knew was a necessary evil, otherwise risk even more complications should kick this can down the road.
Anyways to make a long story short, they eventually understood our issue, and my parents ultimately got upgraded to a bigger car (so the party of 4 has more luggage space and personal space to deal with) along with a new ETC card.
The staff apparently also drove off with that car as a committee to test the ETC before coming back.
And finally at about 11:15am, we were finally able to drive as a caravan once again…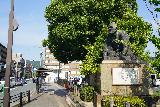 Eventually, we ended up at the familiar Cross Hotel in Kyoto, but this time I opted to park in the garage closest to the Cross Hotel.
Unfortunately, when I pulled up and was about to get in, the guy manning the garage told Dad that he couldn't park in the garage because it was too big.
I guess that's one drawback for having the upgraded car.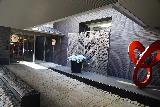 Anyways, after we got out our luggages from both cars and I parked the smaller car in this garage, I then hitched a ride with Dad so I could guide him to the open public car park.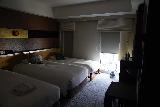 When all was said and done, we were done parking the car at the public lot at 11:55am, and soon thereafter, we settled into our respective rooms with all our belongings.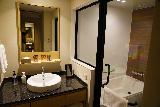 By about 12:10pm, we started to head downstairs looking for a lunch spot in the Nishiki Market since the Cheng Army seemed like they needed something to eat after our long morning.
I realized that my DSLR was still in the car, and it was going to be too much hassle to try to get it out so I resigned myself to taking pictures with the iPhone during this excursion.
Nevertheless, it was definitely a hot day as we walked the few blocks towards the familiar Shinkyogoku Arcade before going into the narrow Nishiki Market, where we promptly soaked in the atmosphere.
While this place wasn't the Taiwanese Night Market that we had gotten used to over the past week, this market did have the night market vibe even though this was a day market.
Moreover, this place seemed to be touristed by Chinese people because there were PA announcements made in both Japanese and Chinese (but not so much in other languages).
Somewhere deep in the Nishiki Market, we decided to eat at some sushi joint because Josh had a craving for it.
I was concerned about having sushi on a hot day (since parasites grow very quickly under such a hot day), but we just decided to do this anyways.
While the sushi seemed fresh and tasty, the girls each had side orders of meat cutlets though I think they probably expected more of a meal instead of just tiny side orders of those.
When all was said and done, we were done with our meal at 12:50pm, but remembering that we were told by the server that we're responsible for bussing our dishes, utensils, and bowls downstairs, Dad had this idea that the baskets next to our tables were to be used to facilitate bringing dishes down.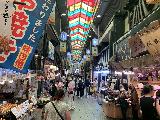 Well, when I came down with them, I couldn't help but notice that the staff gave me a smile (almost stifling a laugh) while they were kind of chuckling to each other perhaps about our creative use of the baskets that contained the dishes.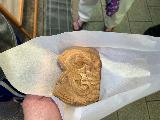 I suspected something was wrong with how we used the basket, but I still wasn't sure what they were for.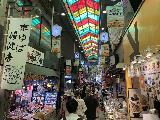 In any case, I did get a thank you in Japanese for bussing the stuff down, and perhaps the apparently creative use of the basket might have been some source of entertainment for them.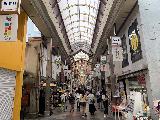 And so we went right back into the Nishiki Market as we slowly marched our way back towards the Shinkyogoku Arcade intending to amble our way towards the main streets to hail a taxi perhaps to Nijo Castle or to the Kiyomizu Dera Temple.
However, when the girls expressed that they wanted to go shopping, we indulged them to do just that at the arcade.
And that was when they also noticed some kind of pig (buta?) petting experience as well as a shiba dog petting experience.
Once Tahia saw that, I also resigned myself to the fact that we should just acquiesce to Tahia's desires as I'm sure simple things like this had just made her trip.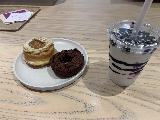 All that sweating it out in the castles and temples on a hot day like today (which had to be around 34-36C or mid-90s F) would be both miserable and boring for them.
I figured that since all the adults had already done the Nijojo and Kiyomizu-dera experiences in the past while the kids don't care about them, we mind as well keep today as a light day.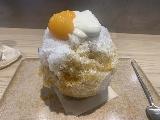 And so while Julie led the kids to the petting experiences, Mom, Dad, and I retreated to the Koe Donuts place to have a couple of donuts as well as different shave ice flavors at around 1:40pm.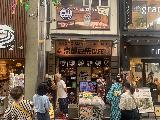 The parents and I shared plans about where we're going next (which involved a long drive to Shirakawago and Takayama) while also reminiscing about finally getting to meet Abing and Akun on our last night in Taiwan two nights ago.
The kids had to kill time with the pig petting experience because they wanted to do the shiba experience, but they were told that the dog at 2:45pm was more receptive to kids.
In the end, we left the Koe Donuts joint at 2:40pm just as we were freezing inside but then the blast of hot air hit us immediately once outside.
The kids did their thing with the dogs while Mom, Dad, and I just ambled around a little longer at the Shinkyogoku Arcade before finally reuniting with the rest of the crew at around 3:20pm.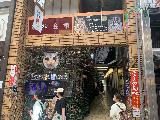 At that point, we just decided to walk back to the hotel to finally check in, and I decided to relocate the car from that nearest car park back to the open lot where Dad had parked so there'd be no more complications involving needing to leave Kyoto at pre-dawn tomorrow morning.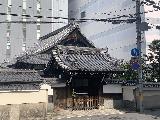 Indeed, by around 4:05pm, the car was relocated, I was back in the hotel room, and then we finally had a moment today to just settle down.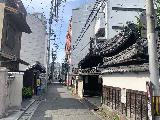 Heck, as things were getting back to order again, I even found the missing mount in a different pocket of my laptop bag (different than where I had expected).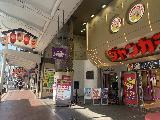 And now I have the additional frame of reference using the Nuvi to see my speed and orientation in addition to the GoogleMaps on Julie's backup phone with the SIM card.
Given the uncertainties and hecticness that happened this morning, I'm sure the parents now have a better appreciation of some of the things that go sideways on our trip and how we have to roll with the punches.
And today was certainly such a time for that!
Anyways, since it was also about 36C outside at this time (or 94F), I was fine with just taking it easy and not forcing any issues today.
And by about 4:55pm, we went downstairs to just have the steak dinner at Masayoshi Restaurant right across from the Cross Hotel.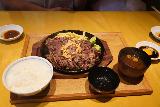 I figured the early dinner plus the need to sleep early would serve us well though I did want us to have an after-dinner walk in the Pontocho Area just to experience night life in Kyoto once again.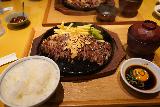 The restaurant opened pretty much right at 5pm at which point we went inside, occupied two tables, and wound up ordering like 4 flanks of steak (1 kobe, 1 black wagyu, and 2 angus at 400g and 500g, respectively).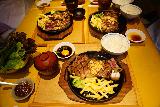 The waiter certainly wanted us to order the fourth meat thinking that for 7 people it might not be enough (though I knew it would be too much for the kids).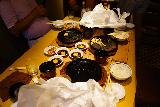 Nevertheless, the food came out and we pretty much devoured our steaks though it left little other room to finish the rice though there were veggies that we did order since the rest of the meal lacked it.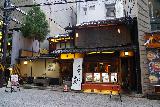 During our meal, we also observed that the baskets next to the table were really meant for holding your purse or other personal items and not used plates and utensils like we had thought earlier on at the Nishiki Market.
Upon this realization, Mom and I just busted out laughing as we realized this was the very reason why we were being laughed at.
Hey, you live and learn, right?
Finally at around 6:10pm, we were done with dinner fully stuffed, and we decided to retreat to our rooms again just to wait out the hot weather and check out Pontocho closer to twilight instead of now.
At 6:55pm, I decided to go down for a walk just as the day was winding down towards sunset and twilight, which I knew would be magical for taking pictures and soaking in the ambience of Kyoto.
Julie ultimately decided to sleep in while the kids got a lot of screen time.
So it was just Mom, Dad, and myself to go for the evening walk.
Sure enough as we were heading south along the stream from the Cross Hotel in the direction of the Pontocho Alley, we actually overshot it to a busy street and then we backtracked to the end of the famous alleyway.
After taking some twilight shots of people enjoying the river, we then walked northwards along the Pontocho Alley before heading back south in the opposite direction.
Some of the shops and restaurants that were really charming (and busy) during the Spring Break trip seemed to have been closed during this visit.
I wasn't sure why they were closed, but it certainly changed the ambience of this place though it still was full of visitors ambling about in this happening stretch of Kyoto.
Speaking of the ambience, I also heard a lot more Chinese being spoken in this alleyway compared to say English or other European languages.
Anyways, after doing our back and forth in the Pontocho Alley, we then made a brief stop at a combini (convenience store) to pick up some mouthwash for Josh, who somehow managed to put it in his carry-on, which then had to be tossed at security.
Even though we're buying this for him, we're going to let him sweat it out so he can feel the consequences of his decisions and his negligence.
There's only one way for kids to learn these things, and they have to suffer it themselves.
Once that was done, we then walked back up along the stream in search of a shave ice place since it was still a bit on the hot side even though the sun went down.
We ultimately went to this one joint that had a few different flavors of shave ice to choose from, but the catch here was that you have to order some drink for each shave ice order.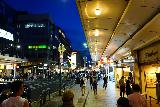 Thus, we ended up getting a Green Tea Shave Ice along with a Mango Shave Ice, and the drinks we got was a Kirin Beer (which Dad ordered but Mom and I weren't too keen on drinking) plus a Fuzzy Navel, which was a sweet cocktail drink.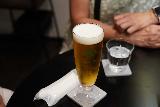 Nevertheless, Mom, Dad, and I spent some additional quality time together just as the three of us while listening to an assortment of 80s music being played in the background.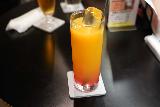 Such unplanned moments like this can't be foreseen nor bought, but they just happen, and when they do, they're worth appreciating.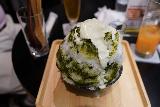 You just don't know when another one of these will come up or when it's impossible to do such things again through life's circumstances.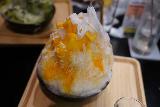 Anyways, once again, we left the joint pretty stuffed and a bit chilly (seems like this happens at every AC'ed shave ice joint we've been going to these last two days), and then we did the remaining stroll in the evening heading up to the Cross Hotel.
We got back at 8:35pm, and thus ended this rather eventful day, where it seems like we always have some drama-filled day that throws a wrench into our plans and we end up having to make adjustments on the fly.
This was yet another example of how travel forces you to think on the fly when things go sideways, just like when Rick Steves says travel is like life accelerated, and that was certainly the case today!
Who knows what tomorrow and beyond will bring, but we're here to find out with a very early start first thing in the morning…
Day 30 (July 5, 2023 – Takayama, Japan): "Another Day Another Bug"
It was 4am when we awoke to the alarm, but the thing about today was that we had a long drive ahead of us as well as the desire to get some Yuzu Sake from the walking street in Takayama (which was closed at 5pm today).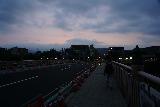 So that kind of drove the entire day's itinerary today, which necessitated us to have as early a start as possible (especially if the desire is to also experience the Shirakawago Gasho Village).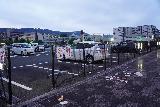 Dad and I went to the open air public car park, where we both paid 2200 yen in cash (so me parking at that small lot for 1500 yen yesterdaty was a waste).
However, when we arrived back at the Cross Hotel to load up the cars at around 5:05am, Mom told me that Joshua seemed to be running a fever with a headache.
We weren't sure if it was COVID, which wouldn't be good news, or if it was food poisoning.
All I know was that even I wasn't feeling great overnight after having the sushi at the Nishiki Market yesterday, and we took the risk because Joshua and the parents were up for having sushi despite it being super hot in Kyoto.
I wanted to have sushi in Japan, but I wanted to hold out for it until the weather cools down and we're in colder waters in the North of Japan, where the parasites wouldn't be multiplying nearly as fast.
Anyways, all the adults had sushi and none of us were apparently sick (though I did feel like we dodged a bullet), but Josh took his time "enjoying his food", and I'm betting that was what allowed the parasites to multiply enough to do him in.
And so Mom spent a lot of time looking for Tylenol or something to calm down the fever, and I was getting frustrated that we were getting a much later than expected start as a result of this delay.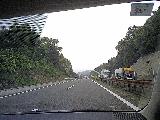 I already resigned myself to giving up the Shirikawago Village thinking that there might be an overlook area though I wasn't sure if it was a drive-to or if you had to walk to it.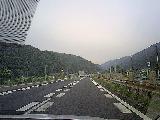 In hindsight, we should have done that overlook on our visit back in October 2016 (just like we should have driven the White Road back then, which we're planning on doing today).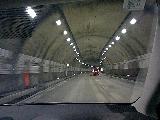 Anyways, it wouldn't be until 5:35am when we finally left Kyoto (already 30 minutes behind schedule).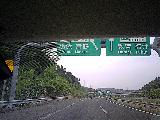 And so the drive out of Kyoto went pretty much uneventfully though the speed limits were awfully slow (and the locals seemed to ignore them despite the speed cameras).
At some point while driving the expressway east of Kyoto, Mom texted us that Josh threw up (which luckily we had bags for him to hurl into).
And thus, we had to stop over at the next rest stop, which was one called Bodaiji at 6:10am, where we promptly dumped the vomit as well as had ourselves a short restroom break.
Then, we resumed the drive, which continued on for quite a while as we got deeper into the mountains (and it wasn't lost on me that the temperatures were also dropping though it was becoming increasingly overcast).
Eventually, after getting around a rather scary detour of construction work with a lot of heavy machinery (we actually drove into the construction zone at one point not knowing the Japanese), we ultimately got to a single-lane road deep in the forest east of Fukui.
Ultimately, we arrived at the Ryusoga Falls, which came up suddenly on us as we passed a small car park around a single-lane bridge and then went around a bend by a vertical wall with netting.
We were compelled to stop at a pullout directly opposite the falls, but upon seeing a sign warning of rockfall and pointing out that there were two other car parks in both directions from this point, I decided that we should drive a little further uphill to park the car safely.
Sure enough, by about 8:30am, we found a fairly decent-sized area for car parking, and then we proceeded to walk down to the Ryusoga Falls.
Apparently, Josh was feeling a little better while also waking up Tahia from her car slumber, and Soph also had a hand in getting Tahia up.
Then, we pretty much spent the next half hour taking pictures while also documenting this rather pleasant experience as the Ryusoga Falls draped down some volcanic rock fronted by trees while also sporting an imposing height making it tough to take an all-encompassing photo.
We pretty much had this waterfall to ourselves though there was one local ute that passed by as the only other person who was around, but that person looked like he had somewhere to go and had no interest in stopping for the falls.
Anyways, by about 9:05am, we were back at the car, and then we proceeded to continue with the narrow (mostly single-lane) forest drive as the road climbed then finally went downhill.
We were quite worried about rocks and branches conspiring to pop our tires (which we don't have spares for), and this kind of heightened the anxiety for this drive.
But eventually, we got out of the bush and back down into regular roads as we descended to the farming town of Ono, where we saw lots of wide open rice fields as well as some fruit growing.
At 9:50am, we stopped at some Food Market in the Ono area so Mom's side of the caravan could finally grab some food since they didn't have anything to eat yet (especially with Joshua's food poisoning condition; the RAT test turned out negative so we knew it wasn't COVID).
It took some time for the fam to get the supermarket food they wanted, but when they returned at 10:15am, we did pick up some tangerines as well as pineapple and some musubis and munchos.
Still, it wouldn't be until about 10:35am when we finally left this spot since Joshua was struggling at the toilet as apparently he was still not feeling great.
Continuing on with the long drive, not long before getting into the mountains noticed a rather huge temple and castle-looking thing that seemed significant though we weren't really sure what it was.
As tempting as it was to stop for it, we also didn't see any brown signs pointing the way to it so that was kind of a red flag for us to be delayed even more here.
Anyways, we then got back into the mountains as we headed towards the White Road, which was a high alpine toll road that costed us 1700 yen to get past the toll gate.
Indeed, the western end of the road seemed to be heavily engineered as we passed through a series of chutes and caged tunnels while going no more than 30-40km/h through twisty roads on the way to Ubagataki Waterfall, which was the target for being in this area.
That said, we did spot a few waterfall sightings with no formal pullouts, but it also seemed like we were one of the few cars on this road so we simply did momentary stops so both Julie and Mom could take photos before hopping back in the car.
Luckily no one was waiting behind us so each time we pulled off these maneuvers, no one was honking at us.
Finally at around 12:15pm, we arrived at the open car park area for the Ubagataki Waterfall, where we were the only two cars here (one car did pull up but they then kept going as apparently this place involved a walk).
It was threatening to sprinkle and rain throughout our visit, but nevertheless, we pushed forward with the walk down the steep steps and into the forest and river level.
Dad and Josh stayed behind since Josh now wasn't feeling like doing the walk and Dad didn't mind staying behind to watch him.
So the rest of us did the descent, which went down a lot of steps down a ridge before going past a picnic table and a forested area.
We then followed a ledge alongside the river with a partial view of another cascade opposite the stream while also going past a couple of tunnels reminding me of the road tunnels that we had driven through.
Anyways, we ultimately got to the lookouts (each of which had inviting-looking footbaths) for the Ubagataki Falls at 12:45pm.
This waterfall looked very impressive as it was flowing over yellowish-looking cliffs meaning there was definitely sulphur in the waters here.
However, when we dipped our feet into the foot bath, the water was quite cold, and we claimed that the signage at the trailhead was false advertising as they said this bath was a "hot spring" (well, it's more like a cold spring now).
Nevertheless, we enjoyed the experience and tried to document as much of the experience as possible.
However, it was starting to sprinkle a bit more noticeably, and that kind of hastened our intention of going back up.
In hindsight, I wondered where the path going past the waterfall went (and I didn't pursue it), but when we climbed back to the trailhead, I saw that the sign said something about sinter cones.
Damn, I should have at least checked that out before leaving. Oh well.
By the way, as we headed back up, there were a couple of other parties making their way down, and they were Japanese visitors.
It didn't seem like foreign visitors go to this part much, and we also noticed that the relative lack of traffic on the White Road may be a consequence of revenge travel for Japanese wanting to go abroad instead of domestically after their COVID restrictions.
Regardless, at 1:25pm, we were back at the car, and this time, Sophia was sitting in our car so that Joshua could sprawl a little more in the parents' rental car to help with his stomach ailments.
As we drove out of the White Road, we managed to check out some other stops like the Fukubenootaki Waterfall at 1:35pm and the Shirakawago Observatory at 2:15pm.
For the Fukubenootaki Waterfall, which was at a hairpin turn, there were two school buses that showed up just when we got here, and that was like a hurricane of kids had just passed through before leaving.
Still, this waterfall needed pano mode due to its height, and it was certainly worth the stop.
However, as far as the Shirakawago Observatory was concerned, it was way too high to really make out the Gasho-style houses way down below.
And it certainly wasn't the lookout I was hoping to see that was closer to the village yet was an overlook to really take in the scenery there (maybe we had to drive closer to there and then walk there, which we didn't have the time to do this time).
Anyways, we ultimately got to the Wat Hotel at 3:35pm, where we promptly checked in and then settled into the room some 20 minutes later.
Then, we promptly walked into the town (while Josh stayed behind in the room), and we promptly went right to the happening part of Takayama.
Except when we got there, the alleyway was practically dead with only a handful of people this time!
It was nothing like the happening cherry blossom vibes when this place was packed back in April.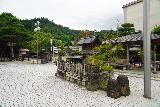 And so we promptly got to the sake tasting distillery, where the parents and ourselves each both 2 bottles of the Yuzu sake, and we also went next door to try a plum wine (though it wasn't as great as I had hoped).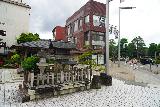 Anyways, we came and went, got some soft chewy cookies nearby, and then we proceeded to leave at 4:45pm as we headed back to the hotel as we're intending for a Hida Steak dinner.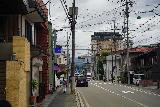 After getting back to the Wat Hotel at 5pm, we then drove as a party (with Josh) towards the Hidagyu Maruaki steak house, which was the familiar highly-rated Korean BBQ-style dinner spot that we had a couple of months ago.
But this time, we did the dinner as a family so we got to try out different cuts – I did the premium tenderloin, Julie got the lean cut, and Dad got the assorted mix.
It wasn't too busy when we got there, but it was definitely busy when we left the very satisfying dinner (though not nearly as crazy as two months ago).
And then by 6:40pm, we were back in the room to finally start winding down the day.
Julie and I did manage to try out the onsen on the 7th floor of the hotel where we also did a shower, and meanwhile Mom managed to use the laundry machiens there to do some much needed laundering.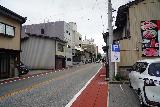 It was actually quite busy up on the 7th floor when we were done soaking, and it kind of had some backpacker vibes since it was mostly foreign visitors here (including one couple that was local to us in Los Angeles).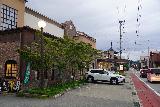 The rest of the night was a blur for me as apparently the long drives caught up with me, and I pretty much crashed.
Tomorrow, we had another eventful day planned, where we'd stop by Matsumoto and maybe Hirayu Falls on the way to Nagano…
Day 31 (July 6, 2023 – Nagano, Japan): "Persistent Bug Complications"
It was about 4am when I awoke to the alarm, which afforded me some time to get caught up on blogging and media processing tasks as per the usual routine by this point of the trip.
It took quite a while to get things all squared away (especially given how much we did yesterday), it wouldn't be until about 6:35am when we all finally loaded up our cars and proceeded to drive further east towards Matsumoto.
Relatively speaking, today was a lighter day of touring and driving compared to the long drives involved yesterday.
After all, we left Kyoto, went towards Fukui, visited Ryusoga Falls (which I actually didn't plan on doing going into the trip thinking it was out of the way), drove the White Road and visited even more waterfalls including Ubagataki, and then went into Takayama in time for trying and buying sake.
We didn't even have time to explore Shirakawago, which we de-prioritized since the parents and I have done this before and Julie leaned on the Hida no Sato experience two months ago for the Gasho-style flavor of some of the Japanese villages in the Japan Alps.
Anyways, when you have 7 people to caravan around Japan, things take a bit longer to get done, and thus it took longer than I had hoped to even get to the familiar Hirayu Falls, which was the first stop for today.
Along the way, we managed to make a combini stop, which was right across the street from an ENEOS that actually had English on the machines and took foreign credit cards so that was a rather productive stop at 7am.
Anyways, it was about 7:45am when we arrived at the Hirayu Falls (marking my third time coming here), but this time, without snow in the way, we were able to drive right up to where the shuttle used to drop people off.
In that sense, I guess we were the shuttle, and perhaps the whole thing about the shuttle service and the restaurant below (that was open on our first visit back in October 2016) was pretty much defunct.
Thus, that made the visit even shorter than anticipated (where we actually had to walk from the larger lower lot back in April due to snow and ice).
Nevertheless, this was a pretty quick visit, and it was also an even nippier morning as it was only around 19C at this time of day even though it was bright and sunny out.
We managed to get the familiar views of the falls, but we were now able to walk all the way to the end, where it seemed like rockfalls had moved the endpoint back further from the stream (the end was clearly marked with rope barricades).
That said, we did notice that there was a sketchy-looking tilted bridge between rocks as well as the disappearance of the path buried among the rockfall that signified what the old trail might have been prior to the current state.
As for enjoying the falls, it was initially me who got started, then the girls and Julie along with Dad showed up.
Josh was apparently still not feeling well due to his stomach ailments and Mom stayed behind.
Anyways, the girls were having fun trying to chuck some rocks on the ground across the streams aiming for some reddish-looking rock.
And we also managed to take quite a few photos and videos of this spot, including some partial family shots taken on Julie's iPhone tripod that she had bought in Korea.
By about 8:25am, we were done with this visit, and then we proceeded to do the familiar but somewhat narrow and twisty drive through many tunnels (shared with trucks and buses, by the way) towards Matsumoto.
This was a rather longer drive even though we weren't really covering that much due to the twistiness and narrowness of some parts of the road.
Then, when we got to Matsumoto, there was also a bit of traffic mostly because of how slow the lights were and the amount of vehicles that were out and about.
At about 9:55am, we managed to find parking at some paid city lot very close to Matsumoto Castle as we were intending to be close to both the castle as well as the Kobayashi Soba House that was well-reviewed.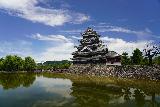 We then promptly went towards the Matsumoto Castle, where we were immediately struck by how scenic the castle was juxtaposed with reflections in the moat.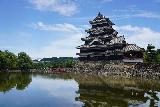 I was hoping that we might also get some shots of the red bridge fronting the castle, but I think the group was more interested in getting into the castle, which we hadn't done in a while (and Julie was itching to do).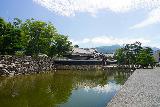 To try to sell Sophia on the experience, Julie tried to relate the tour of the interior of the "jo" (where I'd frequently chant, "let's go to the jo") as a "tree house" experience.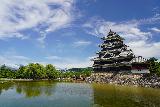 Of course, you'd have to carry your shoes throughout the castle as you go up and down its steep wooden steps while getting a load of the artifacts inside as well as the elevated views over parts of Matsumoto City backed by the Japan Alps.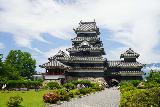 Unfortunately, Josh was complaining about stomach pain, especially when he has to pee, and this was not good news as far as going up and down the castle.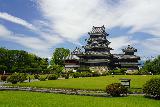 I kept thinking that having sushi in Kyoto's Nishiki Market under some record breaking high temperatures was a bad idea, and his somewhat cavalier attitude towards slowly "enjoying his sushi" was ultimately what did him in.
Even Julie and I felt some unsettled stomach conditions over the past couple of nights so we definitely rolled the dice with that decision, and now we were bearing the consequences of that decision.
As a result, it was just Julie, me, and the girls while Josh, Mom, and Dad stayed behind.
We then proceeded to carry our shoes with us in provided plastic bags (ala Takayama Jinya-style), where we then proceeded to go up the steps and check out each of the displays and views.
One thing we noticed this time compared to the first visit back in 2009 was that there were more staff inside the castle making sure people don't take pictures around the steps.
That made sense because it moved traffic along while it forced people to pay attention to their own safety.
But they were also sensitive about taking pictures of the steps themselves even when not even around them, which I thought was odd (but I was basically called out on a couple of occasions when I did that).
Thus, that kind of did away with the most interesting interior photos of the castle, but we still had fun limboing under low hanging beams on the steep steps while also getting a load of the views over the surrounding moats towards the city itself.
The visit took a bit less time than I had anticipated, but we did wait around to watch Josh after encouraging Mom and Dad to also enjoy the castle tour (which Mom kept insisting that she did this one's interior before, but she confused it with Inuyama Castle north of Nagoya).
Still, the "tree house" experience of going up and down the castle was fun even if it was kind of concerning that Josh couldn't seem to kick this stomach bug (though his rather ambiguous responses to how he was feeling made it harder to tell if it was serious or not).
As we were waiting for Josh, we were getting hit by mosquitoes as we were sitting ducks near the toilet, but it was also starting to get hot (which was quite the contrast to how cool it was this morning).
Anyways, by about 11:35am, we were all done with the castle and then we started to walk towards Kobayashi Soba when Julie realized that the place was closed on Thursdays (which just so happened to be today).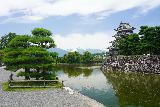 That was a real bummer because we knew that soba noodles was kind of one of the things this part of Japan was known for (and I was looking forward to grating my own fresh wasabi).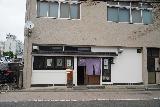 Oh well, we ultimately settled on another local soba joint which was ironically right behind the city lot where we had parked our car.
We got there at 11:45am, and we ultimately got a bunch of duck soba (basically cold soba noodles with hot duck broth and duck inside it) while Dad got some kind of Donabe soba dish (a hot soba in duck broth and meat dish along with lots of shitake mushrooms).
I think Soph was the only one who got a zaru soba (the usual cold soba one served with tempura and a dipping sauce that you'd add radish and wasabi to) while Josh got a plain hot soba one where his appetite was clearly not there even though he said he was hungry.
The seating was a bit on the tight side, especially since I was relegated to sitting in a narrow aisle while being the biggest person in the family (apologies to the people sitting in the adjacent table where I might have bumped it a few times).
However, the soba lunch hit the spot even if it wasn't what was expected.
Afterwards, at 12:30pm, we were done with lunch so Mom and Josh decided to chill out in the parking lot by the car just as it was getting quite hot in the day, while the rest of us visited the Nakamachi Dori area.
By 12:35pm, we got into the familiar central area of Matsumoto City, where we first walked the pedestrian-friendly Nakate Street, which was north of the river.
Along there, we got a load of how expensive the fruits were while also having ourselves a fruit-blended smoothie drink (that were way smaller than anything we had gotten to this point).
Then, we strolled into the Nakamachi Dori Street, which also felt familiar though it was less charming because they let vehicles drive through it.
Thus, Julie and the girls spent a load of time looking for trinkets at some kind of stone shop while Dad and I were randomly exploring (well actually, it was just me since Dad was content to be on his phone while waiting in the shade at one street corner).
So during my exploration, I did see a street leading to the AEon Mall where it was lined with attractive old-school white lamps while I also stumbled into some random alleyway with some fancy home or shrine fronted by statues.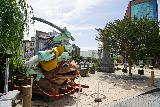 I didn't linger around there too much because I thought Julie might accuse me of abandoning the group so I limited the distance that I walked.
But eventually, I had my fill of this spot (and so did Dad), and we both walked back to the car while getting an ice cream and a float, respectively to cool off on this rather hot day.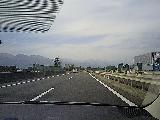 Finally by about 1:50pm, we got back to the car where around 5 minutes later, the rest of the group showed up (where I did see Julie stray a bit further west before going east to the lot).
Anyways, we next drove towards Nagano as I'm sure it was time to check in by the time we'd get there.
By the time we did finally arrive in Central Nagano, we saw that the car parking situation by the Sotetsu Fresa Inn was one of those familiar "car vending machine" deals, which was non-ideal for in-and-out access, which I know we'd be needing for each of the next two days.
Nevertheless, with all the chaos going on regarding Josh's condition along with the uncertainty in parking, and the desire to check out the Zenkoji, which is Nagano's famous temple, and the language barrier to overcome when checking in and explaining these nuances, we'd finally be settled at 3:55pm.
At that point, the group split up where the parents and Josh would taxi to the clinic or hospital as a precaution on Josh's seeming persistent bug.
Meanwhile, the rest of us took the car and headed over to the Zenkoji Temple.
After getting the car at 4:15pm, we then proceeded to park at the temple at 4:25pm, and then we walked around the complex though we also paused for some ice cream along the way because it was now around the 30C or higher mark.
Apparently, we happened to show up rather late in the day for the interesting parts of the temple because this was a huge place, and there seemed to be a lot of interior visiting self-tours in addition to the main hall itself.
So this ultimately ended up being like a brief photo tour primarily of the main hall and a neighboring pagoda, but I could easily see this place taking a half day otherwise.
By about 5:25pm, we were back in the car, and then we proceeded to drive back towards the Sotetsu Fresa Inn.
However, along the way, we noticed some charming-looking walking street, and that was what we targeted for a random dinner spot tonight.
After parking the car at 5:55pm (where it was hard to figure out which lot was which and which ones would let us in and out as needed), we eventually got to the walking street and then settled on some bar that specialized in gyoza.
So after settling in there and having ourselves a couple dozen of gyoza, a steamed dumpling, some Korean cabbages, and a couple bowls of fried rice (all kind of Shin-sen Gumi-style), we left the joint pretty satisfied.
By 6:55pm, we finally got back to the room, where we proceeded to unwind for the day just as Mom, Dad, and Josh returned.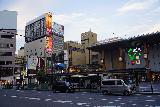 Apparently, there were some medical expenses made for the meds and the doctor's visit that Josh had to make (this is why we have trip insurance), and I was helping Mom file a claim for today (though she didn't have a receipt for the other two taxi rides out of 3 that they did).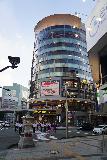 We'll see how Allianz does this time around, but I figured this is a small claims kind of deal and they'd likely approve it straight away.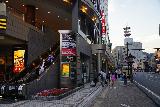 And with that, I was beat, and we all retreated to our respective rooms looking forward to not having to vagabond it over the next couple of days.
However, the weather is forecasted to turn for the wetter starting tomorrow night so that means some adjustments will have to be made on where I'm playing to go on a divide-and-conquer day where I chase waterfalls while Julie and the rest chill out in the city…
Day 32 (July 7, 2023 – Nagano, Japan): "Hard To Leave"
It was 3:15am when I awoke without the need for an alarm (which had been set to 4am).
Once again, I took some time to get caught up on yesterday's happenings (now pretty much my morning ritual over the past month) before I got Mom to go downstairs at 5am.
But with little things to remember to bring (like charging cables, hiking boots, a Lawsons takeaway food brekkie, etc.), it wouldn't be until 5:25am when we finally left.
Given the weather forecast for tonight and tomorrow, I had to change things up and pursue the Yonako Falls first thing today.
I knew that Yonako Falls would likely require a hike so that would be the first thing to do.
But then we'd pursue Shiraito Falls, which was near Karuizawa and not the one Julie and I have been to on the western slopes of Mt Fuji.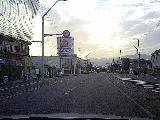 Then, we'd go to Kusatsu Onsen to actually experience this place instead of just passing by like we did back on our October 2016 visit (a real missed opportunity back then that I was determined not to miss this time).
Anyways, GoogleMaps took us on some rural roads to cut right into the mountain road leading up to the Yonako National Park.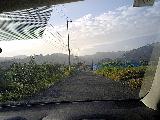 It was one of the most frustrating things about using GoogleMaps in Japan because I knew from the lack of signage on the rural routes we took, it wasn't the most sensible way to go.
But eventually, we got to the mountain road leading southeast of Suzawa, which then became a narrow twisty road with lots of mirrors to help with the blind turns.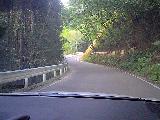 Since it was still early in the morning, there was no traffic going the other way so getting through this road wasn't bad despite how narrow and twisty the drive was.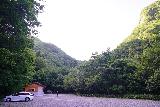 I'm sure this road would be triggering if Dad had to follow me.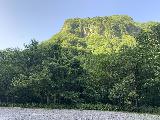 Anyways, we got to the end of the road at the Yonako National Park car park at 6:20am, where we caught up with one person who was also parking.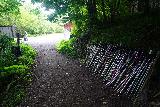 The weather was beautiful at this time of day (and a little chilly, making us wonder if we should wear a jacket), and it made me glad that I chose to do this hike today instead of tomorrow morning as originally planned.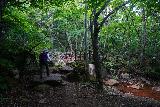 We didn't waste much time gearing up, and then we proceeded to go on the hike knowing that we had a pretty full agenda.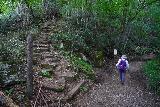 Shortly after getting past a whole row of hiking sticks to borrow (the Japanese seem to be real diligent about making this hike a good experience especially if you're older), we crossed a suspension bridge before reaching a junction.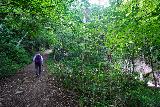 I knew from reading the maps that this marked the start and end of the loop hike, which the sign also recommended doing in a counterclockwise manner.
I thought we mind as well do the whole experience (i.e. the whole loop, including a third waterfall called Kimyoudaki) since we had no one nagging us to leave.
It's always nice to hike with Mom because we seem to share the mentality of just taking things in and spending that kind of quality time that only a mother and son can share in the wild.
That said, when we saw the junction marking the beginning and end of the loop part of the hike, upon seeing the immediate uphill going left, I had considered doing it clockwise and get that uphill out of the way first.
But we stuck to the sign thinking that there was probably a reason for them to suggest this.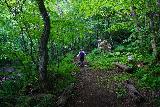 As we continued with the hike, this section also had its share of uphills as well as signage warning about bears.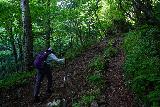 Thus, we also noticed that there were some poles with a bell to strike along the trail as well as some man-modified intermediate waterfalls on the main stream.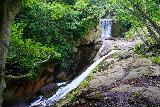 Although it had been a chilly morning, the uphill stretches this early in the morning kind of offset that crispiness in the air, and I knew that once we would leave the morning shadows, it was going to get pretty hot.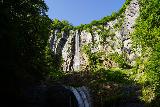 I already sensed that back at the basin in Nagano, it was probably already approaching the 30C mark, but up here, I think it was still in the high teens or low 20s without quite the humidity (yet).
There was one fellow (the guy driving that other car) that passed us on the way up, but by around 7:05am, we were surprised to see that he was headed back down the way we came.
Well, it didn't take long thereafter that we found ourselves at the base of one of the impressive pairing of waterfalls comprising the Yonako Great Falls.
And so we proceeded to climb up the rocky informal ascent to get a cleaner view below the cascades just beneath the long plunge of this waterfall.
After having our fill of this falls (and watching Mom closely because her knees are less able to handle this kind of rocky terrain, especially if it twists and might cause an ACL injury), we then continued past a bridge over this waterfall's stream to keep going on the loop.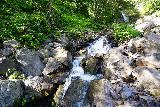 Mom and I were wondering where that guy went because we knew from reading the maps that there was so much more to this hike.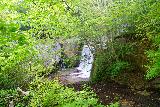 Maybe this guy was getting his Nature in before going to work, Mom thought, because it certainly looked like he had somewhere to go.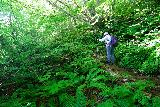 Nevertheless, we'd eventually climb up to some kind of building that turned out to be some kind of shrine, and boy was there quite a few steps to get up there.
At least we were still in the shade so it wouldn't be a brutally hot climb.
After a little moving back and forth to see where the trail went next, we opted to keep to the right of the shrine to continue ascending to what the signs called the Fudo Falls ("motionless"?).
This was actually the same waterfall that we had encountered earlier, but it seemed like this trail was taking us up towards a more official viewing spot for it.
Sure enough by about 7:40am, Mom and I climbed up more steps to ultimately reach a cleaner view of the main plunge of the Fudo Falls, where we also saw a nice rainbow at the base of this waterfall's mist.
We took our time taking more pictures and just enjoying this spot, especially given the blue skies with hardly a cloud in sight (though the Sony seemed to have a harder time dealing with this kind of lighting compared to the iPhone's real-time postprocessing).
Anyways, after having our fill of this falls, we then descended and swung over to the next official viewing spot for the Gongen Falls, which was the other of the Yonako Great Falls.
However, this waterfall was a bit more overgrown and obstructed and thus harder to view so we didn't linger for too long at this spot at 7:55am.
Next, we descended back towards the shrine, and then descended down an easy-to-miss part of the continuation of the loop trail, which promptly took us down towards a bridge with another cascade fronting it at 8:10am.
This cascade also turned out to have a waterwheel, which was interesting, and it made me wonder how the actual Waterwheel Falls might be like some 20 years after I last did that hike in Yosemite (which I was planning to do after this trip is over).
Continuing beyond the bridge, we then climbed up towards some kind of interesting contraption, where it appeared that they could haul supplies across some gorge towards the shrine.
However, when we got all the way up to the top of this short climb, we saw that there was actually a truck and an unpaved road, which explained how they could build up with shrine and provide supplies to that facility.
As we continued out of the shade and onto the unpaved road further ascending towards some kind of pole with kanji on it, we got a nice view back towards both the Fudo and Gongen Falls comprising that classic view of two big waterfalls side by side above the tree line.
Mom and I took this view in before sweating it out in the open-air gravel road as we continued towards more viewpoints that were similar yet different to what we had seen earlier.
There were also some interesting wildflowers lining this road reminding us that this was indeed Summertime.
Ultimately at around 8:40am, we noticed that there was a grassy path leading to a different lookout with a bench that was even more elevated than the view we had gotten by the large sign with the kanji on it.
After getting our fill of this view, we then finally pried ourselves away from the regal lookout to continue with the loop hike as it started to swing back into the shade.
Even though we were in the shade, it was already starting to feel a bit hot with a tinge of humidity so all that crisp coolness we felt earlier definitely was long gone by this time of the day.
Actually, I had originally thought that we only needed 2 hours to do this excursion, but clearly there were too many things that kept us in the moment here, and it just felt like it was simply too hard to leave each of the viewpoints.
Anyways, we'd eventually get to a junction where we deviated to the right to see what the third waterfall was all about, which was called Kiyoudaki Falls.
This road followed some partial shade as it gently descended towards a bridge with an interesting cascade upstream as well as another falls hidden behind the foliage further downstream.
Upon getting here at 9:05am, I noticed that there was a sign and barricade next to the bridge, where it seemed like they were discouraging you from pursuing the falls.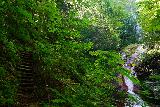 Given that we were already here, I did a little exploring to see where the problem spot was, and sure enough, there were some rickety metal steps that didn't seem to be terribly stable.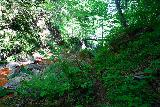 After this set of steps, there was a real rickety bridge where the metal seemed to have been bent from past rock falls, and there was an even more bent steps beyond that bridge.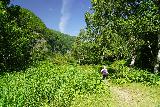 That was enough to tell me that it would be highly risky to continue further and thus it made sense why they put the closure barricades and signage in place.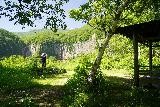 Fortunately, from the safer parts beneath the rickety metal steps, it was still possible to see the Kiyoudaki Falls though the foliage kind of obstructed opportunities for cleaner views from down here.
Mom said that the kanji suggested that the meaning was the "wonderful" falls, which she pronounced to me in Chinese as "qimiao".
After getting out fill of this spot, we then returned back towards the road junction to continue with the loop hike, and we'd ultimately get to another nice view some ten minutes later.
This view was again of the Gongen and Fudo Falls together, but there was a shelter and some foreground foliage.
Indeed, this place was getting real hard to leave with each of these lookouts, but we still had more to go for today.
So we pried ourselves away from this spot, and then proceeded to go down a series of switchbacks and steps (again watching out for Mom's knees and requiring trekking poles to help out those knees with the third and fourth legs).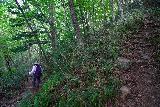 During this descent, we saw one other hiker with his shiba inu dog, which was really shy upon seeing us, and the owner actually had to carry the dog past us (and he was huffing and puffing as quite the sweaty mess).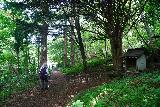 Indeed, this long descent kept on going, and I could now see why the signs had us go counterclockwise instead of clockwise on this loop hike.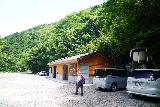 Ultimately, we got down to the car park at 10am, where we saw quite a few more cars parked here as well as some Japanese visitors having a picnic right at the car park.
Indeed, this hike turned out to take around 3.5 hours, which was way more than the 2 hours I had anticipated, and thus I knew that any ambitions about sneaking in Fukiware Falls or even Kaminaridaki Falls (closer to Nagano) would likely be dashed.
That's OK though because sometimes it's not about the quantity of waterfalls but the quality of the experience, and in this instance, we were certainly prioritizing the quality of the Yonako Falls experience, which I might consider having it crack our Japan Top 10 Waterfalls List.
But which of the existing falls on there should get bumped off and make room for this one?
I recalled that Julie even liked the Ubagataki Falls that we saw a couple of days ago so which other one would get bumped to make room for this one as well?
Anyways, Mom and I proceeded to drive off and enjoy the AC of the car as we made the steep descent squeezing past a couple of other cars making their way up the narrow switchbacking road.
We then followed GoogleMaps, which took us on some random mountain routes (though they were numbered) in the direction of Karuizawa.
It seemed like we were going on one toll road after another as we must have stumbled upon some kind of scenic volanic route (there was even some kind of ski resort with lots of tour buses that we passed by though of course it's all about hiking now as opposed to skiing).
Ultimately, by around 11:45am, we found parking with a bunch of other cars after paying yet another 500 yen toll (we must have paid about 1000 yen in tolls by this point) at the Shiraito Falls car park.
Contrasting the relatively quiet experience at Yonako Falls, this one was crazy busy with tour buses as well as private vehicles all around this spot.
The food stands opposite the start of the short walk for the falls was also quite busy with people, and it was clear that this spot was definitely a well-touristed spot.
In fact, one of my coworkers (who's a city guy) actually visited this waterfall back in April, and so I had to see this place for myself.
Anyways, the path followed along a rushing stream before going over a bridge and ascending the rest of the 200m path to a viewing area that seemed to be surrounded by a huge line of springs dropping maybe 5m or so but with a much wider appearance.
The water was also quite clear when the sun was out, and now it was apparent why this place was so touristed.
Heck, I even noticed a couple of Caucasian-looking people speaking English to each other as well as some other Nationalities, especially Chinese.
So Mom and I tried to get our shots in amongst all the people here, and I was trying to get my head wrapped around how this place became so popular, especially since it was quite a bit of a drive for us coming in from the Nagano direction.
I think my coworker Yong told me that lots of Tokyo folks come up to Karuizawa in the Winter to play, and perhaps this place was well served by both mass transit as well as touring routes.
I know one blogger mentioned this place so it definitely had that social media lemmings effect here.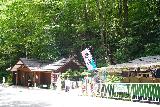 Anyways, once Mom and I had our fill of this place, we then returned to the food stalls where we got one of the hot salted mackerels on a skewer to hold us over.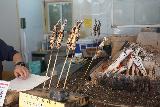 By 12:40pm, we were finally back at the car, and then we proceeded to drive to the Kusatsu Onsen, which was a place we actually had an opportunity to visit back in October 2016 while pursuing Jofu Falls, but we didn't even know about it back then.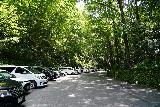 Now, I was determined to see what this place was all about and maybe even go for a soak in one of their onsens (which this was said to be the top onsen spot in Japan depending on which website or blogger you believe).
Eventually at around 1:30pm, we parked in a lot somewhere near the Yubatake Public Square (we were probably around 200-300m from it by road).
Both Mom and I were now pretty hungry by now so once we parked, we then descended the main road down towards what seemed to be a pretty happening public square (which must be the Yubatake).
At this square, we saw some moderately-sized high rise buildings as well as some shops surrounding what looked to be a large hot spring with some flumes channeling water further downstream.
When the sun was out, the water had a bright pale greenish color to it, and there was definitely that sulphur smell in the air.
Lots of people were taking pictures around this spot, but I proceeded to go around the right side to see what else there was here as well as what was at the bottom of this public square's hot spring.
Well, after getting past a foot bath (that I swore to myself I'll soak in later after lunch), we then saw the base of the spring, which had a nice cascade as well as a flume cascade off to the left of the cascade as we looked upstream.
After getting our fill of this spot (with the sun getting in and out of the budding clouds marking an inevitable change in the weather), Mom and I then went into some kind of Japanese BBQ spot well situated across from the base of the hot spring.
It seemed like when we got there at around 1:50pm, we were lucky because the place erected a closure sign and closed its doors shortly after we placed our order.
We ultimately got a couple of different cuts of steak (one of them A5-grade, which means it was marbled), and it was just enough food for Mom and I to enjoy before exploring more of the Kusatsu Onsen.
When we were done with the lunch, we then soaked in a public foot bath, which was actually scolding hot!
When we were done sweating it out in that foot bath, I worried that we might have caused burns because our feet and shins were quite pink compared to the rest of our legs.
Anyways, we walked back up around the public square after realizing that maybe it would be a bit too far of a walk in the hot weather to get to the Sainokawara Outdoor Hot Spring Bath, which was what we targeted for a soaking.
So we had some ice cream on the way up to the base of what seemed to be steps going up to a shrine, but we didn't trust that it wasn't a dead-end.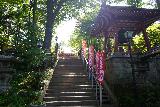 So we walked back up the way we came before cutting up through an alleyway to return to the car at 3pm (a hot and sweaty mess by this point thanks to the heat of the day that was now around the 28C or higher point with humidity).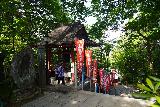 From there, we then drove towards the Sainokawara Onsen, but not before cutting through what looked to be walkable streets of Kusatsu Onsen, and it really made me wonder if we should have walked to the hot spring instead of driving this narrow road full of pedestrians.
For sure, if I get an opportunity to come back to the Kusatsu Onsen, I'd definitely consider spending a night here, especially since I think Julie would really appreciate it.
Nevertheless, that was for another time, but for now, we kept on driving until we got to a car park to the west of the Sainokawara Onsen, which looked like an open-air lot that was actually free.
So Mom and I proceeded to walk down to the open-air spa, where we saw that there was paid admission to get in what seemed to be a rotemburo, but before going there, I also checked out the Sainokawara Park, which also featured hot spring cascades and ponds.
Indeed, like with other experiences today, it was getting hard to leave, but we also knew that at this rate, we were going to be back in Nagano pretty late (or at least causing us to have a late dinner).
Anyways, Mom and I went ahead and got into the rotemburo (though we didn't say how long we were going to meet up again since there's no clock and it was gender segregated).
Nevertheless, after briefly rinsing (there was no shower to clean up before getting in), I went ahead and soaked in the pretty hot water though it wasn't scolding hot like the public foot bath at Yubatake.
Anyways, this place made me sweat quite a bit which the Summer heat provided no relief, and thus I probably didn't last by 200 seconds or so.
So I eventually got out, toweled off, and then sat at the entrance waiting for Mom, who I was sure was enjoying this experience because she got out probably another 10-15 minutes later.
Eventually at 4:15pm, we got back to the car, and then we made the long drive back to Nagano, where once again, GoogleMaps took me on some mountain roads that were steep and narrow.
The rental car seemed to be giving me some kind of indication (like a check engine light or something), but I suspected that the brakes were wearing out or heating up so I had to switch to using lower gear on the descent.
Ultimately after some rush hour traffic in entering Nagano, we ultimately got back to the Sotetsu Fresa Inn and the public parking across from it at 6:20pm, where we apparently snagged the very last spot.
The rest of the crew was waiting for us to have dinner, and even Joshua seemed to be feeling a little better so it really seemed like the Cheng Army was back together again!
We'd eventually settle on eating at the same gyoza joint that we ate at the previous night because some other yakitori place was full.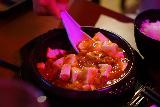 And that dinner pretty much hit the spot as we made it back to the room at 8:05pm (but not before having some 7-11 desserts and watching Josh have a croissant with chocolate filling in it, which we were nervous for Josh about given his stomach ailments).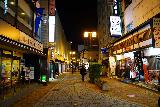 And so ended a pretty eventful day where it was a divide-and-conquer day that saw Mom and I spend quality time exploring the mountains of Nagano.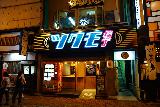 Meanwhile, Julie and the rest of the crew had a productive day doing laundry and just chillaxing.
Tomorrow, we have a long drive to Sakata ahead of us, and with incoming bad weather, we'll see how things turn out…
Day 33 (July 8, 2023 – Sakata, Japan): "Relapse"
It was 4am when I awoke to the alarm, and I could definitely hear rain hitting the windows and the building outside.
So the forecasts for the change in the weather was definitely spot on today, and I was definitely glad to have done the hikes when we did.
Anyways, it took some time to get ready for the day, and it even caused some tension between Julie and I since she wanted to take her time, but I knew that we had a long drive ahead of us.
But all that sense of schedule was kind of being put on hold because apparently Joshua threw up last night and he's not feeling so great again today.
What happened? He was doing so well yesterday and now this? Was it the croissant that he shouldn't have had that gave the offending bacteria new life? Or was it the antibiotics that really did his gut in?
All I know is that Josh's risky decision to eat sushi in record heat in Kyoto is still affecting the trip in unexpected ways, and it was definitely becoming concerning that he can't shake it (though maybe the intervention did more harm than good?).
So it was 5:55am when I partially loaded the car in the rain, but it was 6:20am when we finally left Nagano.
GoogleMaps had us driving a bunch of local roads (Route 18) going north towards Myoko when I thought we could have taken the expressway to get there.
But whatever. Who am I to second guess GoogleMaps when I don't know the local roads here?
That said, apparently when we finally left the Route 18 to go up the mountains upfrom from Myoko, GoogleMaps, took us on some sketchier roads ultimately leading to a dead-end because a tunnel was closed.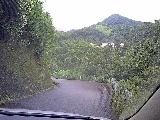 That was annoying because there were branches and blind corners throughout the drive to get there, and it was apparently a wasted 15-30 minutes or so (well it certainly felt like that long).
Ultimately, after going back down and going up the correct road, which was Route 39, we finally got up to the Tsubame Onsen at 7:50am.
We parked the car just as the weather seemed to have momentarily calmed down though we were a little worried about how much hiking in this weather we'd have to do to get up to the Soutaki Falls, which was the target for this area.
Just as I started to go up past the small village of Tsubame Onsen, I did fancy having a soak in one of these spas after walking up to the Soutaki Falls.
But for now, the mission was to check out the Soutaki Falls, and it was quite the uphill walk, which was inducing a bit of sweat despite the threatening on and off again rain.
After going past a small shrine, the girls caught up to me (apparently Dad and Josh stayed behind), and we'd eventually get to some kind of rotemburo (outdoor open-air hot spring), which was unsused at the time and quite inviting.
The girls ultimately stopped here and didn't bother going up further towards the Soutaki Falls, and I'm sure they would be having a good time foot soaking (but not body soaking naked).
Continuing higher up the steps (and punting the soaking for later), it didn't take long to get up the steps to another memorial right by a lookout for the Soutaki Falls.
It was kind of a distant and partial view of the falls, and that would have to do because the actual walk to get closer to this waterfall's base was closed due to landslides.
Mom eventually joined me up here, and we took some time trying to overcome the foliage in the way in front of us to get as most of this really deep falls as we could.
I kept wondering what this place would be like in the Fall when a lot of the leaves would either change color or fall off (and reveal more of this falls).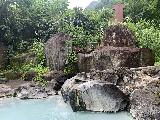 But under these Summer conditions, we just took what we could get, and then went back down the steps where we went to our respective gender-separated hot springs pools at 8:50am.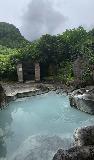 The rest of the girls already started to leave because it started raining again, but at least both Mom and I managed to soak for another 5 minutes or so.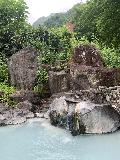 There was a father and son combo that showed up to the male side, and they went right in naked with no qualms about the public nudity.
I was more constrained in my bathing due to the lack of a towel, and the guy asked me (at first in Japanese but then in broken English) where I was from and whether I went up to the mountain.
I only told him that I went to the "taki" and then came here.
And after I was done putting my wool socks back on and putting on the hiking boots, I wished these guys a good day and then made my way back down to the car where the folks were waiting at 9:05am.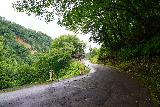 It turned out that Josh was in the restroom for a while due to his ailment, and it wouldn't be until around 9:25am when we finally headed out.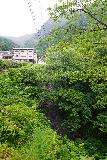 Anyways, the drive back down and onto the E18 expressway took some time, and Julie had me stop at the Yoneyama Rest Stop somewhere near Niigata at 10:25am.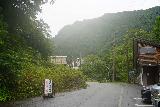 That was because she told me that Mom and Dad hadn't had anything to eat to this point of the day, but I was concerned about stopping here for too long because we still had a long way to go.
While we were here, we ended up eating some disappointing skewers as well as some decent ramen and cutlets (for the kids), but I felt like we spent way more time than we should have here (largely because Josh didn't have an appetite yet he still was in discomfort).
I did spend some of the idling time at this rest stop checking out the Sea of Japan though the views were kind of flat against the cloudy skies and threatening rain.
Thus, it wouldn't be until about 11:15am when we finally were in the car and headed out again.
The drive further north continued on for a while, and it seemed like the further north we went, the worse the rain became.
Anyways, it wouldn't be until around 2:45pm when we finally got to the Wakaba Ryokan in Sakata, but just as we pulled up to check in, I was hearing some loud moans and groans from the parents' car.
It turns out that Josh was in such discomfort that now he was moaning loudly with his eyes puffy from crying.
Now, we were getting into a scary situation where the trip was starting to get into doubt given Josh's condition, but now we were wondering whether the antibiotics really messed him up because he vomited twice today (even once just now).
I kept thinking in my mind that the chocolate croissant he had when he thought he was feeling better was a mistake.
But both Julie and I also started to wonder if the intervention of antibiotics was also a mistake, and that he was feeling the side effects of taking the meds on an empty stomach.
Even the Wakaba Ryokan staff was out there trying to help out Josh (the head proprietor there spoke good English because he said he lived in Arizona for a time), and we ultimately decided to have Josh lie down and rest while not taking any more antibiotics at the moment.
In the meantime, the group was splitting up once again (with Sophia hanging out with Julie, Tahia, and I) while Mom and Dad were tending to Josh with the ryokan staff (along with GoogleTranslate).
After getting settled in the tatami-style room at 3:30pm, we then headed out to check out the Sakata Rice Warehouses at 3:50pm, which was just across the river from our ryokan.
We were pretty much touring the museum just when it started raining again, but from the museum here, we learned that Sakata was all about the rice farming here.
After checking out the displays and even a go at trying to life 30kg versus 60kg of rice bales, we then went out to the backside of the warehouses to get some kind of classic shot of rows of warehouses opposite a line of trees with a walkway down the middle.
Julie managed to slip and fall on mud at one point when she tried to improve her view, and that kind of dirtied her up, but other than that, no harm, no foul.
It turned out that we probably could have gotten all these photo ops without going into the museum, but it was an interesting thing to check out nonetheless.
After having our fill of the warehouses, we then returned to the ryokan at 4:35pm, where now Mom, Dad, and Josh were chilling out in there huge tatami room for 4 (ours was tightly cramped for 3 people).
At some point, I wanted to make something out of this day, and perhaps I might also check out the Tamasudare Falls in the evening, where I had read that they apparently floodlight the falls at night.
As much as everyone seemed uncomfortable with the idea of me going out this late in the day by myself, I was in the car by 5:05pm.
In some ways, going out solo was kind of relaxing in that I didn't have the noise of the kids messing around or Julie's nagging or slowing things down.
And so by the time I got to the Juroku Rakan Iwa at 5:35pm, it was nice and peaceful plus the weather was calm at the moment.
In fact, I saw in the distance that there was some tinge of pink from the setting sun, and that there were some locals fishing by the coast.
In the distance, I saw what appeared to be some kind of rip current, which triggered memories of what Tommy might have gone through around this time last year.
But before I sunk deeper into that depressing thought, my attention then turned to trying to find and identify the Buddhas carved into the sea stacks here.
I only managed to find 15 though in all honesty, I really wasn't trying hard.
I was just trying to soak in this environment while also noticing some interesting mini-armadillo-looking bugs that would scurry across the concrete paths or supports.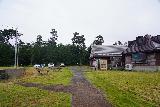 There were also a few more Japanese visitors checking this place out as apparently it had quite the reputation for nice sunsets (though on a day with foul weather like today, the sunset viewing wasn't going to happen).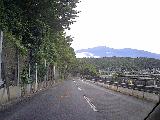 Eventually at 6:10pm, I got back to the car and then proceeded to drive towards the Tamasudare Falls.
Along the way, I couldn't help but notice that Mt Chokai was revealing most of itself, and I didn't notice a good viewing spot along the route that GoogleMaps took me.
So I just pulled over a shoulder and put the emergency blinkers on so I could take some random shots from the car over some rice fields.
Anyways, the drive to Tamasudare Falls took a bit longer than anticipated, but the route was pretty well-signed.
It wouldn't be until about 6:50pm when I finally got to the empty car park for the Tamasudare Falls (except for one other car), but it was rapidly getting dark.
It turned out that the path to the falls was actually pretty decently lit for such a darkening trail, but by the time I got past a pretty dark shrine and to the falls almost engulfed in darkness, the falls wasn't lit up as I had hoped.
Oh well, so this was kind of a wasted visit, but at the same time, I was still communicating with Julie that I could come back here tomorrow morning and then have breakfast with the family instead of dividing and conquering the day tomorrow.
So at 7:15pm, I was back at the car, and after a pretty uneventful drive with another round of rain, I was back at the Wakaba Ryokan at 7:50pm.
At that point, there was no parking in there main lot, but the staff was friendly enough to walk me over to another corner lot where I had to squeeze in.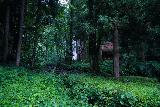 They definitely insisted that I not park in that bigger lot across the street from them, which had a handful of cars, but I suspect they had nothing to do with the ryokan.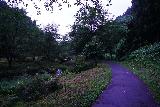 Ultimately at 8pm, I was back at the room, ate some cold leftovers, then did some much-needed bathing at the guest-shared onsen.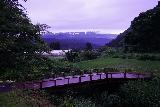 That place was also where I took a shower (as per usual onsen etiquette though it also doubled as a legitimate showering afterwards), and then at 8:45pm, I hung out at the larger parents' tatami room, and seeing that Josh was apparently feeling better again.
And so ended this rather drama-filled day, where this cloud of Joshua's food poisoning symptoms kept stubbornly sticking around.
We'll have to see how he fares as tomorrow, we're heading to the Ginzan Onsen, which is a well-known spa town, but I decided right then and there that I was going to prioritize the Ginzan Onsen instead of dividing-and-conquering just to try to fit in Hottai Falls on the way.
Indeed, that'll have to be punted for the day after, and we'll likely have to check into Morioka late the day after Ginzan Onsen tomorrow…
Day 34 (July 9, 2023 – Ginzan Onsen, Japan): "Shelter In Place"
It was 4am when I awoke, where I heard throughout the night some pretty heavy rain.
I also woke up stiff because sleeping on the floor with somewhat minimal padding wasn't great for someone my age.
Anyways, I agreed with Mom last night that we should get up and out early to do Tamasudare Falls before the 7am breakfast, and thus by 4:45am, we were in the car.
The weather actually momentarily calmed down as we drove out to the falls, but the clouds were hanging low and blocking any views of Mt Chokai.
By about 5:20am, we made it to the familiar car park to the Tamasudare Falls, where the lighting was definitely brighter than it was in the twilight last night.
We then proceeded to walk the short loop walk in the reverse direction of how I did it last night, and we could tell from the stream that the heavy rain from yesterday, the creek was certainly brown and swollen.
When we got to the falls, it seemed to have a wider and more intense flow compared to last night, and we couldn't even stand by the wooden railing anymore as the spray there was too intense.
Anyways, we literally soaked in the view (while also probably getting attacked by mosquitoes), and ultimately had our fill of this spot before heading back to the car.
Along the way back, I did notice some shrine-looking monuments and stuff near a shelter by the car park, and we ultimately got back to the car at 6:10am just as we started to notice blue skies.
Now the weather forecast called for a continuation of foul weather, but these blue skies certainly subverted those expectations.
By about 6:45am when we got back to the Wakaba Ryokan, the town was definitely under blue skies and the temperatures were certainly now in the upper 20s and even pushing the 30s!
So we enjoyed the breakfast while Josh was resting in the room still, and eventually by about 8:20am, we were finally heading out.
With the sudden lightening of the sightseeing load today, I opted to have the family go back to the Juroku Rakan Iwa that I was at yesterday.
We got there at 8:50am though the weather looked like it was turning once again as the blue skies and hot weather gave way to the next band of rain that was threatening.
Anyways, it was pretty much Josh staying behind in the car because he didn't feel like walking, and the rest of us briefly checking out the carvings in the sea stacks.
I challenged the kids to count how many Buddhas they could find, and that seemed to occupy them for a bit.
It was kind of an informal Where's Waldo kind of deal, and it definitely reminded me that I have to put myself in their shoes from time to time to better engage them in the kind of activities that make this type of road trip worthwhile for everyone.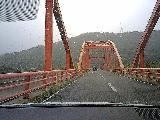 At 9:30am, we were back in the car though we saw that they had a vending machine that sold long-neck Calpis cans for 130 yen a pop (not even a buck in USD).
Anyways, we next drove to the southeast along the Mogami River along a series of expressways, and the rain definitely came by during this drive.
By about 10:20am, we arrived at the busy parking area and foodie stop for the Mogami Shiraito Falls as it was still raining.
There were quite a few cars parked here, and there seemed to be a line of a combination of convenience store with food stalls.
It really looked like there were some great pains taken to make sure that you don't get a clean outdoor view across the brown (from the rains I'm sure) Mogami River towards the Shiraito Falls fronted by a red torii.
There's one conbini with some benches where you could look through a somewhat hazy window for a somewhat decent view, but it's not the same as actually experiencing the falls from the outside.
I also wondered if this was one way to motivate doing the river boat cruise on the Mogami River, which was something I considered doing though it sounded like the rest of the folks weren't too keen on doing it in this kind of weather.
Anyways, I explored the facility a bit, and I saw that there was one exit door that was locked though it could be unlocked, which I did.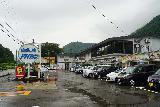 I then went out there and managed to get somewhat angled views towards the Shiraito Falls, but it was still not all that satisfying.
So after getting our fill of the falls, we then went downstairs and checked out some of the foodie stalls where I finally got to try some takoyaki (breaded ball with octopus or squid inside it and some other stuff) as well as some Cremia ice cream that I recalled getting in Yoshinoyama.
When all was said and done, it was about 11:15am when we were back in the car, and then we proceeded to drive further to the east towards Obanazawa and ultimately to the Ginzan Onsen.
The drive went by pretty uneventfully so once again it was a combination of on and off again rain as we got towards the resorty town.
Ultimately by about 12:30pm, we finally arrived at the Ginzanso accommation, which actually costed us at least $600 for the night!
So indeed, we were definitely in a high-end spa area, and by prioritizing this experience here today, I sure hoped it lives up to the hype!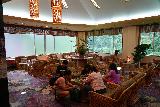 At first, we weren't sure where we were supposed to park, but upon utilizing the reserved parking spaces in front of the lobby to drop off luggage, I kind of knew that the real parking area for guests was somewhere further uphill.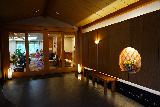 Nevertheless, Julie went to check in just to see if we can get in early, and if not, what would the front desk say about the parking situation?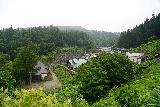 Not surprisingly, we were told to come back at 3, but we were at least able to leave our luggage at the luggage storage area (which was basically an unsupervised space in the lobby).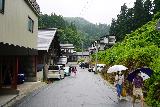 In any case, after dropping off the luggage, both Dad and I drove up to some space that was marked in kanji, and upon showing up, one guy had a clipboard with peoples' names with reservations.
It turned out that both Julie's name and Mom's name were on there, and I pointed to them to confirm that we were indeed the people staying at the Ginzanso tonight.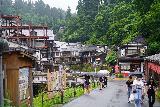 Once that was done at 12:50pm, both Dad and I walked back to the lobby, where Josh was still not feeling great enough to walk down into the main part of Ginzan Onsen for lunch.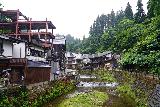 So we ended up with a situation where it was Mom and Josh staying behind in the hotel's lobby while Dad, myself, Julie, Tahia, and Sophia went down into the Ginzan Onsen town to have lunch at this recommended spot called Izunohana.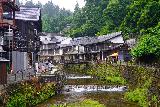 The hope was to be able to take away "clean" soup (like an udon or something) and bring it back to the hotel for Josh to drink, but Julie and I both had doubts that the Japanese restaurants do things this way.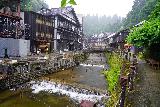 Anyways, we proceeded to walk about 10 minutes down into the Ginzan Onsen town, where once the road bottomed out, we got to a really nice part where it seemed like a walking area flanked what seemed to be a hot spring creek crossed by a handful of bridges.
The structures by each of the sidewalks on either side of the creek seemed to have the familiar wooden architecture topped by some fancy dark-tiled roofs.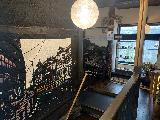 Just as we were just getting into taking pictures and really enjoying this place, it started raining pretty moderately again, and before each of us would get soaking wet, we entered a restaurant that turned out to be the Izunohana place recommended by the Ginzanso front desk.
The interior of this restaurant was tight even though we were up on the second floor.
Yet the decor was charming and I kept wanting to take pictures, of which I'm sure I was frustrating the staff as I'd be getting in their way (it's hard not to) taking photos while they were off trying to serve the food to guests.
Anyways, this place was really more of a ramen noodle joint though they specialized in some kind of cold ramen serving locally-raised chicken.
So we got one of these types of ramen while Dad got something warming and more like your standard shoyu ramen with pork in it.
Julie got a standard soba dish with tempura, which was also pretty much as we'd expect it to be.
However, I don't think the girls realized that the local ramen specialty here was cold when they made their order despite our warnings, but when they got their respective bowls, it was too late.
That said, at least we didn't go hungry on this meal, and we then proceeded to leave the restaurant when the rain seemed to have subsided again at 2pm.
At this point, Julie and the rest of the group decided to head back to the Ginzanso accommodation to both check in as well as to check up on Joshua and Mom.
In the meantime, I was all alone as I expressed my desire to check out this busy area as well as the waterfalls further upstream.
Well, it didn't take but 10 minutes of slowly wandering to the head of town when I crossed a concrete "bridge" (with slits to let water through) when it started raining again just as I was about to get in a groove taking pictures and videos of the falls.
I managed to find shelter at the back door corner of some restaurant closest to the falls (which I'd imagine staff would use from time to time), and I waited out the next band of rain there.
Once that subsided, I then walked up to a lookout directly opposite the Shirogane Falls, which was flowing quite well.
After having my fill of this view, I then went up the switchbacking steps for more views of the falls before getting up to some monument as well as some bridges near the brink of the Shirogane Falls.
Further upstream from the falls and one of the bridges spanning its top, there was another waterfall called the Raion Falls, which was more like a much smaller cascade.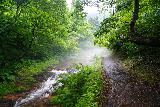 At this point, I was already a bit of a sweaty hot mess thanks to the humidity of the area despite the rain, but I think some of that humidity was aided in part from the steam rising out of the creek's waters which I suspected to be geothermally heated.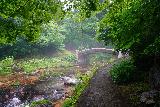 As I continued hiking further upstream, this became even more obvious as I could clearly see the steam rising from the stream.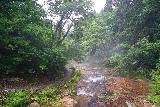 Eventually, I got up to the Kajika Bashi where there was the Saito Mokichi-Kahi monument before I then continued towards what the Ginzan Onsen map called the Natsu-Shirazu.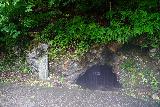 There was one couple here taking pictures and stuff, but when I got there, I couldn't help but feel the cool air offsetting the steamy weather otherwise.
In fact, that cool air seemed to be coming from what I appeared to be cold steam emerging from this cave or mine entrance, and now I finally understood what was meant by the paper map calling this place a "cool spot".
Continuing onwards, I then made it to the Omokageen Park, which was basically an open-air spot with a pond, some grass, and some monuments.
There was even some gravel road as well as a toilet facility.
Anyways, I was debating whether to continue with the walk or just head back to the hotel sooner rather than later, but at some point while exploring the Omokageen Park, I couldn't help but notice some kind of infrastructure right behind the park in front of me.
And so I decided to see what that was about, and lo and behold, I found myself at what turned out to be the south entrance of the Silver Mine (Ginkogo-Minamiguchi) at 3pm.
Upon descending deeper into this mine, I couldn't help but notice that the path with metal steps and catwalks were all well lit up so I didn't need a flashlight or headlamp to see where I was going.
The path also went into a really large chamber, which apparently was a site where silver was extracted in the past.
Another nice thing about this cave (besides being pretty big and cool) was that temperature-wise, this place was quite comfortable.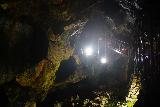 In fact, it was so comfortable that I was afraid my camera lens might fog up by the time I exit the cave and go back into the humidity (ala the Lava Tube experience on Jeju Island earlier on in this trip).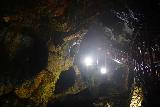 Once I emerged from the other side of the mine at the North Entrance, I then went up more steps to get back to the main circular walking path.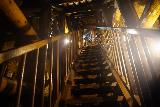 Upon reaching the top of the climb, I noticed that there was some kind of statue dedicated to one of the miners here, who was referred to as Gigaichiro Zaemon-zo on the map.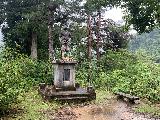 Continuing west of the statue (or having gone most of the way counterclockwise in the loop), the path finally started to descend (rather steeply).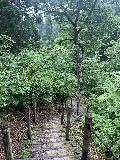 Eventually, the path rejoined the looping path adjacent to the creek near the waterfalls, but when I saw that I was actually quite close to the cool cave that I had encountered earlier, I decided to go explore that spot once again at 3:15pm.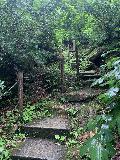 And it couldn't have come at a better (or worse) time because just as I was busy taking pictures, the rain started coming down harder again.
Therefore, I just chilled out and sheltered-in-place at the cool cave entrance, where the cave's steam really offset the humidity and the heat.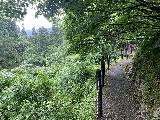 This time the wait seemed like it took a while though I didn't mind standing at that cave entrance (a little tight as it was due to the rain) due to the natural "AC" provided by the cold steam emerging from this cave.
However, when I was done waiting out the next band of rain at 3:30pm, not surprisingly, my filter had fogged up thanks to the temperature disparity between the cave and the outside.
As I walked back to complete the loop hike, I descended past some kind of shrine (where I realized that if I removed the polarizer filter, the main lens beneath it wasn't fogged up), and I then got back to the Raion Falls.
This time, I was on the other side of the red bridge fronting this falls, and there were a few more attractive photo ops from this spot.
Then, once I had my fill of this spot, I descended down the last of the looping walk as I found myself entering a seemingly more crowded area by the head of the Ginzan Onsen attractive area.
Hearing some Chinese being spoken during this time, I presumed that a big chunk of the people here must come from the same tour group.
Anyways, I took some more time to check out the Shirogane Falls from the other side to complete this experience before going back the way I came.
Ultimately, I got back to the Ginzanso Hotel at around 4:10pm but not before soaking in the ambience once again in the main square of Ginzan Onsen.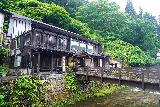 I also gave the foot bathing a shot though the water was actually colder than I would have anticipated.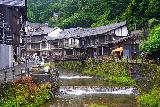 Strangely, there were narrower streams of geothermally-heated water that seemed to be way hotter than the foot baths, and I wondered if the rains might have diluted their temperatures.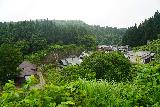 That said, after soaking in the experience of the Ginzan Onsen public area (pun intended), I then finished walking back through the wooden commercial street before returning to the Ginzanso accommodation at around 4:10pm.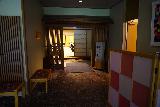 At this point, Julie texted me and told me the room number as well as confirmation that they were allowed to check-in somewhat early.
Anyways, after getting settled finally, I then took some time to enjoy our tatami-styled room that included a private onsen, where I could open the windows and soak while staring at the low clouds moving by while also dumping rain on and off.
It was quite the way to end off the Ginzan Onsen hike that I stayed in there for a bit (even Julie rejoining me once again while Tahia was busy playing game on my laptop), and I used this opportunity to also get some much-needed showering done after the soaking was done at 5:15pm.
Right before the 6pm dinner, I then went next door to check up on the parents and Joshua to see how they were doing, and it seemed like Joshua was finally on the mend (again).
Thus, when the dinner came up, we all came downstairs in our kimonos and proceeded to have a Cheng Army photo taken in front of their 2nd story restaurant before splitting off and going into our respective private tatami-styled dinner rooms.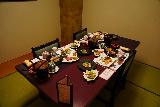 Having done the full-service ryokan experience in Nikko, Julie, Tahia, and I knew what to expect in terms of a well-presented dinner with a lot of variety.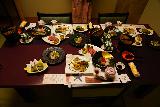 I'm sure this would be quite the treat for the parents though I wondered what Josh was going to eat because there was indeed a lot of raw stuff as part of this included dinner.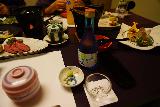 The dinner also had some cooked stuff that was heated in a pot (which was made all the more tastier when dipped in a sauce that goes with it) as well as a bunch of pickled items and even a nice seared meat.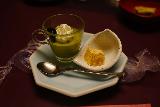 We indulged in some not-included drinks so Tahia got an OJ, Julie got a delicious local apple cider, and I got some sake that the server recommended since I asked for sweet (but it was still liquor-tasting and not quite the fruity tangy Yuzu that we've grown to love).
Maybe the strong alcohol might help to thwart the inevitable parasites on the raw sashimi since I knew that I was taking a risk eating this stuff, but at least it was early dinner and I immediately ate those (and getting Tahia's uneaten portions) so they wouldn't be sitting out too long.
The dinner room was a bit on the hot side (even after figuring out how to turn on the cold air on the far side of the room) so I was sweating beads as I was eating dinner.
Compared to the Nikko experience, they were comparable though I thought the food variety and them bringing out the courses separately was a nice touch compared to this one where they just gave you everything at once (except for the bowl of rice and miso soup and dessert).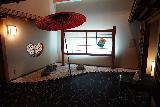 Because I was eating parts of Julie's dinner as well as Tahia's mostly uneaten one, I was quite stuffed by the end of this experience.
I even shared my sake with Dad and Mom as they had a similar problem of the kids not eating their portions (as Dad was the one who ate up their raw stuff).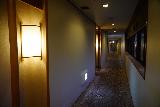 By around 7pm, we were back in the room, where we unwound the night once more and tried to live up the experience of Ginzan Onsen glad that I had prioritized experiencing this place as opposed to the original plan of dividing-and-conquering to pursue Hottai Falls before getting here.
Perhaps the only thing I wasn't looking forward to in my middle-aged body was the tatami-styled sleeping arrangement as I knew I might be a little stiff getting up tomorrow morning after another night of sleeping on the floor…
Day 35 (July 10, 2023 – Morioka, Japan): "Return Of The Cheng Army"
It was 3:40am when I awoke without my alarm.
Not surprisingly, my body was a little stiff, but I was also a little hot from the somewhat weak AC provided in our room.
I used this time to try to take care of blogging and stuff (as per the usual routine that my body clock seemed to be getting accustomed to by this point roughly 5 weeks into the trip), and that seemed to consume quite a bit of this morning as I had a lot of catching up to do.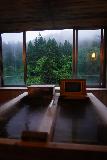 Somewhere during this time, Julie decided to go for a morning soak, and she convinced me to do the same to live up this place one more time before having breakfast and heading out.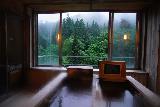 So that I did some time around 5:45am, and that was also a nice experience as we both could see more of the clouds moving quickly by as they scraped the well-forested hillside while also dumping bands of rain on and off again.
By around 6:05am, I was done with this experience, did another cleansing shower (especially after sweating beads at dinner last night), and then went down for the 7am brekkie.
This time, they presented the brekkie tic-tac-toe style as the bento box had 9 items as well as a few more larger dishes that wouldn't fit in there.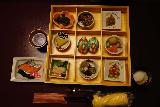 There was also an English explainer about what each item in the bento box was, and that was a nice touch.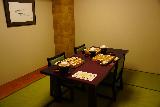 Compared to the Nikko brekkie experience, I actually thought today's breakfast was better as once again we had the variety of different foods (the Nikko one was mostly a choice of one of 4 different grilled and bony fish), and it was all delicious.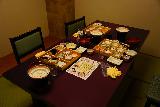 Tahia even finished most of her brekkie this time, and it was a great way to cap off this full-service experience before going through the logistics of wrapping up the packing, getting the Army to follow suit, grabbing the cars from the car park, and finally heading out.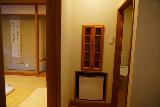 So it wouldn't be until around 8:35am when we were finally starting to head out, and I kind of knew that with today's long driving, it might not be until pretty late in the day when we'd finally check into our next accommodation at Morioka.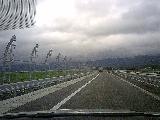 Anyways, the first order of business for today was to drive back the way we came until reaching the E13 somewhere south of Shinjo.
From there, we pretty much followed the expressway until it no longer became an expressway somewhere north of Shinjo near Kaneyama.
Then, we pretty much followed the old-school Route 13 before going west on the Route 108 towards Shimono.
Next, we headed west through a lot of mountain terrain and tunnels when we got a text from Mom saying something about Dad needing to fill up gas.
Well, now was a pretty bad time to find this out as we had plenty of opportunities to fill up closer to Obanazawa, but out in these parts on the northern slopes of Mt Chokai, gas stations were fewer and farther between.
Luckily, the town of Shimono had a gas station, and that was our last opportunity before going upslope again on the northern slopes of Mt Chokai in pursuit of the Hottai Falls.
Ultimately, we got to the Hottai Falls car park at 10:55am after going through a lot of narrow roads that were actively used by logging and road crews.
In one instance, I had to back up because there was a large truck carrying large logs that we couldn't have squeezed by on such narrow roads, and there was a worker who aided us making this maneuver.
Now the thing about the Hottai Falls was that we could clearly see it from the car park (actually, there seemed to be multiple levels of car parks).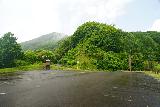 Strangely, there didn't seem to be an obvious trail connecting the middle and upper car parks and I actually had to run up a brief hill to get on the descending upper path where we ultimately had parked the car.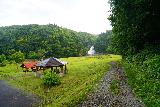 Anyways, since the falls was so close and also quite impressively large, this encouraged all of the Cheng Army (including Joshua) to visit it.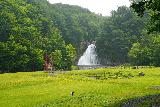 I think this was Josh's first excursion since his food poisoning took hold, and thus it really did feel like the return of the Cheng Army at this point.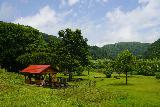 Of course, we were still wary about any relapses so whatever we give him for food has to still be hot, cooked, and clean – no more junk stuff for at least today.
Regardless, I went ahead and got right towards the red bridge somewhat fronting the falls to take some shots of the falls.
There were lots of local workers cutting weeds or grass or something, and it really felt like a work zone even though we were trying to be polite in our holiday mode.
Some of the workers actually used the shelters for a quick break while taking in the settings here before getting back to work, and indeed this was that kind of place.
Anyways, it was easy to try to find ways to compose having that red bridge with the trapezoidal-looking Hottai Falls further upstream.
Julie and the kids were the first to join me while I was busy snapping away, but then they went onto the bridge thinking that the path would get us closer to the base of the falls.
Well, just as I was about to follow them onto the bridge, the crew turned back.
Concerned that the trail was closed, I asked if that was the case, and Julie replied that it was just a trail that went up a bunch of steps.
I actually kept going because I recalled in my research that there were non-drone shots of a top down frontal view of the Hottai Falls revealing all of its components.
And sure enough, when I got up there after a couple of switchbacks on the ascent, I had this place all to myself to document (even as it was raining on and off somewhat while the sun was out) until Mom joined me up here.
Even though I didn't have sunscreen nor bug repellent on, I think I got lucky not getting any mosquito bites, but Mom was showing me a puffy foot probably from Tamasudare Falls yesterday morning.
Nevertheless, we still embraced the moment and enjoyed this falls as best as possible before heading back down.
The strange thing about this falls was that a sign here said the falls actually faced Mt Chokai instead of flowing along its north-facing slope, which seemed rather unusual for a waterfall directly on said volcano's lavaflow path.
We weren't too interested in sweating it out more by continuing the climb past a menacing-looking bear sign towards some potholes closer by the falls.
And so after a few more shots before the bridge, we returned to the car at around 11:50am to resume the long drive on this day.
Next, the drive back east towards the 13 and eventually north towards Yokote was uneventful.
We then headed east from Yokote on another expressway though Julie reminded me that it was getting past lunch time at around 1pm.
That said for an expressway like this, we didn't see nearly as many of those big rest stops with food joints, and it wouldn't be until around Kinshuko that we finally got a chance to lunch at around 1:35pm.
The choices were limited here, but at least they had stuff like ramen and curries as well as udon, and it definitely seemed like Josh was getting his appetite back (though the ice creams seemed to be teasing him since we were still wary about letting him have at it this early in his recovery).
Once we got back in our respective cars at 2:25pm, we then drove a short distance further east to the Tohoku Expressway (where the speed limits here were actually up to 120km/h!), and it didn't take long before we got off at the Hanamaki IC.
From there, we drove west towards the Hanamaki Onsen area, and after briefly shooting past a resort area, we backtracked to it, and then slowly made our way up to the farthest car park that we could find to the Kamabuchi Falls at 3:10pm.
We weren't sure if we could park here as it seemed to be onsen property, but I think in my broken Japanese, the guy watching us said that it was OK to park here as long as there was space (though I couldn't really be sure).
So we did that, proceeded to walk towards a suspension bridge fronting a fake waterfall, and then went down some steps in a steamy forested area with 3 bear bells along the way (that the kids loved messing with) before getting to the actual lookout deck for the actual falls.
This waterfall kind of reminded me of the Bond Falls experience in Michigan except this waterfall was a bit smaller than the UP counterpart.
Nevertheless, this was an easy one to experience, and it was another excursion that we could do as the Cheng Army so that was nice.
By about 3:45pm, we were back at the car, and then made the final leg of today's long drive to Morioka.
We ultimately got to the Dormy Inn at 4:20pm, which was our accommodation for tonight, but its car park was one of those car elevator deals again.
After a bit of communication difficulties with the guy operating this car park, we eventually learned from the front desk that this car park was 24 hours.
So that mitigated our fears of being slaved to an inconvenient schedule especially with desiring an early start tomorrow morning at 6am.
I almost forgot my car keys in the car which was up in the car elevator until the attendant brought to my attention about locking the car, and he eventually brought it down so I could get it, and then put the car back up once I recovered the keys.
And finally we could settle into our tight rooms while also having ourselves a dinner somewhere in the center of Morioka.
At around 5:25pm, the Cheng Army headed downstairs and out into town looking for either a yakitori joint or ramen joint, and we wound up eating at some place called Ippudo, which was quite a few blocks away.
During our walk to get there, we did notice a nice semi-covered arcade on one street that seemed to be where most of the action of Morioka was at.
Nevertheless, once we got inside Ippudo at 5:50pm, we were busy eating a lot of ramen as well as gyoza and fried rice, which all reminded me of the stuff we'd get Hakata-style at Shinsengumi back at home.
Indeed, this place hit the spot though it was a bit on the hot side (having ramen in kind of warm, muggy weather is non-ideal), but this place really reminded me of the stuff we enjoyed back at home.
Anyways, we were done with dinner at 6:35pm, and then we proceeded to walk back to the Dormy Inn, but not before checking out that semi-covered arcade while most of the Army was inside a Lawson's there getting stuff for tomorrow's brekkie.
Just as I was doing some exploration, there was some pretty severe downpour that happened momentarily as the dark menacing skies finally came over us and dumped its load on the city.
Even some of the covered arcade parts flanking the main street were leaking in spots, and I was glad that this didn't happen (since I don't think we had umbrellas) on our way to the restaurant.
Waiting for the downpour to calm down a bit, we then returned to the Dormy Inn at 7:10pm, and for the rest of the evening, we were using the rooftop onsen, which also doubled as a shower (as it was better to do it publicly there than in a tightly cramped room).
Indeed, by around 7:45pm, we were all done soaking in this experience (as it was becoming quite customary to have a soak and sink into the Japanese touring lifestyle), and able to relax for this night as we continue driving towards the top of Japan tomorrow…
Day 36 (July 11, 2023 – Hirosaki, Japan): "Under Construction"
It was 3:40am when I awoke without an alarm.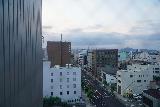 Again, I spent the next couple of hours doing what I usually do at this time of day as we planned to leave Hirosaki at around 6am.
We ultimately got down to the lobby at 5:45am knowing that it would take some time to get the car out of the car elevator.
This time, there was a lady running the reception, and after a little bit of language issues in communicating about the car, it turned out that she was also the person operating the car elevator car park.
Eventually, Dad got his rental car, and then we got ours, and we were finally out by 6:05am just as it was starting to sprinkle as we were loading up the car with our luggages.
The drive out of Hirosaki and further to the north towards Lake Towada was kind of a mix of an oncoming band of rain and some partially cloudy skies with even a hint of the morning sun.
However, the weather seemed to be deteriorating the further north we went, especially as we got onto the expressway where we were going right into a pretty menacing-looking dark band of clouds.
This wasn't good news as far as experiencing the waterfalls we were intending to visit on this day.
In any case, by about 7:35am, we arrived at the Kosakananataki (or Kosaka 7 Falls), which had a pretty large car park fronting some shops and a restroom.
The weather had been foul around this area, but it momentarily calmed down just when we parked.
However, after using the restroom, when we got ready for the walk, the next squall showed up and it was raining pretty heavily again.
So that meant we had to bust out the umbrellas and I had to bust out my rain poncho.
Anyways, this waterfall was pretty much right across the street from the car park.
There was an interesting waterwheel as well as a torii gate fronting a bridge.
The bridge and waterfall combo was reminiscent of the Hottai Falls that we had just seen the other day.
Regardless, even though this waterfall was named Nanataki (7 Falls), apparently, it was really a singular waterfall with maybe 7 tiers (though I couldn't really tell).
The uppermost tiers of the falls were kind of blocked with the thickened Summer foliage, and I wondered if the falls would have been better seen in the Fall or maybe even the Spring (though I'm sure snow would be an issue at that time).
Beyond the bridge, I also noticed that there was some kind of shrine going up steps as well as a path going right to the base of the main fanned out portion of the falls.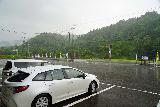 It looked like there was some steam coming out of the stream responsible for the falls, but when I touched the water a little further down from the base of the falls, it was cold.
In any case, we pretty much endured a couple of rain squalls at this falls as it seemed like we took turns checking out the falls (where Soph might have been the only person not interested in checking out the falls).
By about 8:15am, we were back in the car just as we started to hear a crack of thunder (a bad omen that the storm was going to get worse).
Anyways, we next drove towards the Oirase Gorge, but along the way, we checked out an overlook of the southern part of Lake Towada at 8:40am.
And it couldn't have come any later because shortly after getting some impressive shots at the top of the viewing platform, the next band of squall started showing up forcing me to retreat downstairs to a sheltered part with a view through a big window.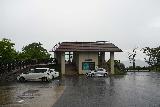 After using the restroom facility here, then the rain really came down, and it took so long for the rain to calm down that I had to make a run for the car by 8:55am.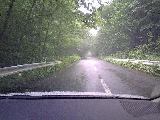 In fact, the weather deteriorated so fast and so persistently that now there was no prayer of a view of Lake Towada.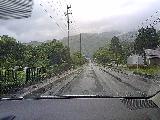 Anyways, we continued on with the drive as we went around the eastern shore of Lake Towada and eventually into the Oirase Gorge.
This narrow gorge had a surprising number of cars, and we managed to park in some limited spots right across from the start of a short walk to the Choshi Falls, which was only 100m away according to a sign here.
We got here at 9:25am, and it was definitely raining at this time though it did seem like the thick cover of trees kind of helped mitigate some of the heavy rain somewhat.
Nevertheless, the path was a little flooded and muddy at the outset before going down some steps revealing other side cascades and the wide Choshi Falls itself.
only had a rain poncho on while the rest of the crew again took turns to show up to the falls starting with Dad and Josh, then Julie and Tahia, and finally Mom at the end (a bit knocked out from the Benadryl she had to try to address a foot puffy from mozzie bites).
I did explore a little downstream to see if there was another waterfall along the path, but the sign mentioned that Tamadare Falls was still another 1.4km away, which I wasn't going to walk in this heavy rain.
So at 10:10am, we were back at the car, and then we were continuing to drive further to the north along the Oirase Gorge.
I had a feeling that pursuing the Murami Falls, which was another Japan Top 100 Waterfall may not be feasible since it was off some logging road, and this heavy rain probably made going there too dangerous.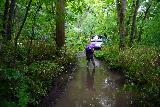 Still, I had to see if it was possible, but sure enough, the road the GPS wanted us to take was closed off.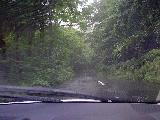 So we continued driving north along the Oirase Gorge, and we were quite surprised at how many cars and tour buses were here as well as people walking the road.
Moreover, the gorge itself was quite dark as the foliage cover here was thick.
And we noticed some waterfalls left and right along the way, which kind of reminded us of the Columbia River Gorge in some respects.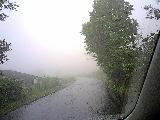 That said, we weren't really in the mood for making stops for more waterfalls as we were kind of over this rain and the wet conditions.
Plus, my pre-trip planning didn't really account for making more stops within the tight Oirase Gorge and joining the crowds randomly here so we just kept driving north towards the Route 103.
At that point, we headed west on what seemed to be a mountain road with minimal tunnels, and there were stretches where the rain was just pouring down limiting visibility.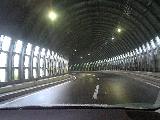 Since I was the lead driver, I had to keep it slow even if there were some faster drivers behind Dad because there were issues with falling branches and some temporary streams overflowing right across the road in spots as well as some road flooding off the sides.
On top of that, there was one stretch where there were multiple flashes of lighting and the accompanying sonic boom of thunder further adding drama to this drive.
If ever there was going to be a car wash for our rental car, well this was it!
Anyways, this drive took a while, and Dad was telling me that he was running out of gas again (I thought he was driving a hybrid).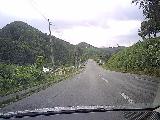 Thus, we ultimately stopped at the first gas stop we saw on the outskirts of Hirsaki City (not knowing we were already close to the city), and it ended up being this station that had one of the most disgusting bathrooms (with no running water) that we've ever been in concerning Japan.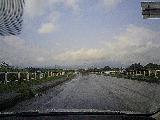 Even Josh said that this restroom was "interesting" as he had to figure out how to use the latrine there, and the standup john there had some brown that I'm sure might have been causing my eyes to water as I was doing my business.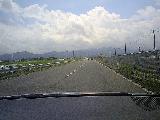 Nevertheless, it wouldn't be until we were finally in Hirosaki by around 12:20pm when Julie decided that we should eat at this place called the Bikkuri Donkey.
It was actually a family-friendly chain place, and we ended up having a pretty full lunch where most of us got curry cutlets, I got some kind of diced steak dish, Tahia got some spaghetti bolognese, Soph got fried chicken with fries, and Dad got some kind of Mentaiko combo.
When we were done with this meal, we then had some dessert of soft serve ice cream, while Julie got a blended kiwi drink.
And it wouldn't be until about 1:40pm when we were finally back in the car just when Hirosaki was partly cloudy and quite roasting hot at around 33C!
Ten minutes later, we parked at an underground lot nearest to the Hirosaki Castle, where we then proceeded to visit this place.
After walking through some park area while forsaking the botanical garden, we eventually went looking for the main castle itself, but it turned out to be a three-story replica of the former five-story building that once was.
In fact, there was also a lot of heavy construction going on nearby this castle keep, and so we were a bit disappointed with this experience as we knew that there really wasn't much more to this place than this smaller tower and a bunch of ruins or former sites of a much grander complex.
There were also poster boards showing pictures of what this place would be like during the cherry blossom season, which in this part of Japan was from April 21 through May 5 (after we had left Japan on our Spring Break trip earlier this year).
Anyways, all of us were pretty hot sweaty messes when all was said and done, and Mom didn't even want to go up the castle keep due to the steep steps (though they let you keep your shoes on in this one).
After having our fill of this keep, we then checked out some views of a hazy Mt Iwaki in the distance, and there was even an elevated wooden platform affording you a view of this castle keep fronting Mt Iwaki in the background.
I'm sure morning would have been great lighting for this combo of castle and volcano, but given the weather, we probably wouldn't be able to see jack so it had to be now to see the impressive conical mountain in the distance.
Once we had our fill of the castle, we then walked back in the direction of the visitor center and car park where we made a Lawson's stop for some cold drinks.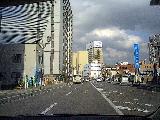 And then, we went into the visitor center itself, where we saw that there was an impressive float opposite a gift shop where we also bought some local ciders (though they were non-alcoholic and more like fizzy drinks instead).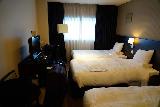 Finally at 3:40pm, we were back in the car, and then 15 minutes later, we checked into the Art Hotel Hirosaki City.
This hotel was pretty tight and basic despite the grand exterior next to the JR Train Station, but at this point, we were pretty much ready to just settle down for the day.
Like the Hirosaki Castle, this hotel was also under construction as our view of Mt Iwaki from our 11th floor room was fronted by scaffolding, which was also a bit disappointing.
So we wound down while the kids were having screen time, and without an onsen at this property, we really just kept it low key until some time after 6:05pm when we headed downstairs for dinner.
Prior to going down the elevator to the lobby, I did notice that we could see Mt Iwaki revealing more of itself against the setting sun as seen from our room (again, too bad about the scaffolding).
Before heading out of the hotel, I talked to the hotel staff about the hikes I wanted to do tomorrow concerning Anmondaki Falls and the Kurokuma Falls.
Well, the staff helped me look up the information (taking advantage of the fact that they're more accessible and can easily read the forestry site's info in Japanese), and I was disappointed to learn that both waterfalls were closed due to heavy rain.
And so the very reason why we stayed in Hirosaki and Aomori was pretty much nixed by these rains we've been getting.
There's really not much you can do about that since you can't predict the weather like this months in advance though I did kind of expect there to be some rain in the Summer but not this much!
Thus, I resigned myself to the realization that tomorrow was going to be a very light day of touring, but maybe it will be an opportunity to mix things up a bit more and do something like an aquarium or museum or something before the ferry to Hokkaido the following day.
In any case, with that bit of disappointing news (where it seemed like we were hitting a low on this trip as our subverted expectations of what we'll be doing kept piling on), we went back outside to the softly-glowing skies.
At first, Julie wanted to go to this Japanese yakitori place, but upon learning that we had 6 people, they said that they were full.
Julie also didn't want to do a Nepalese Restaurant, which would have mixed things up, but she was worried that the kids wouldn't go for this.
So we then went to another hidden yakitori place that was really more of your traditional Japanese bar and not really meant for kids, but we ultimately ate there and got a bunch of things a la carte.
Basically, we got a bunch of chicken thigh skewers, a few bowls of rice, a couple of chicken meatballs, some local clam bowl, a shitake mushroom skewer, and a takoyaki dish.
It seemed like I did most of the eating here as Dad wasn't into eating anything either, and this included the lemon sour drink that I got as well.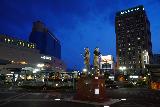 So after having our fill of this restaurant, we then went to the JR Station where we made a quick stop at Mister Donut for some sweets, and then we went into the neighboring Lawson for more grub.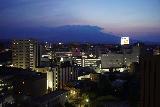 At least it seemed like Josh was on the mend again as he was eating solids and he was getting his appetite back.
We still tried to get him to refrain from getting sugary stuff though he did end up eating some kind of melon bread, and we'll see how he does after that.
But by 7:45pm, we returned to the Hotel Hirosaki where I managed to get one last twilight view of Mt Iwaki from the hotel's 12th floor given the surprisingly improving weather before settling in the room.
That said, the forecast for tomorrow called for more rain (maybe even more intense than before), and I'm sure we'll have to adapt accordingly on tomorrow's suddenly free day…
Day 37 (July 12, 2023 – Aomori, Japan): "Bottom Of The Barrel"
It was 4:55am when I awoke ironically to Tahia's alarm.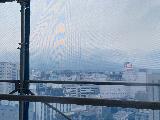 As I looked out the window from our 11th floor room at the Art Hotel Hirosaki, I could see Mt Iwaki in the distance surrounded by lots of clouds.
However, when Julie and I decided on a change of plans to pursue an aquarium (kind of like deja vu on this trip with the Jeju Aquarium in Korea), we decided to leave the hotel an hour earlier (instead of 8am, we'd be out the door by 7am).
And so we'd eventually get our cars and drive them to the front lobby of the hotel (with some illegal maneuverings though traffic was light), and then start loading up the luggages by 7:10am.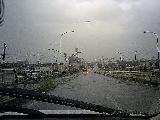 It was definitely raining when we picked up the cars and left, and it was continuing to rain (quite hard at times) on the way to Aomori.
In fact, it continued to rain pretty hard as we headed east towards Asamushi, which was the town that had the aquarium that we targeted.
Now the drive to get out here was quite a bit shorter than expected, and we actually arrived at the Asamushi Aquarium at 8:20am, which was still 40 minutes earlier than their opening time.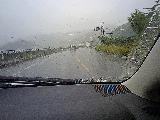 Unlike the Jeju Aquarium in Korea, where we could linger around the main lobby area and even check out some of the gift shops, we couldn't go inside this aquarium until opening time.
And so we killed some time using Julie's SIM card as a hot spot, which had an unlimited data plan.
But other than that, the heavy rain seemed to have calmed down by the time 9am rolled around and it was time to go in.
Like with other aquarium experiences we've done, this takes you on a specific walking tour going by various displays, tanks, and exhibits.
They cut right to the chase with this aquarium as there was a fairly large tank with a walkable tube going right through it near the entrance, but other tanks seemed kind of small for species like the giant sea turtles on display here.
Still, we took our time checking out the sea life and sea mammal displays on the bottom floor, which included some seals, penguins, jellyfish, small sharks, and more.
Then, we ascended to the second floor where there was even more stuff going on like recreated rainforests, coastal habitats, a touching area (where the kids got to touch starfish though they dared not touch the sea urchins), and a section on sustainability and seafood in Japan.
The upstairs area also had access to the dolphin performance area as well as a dolphin (iruka) tank where we could see them swimming about and making interesting sounds when we approached.
Eventually at 10am, we then caught the dolphin performance, where it was actually surprisingly busy on a day like today though it was nowhere the crowded levels like what we had experience at the Jeju Aquarium.
The show was only around 10-15 minutes long, but it did feature three dolphins doing some tricks.
There were many spots where dolphins did backflips or huge jumps out of the water, but they also did other tricks like break dancing out of water, waving hello and goodbye with their tails, and even swaying back and forth.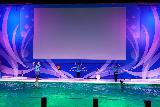 There was also music and MC-ing going on during the show much like how they did the live performance in the Jeju Island Aquarium.
That was something you'd never see at the Monterey Bay Aquarium or any other aquarium for that matter unless it was like how Sea World used to be (though they're now seemingly gravitating more towards theme parks).
Eventually when the show ended, we had our fill and went back to the car at around 10:30am, which was under even more rain.
We were heading into Central Aomori in pursuit of the Aomori Museum of Contemporary Art as another activity to mix things up a bit, especially with the foul weather.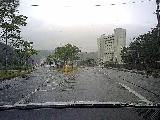 We'd eventually get there at around 11:15am, where the weather was momentarily calm by the time we parked the car and walked into the museum.
We thought about doing the UNESCO historical site next door to the museum, but with the weather the way it was, we didn't want to take any chances of mucking things up in wet weather on a mostly outdoor museum.
Anyways, once inside the Aomori MoCA, we inadvertently paid for and went into the Hideaki Anno, which was apparently one of the creators of the whole anime genre.
So I recognized some of the displays like one on Robotech as well as another on Godzilla (or something Godzilla-like) as well as some fish-looking alien things kind of like the Power Rangers.
That said, we were looking to do the Aomori Ken display, but that wasn't for the exhibit we were in, and we ultimately left the Anno exhibit then paid for the other entry ticket for the permanent exhibit.