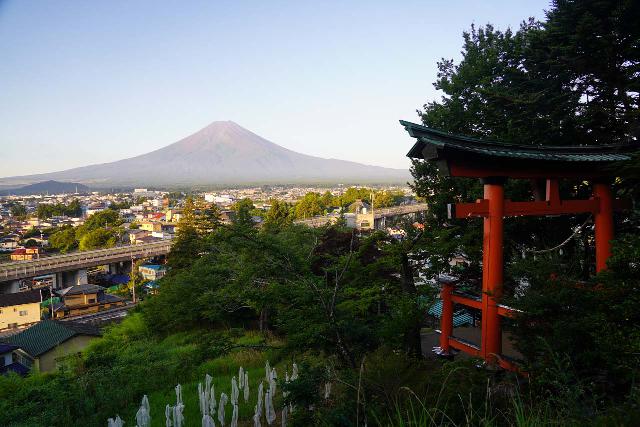 13-July 2023 to 27-July 2023:
That said, I knew that I was definitely not feeling 100% by this time, and I was worried that I was inevitably coming down with COVID.
I just hope that it wouldn't impact tomorrow's experience since I know the kids were really looking forward to Nagashima Spa Land, and I was also concerned about airport authorities maybe forcing quarantine on me as I'm sure I'll inevitably get fever and chills…
Day 38 (July 13, 2023 – Noribetsu Onsen, Japan): "Demon Attack"
(continued from "Spreading Misadventures")…
It was 2:30am when I awoke while Julie actually got up earlier to both hers and Tahia's alarm.
Not surprisingly, we had to drag Tahia up and out of bed.
And we did all this because we had to check-in to the Tsugaru Kaikyo Ferry from Aomori to Hakodate, which was scheduled for a 5:20am departure, but they required us to check in 90 minutes prior to departure.
We already paid for the ferry and we also had to check out of the hotel, retrieve our car from the car elevator, and then drive over to the ferry terminal from the Richmond Hotel.
So if you backed out all those things from the check-in time, that meant that we had to be checked out by 3am!
In any case, we did manage to accomplish being ready to go despite the crazy early morning wakeup and departure, and by 3:05am, we were driving towards the ferry terminal.
When we arrived at around 3:30am, after a little confusion with the self-help kiosk and a bunch of Japanese signage, we just pulled up to the car waiting area and then proceeded to walk into the lobby area where there was someone to talk to behind a desk.
We showed him our confirmation numbers attained from Aferry, and we saw on his printout that both of our reservations were there, and from that point, he printed out tickets for each of us.
Afterwards, we were asked to wait in the car for further instructions, and this allowed Tahia to get some more sleep time while Julie and I ate some takeaway brekkie bought from the Lawson's yesterday.
By 4:55am, we eventually were instructed to drive onto the ferry (where it didn't seem like there were that many cars on this scheduled ferry ride), and once there, we then went up to another reception area, where we got keys for our comfort cabin.
It was basically a small tatami-style room, but there were cushions to at least give us a chance at sleeping (as opposed to the more general rooms which were nothing more than just empty rooms that you get to sleep directly on the floor).
Indeed, sleeping even in our "comfort" room wasn't easy as not only was the padding a bit hard but the brightness outside due to the occasional appearance of the sun probably messed with my Circadian rhythm a bit.
Still, I did probably sleep a wink on and off for a couple of hours or so before my body refused to want to sleep anymore when it was around 8am.
At that point, Julie encouraged me to explore the ferry ship a bit (though the crew didn't want us to go outside due to strong winds).
Nevertheless, I did check out the vessel, which interestingly enough had a little casino area with slot machines, some ripoff claw machines where you're supposed to control a claw to grab a prize (they never yield anything), lots of vending machines, and a microwave and table area.
I also checked out some of the other rooms that weren't comfort rooms where I did see some Japanese people sleep right on the floor as well as a reserved seat view room, which had some comfy chairs facing forward towards the front of the vessel (there was one person I saw in there).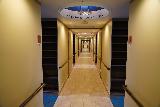 Then, there were a few other sit down tables on either side of the main deck on the 4th floor where you could eat or just have a seat and veg out as some people did.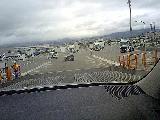 Eventually at 8:50am, I heard an announcement in Japanese that was our cue to get to our vehicles (we didn't understand anything but from looking at other people heading down to the parking decks, it was clear what we were supposed to do).
So we returned our comfort room keys and then got into the car waiting patiently for the passenger vehicles to get moving (it took some time because the larger trucks took priority to exit first).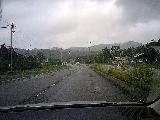 Next, we drove through several traffic lights on the streets of Hakodate to a mix of some rain as the skies were mostly cloudy.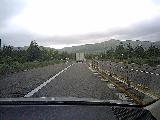 Eventually, we got onto the Doo Expressway, where things moved a bit faster, but it was basically a two-lane highway with barriers in the middle to prevent passing.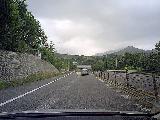 The only opportunities to pass (primarily slower moving trucks and there were lots of them since this was a supply route to Sapporo and beyond) at specific sections that were only 1km to 2.5km long.
However, with Dad following me, there were some opportunities to pass that I had to suppress so as to not leave him behind.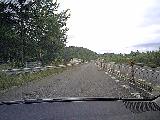 In any case, Julie did some searching on what was a good lunch spot, and we ultimately made a reservation at this place called the Amano Family Farm near this town called Shiraoi, which was actually beyond the Noboribetsu Onsen (where we were staying for tonight).
We had to call to make that reservation, and I actually had to bust out my limited Japanese in order to make that happen (though the lady receiving the call did speak some English).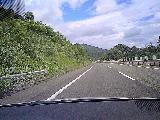 Nevertheless, we were now on the clock to fulfill our reservation of 12:15pm, which meant that we had limited margin for error in terms of when we could stop or not.
We did make one stop at a rest area at Usuzan at around 11:30am right when the sun broke through and there were some coastal views though the primary reason for this stop was for a potty break.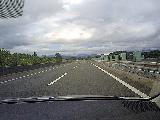 Both Dad and I still had around a half tank and given our time constraint, we opted not to fill up gas over here thinking that there'd be other opportunities (though rest stops were few and far between and this was the only one we saw so far).
When we exited the Doo Expressway at the Shiraoi IC, we saw the ETC show that this drive costed us around 4760 yen (basically that stretch costed us about $40 USD)!
I'm sure when this trip ends, our ETC bill is probably going to be perhaps around $1000 USD! Indeed, freedom ain't free when you're moving around in Japan!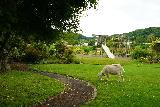 Ultimately, we arrived at the Amano Family Farm at 12:20pm, which definitely had that cow manure smell, and it was reminiscent of our farm-to-table experience in Iceland at a dairy farm that had really good food as well as dairy.
But in this case, the main reason why we were here was that this was a wagyu beef farm, and it was definitely the first time we got to try out such a place (especially since the reviews talked this place up).
Nevertheless, the beef was quite tasty though we had to spend quite a bit of time cooking our meat Korean BBQ style over some bed of charcoals and a basic grill (something we got to do a few times throughout this Japan trip).
And by 1:30pm, we were done with the lunch after having some of the ice cream (soft serve) that came from some other local dairy farm in Hokkaido (apparently Hokkaido milk was a thing).
Actually, there was a dairy farm we had passed on the way here during the long drive, and we decided that we'll make a stop there when we return to Hakodate in a weeks time during the planned marathon drive from Utoro.
Next, we drove back towards Noboribetsu Onsen, which featured an interesting red daemon statue at a traffic light, and we'd eventually arrive at the pretty busy town at 2pm.
Upon checking into the Takimotokan Hotel, we then were directed to park our vehicle at their Day Use Visitor Lot, and then we finally settled into our tatami-styled rooms at 2:20pm.
This place kind of gave me Hotel Urashima vibes as there were shops inside the long corridors connecting the various wings of the hotel (there was a main building as well as west, north, south, and east wings), and we saw that there was even a public bath as well as a swimming pool.
At 2:40pm, we then started to walk towards the Jigokudani (Hell Valley) as the Cheng Army (though we at first thought we had to drive there until I saw on GoogleMaps that this place was only a minute away!).
And so we walked 150m to the Hell Valley area, which was a free park with boardwalks taking in various fumaroles and hot spring pools around a very colorul basin very reminiscent of something we'd experience in places like Yellowstone, Rotorua, and various spots in Iceland.
This walk had its share of highlights and things worth checking out like a pinnacle-like cliff backing some Tessen Pond, and that was essentially the main highlight for most of the Cheng Army as the kids were itching to go back to the hotel pool or have screen time.
So Julie went back with them while I continued with Josh and the parents to check out the Oyunuma Pond Observatory (though we weren't interested in extending the walk for the public foot bath).
We basically made around a 600m round trip walk that was mostly uphill, crossed a road, and followed some other tourists to the lookout of a muddy-looking lake backed by a small mountain.
We all sweated a bit because it was surprisingly warm when the sun came out, but other than that, it was all downhill back to the hotel, which we promptly returned to at 3:45pm.
In any case, by this time of the day, we weren't going to drive to Lake Kuttara, which was also on the agenda, but we figured that perhaps we could wait for tomorrow morning to do it since it was kind of a hassle to have to get the car and hope we'd have parking again upon returning.
That said, I hoped the weather would be good enough to have a good experience tomorrow morning if we did do this since we'd be looking east towards the morning sun.
Anyways, we'd spend the next 90 minutes or so at the hotel's public path as well as their swimming pool, and at first, I was going to supervise the kids and then go to the onsen after dinner.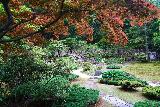 However, when I saw how big the onsen area was with a view of Jigokudani, I decided that I was going to leave the kids be.
After all, their pool had a pretty big lap swim area as well as a pretty slow water slide, but for someone like me, it got boring pretty quick though the kids were totally content to mess around here.
The pools themselves were shallow and very kid friendly so I'd just be wasting my time down here, I thought, and I had to experience that onsen upstairs.
And so I did that as I tried out the various pools with various minerals at varying temperatures (e.g. a salt bath, ferrous sulphur bath, sulphur bath, sodium bath, cold bath, scolding hot bath, lukewarm bath, etc.).
There was even a steamed sauna at 50C as well as another sauna room that I wasn't going to do as well as a waterfall bath.
But the one that felt the best to me was the outdoor bath, which was nice and hot but had enough cool area while watching clouds move quickly overhead along with a glimpse of the Jigokudani that I spent the most time here.
The indoor baths were too humid for me to spend any significant amount of time in any one pool though I did make use of the cold bath before "recharging" and going back to the hot baths again.
Ultimately by around 5:25pm, we went up to the room (by that time Julie was watching the girls up to the room while I took Josh up), and we got into our clothes for dinner.
Normally, I hate buffets because you get stuffed and the food quality wouldn't be that good, but in this case, it was actually quite good.
They had a wide assortment of foods from southeast Asian "Hokkaido"-style stir-frys in addition to Vietnamese-influenced foods (someone in their staff was Vietnamese).
Of course, there was also typical Japanese fare from a ramen station to raw stuff (though I avoided that since I know they tend to be sitting out too long in buffets).
There was also a beef steak section (which I visited multiple times) and various veggies and items like karaage, croquette, tempura, etc.
I think I went for like 4 rounds of food (2 for savory stuff, 1 for fruits, and 1 for their ice creams), and it was the ice cream stuff that really stood out to me and made room for their calories.
The ice cream bar had 4 different flavors of vanilla, chocolate, green tea, and yuzu.
Well, that yuzu ice cream as well as the vanilla were both the real deal, and I think I had like 4 scoops of yuzu (which Julie gladly shared with me) as well as 3 scoops of the vanilla bean ice cream.
Even their soft serve machine was legitimately thick and tasty, and I came to realize that we must have the dairy quality stuff (especially soft serve) in Hokkaido while we can because they're totally legit!
Anyways, we were back in the room at 7:25pm where just before I got settled for the night, Mom wanted to go for a walk to check out some 8pm show back at the Jigokudani viewing area.
So we did that just as it was drizzling and sprinkling, but there were lots of people heading in that direction, and by the time we got to the viewing area just minutes before the start of the performance, this place was packed with people!
Indeed, I managed to snag a floor "seat" though Dad opted to walk further and stand up (and in hindsight, he probably got the best views doing that).
Anyways, the drizzle wasn't bad (you don't need umbrellas for rain this light) and the performance was quite neat to watch as there were essentially several performers in daemon-masked costumes marching and miming various things.
Some carried plants and did some kind of direction, while others wielded swords, and still others were pounding on bass-filled drums that reverberated throughout Jigokudani.
The highlight of the show were some fireworks displays that were really like a recreation of a fire geyser that the performers wielded and set off one by one until the end when they all did it in unison.
Against the twilight, it was pretty cool to check out and got reactions from the crowds (though I did wish they dimmed the lighting a bit so the fireworks geyser would be more prominent).
In any case, when the show was over, we had to do staged exits where people wielding glow sticks let people through groups at a time so as to not create a stampede situation (that was very wise).
Ultimately by 8:30pm, we got back to the hotel again to finally wind down the night (the parents finally got to go to the public onsen bath) while the kids were on the screen again and Julie dozed off until she grounded Tahia for not going to sleep.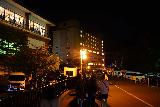 You know, parental-child stuff that we always have to contend with.
Nevertheless, this was a great start to our Hokkaido leg of the trip, and tomorrow promised to be another day of decent weather as we were headed to Sapporo.
Hopefully, gas stations would be more readily available because both Dad and I were around a half-tank and there didn't seem to be any stations at Noboribetsu Onsen…
Day 39 (July 14, 2023 – Sapporo, Japan): "The Gas Station Chase"
It was 3:55am when I awoke to a text sound (I guess that shows how much of a light sleeper that I am).
In any case, I awoke a bit stiff due to the minimal thickness of the cushioning over the tatami floor so it wasn't like I was waking up groggy.
Nevertheless, I did the usual errand of blogging and processing photos and videos (mainly renaming and adding metadata to them), and I got done with it sooner than I expected.
So I asked Mom if she wanted to go on a morning walk with me a little earlier than the 5:30am time that I had planned on doing, and by 5:15am, we were out the door.
We pretty much walked a small loop around Noboribetsu Onsen town, where we first followed a narrower street south past some stores that weren't even open for the day yet as well as the entrance to a bear museum (personally, I'm not really interested in seeing animals in captivity).
When we got back to the main road, we could see that there were hints of sun as well as blue skies as we were walking back up towards the Takimotokan Resort.
As we got closer to our resort, I couldn't help but notice that there was steam coming out of some chimney-looking thing as well as some covered vent that was apparently a geyser or something.
We weren't about to wait around for that, but I wondered if it erupted how would it clear the ceiling they put over it (unless it doesn't shoot that high).
Anyways, we then continued up a little more and saw a blue and red daemon (definitely Noboribetsu Onsen seems to be big on these daemons; even the police station has such a daemon above its entrance door) next to steps leading up to a shrine.
The shrine itself wasn't much to look at, and by around 6:05am, we were back at the hotel.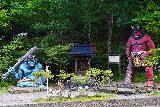 That gave us just enough time to enjoy a soaking in their onsen one last time before heading down for the 7am breakfast.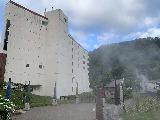 Even though it was early morning, there were already quite a few people in the public bath area, but I pretty much did what I did yesterday, which was to spend lots of time in the outdoor pools (there were two of them) before jumping from pool to pool after a minute in each on the inside.
This included the cold bath as well as the other mineral-laced ones (of differing types) before ending off with the extremely hot salt bath near the showers.
When I was done, I took a cold shower though that didn't do a whole lot to stave off sweat, but in any case, by 7:05am, I rejoined Julie and Tahia and we were in the brekkie area after loading up the car with our luggages.
With a little miscommunication, it took another half hour before the parents along with Josh and Soph showed up, and then we had our meal as the Cheng Army though Tahia was pretty much done and on the screen by that time.
After yesterday's surprisingly decent buffet dinner, this brekkie buffet didn't disappoint either as there was quite the variety of foods as well as Japanese stuff like natto, miso soup, seafoods, etc.
By around 8:15am, we got to the car, but it wouldn't be until around 8:30am when we were finally leaving.
I guess the later-than-expected start wasn't too bad considering that we were enjoying the quality food and the soaking at the Takimotokan Resort, and it certainly beat takeaway preserved foods from a combini for a brekkie on the go.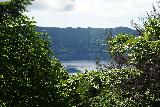 In any case, since today we're expecting to check into Sapporo, which is pretty much a city, it was going to be nowhere near the quality conditions that we got to enjoy yesterday and this morning.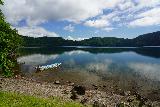 Nevertheless, when we did finally head out, which was now to partly sunny skies, we took a short scenic approach up past a lookout for the Oyunuma Pond and ultimately towards Lake Kuttaro.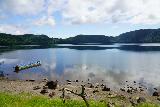 We then took some nice morning shots from there before returning to the Do-o Expressway en route to Sapporo.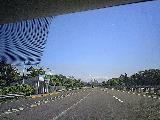 However, as we were approaching the New Chitose Airport vicinity, we got a message from the parents saying that the gas indicator light was on for them.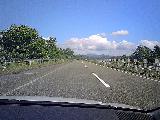 Even though our vehicle still had around 1/3 tank left and we filled up at the same time somewhere in Hirosaki, I was still puzzled as to how they drink fuel so quickly compared to us.
Was their vehicle really a hybrid? I was now beginning to have doubts.
Anyways, we went ahead and took the exit to the New Chitose Airport thinking that there certainly must be a fuel station around there, but after driving around there and coming up empty, we ultimately backtracked towards Tomakomai.
It seemed like we backtracked for around 20-30km, but finally we filled up at a Shell/Apollo station over there, but this place didn't take our foreign credit card.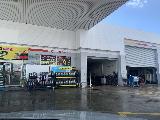 So we each paid around 5000 yen in cash before we were finally good to go, but man were gas stations frustratingly rare on the main highways in Hokkaido.
In fact, none of the exits had gas indicated so we skipped pretty much every exit so as to avoid wild gas chases, which we were ironically having to do anyways just as we had feared.
Well, I guess we'll have to fill up gas at every opportunity we find because we have no shortage of long drives in Hokkaido, and this is especially the case for Dad since he seems to be consuming fuel at nearly twice the rate as we were!
So with that out of the way at 10:25am, we then continued towards the Ashiribetsu Waterfall, which was the main waterfall target for today.
As we got off the Do-o Expressway and into what seemed to be the suburbs of Sapporo, we eventually got to the GoogleMaps point for the Ashiribetsu Waterfall, but there didn't seem to be a legitimate car park for it.
After making a little bit of a turnaround on some random road, we finally asked someone near some "city hall" or something about where the parking was.
He spoke surprisingly decent English and he indulged me with my broken Japanese to essentially answer my inquiry about parking for Ashiribetsu Falls.
Once we got our answer and a "Have a nice day!" from him, we ultimately got to the car park for Ashiribetsu Falls at 11:25am.
The car park costed us about 420 yen, but at least we were in the right spot and we proceeded to gear up (with umbrellas since it was quite a warm sunny day at the time), and we then walked the paved path leading to the falls.
The signs said that it was about a 1.1km walk in each direction so I knew that we were going to sweat it out a bit.
Nevertheless, it was another excursion that we were able to do as the Cheng Army, and I was actually considering whether to do a couple of the other waterfalls in the Takino Suzuran Hillside Park (namely Shiraho Falls and Masumi Falls).
In any case, this was a surprisingly popular trail with quite a few people going back the other way (including some that seemed to be developmentally challenged; not the first time as we noticed others at Noboribetsu Onsen with those types of conditions).
Ultimately after getting past some kind of open area with an elevated restricted highway, we then followed a mostly forested path where temperature indicators posted there were actually about 4C cooler than what was posted at the car park.
Well, it certainly felt warmer than that for us, but perhaps the forest shade where this latter sensor was had something to do with it.
Anyways, after getting past a building that didn't seem open (but interestingly had Ashiribetsu written in green in Hiragana versus an nearby trail sign with the same word written in Katakana), we then crossed another bridge nearby some grassy landslide-prone cliff before getting to the last bridge.
Once at this bridge, the trail pretty much ended, and we witnessed a dual-segmented waterfall where the thickened Summer foliage always seemed to conspire to cover up one waterfall or the other (so it was hard to get a clean look at both of them at the same time).
Still, this was a nice surprise for what was essentially a suburban park in Sapporo, and we tried to take some family shots though the kids were always trying to sabotage our photo taking one way or another (kids being kids I guess).
After having our fill of this place, we eventually got back to the car at around 12:45pm, which was still quite a bit of time before check-in at the APA Hotel Susukino in Sapporo.
I had considered going to the Masumi Falls, but my parents translated some sign saying that the falls wouldn't be accessible until the weekend or something to that effect so doing that hike wouldn't be possible either.
Thus, we were about to drive into Sapporo center with a lot of time to go as far as our 3pm check-in time, but then we noticed some interesting series of Moai statues on the road going into Sapporo.
So we swung around and did a U-turn before going into this park, where we ultimately parked the car at 1pm, and then we took some time to check out these Moai Statues.
As we took our photos and did a little more exploring, we also noticed that there were other recognizable stone monuments like Stonehenge as well as the top of a Big Buddha Head surrounded by some hills of lavender.
Thus, we went ahead and got our fill of the Easter Island Moai Statues before walking past the lavender fields towards the Big Buddha.
There was a corridor going into an interesting rectangular pool before going through a tunnel leaving us at the foot of the Big Buddha itself.
The cave felt pretty nice with the hot weather, but we could also see the somewhat scary dark thunderstorm clouds heading our way, and I kind of knew that the weather was going to change pretty soon.
By around 1:30pm, we were back in the car and ready to continue into Sapporo City.
We'd eventually get to the somewhat hidden parking for the APA Hotel Ekinishi Susukino Sapporo at 2:15pm, and sure enough, it was too early for us to check in.
There was a bit of a communication difficulty with the parking attendant here as we weren't sure about whether we had to wait until 7am tomorrow morning (an hour later than our anticipated departure time).
We also learned that we couldn't leave our luggage with the hotel lobby so after a bit of a delay, we ultimately decided on eating a late lunch (despite our heavy brekkie this morning) just to kill time until check-in some 45 minutes later.
So we did that, but after getting to some well-reviewed ramen joint that had a long line to get in (and probably couldn't handle 7 people in our army), we ultimately settled on this quieter spot called Ramine Engine or something like that at 2:30pm.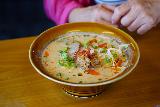 At this joint, they served up ramen noodles with pretty thick broths, which is just like how ramen should be (it was way better than the crap at Marukai we got in Aomori) though 3 of us got the spicy ramen one and only Julie got their recommended one, which was the basic ramen noodle.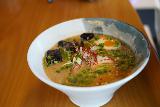 Anyways, I guess we wouldn't be exploring ramen alley on this day (unlike the moody and atmospheric exploration we did some 14 years ago), and finally after all was said and done, we then returned to the APA Hotel to check-in at 3:20pm.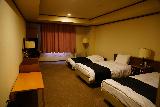 Now, we learned after doing the Google Translate thing that we could apparently leave by 6am tomorrow morning after paying for the parking and leaving the keys with the attendant (for reasons we didn't really understand because it wasn't like it was a car elevator deal).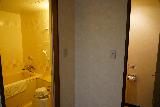 Whatever the case, we finally got settled into our rather spacious (but smoke-smelling) rooms at 3:45pm, and then we were headed out on the town at 4pm with Dad and Sophia opting to stay behind this time.
And so first pursued the Nijo Fish Market, which was closing soon, and along the way, we stumbled into what seemed to be Sapporo's Red Light District because we saw quite a few bars and adult-only joints as well as scary strange filtered photos of women with unusually large eyes.
I know that Insta filter is a thing in parts of Korea and apparently Japan (in an attempt to look like Anime or something), but whatever happened to just accepting who you are and looking natural?
Isn't that more beautiful than these interventions?
We then passed through the happening Susukino Area with big billboards and busy streets though it was nowhere near as atmospheric as at night when the lights would be on.
And we also made a stop at some Kurtos joint, which was basically some kind of Italian cannoli stuffed with ice cream and some other treats inside (like marshmallows and corn flakes).
Finally at 4:45pm, we made it to the Nijo Market, which not surprisingly was mostly closing shop and only a few more vendors on one side street still had their wares trying to get us to buy.
There were definitely lots of crabs on display, and I guess that was the main fresh catch in the area.
Ultimately, we found some joints that served up mother-daughter bowls (something we hadn't really gotten to try on this trip yet), and we ultimately ate at this place called Donbe.
It wasn't cheap, but they were able to seat all 5 of us, and they also had some cooked stuff (like crab don) though I got their special, which had salmon roe along with crab and several pieces of uni (sea urchin).
There were other dons that also looked interesting, but with Josh having recovered from food poisoning from bad sushi in Kyoto, we were very wary about taking chances with raw foods so I was glad they had the crab don here.
Once we were done with dinner, we then walked towards some happening covered arcade in the Susukino Area.
It was a good thing that the shopping arcade was covered because it was also starting to rain outside, but this arcade actually went for 7 blocks.
Starting with the first block, which seemed kind of quiet, the second blocks and beyond were actually quite happening with people, and it seemed like Sapporo was going through its Friday afternoon rush hour.
In fact, the rain probably also compelled a lot of people to get into this covered arcade so this was indeed the happening spot.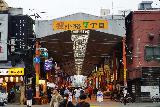 Tahia and Josh did check out one pet shop that actually reeked of urine and feces (you know, the typical pet smell), and Tahia was a bit dismayed at the conditions the dogs and cats were living in.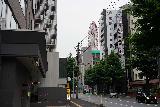 But in any case, once we were done walking up to the 6th street (the 7th street had a different covering and seemed more "traditional"), we then walked in the rain back to the APA Hotel to end off this evening on the town by 6:15pm.
This rain wasn't a good omen as apparently this was a sustained weather pattern that would affect us going into tomorrow, which forecasted for heavy rain.
And I could just envision the difficulties we were having in the Aomori Prefecture playing out all over again up here in Hokkaido.
So we'll have to see what comes next as we head over to Asahikawa tomorrow with a lot more waterfalling along the way…
Day 40 (July 15, 2023 – Asahikawa, Japan): "The Next Victim"
It was 3:55am when I awoke without an alarm as it was quite warm inside the room (apparently the AC wasn't working so it got quite stuffy).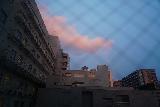 As I was getting ready for the day and getting caught up on yesterday's happenings, I opened the drapes and to my surprise, I saw a pink cloud with an early morning rainbow next to it.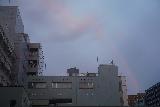 Although that seemed to be an encouraging sign (given the forecast for a crummy weather day), I knew that the weather was fickle in Japan and that I shouldn't put too much weight into this promising beginning.
Still, I took some pictures of the somewhat rare observation, but as I got through doing my blogging, it didn't take long before the skies went gray and really rainy pretty quickly.
When Julie and Tahia finally got up at around 5am, it sounded like Tahia wasn't feeling too well, and immediately we thought about the possibility of her getting food poisoning.
But what could have caused it?
Was it the crab don that she ate yesterday for dinner at Donbe in Sapporo's Nijo Fish Market?
Yet that was cooked (albeit served cold). Perhaps there was cross contamination with other raw stuff that got onto her crab?
Whatever the case was, it didn't matter other than Julie and I tried to rationalize that maybe one thing Tahia could have done better to strengthen her body to be more robust to whatever Nature throws at her was to increase her gut diversity by eating the rainbow.
To this point, she had been a real picky eater and forsaking real food (especially the veggies) for high sugar stuff like ice cream, bread, etc., and perhaps her body was so finely tuned to junk that it was unable to handle even the slightest bit of adversity.
At least that was the theory, and we were sticking with it. Hopefully, this might teach her to stop being such a picky eater, but I somehow doubt she'll learn at this stage.
In any case, it seemed like she was running a temperature and that caused Julie to bust out some vitamins for her while Tahia started to exhibit the type of symptoms that afflicted Joshua earlier on in this trip (as well as me at the end of the Korea part of the trip and going into Taiwan).
Ultimately by about 6am, we loaded the car just as it was definitely raining pretty heavily, which pretty much was called by the forecast.
Anyways, we had a long drive ahead of us, and I figured that as long as the bad weather happened while driving, perhaps it didn't matter too much.
Hopefully, the weather would calm down by the time we would get to the Shirahige Waterfall, which was the target for this drive.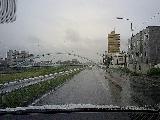 In any case, we were initially going through some of the city streets of Sapporo before we were following a riverside road that ultimately took us to a main road linking up with the Hokkaido Expressway.
Then, it was fairly smooth sailing on the expressway before GoogleMaps had us get off at an IC near Mikasa, which then started a rather lengthy stretch of mountain driving.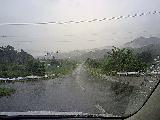 I wasn't sure if GoogleMaps was taking us for another unnecessary joyride because it kept teasing us with going onto wide roads before quickly jumping off to narrow twisty roads again.
But this drive took a long time, especially since we were caught behind some pretty slow moving vehicles that actually required us to pass onto oncoming traffic at one point.
Eventually, we were passing through what appeared to be a farming town called Furano, which seemed to be full of fields and the road we happened to be driving seemed to be mostly straight shot parallel to some numbered "highway" that both cut through many of these fields.
Then, we suddenly noticed an impressive flower field at 8:20am that really reminded us of Carlsbad, California, and since Julie badly needed to use the toilet, we stopped here.
At that time, I went ahead and walked up a little bit of the walking route in the light rain while the rest of the Cheng Army took photos from the bottom while also using the pretty clean restroom facility.
Tahia said that she was trying to hurl but apparently nothing came out (which was worrisome because apparently she was a bit nauseous; another sign of food poisoning).
Perhaps the telltale sign that she did indeed catch some food poisoning bug was that she also passed a toxic fart that really stunk up the car.
So I guess instead of a toxic burp, she was doing a toxic fart similar to what Joshua was doing, and I guess that pretty much confirmed that she was the next food poisoning victim on the trip (so she made it three).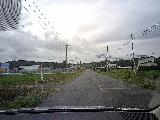 Thus, we made sure she was given a bag just in case she had to hurl in car and she used the whole backseat to lay down while we resumed the drive at 8:35am after I was done taking photos of both the lavender field as well as some impressive mountains looking downhill.
At least now the roads were better numbered at this point, and there were even some kind of melon farms around here that grew those super expensive melon fruits we kept seeing at the markets ($30 USD or more for what amounted to a single cantaloupe or honeydew? No thanks!).
Finally at 9:10am, we parked nearby the Shirahige Waterfall though we did notice another turnoff for the Shirogane Blue Pond along the way, which we'd circle back to after visiting this waterfall.
I had wondered if we should soak in one of the onsens here at the Shirogane Onsen Spa, but we ultimately parked at the nearest onsen spa hotel not sure if we were supposed to park here or not.
Upon getting out of the car and walking across the nearest bridge, I couldn't help but notice that tour bus crowds and other folks were coming from a different direction, and I figured the actual car park was over in that direction.
In any case, since we weren't staying long, we just stuck with the visit knowing that we weren't going to occupy the hotel parking space for long, especially since there were a lot of spaces.
Ultimately we got to the bridge spanning the gorge with a top down view right down at the Shirahige Waterfall looking as colorful and impressive as ever, especially when you consider that we were dealing with mostly cloudy skies at this point with more rain threatening.
In fact, the weather was benign enough at this point that we even managed to take pictures of the spring-fed rivuleted waterfall with impressive volcanic mountains in the distance.
Indeed, this waterfall kind of gave me Mossbrae Falls vibes but the waterfall here near Biei was a powdery-blue color (at least the river it fed did) though it did feature a fairly long series of cascades.
There was also one in the distance, but all the springs seemed to have been topped by onsens, and it made me wonder if any of them had a hand in "enhancing" the falls or if they just emerged naturally underground as springs while the onsens might have taken some of that water.
Whatever the case, Julie seemed pretty impressed with this falls as did Mom and Dad while Josh was also with us.
Soph stayed behind to play on her iPad while Tahia was laying down trying to rest in our car.
I also managed to cross the viewing bridge to see if there was something else worth checking out or other unusual views that the people only on the bridge were missing out on.
But the only real thing of note that I saw was some covered stairs going up to some observation deck except the door to it wasn't open (though I wasn't going to go up those steps given that it was rising into the clouds anyways).
Speaking of the clouds, they moved in really quickly and by the time I returned to the next wave of viewers on the bridge, the backing mountains were blocked by these fast-moving clouds.
By about 9:45am, we were back at the car, and then we moved onto the Shirogane Blue Pond ten minutes later.
This place had a much bigger car park than the one for the waterfall (which actually still had a pay phone as well as an info center that wasn't open).
Anyways, as we promptly went up to the lookout (this time it was everyone but Tahia visiting), the first thing that struck me after going past some shops selling food-colored baos and soft serves (to match the Blue Pond's colors undoubtedly) was the pond itself.
Indeed, even though there were trees and people crowding the man-modified banks of the pond, it was clear that this pond was true to its name.
In fact, this brought back memories of Jiuzhaigou in Sichuan, China, which also exhibited cold water pools with impressively blue colors like this.
Of course, there were definitely tour bus crowds in effect here, and I was pretty much trying to capture the chaos in addition to the impressive colors.
But as I got to the end of the viewing area and walking area (where there was some kind of sign in Japanese that might be interpretive), I couldn't help but notice that there seemed to be a dam or some kind of man-made intervention where the Blue Pond was supposed to drain into the Biei River.
That got me thinking that perhaps this Blue Pond wasn't real at all, and that it was nothing more than perhaps some shrewd intervention to enhance the ability of this area to flood with some kind of wall at its mouth (further evidenced by the Dead Forest-looking trees in the pond).
That way, the water which naturally had this color would collect and create this pond that suddenly would draw lots of tourists while also collecting at least 500 yen per vehicle to park here (not to mention the blue food-colored goods at the shop nearby).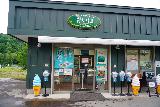 In a way, this realization probably took away from the impressiveness of this place (at least in my mind), but at least it was photogenic and worth the stop.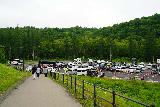 By about 10:30am, we were back in the car just as the weather started deteriorating once again.
So perhaps this was another stroke of fortunate timing as our Shirahige Falls visit as well as the Blue Pond visit were all under fairly benign weather.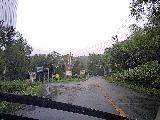 Anyways, the drive towards Asahikawa was a lot less twistier than it was coming in from Mikasa, and we ultimately got to the town of Biei where we filled up gas for Dad (I was still at 3/4-tank while Dad was already down to a half-tank).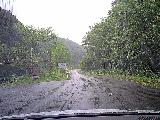 The rate at which Dad's car was drinking gas was definitely a concern since we still had very long drives ahead of us both towards Utoro and then back towards Hakodate and beyond!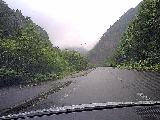 So after the fill-up, we then proceeded to drive east on the 213 towards Tenninkyo Gorge, and pretty soon, we were back on the familiar road going past the manmade Lake Chubetsu before entering the west side of Daisetsuzan National Park.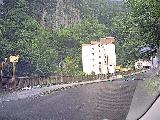 The rain was definitely coming down again as we made this drive so I figured this wasn't going to be comfortable visit to the Hagoromo Falls.
But I also was hoping that we could finally see the Shikishima Falls as well, which was something that we didn't get to do in the past as a bear sign kept us back.
Nevertheless, it was about 11:35am when we parked near the exit of a tunnel at the Tenninkyo Gorge, where a pair of barricades suddenly stopped us just as we exited said tunnel.
I remembered being able to drive all the way to a car park near a hotel to immediately get started on a hike, but something seemed a bit different about this visit.
Anyways, it was starting to rain again when we stopped the car, and I took some photos of the surrounding pinnacle-like cliffs practically overlook us at the car park and apparent foot bath that was also here.
It was just going to be Mom, Joshua, and I doing the walk while Dad, Julie, Soph, and Tahia were all staying behind, but at least they got the sheltered foot bath to keep them occupied while we were away.
As we walked up the remaining 200m of road to get to the familiar trailhead, we noticed that we couldn't even walk on the road bridge spanning the Chubetsu River.
There was a smaller pedestrian footbridge besides it, and that was when I also noticed that there was a bare wall on the opposite side of the gorge.
Clearly, there had to have been a landslide here that might have undermined that road bridge, and as we walked past the onsen hotel building nearest to the trailhead, we then noticed that this building was abandoned.
There were bent roofs as well as broken windows, and that made it very clear that this landslide had something to do with the closure of that hotel.
Indeed, these observations suddenly made our visit rather eerie and ominous, and it was a reminder of how scary Mother Nature can be while also being a reminder that trying to put amenities in and around vertical gorges like this could certainly be a recipe for disaster.
As we continued walking the trail, I also noticed that the trail was more of a conventional dirt trail, whereas I swore that we used to be able to walk a flatter and more benign path along the river.
After passing by a steamy hot spring below the trail, Mom and I also noticed pinnacles overlooking the Tenninkyo Gorge, and that made us realize that perhaps these pinnacles helped to give rise to the name "Heavenly People Gorge", which the kanji seemed to suggest.
Perhaps those pinnacles are the said heavenly people that they were talking about.
Ultimately, when we got to a restroom facility and bridge, we finally started to see parts of the Hagoromo Falls at around 12:20pm, but I then noticed that the old trail to the lookout was no longer visible nor accessible.
And when we got to the new lookout for Hagoromo Falls on the other side of the bridge, I also noticed that the wide picnic area wasn't there anymore while the continuation of the trail to Shikishima Falls was also gone (this time due to landslide).
So after getting our shots of the falls, I guess our visit was shorter than expected, where once again, we didn't get to do something that we managed to miss the first time around, and that was a bummer.
But Mother Nature had other plans, and in this case, safety must take precedence as I got the feeling the Tenninkyo Gorge was quickly getting taken back by Nature and that it wasn't the onsen resort hangout it once was when we were here 14 years ago.
After going back in the rain towards the foot bath and car park area at 12:40pm, we then joined the rest of the Cheng Army at the foot bath just as Soph was already done (complaining that the water was dirty) while Tahia was also just about done.
So it was just Mom, Julie, and I soaking our feet in the bath, which was rather slippery with algae (to be expected when you're talking open-air baths).
We got to stare at a small cascade across the Chubetsu River while also noticing the tall cliffs overhead, and we also sat closer to the tube providing the hot water because the rest of the foot bath wasn't hot enough.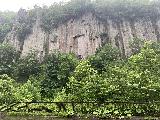 By about 1pm, we were back in the car, and then we proceeded to drive in the now-persistent rain towards Asahikawa.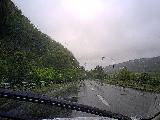 This drive took longer than I thought I had remembered (thinking it was 30 minutes drive when it was actually more than an hour), and ultimately by about 2:10pm, we found public parking near the Upashi Economy Hotel.
Apparently, we were too early to check in though I did find it a bit sus that the hotel was in the same building as the "Fukawa Drug" building on a street corner.
Anyways, we then went to a ramen joint that was just around a different corner of the same block (called Sanpei Asahikawa), and we proceeded to have a pretty full meal there (especially since we only had conbini stuff in the morning).
This ramen joint pretty much served up giant bowls of ramen noodles where we got a miso one while others got a clearer-broth one.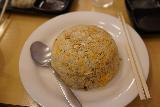 We also got some gyoza as well as fried rice (again, all this was very Shin-sen Gumi-like), and I was definitely getting full.
And this was certainly a pretty good ramen experience as far as we were concerned (I guess every one of them is better than the one we had in Aomori) though it really seemed like in Hokkaido, they take their ramen pretty seriously.
That said, I think I was starting to get ramen'd out as this was probably the third or fourth straight day of it, but at least today was the most appropriate time for it given the pretty foul weather.
Finally by about 3:15pm, we were done with the ramen lunch, and then we went to the Upashi Economy Hotel building after grabbing our luggages in the rain.
Unfortunately upon checking in, we realized that we had to self-check-in on an iPad that was all in Japanese, and that we had to lug our luggage up several flights of steps as there was no elevator.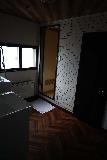 This check-in took quite a bit of time as we had to deal with the Japanese iPad (essentially speaking into the iPad for dictation since there was no Romaji keyboard), and all this info had to be given for each of the 7 people in our party.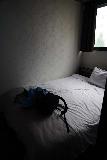 Anyways, it wasn't until about 3:55pm when we were finally in the room, and I guess that was it as far as trying to squeeze in a visit to the sake museum on the outskirts of town (since they close at 5pm and it takes 20 minutes at least to get there).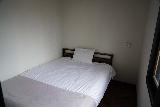 And by 4pm, we finally got settled, where we learned that this was really more like an apartment as opposed to a hotel, and that was the reason why all 7 of us could be accommodated here.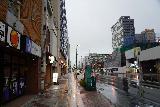 It was going to be interesting because there was only one bathroom, we were quite close to a busy street corner (so there's a lot of street noise), and there was no AC (which didn't really matter on a day like today because of the bad weather).
We have a second night here so at least we could be a little comfortable.
At about 6:15pm, Julie, myself, and Dad went into Asahikawa City in the rain.
We pretty much made a beeline for the familiar walking street that Julie and I did 14 years prior though it felt quite a bit more modern these days.
There were still those interesting statues at particular corners of some of the blocks, but it kind of felt subdued (though certainly not devoid of people) as perhaps the moderate rain didn't help matters.
I wondered if most of the people retreated to the indoor malls like the AEon Mall or the JR Station.
Regardless, I did hear some live music being played at the far end of the walking street, and I went in that direction to the tune of "Twist and Shout" by the Beattles.
But when I got there, the band was closing shop as perhaps the rain wasn't helping matters or time was up.
After getting out there and checking out the Hokkaido food court garden, we then retreated back the way we came before stopping by some random curry don and eel rice don joint.
It took some time to figure out the machine to get the ticket to give to the server or worker, but we ultimately got an eel rice that Julie and I shared while Dad got a beef curry don dish.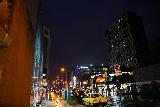 We also got some takeaway soup for Tahia, which they actually accommodated here.
Then, we eventually went to a Lotteria so we could get some burgers for Soph and Josh.
And by 7:45pm, we were back in the apartment to settle in for the night as it continued to rain pretty hard for the rest of the night.
The folks that didn't go walking with us were told to shower early so there wouldn't be a log jam at this time of night, and that pretty much held true to form.
We were making things work, and for the first and only time on this trip, we were actually staying in the same room overseas in Japan as the Cheng Army.
That said, tomorrow was going to be a free day for most of the crew while Mom and I were going to divide and conquer and chase some waterfalls around the other side of Daisetsuzan National Park (and maybe sneak in a sake museum visit on the way back)…
Day 41 (July 16, 2023 – Asahikawa, Japan): "Return Of The COVID Protocol"
It was 3:55am when I awoke though I did notice that at the same time, Tahia also got up to charge her iPad.
Clearly if she had food poisoning issues, apparently she was well enough to tend to her screen time.
However, after I spent a couple of hours getting all caught up from yesterday on the blogging and the media stuff, when Tahia complained of sore throat and we measured a temperature, we got her to take a RAT test and that was when it showed up positive for COVID-19!
So either she got a double whammy with food poisoning and COVID, or all her symptoms were COVID-related.
When Sophia got her RAT test, it came up negative even though she said she was starting to get a sore throat.
Meanwhile, we knew that RAT tests tend to state the obvious once you have exhibited symptoms (and it does little else) so the rest of us opted to wait until the end of the day to take our RAT test (just to give the virus time to incubate if any of us have indeed contracted it from Tahia).
Julie and I suspected that Tahia's refusal to wear a mask probably contributed mightily to her contracting this condition, especially in the crowded shopping arcade of the Susukino District in Sapporo called Tanukikoji Shopping Street.
She even spent quite a bit of time in the pet store, where there were plenty of people going in and out of the tight spaces in there.
Thus, this "free" day that was to be enjoyed by most of the Cheng Army (except Mom and myself) now became more of a caretaking mission.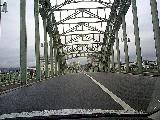 And instead of a 6am start to the day, we ended up finally getting into the car and heading out at 6:50am (where the parking fee for me was 2200 yen).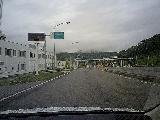 The goal for today was to visit the Ginga and Ryusei Falls in the Sounkyo Gorge as well as the Yamabiko Falls, where the latter would be my first time seeing it as we hadn't done that one (let alone knowing about it) 14 years prior.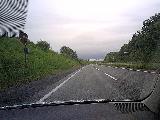 And so we pretty much followed GoogleMaps onto the Doo Expressway (E5) before connecting on an interchange to the Hokkaido Expressway (E34) bound for the Sounkyo Gorge.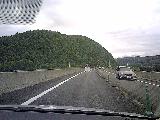 The drive was pretty uneventful for the most part as we eventually got off the proper IC exit and then headed south in the direction of the Sounkyo Gorge (though the lack of signage after the exit was a little concerning whether GoogleMaps took us on another joyride).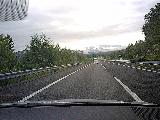 However, as we entered the Sounkyo Gorge, we were treated to impressive cliffs flanking the local road leading there.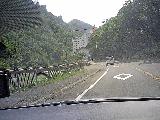 For some reason, I didn't remember the drive being so scenic, but once again, it kind of showed me just how much more attention to detail and how much more in the moment I am now as opposed to 14 years ago.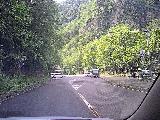 Finally at around 8:05am, we showed up to the familiar car park for the Sounkyo Gorge, but now I noticed that there was a parking attendant making sure that private vehicles parked in one of the front spots.
Only big vehicles and buses were allowed to get past the attendant.
That was fine for us because there was plenty of parking spaces when we showed up.
Now shortly after taking a much-needed restroom break, Mom and I immediately went behind the shops and up the steps leaving the tour bus crowds to inundate the lower viewpoints adjacent to the car park.
I knew from past experience that the best views of both of the waterfalls together were from the elevated lookout decks, but now that Mom's legs and knees were a bit weaker, she was struggling a bit on the switchbacks and steps.
Finally after maybe around 15 minutes of a rather hot climb, we got to the first lookout, which was pretty wide open and revealed both of the waterfalls as expected.
There was some morning sun casting a slight glow on the waterfalls and the giant cliff rock splitting the two waterfalls, but it didn't seem like the mountain that I recalled being behind both of these falls were covered in clouds (if memory served me correct).
Anyways, there were some other people coming down to the falls as well as a couple of Chinese (maybe Taiwanese) folks making their way up before taking their shots and coming back down (probably they came from one of the tour buses below and had limited time).
The group of Japanese hikers said something to me about the way up, but I wasn't sure exactly what they were saying (maybe it wasn't worth it? maybe they were warning of the long climb or something?).
Regardless, we continued with the climb thinking that the second, more elevated lookout would be sublime, but after another 15-20 minutes more of hot and tiring climbing (especially for Mom with the weak knees and legs), we got up to the lookout at 8:35am.
Unfortunately, the view from behind the railings were a bit obstructed as we had to pick one or the other waterfall to view, but we couldn't see both of them properly in one shot.
That was until I realized that I could go past the railing and closer to the edge of the outcrop for a much better photo spot, but it was still a narrow opening between the tall trees before getting that clean look at the falls.
I also noticed that there were many more bear signs along this path, which was something I hadn't noticed in the past.
Nevertheless, after having our fill of this spot, we then went back down to the first lookout platform for a few more shots and videos before finally making it down to the bottom again.
This entire time, only a handful of people were encountered, but down at the bottom, there were still scores of people from various tour buses (though it seemed a bit calmer than when we first got here).
This time, we checked out the views of the individual waterfalls from the bottom starting with the Ginga Falls and then followed by the Ryusei Falls along with some other cascade that might have come from the Ryusei Falls.
From reading the kanji, Mom told me that Ginga Falls really meant the Gold River Falls while Ryusei Falls really meant the Flowing Star Falls.
These waterfalls really had nothing to do with being husband and wife, but it could very well be an informal association (perhaps to further exhibit the whole male dominated society aspect as I'll leave you to guess which one is the male and which one is the female).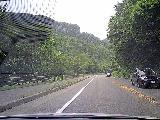 Once we had our fill of the falls, we then returned to the car at 9:20am, where we then proceeded to drive off just as there was a line of cars waiting to park in the limited parking spaces (one of which we had just vacated).
Good thing we got the early start though I wish that we had gotten an even earlier start since we were delayed by nearly an hour due to all the COVID complications with Tahia and possibly Sophia.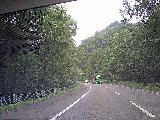 Next, we headed back out of the Sounkyo Gorge before GoogleMaps took me on another route that seemed to parallel the E34 for some reason.
Why it didn't have me take the E34 in the first place was beyond me, but I was getting a bit frustrated with GoogleMaps at this point.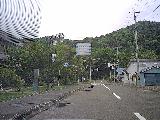 Anyways, we'd eventually get on the E34 and take that further to the east for another 30km or so before leaving at the Maruseppu IC exit.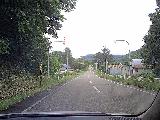 From there, we then drove past the town and down a rural route, which happened to be quite well-signed for the Yamabiko-no-taki Falls.
Clearly, this waterfall must be a pretty big deal to have this much signage devoted to it, and I wondered to myself how in the world I didn't know about this 14 years ago.
Nevertheless, it wouldn't be until about 10:45am when we finally arrived at the Yamabiko Falls car park (after nearly getting confused by another GoogleMaps faux pas claiming we had arrived nearly 1km earlier on at some random fork in the road).
Sometimes I wonder if people intentionally put false pins on GoogleMaps to troll people blindly following the pins on there, but I kind of knew that it was a bit sus for there to be so much signage for the waterfall and then arrive at this random fork with hardly any room for parking.
Regardless, Mom and I geared up, and then proceeded to go up the 200m path to the Yamabiko Falls, where there was one other car parked here (i.e. just one other party perhaps sharing the falls with us).
Unlike most of the other trails that we had been to, this one was a bit more primitive and narrower with quite a bit more fern growth and other foliage flanking the narrow path.
There were also rocks set up to make the path a bit more obvious and "flatter" in steps, but they also made the footing a bit more slippery given all the rain and humidity that we had experienced throughout this Japan trip.
Ultimately, we got to the Yamabiko Falls where it was an impressive 28m plunge with a natural eroded alcove at the bottom that allowed there to be a trail going behind it as well as some shrines and offerings set up within.
So we took our time trying to somehow capture the experience in photos and videos (but not my GoPro since I still never replaced it since it went missing on Day 4 or 5 of this epic Asia trip), and I even took a long video pretty much going all the way around the backside to the falls' other side.
There was one guy who was descending the trail, and I wasn't sure if he did the whole loop taking in a smaller waterfall that was another 500m further, which Mom and I decided that we weren't going to do.
Nonetheless, we took our time trying to fully experience this place (especially noticing the shrines and stuff as well as the orange-tinged cliffs) before finally having our fill of this spot and heading back down to the car park.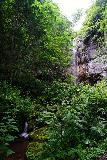 We got there at around 11:35am, which was a little earlier than I had scheduled, and so perhaps that might open the door up for us to check out the sake museum in Asahikawa that we missed out on doing yesterday.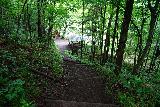 And so the drive back out towards the E34 was pretty uneventful though I did notice that the clouds seemed to have gotten a bit darker and more threatening of rain on this side of the island.
However, while briefly communicating with Julie, it sounded like there was some sun where they were at back in the center of Asahikawa.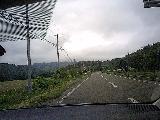 Our drive was nearly 2 hours away so it was going to be a long drive, and the E34 was one of those deals where the passing opportunities were limited.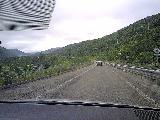 Anyways, while cruising along the E34 somewhere approaching the Sounkyo IC exit, there was a police car that seemed to be racing towards us from behind and then it seemed to be following us with its red swirling lights turned on.
It seemed to still be following us as I wasn't sure if we were being pulled over or something, but there really wasn't a place to pull over.
Mom and I were also looking around for my International Drivers Permit just in case they wanted to see it, but after reducing my speed down to 70km/h, when I looked up at the rear view mirror, the cop was gone!
I wasn't sure when he disappeared, but now I was confused as to whether maybe the cop took our reg-o and was done citing me without me knowing, or if he was just giving me a scare for speeding (although I was just going at the flow of speed that the locals were doing).
Or maybe, he did both!
Whatever the case, I won't know until I see what the final bill will be upon returning the rental car in another 2 weeks.
Regardless, with that fear of the cops in my mind, I kept my speed pretty much down to the crawling 70-80km/h, which allowed a caravan of cars to catch up to me.
When a passing lane showed up, I then started to speed up to follow them, but they were going quite fast (possibly going well past 100km/h which was my limit).
But as they were leaving me in the dust, I was still concerned that maybe someone affiliated with the cops was still behind me someway somehow or still maybe keeping tabs on me through the traffic cameras.
Unfortunately, GoogleMaps doesn't tell you these things the way Kakao Map did in Korea, and so I was still kind of flying blind when it came to these matters.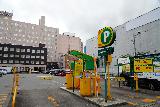 In any case, we finally made it back to the spacious paid car park across the street from our apartment (not really a hotel as suggested at the booking) at 1:30pm, and then Mom and I went right back to the Sanpei Ramen joint that we had lunched at yesterday.
I think Mom really liked their Sanpei Miso Ramen special, and so we both got that as well as a mini-fried-rice and an order of gyoza.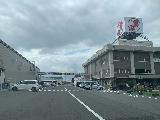 By 2:20pm, we were back at the hotel, where I learned that Tahia was running a fever still (it had gotten up to 103F and had to be reduced with Tylenol) as she was fighting off her COVID, but now it was time for Josh, Julie, Dad, and I to head out to the sake museum finally.
It was now Mom's turn to look after the kids.
And so we did the drive out to the museum, where I noticed that Dad was at 7/8 tank full though he was driving in S mode instead of D (drive) mode.
Could that be the reason why they were drinking gas so quickly (at twice the rate we were)?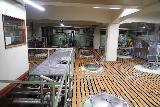 Anyways by 2:55pm we were at the sake museum, which was actually the Otokoyama (Male Mountain?) Sake Museum.
At first, we went right for the tasting area since we weren't quite sure what to do.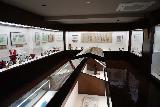 But it didn't take long before Josh got a bit bored watching Julie and I try out their sake (the one that costed 100 yen to try was apparently some gold medal winning one).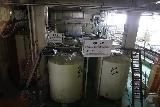 Nevertheless, we weren't too keen on the sake here as we were already partial to the yuzu sake from the place in Takayama (which probably goes to show you how little about sake that we know).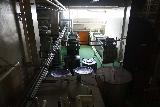 So soon thereafter, we went upstairs where we checked out some of the exhibits as well as looking through the windows at some of the active sake making contraptions.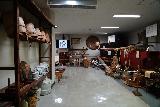 When we got up to the third floor, we checked out some more of the artifacts on display on the old school way of making sake before watching a very informative video (choosing English) to learn about how sake is made.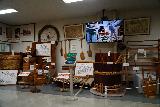 Apparently, the quality of the water in addition to the quality of the yeast makes a big difference (not that we could tell), and that was probably why there are sake distilleries in addition to beer breweries (of which Sapporo and Asahi are two of them) located near Daisetsuzan (big snow mountain).
Ultimately after having our fill of the video, we thought we could try out some of the rice crackers that the gift shop downstairs was said to offer in the video, but they didn't know what we were talking about when we requested it.
So we pretty much settled for drinking their water from a spigot on the outside (which was really nothing more than just water though we saw several people fill up jugs with this snowmelt water, apparently).
And by 3:40pm, we were back in the car making our way back to the Upashi Economy Hotel (which we now know is really more of an apartment than a hotel).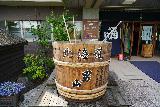 By 4pm, we made it back to the apartment, where we pretty much settled for the rest of the night except for a brief run to this joint called Matsuya for dinner some time after 6:30pm.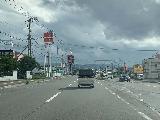 I think this was Dad's third time there, and it was pretty much like a healthier version of Japanese fast food costing us pretty much around $5 or $6 USD per person for our dishes.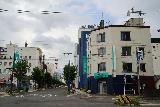 By 7:20pm, after finishing our dinner and making another Lawson's run for brekkie tomorrow, we were back in the apartment pretty much to end off this day.
We're going to have to rest up not only to help Tahia and Sophia recover, but also for the long drive to Utoro right on the doorstep of Shiretoko National Park.
In the meantime, it's the COVID protocol where we're all wearing masks inside the apartment (as stuffy as this might be), and we're pretty much spraying disinfectant to all the places where Tahia has occupied.
At least we're not busting out the latex gloves and wiping down everything anymore (which might have been overkill), but we certainly don't want that COVID bug to spread, especially as we're on the move for the remaining 10-11 days of this trip…
Day 42 (July 17, 2023 – Utoro, Japan): "Last-minute Decisions"
It was about 4am when I awoke to the alarm though for some reason, I had gotten up seemingly every couple of hours to go to the restroom all night.
With a planned early start to the day, we were targeting a 5am departure time from the apartment, which didn't leave us very much time to get cleaned up, packed, and then bringing stuff to the car before heading out.
In fact, in anticipation of this, last night I had wrapped up most of my morning rituals concerning the blogging and the trip photos/videos managing about yesterday's happenings so I wouldn't have to do it this morning.
However, despite all of my efforts to be out the door on time, Tahia was still running a fever (this time it got up to 102F as the Tylenol was wearing off) and Julie had to take care of her needs.
So when all was said and done, it wouldn't be until 5:40am when we headed out the door (hoping that Tahia would sleep in the car as usual to rest up though this time with her wearing a mask while Julie and I also remained masked in her presence).
With Dad following behind as usual, we pretty much embarked on the long drive towards Utoro though I was concerned about when we'll arrive at the next accommodation due to our later-than-expected start.
Nevertheless, given yesterday's episode with the cops (still not sure if I got photo-cited or just got a warning), I figured out how to use the cruise control on the car and pretty much stuck with it on the same expressways taken yesterday (i.e. the Do-o E5 and the Hokkaido E34).
When Julie needed a potty break, we conveniently got off at the familiar Maruseppu IC exit to get to the rest area with the giant teepee-shaped building, and we all did what we needed to do (except Tahia who was sleeping) at 7:10am.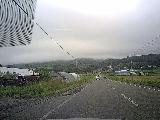 Ten minutes later, we resumed the drive, but the cruising momentum stopped abruptly not long thereafter on the E34 as the expressway ended somewhere near Engaru.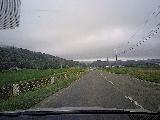 From there, we then followed a caravan of other cars and trucks (at least they can assume the burden of setting the pace above the low speed limits established throughout Hokkaido) as we took the 242 to the 103 to the 333 (that included the Bihori Bypass Expressway).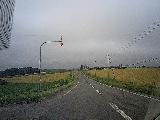 Then, GoogleMaps took us on several seemingly random local routes that went through a lot of farmland (possibly growing a combination of canola oil as well as wheat perhaps for the famous beer breweries).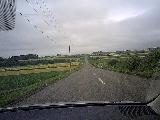 I wondered if we had been better off going through Abashiri and the bigger roads as opposed to this approach, but who was I to argue with GoogleMaps at this point?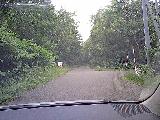 In any case, this drive reminded me of some going through something I would have expected to see in the Midwest USA as opposed to Eastern Hokkaido.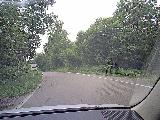 So at least that kept things interesting on this drive.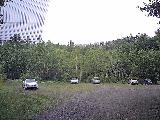 However, we'd eventually go through the town of Koshimizu before finally getting on a road leading us to the Sakura Falls, which was the first waterfall target of the day.
I actually made a last-minute change regarding this waterfall (the original first target was Oshinkoshin Waterfall), but seeing that it was early morning, I decided to go for this waterfall since I never did it before.
When we finally got to the signed car park for this falls at 9:45am (which was actually all in Japanese as there was no Romaji road signs for it from what I could tell), I was surprised to see so many cars already here!
During my trip research, I thought this was going to be a small and obscure waterfall that few people would know about, but apparently, I was way off in my assessment.
I wondered what could be the big deal with this waterfall?
Well, after getting out of the car and using one of the two disgusting portapotty latrines there, we got to the viewing area just a few paces from the unpaved car park, and we could see people gathered there taking pictures of the falls.
As anticipated, the waterfall was small though wide, but the kicker was that there were cherry salmon trying to jump over the falls!
I think that was the very first time I had ever witnessed a salmon run at a natural waterfall, and that was quite the nice surprise.
So a lot of people were trying to time their photographs for catching the salmon doing their jumps, and fortunately with my Sony Mirrorless, I could be a little later in my reaction time while those using iPhones had to have an itchier trigger finger.
In any case, this was a great start to the day, and pretty much everyone got to experience this except Tahia who was still trying to sleep in the car with her condition.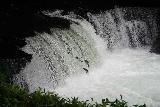 Julie and I thought that Tahia would have enjoyed this spot and seeing the salmon doing their jumps, but she needed to rest as much as possible to kick this virus.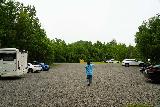 So at 10:15am, we were back in the car, and then I decided right then and there to drive further south towards Lake Mashu since there was no point in going to the Oshinkoshin Waterfall and our resort too early.
This wouldn't be our first time going there (though I don't think Julie remembers that much from our 2009 visit to Japan), but it would also be a treat for Mom, Dad, Josh, and Soph.
Thus, we backtracked to the 391 road where we saw some deer crossing the road on the way south towards Mashuko, and along the way, we also saw some smoking mountain that I believe the signs called Mt Iozan.
I'm pretty sure we saw this mountain from a distance in the past back in 2009 under better weather conditions, but this time, I thought to myself that we will make a stop for it unlike the first time.
Nonetheless, we were going to Lake Mashu first since that one was a little further, but Tahia was also finally awake and telling us that she needed a bathroom break.
So we arrived at the Observatory Deck 3 for Lake Mashu at 10:55am, where the parking was on the opposite side and it kind of assumed that we were going downhill instead of uphill so I'm sure it would be tricky maneuvering once we're done with this spot.
Anyways, much to the chagrin of Tahia, this viewing area had no toilet, but it did have a nice view across Lake Mashu, which we were able to see (and even the sun was trying to break through the constant cloud cover).
But we didn't linger much longer here because of Tahia's urge so we quickly got back into the car and then continued up to the Observation Deck 1.
We arrived at the car park for Observation Deck 1 at about 11:15am, where we had to pay 500 yen to park there.
At least the attendant there made me aware that this parking ticket was also good for parking at Mt Iozan, which we were intending to visit after this.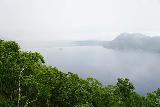 Unfortunately, it looked like the clouds rapidly overtook this overlook and there really wasn't much to see in the current state of fog.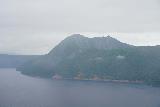 So we went into the gift shop while Tahia had to do her urgent business.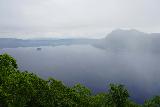 I did try the blue-flavored ice cream (kind of like what they had at the Blue Pond back at Shirogane), and I wasn't too keen on the flavor (which was kind of like a cross between vanilla and a bomb pop).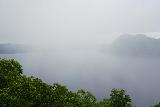 Julie also tried the Hokkaido melon (at abour 800 yen for a small piece), and she wasn't too keen on that after having tasted it saying that it was still overpriced.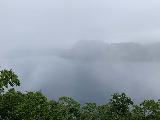 Indeed, we don't get why they charge such a premium for what was essentially cantaloupe or honeydew that we can get cheaply at home.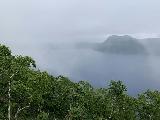 Anyways, the Cheng Army chilled out at the rooftop terrace for a bit after I had noticed there had been a shift in the wind direction.
Sure enough, Lake Mashu and its caldera in the distance started revealing itself once again though it did feel like we were fighting persistent fog.
Well, at least we finally got to see the lake somewhat even though we still had much better shots of it from 14 years prior when it was clear blue skies.
We returned to the car at 11:45am, and then we drove back down the mountain bound for Mt Iozan as I was a little worried that all that fog shrouding Lake Mashu might have also adversely affected the Iozan experience.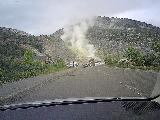 On the way down, it certainly did seem like the Lake Mashu views at Observation Deck 1 were affected by the low clouds so it was a good thing we got our views when we first showed up!
By 12:10pm, we finally arrived at the very-east-to-access Mt Iozan, and sure enough our parking ticket bought at Lake Mashu worked here.
Once again, everyone but Tahia (who remained resting in the car) walked onto the whitish slopes and heading towards the bright yellow sinter cones of the lower slopes of Mt Iozan.
The yellow on those sinter cones almost didn't seem real as we got up to the barriers, and we took whatever shots we could get while paying attention to the steam direction (not wanting any of the silica in that steam to stick on our camera lenses).
This was quite the popular site, and we were glad to have visited this place though I was kind of bumming that Tahia missed out on yet another interesting sight in Hokkaido.
I don't think her Hokkaido experience has been very good, and she confirmed as much (though she hasn't really been "present" which would have made her change her opinion on these things).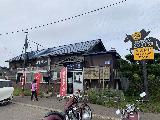 By 12:40pm, we were back in the car, and then we proceeded to drive north in the direction of Shari for lunch and gas.
However, Tahia vomited in the car (good thing we anticipated this and gave her some bags to vomit into), and so we had to get to a place that served ramen or some kind of hot soup to soothe her tummy while also giving her nutrients.
Thus, we ultimately ended up at this place called the Yamubetsu Station, which was a short distance west of Shari Town, and we proceeded to have our late lunch there.
We ultimately got some pretty good miso ramen with differing toppings; Julie got the crab and seaweed one while I got the pork belly one (which had really thick pieces of them).
We also tried their fried rice, which was infused with non-food-colored ginger though I didn't get a chance to try their starchy dumpling.
Tahia got a salted ramen, which was cleaner and she managed to eat that up (though she was more into the noodles and less into the pork pieces).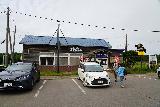 And by 2:30pm, we were back in the car after taking some pictures of this very retro old-school train station.
Next, we drove towards the Oshinkoshin Waterfall while making a fuel stop in Shari.
Then, after going along some pretty scenic coastlines, we finally got to the Oshinkoshin Falls at 3:20pm, where we parked in their elongated car park (as opposed to a long pullout that I recalled was here 14 years ago).
In addition to the larger car park that was now here, I also noticed that there was a shop that I definitely know wasn't here before either.
Anyways, we proceeded to walk up the familiar steps fronting the wide trapezoidal Oshinkoshin Waterfall, where we (and a handful of other people) took our obligatory photos of the falls just as the weather seemed to be improving.
Heck, the weather seemed to be better than the forecast for once (it had been forecasted for afternoon rain and deteriorating conditions by this time), and we were savoring this circumstance as we could clearly see the Sea of Okhotsk and the sun kind of shining down on it.
By about 3:50pm, we were back in the car, and then we drove towards our accommodation in Utoro just a few minutes drive to the north of us.
It took a few minutes longer than expected to finally arrive at the Kiki Shiretoko at 4:10pm, but that was because the direct road up there was closed due to construction.
Fortunately, there was a detour further inland that ultimately got there in a little bit of a roundabout way.
And from there, we checked in, got our luggages unloaded, and then proceeded to get settled in our very spacious rooms at 4:30pm.
At this point, Julie stayed behind with Tahia so our daughter could rest some more while also bathing in the public onsen inside this resort.
In the meantime, the rest of the Cheng Army carpooled together to go to the Furepe Waterfall as I was looking forward to finally seeing this waterfall from the ground instead of from the boat.
We got up to the Shiretoko Nature Center at 4:55pm, which was a little later than I would have liked to start a hike in bear country.
And then we proceeded to walk the Furepe Falls Trail until shortly after getting past the last of the buildings at this visitor center, there was a roped barricade blocking further progress on the 1km (each way) path.
It turned out that there was a closure of the Furepe Falls Trail due to bear activity, and that the authorities here don't expect to open this trail until at least July 21, which is useless to us since that's another 4 days away!
So I guess I still never got to experience Furepe Falls from the observation deck, and it just wasn't meant to be on this trip.
Anyways, we got back to the visitor center, and then we went inside just to see if there was any more information we can glean about hiking to the Kamuiwakka Waterfall that I was hoping to do tomorrow.
Given my luck with not being able to do the experiences that we missed the first time around on various things during this trip (like the Baiyang Waterfall in Taiwan, Shikishima Falls a few days ago, and now Furepe Falls), I was not optimistic about Kamuiwakka Falls not by boat.
But to my surprise, the person working the desk (who spoke pretty good English) helped me book a tour to go there.
I didn't even know that you had to book a tour to do this waterfall (though it sounded like we had to do it).
Anyways, she helped me to book this tour for 9am tomorrow, which was later than I would have liked, but at least we got that squared away where it was going to be Mom, Josh, and myself.
At least something got accomplished from our Furepe Falls fail!
Anyways, we drove back to the accommodation and got there at 5:45pm, which was pretty much just in time for the buffet dinner.
Julie hadn't responded to my texts so I wasn't sure if dinner was still at 6:30pm or earlier, but while the other half of the Cheng Army went back up to the room to change, I thought maybe Julie and Tahia were already eating so I went to the dining hall.
When I got there promptly at 6pm, they seated me immediately, but I was all alone.
Actually, they were at the other room while I had a table on my own, and eventually Julie and Tahia sat with me while the parents with niece and nephew sat at the other room.
It turned out that we sat on the more interesting side which had a large assortment of Japanese foods while the other side had more kid-friendly stuff (though I did try their Genghis Khan as well as a raclette).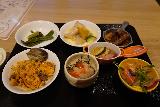 I also spent the extra 3300 yen to try out 50g of uni, which was actually a decent price for that much sea urchin (definitely cheaper than what we'd get at home).
And while we were wary of eating raw, at least the uni wasn't sitting out like in a buffet so we had that working for us.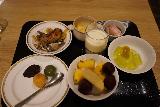 The dessert was preetty much nice fresh fruits (they had lychee as well as pineapple in addition to the obligatory apples, grape jelly, and oranges) as well as some small cakes and tarts as well as a chocolate covered banana.
I didn't bother with the candies inside the other buffet, but after like 4 or 5 rounds (as well as a soft serve though it wasn't as good as the Noboribetsu Onsen one) we had had enough food.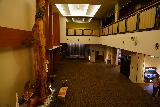 Finally by about 7:40pm, we were back in the room to finally get settled for this day though I then took this time to check out the public onsen downstairs.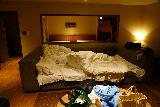 This was also my opportunity to take a shower with a lot more space instead of the cramped shower stall in our room, and perhaps to try to sweat out a bit of the excess food and sugars that I consumed for dinner.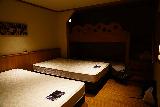 Once that was done, I returned to the room at close to 9pm, and I spent the rest of the night tending to dental hygiene as well as fighting sleep trying to at least copy photos/videos as well as get GPS logs downloaded or copied over.
And we had to do all that while trying to stay socially distant from Tahia so Julie and I opted to take the bed sheets off and take advantage of the huge couch they had in the "living room" to act as our sleeping area.
That way, Tahia could have the room with the bunk and we wouldn't be sleeping that close to her.
We'll see how that works out as the soft wasn't exactly very soft…
Day 43 (July 18, 2023 – Utoro, Japan): "Three Generations Adventure"
It was 3:25am when I awoke, where my body felt a bit stiff after sleeping on the couch, which wasn't very comfortable.
But that's what we felt we had to do in order to remain socially distant from the bunk bed that Tahia was sleeping in.
By about 4:40am, both Julie and Tahia woke up, and around this time, I looked outside to see what the weather was like, which was apparently drizzling.
The forecast had called for better weather today, but I kind of knew that "good weather" in these parts could just mean no hard rain though it could still mean far from ideal conditions.
Anyways, our morning was pretty much driven by arriving at our scheduled Kamuiwakka Waterfall hike time of 9am, and that meant we had to pretty much be out the door by 7:30am to have time to rent shoes and then drive the 45 minutes to the trailhead.
The Shiretoko Nature Center doesn't open until 8am so we wanted to be there right when they open.
However, the breakfast buffet for our stay at the Kiki Shiretoko didn't start until 6:45am so we wanted to make sure we got there as soon as possible before feeding ourselves.
And of course, I also used the time before breakfast to get caught up on yesterday's happenings as that was the rhythm of my day-to-day tasks that most agreed with how my body worked (given how I tended to fall asleep in front of the computer if I tried to do too many things at night).
As with all buffets, there's a tendency to overeat, but in this instance, we wanted to make use of that to essentially skip lunch since the Kamuiwakka Falls hike would start a little later than I had originally planned for (when I thought you could just do this on your own).
In any case, breakfast took longer than expected and getting out the door by 7:30am seemed to be more of a pipe dream.
It actually wasn't until about 7:45am when I got back to the room, but it wouldn't be until around 7:55am when we were finally leaving as a trio of Mom, Josh, and myself.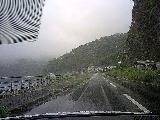 I was concerned about our late start, but when we showed up to the Shiretoko Nature Center at 8:05am, it didn't take long for us to get our shoes (and it costed around $24 for the three pairs).
The ranger working the visitor center noticed our haste, and she assured us that there's no rush.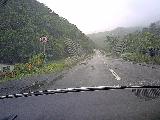 So with that, we got back into the car at 8:15am, and then we proceeded to drive towards the Kamuiwakka Waterfall Trailhead.
The drive was dominated by a combination of fog and drizzle, and it was clear that this would be our situation for the hike (even though the forecast called for just cloudy skies throughout this morning with improving conditions this afternoon).
Nevertheless, we took our time as we drive the familiar Shiretoko Goko Road, which was paved, towards the turnoff leading to the Kamuiwakka Waterfall.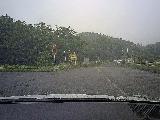 From that turnoff, the road would then go unsealed for the rest of the drive, but there was a person manning that junction that I guess was checking to see if you have an appointment to get up there.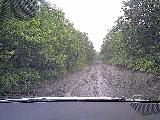 So it was a good thing that I did indeed have our bookings to get onto the waterfall hike that we had secured yesterday.
I guess in the past, they didn't regulate this road as much when it would only be open from like mid-July through mid-August or something like that.
Maybe they just don't want congestion around the Kamuiwakka Waterfall, and so this bit of regulation was necessary.
Anyways, the drive was pretty much me trying to ditch potholes (which were filled up with brown water from the drizzle) while we happened to notice on a few occasions deer grazing alongside it.
I'm sure we probably could have seen more stuff along this drive in the way of coastal scenery, but the fog was too low and too thick to even get any sort of visibility downslope towards the Sea of Okhotsk.
By 8:50am, we arrived at the parking spaces for the Kamuiwakka Waterfall, which was right around the bridge over the Kamuiwakka Stream.
There looked to be some temporary buildings and some portapotty restrooms, and it was clear that this was the starting point of our hike.
After getting our helmets and a brief overview of what to expect and what to watch out for (especially regarding bears since the lady helping us, who spoke good English, said there had been many bear sightings in the past few days), we then got onto our hike.
This excursion was pretty much just walking in or alongside the Kamuiwakka Stream, but the nice thing about this walk was that the water was acidic, which meant that algae wouldn't grow within the stream itself.
What that meant was that we got pretty good grip walking within the stream and especially the cascades and waterfalls.
This ran contrary to how we would tend to avoid the streams and cascades because that was where it would be the most slippery thanks to the algae (but definitely not so here).
And so after climbing the steep, slippery, and muddy initial hill, we then promptly got into the water of the stream and climbed one cascade after another.
It was kind of like the Dunn's River Falls experience in Jamaica except we're talking about pretty warm water in this instance and we're not holding hands with other megatour participations.
Pretty much the trickiest parts of this excursion involved the main waterfall obstacles of which there were 4 that we'd encounter while the 5th one was off limits.
By and large, each of these waterfall obstacles were interesting photo and video spots though they also had recommending climbing routes that we had to remember based on the briefing we got at the trailhead earlier on.
The trickiest of these obstacles was definitely the third waterfall that felt like the steepest and the most likely to get stuff wet (a concern of mine since I was wielding a DSLR as well as the usual iPhone).
But we ultimately got up this obstacle without too much drama (though we wondered how hard it would be on the way back down), which was further aided by a worker who was keeping an eye out for issues as well as guiding people past the hardest parts.
Speaking of guides, I had thought that this excursion was a guided tour, but it turned out that you do an unguided hike with that person there to assist on the hard parts (or even help you take pictures).
So our rush to be at the trailhead by 9am wasn't really necessary other than to try to time a later visit to the Seseki Onsen under low tide.
Anyways, we only had to go another 100m beyond the 3rd waterfall obstacle before reaching the 4th waterfall obstacle which was a short cascade over yellowish bedrock fronted by a green rope to signal not to go any further from this point.
It looked like the rope was set up so you wouldn't be bathing in the plunge pool beneath this waterfall (perhaps like you used to in the past) so as to not cause people to linger here more than an hour.
I guess this place was popular as a rotemburo experience, but now it was more of a Dunn's River Waterfall-type experience or adventure.
And with that, we went back down to the trailhead though there was the expected difficulty going down that third waterfall obstacle.
Fortunately, the worker that was there to assist was there to help Josh and Mom on the way down before I made my way down.
And eventually by 10:35am, we were back at the trailhead with soggy feet, wet socks, and a pretty satisfied feeling of experiencing this rather unique aspect of Shiretoko National Park.
So we returned the helmets, and then drove back to the Shiretoko Nature Center.
When we got there at 11:10am, we proceeded to return the shoes while also getting Josh some popcorn chicken and backup socks since he was hungry (despite the brekkie buffet) and he didn't have another pair of socks.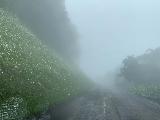 I think he still has to learn how to take care of himself as he relies on other people to get stuff done for him, but here's one teachable moment for him to feel the consequences of what happens when you don't come prepared.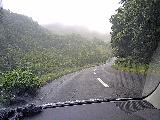 Anyways, at 11:25am we then proceeded with the day by driving further to the east towards the Seseki Onsen, which was the next target of our divide-and-conquer day on the Shiretoko Peninsula.
The drive was pretty uneventful as we continued to drive through the drizzle and fog before passing the Shiretoko Pass, which was still in fog.
But then we continued climbing and then descending through some twisty roads in the area, which was showing some sun and blue skies before we dove right back into the fog.
I guess that kind of showed us how local this weather was, and that there was no real bite to this system, but eventually we made it down to the town of Rausu, where it was just cloudy skies with no drizzle.
We then proceeded to drive north along the Route 87, which was basically an uneventful stretch of coastal road alongside some small fishing villages and a surprising lack of tourist infrastructure.
In fact, it seemed like this part of Shiretoko Peninsula was really more about subsistence fishing and less about making money through tourism.
That said, we did spot one fox by the road though I wasn't sure how common these guys were and I'm sure my MingSung glasses probably didn't take a good photo of it (there was no time to whip out a phone and take a shot).
Nevertheless, by about 12:25pm, we arrived at the lone obvious car park area for the Seseki Onsen after having driven past the Seseki Falls, which was a roadside waterfall though there didn't seem to be an obvious parking space and it had lots of road work around it.
After taking our obligatory photos around the Seseki Onsen, where we went down some wooden steps to a pair of man-modified pools that could be drowned by the sea at high tide, we then went in to bathe in the hot pool (there was also a cold one) at around 12:35pm.
Both Josh and I went in with our swim suits while Mom was content to just foot bathe.
The hot pool was actually very hot in spots, especially where the water was bubbling up as well as some of the side feeder springs.
But the bottom of the pool was a little murky and full of algae, which were quite slippery so we really had to watch our step.
We pretty much spent the next several minutes basking in this onsen, where other people seemed to just be content to take pictures and leave (maybe there was a better onsen further up the road or nearby?).
And then after a brief dip in the adjacent cold onsen, we then spent more time in the hotter one before having our fill of this spot (and getting some of the brownish algae clinging to my shoulders and I'm sure other parts of my skin) at 12:55pm.
Next, we walked over to the Seseki Falls, which was actually quite a bit of a walk along the narrow road.
Along the way, we noticed more of the infrastructure of the subsistence way of life here in Rausu District of Shiretoko Peninsula, where I saw a large trawling net, some people harvesting and processing seaweed (hence the heavy seaweed smell here), and people doing road work.
The road work here seemed quite dangerous as there were people in harnesses suspended from the steep cliffs trying to put fencing to mitigate the landslide-prone cliffs.
In fact, the upslope area adjacent to the road seemed to be dotted with so many of these fencings perhaps to help keep this road open.
When we got to the waterfall, we pretty much took time trying to find ways to compose photos since it was facing towards the road on the southern approach.
It really seemed like it was surrounded by lots of man-made interventions so it wasn't exactly like it was a natural experience, but it was a waterfalling excuse to experience the Seseki Onsen (though its relative lack of use made me wonder if there were better alternatives).
By about 1:40pm, we were back at the car, and then we proceeded to drive south back to Rausu as well as heading back west towards the Kumagoe Falls, which was the next waterfall target.
Ultimately, we got to the very easy-to-miss Kumagoe Falls car park at 2:20pm, which was more like an unpaved patch of dirt right next to a tunnel and a blind turn over a bridge.
I think this is why they made the loud grooves on the road so you can hear who's coming.
Anyways, we proceeded to go across the road and down into the thickness of the forest beneath the road tunnel.
The path was certainly more primitive compared to the other trails we had done to this point, and thus we had to watch our steps.
I was in Chacos at this point since my socks were wet, and thus I was worried about mosquitoes as well as whether the vegetation was any bit poisonous here.
Even though this trail was only 400m long, it felt longer than that thanks to the degree of overgrowth and fallen leaves covering up the trail, which had slippery rocks as well as some wooden sloping planks for the steeper sections.
There was no trace of the waterfall throughout the hike though it did pass by some signage in kanji saying something about 220 years or 200 years or something like that.
It turned out that they were referring to some old-growth trees along the trail, which definitely added some degree of intrigue to this excursion.
At some point, we started to hear and see parts of the Kumagoe Falls, but the view wasn't satisfying enough and we needed to keep going as the trail descended towards an informal but signed lookout at the trail's official end.
It looked like the trail could have kept going but it was discouraged to keep going further so we were content to check out the Kumagoe Falls from here, which was another look-but-don't-touch kind of waterfall.
After having our fill of the falls, which didn't take long, we then went back the way we came.
Ultimately by about 3pm, we were done with this hike and returned to the car just after having passed a French family heading to the falls while there was another car that had just pulled into this spot as we were leaving.
Apparently, this spot wasn't as obscure as I would have thought, but maybe it was because we had parked here that it was easily seen by others who were curious.
Next, we drove back towards Utoro though I had entertained the thought of stopping by the Shiretoko Nature Center to see if the Furepe Falls might be open (even though they predicted the next opening opportunity to be July 21).
The drive involved going through another thick blanket of fog near the Shiretoko Pass, where I noticed other drivers had hazard lights on so I ended up doing the same.
Nevertheless, at some point, I opted to just skip stopping at the Shiretoko Nature Center and head straight down to Utoro, which seemed to have more benign weather compared to this morning.
We then spotted a joint that sold fresh mother-daughter bowls, which I had a craving for (you can't come to Utoro and not try one of these), and we promptly stopped there at 3:35pm.
We then proceeded to order a crab don for Josh (called a Kaniya Bowl; actually this place was called "Kaniya") while I got a combo bowl that had salmon roe, uni, and fresh crab over rice.
The place was quite good and it had a nice view towards Utoro as well as a main room of giant tanks housing some huge spiny-backed crabs (which I'm sure supplied a lot of the crab meat served up in the bowls here).
At 4:05pm, we were back in the car, and then we proceeded to drive to the 7-11 in town so Mom and Josh could pick up something to go for the long drive tomorrow.
We got there at 4:10pm, where we did our own little divide-and-conquer thing and I walked back towards the waterfall on the northern end of Utoro, where I did wonder if this was a natural waterfall or just runoff from the onsen resorts up the hill (and thus a manmade one).
While I was getting my shots, I did notice that there was a fox with a kill that went across the road as well as some defunct joint that served mother-daughter bowls (but no longer now).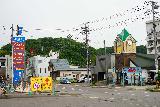 And by 4:25pm, we were back in the car, and at 4:40pm, we were back at our rooms to finally call it an end to our adventure.
I hope Josh really appreciated this experience instead of spending all day playing game and wasting the day away.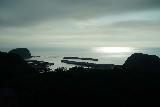 In any case, Julie had this craving to eat something local and not buffet, and so by around 5pm, we looked for a couple of spots around the corner of the Kiko Shiretoko Resort, but then we noticed that both spots were either closed or had changed their hours.
So that was a fail.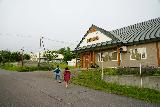 By 6pm, we had another buffet dinner, which was a disappointment this time around because their selection wasn't nearly as good as it was yesterday.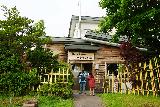 So we actually ate less of the savory stuff here and more of the desserts and fruits this time around.
I'm sure I picked up quite a few pounds through all this excessive eating, and we have one more round of this tomorrow for breakfast.
By 7:25pm, we were back in the room, where I then finally got a chance to soak in the onsens in the resort while also washing off the algae and acids and other things that clung to my body throughout today's adventure.
I was trying to savor this because I knew that this could very well be the last onsen experience of this Japan trip even though we have a little more than a week to go.
But in any case, that ended this eventful day in Shiretoko, and we start to head back in a more southerly direction (where the temperatures rise again as Shiretoko was nice and comfy in the 60F range or 15C but the other places go 80F and above) starting from tomorrow…
Day 44 (July 19, 2023 – Hakodate, Japan): "Loads Of Discomfort"
It was about 4am when I awoke to the alarm, and I promptly got right to doing the things that I usually did.
Looking out the window, the weather looked vastly improved from the prior morning though it was still overcast (not that it mattered much since today was going to be a long driving day).
When Julie finally woke up at 6am, I noticed that she was measuring her temperature over and over again as she said she was fighting some fever.
And when she took a COVID test, it turned out that she got it!
So apparently, she contracted it from Tahia even though Tahia was on the mend, and now I wondered if it was a matter of time before I contract it.
After all, I was sleeping next to Julie all throughout the night, and it seemed like all that COVID protocol that we employed to isolate Tahia until she got better didn't work out (even in a room as spacious as this one at the Kiki Shiretoko Hotel).
Anyways, we still had to get stuff done, but I knew that this would delay us as I started loading the car at 6:50am, but it was only my stuff and it wouldn't be even later than that when I'd finally load up Julie's and Tahia's belongings.
Indeed, the desire was to have brekkie at 6:45am when they started it, but at this rate, we weren't going to be having it until some time after 7am, and I was very worried at this point that we'd be checking in late in Hakodate (like some time after 8pm)!
Nevertheless, we still had the brekkie buffet, and we were going to stuff ourselves so we wouldn't have to have lunch today.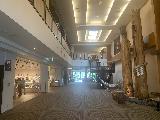 But I'm pretty certain that my desire to have one last go at Hokkaido soft serve at a dairy farm near Noboribetsu Onsen was dashed with this late start (though I was still holding out hope for it).
Indeed, it wouldn't be until about 8:55am when we finally started to head out (as it took some time for Mom to check out of their room and the rest of that side of the family to load their car).
I think the issue was that Mom couldn't find her room key, but she also had a worrying thing about not finding Dad when she made one last restroom break right before leaving (when Dad was right behind me).
And that really concerned me about her memory since the head bumping incident a few days ago.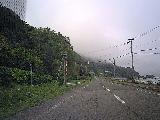 Nevertheless, by that time, Julie was really not feeling well, and she had this idea to sit in the back seat with Tahia (though I wondered how effective that would be since we were all occupying limited space in the car).
And so we finally drove off, and when I saw that we weren't going getting to Chidorigataki Waterfall until some time near 2:30pm, I knew that my desire to have one last go at the Hokkaido soft serve at some dairy farm was dashed (since they close at 4pm).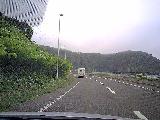 Anyways, we finally got out of Utoro and towards the town of Kiyoshimizu when we had to make a restroom and fuel stop (mostly because Julie said she really had to use the bathroom).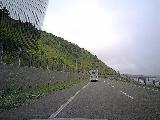 I wasn't sure if she was nauseous and about to hurl like Tahia did a couple days ago, but so far, it was just a typical bathroom stop and both Dad and I topped up our fuel (since we were already close to full).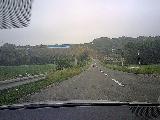 The rest of the drive for the next couple of hours was pretty uneventful as we drove through a lot of farmlands and some mountains with limited passing opportunities against slower trucks.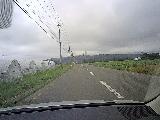 This was kind of what I was afraid of with our late start since there'd be more cars and trucks on the road (even using these obscure routes that GoogleMaps suggested considering there didn't seem to be an obvious expressway-dominated route heading southwest from Utoro).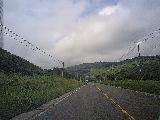 To make matters worse, I could hear Julie and Tahia in the back jostling for limited space, and so I told Julie that she should be back in the front seat but with the seat more reclined so she could better rest.
Besides, Tahia could resume her rest position having the whole backseat again.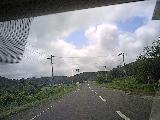 Thus, it wouldn't be until around 12pm when we ended up in some pretty busy town (or city) called Ashoro, where we stopped at the Ashoro Gingahoru, which was a big train and bus stop with toilets.
That was where we made our next bathroom break (seemed like everyone needed it by this time), but we finally got to do the rearrangement.
When we took off again 20 minutes later, I noticed that Julie did a smart thing by covering her head with her light jacket as she was trying to sleep.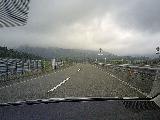 So not only was she double masked, but the extra jacket over her head would further limit the spread of any projectile germs as she was definitely coughing and sneezing by this point.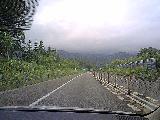 Now if only Tahia was that considerate with her own situation, that might have saved Julie from catching it (and potentially me though I still hadn't shown any symptoms).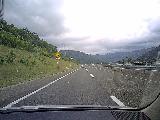 Anyways, at Ashoro, we finally got onto an expressway (the E61), and at that point, we were at least moving pretty rapidly on the Doto Expressway (though there were plenty of slower moving vehicles with limited opportunities to pass; kind of how Hokkaido expressways work, I guess).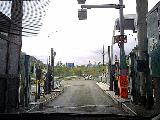 Regardless, this marathon stretch would persist for the next couple of hours until we finally got off at the Yubari IC and then proceeded along a local route (behind some slow moving cop going below the speed limit) before finally getting to the Chidorigataki car park at 2:30pm.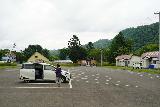 Indeed, it already felt like a long drive, and I kind of knew that we were barely past the half-way point of the drive (or maybe 2/3rd of the way).
Anyways, this waterfall had a huge car park fronting a toilet and some businesses that didn't look open.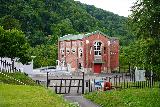 There was another car park across the way that was smaller and seemingly dedicated for the waterfall hike.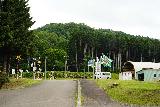 So I promptly got my cameras and immediately started heading out knowing that time was limited.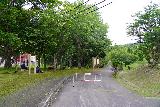 Meanwhile, Julie and Tahia stayed behind as did Soph, where I learned by this time that she wasn't at all interested in waterfalling.
In any case, we went down a paved path past some staff just resting near trailhead signage, and then we spotted another toilet building where could do our business without hiking to the opposite end of the car park like at the big lot we parked at.
We then continued walking along the paved asphalt path flanked by trees and a small stream on one side along with a picnic area and lawn on the other side.
Given this infrastructure here, this place screamed of "road trip break spot" as it was as if this place was perfectly positioned for the long drive between Chitose and say Kushiro or even further like us from Utoro (or at least Ashoro where the E61 began).
It didn't take long before we got to a bridge where we promptly went right onto it knowing that Chidorigataki was a large waterfall, and that bridge seemed like it would take us right over some gorge with a good view of it.
Indeed, that was the case, and we proceeded to take document the falls just as Dad was coming up from behind to join us.
This waterfall sat in a wide gorge where it looked like there was a dam further upstream of it (thereby regulating its flow, I'd imagine).
So what was left was a main multi-stepped drop on the left and a thinner segmented part on the right.
However, with the way the water cut into the bedrock, we were only able to see one part of the falls or the other but never at the same time as we'd have to position ourselves at the front end of the bridge or near the opposite end.
Still, with time being as limited as it was, I tried to take it all in from either side of the bridge, and I also kept going seeing that there was a path that went through some natural garden-type thing for an even closer look at the main part of Chidorigataki.
When I was down there, I noticed that there were many dragonflies as well as what appeared to be wasps or hornets, and I was sure there'd be mosquitoes too.
The boardwalk itself kind of veered away from the waterfall views so I followed some worn part along the fencing that got me to the closest spot I could get at.
Nevertheless, after having my fill of this spot, I then went back up to the bridge (not bothering with going further downstream to another bridge), and then I rejoined the crew back at the car at 3:05pm.
The next stretch of the drive continued to further to the west before resuming the Doto Expressway, where once we got onto the IC hooking up with the E5 Doto Expressway, then we were back on familiar ground.
At that point, we pretty much tried to stick with the flow of traffic (the 70km/h speed limit was way too slow even for the trucks we found ourselves behind).
And it wouldn't be until about 4:40pm when we finally made it to the familiar rest stop at Usuzan (the same one we stopped at on the way to Noboribetsu from Hakodate a week ago).
It couldn't have come at a better time for Julie who badly needed to use the restroom at this time.
Anyways, I knew that this might be our best opportunity for dinner as well as a nice spot to check out Mt Usuzan, which had revealed itself along with the sea backing the city of Date.
So we lingered here for a bit, checking out the viewing terrace there (under some pretty benign skies) while also having ourselves the decent road stop food of hot soba, ramen, some rice, and a curry (in Dad's case).
Heck, I even had one last go at Hokkaido soft serve from this road stop, which actually did taste like milk though I still wondered what might have been if we had taken off an hour earlier and at least had a break at the dairy near Noboribetsu Onsen.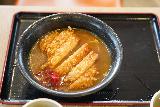 By the time we got back to the car at 5:40pm, we promptly filled up at the ENEOS gas station there, and then we proceeded with the final stretch of the drive, which would last for the next 2.5 hours into the sunset and twilight.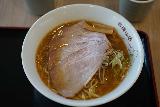 At this time, I was starting to get worried about deer jumping in front of the car so I tried to use the pace of the big rig trucks going pretty fast (though one that was going at a good rate then started slowing down so we had to find other pace cars).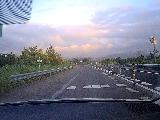 In one stretch, I actually was the lead car, which made me more vigilant about seeing wildlife on the road if any.
Nevertheless, we'd finally get into Hakodate at around 7:30pm, but it still took us a while before we finally got to the Fav Hotel, which was where we were spending the night.
It was just a place to stay to set up for the ferry ride back to Honshu tomorrow, but I did notice that when we did arrive at 8pm, we seemed to be pretty centrally located to some kind of happening area near Mt Hakodate.
Oh well, we wouldn't be experiencing that part on this visit since this was all about logistics and rest, and at least this place had plenty of parking next door.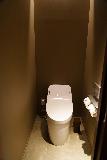 By about 8:15pm, we finally got settled in our rooms, but given Julie and Tahia's conditions, it was decided that I should stay with the parents along with Josh and Soph (since the room can support a 5th person) leaving Julie and Tahia isolated in our own room.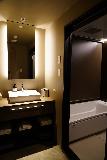 And with that, we'd spend this night in that configuration trying to take all the precautions necessary to keep me from getting sick since they knew that I was the trip leader, and coming down with COVID wouldn't be a good thing as far as this trip was concerned.
With only one week left, it was looking real iffy if we were going to survive this trip as it seemed like one unexpected thing after another was happening – the GoPro, the food poisoning, Mom's head, and now COVID…
But this was a microcosm of how sideways life can become, and Rick Steves' saying that travel is like life accelerated is truly playing out that way (albeit in very fly-by-the-seat-of-the-pants kind of way)…
Day 45 (July 20, 2023 – Sendai, Japan): "COVID Travel Bubble"
At 4am, I awoke to the alarm, where I immediately got dressed and all packed up before tending to catching up on blogging about yesterday's happenings.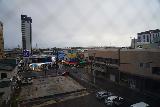 In trying to be efficient, I started to load my own stuff into the car by about 5:30am (ready to head back up to grab Julie and Tahia's stuff when they're ready).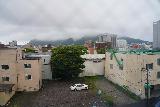 However, I noticed that there was already some activity going on at some of the seafood shops just down the street from our hotel.
Upon closer inspection, I saw that there was something similar to the Nijo Fish Market in Sapporo as well as some places that do serve more Mother-Daughter bowls.
I figured that this might be my last go at raw food in the relatively mild temperatures of Hokkaido, and so I stood outside one of the shops that showed some promising bowls to try out.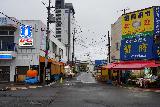 In that instance, the shop even had a sign saying they were open, but then a guy working there said "ma-de" (which I knew meant "not yet").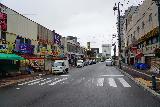 When I inquired "what time?", he said 6am, which was too late since we had a ferry to catch, and there went that opportunity to have a final Hokkaido experience before leaving for Honshu again.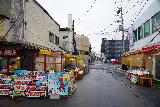 Anyways, after that bit of commotion was over, Julie and Tahia already came down with their stuff and I intercepted them at the car so I could load up their stuff into the car.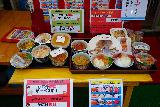 I wasn't sure if Julie sanitized their luggage, but I did have an alcohol wipe in a packet that Mom had given me a bunch of and used that to smear the handles that I'd be grabbing onto on their luggages.
From there, I loaded up the car, Tahia got comfortable in the back seat of the car, and Julie made a quick Lawson's run along with Mom who was also already downstairs by this time.
So by 5:45am, we drove off in our respective cars, and then took a somewhat scenic route over some long bridge elevated above the waterfront from Mt Hakodate towards the ferry terminal.
Once there, we parked in one of the bays that we knew was bound for the ferry, checked into reception to get our ferry tickets (the lady managed to reverse our reservations, but it didn't really matter), and then we were waiting by the car for our turn to board the vessel.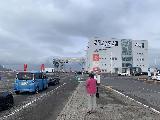 The ferry vessel just showed up by the time we were back at our car, and in an effort to minimize breathing the same air as Julie and Tahia, I waited outside the car for a bit while keeping both the doors and windows open.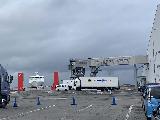 The weather was good enough for us to do this, which was fine for me since I didn't want to be the last victim of catching COVID since I'm pretty much sharing the same quarters as Julie and Tahia who are both contagious vessels (even though Tahia was feeling better at this point).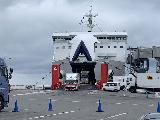 It wouldn't be until about 7:20am when we finally got to park inside the ferry (though the crew managed to separate Dad's car and our car so we wouldn't be leaving together) and head upstairs to our reserved "comfort cabins".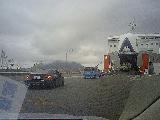 Having known what we were in for from our journey on a ferry a week ago, we immediately got Julie and Tahia to isolate in one of the cabins while I shared with the parents along with Josh and Soph.
However, in order to ensure that we'd have the peace to at least let Dad and I sleep some more, we got them to sit at one of the tables along with Mom so they could play game or kill time up there.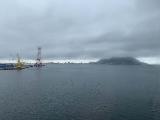 In the meantime, Dad and I laid out the pads though I used 2 of the pads to increase the thickness of the cushioning, which actually was a pretty decent solution and wouldn't be as stiff as I was the last time.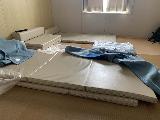 Even one of the blankets acted as a pillow while the other unsused blanket acted as the usual blanket to cover me, and I also closed the drapes to ensure the room was dark enough to at least catch a few more z's on this nearly 4-hour journey.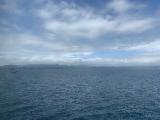 Anyways, the technique worked and I managed to sleep a few additional winks as did Dad, and at around 10:10am, I got up for good.
At that point, I chilled out with Mom a bit until we heard someone in the more public rooms adjacent to the tables we were at coughing, which concerned us about maybe another person spreading germs on an enclosed vessel like this.
So we moved out of the tables as Mom and the kids went back into the cabin (undoubtedly to try to charge their electronics at the expense of the TV that was already plugged in), and I played one more round of Duolingo just to kill the last hour.
By 11:15am, after hearing the announcement to return to the vehicle, I returned the key and then got back into the car along with Julie and Tahia.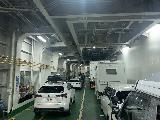 Dad, Mom, Josh, and Soph did the same for their side, and it didn't take long before at around 11:20am, we were out the door.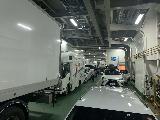 Since we were separated, I had to move off to the side and wait for Dad's car to exit, and then intercept them and go in front of them so they could follow me as they had been doing all trip long.
At that point, we spent the next couple of hours driving through Aomori (even going past the familiar museum of contemporary art and some historical heritage site across the street from them that we visited in the rain a week earlier) before getting onto the E4 (Tohoku Expressway).
From there, it was pretty much smooth going as we headed south on the toll road cutting through familiar-sounded name places at the exits like Lake Towada, Hirosaki, and others.
The weather quickly went from mostly cloudy with some sun to some thunderstorms dumping fairly heavy squalls, but the drive was otherwise mostly uneventful.
In fact, it seemed like there were fewer cars on this expressway compared to the expressways in Hokkaido where it was mostly one lane in each direction with only limited opportunities for bursts of speed to pass trucks or other slower moving vehicles.
Heck, the cars down here were setting a pace that was typically 30 km/h faster than the posted speed limits, and I was pretty much in a groove using them as pace cars though I hoped I wouldn't have a speeding ticket scare like I did that one day in Hokkaido on the way back to Asahikawa.
Nevertheless, we ultimately got off the Ashiro IC exit near Hachimantai, and then we promptly drove south towards Fudo Falls, which was the lone scenic stop on our long drive to Sendai.
As we approached the well-signed turnoff for the Fudo Falls (which looked like it was in Japanese so perhaps English-speaking foreigners didn't stop here very often), I kind of knew that this was a holy place given the big welcome torii gate behind a railroad crossing.
We then took a narrow road that supported bidirectional traffic as we followed another small white car that was also going there.
By about 1:05pm, we finally made it to the long car park for the Fudo Falls, where there seemed to be quite a handful of cars already parked here.
All of us except for Julie and Tahia geared up to stretch our legs and go on a hike to the Fudo Falls, and we promptly did that after buying some water from the vending machine across from the toilet building at the trailhead.
From there, we had a choice of which way to go, and after studying the map on GaiaGPS, it turned out that there was a loop hike where it didn't matter which way we went.
We ultimately decided to head through the torii gates and head to the shrine first, and that was an atmospheric tree-lined (and lantern-lined) path that went right to a shrine with steps leading up to its interesting praying area.
The rest of the crew went further to the waterfall while I was busy checking out this area just when a guy showed up, and I noticed that he did the ringing of the bell before bowing a few times, then clapping before bowing again.
It was reminiscent of the type of rituals that I saw other people do during our Japan Spring Break trip as well as in the Buddhist temples of Korea.
Anyways, I got to the Fudo Falls after checking out another cliffside shrine building (though that one was closed), and I saw that the folks were already down by the red bridge checking out the falls.
When I got to the base of the falls before going down to the bridge, I noticed that there was a rainbow arcing before the bridge as I looked downstream, which kind of kept me there for a few minutes as the sun was playing peek-a-boo with the clouds along with the swirling mist.
Down at the bridge, I managed to get some satisfying views of the falls and some cascades below it (again attesting to how spot on the Japan Top 100 Waterfalls list from 1990 was), and then I went beyond the bridge for nicely composed views of the bridge fronting the waterfall.
From there, I followed the rest of the crew back to the car park as I took a more naturesque path that gradually descended alongside the stream before getting to some steps at the end leading back up to the familiar junction near the toilets and the car park.
By the time I got back to the car, I was a little bit of a hot sweaty mess as it was definitely warmer here than it was in Hokkaido, but it wasn't too bad overall (though I did had to be cognizant that I was back in the COVID germ factory sitting in the car with Julie and Tahia).
Indeed, we left the car park at around 2:05pm, and then at around 2:20pm, we filled up on gas in Ashiro, which Dad's car badly needed at this point.
Then, we resumed the drive, where some 20 minutes later at 2:40pm, we finally stopped at a rest area (and these were also way more abundant than in Hokkaido) at Iwatesan for some late lunch.
During the approach, it did look like we could see parts of Mt Iwatesan before it disappeared into the dark clouds though at the rest stop, there wasn't much of Mt Iwatesan to see (unlike at Usuzan in Hokkaido, where the rest stop even had an observation terrace to check it out).
Anyways, we then spent the next hour having an udon bowl (mainly so Julie would have something warm to eat) while there was Korean-style fried gyoza (not the greatest) as well as fried rice, curries, and even a takoyaki.
There was also soft serve ice cream (which Tahia still couldn't have until she tests negative for COVID though she was on the mend), and that soft serve tasted like milk similar to how it was in Hokkaido.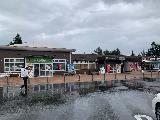 Anyways, by about 3:40pm, we were back in the car and we resumed the remainder of the drive south to Sendai, which was still in another 2.5 hours.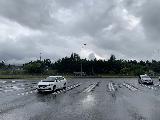 The drive once again followed a rhythm of trying to follow locals who went about 30 km/h faster than the speed limit.
That said, it seemed like anytime I tried to let even faster cars pass pass while occupying the slower lane, I'd get caught behind 80km/h vehicles and have to wait to get back in the fast lane for long lines of cars to pass.
Thus, there were long stretches where I was the lead car in the fast lane trying to get past the slower vehicles before finally moving over to the slower lane (and doing all this while the expressway passed through rain squalls as well as moments of fair weather).
Ultimately, by around 6pm, we finally started to approach the city center of Sendai, but there seemed to be some kind of traffic at the end of the expressway we were on.
And so it wouldn't be until about 6:15pm when we finally arrived at the Hotel Monterey in Sendai, where there was a car elevator thing we had to deal with.
With these things, there was always to prospect of the car not being accessible early in the morning when we're trying to get things done, but we were ultimately assured by the front desk that the car would be accessible when needed.
Nevertheless, we dropped off our luggages so we could park the car, and then we promptly checked in.
By around 7pm, we got settled into our respective rooms (where Dad, Josh, and I occupied the triple room that was meant for Julie, Tahia, and myself), but Julie and Tahia took what was originally Josh's and Dad's room so they can remain socially distant.
In the meantime, Mom and Soph got the third room, which was also a tight double room, and that would be our sleeping arrangement for the next two nights.
Even though it was getting late in the evening, after a bit of drama from Dad managing to realize that he lost his debit card somehow, it was just Mom and I going back downstairs and exploring Sendai a bit at 7:20pm.
I think at this point of the trip, Mom needed a break from Dad as well as the kids, and I knew that Julie and Tahia were also in no mood to do any night time exploring of the city.
Thus, it was kind of an interesting mother-son bonding experience as we pretty much wandered about the JR Sendai Station (bringing back some memories of Julie and myself riding a 3-hour shinkansen from Tokyo to here before taking a bus to Akiu Onsen some 14 years ago).
Then, we wandered about randomly until a lit up alleyway caught our eye, and upon pursuing that, we found ourselves in the Clis Road Shopping Arcade, which was an attractive sheltered pedestrianized street (kind of similar to what we saw in Susukino in Sapporo).
After a random stop at a drug store (or what was as close to a Walgreens as we're used to), we picked up some toothpaste for Mom (settling for some brand with English on it since we're never sure if we lose anything in translation with the all-Japanese products) and a disinfectant spray for Julie.
We then promptly followed this road down towards the Marble Road before going down some other covered arcade street until it ended with some outdoor shopping street with still lots of people going back and forth.
Mom and I then noticed some restaurant that served up eel over rice as well as a cold soba noodle served with tempura situated somewhere in the Ichibancho 4-chome at 8:25pm, and we just decided to eat there.
It was another time for us to unwind from the travel chaos over the past couple of days as well as letting Mom vent what was on her mind about what has been happening with family friends and her realization that now is really the time to enjoy her golden years while she still can.
In some ways, it was depressing to think that it can all come to an end at some point since everyone has an expiration date, but we still have the now, and I was going to make sure that I can still enable Mom to have the best golden years possible.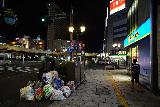 When we were done with dinner (which costed something like 2600 yen; an absolute bargain compared to the prices we'd be paying back at home), we then walked back pretty much the way we came sticking to the covered arcades.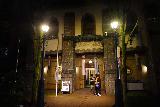 After one quick takeaway stop to pick up some grub for Dad, Josh, and Soph at a McDonald's at 9:10pm, we were then finally back at the room at 9:30pm.
At that point, we wrapped up the day (late as it was), but at least both Mom and I could feel like we got to experience a city that we're spending two nights in while the rest of the crew may never have that opportunity given the circumstances with health and activities going on tomorrow…
Day 46 (July 21, 2023 – Sendai, Japan): "Risk Versus Reward Gambles"
It was 4am when once again I awoke to the alarm, which seemed to become the norm.
Probably my body clock was now fully into Japan time by now as I've found myself not getting up naturally without an alarm these past several days.
Anyways, I took some time to do the usual ritual of getting caught up on yesterday's happenings when I saw the sunrise before the sun went into the clouds at around 4:35am.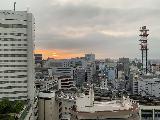 That said, the forecast seemed to be a bit improved given this development (since it called for mostly cloudy skies with some rain in the morning), but we'll have to see how that goes as the morning develops.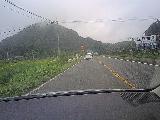 It wouldn't be until about 5:55am when we were in the car as Mom was sanitizing it to make sure Josh and Soph (who were the other two participants on this day) wouldn't catch any residual virus left behind by Julie and Tahia since we were using the car I was driving.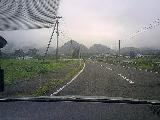 That took some time while moving the belongings that was previously in the back seat to the trunk was also time consuming.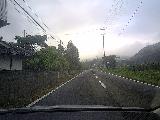 So it wouldn't be until about 6am when we finally headed out, and along the way out of town, we stopped by a 7-11 some 15 minutes later so the kids could have something to eat on the road.
It was another 15 minutes later when the crew was done getting their grub and we resumed the drive, which was mostly uneventful except the clouds over the mountains seemed to be getting thicker the further west we went.
Eventually at 6:55am, we arrived at the car park for the Akiu Otaki Waterfall, which now had a pretty big parking lot as well as some other buildings.
I swore the last time Julie and I were here 14 years ago, the lot wasn't close to being this size though admittedly, the bus we took only dropped us off right across the street from the shrine entrance.
Nevertheless, we promptly went through the familiar shrine walkway towards a shrine building whose doors were closed (but it was surrounded by a multi-hued ribbon around its flanks), and there were also some Japanese visitors who were already here.
After getting around the shrine, then down the steps towards the viewing platform area, I saw that the viewing area was also way more expanded than I remembered seeing it back in the day as there was a second viewing area to the left of the original smaller viewing area that was still there.
This time, Akiu Otaki looked to be much more forceful in its flow compared to how Julie and I first seeing it in the May timeframe 14 years ago, and I guess the monsoon probably had something to do with its thickness now.
So we took some time with photos of this falls before resuming the same walk that Julie and I did 14 years ago connecting this view of the falls with another view of the falls.
However, that took a little bit of a walk that was closer to 1km in each direction, and despite the overcast skies, I figured that it would be a little on the humid side so we were going to sweat.
Thus, we went through a more naturesque forested path that seemed to be a little more up-and-down than I recalled as well as a little longer.
And so we then ended up at the road where we followed it downslope to a bridge spanning a big gorge while also providing more views of the impressive waterfall.
Once on the other side, we saw that there were other visitors here that had just wrapped up, but they went right to a car that was parked across the trailhead from it, which I never recalled noticing before.
So we could have actually driven here?
Nevertheless, unlike the prior visit, we were now able to descend the steps leading to a trail leaving the gorge bridge and continuing to descend towards the base of the Akiu Otaki.
This trail was a little on the muddy side, but it was quite benign with additional glimpses of the gushing Akiu Otaki Waterfall.
After reaching some steps that briefly ascended, the trail then made a steep cliffside descent on more steps alongside some netting to try to stop rocks from falling onto the trail (which probably did in the trail when we were last here 14 years ago).
Eventually, with Josh and Soph forging ahead, they got past a side cascade and waterfall before reaching the bouldery base of the falls that were all wet with the mist of the gushing main falls.
Mom came down slowly since she had to be careful with her knees as one false landing would probably prevent her from walking (so she did grab some trekking poles to help with the balance).
Finally, when we were all at the base of the falls at 7:45am, we were busy documenting the experience while getting quite a bit of the mist from the Akiu Otaki itself.
Meanwhile, Josh and Soph were busy throwing rocks at the fast-flowing river from an eddy or calmer part of the stream, and that seemed to occupy them while Mom and I were just happily taking pictures and soaking in the experience.
After having our fill of the falls, we were back at the bridge at 8am, where the sweaty uphill that Mom was struggling with meant that I forged ahead on my own to grab the car and pick the rest of the crew up so they wouldn't have to walk the additional uphill kilometer back to the car park.
The thought did cross my mind that there are bears in this area as I was hiking along through the forest going back up to the shrine and car park area, but by about 8:20am, I was back at the car park without incident.
However, when I got out of the restroom, the skies were practically drizzling at this point, and I kind of knew that it wouldn't be good concerning the Sankai Falls that we were targeting later this morning.
In any case, I drove the car and down the narrower road going over the bridge that we had walked as I picked up the crew at the car park we could have driven to in order to reduce the driving.
And then we continued to drive off through the thickening drizzle and rain as we made our way to the Sekiyama Waterfall, which was the next waterfall that we wanted to target.
I figured that for that experience, the clouds wouldn't be as much of a factor since we'd be closer to the waterfall for viewing.
Nevertheless, we drove a pretty busy route (48 I believe), which followed a line of trucks and other faster-driving locals as we made our way in the direction of Yamagata.
By about 9:10am, we eventually made it to the parking area for the Sekiyama Falls, which seemed to have no shortage of parking as there were spots by a shop nearest to the waypoint for the falls as well as across the fast-moving road where there were a couple more lots.
That other lot looked like they had soft serve ice cream, which I'm sure the kids (and myself) would appreciate as well as toilet facility.
In any case, we promptly descended a narrow path behind the car park down towards more steps leading to a red bridge spanning a river that was making a lot of noise because there was the Sekiyama Waterfall gushing nearby.
When we made it down to the bridge, we could see that the falls was definitely flowing well, but it was wider than the width of the gorge it was in so we couldn't see all of its extent since it was clipped on either side.
The bridge went beyond the river or stream and onto the smooth loose rocks of the riverbed, where Soph and Josh resumed their rock throwing into the stream ritual apparently.
Meanwhile, Mom and I were busy taking pictures and videos, and overall enjoying the experience of this falls (also a bit surprised at how benign the weather was down here compared to earlier on).
After having our fill of this waterfall, we went up to the shop by where we parked the car, and then we proceeded to see that there was a better top down view of the falls from up there without the gorge obstructions.
So Mom and I took more videos and shots up there while Josh and Soph were in the lot probably waiting to get back into the car.
After having our fill of the falls and getting some small cooked skewered treats from the shop, we then got back at the car at 10:05am, where we then proceeded to drive across the Route 48 to the other lot since it was a bit dangerous to cross given how fast people were going here.
Once there, we used the toilet facility (which was quite smelly) and then we had some soft serve at the joint next door, which seemed to serve up some nice thick Hokkaido milk soft serve that each of us got.
Apparently, we were still getting some good quality soft serve here, and I'm sure that's one thing I'll miss about Japan when we leave in a few days.
By 10:20am, we headed back the way we came, and despite the improving weather near the Sekiyama Waterfall, once we passed one of the tunnels, it seemed like we went right back into the mist and drizzle (with some smattering of harder rain).
I was holding out hope that the view of the Sankai Falls might be on a pocket of better weather like it was for the Sekiyama Waterfall, but at this point, it was a gamble whether we should cut our losses now and head right back into Sendai or not.
Well, I've had experiences in the past where continuing on actually yielded surprisingly good results, and it was on that faith that I decided to keep going despite the worsening outlook at the moment.
In any case, GoogleMaps took me on a bunch of mountain roads, where once again I wondered if we were better off just following one decently-sized route to get to the town of Zao.
And after getting past a large red torii gate on the road and climbing up some switchbacks to the lookout for the Sankai Falls, we finally got there at around 11:45am.
Unfortunately, the clouds had thickened up at this vantage point, and even some rain was falling a little harder, which was definitely not what we wanted.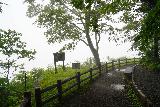 Upon getting to the lookout, which was just a few paces from the car park, the place was just covered in clouds and fog, and there was clearly nothing to be seen even though I could hear the waterfalls while also noticing that there were actually two waterfalls here (Zao Fudo was the other).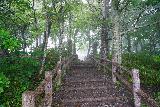 So that was a dud, and by about 11:50am, I was back in the car and ready to drive back to Sendai.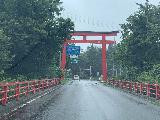 As we headed down a now-well-traveled route towards Murata before hopping onto the E4 Tohoku Expressway.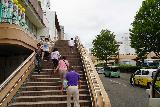 We managed to make one spontaneous fruit stand stop since it seemed like there were fresh fruits being sold in this area, and we managed to spend 1000 yen for about 8 freshly-picked peaches at around 12:35pm.
The peaches were a little on the hard side, and I did recall the lady who sold them to us said to eat the peaches at home (meaning in hindsight that we should have waited a couple of days for the peaches to get softer and sweeter).
Nevertheless, by about 1:15pm, we were back at the hotel where we proceeded to park the car and then get back up to the room to pick up Dad and go for a lunch.
Julie still wasn't feeling well, and Tahia had to stick by her.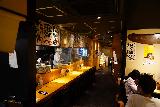 So it was basically a party of 5 going back into Sendai for lunch and possibly a little more exploring of the city, and I asked the front desk for a lunch recommendation, and one lady there recommended Tsukasa.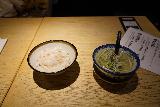 I wasn't sure what that place was about, but she showed me some grilled steak-looking meat but cut a bit smaller, and that it was close by within one of the blocks of the covered shopping arcade near the JR Station.