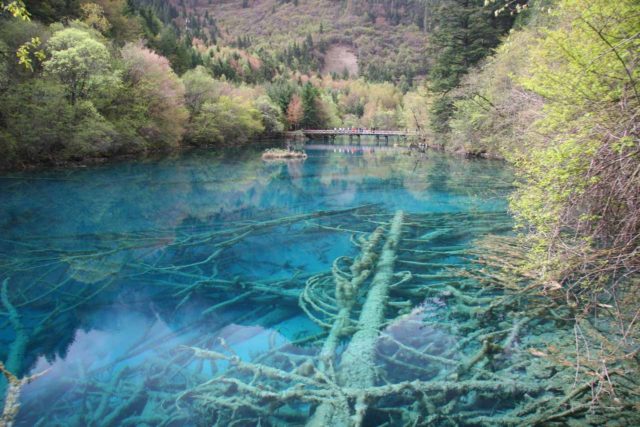 28-April 2009 to 3-May 2009:
Once uncle got home from work, we conversed for a bit. Unfortunately, he had a pretty thick Sichuan accent or dialect going and we really couldn't understand a word he was saying.
It reminded me of when one of Julie's former coworkers who was Scottish took us out for some English tea. And her husband had this really thick Scottish accent that I could barely make out what he was saying. But at least this was in English. With the uncle, I could only imagine how someone fluent in Mandarin Chinese would have trouble understanding this guy…
Day 12: BEARCATS
After leaving Guiyang under rainy skies (the first time we faced this on the Guizhou part of the trip) at 8am, we managed to arrive in Chengdu, Sichuan Province and meet up with our guide there named Simpson at 9:30am.
It also looked like it was raining over here (the wet ground was a dead giveaway), but the air felt a little crisp and cool and the intensity of the rains was nothing more than fair to drizzly.
Simpson seemed to speak and comprehend English better than the other guides on this trip up to this point. So we conversed about a bunch of random things (despite his usually quiet demeanor) during our drive to the Panda Research and Breeding Center about 10km out of the city of Chengdu.
One thing that was immediately noticeable was that the traffic (although still chaotic) was quite noticeably a little more laxed than the crazy chaos we saw in both Guiyang and Nanning. And keep in mind Chengdu is a sprawling city of 11 million people!
Simpson attributed this to Sichuan's quite westerly location, which is somewhat further away from the factories and ports on the eastern side of the country. Plus, a lot of the factories that were here previously went east so the particulates in the air from pollution (from factory emissions) was clearing up.
This was also an opportunity to try to establish contact with my relatives (related through my grandma) who live in Leshan about 2 hours south of Chengdu by car. It was going to be tricky because we didn't really know what they looked like and we were totally going on directions and phone numbers that my parents provided prior to coming here. Plus with the language difficulties, you could imagine our nervousness about this particular leg of the trip, especially considering it won't be by paid escorted tour.
Speaking of which, it was kind of a weird arrangement since we'd only be with our guide and driver on the panda part of this trip and on the airport shuttles to and from Leshan.
Anyways, at 10:15am, we made it to the Panda Research and Breeding Center.
The first thing we noticed was a lot of foreigners here (noticeably a pretty large German group). This was actually something we hadn't seen since we were on the Li River between Guilin and Yangshuo. So for sure, we knew this particular spot was very popular in the eyes of the world apparently.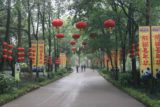 So we strolled around the complex looking at pandas in wide open enclosures.
It was noticeably peaceful and quiet here plus we didn't whiff any of that cigarette smoke we expected from many of the Chinese visitors.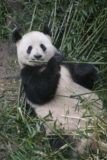 But just as we were getting used to the idea that things would be peaceful and quiet with relatively few visitors, we saw a very large cluster of people (including the giant Chinese tour groups) gathered around a panda laying down eating its bamboo.
We jostled for position before finally getting some shots of this very cute adult panda doing its thing.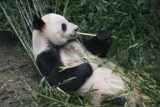 Simpson explained to us that these pandas primarily eat and sleep and do very little else.
As we went from one area to the next, seeing pandas of various ages and sizes, I was lamenting that I left my telephoto lens in the car.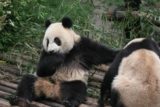 It eventually got to a point where I asked Simpson if we can quickly get to the car and get that telephoto lens.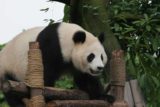 This probably set us back around 15 minutes to a half hour but once I got that telephoto, we got back into the swing of things taking immediately better photos than before. Too bad, we didn't spend as much time as I would've liked with these pandas, especially since I didn't have the telephoto from the beginning.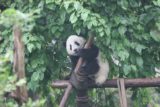 They're just too irresistable and easy to want to love.
We learned that the Chinese word for pandas is xiongmao. It literally means "bearcat" because the Chinese couldn't figure out whether these guys were bears or cats.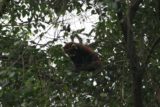 Later on, we went to see red pandas, which were really more like racoons and are actually part of the racoon species instead of bear.
We eventually left the facility a little before 12:30pm. We could've easily spent more time here as I said earlier, but we still had to meet up with my relatives later on today and figure out some of the logistics since this would be our own accommodation and not one organized by the tour company.
I had initially come into the panda center with a little bit of cynicism thinking this would be a rather artificial and zoo-like experience. But after going through the complex and seeing these magnificent organisms live for the first time, I got the sense that this facility has genuine intentions and I didn't get that cheesy feel I had expected even though nothing beats seeing them in the wild (which is next to impossible these days given their critically endangered status).
All in all, I was glad we visited.
After a pretty delicious lunch that contained more familiar stir-fry Sichuanese stuff (like kung pao chicken and some kind of hot sour fish), we were on our way to Leshan.
The ride was quite smooth and food coma overtook everyone except the driver (fortunately).
By about 3:45pm, we were going around the Leshan City looking for the meeting spot dictated by my auntie.
Eventually, as we were slowly moving along, a woman was looking inside our car as we slowly passed by. And as she recognized my face (because I supposedly look like Dad), she got our driver and Simpson to stop the car. Immediately afterwards, she got in and the rest of the logistics was taken care of as this lady (who must be the auntie) was now calling the shots.
So our driver and Simpson dropped us off right at the condo facility where my relatives have bought and lived in. And from there, they left us with our auntie where we promptly went up the elevator and right into the unit of my parents.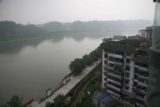 This unit was quite spacious and definitely looked like it wasn't completely furnished. It did have some basics like a TV, washer, clotheslines for hang drying, water heater, bath, shower, bed, stove, microwave, and couch. It was pretty much like a home away from home.
I know Mom was quite excited at having us stay over and see what she and Dad have done to the place. Internet wasn't working because apparently our netbook wasn't configured for this particular wireless router (on some Chinese network) so we'd have to do without it for the time being.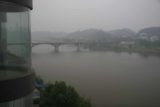 Anyways after settling in, we awaited for auntie's husband to come home from work so that gave us some time to put some of our dirty smelly clothes in the laundry machine.
Once uncle got home from work, we conversed for a bit. Unfortunately, he had a pretty thick Sichuan accent or dialect going and we really couldn't understand a word he was saying.
It reminded me of when one of Julie's former coworkers who was Scottish took us out for some English tea. And her husband had this really thick Scottish accent that I could barely make out what he was saying. But at least this was in English. With the uncle, I could only imagine how someone fluent in Mandarin Chinese would have trouble understanding this guy.
Anyways, it was a good thing auntie could use a little better standard Mandarin to help bridge the language gap, but it was still hard for us given our limited Chinese.
Nonetheless, it was dinner time. And our relatives took us to this place on a boat where we had a pretty fancy dinner of very local Sichuan stuff that we never had before at home. It was mostly fish (quite boney) and some fiery hot stuff even though we only got the broth with far fewer chilis in it.
The dinner was with auntie, her husband, and a couple of other relatives. There was lots of talk about family and stuff. I'm not sure how much of the conversations were able to follow given our lack of fluency in Mandarin Chinese (though enough to hold our own but only if the dialog is at a slow pace) and the Sichuan accent/dialect made things a bit trickier.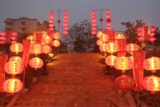 Fortunately, one of the relatives was a young lady who knew a little bit of English and she managed to help translate some of the Sichuanese for us.
The jovial uncle was still hard to follow though. I tried real hard not to give him that blank stare that I didn't know what he was talking about.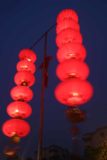 After dinner, darkness presided over the area broken by a bunch of red lamps lining the river.
We then went to aunties' current living apartment where we skyped with my parents. That was when we finally were able to communicate in fluent English besides ourselves. And that was also when a lot of some of the Sichuanese was deciphered.
It was a very jovial time and it kind of epitomized how blood was thicker than water (no matter how many years and miles removed from each other we were).
Up until now, China was another travel destination in which we had some ethnic ties. But after today, it started feeling more personal. Of course, I say that now with the relatives around. I'm sure it'll change again once we leave Leshan.
Day 13: ALL ABOUT THE BUDDHAS
After a late night going to bed, we awoke at 6:30am a little groggy but looking forward to today. The foggy and thick haze of the morning kind of added to the mood of the morning.
We were joined by our Sichuanese relatives at around 8:30am. And after quickly getting things together, we headed out shortly after 9am. My uncle dropped us off at the Grand Buddha entrance at 9:15am while both auntie and uncle himself were headed to work.
With the cell phone they loaned to us, he told us to call him when we're done visiting.
So now we were on our own armed with our limited knowledge of Mandarin and a healthy curiosity.
Ultimately, we got to the top of the Grand Buddha area. It was already a bit busy at the first overlook where mostly Chinese tourists were jostling for space trying to get their photos in front of the face of the Big Buddha.
We tried to fit in there ourselves, but we figured we'd come back here later on.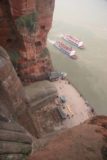 So we started the so-called "cliff road" down to Buddha's feet, which is really a series of steep stairs going precipitously down a cliff towards the bottom.
At first, we worried about a logjam on the stairs (as we had seen in pictures in the past) because a series of elderly ladies were holding us up on the narrow steps. Apparently, they bit off more than they can chew and fortunately they wisely went back up the steps before creating some real problems in starting a traffic jam, but more importantly causing injury.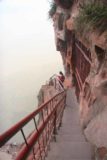 So Julie and I deliberately made our way down while photographing the Giant Buddha on the way down.
It was clear that there was no way to get the whole monument in one shot even with a wide angle lens. So we had to focus more on specific aspects to make our photos look more interesting.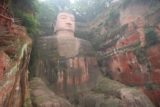 Helping me was some random Chinese guy telling me in Mandarin where Julie should be standing on shots that I'd take of her. He criticized me saying some of my shots before his intervention had no "weidao" (flavor).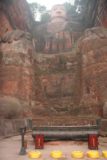 Once we got to the bottom, we had some fun taking more photos especially of the massive toes of the Big Buddha. We even tried to take some fun photos of us trying to pick the toe jam (figuratively of course) of the monumental figure.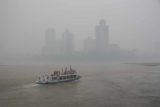 After getting our fill of the views from down here, we continued on going up some stairs and tunnels on the opposite side of the cliffs we had just descended. There were lots of steps so we did lots of huffing and puffing on our way up the stairs. We then took a detour going further to the South Gate Entrance in an attempt to see some big bridge, but we wouldn't be able to do it when we saw that we had to leave the park to get there (not wise since uncle hooked us up to get in without paying).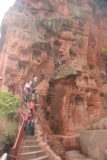 There was a prevalent smell of laquer and paint as apparently a good deal of this UNESCO World Heritage Area was being restored or being renovated. Come to think of it, even the shrine area between the upper entrance/exit and the Grand Buddha was also full of that pungent odor of paint and lacquer. I'm sure you could get high off this stuff.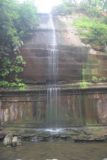 Continuing further up, we ultimately made it to the other side of Buddha's face where we could look across and see a lot more people jostling for position trying to take their photos in front of the monument. We could also see a big traffic jam building up on the narrow steps (or the "cliff road" as the signs say).
It was a good thing we got an early start and beat the tour groups that drove the two hours or so from Chengdu to get here as a day trip.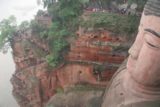 And since we got to see what we came to see, we spent a little more time returning to the very first (crowded) overlook without too much time pressure. This time, we waited for our turn at trying to "pick the Buddha's nose" or trying to "pick the Buddha's ear" if you catch my drift…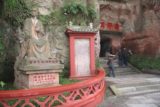 A little after 11:30am, we were on our way out of the Big Buddha complex and shortly thereafter, we met up with my uncle who picked us up and took us on an authentically Sichuanese lunch spot (picking up his wife along the way).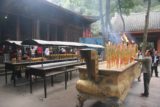 This lunch spot specialized in tofu dishes and it was actually the first time we had a go at the truly Sichuanese version of mabu tofu as well as xiba tofu (which we never had before and was from the Leshan area).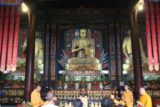 And what made these dishes Sichuanese (especially the mabu tofu) was a particular pepper they put on it that actually numbed the tongue. It was definitely a lot more fiery than the one Julie makes back at home (which happens to be my favorite of her dishes).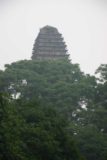 The other dishes were also spicy (and this was with our relatives telling them to tone down the spiciness!).
Our portions were controlled more or less by how much of the hot stuff we could take. I guess that was so we wouldn't overeat on this particular meal at least. And after wiping our runny noses and some sweat off our faces while uncle paid for the meal, we headed out.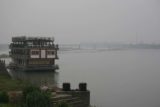 Our uncle drove all of us to the Jiajiang (Jia River) Thousand Buddha Cliffs (Qianfoyan). I was very sleepy with food coma but when we arrived at the unassuming site just before 2pm, I was awoken with the outdoor air and walked into some narrow streets along another large river (that must be the Jiajiang).
We didn't expect very much from this attraction as we figured we had a lot of free time today but we wouldn't have enough time to see the World Heritage Emei Mountain (Shan). So when I brought this up to my uncle yesterday, out of his generosity, he insisted that we go see this thing. We totally made this decision without seeing any photos or reading much about it besides a paragraph on it in Lonely Planet.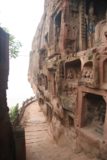 So after passing through some town by the river with the narrow walkway and then passing under a signed archway, we started to see a few tiny carvings etched into alcoves along some small cliffs. There were some signs here and apparently, these carvings were created during the Tang Dynasty (between the 12th and 13th centuries).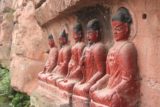 While looking at these initial carvings, some of them looked like they were beheaded. With the rest of the bodies seemingly intact, we figured there must've been a reason for this.
That was when auntie explained in Mandarin to us that it had to do with the Cultural Revolution where any indications of the arts and intellectualism of the past were brutally and unfortunately wiped out in Chairman Mao's efforts to exert his control on the people back in the 1970s.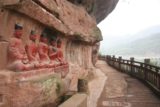 As we continued walking further into the complex, we entered a very impressive area where there were many more engravings (some with heads intact though we're not sure if they're restored or the Cultural Revolutionists failed to get to some of them).
We spent a lot more time here taking photos and even checking out a little altar on a platform across the walkway from these Buddhas.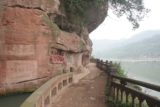 The walkway continued to descend almost to river level flanked by a manmade canal before that waterway went underneath the walkway.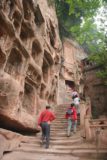 Towards the end of the cliffy part of the walkway, there were some five red statues all side-by-side. Nearby these statues were some old Chinese writings. You could tell they're old because you're supposed to read them from right to left. Plus, some of the words were in traditional characters instead of the simplified characters so commonly used throughout mainland China.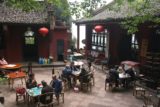 After getting our fill of this attraction, we headed out. But on the way out, I couldn't help but noticing some locals sitting at tables playing either cards or mahjong. Nothing real special about the scene other than it was just one of those "only in China" moments, I thought.
Next, we headed back to Leshan. There, our relatives dropped us off at some tour boat dock. And while we were touring, they headed back to their day jobs.
We didn't have to wait too long before we got onto the tour boat and it got going.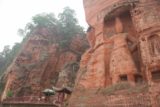 This boat basically crossed the three river confluence (of the Minjiang, Qingyijiang, and Dadujiang) ultimately passing right before the Grand Buddha. One thing we didn't realize while we were visiting the attraction earlier in the day was that there were two "guardian" (at least that's what we thought they were) cliff carvings flanking the Buddha.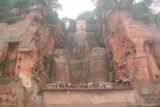 Eventually, the boat tour stopped right in front of the Buddha, but we really didn't get that good of a view of the monument itself. The reason? You had to fork over some more money to get closer to the center of the boat and get more direct views of the Buddha while having someone on the boat taking photos while you pose in front of it.
Julie thought out of the box and went back downstairs to get more frontal views of the Buddha (instead of the upper deck of the boat).
Turned out it was a good move because no one followed us (actually there was one couple down there already) and we got to take what shots we could without any jockying for position with other pushy tourists and we didn't have to get nickle-and-dimed any further.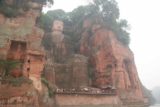 Then, the boat started motoring back to the middle of the river where you could look back at the Grand Buddha attraction together with the guardian statues. This was definitely something you couldn't get to see and do while visiting the official part of the park so we were glad we got to do this boat trip.
When the boat trip ended, we did a little stroll along the riverside street flanked by shops to our left and lots of little cafes or tea places with tables and chairs sheltered by umbrellas on both sides.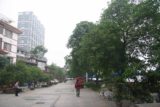 Along this rather peaceful stroll (peaceful especially by Chinese standards) we walked by people playing cards, while others were clattering tiles while playing Mahjong. Still others were socializing while having tea and/or a smoke (cough cough). It was another one of those surreal "only in China" moments where we caught a glimpse of how locals spent their late afternoons just enjoying life.
It was nice to take in this scene that only revealed itself as we took our time going for a walk instead of looking out of a moving car.
At 4:45pm, we got back to our parents' condo where we relaxed for a bit and tried to wrap up our laundry chores by pulling our mostly hang-dried clothes in the back.
Our relatives arrived home from work at around 6pm. They proceeded to take us to some dumpling place that was more like a hole-in-the-wall that had been around for what they said was at least 20 years.
It was simple and cheap stuff and a change from the fiery hot lunch we had earlier today.
After the dinner, uncle took us on another drive through Leshan City. This time, he drove us into this bustling sports complex where hordes of people were doing aerobic dancing following three very fit ladies on stage. Meanwhile, there were numerous ping pong tables all in use as well as others playing badminton. Even the tennis courts were in use.
You could say that uncle showed us the happening part of town as it seemed the whole Leshan City was here. I don't think I had ever seen such a bustling recreational center. And the kicker was that it was all government funded and free, according to auntie. It definitely looked like fit was in in this part of China.
Uncle then took us back to our condo room. During the drive back, we noticed lots of women dancing by the riverside walks in unison in various groups across from some KTV joints. It was yet another one of those really cool "only in China" scenes.
Julie and I figured you don't see too much of this because we usually go to health clubs or try to do our exercising on our own and not as this very large community. Clearly, this would constitute a cultural difference if you will.
Anyways, we were back at the condo at 8:30pm where we skyped with my parents again. My parents seemed awfully happy that we got to tour this part of the country; especially Dad since he and grandma came from nearby this part of the Sichuan Province.
All in all, it was another successful day full of family and surprises…
Day 14: TIBETAN INFLUENCE
We left Leshan a little after 8:30am. At that point, we said our good-byes to my relatives while resuming tour service with our tour guide (Simpson) and driver.
They took us straight to the airport at Chengdu where we eventually caught our short flight to the airport at Jiuzhai-Huanglong.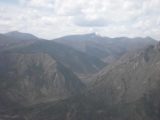 The flight was mostly uneventful until we hit a bit turbulence as we were about to land. And even though some breaks in the clouds revealed gorgeous views of snowy mountains almost at eye level with us, Julie and I did exhibit some nervousness knowing that we were flanked by these mountains with the turbulence. The plane was also making some disturbing creaking sounds.
Thankfully, we arrived at the high altitude airport at Jiuzhai-Huanglong (somewhere over 10,000ft) at 1:50pm. There, we immediately noticed the thin air as we were breathing a little bit heavier than before.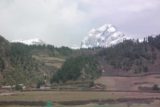 After collecting our luggage, we met up with Alex, our young, long-haired Tibetan guide as well as our driver. The weather seemed to be fine but Alex warned us that the weather is very changeable here.
During the pretty long drive from the airport to the Jiuzhai Town, we learned from Alex that this part of Sichuan is actually Tibetan. We saw it in some of the brick buildings flanked with swastikas and prayer flags.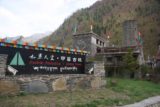 This was something both Julie and I didn't expect, but it certainly made us wonder what the actual Tibet would be like. Anyways, it wasn't going to happen on this trip so we'll have to worry about that on a future trip to China.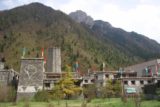 The scenery here was definitely more alpine than the more tropical and subtropical landscapes we had seen throughout Southern China up to this point. In fact, it was kind of reminiscent of something we might have seen in the Eastern Sierras of California or what we envisioned the Rocky Mountains of Colorado would be.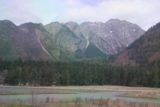 The difference between the US counterparts and here is that these mountains in Jiuzhaigou were upwards of 15,000-20,000+ ft.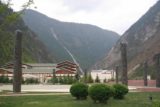 After a late lunch (after 3pm) of more Chinese stir fry dishes with rice, we got to our hotel (the Sheraton) at around 4:30pm. Even though our itinerary called for some sightseeing today, it looked like we'd clump all that into tomorrow. Hopefully, we'll have time for all of them as we knew tomorrow would be that May 1st holiday throughout China and would be very crowded.
Upping the angst of tomorrow's sightseeing was that the weather changed (as Alex predicted) into pretty relentless rain and wind later this evening…
Day 15: SCENERY THAT STAYS IN YOUR DREAMS
We left our hotel and arrived at the gate of Jiuzhaigou Scenic Reserve shortly thereafter at around 8:30am.
As expected, today was the May holiday and it was sure crowded here.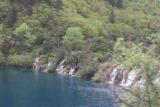 The first order of business was to go into the park and squeeze into one of the mandatory tour buses. They don't let private vehicles in here, unless you're willing to shell out 10,000 yuan for a private shuttle bus.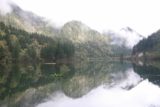 As we took the shuttle bus all the way to Arrow Bamboo Lake, we could already get a glimpse of the incredibly clear and blue-green pools on either side of the bus. Many of us were fruitlessly trying to take photos as the bus was buzzing along, but the scenery was so compelling that we figured it was worth trying anyways.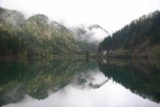 Some time after 9am, we got off at the Arrow Bamboo Lake. This lake was named after the arrow bamboos that pandas like to eat. They were once prevalent in this area, but their habitat was rendered null and void after most of the bamboos here were destroyed. There used to be a couple of factories here (which is why there are lots of submerged dead trees in the pools) before someone figured out that this place has more tourist potential rather than fodder for a factory.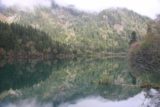 Arrow Bamboo Lake was nice and crystal clear blue. Backing the lake was some attractive snow-crusted mountains which were easily reflected in the calm lake.
We walked along this lake taking photos along the way before getting to the nearby bus stop headed back southwards.
At this point, we squeezed into the next bus (it seems that the Chinese really don't believe in lines and you really have to push to get your way) and got off a couple of minutes later at the Panda Lake.
Compared to the Arrow Bamboo Lake, Panda Lake didn't have much to rave about except that you could see more reflections and mountain landscapes backing it. Of more interest to us was the 76m Panda Lake Waterfall (the tallest in the park), but because we were here too early in the year (most of the water is still locked up as ice and snow), the falls was dry and we didn't stop long enough to take photos of it.
Alex said that the streams start flowing more in the months of July and August. His favorite time of year to see this park is in the Autumn months (September/October).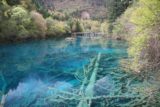 I could envision the color in the foliage reflected in the calm clear lakes and ponds here had we been here in Autumn, but that'll have to be for another time.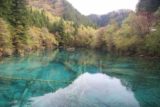 After getting our fill of Panda Lake, we got onto the next bus and got off at the Five Flower Ponds, which Alex also referred to as the Peacock Lake (well, he actually called it Pikako Lake before I figure out what he was getting at).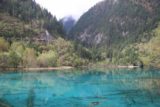 This particular series of ponds was even more blue-green turquoise than the lakes we had seen before. Alex said this was probably the prettiest one in the park and we had to agree with him on that.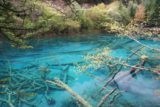 We then did a walk from the 5 Flower Ponds through to the Pearl Shoal Waterfall. Even though we had seen Nuorilang Waterfall on the way up here, Alex said this waterfall was even more impressive than the other one.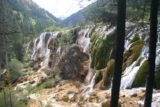 This particular waterfall was very wide and it tumbled over its width consisting of rounded limestone cliffs. Sprinkled throughout the width of the falls were foliage making it difficult to photograph the falls directly. It turned out that the best angles to see this falls was from the stairs providing a more angled view of most of the falls.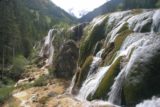 As we were enjoying this waterfall, the tour groups caught up to us and started to disturb the serenity of the scene.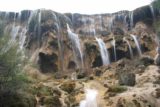 Next, we squeezed into the bus, ignored the Mirror Lake which was rippling and not mirroring, and headed back to the Nuorilang Tourist Center for an early lunch at a little after 11am. We figured it was a good call considering how the dining area might be crazy busy at 11:30am or later.
When we were finished eating, we waited in line for one of the buses to take us up to the 5 Colored Lake along with Long Lake.
Unfortunately, it was an excruciatingly long wait as it seemed all of the shuttle bus drivers were having lunch at the same time. I think some of the people in front of us waited probably at least 15 minutes to a half-hour. So when one bus finally pulled up, there was a mad scramble of pushing and shoving to squeeze onto the bus (remember how the Chinese don't like to have queues).
When the next bus came along, we had to do a little of our own pushing and shoving to get into the bus or else risk getting shut out. I definitely had to exercise restraint and not get into that football mentality of just shoulder blocking everyone (including the pushy elders) out of the way. Again, it was that 1000 grandmas phenomenon (I guess our ethnic brethren aren't exactly the most courteous types).
At around 12:30pm, we got to the Long Lake. There were lots of people here so it wasn't exactly like we beat the rush by any stretch of the imagination. Anyways, we checked out the deep blue lake backed by more snowy mountains with the hazy sun well out in full force.
It just seemed like the hits kept coming and I was wondering if we'd start to get laked out by this point.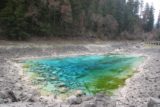 After getting our fill of Long Lake, we squeezed into the next bus and headed over to the 5 Colored Lake. Unlike the other lakes or ponds bearing a similar name, this one really did have some serious color to it. It was almost like we were in Yellowstone National Park except all of these ponds and lakes were with cold alpine water instead of geothermally heated hot springs.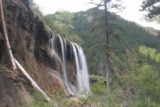 It took a while to pry ourselves away from this "lake" especially when the sun showed itself to reveal even more color. But we eventually did that and headed back to the Nuorilang Tourist Center.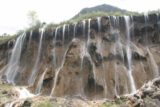 There, we walked to the Nuorilang Waterfall, which was also very long like the Pearl Shoal Waterfall. But Alex mentioned that the Pearl Shoal Waterfall was better than this one and I probably have to agree because it's difficult to get a nice photo of the Nuorilang Waterfall.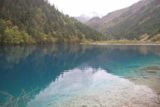 We then walked to the next bus stop which whisked us away towards Tiger Lake. This particular lake provided more deep blue colors with the clarity (like the other lakes) that let you see the submerged dead trees. Then, we walked along some path that ultimately went alongside the Shuzheng Waterfall.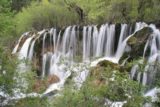 While this particular waterfall lacked the size of the other two we saw, this one had some character to it as the lacy cascade weaved its way between foliage surrounded by trees.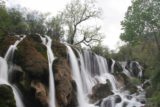 I had some fun taking photos of this one, but with all the tour groups here, it was hard to do so in peace.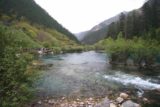 After seeing the Shuzheng Waterfall, we then walked a little further downstream to see a Tibetan prayer wheel along with a stone mill.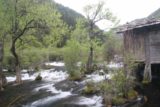 I recalled it didn't seem to be much regarding the prayer wheel itself. It seemed more like some beat up wooden structures, and most of those structures had closed doors. So we didn't linger here too much.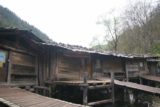 However, we did wonder whether these buildings had some kind of significance. For some reason, they seemed kind of random to us, and thus we wondered whether they were somehow tied to that prayer wheel.
Right across the street was the Shuzheng Village.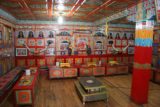 Alex explained to me that "shuzheng" wasn't meant to be "real tree" or "tree government" as I had thought when I tried to translate the word in my head. Instead, it was the Chinese phonetic approximation to the name of the Tibetan village.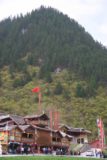 By the way, this was like the second or third Tibetan Village we had seen on this jaunt to Jiuzhaigou. Jiuzhaigou literally means 9 Village Gully after the 9 Tibetan villages here in which only 3 are open to the public.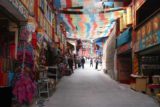 We spent some time walking around the Shuzheng Village seeing an example of a Tibetan guestroom as well as browsing some of the shops here. I guess with the incredible scenery of Jiuzhaigou, that made us happy tourists and happy tourists tend to be happy shoppers, which was why we ended up buying something here.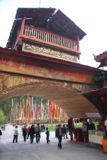 But while in the village, I couldn't get out of my head this Chinese song that was playing over and over again. Whoever was playing that song kept looping the chorus saying "Jing lai de jing lai de jiiing laaaii dee" (literally "come in, come in, cooome iiiin…").
I swore that song will stick with me the rest of this trip…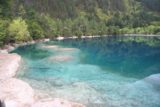 After a couple more obligatory stops at the Sparkling Lake and some other lake, we eventually got back to the Sheraton a little before 5pm. With over 400 photos taken on this day (just to give you an idea of how difficult it was NOT to take photos today), I knew I was going to have a pretty busy day organizing them tonight.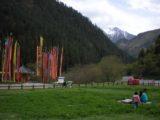 Indeed, our visit to Jiuzhaigou was originally intended to see the three main waterfalls (Pearl Shoal, Nuorilang, and Shuzheng), but I think it really ended up being more about the lakes and ponds. Lonely Planet was right when they said that you're going to see these lakes and ponds with all their color and clarity in our dreams.
But I reckoned we'll be seeing this scenery when we just close our eyes…
Day 16: BABYFACE
It was 6:30am when I awoke, and unfortunately, I was coming down with a cold or something that had invaded my lungs. Not good!
My throat and lungs were actually tickling last night, but I had hoped that a little rest and Airborne would take care of it. It didn't.
Julie was none too pleased with me getting sick because she knew the chances were good that I'd pass it on to her. And with this swine flu going around, who knows what kinds of complications would arise from this (of course I was hoping I didn't come down with it since we'd been in China for the past two weeks and the outbreak started in Mexico after we left home).
It was about 9:15am when we left the hotel.
The forecast had called for cloudy skies in Jiuzhaigou, but possibly rain and snow in Huanglong (Yellow Dragon) site of our excursion for today. So there was the possibility that our excursion might get cancelled due to weather.
The driver (different than the one that drove us from the airport) was some young Tibetan guy who was blaring his techno music with his subwoofer in the trunk so you can actually feel the beat from his music through the backseat and into our bodies it seemed. Kind of a weird feeling.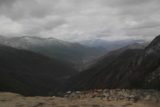 The drive out to Huanglong was very long. En route, we stopped by some roadside stand to pick up some kind of herbal drink that was supposed to help us with altitude sickness. It was also a chance for both Alex and our driver to have a smoke since we didn't want either of them smoking in the car. Anyways, with my lungs affected by a cold, I knew they weren't performing optimally so this herbal thing couldn't hurt I figured.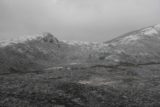 The drive out to Huanglong involved climbing up through several switchbacks and narrow mountain roads. Our driver was quite confident and managed to pass just about everyone in front of us. It was kind of scary considering we were on winding two-lane mountain roads, but Alex seemed pretty confident in this guy's abilities.
The road passed through what looked like the snow level as some of these snow-crusted terrains seemed fresh from last night. I wondered how this would affect us if we were to be hit with another snow storm during the day.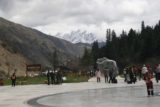 Eventually, we finally made it to the Huanglong entrance at 11:30am. There, Alex gave us our tickets and decided to stay behind. He let us go into the park on our own, but he took the trouble to mention that we shouldn't take the cable car to the top. He also mentioned that we shouldn't take too long to get all the way to the top and see the multi-colored pools up there. So it was decided that he'd meet us back at the entrance at around 2:20pm.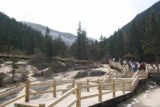 And with that, we were off.
The skies were partly cloudy with some sun managing to break through at times and actually warm things up a bit.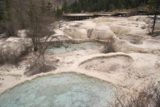 Unfortunately, as we strolled on the boardwalks through much of the yellow terraces and travertine dams, they were dry as apparently, most of the water remained locked in the form of snow and ice. Definitely, we'd have to come here in July or later if we want to see the Yellow Dragon in all its colorful glory.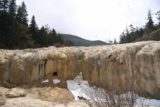 But for now, we had to settle for the odd clear pool or two out of some dozens of them. Even the waterfalls were dry (the Marvelous Flying Waterfall and the Lotus Platform Waterfall were amonst the ones we passed by).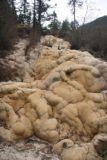 All this kind of made for a disappointing experience, but Alex mentioned that the only thing really worth seeing was the pool at the top so we were determined to make our visit worthwhile and do it.
Unfortunately, we were at over 10,000ft and we had to climb several stairs and slopes over a distance of what seemed like at least 3km or so each way.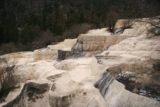 To make matters worse, we noticed more pools but they were located where another trail was under construction; hence adding to the disappointment.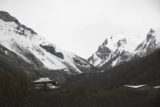 The path relentlessly went up and up and up. It was good that we took that altitude sickness medicine and we took our time. Because we saw several other people seated on the ground rubbing their temples looking very uncomfortable.
At this point, we started to wonder whether we should've taken the cable car up there and then walk all the way down to the entrance.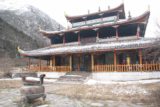 Speaking of temples, there was an interesting one that seemed to make a decent spot to take a breather. A Tibetan temple this high up on the walk wasn't what I was expecting in Huanglong, but it did provide a bit of a change of scenery.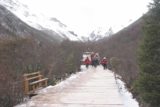 Still, we had a ways to go, and it looked like it was starting to snow lightly. We weren't sure how much further we had to go, but we could already see some dejected Chinese tourists heading back saying loudly that there was nothing to see and the end was too far.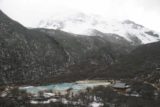 In the distance, I could see there was another temple backed by mountains. It seemed like another worthwhile destination as it was within reach. But we still weren't sure whether it was near the end of the walking path or not.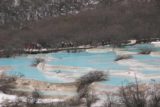 It wasn't until around 1:45pm that we finally made it to that temple. But to our relief, the Multi-colored pools were right behind the temple. So that meant that we made it to the very top! Up here, most of the traffic came mostly from the cable cars as I don't think there were many people who made it this far without it (we were probably one of the exceptions).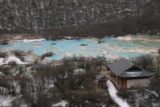 I think Alex underestimated how long it took to get here and it was clear that we wouldn't make his 2:20pm meeting time.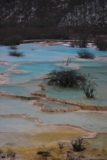 Unfortunately, the weather up here started to turn into light snow. So much for the sun that we started the day with. Perhaps we could've caught these gorgeous pools and terraces in sun had we taken the cable car. Instead, we had to settle for what views we did get while competing for photo space with all the other Chinese tourists pushing to get theirs.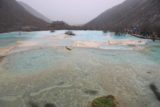 I was certainly glad we made it all the way up here. I had heard of other accounts (one of my coworkers included) where they didn't make it to the top and regretted it. That coworker, by the way, was none too happy with his tour guide who claimed there wasn't anything to see up here.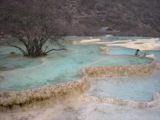 But just as we were trying to enjoy ourselves here, the snow started to fall more heavily. It was kind of our cue to jam and get down to the awaiting Alex knowing that we'd probably be late.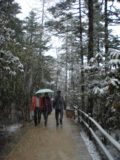 So at 2:15pm, we were on our way down.
I couldn't believe there were still people trying to walk up the other way as we were making our way down in what turned out to be a pretty full on snowstorm.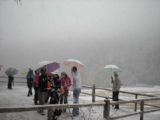 Even amazing still was that some women were wearing high heels in this type of weather and terrain. Not very practical I'm sure.
It all reminded me of our little adventure near San Diego on Valentine's Day a couple of years ago. And as we tried to get past the slow moving tour groups while running our way down, my thoughts were on whether we might be stuck here and unable to make our escape to our hotel nearby the Jiuzhai Airport for tomorrow's departure. After all, we would still have to climb before descending in this snow.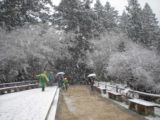 Eventually, we made it back to the car park at around 3:25pm, which was about an hour late. At this point, there was really big snow and our jackets were pretty wet with the stuff. Fortunately, it seemed the snow wasn't sticking to the road yet.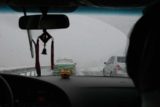 So after dusting off all the snow off our damp jackets, we got into the heated car and made our way out.
Once again our young techo-craving driver skillfully weaved his way around slower cars (some getting stuck in the slick conditions) and fallen rocks from some of the steep cliffs. The terrain was blanketed in snow but at least it wasn't covering the road so chains weren't needed yet.
During the drive, Alex commented that today was a perfect example of the weather being like the babyface. When it's sunny (like it was earlier today) it's like when the baby is smiling and looking cute. At that time, everything's beautiful. But when it's rainy and snowy (like it is now) which is like the baby crying, it's utterly annoying and severely limits what you can do.
Fortunately, we made it back beneath the snow line and into the village for a 4:20pm lunch. There, we met a pair of Caucasians (a Canadian and Australian) who knew some Chinese. Actually, the Aussie who has a Chinese girlfriend was able to read and order from the menu (all in Chinese), which was quite impressive. They said they teach in the city of Chongqing.
The Canadian was having a smoke while in the restaurant. He felt guilty when he knew we were non-smokers (i.e. us), but he said he tried to quit. Unfortunately, everyone in China smokes and a pack of cigarettes cost under a buck unlike the tax laden purchases back at home. So he couldn't resist.
At 5:05pm, we were at the pretty quiet hotel nearby. With the weather looking terrible, we were wondering if we'd have to face delays in getting out of here tomorrow.
By the way, my lungs still felt terrible and I was starting to chain cough…
Day 17: CUTTING IT CLOSE
I was having difficulting sleeping last night thanks to the apparent onset of bronchitis. I think the Thera-flu helped in knocking me out somewhat and allowing me to sleep for around 12 hours even though I was tossing and turning quite a bit.
At 10am, we checked out of the hotel and made it up to the real busy Jiuzhai-Huanglong Airport.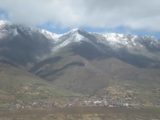 It turned out that today was a very sunny and very clear day. We could see the gorgeous snowy peaks surrounding us as we made our way up to the airport.
I was commenting to Julie that it always seems like whenever it's a travel day, the weather is always nice. Now why couldn't we have this kind of weather yesterday or the day before?
At least the silver lining (I hoped) was that our flights shouldn't be delayed from weather complications.
So after seeing Alex off and getting through all the airport formalities, we waited in the pretty scenic departure gate and waited… and waited… and waited…
Through the anxiety and boredom, Julie chuckled at me when we both heard that song again…
"Jinglaide jinglaide jiiiing laaaiiii deee…"
Eventually, we did board the plane at 12:30pm, which was past our 11:55am departure time. We knew this was going to cut it close for our connecting flight in Chengdu to Xi'an, which was supposed to leave at 3pm. And with this delay, it looked like flight wouldn't arrive until 2pm while we still had to recover our luggage and check-in again.
Well we mercifully made it to Chengdu at around 1:45pm and quickly collected our luggage. Next, we walked from one end of the airport to the other to find the check-in desk for our connecting flight to Xi'an.
Visitor Comments:
Got something you'd like to share or say to keep the conversation going? Feel free to leave a comment below...

No users have replied to the content on this page