Day 32: TOLD YOU SO
We arrived in the Beijing International Airport at 11am. There, we met up with our guide Donald. Just under an hour later, we went straight into the city center of Beijing where we checked into a charming small hutong (a traditional Chinese accommodation) that was hidden in some back alleyway.
After getting settled, we walked with Donald to the Wangfujian pedestrian street. It was quite a bit of a walk in the already 30+ degree Celsius weather. But Donald offered to show us where Quanjude Roast Duck restaurant was since we wanted to try the "best" roast duck and he was headed to a neighboring bookstore anyways.
Now, we're no strangers to Peking (or more accurately Beijing) Roast Duck. Lots of joints sell the stuff back at home in Los Angeles.
But our parents warned us that the duck in Beijing isn't any better than the stuff back at home.
And deep down, I felt they were probably right. But how can you go to Beijing and not try the very dish that put Beijing on the culinary map?
So Julie and I had our Quanjude Roast Duck meal with a vegetable dish and a pot of oolong tea. And even though we thought we were getting a half duck, it seemed like our order was far less than that as it was mostly duck skin (no surprise there) but little else in the way of meat.
Our bill (including a 10% service charge) came out to be like 220 RMB (over $30USD at the current exchange rates), which was pretty ridiculous considering what we were getting. It was especially ridiculous considering how much we paid for just about every other meal in the country on our own. But perhaps it was because Wangfujian's pedestrian street was a bit touristy, and the restauranteurs knew that and took advantage of it.
Nonetheless, we came, we tried the duck, we weren't impressed, and I'm sure this is one of those moments where the parents can say, "I told you so."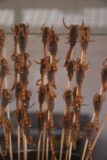 But at least we got this itch scratched. Enough said.
Afterwards, we stumbled into some kind of food market area of Wangfujian. In our brief visit, we noticed some scorpions on skewers and some were still twitching! They even had their pinchers still on! Even though I once saw Survivorman eat a raw scorpion, we're not in survival mode so I don't think we need to try this.
At 2:30pm, we took the Metro (only 2RMB one-way including transfers) to the Temple of Heaven.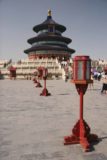 There, we walked around the crowded complex taking photos of many of the buildings. At first, we saw a long line of people in the long corridor leading to the entrance of the complex, but then we realized that most of them were just playing cards.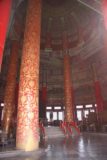 It seemed like we had to pay for an entrance admission ticket and then again for the sights. But in hindsight, we weren't sure if we double paid.
Some of those photos in the brochure that we wished to duplicate were practically impossible due to the quantity of people here. This was especially true of the sacrificial altar shot backed by some of the fancy buildings in the background.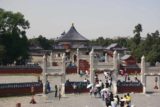 On our way out of the complex, we were getting a kick out of some locals doing some ballroom dancing to Chinese music near the entrance.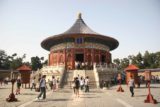 At 4:15pm, we left the Temple of Heaven for the Silk Street Market. And some 45 minutes later, we found ourselves browsing this much larger knockoff mall than the one in Shanghai we were at earlier in this trip.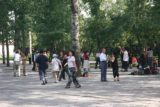 Fortunately (at least in my mind), Julie didn't buy anything. And so we headed back to our hutong near the Dongdan Station to figure out where to have dinner as well as to buy some meds for my persistent cold and cough symptoms.
After discussing with the manager of the hutong we stayed at, she recommended this place back near the Temple of Heaven that specialized in traditional authentic old Beijing food.
It was worth a try so back into the Metro we went and by around 7:30pm, we got to that restaurant.
The restaurant was pretty bright and big. Sure it was a little smokey, but we were up to try some local stuff anyways.
What we ended up getting after having the waiter introduce some of the more famous dishes they served was some kind of bean curd that was like the Chinese version of hummus.
We also had some kind of fried "sausage" of something non-meaty that went real well with garlic sauce.
The food was quite different but pretty good. And after paying the bill, we noticed on the way out a tank with a boa constrictor with a rat on the opposite side of the tank. But no one was moving, but it seemed like that mouse's fate is sealed.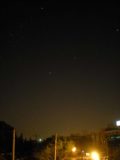 At 8:20pm, just as we left the restaurant and crossed the road over a pedestrian footbridge, we noticed some lights pretty high up in the sky. Some of these lights had a red color, green color, some were blinking, and the rest were white.
The way some of these dots danced, it was easy to think they were UFOs. But we eventually came to the realization that perhaps these lights are kites with fire-induced lamps attached to really long strings.
Finally at 9pm, we were back at the hutong. It was a very long day and we were quite glad to get cleaned up and straight to bed.
Visitor Comments:
Got something you'd like to share or say to keep the conversation going? Feel free to leave a comment below...
No users have replied to the content on this page