Day 33: DISHARMONY
Today was going to be a busy day, and we were told as such by our guide yesterday.
So after a quick 7:30am breakfast, we left at 8am.
During the drive, Donald pointed out various structures in Beijing as we tried to weave our way through the traffic and out of the city. Among the things we saw were the Drum and Bell Towers as well as one of the remaining old towers. I'm sure there were other things, but it's hard to take photos of them let alone remember them as you're whizzing along in the car.
To fill in other silent moments, Donald spoke about a story about spitting since we had complained to him about how much spitting we had seen throughout our time in China.
He said that spitting had been around since 990 A.D. when an Arab tradesman visited China looking to exchange goods. But he complained about the spitting saying that Chinese people lacked hygiene.
I chuckled at this because I thought the very same thing regarding our own experiences. I wasn't sure if this story was real or not, but it's funny that such complaints could span over a thousand years. Still, I was particularly annoyed about the spitting since I felt I had gotten sick perhaps twice due to this lack of hygiene. Come to think of it, I swear that I was sick for more than half the trip so far!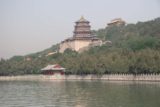 I guess old habits die hard.
At 8:50am, we arrived at the Summer Palace. And immediately greeting us at the entranceway were huge tour groups and crowds as well as the increasing morning heat.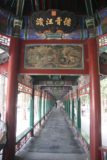 We walked around various parts of the complex looking at a bunch of fancy structures while going around half of a manmade lake drained from a neighboring reservoir. The Long Corridor provided welcome shade.
When we got to the exit at around 10:15am, I left with a sensation that there really wasn't much going on here except for a bunch of fancy buildings. Perhaps I wasn't that well versed in Ming or Qing Dynasty history so maybe it didn't have the impact on me that it should have.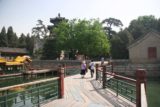 Donald did crack a few jokes (whether advertently or inadvertently) displaying his somewhat nerdy sense of humor that was charming in its own right in a blissfully awkward way.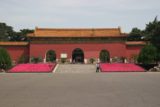 We also learned that he was big on American novels as well as American movies. That'd probably explain why his English was quite good (at least he seemed to understand a good deal of what we're saying in English). He particularly seemed to know a lot of Al Pacino movies.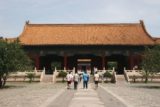 At 10:55am, we got to the Ming Tombs. The part we visited was the Changling area.
To be honest, there didn't seem to be a whole lot to see here except for an exhibit showing Emperor Yongle and various treasures encased behind glass that seemed to really draw interest from Julie.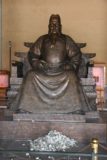 I think Julie was hoping the Ming Tombs would be the Chinese version of the Valley of the Kings in the Nile Valley of Egypt. But this wouldn't be the case here.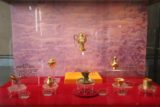 As we were leaving the Ming Tombs, we had to go back out the same way we came in. Since this involved a fair bit of going up and going down, we did notice some panoramic vistas of the complex that we previously didn't notice before.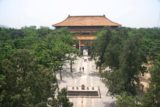 An hour later, we were done with the Ming Tombs and headed to the Friendship (i.e. government) Store where there was lunch. We knew it was a place to get the sell on, but at least they're a little more slick about packing it together with a lunch stop much like the way they did it in Xi'an (so the sell wasn't as blatant and distasteful).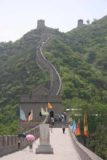 After lunch, we headed straight for the Great Wall. The section in particular that Donald took us to was called Juyongguan. We weren't sure if this was the Badaling section that appeared to be the most famous of all the Great Wall scenery.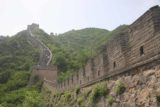 In any case, we arrived at 1:50pm and proceeded to climb up to the top of this particular wall. It was a hot and tiring climb. Many of the steps were steep and uneven. We even noticed some dry barf stains on the stairs, a Caucasian guy with a bloody nose (I'm sure that's dehydration since I had this in the past), and the smell of piss inside several of the towers serving as break spots.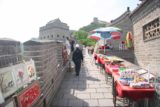 Many of these towers also were flanked by locals hawking stuff realizing that many people like us use these towers as rest spots before proceeding.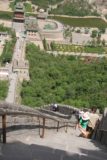 Much of the scenery along the wall itself seemed restored. I could only recall one section past the 2nd tower that seemed to have a genuine old wall in which bricks weren't discernible. But the graffiti on that section as well as on the restored sections kind of took away from the scene. Plus, the litter all over and around the wall were unsightly as well.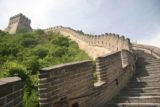 It was easy to stop climbing and go back, but somehow I thought the higher we went, the more likely we might be able to get that classic view of the Great Wall we see in posters and in books.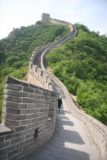 But by 3pm, we got up to the top. And unfortunately, it was an anclimatic finish as there wasn't much of a view and the trail abruptly ended.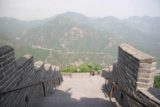 Indeed, it felt like we wasted our time and energy getting up here, and by this point, we could see that we didn't get to see the Badaling part of the wall, which we were convinced at this point that that was the famous spot to take photos.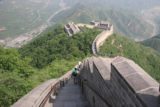 What a disappointment. We considered this excursion the road to nowhere.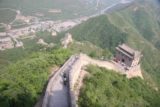 When we got back to the bottom at 3:45pm, we met up with Donald again. That was when Julie complained about not seeing Badaling – the most famous portion of the wall.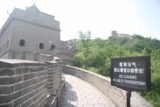 Donald contended it was overcommercialized and chose Juyongguan instead. Our itinerary didn't specify which part of the wall to do so I guess he had to make a judgement call. But Julie insisted that you're supposed to go to the famous part first and not substitute it for something else.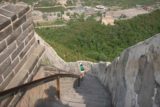 After a bit of tense back-and-forth discussions along with a phone call between Donald and the travel company, Donald eventually caved into Julie's demands, and we were eventually on our way to Badaling.
No one seemed terribly happy in the car from the driver to Donald to Julie who could understand the complaints made between Donald and the driver in Chinese. I could sense the momentary tension and it was apparent that we shared in a moment of disharmony – something that wasn't what the CCP wants these days (they'd rather have a "harmonious" society).
It wasn't long before we got to the Badaling section, which sure enough was more commercialized but also was immediately grander than the Juyongguan section we had just climbed.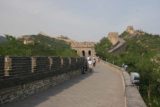 That immediately improved Julie's mood and Donald seemed relieved.
I was busy taking photos trying to reproduce that photo Julie had seen in the DK book. But it seemed that we had to go higher up to get that view and it was getting late in the day while our energy was already sapped from our climb up the wall earlier in the day.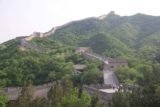 Plus, the One World, One Dream sign flanking the Great Wall kind of ruined the scenery. The sign was still up even though the Olympics was long gone nearly a year ago.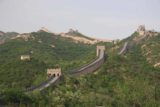 In any case, we still got the photos we wanted, and in the end, we visited two sections of the Great Wall. So despite all the disharmony, it was harmonious in the end and hence we felt this day of touring was a success.
By 5pm, we left Badaling. One of the surprising things about our Badaling visit was how empty it was. Donald thought it had to do with the H1N1 virus killing off travel to this area, but I found it strange that both the Summer Palace and the Temple of Heaven were more crowded than the Great Wall.
At 6:20pm, we were dropped off at the Da Dong Roast Duck Restaurant upon our request (and our desire to try the "other" big time Beijing Roast Duck Restaurant). That was when we said our goodbyes to both the driver and Donald. We would be on our own for the rest of our time in China from here on out.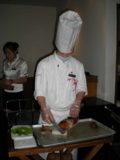 After our disappointing Quanjude Restaurant experience near the Wangfujian pedestrian street, we were determined to try the best Beijing Roast Duck before leaving.
With the over hour-long wait, it had better be the best damned duck we ever had. The accolades and celebrities leaving comments encased in frames further raised the expectations of this restaurant.
When we were finally seated at 7:30pm, we had ourselves a "half" roast duck with one vegetable dish and a couple of Ginger Ales. In addition, they gave us all sorts of add-ons from a couple of crispy buns to several desserts as well as some fruits.
The bill came out to be slightly less (209RMB) than what we spent in Quanjude (220RMB), but this place had a far better experience. We also thought the duck was better but somehow not that much better than say a Sam Woo Restaurant back at home.
In the end, we got to try it and that was the end of our roast duck pursuit.
Fortunately, there was a metro station almost next door to the restaurant. So by 9:30pm, we made it back to our hutong.
Totally pooped from such a long day, we cleaned up and slept without much difficulty.
Visitor Comments:
Got something you'd like to share or say to keep the conversation going? Feel free to leave a comment below...
No users have replied to the content on this page