Day 34: LONG MARCH
We awoke at 7am. I was feeling a little bit better than yesterday and I felt that I didn't need any more meds. Unfortunately, Julie was definitely feeling a temperature now. With tomorrow being our flight to Tokyo, this was not good.
So we kind of moped around for a couple hours in the morning having our breakfast and leaving the hutong a little later than I would have liked at 9:15am.
It was already hot in the morning when we took a quick Metro ride over to the eastern exit of the Tian'anmen Square station.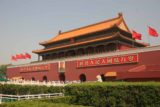 We eventually joined the throngs of people crowding into the only entrance beneath Chairman Mao's countenance before the Forbidden City.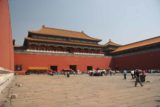 Indeed there was a lot of places to try to compose photographs of fancy buildings and giant walls. All the people crowding the courtyards made it a little tough to get the kind of photos we wanted and it also kept the experience from being as peaceful as we wanted. Though we did notice that whenever we left the center of the Forbidden City and heading to one of sides, it was much quieter.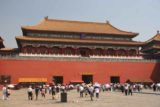 The actual Forbidden City section required a ticket for the Royal Museum. Actually, that Royal Museum seemed like it applied to the whole Forbidden City complex. This association wasn't immediately intuitive, but we eventually figured it out.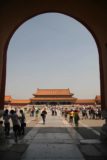 I can't remember how many courtyards we passed through before we saw the first building of harmony at 10:45am. Apparently, this was the one with the imperial throne.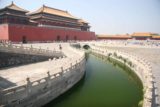 There was a massive crowd in front of the throne and there was plenty of pushing and shoving not only to hold your own ground but even to get in! This was one of the many moments where Chinese courtesy was totally lacking.
With the heat of the day, we saw courtyard after courtyard, building after building.
It seemed like this place was never ending!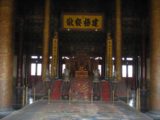 It wasn't until about 11:45am when we made it through the Imperial Garden and out to the northern gate. But we still wanted to see Tian'anmen Square a little bit so we walked back through the Forbidden City back to the Chairman Mao entrance at the south.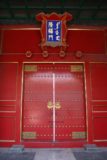 At least this time, we stayed on the sides where it was shady and mostly quiet.
And by 12:40pm, we were finally back outside.
In ten minutes, we found the proper underground entrance to the massive Tian'anmen Square where we could look back at the entrance to the Forbidden City or to the south at some pillar fronted by a bunch of red flags.
We couldn't help but notice a bunch of Brazilian flags with Chinese flags at the entrance to Forbidden City. But perhaps this had something to do with something we saw on CCTV regarding China and Brazil meeting about trade agreements.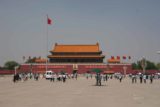 It was really hot in the massive Tian'anmen Square. And compared to the Forbidden City, there really wasn't a whole lot to see. Though it was interesting how many soldiers, cops, and cameras were found in both the Forbidden City south entrance and in Tian'anmen Square.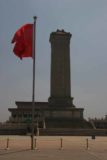 So it wasn't long before we took a train to Wangfujian where we were onto the familiar pedestrian street. And by 1:30pm, we had ourselves some Ajisen Ramen in their air conditioned shopping mall.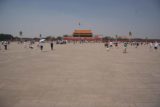 Finally by 3pm, we took the train and returned to our hutong. I think I had enough of seeing these black and white ads throughout the subways for some mobile phone company. But I swore the pictures they used could've easily been something out of a Japanese horror movie.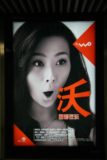 Anyhow, Julie wasted no time to sleep and try to rest off the onslaught of her apparent flu or cold. Hopefully, she recovers because with this H1N1 outbreak, we could ill afford a quarantine as our accommodation bookings in Japan were already arranged…
And so ended our sightseeing in Beijing as well as the rest of China.
It was indeed a trip that brought out the best of the country (the varied landscapes, the sense of heritage and history, and progressive moves at bettering their cities as evidenced by their subways) as well as the worst of the country (the lack of hygiene and courtesy of many people, the censorship and propaganda, and the mistiming of our visit in terms of seeing waterfalls and other Natural assets).
We don't know when we'll be back to see more of the country and perhaps have a 2nd take at some of the major attractions I feel like I'd like to redo. But we were certainly glad we got this chance to find out a little more about who we are while getting a taste of China's often overlooked and deeply endangered Nature.
Visitor Comments:
Got something you'd like to share or say to keep the conversation going? Feel free to leave a comment below...
No users have replied to the content on this page