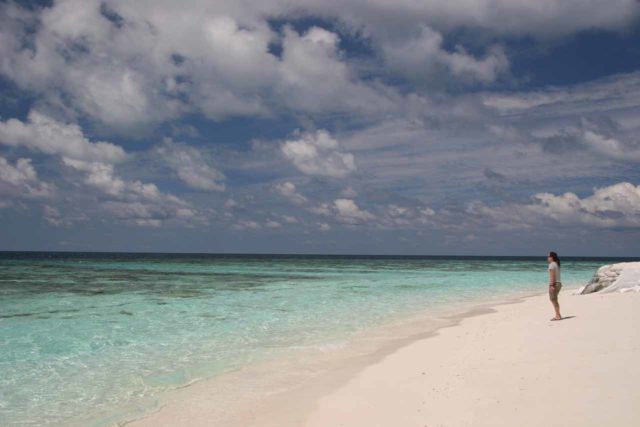 20-November 2009 to 23-November 2009:
We did a bit of a walking tour of the city, but we were pretty determined to find something good that was local and so we followed our LP guide into this place (I forgot its name) where we had ourselves delicious (and spicy) fish curries. Now THIS was what we were looking for!
It was funny that we had to leave the resort to get the real Maldivian experience, but I guess that's kind of how we roll. We'd much prefer to do things that are more indicative of the local lifestyle than try to have a home away from home. After all, isn't the differences and the variety of life what travel is all about in the first place?…
Day 20: BREAD HOCKEY
After a brief power outage at the airport in Kerala, we eventually got onto our flight bound for Male in the Maldives. To our surprise, the flight actually took off on time!
Now why couldn't this have happened towards the beginning of the trip when so many things depended on more-or-less on-time service. Instead, we had hours upon hours of delays and that ended up costed us some waterfalls in parts of India.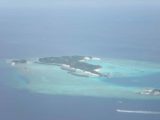 Anyways, our two-hour flight on Air India, which seemed to be a no-frills budget airline (though it was national for the country) went by without incident. During the flight, we looked out the window and saw a few atolls fringed by blue reefs. That got Julie excited as she always would get excited about tropical paradises like this.
After going through passport control, we then boarded a boat that took us out to the Angsana Resort. It turned out that I had read from the literature that the highest point on the Maldives Islands was a mere 11m (and that was based on an added-on infrastructure being built around a neighboring island to Male). Thus, water was a way of life in these parts.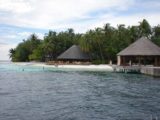 Eventually, we'd reach the Angsana Resort where we could clearly see the straw thatched roof huts nestling amongst palm trees andd white sands. Even though the weather wasn't totally free of clouds when we arrived, we could see that when the sun did come out, the colors were out too!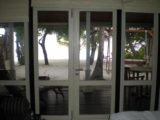 After getting all checked in, we were finally shown our room, which was where Julie and I were to stay for the next three nights. Now, we could finally just take a vacation from the vacation. Where India was real hectic, this place was totally opposite as practically everyone was laid back.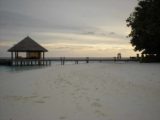 The next few hours was pretty much just exploring the little atoll we were on. It was quite easy to go around the atoll we were on, but we didn't really have much time to get into the water yet. So there wasn't really a whole lot to do on the island we were on so it didn't take much time to just be couped up in the room while getting cleaned up for dinner tonight.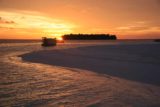 As it was about to get to sunset, we then took the free shuttle across towards the other sister resort called the Banyan. This one was a bit more upscale from the one that we stayed at so we decided to give this place's food a try for the buffet dinner.
One thing we noticed while we were shuttling across was that there were lots of Chinese couples. Julie and I wondered if this was their honeymoon destination instead of the South Pacific because it might be closer or somehow more direct than say Tahiti. It might have also been an indicator of the rise of a middle class that we have enjoyed in much of the Westernized world for as long as I could remember.
We exchanged a few words in Mandarin about where we were from (seeing that many Chinese we have met overseas have always seemed to be intrigued by Chinese Americans) before the polite chatter ended.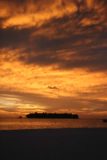 As we landed at the Banyan, it was just in time for sunset. And boy the timing couldn't have been better!
Given some of the scattered clouds that were above us, the skies went a fiery orange as the setting sun started to get scattered by painted by the long wavelengths of the sun's rays that fiery orange color.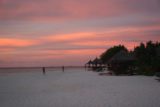 As the seconds went by and the sun sunk lower on the horizon, we could see that the skies started to turn even more orange until it eventually went pink and purple.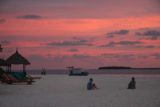 Such dramatic color shifts could only be possible if there were clouds around to receive the changing colors of the sun's rays, and they were certainly present though not blocking the sun to mute the colors completely.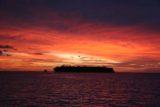 Indeed, it's times like these that we were glad we brought our DSLR along to try our very best at taking those amateur semi-pro sunset shots that seemed to occur more frequently in tropical paradises like the Maldives.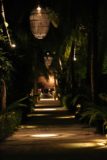 When it came time to eat dinner, we saw the usual Western fare with a few Maldivian things (though they seemed to be VERY limited choice of the local fare). And when we ate the food, we immediately could tell that the food was very bland compared to the spicy stuff we had in India.
I guess that's the problem with getting used to spicy foods (especially Indian spices) because once you move away from the spicy Indian foods, everything else that came afterwards tasted bland. And add to that the more Westernized bent probably to cater to the foreigners wanting a slice of home away from home, and we were lamenting the food already.
I guess the bright side was that kind of checked our diet more or less. The problem was we had already paid for this stuff, and we were hoping that maybe the next meal they'd have some more local stuff. At the very minimum, Julie and I started to ask the staff if we could eat what the staff would normally eat.
But when we were denied, I guess we had to stick with our bland Westernized non-local diet. So in the end, Julie and I concluded that the food probably wouldn't be that much different regardless of whether it was the Banyan or the Angsana.
When we were done with dinner, there were a lot of free bread and dinner rolls at the buffet here so while we waited for our return boat to the Angsana, we chilled out at the dock. But under the lights of the lit up dock, we could see there were lots of fish taking advantage of the artificial light to do their business.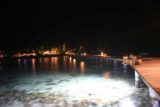 Julie started feeding them bread pieces, but I thought it started getting boring watching one fish after another try to outcompete for Julie's freebies. To mix things up a bit, I decided to toss in the whole bread (which had a little bit of a glossy finish and it floated).
What ensued was a comical display of a bunch of fish trying to eat the bread but one fish after another kept pushing the bread away further and further from the dock. In a way, it was as if these reef fish were playing bread hockey!
The first dinner roll was pretty much pushed out into the darkness away from the lit up dock. We didn't know what happened to it.
Each subsequent try, we tried to duplicate the same bread hockey effect, but I think the fish eventually caught on and there'd be a big fish that could latch onto the bread and snatch it away from the school of smaller fish trying to compete for it.
Still, it was addictive trying to get back the rush and comedy of the first dinner roll hockey piece, but eventually our boat arrived, and it was time to return to the resort for our first night's sleep in the Maldivian Paradise.
Day 21: WAITING UNTIL STINGRAY FEEDING TIME
I don't remember when we woke up, but it was kind of nice not having to wake up to a schedule nor to be at some place by some time. The only real schedule impact on our trip was the possibility of missing out on breakfast if we stay in our room for too long.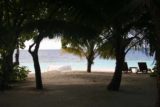 But given how my body's rhythms were still used to waking up between 6am and 7am Indian time, I did manage to wake up early enough to briefly try to get a few early morning photos of the immediate area around our bungalow. However, we were facing west so there wouldn't be a sunrise view nor did I get up early enough to get that event anyways.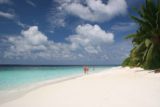 After breakfast, we pretty much had the whole day to do nothing. So we spent this time just taking some photos given that the sun was out and the waters were that gorgeous shade of blue-green juxtaposed against the blindingly bright white sandy beaches with green palm leaves and trees adding a bit of deep green to the scene.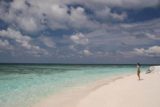 We also went into the water to use the snorkeling gear provided by the resort. That was where I tried to fight my tendency to get seasick while snorkeling while trying to also look at the reef fish chilling out around our atoll.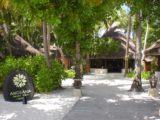 We noticed there were some small reef sharks also around the island, which gave Julie some sense of fear, but I was trying to take photos of them with the disposable underwater camera we brought. Unfortunately, the sharks were a bit too nimble, too distant, and tended to go a bit further from the atolls for my liking.
In any case, it was a pretty relaxing day just killing time and enjoying a day where we had no real agenda for a change. Indeed, now it felt like we were on the vacation from the vacation.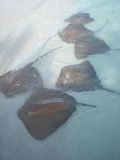 It wasn't until much later in the afternoon where we returned to the Banyan again in time for the scheduled stingray feeding. And like clockwork, it seemed like the stingrays knew when this time would be during the day as well as they'd swim towards the Banyan's atoll at the correct beach and dock on their own free will. It was like the Pavlov's Dog experiment being played out before our eyes!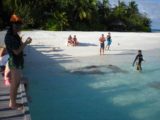 So there were easily a half-dozen or more stingrays all waiting their turn to be fed. It started with some employee in a wet suit talking to the guests about the stingrays (though obviously no mention was being made about their dependence on human intervention instead of doing their own hunting and scavenging in the wild).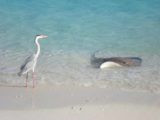 Then some of the stingrays were doing tricks.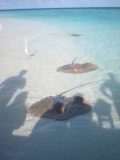 Towards the end of the display, we saw there were also other birds who came by looking for scraps. Even some kids (from guests who brought them) were allowed to feed the fish directly themselves as well. It kind of reminded me of the lagoonarium experience in Moorea some seven years ago.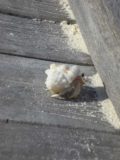 Anyways, when the display was over, we started to see tiny shelled crabs coming out of the sand and moving on the dock as well. Then, we had another bland dinner at the Banyan. Again, when we saw that there wasn't much in the way of local Maldivian food here, we decided to ask the employees if we could try what the local employees would normally eat.
They said it didn't exist, and perhaps it didn't. But I had to believe the locals would be pretty sick of the bland Westernized food so part of me wasn't buying it.
Anyways, with dinner done and another round of bread hockey being played on the docks, we were back at the Angsana to cap off this pretty relaxing day.
Day 22: A MORE REAL MALDIVIAN EXPERIENCE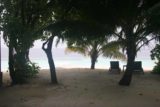 When Julie and I awoke, we were greeted by a tropical downpour. We weren't sure what the Wet and Dry Season cycles of the Maldivian Islands were, but it was clear that we definitely weren't in the Dry Season according to this experience.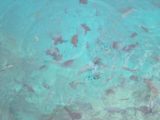 Although it did cross our minds that we might have to deal with a day of muted sun, part of me also knew that the sun would eventually come out and storms like these tended to pass pretty quickly in the Maldives.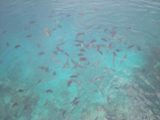 In any case, we had our brekkie, and then we had several hours to kill. So even though the weather wasn't good and the colors were muted, plus the waters were a little less calm than yesterday, we still went in the water for some snorkeling.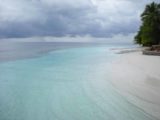 Unfortunately, without the sun and clarity of calm weather, the snorkeling experience was definitely not nearly as good as it was yesterday. I guess that's why most people tend to prefer going to tropical destinations where sun would be more likely.
Because the difference between sunny days and non-sunny days were dramatic.
The silver lining to this was that the temperatures were a bit cooler than they were yesterday. If anything, it started to get a little chilly when the rain drops would fall on us. But with all the dark clouds and squalls around us, it definitely felt a bit ominous to be out in the great unknown of the Indian Ocean.
Nonetheless, it turned out that today there was a guided tour back to the main island of Male, which was the capital city of the Maldives. We thought we mind as well mix things up a bit as I was getting antsy about having nothing to do or see on our atoll all day.
Moreover, we were determined to have real Maldivian food, which we knew would have Indian spices mixed with seafood.
In any case, when it came time for our early afternoon tour, the got on the nap-inducing boat ride to the main island, and we could see what LP talked about where they were building a slightly taller man-made island that was to be the new capital or some extension of it given the realities of Global Warming and rising sea levels.
When we landed in Male, we were right in the city center where we could see there was an interesting mix of Islamic buildings (mosques and buildings with minarets), fish markets, etc.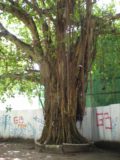 We did a bit of a walking tour of the city, but we were pretty determined to find something good that was local and so we followed our LP guide into this place (I forgot its name) where we had ourselves delicious (and spicy) fish curries. Now THIS was what we were looking for!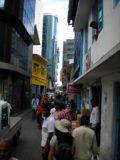 It was funny that we had to leave the resort to get the real Maldivian experience, but I guess that's kind of how we roll. We'd much prefer to do things that are more indicative of the local lifestyle than try to have a home away from home. After all, isn't the differences and the variety of life what travel is all about in the first place?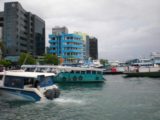 The skies were still mostly cloudy during most of our Male tour so I guess in the end, our fears were true that this turned out to be one of those days where the sun was elusive. However, when our tour ended, and we boated back to the Angsana, we saw that there was starting to be clear skies as the evening progressed.
That might be good tidings for our last day in the Maldives tomorrow.
Anyways, back at the Angsana, we decided to stay on the Angsana side for dinner this time around. And sure enough, the food remained dull and Westernized. We were already longing to have the Maldivian food that we enjoyed in Male.
Day 23: EXTENDING PARADISE
With this being our last day in the Maldives, I found myself awake early in the morning, and I tried to seize the moment by bringing the camera then walking outside of our bungalow to see if there was going to be a sunrise on this day. Yesterday was raining so this wasn't a sure thing.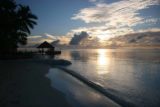 Sure enough, when I looked in the easterly direction from our bungalow, I could see the morning sun had already breached the horizon, but it was still hidden behind some distant clouds muting its otherwise harsh rays. So much for the warm hues of sunrise, I thought.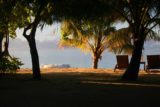 Eventually, the sun got over these clouds, and I knew that looking into the sun at this time was not fruitful. So when I returned to the room, I looked out towards the water and saw the orangish glow painted on the sand and trees beyond the shadows.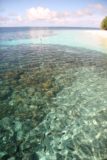 By now, it was time to do the hygenic chores of the day. Julie was just starting to wake up to the day. And eventually when the morning obligations were done, it was time to have breakfast.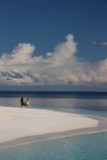 For most of the morning, we really didn't have anything planned to do. However, we wanted to make sure that we were going to enjoy this last day in the Maldives. So the next several hours were spent snorkeling, strolling around the property, and just lounging. We were pretty much doing the very thing that vacations like this were meant for – nothing.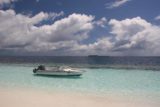 Since we were allowed to check out late (and I believe Julie figured something out that allowed us to stay in our room until almost dinner time), we made sure that our clothes were dry after having gone in the water while we would be showering from the sunscreen and sweat (given the humidity) as late as possible.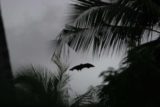 Eventually, as it got towards the twilight hours, we even started to notice that bats flying around the resort. At first, we thought they were birds, but there was something that seemed off about the way they fly and even the shape of their winds. The bats were also a pretty big size, and I wondered if other resort guests knew about the presence of these intriguing mammals.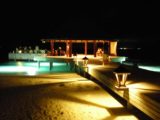 Anyways, I couldn't get a clear shot of them since they were always on the move.
But with that bit of last-minute loitering out of the day, and we had ourselves a last shower, we then got our stuff, waited for our boat, and were off to begin our night journey half-way across the globe back home…
Visitor Comments:
Got something you'd like to share or say to keep the conversation going? Feel free to leave a comment below...
No users have replied to the content on this page