Day 20: BREAD HOCKEY
After a brief power outage at the airport in Kerala, we eventually got onto our flight bound for Male in the Maldives. To our surprise, the flight actually took off on time!
Now why couldn't this have happened towards the beginning of the trip when so many things depended on more-or-less on-time service. Instead, we had hours upon hours of delays and that ended up costed us some waterfalls in parts of India.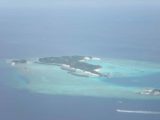 Anyways, our two-hour flight on Air India, which seemed to be a no-frills budget airline (though it was national for the country) went by without incident. During the flight, we looked out the window and saw a few atolls fringed by blue reefs. That got Julie excited as she always would get excited about tropical paradises like this.
After going through passport control, we then boarded a boat that took us out to the Angsana Resort. It turned out that I had read from the literature that the highest point on the Maldives Islands was a mere 11m (and that was based on an added-on infrastructure being built around a neighboring island to Male). Thus, water was a way of life in these parts.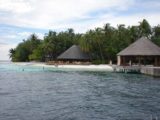 Eventually, we'd reach the Angsana Resort where we could clearly see the straw thatched roof huts nestling amongst palm trees andd white sands. Even though the weather wasn't totally free of clouds when we arrived, we could see that when the sun did come out, the colors were out too!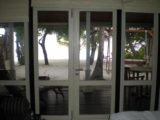 After getting all checked in, we were finally shown our room, which was where Julie and I were to stay for the next three nights. Now, we could finally just take a vacation from the vacation. Where India was real hectic, this place was totally opposite as practically everyone was laid back.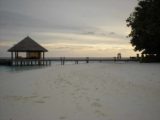 The next few hours was pretty much just exploring the little atoll we were on. It was quite easy to go around the atoll we were on, but we didn't really have much time to get into the water yet. So there wasn't really a whole lot to do on the island we were on so it didn't take much time to just be couped up in the room while getting cleaned up for dinner tonight.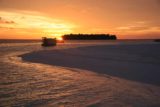 As it was about to get to sunset, we then took the free shuttle across towards the other sister resort called the Banyan. This one was a bit more upscale from the one that we stayed at so we decided to give this place's food a try for the buffet dinner.
One thing we noticed while we were shuttling across was that there were lots of Chinese couples. Julie and I wondered if this was their honeymoon destination instead of the South Pacific because it might be closer or somehow more direct than say Tahiti. It might have also been an indicator of the rise of a middle class that we have enjoyed in much of the Westernized world for as long as I could remember.
We exchanged a few words in Mandarin about where we were from (seeing that many Chinese we have met overseas have always seemed to be intrigued by Chinese Americans) before the polite chatter ended.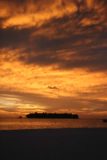 As we landed at the Banyan, it was just in time for sunset. And boy the timing couldn't have been better!
Given some of the scattered clouds that were above us, the skies went a fiery orange as the setting sun started to get scattered by painted by the long wavelengths of the sun's rays that fiery orange color.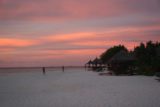 As the seconds went by and the sun sunk lower on the horizon, we could see that the skies started to turn even more orange until it eventually went pink and purple.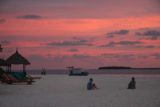 Such dramatic color shifts could only be possible if there were clouds around to receive the changing colors of the sun's rays, and they were certainly present though not blocking the sun to mute the colors completely.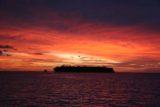 Indeed, it's times like these that we were glad we brought our DSLR along to try our very best at taking those amateur semi-pro sunset shots that seemed to occur more frequently in tropical paradises like the Maldives.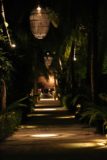 When it came time to eat dinner, we saw the usual Western fare with a few Maldivian things (though they seemed to be VERY limited choice of the local fare). And when we ate the food, we immediately could tell that the food was very bland compared to the spicy stuff we had in India.
I guess that's the problem with getting used to spicy foods (especially Indian spices) because once you move away from the spicy Indian foods, everything else that came afterwards tasted bland. And add to that the more Westernized bent probably to cater to the foreigners wanting a slice of home away from home, and we were lamenting the food already.
I guess the bright side was that kind of checked our diet more or less. The problem was we had already paid for this stuff, and we were hoping that maybe the next meal they'd have some more local stuff. At the very minimum, Julie and I started to ask the staff if we could eat what the staff would normally eat.
But when we were denied, I guess we had to stick with our bland Westernized non-local diet. So in the end, Julie and I concluded that the food probably wouldn't be that much different regardless of whether it was the Banyan or the Angsana.
When we were done with dinner, there were a lot of free bread and dinner rolls at the buffet here so while we waited for our return boat to the Angsana, we chilled out at the dock. But under the lights of the lit up dock, we could see there were lots of fish taking advantage of the artificial light to do their business.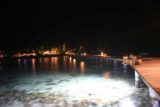 Julie started feeding them bread pieces, but I thought it started getting boring watching one fish after another try to outcompete for Julie's freebies. To mix things up a bit, I decided to toss in the whole bread (which had a little bit of a glossy finish and it floated).
What ensued was a comical display of a bunch of fish trying to eat the bread but one fish after another kept pushing the bread away further and further from the dock. In a way, it was as if these reef fish were playing bread hockey!
The first dinner roll was pretty much pushed out into the darkness away from the lit up dock. We didn't know what happened to it.
Each subsequent try, we tried to duplicate the same bread hockey effect, but I think the fish eventually caught on and there'd be a big fish that could latch onto the bread and snatch it away from the school of smaller fish trying to compete for it.
Still, it was addictive trying to get back the rush and comedy of the first dinner roll hockey piece, but eventually our boat arrived, and it was time to return to the resort for our first night's sleep in the Maldivian Paradise.