Day 21: WAITING UNTIL STINGRAY FEEDING TIME
I don't remember when we woke up, but it was kind of nice not having to wake up to a schedule nor to be at some place by some time. The only real schedule impact on our trip was the possibility of missing out on breakfast if we stay in our room for too long.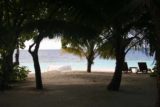 But given how my body's rhythms were still used to waking up between 6am and 7am Indian time, I did manage to wake up early enough to briefly try to get a few early morning photos of the immediate area around our bungalow. However, we were facing west so there wouldn't be a sunrise view nor did I get up early enough to get that event anyways.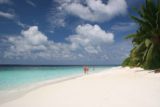 After breakfast, we pretty much had the whole day to do nothing. So we spent this time just taking some photos given that the sun was out and the waters were that gorgeous shade of blue-green juxtaposed against the blindingly bright white sandy beaches with green palm leaves and trees adding a bit of deep green to the scene.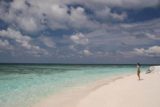 We also went into the water to use the snorkeling gear provided by the resort. That was where I tried to fight my tendency to get seasick while snorkeling while trying to also look at the reef fish chilling out around our atoll.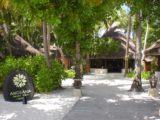 We noticed there were some small reef sharks also around the island, which gave Julie some sense of fear, but I was trying to take photos of them with the disposable underwater camera we brought. Unfortunately, the sharks were a bit too nimble, too distant, and tended to go a bit further from the atolls for my liking.
In any case, it was a pretty relaxing day just killing time and enjoying a day where we had no real agenda for a change. Indeed, now it felt like we were on the vacation from the vacation.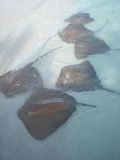 It wasn't until much later in the afternoon where we returned to the Banyan again in time for the scheduled stingray feeding. And like clockwork, it seemed like the stingrays knew when this time would be during the day as well as they'd swim towards the Banyan's atoll at the correct beach and dock on their own free will. It was like the Pavlov's Dog experiment being played out before our eyes!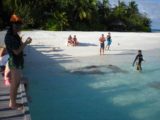 So there were easily a half-dozen or more stingrays all waiting their turn to be fed. It started with some employee in a wet suit talking to the guests about the stingrays (though obviously no mention was being made about their dependence on human intervention instead of doing their own hunting and scavenging in the wild).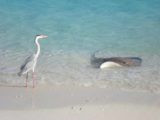 Then some of the stingrays were doing tricks.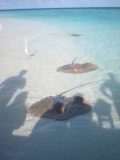 Towards the end of the display, we saw there were also other birds who came by looking for scraps. Even some kids (from guests who brought them) were allowed to feed the fish directly themselves as well. It kind of reminded me of the lagoonarium experience in Moorea some seven years ago.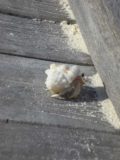 Anyways, when the display was over, we started to see tiny shelled crabs coming out of the sand and moving on the dock as well. Then, we had another bland dinner at the Banyan. Again, when we saw that there wasn't much in the way of local Maldivian food here, we decided to ask the employees if we could try what the local employees would normally eat.
They said it didn't exist, and perhaps it didn't. But I had to believe the locals would be pretty sick of the bland Westernized food so part of me wasn't buying it.
Anyways, with dinner done and another round of bread hockey being played on the docks, we were back at the Angsana to cap off this pretty relaxing day.