Day 23: EXTENDING PARADISE
With this being our last day in the Maldives, I found myself awake early in the morning, and I tried to seize the moment by bringing the camera then walking outside of our bungalow to see if there was going to be a sunrise on this day. Yesterday was raining so this wasn't a sure thing.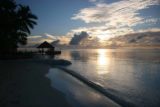 Sure enough, when I looked in the easterly direction from our bungalow, I could see the morning sun had already breached the horizon, but it was still hidden behind some distant clouds muting its otherwise harsh rays. So much for the warm hues of sunrise, I thought.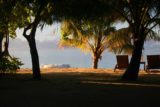 Eventually, the sun got over these clouds, and I knew that looking into the sun at this time was not fruitful. So when I returned to the room, I looked out towards the water and saw the orangish glow painted on the sand and trees beyond the shadows.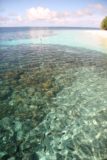 By now, it was time to do the hygenic chores of the day. Julie was just starting to wake up to the day. And eventually when the morning obligations were done, it was time to have breakfast.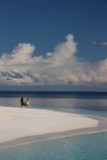 For most of the morning, we really didn't have anything planned to do. However, we wanted to make sure that we were going to enjoy this last day in the Maldives. So the next several hours were spent snorkeling, strolling around the property, and just lounging. We were pretty much doing the very thing that vacations like this were meant for – nothing.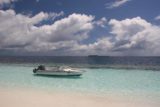 Since we were allowed to check out late (and I believe Julie figured something out that allowed us to stay in our room until almost dinner time), we made sure that our clothes were dry after having gone in the water while we would be showering from the sunscreen and sweat (given the humidity) as late as possible.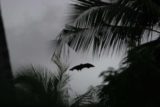 Eventually, as it got towards the twilight hours, we even started to notice that bats flying around the resort. At first, we thought they were birds, but there was something that seemed off about the way they fly and even the shape of their winds. The bats were also a pretty big size, and I wondered if other resort guests knew about the presence of these intriguing mammals.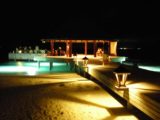 Anyways, I couldn't get a clear shot of them since they were always on the move.
But with that bit of last-minute loitering out of the day, and we had ourselves a last shower, we then got our stuff, waited for our boat, and were off to begin our night journey half-way across the globe back home…