Day 9: A LONG DAY OF DOING NOTHING
Today we had a very early wake up call at 5:30am. Of course this isn't much of a big deal for me since I usually get up at 5am each morning to go to work 90 minutes later.
As my Mom always says, "Early bird gets the worm."
Anyways, I wasn't so sure that would be the case today because we had to catch an 8am flight from Nanning to Guiyang. But beyond that, there didn't seem to be anything more on the agenda.
It was going to be another leg of the trip where the center attraction was a famous Chinese waterfall. Before it was Detian Pubu, but now it's the Huangguoshu Pubu.
Unfortunately, with the way flights and itineraries worked out, we'd have a whole day of doing nothing once we got to Guiyang.
Still, the important thing was that we got to our hotel in one piece with all of our luggage.
We met our tour guide named Li, who had a very youthful look because she was young (only 25) and she was dressed very youthfully with converse shoes, jeans, and hooded sweater jacket. And like the other guides we have met up to this point, their dialog to us was primarily in Mandarin Chinese. I guess it's just what they're used to and we were interested in improving (ti gao) our Chinese as well. Of course, when it got hard to explain something in Chinese or didn't we know a particular word, then we switched to Chinglish. But with Li, it seemed like she was very uncomfortable with English and she didn't seem at all interested in (or unable to) uttering a word of English.
We arrived at our hotel at 10:15am. There, we got settled as the hotel let us check in early. Unfortunately, we were busy trying to figure out a way to minimize the smoke in the room while dampening all the honking sounds just outside our window (at least we were on the 16th floor). Even though we requested a non-smoking room, somehow they weren't able to meet our request.
I guess since we're on the topic of cigarette smoke, I have to vent that it seemed like everywhere we went in the country, smoking was a real problem for us as it's everywhere. It's in the elevator, in the hotel rooms, in the restaurants, in the hallways, and who knows where next we'll encounter second hand smoke?
And when we had the fan blowing, it seemed like the smoke was especially bad as it seemed to let in the smoke that made its way up the vents to our room. Even though the receptionists and guides were aware of foreigners and their desires for non-smoking, it seems hard to accommodate it especially given how chronically prevalent it is here.
Anyways, we eventually figured out that we had to turn off the fan and try to close off the vents. That at least improved the smoking situation somewhat, but the residual smoke and any new fumes that managed to reach us were still there to constrict our lungs and make our hearts beat faster.
At 12:30pm, we went across the street into the Jinyi Canting (Restaurant) where our guide helped pre-order some delicious yet healthy plates. Unfortunately, we had to shift tables once because (you guessed it) someone was smoking right next to us.
Back at the hotel, we asked to switch rooms. Surprisingly, our request was honored. Yet I couldn't quite figure out why we couldn't be accommodated earlier in the day on the first request.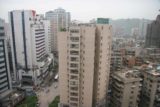 Anyhow, we ended up at a higher floor. The moment we stepped out of the elevator, we saw a sign saying "No Smoking Floor," which was reassuring. Unfortunately, it still smelled like smoke up here. But at least we could spend the night in our new room knowing that this is probably as good as it's going to get in terms of trying to avoid that damned cigarette smoke.
The rest of the daylight was spent back in the room back on the computer. We meandered about the immediate city blocks at night looking for a place to eat while trying to get a flavor of the city while seeking out hip parts of town.
Unfortunately, only the first part of goal was accomplished (finding a place to eat). It was mainly some ordinary Chinese chain restaurant apparently, but the food wasn't anything memorable.
Meanwhile, we got another dose of honking horns, playing Frogger crossing the city streets (seemed like those traffic lights were routinely ignored – especially the pedestrian ones by passing cars), smelling a combo of cigarette smoke and exhaust, avoiding indiscriminate luggies (hocked by both men and women), and trying to keep from getting pickpocketed.
Seems like just about every city in China (even smaller towns) exhibited this kind of chaos, impatience, and lack of manners. But at the same time, we were wondering how we'd fit in had we been living here.
And given the extra time of idling today, we had a chance to think about our place in China as well as back at home. And in a way, our discomfort with the way things were here was kind of an affirmation of how different we were even though we were of Chinese descent.
I guess both Julie and I felt a sense that we didn't belong here after growing up in the States. But we also recalled never really fitting in growing up in the States either because we were somehow different – perhaps since we were neither hip nor a FOB.
After discussing over dinner our observations while sharing our thoughts and perspectives, we came to realize that it's OK to be different and even embrace differences between people (even though being different might have been tough growing up and can still be an issue today). Yet it's the differences in people, cultures, scenery, and experiences that travel reveals to us, and I think we've become more respectful, introspective (maybe cynical as well) of ourselves and our home, and be more well-rounded what with all the different experiences and broadened horizons acquired up to this point.
Anyways, it was pretty low key from a sightseeing standpoint (I guess slow days like this allows you to collect your thoughts), but sometimes when you plan these things, you can't really control the specifics of the timing of it all.
We'll see how tomorrow plays out when the sightseeing resumes in earnest…