Day 10: BI ZUI!!!
After a really slow day sightseeing-wise yesterday, we really looked forward to today.
At 8am, we braved the smoke-riddled hallways and elevators to join Li at breakfast for a chat and some fuel for today's activities. The food at the brekkie was the usual Chinese stuff, but it actually had a wider selection than the previous breakfasts we've had so far.
After the breakfast and Chinese lessons (for my own learning) with Li, we got our bags and boarded the van to start the drive to the Huangguoshu area at 8:40am.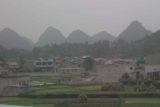 The skies were overcast, but comfortably cool. The weather had called for 30% chance of showers so hopefully it wouldn't rain too much on our experience even though we had feared that we had mistimed this visit like the Detian visit where there wasn't much water.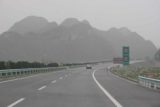 Anyways, once we got out of the chaos of the city of Guiyang, the freeway we took out of town seemed pretty peaceful as it entered mountainous countrysides. This freeway was in such good shape that the ride went by quite smoothly and we got off of the freeway in a couple of hours near the first scenic area we were to tour – the Longgong (Dragon Palace) Caves.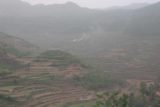 The next part of the drive went through some more countryside where we noticed some interesting terraces perched along mountains and in the plains. It almost seemed like some kind of a maze, but we knew that there terraces were designed to hold water in to cultivate rice.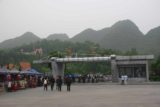 It was about 10:30am when we arrived at the Dragon Palace Caves and there were already a few tour groups here.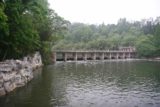 After getting through the initial barrage of tented shops and vocal salespeople as well as pretty young ladies dressed in bright ornate garments looking to have their pictures taken with you for a fee, we proceeded onto a few footbridges over what looked to be a pretty wide river.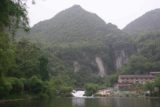 After crossing over the bridges traversing the wide river, we were then in view of a small cascade at a bend in the river that seemed to conceal something even more interesting beyond our line of sight.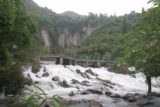 But as we got closer to the cascade and the footbridges, we realized that this cascade was no dinky one. If it wasn't an afterthought to the caves we were about to go to, it could very well have stood out on its own as a waterfall attraction.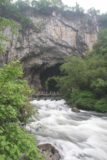 Eventually, we'd get to a cave entrance a short distance upstream from the waterfall we had just bridged over. The cave up ahead seemed to look pretty big (or at least it seemed to have a large cave entrance). So that hastened our steps even more as we tried to see what was up ahead.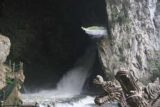 But what we didn't expect was that this cave was actually a tunnel (which seemed natural to us) featuring a loud and misty waterfall thundering its way to the lookout platforms at its base. There was enough water down here to spray the people here. The platform itself was quite full of people from a tour group.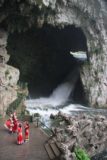 It wasn't easy to get a clean shot with hordes of impatient people combined with the well-dressed ladies trying to sell you their photo op so we went upstairs for a different view. Of course, I did get shoved on the way up as I had apparently walked in on someone posing for a photo when I thought he wanted to walk in front of me up the stairs. Anyways, been there, done that, no need to sweat the rudeness. Cooler heads prevail as it wasn't a big deal.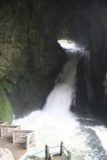 At one of the viewing platforms above, it was a little more peaceful as a large percentage of the people on tour groups I guess didn't have the desire to get more wet and walk up slippery steps (some of them in high heels).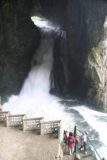 Anyhow, we got our photos and enjoyed this rather unusual scene of a waterfall flowing through a natural bridge or tunnel. Speaking of which, this waterfall was called the Long men fei pu (Dragon's Gate Flying Falls according to one of their Chinglish signs). There were a pair of stone dragons flanking a bridge at the bottom of the falls. Other than that, I'm not sure where the names come from pertaining to this place other than it happened to be at the Dragon Palace (Longgong) Caves.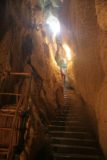 We then walked through a series of tunnels and caves ascending its way up towards a boat area. There was a long line, but then somehow Li and one of the workers told us that there was a boat that needed just a few people so we jumped the line and filled those vacant spots with Li.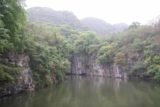 I didn't realize that there was a lake up here, and that this lake was feeding the waterfall. It almost seemed too perfect to be true that you could have such a pretty cave harbor a waterfall with permanent flow thanks to this serene lake that we were about to boat on.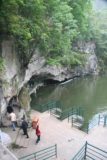 At that point, we embarked on what would turn out to be one of the more dangerous slow boat cruises I've taken part of as this boat (as well as others) would routinely crash into the walls while passing under some treacherously low stalactites and tree branches.
I knew that I'd definitely be knocked out if I didn't watch out and duck underneath these obstacles. And it took me some time to get used to the idea that I had to have eyes on the back of my head.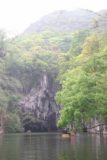 Both Julie and Li were yelling at me to "duck!" or "xiao xin!" because I was usually busy taking pictures without noticing where the boat was headed. Apparently, I needed to pay more attention as a stalactite or tree branch would narrowly miss my noggin.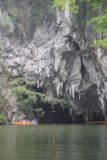 Inside the cave, I found it wasn't easy to take photos given the low lighting and the fact that we never really stopped at any one point. And even if we did stop, the water wasn't still enough to take the kind of long exposure photos necessary to not have blurry photos under such conditions.
That was kind of a shame because the lighting inside the cave was interesting. Of course, there seemed to be signage for imaginary features named after their resemblances on the natural formations within the cave itself. And like many times before where we've encountered this, some looked like dead ringers while others looked like you really needed a good imagination.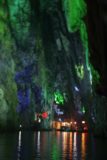 After we had gotten to the deepest part of the dark and artifically lit cave, we started to boat back out. And that was when some little kid was yelling at the top of his lungs for no apparent reason right behind us.
Making matters worse, his parents seemed to encourage him to yell louder!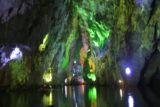 Both Julie and I felt like telling this kid to "bi zui" (shut up!). Even Li felt this way since she was sitting right in front of him. But we thought better of it and save face for the parents of the kid.
The interpreter or tour guide of the boat itself was being smart and told the kid (in Chinese) that if he kept doing that, he'll throw him in the water and leave him there until he couldn't yell no more. And only then would he come back to get him.
And at first, it kind of slowed down the kid, but he eventually belched out another scream.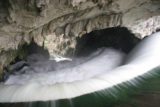 Thankfully, the boat ride ended soon thereafter. Then, we took a few moments to photograph the Long men fei pu from its top looking down into the span of the tunnel.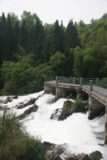 We could see that the top of the falls seemed to be somewhat man modified. I wondered if this had to do with flow control so the falls itself would be easily visible through the cave/tunnel opening. It might also open the door for skepticism as to whether this waterfall and natural bridge was legitimate at all!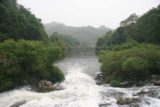 We didn't expect to see a waterfall in the Longgong Caves so we were glad we came here. And after getting through the gauntlet of salespeople as well as more of those pretty young girls dressed in bright, ornate clothes (Li says they're not Guiyangese, but she's not sure if they're from some ethnic minority group or natives or if they're just there as a tourist trap).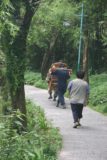 On the way out, we did notice some men carrying someone in a chair. Except in this case, they were struggling and eventually they had to put the chair down. Just then and there, we spontaneously got ourselves some grilled corn from one of the street vendors here for a little snack.
Before we knew it, it was 12:30pm when we got back to the car.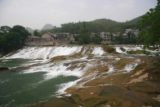 It was nearly another hour of driving from the Longgong Caves to a couple of scenic pullouts (or lack thereof) where we could view other waterfalls and cascades on the way to the Huangguoshu Scenic Area.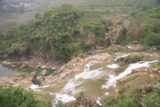 I wasn't sure what those waterfalls and cascades were called, but there wasn't a whole lot of water in this main river and I suspect a good chunk of it was either dammed or converted for hydro.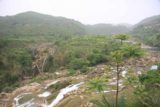 After swinging around the bottom of the descent, we then drove uphill on the other side of the river. Afterwards, we had ourselves a nice lunch with Li and the driver family style somewhere on this slope.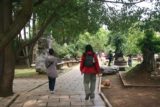 By around 2pm, we were at the very busy entrance to the Huangguoshu Waterfall.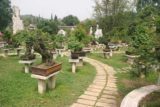 Upon walking through the entrance gates, we entered a paved walkway through a bonzai garden. But this wasn't the bonzai garden in the Japanese sense. Indeed, it was actually the Chinese who came up with it, but they're in a less manicured style than what you might come to expect in Japan or Little Tokyo.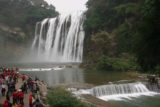 After getting through this pretty little garden, we then descended a long series of steps. Somewhere about a third of the way down, we could see the majestic Huangguoshu (Yellow fruit tree) Waterfall.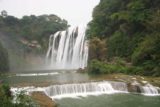 Continuing further, we eventually got down to the first major viewing platform. Here, we joined a mob of many people from tour groups sprinkled with a few pretty aggressive sales people and even more ornate young ladies dressed for a photo for a fee.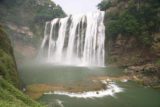 Fortunately, I brought my tripod so we took lots of photos beginning with this spot and then all the other viewing platforms including a walkway that went behind the waterfall itself.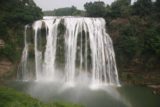 I think Julie and I were pretty thoroughly impressed with this falls and it had surprisingly decent flow (contrasting the Detian Pubu experience). I guess I worried about this waterfall for nothing. There was even a faint rainbow in the mist of the falls when the sun briefly showed itself.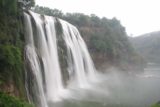 When we tried to compare this waterfall with the Detian Waterfall as well as some of the Thai waterfalls (namely Mae Ya and Thi Lo Su) we had seen some 4 or 5 months ago, but quite honestly, you could probably put all four of them together and pick #1 to #4 of Asian Waterfalls we had seen so far randomly and have an agreeable list. Indeed, they're all about equal in scenic allure each with their merits and drawbacks.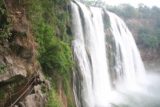 As we exited the behind-the-waterfall walk, there was that annoying kid again from the Longgong Caves. This time, he was messing with one of those bullhorns (the same ones that Chinese tour guides of large group tours speak into) yelling through it or messing with some kind of siren.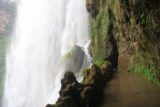 Again, we felt like telling him to "bi zui!", but we just grinned and beared it while saving face for the parents who insisted on encouraging him to yell even louder.
What an annoying little brat!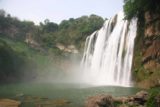 Shortly thereafter, we had to pass through another gauntlet of old women trying to sell trinkets that we didn't need nor want. But these women were particularly aggressive (almost Egypt-calibur aggressive) which was something that wasn't the case up until now. I guess the more famous the tourist spot, the more aggressive they get. At least, that was my theory.
Anyways, we got back to a fork in the walkway past a swinging bridge that only allowed 30 people at a time. There was an utterly unnecessary but tempting escalator ride back to the top, but we decided to save the 30 yuan per person and do the long stairmaster exercise back up the steps from whence we came.
And after a brief breather at the top (invaded by the prevalent cigarette smoke by others), we got back to the van. And barely 10 minutes afterwards, we got to our hotel for the night where we checked into our room at 5pm.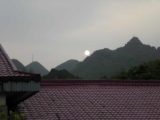 At 6:30pm, we went for a quiet dinner at the hotel. On the way over to the restaurant, we noticed the sun looking like a yellowish-globe through the afternoon mist. Figuring it was an uncommon sight (after all, Guiyang means "precious sun" since it gets at least 150 cloudy days a year), we took photos of it before continuing on.
And so we called it a day for this rather eventful sightseeing day…