Day 11: UNEXPECTED SURPRISES
Today, we woke up to a cloudy and much cooler day than we had experienced yesterday. Obviously, the little bit of sun we saw yesterday was short lived, and they don't regard the sun as precious for nothing (again to reiterate, the Guizhou Province's capital of Guiyang means "precious sun").
We joined both Li and our driver for another Chinese style breakfast of mantous and baozis (some stuffed with pork) along with rice and chow mein a little before 8am. And shortly thereafter, we got our bags, loaded up the van, and headed out at 8:30am.Doupotang Waterfall. This particular waterfall almost didn't happen on this trip, but I had noticed it on a brochure at the hotel we stayed at near the Huangguoshu Waterfall yesterday and asked Li if we could visit it.
Fortunately for us, this was on the way out of the area and it was already included on our price of admission for the Huangguoshu Waterfall. There were other falls, but they weren't as convenient nor were they part of our already paid admission price. So it was a no-brainer to add this to our sightseeing even though it wasn't originally planned.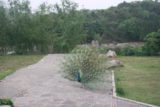 And I was glad we did it because as we arrived a little before 9am and walked past the entrance gate and past some attractive peacocks, we could see the impressively wide waterfall in the distance.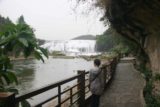 Plus, this attraction was far less chaotically busy and contained a lot less noise and cigarette smoke than the more famous Huangguoshu Waterfall.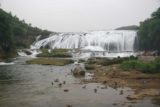 So we spent a good deal of time taking what photos we can while watching the ducks swimming about in the river and in the plunge pools near the falls.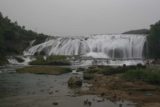 We were fortunate to have the falls pretty much to ourselves as one other tour group was on their way out as we arrived.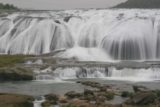 This waterfall was supposedly wider than Huangguoshu. Though it lacked the height of its counterpart, and the power pylons and power lines behind the top of the falls were also unattractive. Nonetheless, the falls on its own merits was impressive, and the peace and quiet was fitting.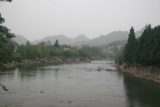 At first I thought this was the same waterfall as the one we saw as we drove past some bridge over the river, but it turned out that that other one was different and we wouldn't get to stop and see that one. But that's ok. This one was much more impressive and easier to access.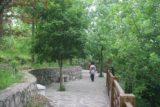 We returned to the car shortly before 9:30am and headed on our way out to the 600-year-old Tianlong ancient town.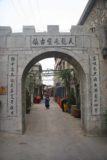 Around a half hour later, we were on some rural roads apparently leading to the ancient town. But then we were stopped by some ingenious roadblock where piles of bricks flanked a very narrow opening that only allowed small cars or smaller to pass.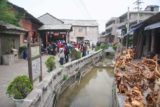 Since we couldn't pass, we ended up taking some detour that ultimately led through some narrow town streets before we finally got to the busy car park at around 10:45am.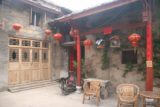 We walked around the tiny streets of this town following canals and between lots of little shops selling trinkets or food. There really wasn't a whole lot to this town that made you feel you were stepping back in time though. It seemed like Tianlong was a juxtaposition of restored and maintained buildings with dated and dilapidated ones.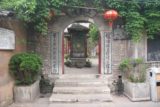 After walking around the town and sitting in one a brief military arts theater performance, we headed back to the car park and out to a neighboring restaurant for a lunch.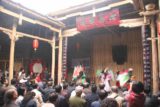 It was over this lunch that we got to learn more about our driver and Li. We also got to learn more about Chinese culture over the lunch as well as some of the challenges being faced right here and now.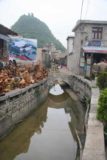 I noticed some heads turned when Li was lamenting how difficult it was to even get a job after going through so much schooling. It seemed like you really needed to build up connections, especially if you're lucky enough to know someone in the government. But with all this honest talk, we were beginning to wonder whether that might've displeased some hardliners who happened to be sitting in the room.
Well, irregardless of the responses by people who weren't part of the discussion, it was an educational and enlightening talk.
We resumed the touring at around 1pm.
The next couple of hours was a bit of a blur as food coma had hit Li, Julie, and I, but not the driver (fortunately).
I guess when you're driving in China, you can't afford a split second of lapse given the incredibly chaotic and utter impatience of the drivers here. Honking horns are a constant and lane lines are irrelevant. This was especially the case when we returned to Guiyang.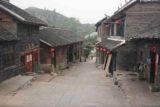 But we weren't stopping in the city yet except for a restroom break. We continued to the outskirts of town as we headed to another ancient town known as Qingyan.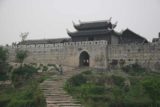 We got there a little after 3pm. At first I had thought this place was awfully quiet and might even be closed or something.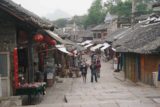 But after walking past some kind of scaffolding due to construction work, we all of the sudden saw a very scenic walkway leading up stairs to an ancient-looking city wall with arched doorway and uniquely Chinese architecture at the top.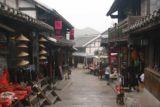 Now this was what we kind of expected to see at Tianlong. And given this place's proximity to the urban sprawl of Guiyang, it was hard to believe that this 13th century town could still retain its ancient feel and traditional charm.
Anyways, we walked up the steps and into the plethora of charming side-by-side buildings adorned with red lamps and red signs. Much of the main walkways were flanked by shops and there were lots of people here giving the area a much more lively feel.
So this was where the people were!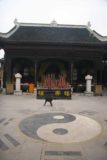 We visited various temples, a Taoist plaza (where the workers there wanted to trade their yuan for American coins or notes as keepsakes), and charming narrow alleyways.
I didn't expect to take many photos on this day, but this place managed to draw lots of shutter clicks.
It's hard to describe in words what the experience was like here. It was really a wonderful blend of the old and new, and we really could've spent a lot more time here if it wasn't getting so late in the day.
We eventually got back to the van at 4:30pm and weaved through more crazy rush hour traffic in the city. We finally made it back to our hotel on the north side of the city an hour later.
After a dinner in the smoky Yingji Restaurant (the same place we ate at yesterday for lunch), we rested and prepared for the next leg of the trip – to the quake ravaged Sichuan Province. It's also the hometown of my grandma so I was personally looking forward to meeting some relatives for the very first time.
Anyways, early wake-up call and flight to Chengdu tomorrow and so ended a memorable and surprisingly pleasant visit in the Guizhou leg of our trip…