Day 26: A LITTLE BIT OF RUSSIA
We woke up groggy at 5am for a 6am checkout and departure from downtown Shanghai. We made it to the Pudong Airport on the outskirts of Shanghai uneventfully.
Once we got on the plane, we pretty much fell asleep again and eventually landed at Haerbin just before noon.
There, we met our guide Susan. Since we didn't expect many English-speaking tourists up in these parts, we figured our guide probably won't speak much English. But Susan seemed quite good with the language (which totally caught us off guard) so the dialog between us and her was primarily in English.
After checking in and dropping off our luggage in our room just before 12:30pm, we headed out to the outskirts of Haerbin to the Siberian Tiger Park. Nearby, there was a fish restaurant where we had a lunch. And at around 2pm, we were in the park itself.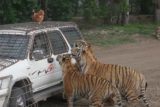 Julie really anticipated this visit as tigers were the last mega predators we had yet to see in person. Of course, I knew this was going to be a far cry from the wildlife we had seen on the African Safaris. That's because our pre-trip research warned us that these tigers were in smaller caged areas even though you're still touring in a van kinda safari style.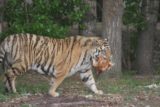 When we got to the park and boarded the van, the photo ops were still there with my telephoto lens. But the van driver was in a bit of a hurry and didn't stay very long for photo ops.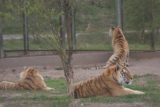 That was probably because nobody bought cows or goats to feed to the tigers, raising the question of the intentions of this park (whether it's to exploit and put on a show or to breed and rehabilitate tigers for the wild). We had heard that drivers usually take their time if someone buys a cow or goat and feeds them to the tigers. But they drive off hastily if no one pays for them (as was in our case).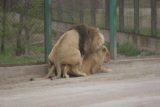 I couldn't help but feel sorry for these tigers who may be getting fat off free food, but they're probably in no shape to survive the wild. Then again, their habitats are so decimated that perhaps they wouldn't have much of a chance in the wild anyways. And that was too bad. I had even heard that some of these tigers (since their numbers are increasing faster than what the center can afford) may be farmed for Eastern medicine.
Anyways, we did get our shots, but it somehow all felt manufactured. Even the prison-like atmosphere made it seem like these tigers were actors in Prison Break or something.
After the "safari" part was over, we walked on some pedestrian area where we saw other big cats on display in their caged prisons. Among the cats were a leopard, a pair of cheetahs, a big groaning white tiger, a male and female liger (tiger and lion hybrid), and even a jaguar.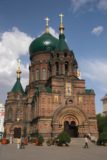 At 3pm, we left the park and headed back into Haerbin City to the Church of St Sofia. We looked forward to seeing how the Russians influenced this part of China and the church was one embodiment of that.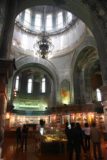 So we spent a few minutes listening to Susan talk about some of the history behind the place as she talked to the black and white photos within the church-converted-museum. It did smell of new paint which I'm sure wasn't good for our lungs, but with all the pollution, asbestos from construction dust, and cigarette smoke, what's a few paint fumes?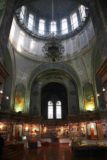 The church itself was quite small but tall and was attractive enough to induce several clicks of our cameras. Once we left the church, the nearby fountains in St Sofia Square were dancing to music in a Bellagio-like display.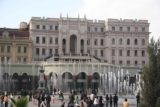 At around 4:20pm, we left the church and got to Central Avenue, which was a large cobblestone walking street. It was quite happening here, but Susan wanted to show us some of the restaurants we could choose from tonight as we would be on our own.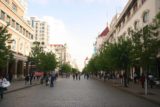 It was nice of her to orient us like this, and after our little orientation, we knew where we'd be eating tonight – a charming little Russian cafe that served piroshkis as well as Russian bread among other things.
When Susan saw us off at the end of our walk, we rested in our room for a bit. Once again, I was fighting a little bit of fatigue. But at least we got up at around 7pm in time for a walk back on Central Ave.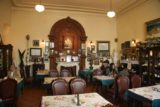 The first order of business was to go to the Russian Cafe and have a go at piroshkys as well as other things where we hoped to try some Russian fare to mix it up after having almost all Chinese food up to this point (which we were tired of).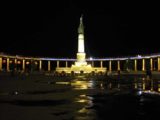 And after our delicious dinner at the Russian Cafe, we continued walking towards the riverfront at the end of the promenade. There, we saw a lot of commotion as well as a live performance on some stage underneath red lanterns.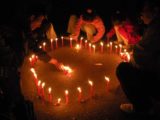 There were pockets of people surrounding lit candles.
And upon making out a few Chinese words and some of the signs, it dawned on us that all this commotion was commemorating the lives lost in the May 12th Sichuan earthquake exactly a year ago.
It was indeed kind of moving yet I'm sure many of these people personally know some of those who lost their lives in places like Wenchuan, which was the hardest hit. Perhaps it was some nationalism on display here mourning for countryfolk? Whatever the case, it was quite a scene here and one that couldn't be forgotten let alone ignore.
Visitor Comments:
Got something you'd like to share or say to keep the conversation going? Feel free to leave a comment below...
No users have replied to the content on this page