Day 27: LAST TRAIN RIDE IN CHINA
We pretty much spent much of the morning having breakfast and then doing nothing until 11am when we met up with Susan and the driver.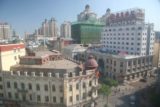 First order of business was to have a quite light lunch at the Eastern Dumpling King where Susan made some suggestions and we pretty much took up on those suggestions getting three dishes.
She did break the bad news that the Diaoshuilou Waterfall near Jingpo Hu (which we're supposed to see tomorrow) is probably not going to have water. That was a royal bummer since it was one of the major reasons for coming all the way out this way in the first place.
In fact, she said it had been at least 10 years or so since the falls last flowed reliably. Apparently, the water was either dammed or diverted or both so now the falls is essentially nonexistent. Damn!
After the quick lunch, we boarded the train to Mudanjiang at 1:15pm. Julie and I weren't looking forward to this train ride since our Guilin to Nanning ride was a bit cramped and pushy. And with our large luggages, it wasn't going to be easy especially if space was lacking.
And sure enough when we boarded, we could see the sitting space was even smaller than the arrangement of the Guilin-Nanning line. Exacerbating the complication was that we had to figure out how to lug 20kg each of luggage into the upper shelves above the seats. Fortunately for us, the luggages sat pretty reliably up there so I didn't have to use up any aisle space during the trip.
Unfortunately, people were crowding and being pushy, which certainly made it hard to move across the aisle to tend to our luggage issues let alone trying to just move. Definitely this wasn't the sleeper train that Susan envisioned (though we were already skeptical of her optimism to begin with).
Thank goodness this was going to be our last train ride in China (knock on wood). Too bad this was going to be yet another 5 hour endurance test.
It was a good call by Julie to fork over the extra yuan for VIP waiting lounge and first dibs on boarding. If we were in the crowd, I couldn't imagine how much more difficult it would've been. Even still, I learned from previous experiences and made some elbow room of my own to at least get somewhere other than backwards.
When the train started moving, we did have an interesting conversation with a guy sitting across from us. Apparently, he either managed, owned, or worked in a bunch of factories near the Shanghai and Ningbo area as well as other coastal areas with heavy investment from the government.
We talked about various comparisons about how expensive it is to buy a car in the States versus China, Health Insurance comparisons between the two countries, financial crisis effects in both countries, and even salaries and cost of living, etc.
It was a far cry from the gossiping with the girls on the Guilin-Nanning line that really made the whole 5 hour ride fun and go fast. But at least in this case, we passed the first hour of the train ride a little bit while being further enlightened about life in China as told from another local. However, it was all in Chinese of course so I'm sure some things got lost in translation, but the guy did slow down for us and try to explain things in more digestible elementary Mandarin.
But then he was summoned to play cards and that was the end of that. The rest of the time was spent reading Lonely Planet China (Julie) and Japan (me). We were still enduring indoor cigarette smoke from people needing to get their fix. Meanwhile, there were others who had to hock loogies and spit on the floor inside. With these cramped quarters, this sucked!
Most of the scenery outside (whenever we got a chance to catch a glimpse) was primarily rolling farmlands interspersed with a surprising amount of forest. I wondered how much of these forests will be standing in the future. But in any case, that was kind of reassuring that there are still some forests in the Northeast of China.
Mercifully, the train ride ended at 6:10pm. Once again, I had to insist and be pushy myself in order to both get our luggages down from the upper shelf and then to fit through the crowd and get out of the train with the luggages.
On the platform, we got acquainted with a guy named Yang He. He spoke mostly Chinese to us but did intersperse some of his sentences with a few English phrases.
But that's ok. I'd like to think our Chinese improved and this was nothing new to us.
This guide did know that we liked waterfalls, but he too talked about how the Diaoshuilou Waterfall won't have water. He said its flow was blocked since the 1980s.
Boy I love how you learn about these things after you've booked the trip (note the sarcasm), but there wasn't this kind of information available at the time. I guess this was shaping up to be yet another expensive disappointment…
Anyways, que sera sera (whatever will be will be in Spanish) and we'll just look forward and not back. And so continues our Northeast (Dongbei) section of our China trip…
Visitor Comments:
Got something you'd like to share or say to keep the conversation going? Feel free to leave a comment below...
No users have replied to the content on this page