Day 28: A DISAPPOINTING DAY
At 6am, we got up to our alarms. Actually, we were semi-awake since 4am because it was already bright at the time. I recalled Susan in Haerbin saying that sunrise was at around 3:30am and sunset was around 8pm.
I think this strange sunrise time was probably due to a combination of China (being about the same landmass as the US) being all in one time zone and the Heilongjiang Province being pretty far north.
Anyways, after our breakfast, we left the hotel and were on our way out of town at 7:45am.
This day was turning out to be a pretty sunny and warm day. There were hardly any clouds in the sky at all and the Siberian breeze seemed to have calmed down a bit since yesterday.
During the drive, Yang He was keeping a dialog going with me learning a little more about us. Even the driver was getting involved in the dialog a bit (probably because he found out that we can kind of hold our own in Mandarin Chinese).
At 9:25am, we arrived at the Jingpo Hu (Mirror Lake). This place seemed like more of a recreation spot than a scenic spot as this lake seemed to be surrounded by some hotels and motor boats.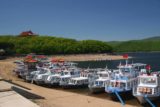 We really couldn't see why the lake was named after a mirror since the lake was rippling. Experience has taught us that places with the best reflections are usually around swamps or places where water is fairly shallow but not prone to perturbations. This was clearly not the case at this lake.
When we found out that there wasn't enough people to justify a boat ride this early in the morning, we continued onwards to the Diaoshuilou Waterfall.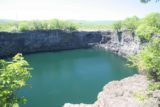 But since we suspected that the falls would be disappointing, it wasn't like we were excited to see it.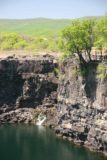 And sure enough, when we got to the falls, we could see an impressively wide U-shaped volcanic wall that was bone dry except for a small trickling portion at the very bottom of the center of the falls.
Clearly this falls could be impressive if it were flowing normally, but the environmental interference (i.e. hydroelectric dam and reservoir way upstream) pretty much killed off this falls since the 1980s. Now, you have to time your visit for the rainy season in mid- to late Summer and the falls diminishes until it's gone around the October or later timeframe.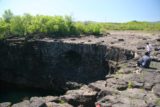 This was probably the most dramatic example of how badly mistimed our trip to China was. And as a result, this was the most disappointing waterfall we'd seen yet. Indeed, this was probably turning out to be an expensive mistake as it wasn't easy getting here. After all, we had to endure an uncomfortable 5-hour train ride, lots of extra days added to the trip, and who knows what other expenses to support the driver, vehicle, and guides.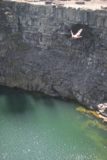 Anyways, at around 10am, we were relegated to entertaining ourselves by watching some guy cliff dive off the top of the falls into the plunge pool below. Pretty sad.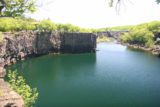 I guess he does this twice a day at 10am and 2pm. It's said that he even does the dive when the falls are actually flowing!
Anyways, at 10:35am, we returned to Jingpo Hu. Apparently, now there was supposed to be enough people to warrant a boat ride in the lake. On the way over, one of the local guides who rode in the car with us learned that we were overseas Chinese. And because of that, he got a little political lecturing us about why China should be united and with it should go Taiwan.
Now Julie and I are neutral about this, but after reading the history of how Chiang Kaishek and the Nationalist Party fled China for Taiwan after the civil war with Mao Zedong and the Chinese Communist Party (CCP) taking the gold reserves with them, I can see the Chinese side of this debate. On the other hand, the censorship and lack of freedom of thought is something I'm sure many Taiwanese may find hard to swallow. We figured Taiwan may end up going the way of Hong Kong being a Special Autonomous Region (SAR) where they can still go about their own business but they ultimately belong to China.
Anyways, we boarded one of the docked boats when it was apparent a group would join us (thus meeting the required number of people to justify a trip).
When the boat was ready to go and we were joined by a large, unruly Chinese group (turned out to be the same people we saw on the train), the polluting engine was going, and then it stopped.
Then Yang He told Julie and I that there were too many people on the boat and that we had to get off.
"That's just great," said Julie. "We were the first to get on and we're the ones that were booted off."
So we disembarked to a chorus of "Meiguoren (American)" or "Laowai (Old Foreigner; not exactly a kind thing to say)" by some of the more intoxicated guys also wielding cigarettes. Restraint needed to be exercised so as to not get in a brawl with these guys that were also blowing smoke and hocking loogies everywhere (just like inside the train).
And when we got off the boat, it wasn't clear whether we'd be on another boat tour since we weren't sure if another group would show up and justify a trip with the minimum number of people required.
Needless to say, an already disappointing day was becoming a disaster.
But when 11am rolled around, a large group of Taiwanese people prompted us to board an even larger boat with more room to move around.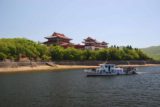 Fortunately, this tour occurred. And even better yet, this group didn't smoke and exhibited a little more civilized behavior. I guess in this case, our little mishap worked out in our favor after all (though I was perfectly cool with not even doing the lake tour since there didn't seem to be anything special about it).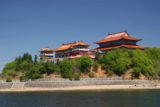 So even though nothing really prompted camera clicks (much to the dismay of Yang He who kind of suspected the scenery here probably didn't match up to the Southern Chinese counterparts), it was a pretty relaxing boat ride and one that was more about the ambience and less about the scenery.
After the tour, we had a lunch, and by 1:20pm, we left Jingpo Hu.
It wasn't until around 3pm when we arrived in the town of Dunhua. However, it appeared that both our driver and our guide didn't know this town very well. We were also a little annoyed with the driver smoking in the car while driving (though I'm sure he didn't think he was subjecting us to second-hand smoke).
In any case, it turned out that our driver and guide had trouble finding our local guide for Dunhua and Changbai Shan. But eventually, she found us and boarded the car. In fact, once we were in front of the hotel, the new guide (who was named Susan) would take over from here while Yang He and the driver were headed back to Mudanjiang.
Finally at 3:30pm, we checked into our hotel.
We relaxed for a bit before we headed back out to meet Susan at the lobby at 6pm for some local Manchu dinner consisting of some dumplings as well as tripe (intestines; not our favorite) and some vegetables.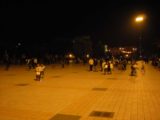 After the dinner, Susan walked with us to the People's Square in town. There, we were treated to a wide public square area filled with young kids roller skating, young adults playing hackey-sack or badminton, a large group of women doing some kind of line dancing, and a pair of groups of other elder women doing traditional Northeast Dances I guess you can't find outside the region. In a way, this was a similar scene to what we saw back in Leshan but on a somewhat smaller scale. Still, to see such a bustling scene of people having a good time together in a public square was something I reckon was distinctly Chinese and kind of charming and cool in a way.
During our time with Susan, we learned that she was actually descended from one of the Chinese ethnic minorities. I guess the Yuan (Mongolian) and Qing (Manchu) Dynasties were the only non-Han dynasties. We also learned that Susan knew how to read and speak Korean which was quite cool (not that we know any, but we know lots of peers back at home who do).
And so ended a disappointing day in terms of waterfalling, but another educational one in terms of culture and history. And like days prior on this trip, we're clearly seeing that China has no shortage of history and it's lived and breathed in everyday life in distinctly different ways across its various regions.
Visitor Comments:
Got something you'd like to share or say to keep the conversation going? Feel free to leave a comment below...
No users have replied to the content on this page