Day 29: WHEN HEAVEN FREEZES OVER
We left Dunhua at 8am. But unlike yesterday, I noticed some high clouds rolling in. Thus, I suspected the weather will deteriorate as the day progresses. I hope I'm wrong…
As we headed out of town, Susan noticed some of the rice fields and ginseng-growing canopies and explained some things to us about them. A memorable thing about the rice was that apparently Emperor Puyi of the Qing Dynasty (i.e. the Last Emperor) used to eat the rice grown here. Thus, sometimes the rice from this area was known as the "Emperor's Rice."
She also mentioned that you could tell from the shapes of the roof of some of the buildings which ones belong to Han Chinese and which ones belong to ethnic minorities.
While the driver (who I guess was a former cop or something) was busy whizzing by slower cars and consistently going over 100km/h, we managed to fall asleep when we got to a part where there was lots of construction on the roads. I guess the tossing and turning motion of the van kind of was like a massage and lulled us to sleep.
Before we knew it, we had an early lunch at 10:30am in the town not far from the entrance to Changbai (Everwhite) Mountain. Unfortunately, it was barely three hours removed from our breakfast so we weren't really hungry. Plus, lots of dishes were served so we had no prayer of finishing the food.
I felt bad that lots of food was left behind. I sure hope it doesn't go to waste (but I somehow doubt it).
Next, we drove further up the mountain until the van could no longer get past the park entrance as private vehicles weren't allowed further. Since Susan was quite known in these parts, she was actually able to get the driver to go a little bit further so we wouldn't have to lug our luggage as far.
Anyhow, past the entrance gate, we had to get onto a public tour bus. There wasn't a whole lot of space to put our luggage, but we did manage to find some space without compromising seats. Unfortunately, it was somewhat full and some guy sitting behind me thought it was ok to cough open-mouthed and hock loogies in the direction of the back of my neck.
No wonder why my cough (and now stuffy nose) hasn't improved these past two weeks!
At 12:15pm, the bus dropped us off in front of the Changbai Shan Hotel (it was actually an area with a few buildings where other shuttles further into Changbai Mountain can be taken). There, we lugged our luggage down some steps and right into the lobby of the hotel where we checked in.
Susan asked some of the other tour guides whether Heaven Lake was visible (since the weather down here was no indication of what's going on up there). And when one of them said you could see the lake, we decided to seize the moment and go for the lake today.
So about a half hour later, we came back out of the hotel dressed in thicker layers and waterproof pants. Even though the weather was fine down where we were at, we knew that this doesn't necessarily mean the weather is fine up at the summit.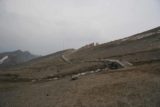 Anyways, once we boarded one of the public SUVs, the driver aggressively drove up the 83 or so switchbacks leading to the summit of Changbai Shan. The driver seemed supremely confident in the traction of his tires because he was attacking every turn at some 60km/h or more with the tires screeching on every turn.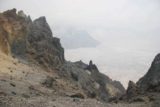 I got nervous when the pavement/cobblestone road was wet with melting snow or ice because at that rate, it's easy to flip over or slide off the road and into the cliffs below.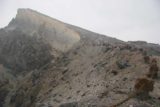 Since I was sitting in the front seat, I could see other drivers were doing the same thing. I guess when you have to drive this road all day long, you look for ways to entertain yourself (even at the expense of safety, I reckon).
Fortunately, the roller coaster ended at the top of Changbai Shan and we disembarked unscathed.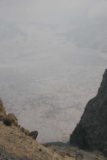 At that point, we walked over to the edge of the crater where we could see Heaven Lake (Tianchi) down below. But it was too bad that the lake was frozen and the views were a little hazy from the clouds swirling around us.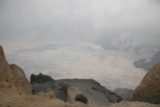 Still, we did get to see the lake (frozen or not) with the surrounding cliffs, which was something we're sure is purely the luck of the draw. But like the rest of this trip it seems, Spring is a pretty lousy time of year to visit China and we were probably better off coming in September or October (as June through August was said to be rainy here even though the lake should be thawed by then).
Sounded awfully familiar since everywhere in the country (no matter if you're in the tropics or the temperate areas), late Summer into early Autumn was the best time to see China period. It's hard not to wish we had figured that out before we made bookings.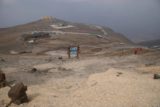 There were other tour groups up here. Unfortunately, some clowns thought it was a good idea to yell at the top of their lungs and make themselves heard. Again, it was another display of lack of common courtesy and lack of respect for Nature. Having gone through about a month of this behavior, I'm guessing we're getting to our limit of tolerance on the China portion of the trip. We were really looking forward to getting to the Japan portion of the trip hoping for a little more civility.
At 2:10pm, we were coming down from the lake. At least the drive down this time wasn't as crazy as on the way up though this driver did allow the tires to screech on the turns sometimes.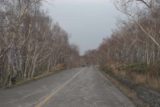 And with the weather noticeably threatening to get worse, we decided to try for the Changbai Waterfall since we're not sure what the weather will be like tomorrow.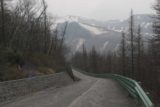 So we headed up another big bus which took us to a car park area. From there, we walked a short distance up a pavement before reaching the official trail to the waterfall.
We could actually see the falls even during the bus ride, and it was flowing fairly well.
But it started to rain as we got onto the trail and we knew time was running out.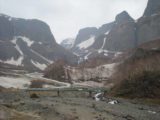 After getting past some colorful hot springs (called Julong Pool), we headed into what was called the VIP path.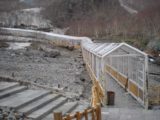 It was basically a well-developed trail with stairs covered with a transparent glass or plastic canopy. I thought this was a bit overboard, but Susan explained that this was the Winter path and I was starting to see why this was necessary if this was to be a year-round destination.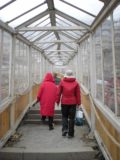 Once we exited the VIP path, we could see the waterfall, which currently assumed a triple-segmented form. It was too bad a snow pile kind of blocked the lower sections of this 68m tall waterfall.
It also looked like there was a trail that could take you even closer to the falls, but with the weather suddenly becoming a downpour, we retreated and decided to try this place again tomorrow.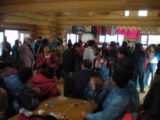 Once inside the VIP path, we could see the rain got heavier and there was even hail. Accompanying the downpour were flashes of lightning and loud rolls of thunder. With us being at pretty high elevation, we knew it wasn't safe being up here at this time. So we hastily made our way to a wooden shack at the start of the trail.
Once we got inside thinking we'd get some relief from the unrelenting rain, we soon realized that it wasn't the rain we should be worried about. It was the everpresent indoor cigarette smoke! Damn!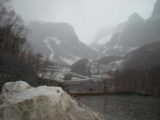 Anyways, we weaved our way to a window, opened it (despite some of the hail pelting us) and tried hard to breathe as clean air as possible.
Mercifully, the rain did let up and we walked back to one of the awaiting shuttle buses further down the paved path. And by 3:55pm, we were back at the hotel.
There, Susan explained to us that Heaven Lake meant a lot to Koreans (especially South Koreans). In fact, before 1996, she said hardly any Chinese came to these parts. Some Koreans even came up here with empty bottles intent on taking some of Heaven Lake's waters and bringing it back home.
They would reach the shores of the lake by a path constructed by Koreans that went past the waterfall. But now that path is closed so sometimes they'd take the water from the waterfall itself since its source was Heaven Lake anyways.
And so ended a day in which we seized the moment and saw Heaven Lake when we did. I knew that with mountains, you can't count on the weather being a certain way the next day. So when there's an opportunity, you seize it! And that we did!
Tomorrow, we have a full day up here. Hopefully, we'll have a more relaxed trip to the waterfall as well as a little journey into the Underground Forest…
Visitor Comments:
Got something you'd like to share or say to keep the conversation going? Feel free to leave a comment below...
No users have replied to the content on this page