Day 30: PEACEFUL DAY
We had breakfast at 7am with Susan at the hotel restaurant. We had a good time socializing with her, but the everpresent smell of gas permeated through this hotel and it was especially bad in the dining hall.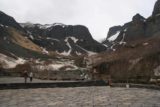 By around 8:20am, we boarded one of the shuttle buses to go for the waterfall again. But it wasn't until 15 minutes later when we left since no one else showed up and they preferred to have a minimum number of passengers before leaving.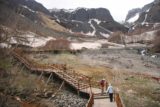 It wasn't long before we were walking up the familiar paved path to its end, and then going around the Julong Pool on the way to that covered VIP path.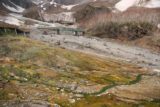 It was amazingly quiet this morning and we took our time walking the path and taking photos. The colors from the algae growing in the runoff from the thermal springs definitely added a bit more color to the otherwise brownish landscape.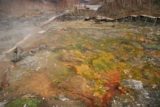 By 9:15am, we were at the end of the trail. Once again, we got to glimpse the impressive Changbai Shan Waterfall except we didn't have rain and hail to contend with. Plus, no tour groups were around so it was a pleasant experience all around.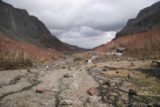 Indeed, it was the way we thought how Nature should be. After all, we'd been contending with so many noisy and rude Chinese tour groups at every place in the country that we had completely forgotten what it was like when we were truly back to Nature more or less.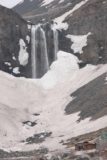 Susan tried to get us to go past the barricade closer to the waterfall, but one of the locals vehemently denied us from getting any closer. But we couldn't fault Susan for trying. Actually, the conversation in Mandarin between the local and Susan went something like this.
"They [Julie and I] are part of a waterfall research group," said Susan.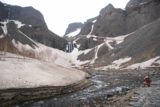 "If that's the case, then how tall is the waterfall? Do they know what kind of rocks are over there?" said the local, obviously not buying whatever Susan said. That drew chuckles from Julie and myself.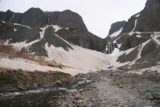 We eventually convinced Susan that it's not worth the trouble even though she really tried. But it wasn't a big deal. That snow pile blocking the lower portions of the falls would probably obstruct the views even more had we gone closer.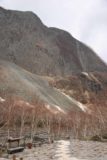 With the peace and quiet, we were able to notice that there were walls erected above the waterfall. Susan said that was built by South Koreans, and it used to be one of the paths to get you to the shores of Heaven Lake. But due to safety reasons, this path was closed indefinitely since 2007.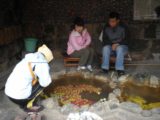 As we headed back to the shuttle bus area, we made a quick stop near the trailhead at some shack with a hot pool full of eggs and other edibles. Apparently, they were boiling food in the hot springs. We knew it was totally a gimmick since it doesn't make the food taste any better, but in any case, it was nice conversing with those locals (even if they tried to get us to buy some).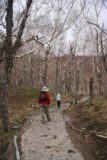 At 10:05am we were back at the bus stand and were waiting for this one to take us further down the road.
It was a good thing we came as early as we did because now the unruly tour groups started to show up (after their own little roller coaster ride up to the summit of Changbai Shan earlier in the morning).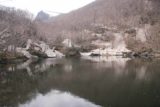 Shortly thereafter, we arrived at a rather obscure stop. There, we saw an Irish couple that we also happened to see up at the summit of Changbai Shan yesterday. You notice these things because apparently Caucasians (at least the non-Russian kind) are quite rare in these parts.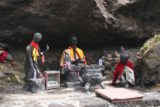 We took a little stroll amongst the leafless conifer forest before getting to Little Heaven Lake. It had a bit of reflections as well as some kind of shrine facing it. This shrine was honoring the Medicine King (supposedly the guy who wrote the first medical book in history).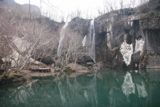 We then caught another bus to the Landscape Restaurant where there was another stop. From there, we walked towards the Green Deep Pool. But what was surprising about this pool was that there was a pretty legitimate double-barreled waterfall spilling into the emerald green pool.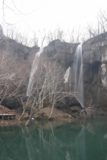 We could see some fish swimming in the pool. Susan said these fish came from Heaven Lake, and they're the same fish that North Korea's Kim Jung Il's father placed into Heaven Lake some time ago.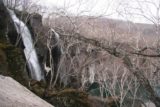 Some time was spent here taking whatever photos we could although the conifer trees tended to obstruct most of the views so there was never really any truly clean view of it except for perhaps on the steps leading to the top of the falls.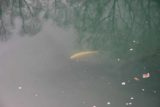 At a little after 11:30am, we had lunch at the Landscape Restaurant. Actually, that restaurant was basically an old basketball gymnasium. You could see the lines on the floor beneath the tables.
We were done eating an hour later. By then, a really large group showed up and accompanying them were the annoying cigarette smokers. So we hastily left and caught the next bus over to the Underground Forest trailhead.
Once we got off the bus, there were a few more people around joining us, but the walk was still pretty quiet and peaceful for the most part.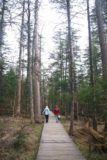 The walk was fairly long but flat as it was almost completely on a wooden boardwalk.
At the end of the trail was the so-called Underground Forest. The quirky thing about this place was that an earthquake caused this area to crack and spread apart in a fissure. At first the fissure area didn't have trees but over time, trees grew and also the river changed course and cut through this area as well.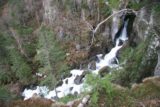 The geology was interesting, but what really got our attention was that there was another surprise waterfall at the head of this Underground Forest.
Unfortunately, from the bridge over the narrow slot above that surprise waterfall, we could see some thoughtless tourists had littered with the evidence of plastic bottles and wrappers in the slot itself!
China seriously needs to both enforce the rules and educate the public about littering (among other things like indoor smoking, spitting, public urination, no queueing, leaving the trail, noise pollution, etc.) since this wasn't the first time we saw this.
After getting our fill of this place (along with a scattering of Chinese people from another tour group), we walked over to the Dongtian Waterfall (where dong="hole" not "Winter").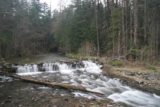 And sure enough, this waterfall was basically one that fell within the confines of a slot canyon and eventually leaves through a tiny natural bridge at its other end. It was kind of reminiscent of the Chasm on the Cleddau River near Milford Sound in New Zealand.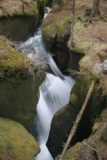 While this particular waterfall may not be all that photogenic compared to others, it was indeed a waterfall in our book.
By 1:45pm, we left the Dongtian Pubu and proceeded to walk back up the many stairs to the trailhead. And by 2:40pm, we were back in our room (and that familiar gas smell).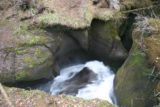 Indeed, today felt like it was a good day. After all, we got two bonus waterfalls, plenty of peace and quiet (again, almost forgetting what hiking in Nature was like), and it didn't rain despite the threatening skies.
As a matter of fact, our Changbai Shan experience (despite our suboptimal timing and sights) felt as close to how a Nature escape should be compared to the rest of our excursions throughout China. Now admittedly, that's not saying much since so much of China's nature is overexploited and artificial. But the fact that you still have bears and tigers running around in the forest at night (even though we didn't witness them) is kind of reassuring and further supports the notion that indeed this place might be as Naturesque as China gets.
Susan did mention that Changbai Shan was mostly spared because the earliest emperor of the Qing Dynasty was believed to have come from here and thus this place was for the most part off limits.
I don't know if it's a shame that only this place could be allowed to be wild (again I have to qualify that statement with more or less because of all the roads and VIP paths here), but perhaps it's indicative of just how overpopulated China is.
Now for some rest, especially for myself since I'm still unable to shake off this cold that I acquired over 2 weeks ago (when we were in Jiuzhaigou and Huanglong at the end of April).
Visitor Comments:
Got something you'd like to share or say to keep the conversation going? Feel free to leave a comment below...
No users have replied to the content on this page