Day 17: ANGKOR WAT
We arrived at the Siem Reap Airport some time around 12:30pm. But we had to wait through a fairly lengthy on-site Visa process that involved long queues and surrendering some $25USD I think per person. All this occurred before Passport Control. When we finally got through all that, we managed to fall for the foreign exchange trap, which we didn't know at the time but quickly learned thereafter that we not only got a bad exchange rate at the airport, but that we'd get dinged again later for using the Cambodian Reals in established areas. In fact, all prices were quoted in US Dollars and they didn't seem any bit interested in their own currency, which was clearly evident.
By 1:45pm, we got settled in at the Casa Angkor after being introduced to our guide Tir and our driver Ruad (who Julie thought was cute). Already one thing that was funny was that they drive on the right but the cars they get here are second-hand from either Thailand or Vietnam so you have a mix of vehicles with steering wheels on either side. I can only imagine how confusing that can be when there's a case where the driver wouldn't sit closest to the middle of the road (a very atypical arrangement).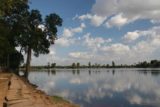 We had a late lunch at 2:15pm at the Khmer Village Restaurant, which sat right next to the so-called "World's Largest Swimming Pool." At this place, we had some loc lac and the familiar hot sour fish soup with tomatoes and pineapples along with other stuff (which was a familiar dish that Julie's mom makes). The beef on the loc lac was a bit tough so we figured they probably make this better in Vietnam.
By the way, it seemed that people prefer to refer to themselves as Khmer instead of Cambodian.
The big swimming pool seemed to be a sink for still water. Although the waters maybe tapped into by a spring, I tried to learn from Tir where the water goes. After all, with no water circulation, the gunk that gets in the pool gets increasingly more concentrated with waste. I don't think my question got answered and was probably lost in translation. All I can say was that I didn't see anyone swimming in it now and I'm betting in the future you're not going to have many more takers.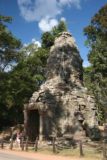 At 3:15pm, we arrived at the Ta Prohm, which was the place that the Lara Croft movie made famous. This was where trees were spreading roots in and around the ruins. Though what makes this ruin so distinct is also the very thing that's destroying them so there's a campaign going on that intends to cut some of these trees to keep the ruins longer.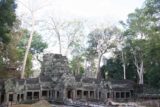 Whether this practice is agreeable or not probably depends on whether you're looking at it from a business standpoint (i.e. keeping this place a cash cow) or you came here mostly because walking around here really does feel like you're being a tomb raider.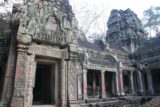 Adding to the atmosphere was the loud cicadas (a type of cricket-like insect) making sounds reminiscent of a horror movie or some kind of suspenseful thriller.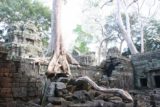 But then reality returns when you see how crowded this place is (and Tir said it gets worse because this was one of the "quieter" times of the day). There were also some wooden platforms put in place adjacent to the ruins for picture taking.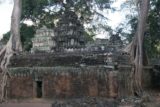 In fact, it was because of this that taking the photos we wanted was difficult because there was bound to be someone taking the ruin hostage for their own photos or someone walking into your shot.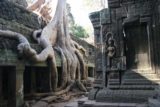 It all reminded me of that Basement Jaxx song (that also appeared in the Tomb Raider movie) "Where's Your Head At?" Because you just weren't sure whose head is going to be in your photo nor where your own head is going to be at with all the crowds.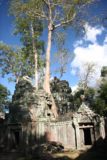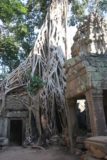 In either case, we felt rushed. But when we exited the attraction, the tables turned and we rushed towards the van. That was because (in a flash of Egypt all over again) there was hordes of peddlers waiting outside waiting to sell you stuff you don't need. This was hardly seen in Thailand which was why this scene surprised us.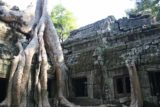 We suspected that this is most likely a result of the degree of poverty in the country. Like in Egypt, when the gap between the rich and poor is very large and the poor constitute a huge majority of the population, you're likely to get more desperation and pushy sales pitches especially when tourists are looked at as walking cash registers (but can you blame them?).
Usually, that's a function of corruption in the government and apparently there's no shortage of it in Cambodia, which we were about to see later in this trip. It's also apparent that our own government (especially if it's Republican-based) tends to move things in this direction where the rich get richer and everyone else is left to fend for themselves whether your status is merit-based or not. In other words, you have to know the right people if you want to get anywhere regardless of whether you provide any real value to society or not.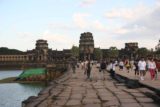 At 4:15pm, we left Ta Prohm and arrived at the much anticipated Angkor Wat about 15 minutes later. This was the very reason that Julie wanted to visit Cambodia in the first place.
As expected, there were hordes of people throughout the Angkor Wat complex.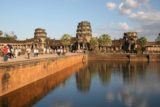 Tir made this the last place to visit for the day because he wanted to time it for afternoon light. I think that was a good call for the most part though shadows were a real nuissance.
There was a big moat surrounding the complex spanned by the Rainbow Bridge at the main entrance. You could see there was a real uneven side of the bridge which was the only part of the bridge either left or has yet to be restored by the French.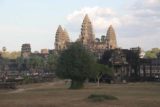 Once we got past one of several frontal entrances (we picked a quieter one with a statue in it) we could see the prangs of Angkor Wat glowing in the afternoon light along with a very large courtyard area.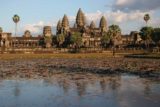 As we walked along the main walkway towards the main center, we detoured as we noticed still ponds with some lotus buds in them. This offered those signature Angkor Wat reflection shots you see in many postcards.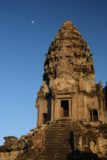 Then, we walked into the heart of Angkor Wat, which was quite extensive with many steps (aided by wooden steps built over them to reduce steepness). Once you got to the main inner portion, the prangs loom large over you.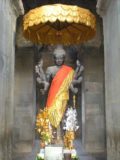 Here was where Tir explained further about the significance of the place before we sidetracked him a bit about what happened during the Khmer Rouge. In hindsight, we'll probably have to read up on the internet literature about what Tir was trying to communicate to us.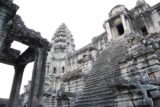 While Tir explained that the genocide that occurred was the result of an unfortunate circumstance of the Cultural Revolution from China mixed with the misinterpretation of subordinates to eliminate any and all people thought to be intellectuals (and this was very loosely interpreted), this only increased our desire to want to read up on the topic further when we have internet access.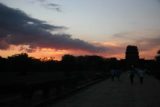 By 6pm with the sun already set and with the staff kicking people out of the main area so the monks can do their chanting, we were back in the car.
Later on in the evening, we decided to take a tuk tuk to the French Quarter, which was a happening spot full of night markets and lots of restaurants. It was pretty clear that the area was made into something touristy. That's because there weren't any locals who were punters at these places. They were only workers.
We eventually had some Khmer curry dishes (Khmer amok) along with some kind of banana leaf salad at the Khmer Family Restaurant. It was a bit difficult to communicate the order (they even called in additional dishes thinking we had already made up our minds while we were still ordering), which was pretty much the story of this trip (that english is not all that well-spoken in these parts).
Afterwards, we wandered around the "Noon Night Market," which was an oxymoron considering it was closer to midnight than noon. We were looking for some clothes for Julie's mom, but we had to try to filter out incessant pleas of "Hey lady, Hey sir, You want shopping?"
The rest of the evening passed uneventfully for the most part except for Julie's pet peeve that the place didn't have hot water showers. It was lukewarm at best (which was better than nothing), but annoyed the hell out of her.