Day 18: THE FLOATING VILLAGE
Julie was hoping to take a hot shower this morning, but when the water was still cold, she called in to complain. This was exacerbated by a giant spider nearly the size of the shower head that showed up. Clearly, this wasn't a good morning for her.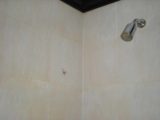 Eventually, one of the hotel staff finally showed up and managed to crush it and deposit it outside. Clearly, the locals must've been used to spiders this size because he didn't seem at all fazed by the size of the spider.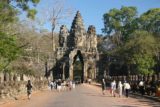 After a quick breakfast, we met up with Tir and Ruad again at 8am. Then, we left for Angkor Thom. This was supposed to be the largest of the ancient ruins in the area. It was said to literally mean "Great City" and we were about to find out for ourselves why.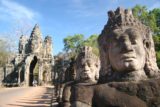 During the drive, Tir told us that Siem Reap was only stable since 1998 when the Khmer Rouge Leader died. All tourist infrastructure were typically no older than 10 years. That was because the Khmer Rouge was still hiding out only 100km north of Siem Reap. Plus there were still unexploded land mines strewn through the jungles here.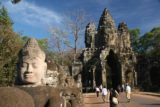 Speaking of what was north of Siem Reap, apparently, much of the material to build the temples in the area were from the mountains there. He even said there was a waterfall up there. Unfortunately, there were still unexploded land mines and he said that few tourists (if any) go up that way. Clearly, we weren't going to go up that way to tie in waterfalling with these grand ruins that we were seeing.
At 8:25am, we arrived at Angkor Thom. The first stop was the South Gate where there was a whole line of faces on either side of the bridge leading up to the entrance gate. It was kind of interesting to look at and apparently many tourists thought so to.
We weren't sure what the significance of these faces were though so perhaps this was one instance where a local guide could have explained this so we could have better appreciated what we were seeing.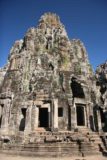 Then, we resumed the drive inside and stopped closer to the main attractions. Here there was another tall ruin full of tall prangs with Buddha faces on them. In fact, there were several hundred of these Buddha faces throughout the complex, which seemed to be a Khmer trademark that was visibly absent in the Thai ruins.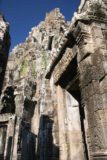 Once again, taking photos of this place was difficult with all the people walking in and out of photos. Yep, where's your head at?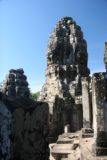 There were even a few seemingly hired costumed people ready to collect money for a picture with them. One trio of guys were dressed as monks. There was another group of lovely ladies dressed in traditional Khmer garb having you do similar Buddhist poses during photographs.
We then wandered around some other less gaudy ruins before reaching the outer walls with elephant statues on them. That was where we awaited our car and had ourselves some uniquely Khmer fruit called milkfruit, which really reminded Julie of persimmons, except these were purple and exceptionally tasty. I'd later learn that these were more officially known as star apples.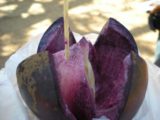 Unfortunately, you don't see these exported because they spoil easily with worms and they have a very short 1-2 month growing/harvest season. The lady sold us 3 milkfruits for what amounted to $1USD. And it turned out (because we went to a large fruit stand later that day) that this was actually on the expensive side, which is saying something.
In fact, it seemed most things were cheaper in Cambodia than in Thailand and the merchandise sold were quite similar. However, Thailand did have a greater selection.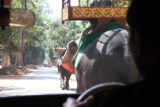 It turned out that somehow the car battery died on our van. I'm guessing the alternator died or somehow the lights were left on (the latter I doubt). In any case, we got a ride from an alternate driver from our tour company and he took us back to our hotel in Siem Reap.
So we were left to our own devices for most of the day before meeting up with Tir again later in the afternoon at around 3pm.
This time with the broad daylight, we actually walked around town. First, we checked out the Lucky Mall, which was nothing more than a modern mall with a grocery store. This was one of those places where paying with Reals netted an exchange rate of 4300:1 instead of 4000:1 (we exchanged at the airport for 3800:1). Do the math. You think the Khmer people really want their own currency?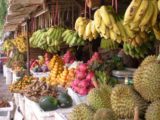 We then continued walking all the way to a line of fruit vendors. Here was where Julie finally got her wish to try fresh durian. The ones back at home are picked when they're too young so they could be exported. So she was really looking forward to this. It's actually not that bad of a fruit, but the big problem is the aftertaste and the smell.
But to Julie, it's all yummy. I still find it funny that this is one thing the Bizarre Foods guy on the Travel Channel Andrew Zimmern couldn't eat (and this guy can eat Icelandic hakarl, intensely rotten Taiwanese tofu, all sorts of creepy crawlies, etc). Even I took multiple bites of durian.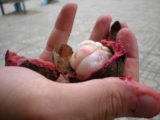 In addition to the durian, we also bought some fresh mangostines as well as some fresh rambutans. And since we couldn't bring durian back to the hotel to eat, we just picked a spot besides a building on a street corner and ate our fruits. The end result was purply sticky hands and a bag full of peeled skin of mangostines and rambutans.
We got numerous stares from tourists passing by in tuk tuks probably because we looked like tourist beggars. Hey, when in Rome, do as the Romans do, right?
Another strange thing about us munching on durian, mangostines, milk fruits, and rambutans were that throughout Thailand, none of this stuff was available. We were repeatedly told they were only available in the dry season. If Cambodia had similar dry and wet season months, why are they still abundant in Cambodia? Another mystery of life, I guess?
We then walked another block or so back into the French Quarter where we lunched on some Cambodian BBQ at this place called Le Tigre de Papier (Paper Tiger?). Here, we tried snake and ostrich.
It turned out that the French Quarter was actually walking distance from the Casa Angkor and a tuk tuk wasn't necessary. But we figured we'll use it to support the locals anyways as it's only about $2USD each way assuming you're not being ripped off.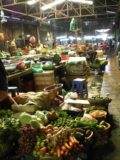 After the lunch, we headed into the old marketplace. There wasn't anything really of interest here. Just a large food section which challenges any Westerners' notion of what sanitary and edible conditions are as well as numerous goods we've seen in other markets.
At 2:30pm, we tuk tuk'ed back to the Casa Angkor and promptly continued our tour with Tir and Ruad (in a Camry now) towards the Floating Village.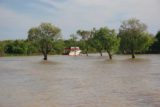 About a half-hour later, we got to an entrance gate where Tir went to pay for tickets as well as pay additional "gifts" (i.e. bribes) to the police officer at the post. I think that was the first real tangible evidence of a side of Cambodia most tourists don't bother to see. I said earlier Cambodia has no shortage of corruption and this was just scratching the surface.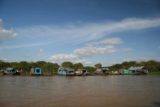 Shortly thereafter, we reached the banks of what looked to be the Mekong River. There were buildings on stilts here, but Tir told us that we were about to see homes that were truly floating on water. And that this practice has been going on for 2000 years predating even the dynastic regimes responsible for the ruins the Siem Reap vicinity is known for.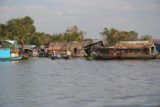 So we boarded a long boat and motored deeper towards the Sea of Fresh Water. It was only as you got closer to the Sea of Fresh Water did we truly start to appreciate the aquatic lifestyle of these peoples. Though I'm sure the motorized boats facilitated what used to be done by manual labor to move.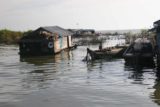 But after viewing the amount of litter on the launching area (where we started this tour) and how the locals here probably dump all their waste into the river/sea, I wondered how much pollution this body of water is taking in. I'm sure this is being exacerbated by the diesel and fumes from the motorized boats.
There were even trees that seemed to be able to survive submergence during the ebb and flow of the rising and falling waters of the monsoon. If only trees had this ability in places destroyed by manmade dams.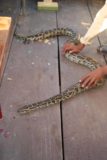 Tir mentioned that during the monsoon, the swollen Mekong River feeds the Sea of Fresh Water, but during the dry season, the sea actually feeds back into the Lower Mekong. Ultimately, the sea dumps into the South China Sea near Vietnam.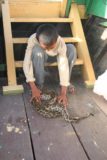 On the way back, the little boy helping out the driver (who I imagine is his father) brought out his young boa, which was lying quietly in a white sack beneath some steps. Knowing how big these things can get, I guess this snake had to be young and small otherwise the boy might end up being squeezed to death. Still, he treated this snake like his own and was totally comfortable handling it.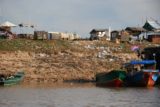 By 4:15pm, we were back at the car. As we were taken back to the Casa Angkor, I inquired about the mountain with the waterfall, which Tir said was some 50km north of Siem Reap. The mountain had significance because the raw materials were excavated from that mountain while the contents were brought by elephant to formulate the likes of Angkor Wat, Ta Prohm, Angkor Thom, etc. That would've been a great waterfall to visit, but Tir said it'd take all day because the tourist infrastructure for it doesn't exist yet. Plus, there's still land mines to be cleared and corruption (i.e. bribes) to deal with.
Speaking of which, the discussion turned to the education system in Cambodia. Tir said graduates from College in Cambodia can't get jobs or get equivalent credits compared with other international institutions. The only people who succeed know someone tied to the government. The rest have to work a hard life, and this was consistent with the hard, pushy peddlers as well as the lower standard of living.
I was getting the sense that tourism may be opening Cambodia to the world, but it's also making the people aware of where they stand with the tourists who come to visit. Even though the people are weary of the Khmer Rouge regime and don't have much will or anger left to revolt, you wonder if future generations further removed from that memory will begin to act for change. Or will China's investment in Cambodia in the form of cheap labor keep enough people just happy enough to delay the uprising.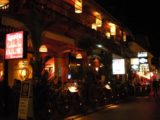 Well hearing the truth from a local certainly affirmed to us the value of travel. You're not going to appreciate this until you see firsthand what's going on and put the pieces together. And by the time we arrived back at the Casa Angkor, we were left to our own devices, but even more fully aware and appreciate of the people we're trying to say no (peddling things we don't need) and people we're trying to support (offering services we do need/want).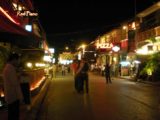 So we promptly returned to the French Quarter to have one last dinner at the Cambodian Soup Restaurant where their fish soup was probably on par with Julie's mom's version of the same dish. Meanwhile the dinner gave us additional time to reflect on what we've learned and to put into perspective the whole of this trip (including the Thailand portion).
Back at the hotel, we got packed and ready for tomorrow's departure. But in a bit of a surprise, when I showered late at night, I actually got hot water! I was sympathetic to Julie who showered earlier and didn't have it.