This itinerary covers the first part of what was intended to be a longer four-part trip that covers the Australian states of Northern Territory, Queensland, and New South Wales as well as the Indonesian province of Bali.
Each part could sit on its own as a shorter itinerary (for reasons of flexibility and focus), and to that end, this part of the itinerary pertained to just the first 9 days, which covers only the Top End of the Northern Territory.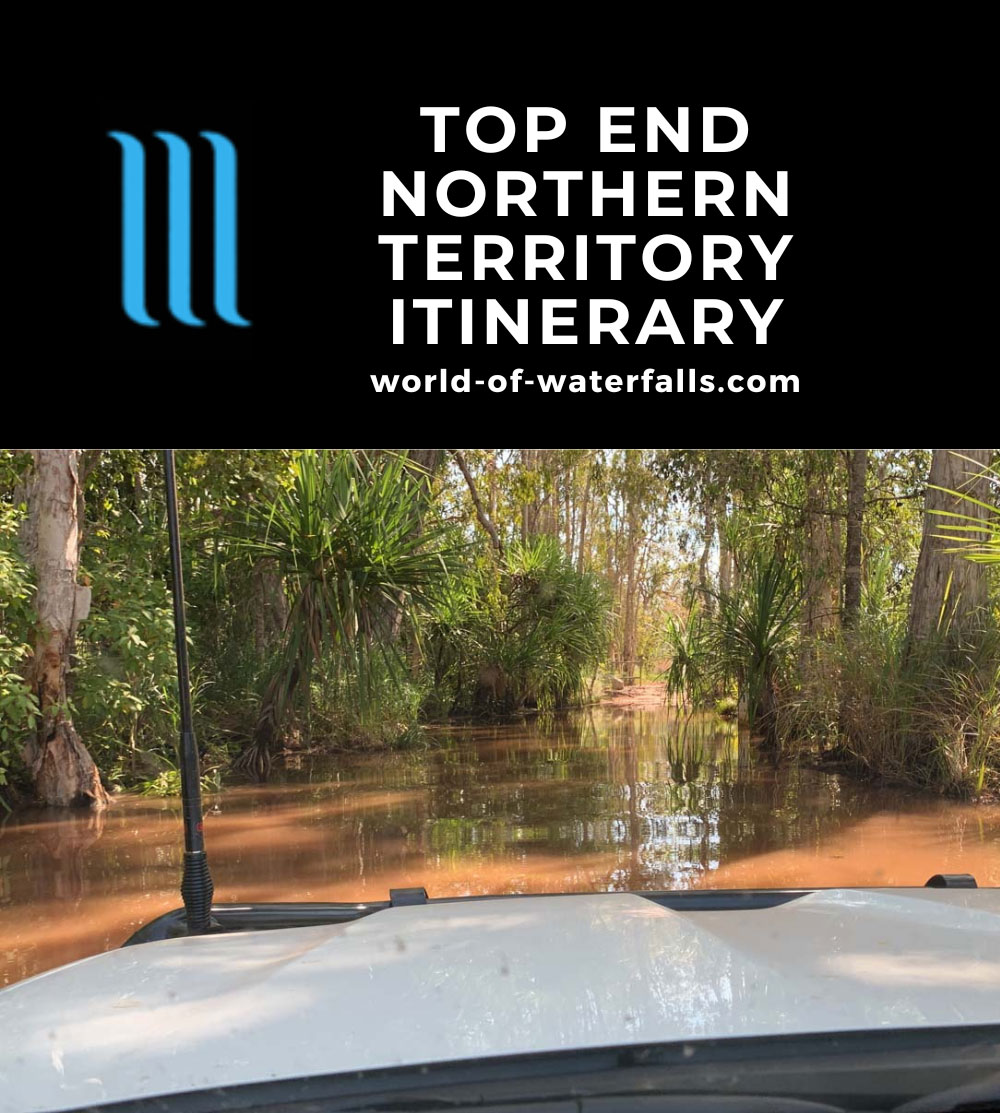 It marked the first time that Julie and I went back to the Top End in 16 years, but the difference here was that our daughter and my Mom went with us.
Like with the first time, we were intending to hit up the familiar Litchfield and Kakadu Waterfalls, but we also wanted to make amends for things we didn't get to do back then.
It turned out that for some of those things, we still didn't get to do them on this visit (e.g. the bottom of Jim Jim Falls and Twin Falls), but there were other things we did get to do like Tjaynera Falls, Buley Rockhole, Barramundi Falls, and Motor Car Falls (though Gunlom Falls was closed indefinitely).
We also made amends by completing the visit to Edith Falls.
And among the non-waterfalling things, we got to re-visit things like Mindil Beach and the Yellow Water Cruise among others while also doing some new stuff that we hadn't done before.
In any case, let's get into a more visual summary of what we did on this part of the trip…
Trip Highlights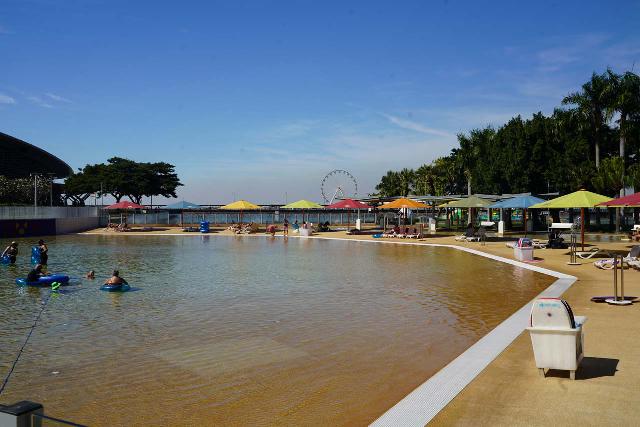 Darwin Waterfront – we stayed at the waterfront area (at a premium price, mind you), but it was strategic in that our daughter had a chance to play in the wave pool to offset the Top End heat and humidity. We also got to do the Centennial Walk, which was a familiar walk that Julie and I did before back in 2006 (and it got us to the rental car office in town; which I'll get to later). It was a great way to kick off the trip and get into the swing of things.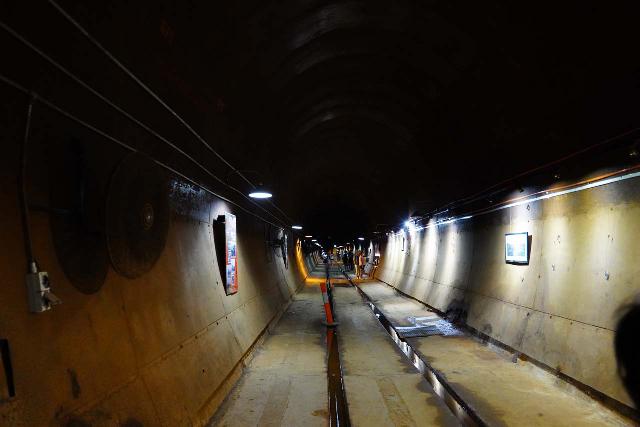 World War II Tunnels – this was a new experience for us while we were staying in the Darwin Waterfront, which featured the historical tunnels that were being used to store supplies and oil to save it from bombardment during Japanese bombings that forever changed the city of Darwin as well as Australia's position in the war. It was an eye-opening visit and an education on a history that we weren't all that familiar with.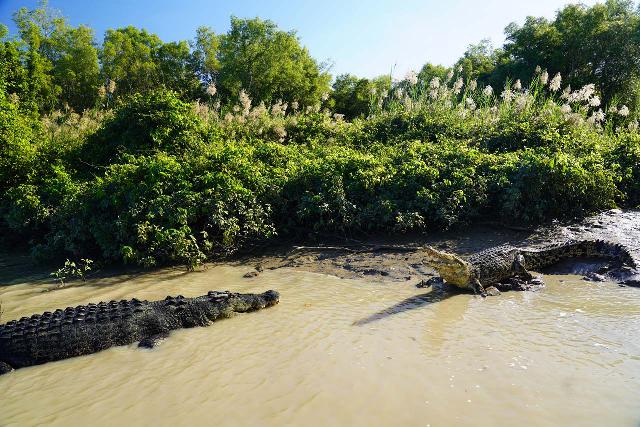 Jumping Crocodile Cruise – although they feed the wild crocodiles on this kind of tour, you can't beat getting this dangerously close to the top predator Australia, where we really understood the size of these reptiles and how they're easily man eaters that should be treated with reverence and respect.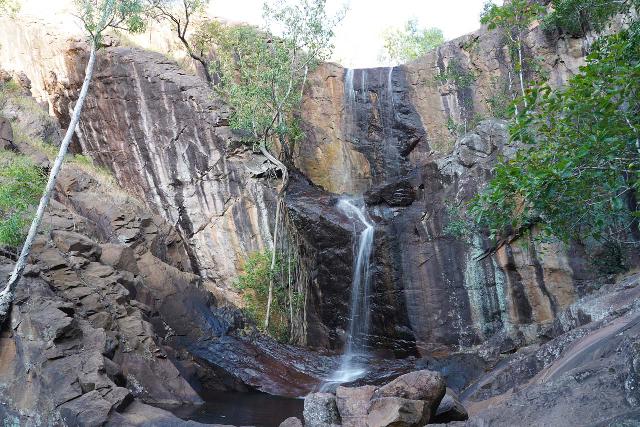 Robin Falls – I always say our trip hasn't truly started until we witness a natural waterfall, and for this trip, that first waterfall of the trip was Robin Falls. Even though this wasn't the first time Julie and I have been to this waterfall, we explored it a bit more and scrambled up to a hanging plunge pool with a view to really interact with it in a way that we didn't do it the first time around!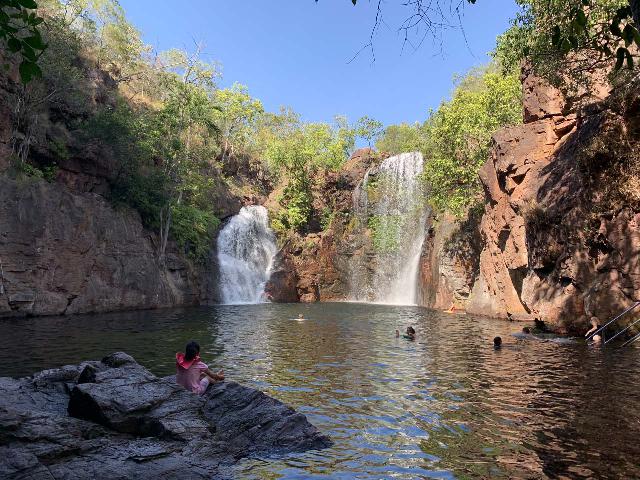 Florence Falls – this is perhaps Litchfield National Park's most popular waterfall, and it's with good reason because it's one of the few places where you can swim before a legitimate waterfall. So I was genuinely happy that Tahia and Mom got to experience what Julie and I got to experience 16 years ago, but it did seem like the popularity of this place really blew up over those years.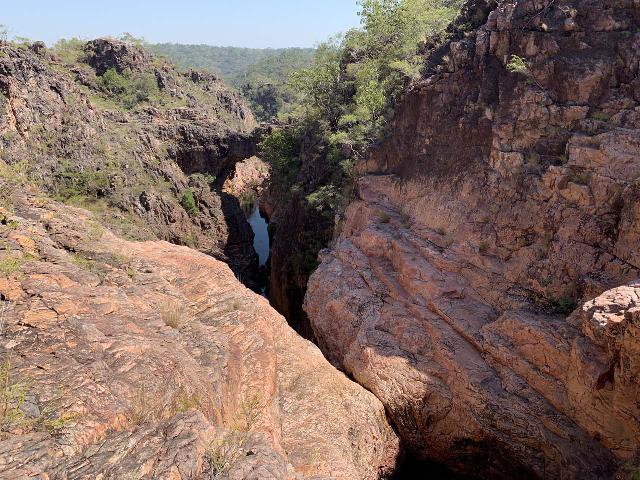 Tolmer Falls – this was another waterfall that Julie and I visited 16 years ago when we first visited Australia, and like on that first visit, I did the Tolmer Loop, which included this elusive natural bridge as well as the tall waterfall itself. It looked like over the years with this waterfall, they improved the trail and the lookouts, but as far as the scenery was concerned, it seemed as if time stood still as not much had changed.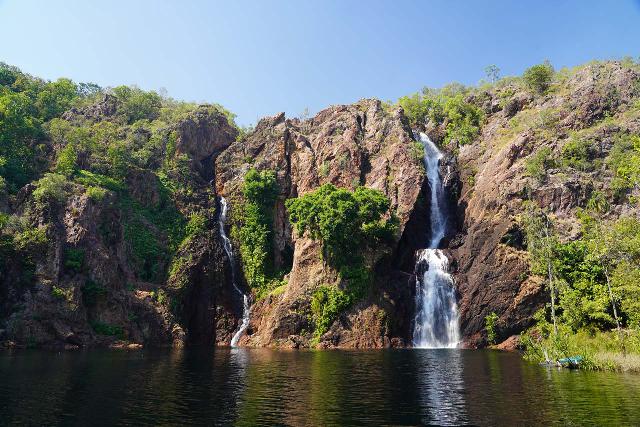 Wangi Falls – this double-barreled waterfall was yet another one of the popular Litchfield National Park attractions that was also a repeat visit after 16 years. Not surprisingly, with its ease of access, it really grew in popularity and we didn't see bats and kangaroos like we did the first time around, but the falls was every bit as impressive as it was before, and we were glad to have shared it with our daughter and my mom.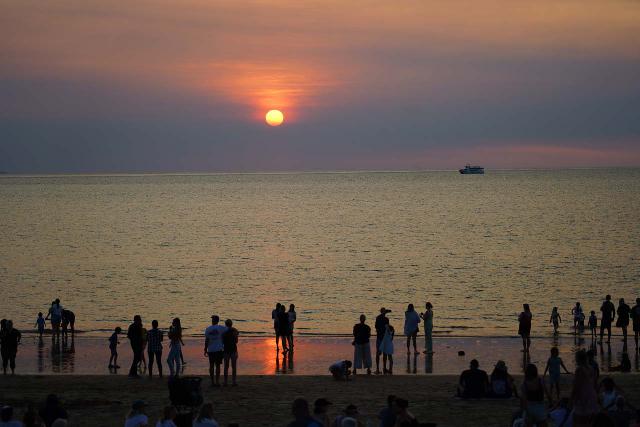 Mindil Beach – Julie and I were entranced by the magical night markets at this beach just north of Darwin City, and we tried to recapture that magic on our return visit 16 years later. Well, this place was definitely way busier and the atmosphere had changed since our first time, but it was still enjoyable and it was essentially more of a foodie experience now than it was more about the arts, scenery, and overall vibe the first time around.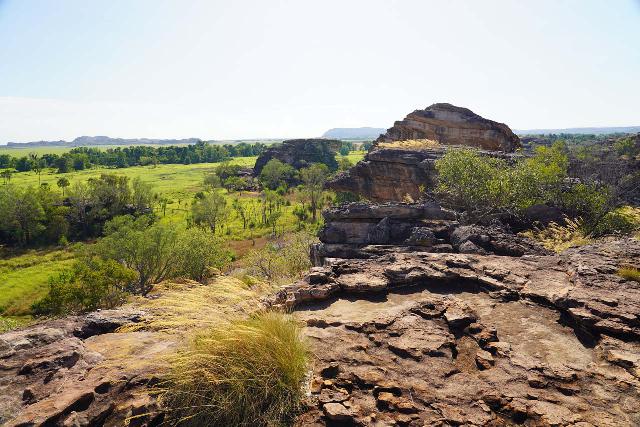 Ubirr – for some reason our second visit to this UNESCO World Heritage site felt more magical and interesting than on our first visit. Perhaps it was because we allowed ourselves more time and a more open mind, which essentially allowed us to soak in the panoramas from the overlook as well as playing a "Where's Waldo?" kind of game looking for particular depictions like Aboriginal encounters with Europeans. It was great fun with the family and helped to mix things up a bit to add a bit of variety to our Top End trip.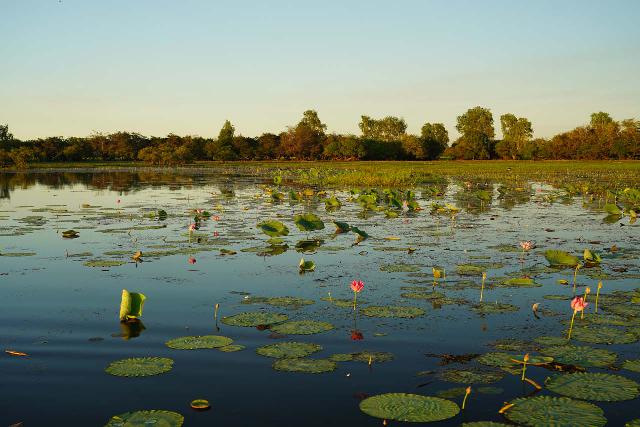 Yellow Water Cruise – this was another repeat experience from 16 years ago though the crocodile sightings weren't as extraordinary as the first time around, which we've learned during this visit that it was a result of Climate Change having an effect on the environment. Nevertheless, this was a wildlife safari that did see saltwater crocs as well as numerous birds and billabong scenery along the way, which the family enjoyed.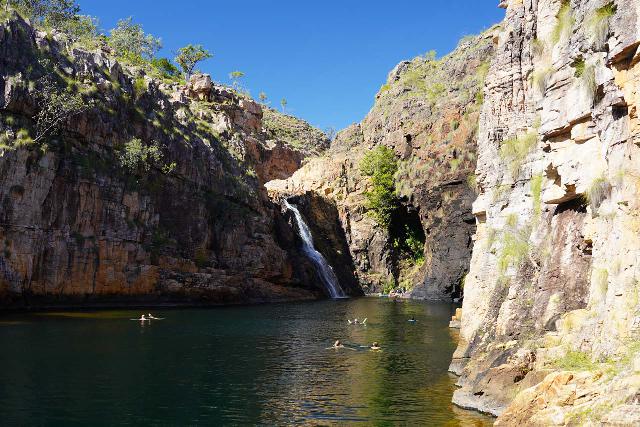 Maguk – this was new for us as it was closed on our first visit to the Top End so we had to wait 16 years before we finally got our chance. And we were treated to a huge plunge pool with a waterfall sighting as well as a bit of an adventure within one of the few parts of Kakadu that was open in June 2022.
Edith Falls – the first time Julie and I were here in 2006, we really didn't give this place a fair shake as we didn't do the Leliyn Loop. However, on the second go around, I did the circuit walk with my Mom and were treated to a dazzling display of colours and reflections as the sun was setting over Nitmiluk National Park. Indeed, the experience completely changed everything I thought I knew about this place, and it was apparent why it was as popular as it was despite being so out of the way between Pine Creek and Katherine.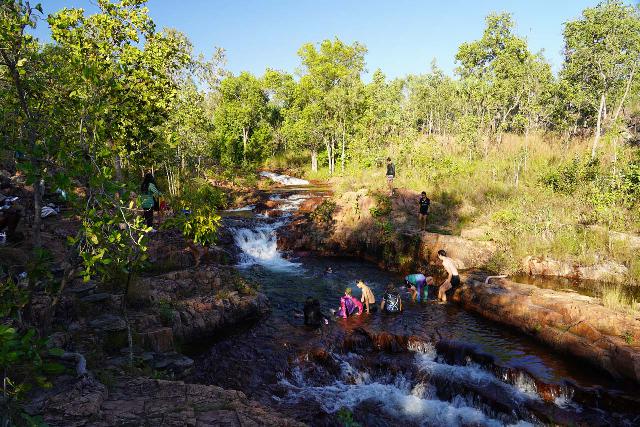 Buley Rockhole – this was the first time we experienced this cascading waterfall and plunge pools neighbouring the Florence Falls in Litchfield National Park. Even though we showed up in the morning, it was already busy and quite the spot to beat the Top End heat.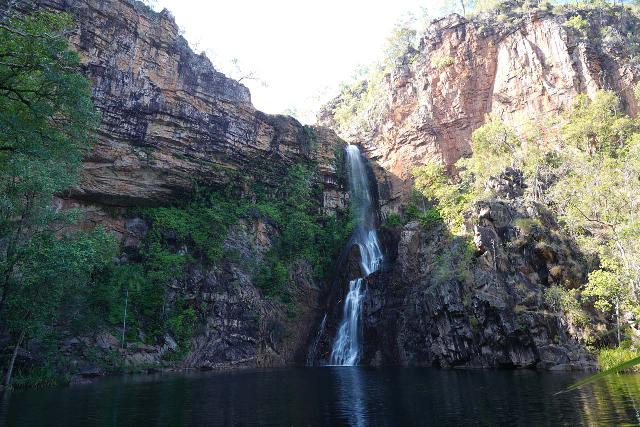 Tjaynera Falls (Sandy Creek Falls) – this remote waterfall was closed when we first tried to visit it in June 2006. So we had to wait 16 years before we finally got a chance to visit it though it required a scary murky creek crossing in our 4wd vehicle to reach. It was one of those "give it a go" moments, but as you can see from the photo above, it was well worth being the highlight of our last full day in Darwin!
Trip Advice
This section of the trip started off with a missed connection and filing a travel insurance claim in response to those delays. However, there were other things that we learned on this trip that made me re-think how we might time a visit to Australia in the future.
Staying COVID-19 Safe: while mask wearing is highly politicized in America, we didn't realize what a reverse psychology that took hold in Australia (at least at the Top End and also Queensland). Indeed, we learned that apparently if you wear a mask (like we did, and we were one of the few people who did), the assumption by Aussies was that you must be sick. However, we've encountered people coughing up a lung without wearing masks so it was no wonder that the virus was spreading like wildfire during our visit. We just kept on keeping on, and if anything, our mask wearing mentality stopped becoming about being considerate to others, and double masking in public areas now acted as a measure of protection to at least try to reduce the viral load should we get inevitably exposed.
Controlled Burns: A major part of the experience of the NT during our visit was the prevalence of controlled burns, which really impacted the air quality throughout our 10 days here. While these are fuel reduction burns to try to lessen the likelihood of out-of-control bush fires, the air was such that we were getting familiar toxic air feeling we tended to get at home when we have wildfires causing smoke everywhere!
Climate Change Monsoons: Apparently the NT had been getting later and shorter monsoons going on at least 8 years, which we learned from the Aboriginal guide on the Yellow Water Cruise. And who are we to argue when you're hearing it from someone who pays a lot of attention to the seasonal patterns as they affect the wildlife as well as daily life. That was corroborated when we compared the waterflow states of the repeat waterfalls from 16 years ago versus now.
Jim Jim Falls and Twin Falls: Part of what motivated me to return to the Top End was being able to try to visit the bottom of Jim Jim Falls and Twin Falls. Unfortunately, even this time around, we were too early by at least 2-3 weeks. Plus, we were now at a time when chopper companies wouldn't even do flyovers of Jim Jim and Twin Falls due to lack of waterflow (and inevitable social media bad reviews). So the bottom line is that visiting the base of Jim Jim Falls and Twin Falls could only happen at time when the waterfalls wouldn't be flowing well (if at all!).
Jumping Croc vs Yellow Water: On our 2022 visit, we tried the popular Jumping Crocodile Cruises for the first time, where these types of tours feed the crocs. Thus, you're guaranteed a close-up sighting of the fearsome saltwater crocodiles. The familiar Yellow Water Cruise is more like a wildlife safari so it's more respectful but the croc sightings are more random and not really as close-up and intimate. After all, Nature is unpredictable, and some lines are blurred and liberties have to be taken in order to get the more thrilling experience.
Flights to Darwin: There aren't many domestic flights (especially from Sydney) to Darwin, and even if there were some, it turned out that they're not convenient. In fact, our make-up flight was part of an international flight from Sydney to London with a stopover in Darwin. In fact, this flight was not well publicized, which was why we couldn't book that flight outright prior to booking our international and domestic flights pre-trip. That's why we either had a tight 90-minute connection or a 15-hour connection arriving in Darwin late at night (i.e. 1am) or do a layover for the following day!
School Holidays Even though it was Winter in Australia, apparently the month of June was full of school holidays, which manifested itself as very busy attractions (at least way busier than how Julie and I experienced them during our visit in June 2006). In fact, our arrival on the second weekend just so happened to be a long weekend in the NT, which really exacerbated the issue as it was reflected in really high accommodation prices (as well as places getting booked out way in advance!). So that's something we'll have to consider the next time we come here…
Travel Itinerary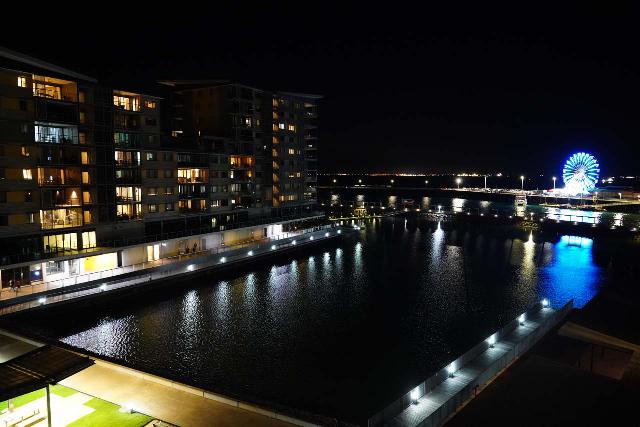 Days 0-2: Long Travel Day to Darwin via Sydney from Los Angeles
This trip began with an overnight flight from LAX to Sydney, and then connecting from Sydney to Darwin. These flights took the better part of two days (including losing a day for crossing the international date line), but it was made more complicated by a missed connection due to Qantas delays.
We only had time to check in to our apartment late in the night after all was said and done. Knowing that we were not going to catch our connecting flight, we had to make calls to our rental car company as a result to pick up in the city instead of the Darwin airport, which would have been after hours. It was a chaotic time, but it eventually worked out at the expense of losing a half-day of touring in Darwin.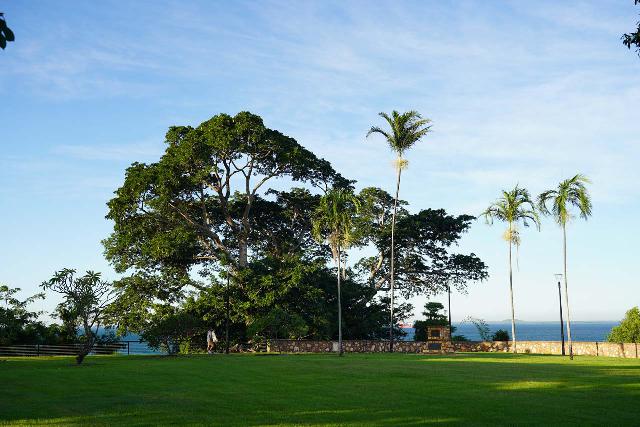 Day 3: Darwin
Given the late arrival from last night, we weren't really up for driving to Litchfield National Park as originally planned. But upon learning that going to the bottom of Jim Jim Falls and Twin Falls were unlikely, we could take advantage of the sudden free up of a day to punt our Litchfield visit for tomorrow and chill out in Darwin on this day (picking up the rental car while doing the Centennial Walk, doing the World War II Tunnels, and the Wave Pool at the Darwin Waterfront). That said, we did spend the afternoon going to the Jumping Crocodile Cruise, which was quite a different way to experience Outback Australia at the Top End.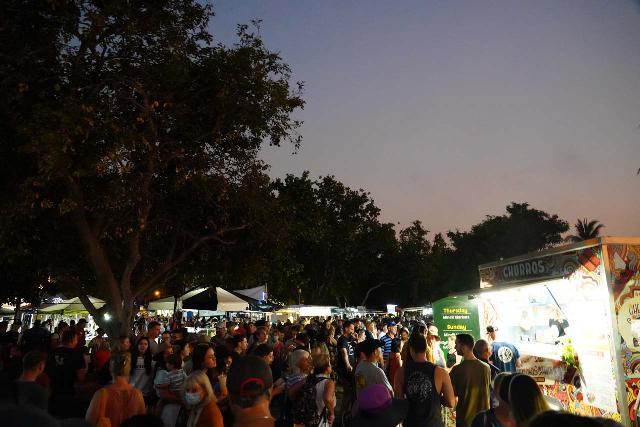 Day 4: Litchfield National Park Day Tour and Mindil Beach
This day was dominated by visiting waterfalls primarily in Litchfield National Park though we also stopped at Robin Falls first. The approach was to hit up the major waterfalls in Litchfield so we visited Florence Falls, Tolmer Falls, and Wangi Falls while punting the sights that we missed on this day for the last full day on the way back to Darwin.
When we returned to Darwin on this day, we then checked out the Mindil Beach Night Market since it was a Sunday night, and that took the better part of the evening, where it was totally worth staying in town this time around instead of driving at night to Batchelor like we did on our first visit!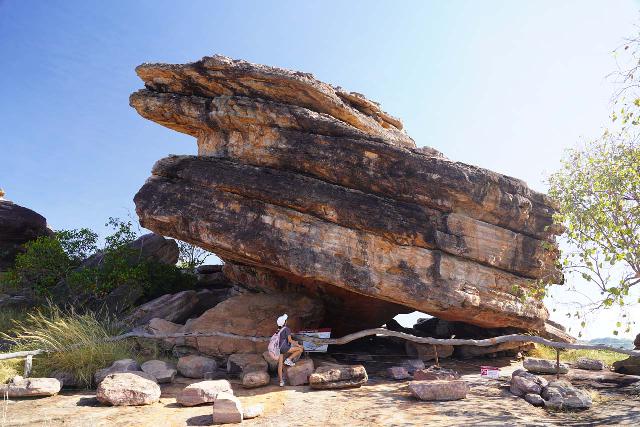 Day 5: Drive from Darwin to Jabiru
Overnight: Anbinik Resort (Jabiru, Northern Territory, Australia)
On this day, we left Darwin and went into Kakadu National Park exploring Ubirr and then chilling out in Jabiru as we limited the activities in the afternoon due to bad air quality from fuel reduction burns that had intensified.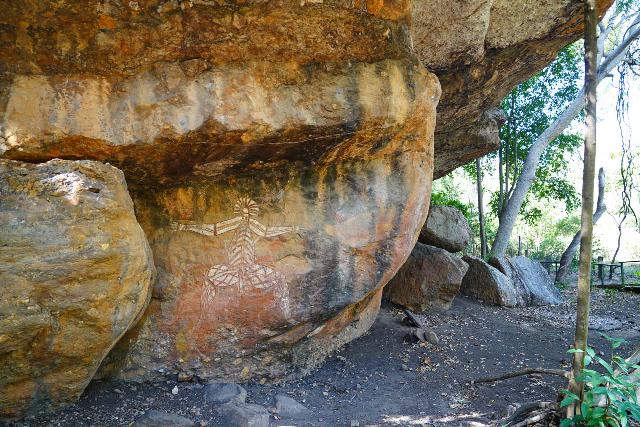 Day 6: Kakadu National Park
Overnight: Anbinik Resort (Jabiru, Northern Territory, Australia)
On this day, we pretty much explored Kakadu National Park starting with the Yellow Water Cruise, then hiking to Maguk, before squeezing in a visit to Nourlangie Rock, and then finally having a late afternoon pool time back at the Anbinik Resort.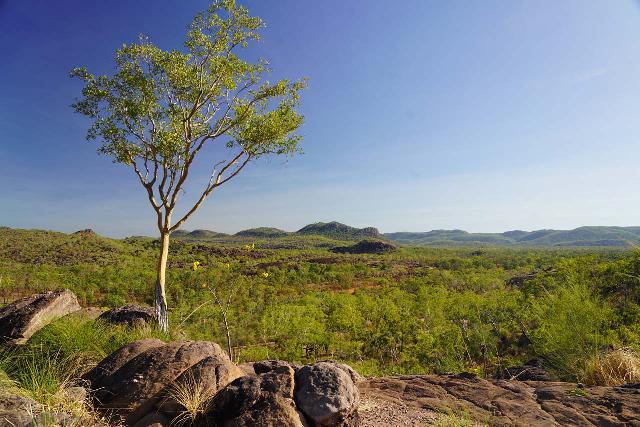 Day 7: Drive from Jabiru to Pine Creek
Overnight: Railway Resort (Pine Creek, Northern Territory, Australia)
On this day, we left Jabiru and made the drive towards Pine Creek while doing a hike to Motor Car Falls along the way.
After getting settled in Pine Creek, Mom and I then did an afternoon hike to Edith Falls taking in the Edith Loop.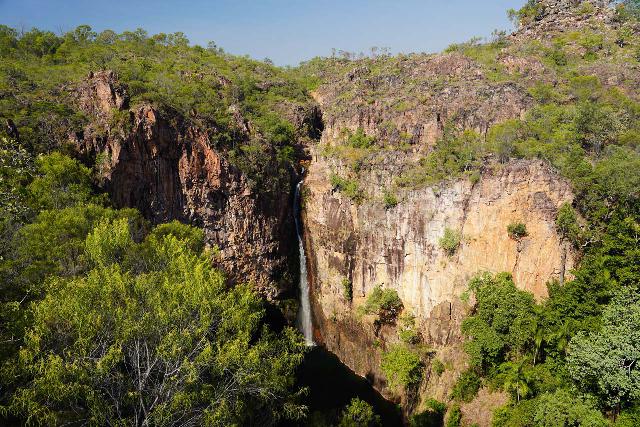 Day 8: Drive from Pine Creek to Darwin by way of Litchfield National Park
Overnight: Darwin Resort (Darwin, Northern Territory, Australia)
On this day, we got an early start where we returned to Litchfield National Park to visit the Magnetic Termite Mounds, the Buley Rockhole, Tjaynera Falls, Tjaetaba Falls, and a re-visit of Tolmer Falls for better lighting.
We stayed close to the Darwin Airport given the early departure to Bali tomorrow morning.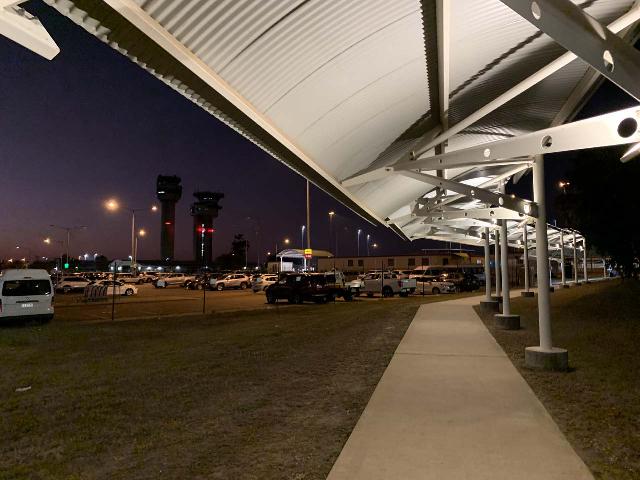 Day 9: Departing Darwin for Bali
Overnight: Suweta Homestay (Ubud, Bali, Indonesia)
This was a travel day where we got an early start to return the rental car and catch our early flight to Bali for the next phase of our trip.
Best Places We've Stayed At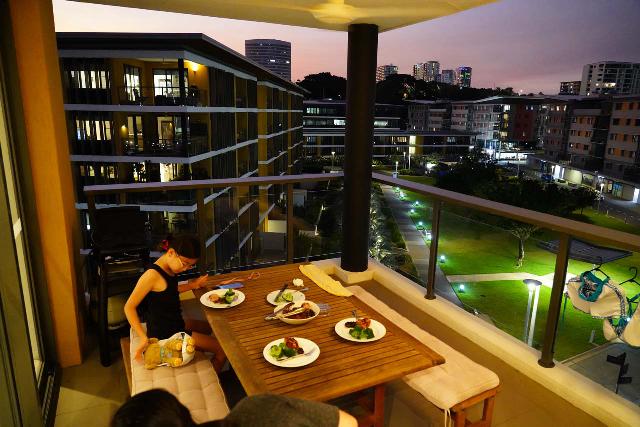 Darwin Waterfront Luxury Apartment– When it came to the limited accommodations in the Top End (given all the holidays that were taking place during our visit), we really had to pay a premium to stay at this apartment (it wasn't as if there was that much of a choice at the time anyways).
However, when we checked into our apartment, we were treated to nice views of the Darwin Waterfront, a very spacious unit with two bedrooms, two bathrooms, a full kitchen, and even a washer and dryer (too bad this was just the start of our trip). It also had a balcony with a grill and a table to savor the views.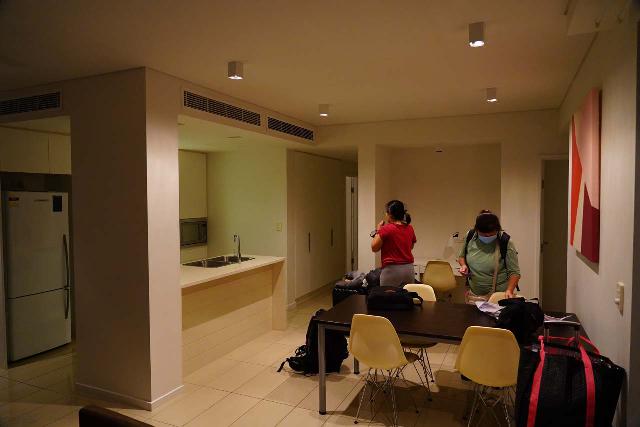 Moreover, you can't beat the location as it was just a short jaunt from the Darwin Waterfront itself (with swimming areas plus a Wave Pool) plus the World War II Tunnels, and the Centennial Walk.
We could even extend our walk into the CBD of Darwin if we wanted to.
Indeed, this place was heads and shoulders above the rest of the accommodations that we had stayed at throughout our time in the Top End.
Trip Reports
Waterfalls included in this itinerary
Visitor Comments:
Got something you'd like to share or say to keep the conversation going? Feel free to leave a comment below...
No users have replied to the content on this page