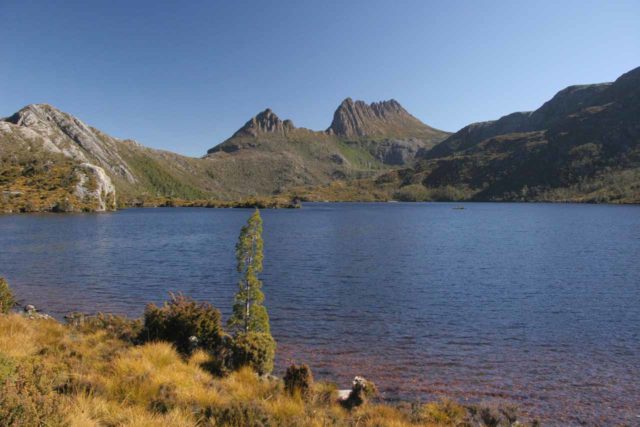 26-November 2006 to 27-November 2006:
Since Julie and I had some time to kill, we thought we could check out the Devils at Cradle refuge facility. I was anxious to see these endangered creatures as was Julie. Both of us knew they would look nothing like the WB's whirling dervish Tasmanian Devil. And when we paid our tour fee to enter the facility, our hearts instantly opened up at the first sight of them.
Even if these little dog-like creatures weren't in their wild natural habitat, it was still quite a treat to get to pet them and learn about them…
Day 1: OH MY DARLING, LEMONTHYME
It was 7:05am and we checked out of the Comfort Inn Commodore Regent in Launceston.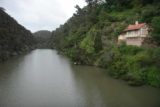 We spent a few minutes looking at what Cataract Gorge looked like in the morning from the Kings Bridge, but immediately afterwards, we left town. The plan for today was to see the waterfalls by the Lemonthyme Lodge Wilderness Retreat as well as scout Cradle Valley, where we would be staying tomorrow.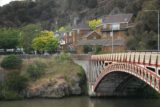 We ended up having more time than I had originally anticipated because I thought we would be doing a strenuous 4- to 5-hour hike to Meander Falls and/or another 4- to 5-hour hike to Winterbrook Falls. But after seeing what appeared to be late Summer to Autumn conditions in Spring, I reckoned these falls wouldn't be worth it under these circumstances.
And with that, we first headed to Devonport to see if we might be able to check in early so we could travel light later in the day.
Moreover, Julie intended for us to return to a Hertz Rental Car facility to switch cars since this one had a nasty habit of squealing repeatedly everytime the brakes were applied. I was worried that the pads were touching the sensor, which would indicate worn out brakes, and when I expressed this concern to Julie, she wanted to take no more chances considering how much unsealed and mountain driving we had been doing.
So by 8:15am, we had arrived in the surprisingly sleepy port town of Devonport. This town had a more industrial feel to it because it was where the Spirit of Tasmania ferry docks from its long journey to/from Melbourne on the mainland. I reckoned it was also probably important for petrol as well as shipping cargo such as lumber and other goods. So it wasn't surprising at all that petrol was the cheapest we had seen in all of Oz over here.
In any case, it was 8:27am when we got to a Hertz office that was situated on a street corner (that just so happened to be on the same street as our motel). It was a pretty hassle free switch, but the alternate car we got was a gas-guzzling American car (some Ford four-door passenger car) that got nowhere near the mileage as the Toyota Camry we had been used to driving while on the mainland in Oz.
Anyways, beggars couldn't be choosers and we had to make due with the increased trips to the petrol station.
A few minutes later, we arrived at our motel at the Comfort Inn Sunrise and to our surprise, we were able to check in early.
Great!
Now, we could drop our heavy luggage and travel light once again. Our intention was now to head over to the Lemonthyme Lodge so we could hike to the nearby waterfalls – Champagne Falls and Bridal Veil Falls.
The fairly long drive took us through farmlands and townships before winding through curvy, mountainous roads. Apparently this road used to be unsealed but now the sealed roads made traveling much easier and costed us much less time than I had anticipated when planning this phase of the trip.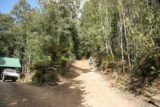 We would later take the well-signed turnoff for the relatively remote and isolated Lemonthyme Lodge Wilderness Retreat, which was on a narrow unsealed road that led for another 15-minutes or so to the lodge complex.
We arrived at the complex at 10:27am and parked in one of their day-use parking spots. It seemed like we would be the only ones on the trail this day.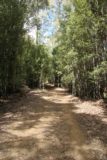 And so we began the walk, which went past the manager's residence and proceeded to climb through a shaded 4wd road. On the way up, we noticed a picnic table and a sign with a panoramic view. We took some time here to enjoy the view and to study the topo map printed on the sign. It was also a momentary break for the incessant uphill walking up to this point.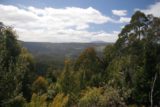 When we continued walking, the trail continued to go uphill. We trail would eventually crest at a fork in the road and flatten out. Then, we got to a junction where a signed but steep downhill path to the Champagne Falls was located.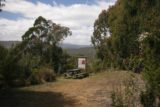 We opted to make a loop out of seeing both Champagne Falls and Bridal Veil Falls so we went ahead and descended the rather steep path.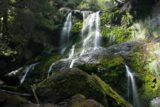 And after a few more minutes of walking on the foot trail, we made it to the clapping waters of Champagne Falls.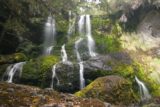 The falls had some pretty satisfying flow even though it wasn't as much as what I had seen on the internet during my trip research. But that allowed us to get direct views of the falls and take good photos when the sun wasn't too blinding.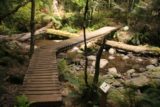 Next, we walked back up the steep track towards a primitive trail junction that led to the Bridal Veil Falls. This track undulated in the shady forest as it followed Bulls Creek. Eventually after another 20 minutes or so of hiking, we reached a long log that acted as a bridge over Bull Creek. And in direct view from the log was the wall of clapping water known as Bridal Veil Falls.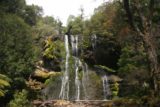 The falls was wide and could be rectangular if its flow was a little greater. But even in its strandy state, the falls was satisfying and quite photogenic. Julie and I spent some more time here enjoying the view and allowing ourselves to be relaxed by the sights and sounds of the waterfall.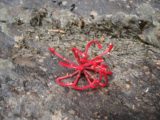 The trail then proceeded to climb up a steep path before rejoining the 4wd track. At that point, we looped back towards the Champagne Falls turnoff while avoiding some of the muddy spots on the road. Then, we pretty much trotted downhill back to the day use car park area at the Lemonthyme Lodge, where regained the car at 12:50pm.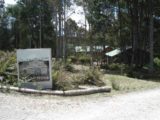 Since the wilderness retreat was only a few minutes from Cradle Valley, I reckoned we could head on over there to see what the scenery was all about. But the intention was to check out Quailes Falls on the way.
So as we drove along the sealed path, we would eventually enter the Middlesex plains before reaching the signed turnoff for Cradle Valley. Somehow we missed the turnoff for Quailes Falls so I reckoned we could check out the falls when we were done scouting Cradle Valley.
But out in the valley, we saw further evidence of heaps of dry trees that just seemed ripe for a wildfire – again reinforcing thought that drought is also adversely affecting Tassie.
Eventually at 1:30pm, we reached a souvenir shop and cafe. We stopped here to momentarily satisfy our hunger and to pick up some literature or at least get some info on what we could do here. I was also wondering if a ranger here could tell us about Quailes Falls since I didn't really have much literature on this.
While buying some maps of the area, I managed to get in a conversation with a ranger who happened to be socializing with a clerk dressed like a nun behind the counter. We got in an involved conversation about the hikes in the area after inquiring about Quailes Falls.
In between his reveries about the hikes he has done in the beauty of Cradle Mountain, that was when he told me that Quailes Falls was on private property and access was probably prohibited.
Oh well, so much for that waterfall.
Anyways, I learned a lot about some of the hikes in the area (most of them on private property or very difficult to do) though I probably walked away with the sense that I really should do the famous multi-day Overland Track.
There was also a poster in the facility that had probably our favorite quote of the trip and further enhanced our relaxed state of mind. It said underneath a gorgeous photo of Cradle Mountain reflected Dove Lake, "Take nothing but pictures, leave nothing but footprints, kill nothing but time."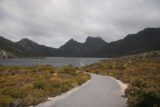 So with that, Julie and I left the visitor center and proceeded to drive to the end of the road, where there was a very large car park with a gorgeous view of the shapely Cradle Mountain looming over Dove Lake.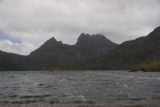 The skies were mostly cloudy at this time and the winds were quite strong and very cold. So Julie and I lingered here for a few minutes to take photos, but the weather wasn't really optimal for good photos this time.
So we got back in the car and we headed back towards the Cradle Valley township.
Since Julie and I had some time to kill, we thought we could check out the Devils at Cradle refuge facility. I was anxious to see these endangered creatures as was Julie.
Both of us knew they would look nothing like the WB's whirling dervish Tasmanian Devil. And when we paid our tour fee to enter the facility, our hearts instantly opened up at the first sight of them.
Even if these little dog-like creatures weren't in their wild natural habitat, it was still quite a treat to get to pet them and learn about them.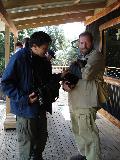 Now both Julie and I had learned about the disease that has already wiped out over half the Tassie Devil population. But now we could see photographs and really get to understand the properties of this disease and how this is threatening to make the beloved devils extinct.
How sad.
We had also learned that both the Tasmanian Devil and the believed-to-be-extinct Tasmanian Tiger were the primary predators of mainland Australia (not just the island of Tasmania).
But in the mainland, the introduction of dingos a couple of centuries ago basically led to their demise. That would probably explain why kangaroos are so abundant and reaffirmed my theories about the inability to naturally check their population.
Meanwhile in Tasmania, they don't have roos (according to the rangers here) but they do have wallabies, which seem very much like smaller kangaroos. The devils normally eat them as well as other mammals such as wombats.
We just got this sense of how fragile and endangered all the native organisms of Australia were – and the Tassie devils were just one aspect of it.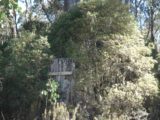 Anyways, after spending a few hours having a devil of a time, we proceeded to start driving back to Devonport. By now, the skies were nearly cloudless and the weather became warm. It was still 4:45pm and I reckoned we still had a little time to satisfy my curiosity about Quailes Falls.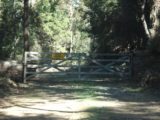 So as we drove out of the Middlesex Plains, we saw an unsealed road that agreed with our GPS map. We would eventually see a small Quailes Falls sign pointing to our left at the next junction, but it didn't take long before we were stopped at a gate that said Private Property on it. Yep, the ranger was right.
And with that, we continued back on the sealed roads towards Devonport.
It was 5:54pm when we arrived at a petrol station in town – making sure I would capitalize on the cheap gas. Somehow I got in a conversation with the attendant there and he mentioned to me about how the drought resulted in low output at the hydroelectric facilities in the state. He said they were only running at 15% of capacity and the possibility was real that they would have an energy shortage.
That was a real eye-opener to me, and quite revealing about the extent of the drought in Tassie.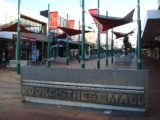 At 6:05pm, we returned to our room at the Comfort Inn Sunrise and discovered that the RJ-45 cable actually supported free internet.
Naturally, Julie took advantage of this so she could get caught up on her emails as did I.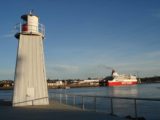 Then, we walked around the Rooke Street Mall in the CBD of Devonport though it was pretty dead.
Soon thereafter, we dined at some Italian place called the Rialto Gallery Restaurant in the quiet town. We saw the Spirit of Tasmania heading off into the open waters as we ate and I pondered whether I should use that service the next time I should return to Tassie and the South of Oz.
Day 2: RETURN TO CRADLE VALLEY
After Julie did some last minute internetting in the waking hours of the morning, we finally checked out of the Comfort Inn Sunrise Devonport and left at 7:15am for Preston Falls.
By 8am, we were at the signed pullout for the falls. It was a good sign that we could hear the lightly clapping sounds of the plunging waterfall and that hastened our pace as we took the short walk to its overlook.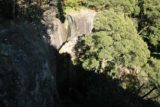 Unfortunately, the harsh light of the morning put the impressive waterfall half in shadow and it made for terrible photographs. This curbed our enthusiasm put yet another waterfall on the redo list for a future trip to Oz.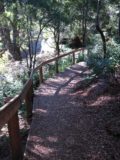 The 25m or so waterfall plunged over an open alcove. I'm sure if there was safe access to the bottom, you could easily go behind this waterfall. It was also at this time that I learned that one of the legs of my tripod was malfunctioning as the leg could consistently fall off and be detached from the rest of the tripod.
Great, what else could go wrong, I wondered.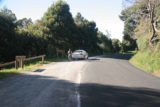 Well at least this problem was probably fixable by crazy glue once I got home. So I just had to be careful with the way I handled the tripod for the rest of this trip.
At 8:25am, we returned to the car and proceeded to drive into the charming seaside town of Burnie (getting there at 9:15am). There, we visited the visitor center and also spent some time at the city park, where we visited Oldaker Falls.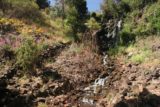 The urban park was easy to get to and again we could totally see how locals with kids could take a stroll here and have a picnic or some family outing. The watercourse downstream from the falls was actually contained by retaining walls that ensured the stream channeled towards the ocean eventually without washing away anything else in the park.
Once at the falls, we could see purple flowers blooming along the hills banking the waterfall. The skies were cloudless and the weather was quite warm. But the falls still had decent flow and this made for a pleasurable (albeit a bit contrived with the city park feel) visit.
Next up, we drove towards Guide Falls but not before picking up a meat pie for lunch on the way out. We would eventually get to the car park for the falls at 11:16am but not before being delayed a few times due to road work on the way.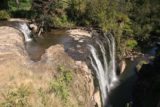 The two-tiered waterfall was in a well-developed park with several overlooks as well as a walking path leading to its base. The harsh sun threatened to make the shadows mess up our photo opportunities. But for the most part, the shadows were tolerable at this time. There was even a partial rainbow faintly floating in the falls' mist.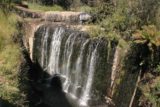 The falls itself had pretty decent flow, but we could totally imagine how much more impressive the falls would be in more normal flow. Still, it was pretty nonetheless and we had spent quite a bit of time photographing and just enjoying it.
As we left the falls at 11:50am, I decided we should just head straight to the sleepy town of Waratah to see the Waratah Falls. The original plan was to do a fairly involved detour to see Dip Falls, but I wasn't very optimistic about going through that much trouble with the probability that the falls was not guaranteed to be flowing satisfactorily.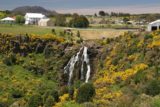 So by 12:33pm, we were at the viewing area for Waratah Falls (after a bit of some driving through forest, which were strangely turning brown and red like in autumn in many places).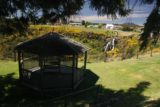 And to our surprise, the Waratah Falls had very good flow. However, after learning about MacKenzie Falls in Victoria, I reckoned that this waterfall was helped by the water-regulating waterwheel which ultimately fed the falls. The lake further upstream was further evidence of this man-intervened falls. Still, in a bit of ironic twist, it was this intervention that would allow us to see this pretty wishbone-shaped waterfall despite the drought.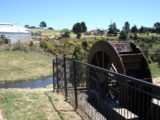 There was also a well-situated gazeebo here as well, but we had finished the meat pies much earlier in the afternoon and fancied picnicking in the gazeebo with a lunch. Even still, the blooming wildflowers around the area added much to the charm of the scene.
When we pried ourselves away from Waratah Falls, we drove back into Cradle Valley (once again delayed several times by road work) and eventually checked into the Cradle Mountain Lodge at 1:52pm.
We allowed ourselves to splurge a bit for this day and considering the ups and downs we had on our Tassie experience, I had to admit that Julie made the right call on this one.
After dropping off our heavy luggage, we proceeded to spend the rest of the arvo getting to know Cradle Valley better through some hikes. But we were on a time constraint as Julie made a booking to dine in their facilities at 6pm.
The first hike we did was right across the main road from the lodge. It was a short boardwalk towards both Pencil Pine Falls and Knyvet Falls. Both falls were quite small, but of the two, I'd say Pencil Pine Falls was surprisingly satisfying. We tried not to get in the way of some folks filming a local kids show on our way to Knyvet Falls.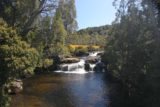 There was also a cascade near the start of the Enchanted Walk upstream from the road bridge near the lodge. I don't think this one had a name, but it was picturesque nonetheless.
Next, we paid the day-use permit fee at the visitor center and then proceeded to drive towards the Ronny Creek Trailhead where we would do a walk towards Crater Falls (on the way to Crater Lake).
The walk was on boardwalk through tussock grasslands very reminiscent of the volcanic plains found in New Zealand's Central Plateau. Eventually, the track would start to climb into a more forested area where the small Crater Falls could be seen.
Since we were on a time constraint for dinner, we opted not to continue the walk to Crater Lake and extend the walk for another hour. We reckoned we wanted to be at Dove Lake at the end of the main road for a little bit before we would have to return to Cradle Mountain Lodge.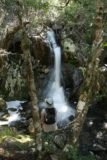 And so after regaining the car at Ronny Creek at 4:55pm, we would arrive at Dove Lake at 5:02pm. With the softening afternoon sun in the cloudless sky lighting up the face of Cradle Mountain and Dove Lake considerably calmer than yesterday, the conditions were right for taking a bunch of photos.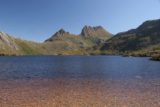 Taking full advantage of the pleasant conditions (I had read that Cradle Mountain is usually almost always covered in clouds), we took plenty of photos and once again allowed ourselves to bask in the serene beauty of this World Heritage Area.
We dutifully returned to the Cradle Mountain Lodge in time for dinner but not before seeing a beaver-like wombat roaming the premises without a care to our presence.
At the restaurant, we sat in a very sunny seat that happened to be next to a very calm tiny lake with reflections. When we took our orders and awaited the food, Julie utilized this time to snap a few photos.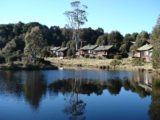 The somewhat fine dining establishment served up interesting renditions of seafood and local meats, which were quite good. We passed on the desserts as I wanted to return to Dove Lake to try to photograph Cradle Mountain at sunset.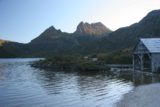 And after we left the dinner area, we returned to Dove Lake at around 7:30pm. By now, the sun had set in an oblique angle to the Cradle Mountain itself so it left the face half in shadow. Dove Lake was almost completely in shadow by now.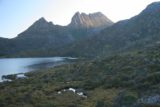 I guess sunset this time of year was not a good time for photography.
Oh well, at least we tried and know that now; plus we got great photos from a couple of hours earlier.
And so ended a very relaxing day in our second go-around of Cradle Valley. Taking full advantage of the spacious and rustic ambience of the room, Julie and I had no trouble falling asleep and replenishing our energies for tomorrow's adventure in West Tassie.
Visitor Comments:
Got something you'd like to share or say to keep the conversation going? Feel free to leave a comment below...
No users have replied to the content on this page