Day 2: FEAR OF KANGAROOS
Given the lesson learned from yesterday morning, we opted to sleep in and wake up only after 6pm. Forget the pre-dawn wake-ups that we had gotten away with multiple times during this trip. That one kangaroo incident was all I needed to put a stop to trying to getting the most out of every possible daylight hour during the shortest days of the year in this part of the world.
So it wasn't until about 7:40am when we checked out of the Comfort Hotel Perth City and left Perth. By then, the sun was well up on the horizon. Of course, we didn't have to fear too much about roos in the freeways of the city, plus it was Sunday so the traffic was light. But once we got out of the city limits, then the fear of kangaroos started to creep in again.
So far so good. However, both of our hearts jumped when we noticed yet another dead kangaroo on the side of the road – once again reminding us that they're still there.
And with that in mind, I made sure I was able to follow someone so I wouldn't be the first to react if another 'roo jumped in front of the car.
But our fear of kangaroos subsided as the day wore on and the skies got brighter. Fortunately, the long drive was mostly uneventful. We were getting good reception on the car stereo so Triple J was on no problem. And once again, that helped to lessen the pain of driving the long distances in Australia.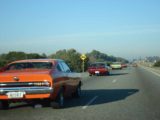 There was one moment where a large group of cars that were all like the Dukes of Hazzard cars in different colors had been driving in a huge line. I was guessing that they were part of a car club or something. In any case, we passed by them since they were going slow, but I was guessing that the intent was to draw attention to them in the first place.
Something else that got our attention was that the place names seen on the highway signs throughout the far southwest part of Australia (also known as the Margaret River Region) had "-up" in their names. For example, there was the town of Yallingup, Cowaramup, Yalyalup, Dalyellup, etc. We weren't sure what was up with the "-up"s, but it seemed to be a quirk of this part of the country.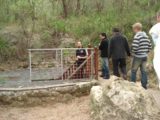 Eventually at 10:45am, we reached the car park for the Ngilgi Cave. Up until this point of the trip, we had seen waterfalls, coastal views, natural arches, escarpments, forests, billabongs, and more. But one thing we hadn't seen was a cave.
The cave tour itself wasn't long and the cave wasn't very big. But it did feature pretty densely stalactites and stalagmites in its wide chambers. It was a little tricky to take photos from within the cave because they prohibited tripods, but it was interesting nonetheless thanks to the artificial lighting to ensure that we wouldn't be looking into pitch darkness.
Indeed, this tour was a nice change of pace. Plus, it was kind of independent of the weather since the skies were threatening rain. But we wouldn't know any better once we were in the subterranean depths.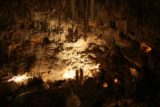 By around 12pm, we had left the Ngilgi Cave and we continued to go further south in search of the Quinninup Falls. We had read from our Explore Australia book that the last bit of road was prone to big ruts and might require high clearance.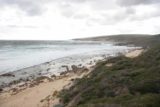 So instead, we went down a different road towards the Moses Rock, which had a more tame car park despite the road to get there being unsealed. We ended up getting there at around 12:30pm.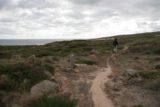 The skies looked pretty threatening and there were some winds blowing as well. But now that we were by the ocean, we immediately saw that we had to hike part of the Cape-to-Cape Track in order to make our way north to the Quinninup Falls.
The hike was pretty smooth going until the obvious trail somewhat gave way to more sandy dunes. At that point, the trail got a bit more strenuous as we were hiking on steep hills where each step on the sand caused us to retread downhill given the loose footing.
Eventually, we summited a hill then went steeply downhill into some kind of "valley." It was at the base of this slope that we noticed there was some kind of rock formation with green algae growing on it. We weren't sure if we were indeed at the Quinninup Falls, but from the pre-trip notes I had, it did indeed seem like we were in the right place.
When Julie arrived, she smirked, "There's your waterfall."
"I guess they've been having a dry winter. The thing is hardly flowing," I said.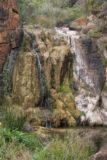 Indeed, the falls wasn't flowing very well as it was merely trickling. So the somewhat moderate hike we embarked on was a little bit of a disappointment. After having seen how Serpentine Falls, Lesmurdie Falls, and now Quinninup Falls weren't doing so well, we wondered if our timing to this part of the country was off.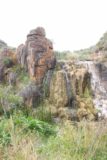 Even though it was supposed to be Winter in these parts, it was the start of Winter. I guess the rains hadn't really come to these parts to the point that the waterfalls would be flowing well. Yet, when we went to the far north of Australia, those waterfalls might not be doing well had we waited longer into the Winter. I guess it was one of those cases where we couldn't have our cake and eat it too.
Anyways, we hiked back out the way we came at 1:30pm. As anticipated, the climb up the dunes was pretty brutal. We huffed and puffed and gasped for air as we trudged up the slope fighting the tendency to slide down the sand. A pair of women who were going down the slope saw us struggling and said to us, "Good exercise, huh?"
But once we got past this, then we could continue on the 2km trail to get back to the car park.
This time, we were checking out the beautiful coastal scenery that was out here, but it would be under threatening skies. We could see the menacing clouds out in the distance and it sprinkled a few times here and there. However, the storm didn't really deliveer the whole time we were on the Cape-to-Cape Trail.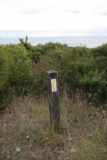 We were back at the car park at 1:45pm. Julie and I were famished as we hadn't had our lunch yet. We had read that the Margaret River had good wine, and we figured they must also have good food since generally they go together. After all, where there would be good wine, they have to have good food with it right?
So with something to look forward to, we left the car park and headed further south.
At 2pm, we arrived in the Margaret River township. After we filled up some much-needed petrol, we walked around town looking for a decent place to eat. Unfortunately, all the places we had read about in Lonely Planet were either closed or nonexistent. And since beggars can't be choosers, we settled for this placed called Dome, which seemed like the only place open this time.
With our stomachs filled, we left Margaret River at 3:15pm. And after some long driving between some giant karri trees and a mix of wet and dry roads from the intermittent rain, we finally arrived in the township of Pemberton at 5:15pm.
After we filled up petrol, we went looking around for the Comfort Inn Karri Forest. Unfortunately, we couldn't find it as it wasn't on the main street. Finally, we realized that there was a road that wasn't on the main road but branched off of it and headed east towards a junction with another residential street. Going up the hill on the residential street ultimately yielded the motel we sought.
By 5:30pm, we checked in and got cleaned up. We thought we could go into town and look for something to eat. We opted not to try the restaurant in the Comfort Inn this night. And eventually Julie and I settled for the restaurant that sat in the Best Western Hotel on the main street near the petrol station.
The restaurant itself was pretty busy. But when we started eating the food, we wondered why. It was probably the worst restaurant next to the one in the Tom Price Motel and the buffet in Uluru that we had been to on this trip. Based on this experience, we were determined to eat at the restaurant in our motel tomorrow night.
And with that, Julie and I slept comfortably. Yet we were still thinking about that kangaroo and how much money it was going to cost me once we get back home.
Visitor Comments:
Got something you'd like to share or say to keep the conversation going? Feel free to leave a comment below...
No users have replied to the content on this page