Day 3: OUR FIRST RAINY DAY OF THE TRIP
Julie and I got up at 7am. Once again, we were going to have a late start since we still wanted to avoid another kangaroo incident. And so we brought things we would need for the day and slowly drove south towards Northcliffe by 8:15am.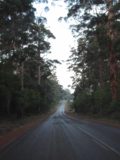 We got to Northcliffe by 8:45am. The visitor center was still closed, but it didn't matter. We roughly had an idea of how to get to the Lane-Poole Falls.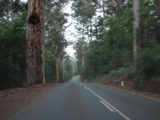 The unsealed road to get to the waterfall's trailhead was pretty straight forward and smooth. We got to the car park at around 9:30am. Sitting smack in the middle of the car park was this giant tree called the Boolara Tree. We didn't really expect to see this, but it was certainly a big bonus.
We had to stand back away from the tree in order to take photos of it in one frame. Anyways, it was quite a bit thinner than the sequoia trees that we were used to seeing back in California, but trees this tall were interesting nonetheless. They even seemed to have a bit of a bulbous bottom.
The tree was a nice diversion, but after a few minutes of taking photos, we then proceeded onto the hike to the Lane-Poole Falls.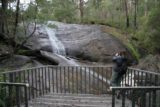 The trail was mostly flat and easy to follow. The nice thing about the hike was that it was lined with karri trees and interpretive signs about various aspects of the ecosystem. Julie and I relaxed as we took our time walking the trail and remarking about various things we had experienced on the trip so far.
At 10am, we got to a part where the trail became narrower and more primitive. It then got steeper as it descended 200m towards the falls along a wet handrail. The skies looked like they were darkening with threatening storm clouds, so that kind of hastened Julie and I to get to the falls.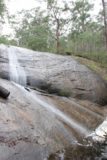 By 10:15am, we had reached the end of the trail which terminated at a hexagonal platform right in front of the falls. The falls, however, looked nothing like the photo I saw during my research when it had heavy flow and spanned the length of the watercourse. The state it was in currently had a far narrower flow. The falls itself seemed like it couldn't have been more than 10m tall though the width of the bare underlying wall suggested the falls had the potential to be more impressive in full flow despite its height.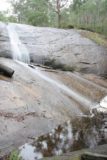 At 10:25am, Julie and I left the falls as we started to feel droplets of water coming down from the sky. Still, it didn't rain though the droplets hinted at what was to come. By 11:15am, we returned to the car park.
We took a few more photos of that Boolara Tree before we got back in the car and headed back towards Pemberton and ultimately the Gloucester Ridge Winery since we had read it was a highly recommended spot and it seemed to be the only decent place in town.
And with that, we drove off amidst heavy rain. Too little, too late for witnessing the rain giving Lane-Poole Falls more vigor, I thought.
As we were driving back north through Northcliffe and towards the Gloucester Vineyard area, there was actually another tall tree over there, but we were more drawn towards the idea of having a decent lunch at a wine place since we were kind of denied that while touring the Margaret River Region yesterday.
So it wasn't until about 12:15pm when we arrived at the Gloucester Vineyard Cafe in pouring rain.
Anyways, Julie and I beat a hasty retreat from the car into the restaurant. The drops were thick and frequent. Despite our best efforts to avoid the rain, we got wet anyways.
Inside the refuge of the Gloucester Ridge, the room was warm and the lady at the counter invited us to try out some of the wines. After tasting some of their wines, the lady showed us to our table.
The room had a calming and elegant decor. It certainly relaxed us considering we were still recovering from the kangaroo incident two days ago. Julie shopped around their boutique for souvenirs. Eventually, she would join me and we just soaked in the atmosphere while looking at their menu for something good.
The rain was pouring hard as Julie and I watched from the comfort of the Gloucester Ridge Restaurant. We knew we would be back out there after our lunch. But this was the first significant rain we had seen the entire trip and perhaps it might give some life to the otherwise lifeless waterfalls we had seen in the southern part of Western Australia.
We ended up eating a very satisfying meal of a couple of their local fish along with other side dishes. We figured we couldn't go wrong with their seafood. But this restaurant certainly proved our theory that good wine tends to accompany good food, and we were glad we finally got at least one good taste of the Wine Country's boutique of wineries – even if Pemberton was some two hours east of Margaret River itself.
We also talked briefly with the lady who was working the place and she told us that we could walk to the nearby Gloucester Tree so we wouldn't have to pay an admission fee, which was for vehicular traffic.
So when we were done with the lunch, Julie and I got our rain ponchos out of the car and proceeded to walk to the tree. It only took a few minutes and the lady was right.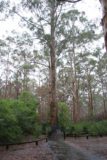 Julie and I quickly got to the Gloucester Tree and took some photos. We didn't bother entertaining any notion of climbing the tree especially given the wet weather. There were also a few sporadic booms heard on the forest floor as some of the branches fell from the towering trees in the pouring rain. This was obviously a normal process, but it was unnerving knowing that things could get serious if one of these things were to land on us.
At 2pm, Julie and I walked back to the car and headed over to Beedelup Falls. After about 20 minutes of driving west of Pemberton, we followed the short unsealed road to the large car park. No one except maybe another car or two was there.
There was a self-pay kiosk with a fee of $9 AUS. There were quite a few cars already here undeterred by the rain. But when we walked the well-developed trails here, it seemed like there was no one else around.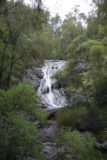 So we took the easy 15-minute walk and eventually made it to a swing bridge that provided a direct view of the falls. Despite the rain we had been receiving, the falls looked like it got replenished from this rain, but its flow had seen much better days than this. Nonetheless, we took our photos, enjoyed the calm scenery, and then continued the loop walk back to the car park.
Perhaps the falls was best seen head on from the 800m suspension bridge. Yet I wondered how much more this waterfall would've been struggling if not for the rains that were coming down today.
At 2:55pm, we were back at the car.
By 3:15pm, we returned to Pemberton. Even though there was lots of daylight left in the day, we opted to shut down our sightseeing activities for the day and use their internet service in the town library.
There was some kind of academic test going on in the library so we had to be quiet during our time there. And so we got caught up on our emails and we even got confirmation from our travel agent at Pacific Destination Center that we would get refunded for our cancelled Lord's Kakadu Safari tour (which resulted from the closure of the Jim Jim Falls Road).
Afterwards, we walked around Pemberton and even indulged in a little grocery shopping. The weather had taken a break from the rain, which made things a bit easier on us to walk around. When dinner finally came around, we dined at the Comfort Inn Karri Forest restaurant as anticipated, which was infinitely better than last night's experience.
We even engaged in a long conversation with another motel guest who educated us on what life was like as well as the state of affairs in Western Australia. We even told him about our kangaroo incident and he told us that he never ran into one though he did see a dead one between Pemberton and Northcliffe. Sometimes I wonder if we just have bad luck as this was the second local who told us they never really encountered such an accident.
When we were about to finish our desserts, we mentioned to him that we were headed to Albany tomorrow. He went on to tell us to watch out for high winds – not realizing that he would be prophetically spot on with his comments.
Visitor Comments:
Got something you'd like to share or say to keep the conversation going? Feel free to leave a comment below...
No users have replied to the content on this page