Day 5: RIDING THE WAVE
Julie and I checked out of the Comfort Inn and left Albany at 8:15am. It was still later than I would've liked considering the amount of driving we had to do this day, but it was our fear of kangaroos that kept us from leaving earlier than we did.
Today, the plan was to get to Hyden near Wave Rock, which sat 4 hours to the north and slightly to the east of Albany. It was also 4 hours east of Perth. So obviously we knew there wasn't going to be much going on over there.
But after a long and uneventful drive from the Stirling Ranges and then through much agricultural lands, we were already at Wave Rock at 12pm. And our hunches were correct. There really wasn't nothing out here and we wanted a whole day to spend in Perth tomorrow rather than worrying another day about kangaroos hopping in front of the car.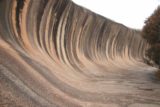 Anyways after paying the $7 vehicle fee, we spent some time having fun posing in front of the strange yet interesting rock formation that looks just like a breaking wave (making use of an ironing board left there to act as a surf board). However, what was strange was the presence of what appeared to be retaining walls above the Wave Rock. I bet they put them there to ensure the rock doesn't get further eroded, but still it made the attraction seem artificial.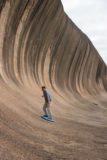 On our way out of Wave Rock, we found a pay phone right in front of the Wave Rock Visitor Center. Julie decided to act upon our intent to spend the night in Perth so she made the call to see if the Comfort Hotel Perth City (which we stayed at that same day we hit the kangaroo) had vacancies.
And sure enough, they did.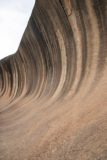 So with that, Julie made the booking even though we had already been booked for the Wave Rock Motel in Hyden. We did something similar in New Zealand where we wasted money booking two nights in an Ohakune Motel and replaced it with a stay at the Chateau Tongariro. So we figure we mind as well take advantage of the moment regardless of the monetary inefficiencies.
Still, we checked in anyways and took a look at the motel room. Julie took the complementary cookies and milk and left the keys in the room. And with that, we headed for Perth at 1pm.
Again, the drive was long and featureless. The roads out of Hyden were weird in that the paved part of the road was narrow and straddled the center line. But the sides of the roads were unsealed. I guess the intent for having the roads this way was to drive in the middle of the road until there was oncoming traffic. Then, both sides would drive on the unsealed part of the road before resuming on the paved part.
I guess it was kind of ingenious when we thought about it because there was less pavement to utilize. Still, it took some getting used to since we had never seen anything like this back in the States.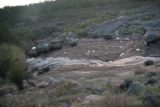 It wasn't until 4:40pm when we finally got to the John Forrest National Park, but daylight was fading fast as it was the day after the winter solstice (for the Southern Hemisphere). So we acted quickly to walk to Hovea Falls.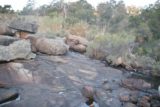 But when we finally persisted past the tressel bridge and walked a little further towards the falls, we were disappointed by its flow. Even despite the rain of the past few days, apparently it was still too little too late for our visit to see the falls flowing well. All it was doing in front of us was just trickle and wet the bedrock.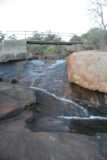 When we got back to the car park junction at 5:20pm, Julie went back to the car and let me hunt down National Park Falls. After about 10 minutes of trail running and walking fast, I got to the falls. But this one was even more disappointing than Hovea Falls because it was completely dry!
Anyways, I took a few long exposure photos to combat the twilight and trail ran back to the car. By that time, it was 5:45pm and night had fallen upon us. But at least we were now on our way back to the downtown area of East Perth so we could spend the very last full day of our trip in the charming city.
We'd eventually get to Perth at 7pm. Julie and I had ourselves a quickie southeastern Asian Chinese food, which was pretty much cheap comfort food. I guess Julie got a little tired of Western food and decided to go Asian on this night.
With all the long driving that we had done, we had no more energy left to do any night touring. So we pretty much retreated back to our room. Then, we used some of the evening to do some packing to ensure that our luggages would be ready for the long haul flights back home the day after tomorrow.
Besides, we earned our full day of touring Perth tomorrow. For once, there'd be no more fear of kangaroos. It'd just be the city finale tomorrow. And with that, we had ourselves a pretty relaxed evening as we dozed off…
Visitor Comments:
Got something you'd like to share or say to keep the conversation going? Feel free to leave a comment below...
No users have replied to the content on this page