Day 6: THE FINALE IN PERTH
Julie and I slept in as expected. And it wasn't until well after 10am when we finally went out on the town. Personally, I thought we were losing precious sightseeing time with such a late start to the day, but it was what it was.
We pretty much aimlessly meandered about the city kind of following the walking tour suggested by Lonely Planet. However, at some point, we pretty much walked in circles around the CBD area and then had ourselves a little bite.
We took plenty of pictures but there wasn't a whole lot we remembered about our sightseeing other than we had popped in and out of shopping centers as the CBD seemed like it was meant for shopping and less so for sightseeing.
Our downtown Perth touring ended some time around 3pm. At that point, we decided to do spend the rest of the afternoon over at Cottesloe Beach. We were attracted to this place after seeing some pretty cool photos in our Explore Australia Road Atlas that we had brought with us.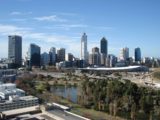 And so by 4pm, we managed to find some street parking before we walked about on the beach itself while making our way towards and around the Indian Tea House that seemed to be the centerpiece building of this beach.
With the setting sun and the warm glow of the waning afternoon, the buildings and the sand at this beach were also painted that warm orange color, which made our photos pretty attractive out here.
We stuck around the beach to watch the sunset from beneath the Indian Tea House, and like the other sunsets we had seen earlier on in this trip, this final night in WA was also just as beautiful. I couldn't think of a better way to cap off our sightseeing during daylight hours.
Next, we went back into the beach town of Cottesloe where we had ourselves one last dinner.
The food was delicious and it was like a last night's splurge. However, I didn't recall what exactly we ate. I also didn't recall if this place had our favorite sticky date pudding, which was something Julie and I now always looked forward to whenever we'd have dinner in Australia.
When the dinner was done, we then drove back to Perth. However, we were now looking for a place across the Swan River to take night photos of the city's skyline. With my tripod in hand, we took some time meandering about the city park with the gorgeous skyline view.
Then, we meandered about the local cafes and shops nearby this park as we indulged in a little sweet tooth action going for some ice cream (even though we had already had dinner and dessert in Cottesloe).
Eventually, we had our fill of the night photos of Perth. And then, the time to get back in the car and return it to the Perth Airport was near as we were trying to savor as much of the Perth experience as we could before we had to catch our red-eye flight back to Los Angeles by way of Sydney.
Thus, our three-week trip to the Northern Territory and Weatern Australia ended. It was time to get back to life, back to reality. Except with this being our third year in a row of taking long overseas trips, Julie and I knew that we could keep doing this. Indeed, the travel bug had hit us, and we kept wanting more…
Visitor Comments:
Got something you'd like to share or say to keep the conversation going? Feel free to leave a comment below...
No users have replied to the content on this page