Day 1: THE ADAMSONS FALLS ADVENTURE
It was 6:35am as we traveled light leaving Leisure Inn in Hobart.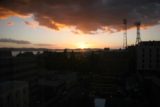 Both Julie and I were refreshed after a good night's sleep, beautiful sunrise, and a wonderful dinner as the Astor Grill Cafe just down the street. I was excited about seeing waterfalls in Tassie. We knew going into this trip that the Island State was also one of the wetter places in Oz. So I expected something similar to what Julie and I experienced in New Zealand two years ago.
First up was Snug Falls. We weaved out of the one-way streets of Hobart and headed south towards the township of Snug. From there, we followed an unsealed road and ended up at a car park a short walking distance before the trailhead for the falls. We started walking at 7:20am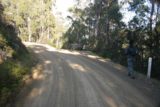 It was quite cold and windy this day with rain threatening. But it seemed like the weather was starting to clear up.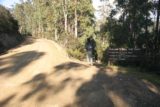 We took the well-defined trail, which was littered with uneven footing conspiring to twist the ankle of an unsuspecting hiker. The one-hour return walk went all downhill towards the base of the waterfall. After the experience of South Australia and Victoria, any waterfall flowing decently was fine by me, and this one certainly fit the bill.
I knew Tassie would deliver, I reckoned.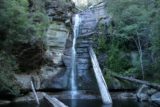 Anyhow, Julie and I enjoyed photographing the 25-30m tall and thin falls. And when we had our fill of this waterfall, we did the uphill walk back to car, which we regained at 8:28am.
Next up was Pelverata Falls. So we took some rural roads to get to this waterfall and at 9:09am, we finally arrived at the trailhead.
It was situated in front of some private farm, but the well-signed track made sure we didn't trespass. When Julie saw that the hike was supposed to be two-to-three hours return, she opted to stay in the car.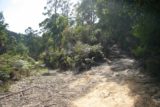 So off I went, hiking fast and eager to see what other waterfalls that Tassie had in store for us.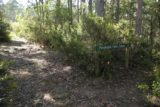 The trail was pretty wide and shaded initially as the trail followed some wired fence marking the farm boundary. But then the track veered to the right at a sign before some gate and from that point on, the track narrowed considerably into the partially overgrown track.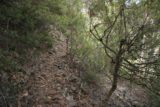 Due to the dense foliage and limited visibility, I kept hearing strange rustling sounds. This was quite unnerving, especially when you're hiking alone. Even though wind was blowing, some of the sounds appeared to come from places very close to the trail.
Eventually, I managed to see a few young kanaroo-sized wallabies. They were the ones who made the sounds and there were quite a few of them here and there.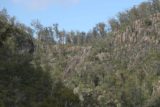 At about 45 minutes into the hike, the track started to go over sections of loose scree. It seemed like landslides have occurred here and there were dropoffs on one side so caution was definitely necessary.
Up in the distance, I could see a sloping waterfall. It appeared to have a little less volume than the photos I had seen on the internet. Could that be the Pelverata Falls?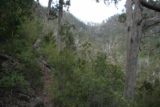 The trail on the loose scree undulated and climbed. In some places, the scramble actually made me wonder if the trail had ended. Still, the views of that waterfall in the distance weren't that satisfactory. I had read in one of my trip research reports that some people have turned back here. But after going through all the trouble to get here, I wanted to see how much closer I could get to that waterfall.
So onwards I went along the precarious scree section. Actually the view of that falls in the distance didn't improve (in fact, it got worse), but then I saw some kind of structure up ahead on my side of the canyon.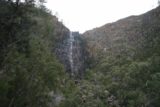 Upon walking further on the scree, it became clear that the structure I saw was actually the overlook for another waterfall!
That waterfall was the Pelverata Falls.
So what was that other waterfall across the canyon?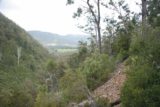 Anyways, that question wouldn't be answered now. I'd have to go to a visitor center that had info about this excursion. So my curiosity would have to wait.
Still, Pelverata Falls was impressively tall albeit wispy. It didn't seem to have overwhelming volume as it plunged down the cliff. It was good that clouds have dominated the skies at this time because I would've been looking against the sun otherwise.
Since I didn't bring a tripod, I had to do my best to utilize the wooden platform and my nerves to steady the camera for long exposure shots.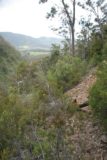 When I was done with this waterfall, it was time to go back over the loose rock section of the track. As I headed back, I got gorgeous views of the valley in the distance as I stood amongst the scattered wildflowers. Going at very swift pace without paying too much mind to the wallabies still rustling about, I was back at the car and rejoined Julie at 11:12am.
We continued driving west from the Pelverata Falls turnoff and made it to a brief unsealed section of road before rejoining the B68 road. Then, we headed north to Huonville where we rejoined the A6 Highway. And from there, we headed south to Geeveston, where we stopped by at their visitor center as well as picking up a meat pie for lunch.
It was 11:54am when we got to Geeveston.
Inside their visitor center, we picked up lots of free literature. We also bought a book on 35 Waterfalls of Tasmania. It was inside this book that I realized the name of that distant waterfall on the way to Pelverata Falls was actually called Slippery Falls.
I also noticed that both waterfalls I had seen had considerably less volume than what was shown in the book. I was beginning to wonder if we were seeing Tassie in a drier state than what was normal.
So far, we couldn't tell since it was primarily green this side of Tassie. However, we did notice that on the drive between the airport and Hobart that some parts did appear brown. But I reckoned that was because Hobart was said to be the second driest capital behind Adelaide so it could've been one of those rainshadow effects in which Hobart stays drier than the rest of Tassie.
We resumed our drive to Adamsons Falls at 12:34pm. The drive became more and more remote as we noticed fewer residences and towns. Eventually, we would end up going past the Hastings Caves and then following some very rough unsealed logging road (Chesterman Rd). This road could've easily been for 4wd and I was certainly glad our vehicle got through that road.
Eventually, we would make a left at some unsealed junction and eventually reach the end of the road where the Adamsons Falls trailhead stood.
I was getting nervous about the length of this hike because of the presence of strong winds and the potential for fallen trees. In fact, one such tree landed on the sign at the trailhead and broke it. It was almost an ominous sign of how easy it was to get stranded here. I couldn't help but wonder how screwed we would be if a tree fell on the car or if it fell onto the road and we couldn't get through it.
Anyhow, we started walking at 1:37pm. Knowing the track would be muddy and slippery (a sign warned us as such), both of us brought hiking sticks and our hiking boots. We were about as prepared as we could be, we reckoned.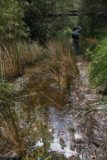 And as advertised, the track was indeed slushy. It was quite easy to have a misstep and go ankle-to-shin-deep in the smelly mud. Each step we took, you could hear the suction sounds of trapped air in the mud.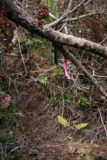 It truly seemed like a trail in which Mother Nature was on the verge of taking back. Many spots were quite overgrown and numerous fallen trees created obstacles that you either had to take a long way around or go right through.
There were also standing pools of leech-infested water. Just gunning it through these pools were not an option. We had to go around them.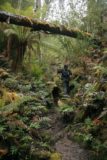 But even with all the obstacles thrown in front of us, I'd have to say that whoever maintains the trail does quite a good job. There were stepping stones or stepping logs in the muddiest places. Though even these aids were slippery hazards as some of them had moss growing on them.
Also the ribbons tied to branches made for excellent trail markers. We couldn't count all the times we could've been lost if it weren't for these ribbons.
But the hike was relentlessly difficult. I kept looking at my watch anticipating how much further we had to go. It was discouraging when I realized that it was around 2:30pm and there was still another hour to go.
"This had better be worth it!" demanded Julie.
When the wind would blow hard, we could hear some of the trees creaking and seemingly on the verge of falling. Not good.
Still, we pressed on and eventually we would get to a point where the track really started scrambling as it went higher up along the waterfall. We could hear it tumbling loudly, but clearly there was no way we could get to its base nor could we see how tall it truly was.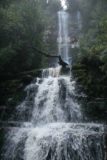 The last scramble to get a look at the falls actually climbed up above a fallen tree before precariously getting to a spot in between a pair of cascades. It was certainly not a place to fall and get swept away into the next waterfall just a few feet downstream of us. The slippery footing really made it easy to do just that though.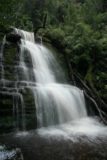 Nonetheless, we got our desired photos of the falls (I'm glad the Canon had the wide angle zoom lens to get it all in a shot). But we didn't linger much longer knowing we still had the brutal scramble and hike back to the car. Plus, the thought of falling trees stranding us here still weighed on my mind.
So Julie and I slogged our way back to the car requiring another 90 minutes or so. It wasn't until 5:47pm when we finally regained the car.
Julie and I were relieved at seeing the car. After strong winds throughout the excursion threatened to fell more trees, I was relieved to at least see our car was still in one piece and our path out of here wasn't blocked at least as far as I can see. There was still another matter of getting back to the Hastings Caves at least, but we'd worry about that when we started driving out of here.
So with our aching bodies surviving at least this grueling 4.5-hour muddy scramble and hike, we took off our wet and smelly boots and proceeded to unzip the lower leg portions of our pants which were colored with dark mud.
Just as I unzipped the first leg, a black splotch landed on the pants and a pair of entry wounds on my shin were slowly bleeding.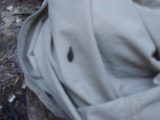 "Honey! Look at this!" I said with half amazement and half fear. Both of us looked at the leech slowly moving on the unzipped leg of my hiking pants.
"Quick, get your camera and take a photo of it," I continued.
So Julie got her camera and took a photo of it. But it wasn't much longer before it fell onto my hiking boot. It eventually disappeared out of sight when it fell from the boot.
Apparently this leech used me for its Thanksgiving feast. And on Tassie-time, it certainly was Thanksgiving Day – yet another one spent away from home.
I was a bit intrigued by how the leech secretes some kind of chemical that made the blood on the entry wounds of my shin bleed and clot funny.
In any case, we tried to clean up as best we could as we loaded up the car with our smelly gear. We would eventually have to rinse this mud off when we get back to Hobart.
And with that, we drove off for Hobart, eventually arriving back at the Leisure Inn Hobart/Port Macquarie at 8pm.
So we spent some time cleaning up the muddy gear in the shower at our motel room. We also ate cheap Malaysian takeaway food. We had spent quite a bit of money at the wonderful Astor Grill last night and didn't feel like spending too much on this day.
Eventually, we felt we were sufficiently cleaned up to do the rest of our hygenic duties before falling asleep. We knew there would be a bit of driving and waterfall hunting tomorrow as we were bound for St Helens on Tassie's East Coast.