Day 2: FIRE, FIRE, FIRE
At 7:35am, we checked out of the Comfort Inn Goldfields and left Stawell. It was now time to enter the heart of the Grampians and see for ourselves the extent of the fire damage and hopefully get to see at least MacKenzie and Silverband Falls.
When we got to the tiny town of Halls Gap, it was still too early to stop by for anything thinking no one would be open yet. So we decided to head north in the direction of MacKenzie Falls – but not before making a quick detour to see the Balconies near Reid's Lookout. It was something Julie saw in a pamphlet at the Stawell Visitor Center and she made sure we stopped for this to mix things up a bit (as opposed to seeing nothing but waterfalls).
So at 8:15am, we were at the car park for Reid's Lookout after having gone up a curvy and mountainous road to get here from Halls Gap. Up here, we got expansive views towards the south where Halls Gap should be. This view gave us a sense of how extensive the fire damage was.
Anyways, we took the walk (30-minutes return I recall) towards the Balconies. We had already sensed how fire ravaged the land has been in driving here, but upon walking this trail, we could really see up close how black the ground was and how dry the trees were.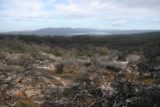 But even despite the evidence of fire, we did see growth occuring on the tree trunks and branches, which was something we weren't used to seeing. We also saw lots of kangaroo tails – a plant that looks like a long hot dog (or kangaroo tail) jutting up in the air.
Speaking of kangaroos, Julie and I saw a couple during the walk. Of course they hopped and thumped their way out of sight to avoid us before we could take a photo of them.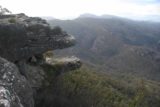 Once we got to the Balconies formation, which was basically a pair of rocks jutting out and literally looking like balconies perched above the dropoffs, we took photos as usual. Our photos would look nothing like what Julie saw on the post cards since we were looking against the sun peeked out from the clouds.
We returned to the car park at 8:58am and quickly made it to the MacKenzie Falls car park at 9:08am.
The well-developed car park already had many cars here.
So we started the easy walk and immediately had to choose between walking to an overlook or walking to the base.
We chose the overlook path first.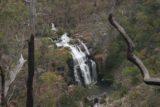 The walk was actually very quiet (apparently, everyone headed to the base of the falls) as the path was mostly flat. It passed through a forested area that, not surprisingly, was affected by fire. However, we did see several kangaroo tails blooming, which I understand was indicative of fires since they rely on them to bloom.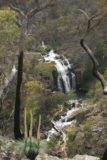 Eventually, we reached an overlook area where we could get a gorgeous top-down view of MacKenzie Falls.
And boy did the falls put on a show – especially considering the drought.
I wondered aloud to Julie how this waterfall could have such trememdous flow when everything else was dry or trickling. I hypothesized that the lake we saw in the distance on the Balconies walk must somehow be feeding the falls, and that the lake was man-made and probably regulating the flow of the falls somewhat. Still, I wouldn't know for sure unless we went to the visitor center in Halls Gap and got more concrete answers.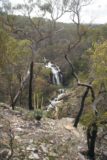 Meanwhile, we spent plenty of time taking photos of the falls. There was a blooming kangaroo tail hugging the cliff where we were standing on so we made numerous attempts at using the flowering plant as a subject with the impressive waterfall way off in the distance behind it serving as the backdrop.
When we had our fill of this overlook, we headed back towards the fork by the car park with the intention of heading down to the base of MacKenzie Falls. And after taking the steep but nearly all-paved route to the base of the falls (some stairs were involved), we got down to the noisy base and joined the rest of the crowd frolicking and admiring this wonderful waterfall feature.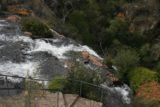 Down here, the falls were flowing well enough to produce mist. A group of young folks led by an adult leader managed to scramble onto some precarious ledges just above the spray of the base of the falls. Julie and I were content to be solidly on the ground taking photos. The giant boulder sitting on the shores of the plunge pool made for an interesting subject before the wall of water.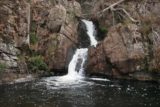 There was also a bridge over the creek further downstream of the falls. This made for some interesting angled shots of the falls.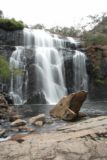 The trail continued to go further downstream into a gorge. However, access to the gorge was closed due to fire damage. That same group of young folks who sat atop the precarious ledges were turned back by this closure after they left their viewing spots and headed this way.
Thoroughly relaxed at finally seeing a decent waterfall in this side of Victoria, we headed back up towards the car park. It was a shame that the spur trail towards Broken Falls was closed due to fire damage. I reckoned that this falls sat further upstream from MacKenzie Falls on the same stream and that it was a worthwhile detour to do.
Maybe better luck next time – whenever that might be, I thought to myself.
Julie and I finally made it back to the car park at 10:50am. This was after the snack bar finally opened and I talked to the proprietor about the photos they posted on their window of some impressive arches and formations in the Asses Ear Mountain Range. She told me that her husband was very bush savvy and getting to those places required good off-trail skills. Obviously, we weren't going to do this. Plus, the fire damage probably closed off access there anyways.
At 11:16am, we returned to Halls Gap. By now, we expected the businesses and the visitor center to open. I had also given up hope of seeing the other Grampians waterfalls such as Clematis Falls, Splitters Falls, Beehive Falls, and Turret Falls. I doubted that these falls would be flowing and they were probably closed due to fire, which was probably why the visitor center at Ararat didn't bother to mention any other falls besides MacKenzie and Silverband Falls.
So Julie and I first walked into the visitor center for some more literature and to answer a pair of questions about why MacKenzie Falls had such good flow and about whether Silverband Falls has sufficient waterflow to be worthwhile.
One of the workers explained to me that MacKenzie Falls was fed by the Lake Wartook. It turned out that the lake was indeed manmade and that it sat in a very good water catchment area – meaning a good deal of creeks and snow drain into the lake. The man-made aspect of the lake also helped to regulate the flow of the stream, which ultimately went to the town of Horsham.
"If Lake Wartook went dry, Horsham would be in deep trouble," she said. "However, nearby Lake Bellfield, which feeds some farms near the South Australia border, is actually pretty close to drying up."
I then asked her about Silverband Falls.
"The falls probably won't have nearly as much water as MacKenzie Falls. But it's definitely not a trickle," she continued.
"But, there's an interesting story about the falls…" she said, sensing Julie and I were about to leave. "The falls actually disappears into the ground. Most waterfalls have pools at the bottom but not this one."
"Really?" said I, quite intrigued. Then we politely made our way out after her helpfulness as I said, "Thank you very much for the info."
"No worries," she said, in the typical Aussie saying which in essence replaces "You're welcome."
Julie and I continued to walk around town looking for a lunch. We ended up having burgers then some passion fruit waffle-cone ice cream in town. We came too late for this famous eggs a la emu brekkie at the Flying Emu Cafe so that disappointed Julie a little, but the burgers and especially the ice cream around the corner weren't so bad anyways (albeit unhealthy).
Finally by 12:15pm, we made our way out of Halls Gap and headed to Silverband Falls, and less than 10 minutes later, we made it to the car park.
At first, Julie stayed in the car while I quickly started hiking in the sunny and breezy weather. I was about 10 minutes into the hike when I realized that I had forgotten my camera!
Whoops. Time to backtrack, get the camera, then continue on my way.
During the track, things didn't look promising. The bridge near the start of the track had no water. But as I had gotten closer to the falls, I could start to see some standing water in the watercourse that the trail more-or-less follows. Eventually, I could hear the clapping sounds of the falls.
And at the end of the trail at the head of the little ravine was the Silverband Falls. Sure enough, it had a singular stranded column of water that wasn't particularly thick. However, I recalled what the lady at the visitor center told me and I immediately noticed that the waterfall does indeed fall right into the ground, disappearing into a jumble of rocks at its base.
The stream actually reappears further downstream.
I took a few photos here before I was joined by an elderly Australian couple. When I mentioned to them about the falls disappearing into the ground, it astonished them too. They also asked me if I had seen the reindeers just off the trail.
I told them I didn't, but I would look for them on the way back. I wondered how I missed them on the way here.
When I was just about done taking photos, I was ready to leave. That was when Julie was headed my way.
"I thought you were staying in the car," I said.
"Yeah, but someone told me the falls were only 15 minutes away so I decided to go," she said. "Did you see any of the reindeers?"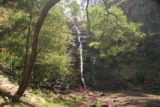 There was that reindeer talk again. I couldn't believe reindeers existed here. I thought they were only in the Arctic areas like in Scandinavia. I figured I'll have to look up some information on the fauna of the Grampians National Park to see exactly what grazes here.
So I lingered longer at the falls so I could share the experience with Julie. She couldn't get enough of the fact that the falls disappeared into the ground. Meanwhile, another family also showed up. The father was holding their kid on his shoulders the whole time.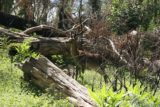 When we had our fill of the falls, we headed back to the car park. On the way back, that was when we noticed a so-called reindeer.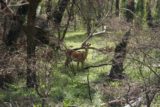 It sure didn't look like any deer or elk that I had seen before. It had unusual antlers that weren't fully grown. So we were busy taking photos of this creature trying not to disturb it. Still, it got me wondering whether reindeers did indeed exist in Australia.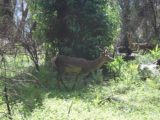 Anyways, it was 1:19pm when we finally made it back to the car park. That was enough of the Grampians and we now headed south for Hamilton. The long drive allowed me to gather my thoughts about our experience the last two days. Julie was taking a nap.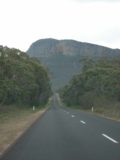 And what I reckoned was this. Basically outside of the MacKenzie Falls and Silverband Falls experience, it was clear that the drought had hit this area hard and it adversely impacted our experience.
Yesterday had begun with a disappointing Trentham Falls as it barely had any flow over its impressive basalt cliff. Then, we had difficulty finding Sailors Falls because it had been bone dry and silent. When we got to the Grampians, we couldn't see Kalymna Falls (not that we expected it to flow anyways given how brown and barren everything was) due to closure.
And today, we couldn't see the other Grampians waterfalls such as Splitters, Clematis, Beehive, and Turret Falls. These two days in Western Victoria were indeed turning out to be a bitter experience. But as we continued south towards the town of Hamilton, I had my sights set on seeing both Wannon and Nigretta Falls as they were on the Wannon River. Surely they must be flowing since they're on rivers, right?
At 2:25pm, we arrived at our accommodation at the Quality Inn Grange Burn in Hamilton. Rain clouds threatened to dump their moisture on us. So I had high hopes of building on the momentum of MacKenzie and Silverband Falls.
But the lady at the Hamilton Visitor Center warned us about the falls trickling. Now I've heard this before and ended up with better-than-expected results on this trip. So she didn't stop us from taking the little 15-minute drive west of town.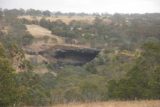 But at 3:07pm, we unknowingly ended up at the alternate lookout for Wannon Falls. It was distant, but we could clearly see from here that it wasn't flowing. The lady at the visitor center was right!
Not wasting any more time here, we immediately went across the highway and onto some rural road bound for Nigretta Falls. When we got to that waterfall, it was trickling too. Obviously the recent rains didn't do jack to help out these falls.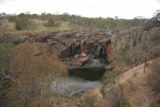 I was a bit puzzled because these falls were on rivers and I saw the Wannon River having some water on the way to Hamilton.
What happened?
But I think it became apparent that much of the water on the river got diverted to farms for irrigation. So even though the Wannon River may be flowing, it needs to flow well in order to fuel satisfying waterfalls. So out went the momentum built earlier in the day.
We returned to Hamilton at 3:45pm. At that time, Julie and I merely walked around town. Eventually, we had a meal in town at Gilly's Coffee Shop where the cafe had a nice fireplace. The warmth was welcome considering the brief downpour that bombarded the area.
Meanwhile, I had time to sit and again reflect over the events of today as I awaited dinner while Julie was busy internetting.
This drought really put a damper on things, I reckoned. The implication of the drought experienced here meant that South Australia (later on in the trip) would also be bone dry, and I had planned to see at least three waterfalls there. I also wasn't sure about whether waterfalls would be flowing near the Great Ocean Road as we headed that way tomorrow.
So I really felt like I wasted money on this trip as my waterfall collection wasn't really augmented and I would need to come back and redo this type of trip again to see the area in a more normal year (if it ever recovers). I probably wasn't in a very good mood this evening, but I knew there really wasn't anything I could do except to push forward. Fortunately, the day was about to end and I could sleep away my worries and begin anew tomorrow.
And like yesterday, a non-beer-drinker like me could've probably swigged a can of Victoria Bitter to drown out the bitter experience of the day…