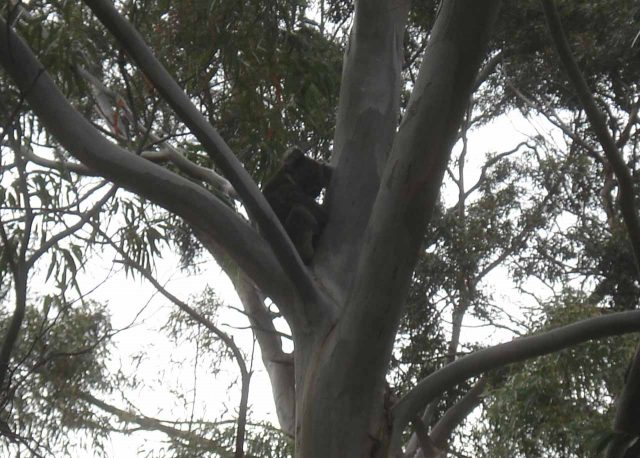 20-November 2006 to 21-November 2006:
As Julie and I were about to take our seats on the Qantas flight to Adelaide, I proceeded to put our day packs into the overhead locker when something didn't feel right when it came time to take my last piece of equipment. "Where's my camera?" I said startingly to Julie. She gasped. "Oh no! Did you leave it at the security checkpoint?" she asked. "That's quite possible." I said. So I wasted no time to squeeze my way back to the front of the plane when I was stopped by one of the flight attendants welcoming the passengers on board…
Day 1: LOST CAMERA
After yesterday's relaxing and unstructured day with family and friends on the other side of the world, today we were back to our sightseeing agenda. Only this time, we were going to fly to Adelaide and spend a couple of nights there before flying back here for a connecting flight to Tasmania.
With all our stuff packed and ready to go, we checked out of the Mercure Grand Hotel Melbourne and lugged our belongings over to the familiar QV structure. From there, we paid for parking and drove off towards the airport.
Having received some helpful directions from the receptionist, we managed to get to the airport without much hassle and without having to go through those tolled CityLink roads.
It was about 6am when we got the airport. There was some confusion about where to leave the Hertz car since there wasn't an attendant where the car hire return should be. In any case, an attendant finally showed up a few minutes later and with that, we took our belongings with us and headed to our terminal checkin.
After checking in our heavy baggage, receiving our boarding passes, and going through security, we patiently awaited our flight at one of the gates. Things went pretty smoothly and we were boarding the plane pretty much on schedule.
As Julie and I were about to take our seats on the Qantas flight to Adelaide, I proceeded to put our day packs into the overhead locker when something didn't feel right when it came time to take my last piece of equipment.
"Where's my camera?" I said startingly to Julie. She gasped and her eyes widened.
"Oh no! Did you leave it at the security checkpoint?" she asked.
"That's quite possible." I said.
So I wasted no time to squeeze my way back to the front of the plane when I was stopped by one of the flight attendants welcoming the passengers on board.
"Um where do you think you're going?" asked the flight attendant.
"I think I left my camera at the security checkpoint," said I, obviously in a hurry.
"I understand your situation, but you have to understand my situation," she replied. "If we delay this flight because of you, it will cost us millions of dollars."
"This is a two-thousand-dollar camera," said I, obviously not caring about the corporate BS I was getting. Besides, if time was so precious, she was delaying me with her run-around spiel.
Finally, she paused and then asked me, "How fast can you run?"
"Very fast," said I, obviously telling her what she wanted to hear (not that this was far from the truth).
"Go!" she said. And off I went.
So as I bolted as fast as I could back to the security screening, I immediately flagged one of the officers and told him my predicament. He dutifully went on to check through some containers and some log books. But nothing came up.
"You know it's very unlikely that someone would take the camera in these check points," he said trying to console me. Of course, my immediate thought next was that I had either left it in the rental car or in the Mercure Inn. But now that I saw I wasn't going to get the camera back right now, I had to rush back to the gate.
And barely another minute flew by when I was trying to catch my breath back at the departing gate. Unfortunately, the door was locked. There was also another late couple who apparently didn't make it either.
So now I was beginning to wonder what to do with Julie on board that flight and with me stranded at the departure gate. The plane was still there though.
Finally, an airport employee asked me what was the matter. I went on to explain to her my situation and she immediately phoned the folks inside. But it seemed like before she was done with the conversation, someone had already opened the door from the inside.
And with that, I entered the plane obviously mentally distraught. But there was nothing I could do now and pray that this expensive piece of equipment so vital to recording our experience did not get lost.
So the flight took off pretty much on time. It was a short hour-long flight and before we knew it, we were in Adelaide. We had to set our clocks a half hour back because of their funky time zones.
I wasn't particularly optimistic about viewing waterfalls on this leg of the trip especially after hearing on Triple J about the possible move of Adelaide due to the imminent drying of the Murray River basin. When we listened to the radio while in Canberra (a week earlier), the presenters were even jokingly fielding phone calls from South Australians about possible alternative sites for Adelaide.
After disembarking the plane, some of the flight attendants greeting us at the airport told me "Good luck with the camera." Apparently, news travels fast.
Once we collected our heavy baggage, we immediately used the pay phones to call Hertz. The clerk at the car hire desk said the number was toll free, but we ended up having to pay with coins anyways (lest the call not be made). So with that, Julie got someone back in the Melbourne Airport Hertz to check out the car (good thing we remembered the license plate number).
It was already a pretty warm morning when we collected our luggage and our Hertz Rental Car. We ended up getting another fuel-efficient Toyota Camry.
So off we went into the nearby city of Adelaide and by around 8:30am, we were able to check into our accommodation at the Mercure Grosvenor Hotel (unusual that we could check in so soon before 1pm). No problems getting our room here though it was kind of basic but clean.
Since I had left this today to be pretty open-ended, Julie wanted us to check out the Penfolds Winery. She told me that Nicole recommended doing one of their wine-tasting tours. Of course with the camera issue still worrying us, we made another call on the pay phone before returning to the car to drive into the Barossa Valley.
When we got in contact with the Melbourne Airport Hertz Rental Car, the person on the other side of the line informed us that they found our camera!
Obviously relieved, the conversation ended and Julie turned to me and said, "You're very lucky!"
Hey, no argument there.
It was now 11am. We thought we could go to the Penfolds Winery in Barossa Valley for a lunch as well some wine tasting. So we made the nearly hourlong drive into the brown rolling hills of the Barossa Valley.
We had expected something more of a Sonoma Valley experience back at home, but when we got to the Penfolds address, it looked rather unassuming and humble. The car park was sitting on the other side of some railroad tracks. There was a wine-making school next door, which was where we parked at first, but after talking with someone who was doing some construction work there, he was saying the Penfolds winery was next door.
Once we got to the correct place, we walked in and noticed there was no restaurant and hardly any cars. We started to get the sense that this wasn't the place we had in mind.
Then someone behind the counter asked us, "Can I help you?"
"Is this the Penfolds Estate?" asked Julie.
"Nope, this is the winery. The place you're looking for is in Adelaide."
My eyes opened up widely upon hearing this. Does this mean we drove all the way out this way for nothing?!?
Julie knew I wasn't happy and she apologized. Still, she was perplexed by the information (or lack thereof) in the literature we picked up about the Penfolds wine tasting tour. It turned out to be the Magill Estate in the outskirts of Adelaide. And that place was a five-star fine dining dinner/wine tasting experience at night. I guess we'll plan for the wine tasting tomorrow. Forget forking out triple-figures on a dinner. I've had enough of that, especially after the crappy experience at Grossi Florentino.
The guy behind the counter sensed our disappointment and asked us, "Would you like to try some wine?"
"How much does it cost?" Julie asked.
"Nothing," he said, shaking his head.
So we ended up trying a couple of wines. Not being much of wine experts, we honestly couldn't tell one from another.
And with that, we drove back to Adelaide.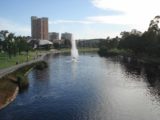 By the time it was 2pm, we were back in the city. Now we were quite hungry and we looking for something to eat. So after parking the car back in the garage of our accommodation, we walked around town. First stop was the visitor center.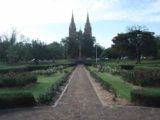 After picking up some free literature, we walked around looking for suitable dinner spots. Eventually, we realized that now it was too late for lunch. Instead, we went the other way into the mall district of the CBD and did some window shopping while munching on milk shakes and smoothies.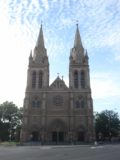 When dinner finally came around, we had some Lebanese food. Pretty standard stuff, we thought, but great service.
After the meal, we walked around towards the north side of town near the Torrens River. There was a park area as well as some memorials and an interesting-looking church. Basically just a walk in the park and just a relaxing time doing nothing on this day.
Day 2: HONEY, THAT'S A FIRE OVER THERE
We left the Mercure Grosvenor Hotel traveling light at 8:15am. The first thing we wanted to see was the Waterfall Gully. It was the first of three waterfalls I expected to visit – drought or not; flowing or not flowing.
So after navigating the city streets through the morning rush hour, we finally got to the car park for the Waterfall Gully at 8:56am. We were thrilled at seeing how this waterfall actually had decent volume! I couldn't believe it. Unfortunately when we started walking away from the car, Julie realized that she forgot the camera back at the room.
"What? Again? What's with us and forgetting cameras?" I mockingly asked her.
Anyways, back in the car we went and back to the hotel we went. Julie picked up the camera and we were back at the Waterfall Gully (again) at 10am.
Now we walked over to the lookout platform and had ourselves a look at the impressive 25m falls. The other side of the gully was closed due to flood damage that occurred in late 2005. It was hard to believe it when we juxtapose that with the drought right now.
Anyways, the falls we saw was just the first. After having our fill of the First Falls, we climbed up the track past the top of the falls towards the Second Falls. The Second Falls was considerably shorter (barely 3m, if that, I reckon) but still flowing pretty well.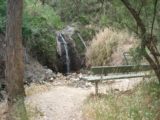 There were additional tracks that led up to Mt Lofty, which was apparently what most of the other folks on the track were doing (interestingly, all of the people we saw were female of various ages; where were the blokes?). There was also more waterfalls further upstream, but I reckoned they weren't worth the trouble.
It was 10:44am when we returned to the car. Next up was the Magill Estate. I figured we mind as well check out the wine tasting tour. It turned out to be just a few minutes from the Waterfall Gully so it didn't take long to get there.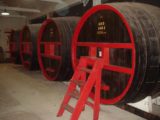 When we got there, the tour had already gotten started. Julie and I joined in late, but I don't think we really missed much. So we were basically shown around the estate and especially its underground vaults full of barrels of wine and vats where the fermentation took place. It was actually quite an informative tour and really educated us on what it took to make wine as well as the history of the Penfolds estate.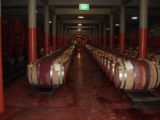 Eventually, we got to the best part – the wine tasting. We tried about 5 or 6 different kinds. Most of them were sour, but the last one (which happened to be the strongest one in terms of alcohol content) was actually very sweet and tasty. Anyhow, that was the end of the tour and we headed back to the car for our half-day trip into the Fleurieu Peninsula to see the Ingalalla Falls and Hindmarsh Falls.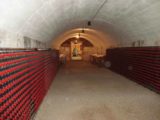 As the car started, the looming thunderclouds rolled in and we were treated to a spectacular lightning show. At first, it was just a dry storm, but then pockets of squalls started to release their moisture on the city.
It was about 12:32pm when we left Adelaide and by 2:18pm, we were in the township of Yankalilla. We decided to make a brief stop here at the visitor center for some more literature about the area. Meanwhile, Julie picked up some meat pies for a takeaway lunch. It was at this visitor center that we saw a photo of an impressive waterfall in Morialta Conservation Park, which was actually not far from the Magill Estate in Adelaide. Keeping this in mind, we continued on our drive towards the Ingalalla Falls.
The turnoff to the falls went into an unsealed road. We passed by a few farm pastures until we finally saw the signed spur for the Ingalalla Falls picnic area and car park at 2:50pm. Unfortunately, the gate was closed due to the total fire ban in the area.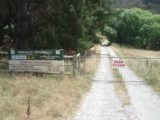 Determined not to go all the way out this way to be stopped, I parked the car near the gate and proceeded to hop the gate. Julie stayed in the car thinking these falls aren't worth the trouble.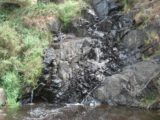 So I proceeded over to the empty picnic area which wasn't far from the gate. Then I followed a trail that eventually got to the base of the waterfall in just about 10 minutes.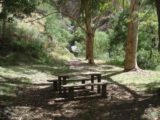 The falls was flowing but it wasn't all that impressive. The thin column of water kind of blended into the rocks so it was hard to tell in the photo whether the falls were flowing or not. Oh well, I reckoned I'd have to come back to this area on a future trip when hopefully the weather would be more normal.
At 3:03pm, I returned to the car and we headed off towards Victor Harbor and then back north towards the turnoff for Hindmarsh Falls. As we were driving the road towards Victor Harbor, we could see lots of smoke in the distance and the smell of burnt lumber in the air.
"Honey, that's a fire over there! Are you sure we can keep driving?" Julie would ask.
Well we had Triple J Radio on though I wasn't sure we'd be getting any road closure reports. Still, there wasn't much news about raging bush fires in South Australia so I kept on driving.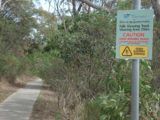 We managed to get to the Hindmarsh Falls without incident and quickly proceeded to walk to its overlook. But unfortunately, this waterfall was trickling and was basically another disappointment. Obviously, the recent thunderstorms didn't do anything for neither this waterfall nor the Ingalalla Falls earlier on.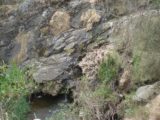 So with that we headed back to Adelaide. When we returned to the city, there was still plenty of daylight left to perhaps check out Morialta Conservation Park. The drive back to Adelaide went by pretty smoothly as we listened to some interesting HAC program on Triple J about drink driving and driving tired at night – apparently in light of some recent fatal car crash in Queensland.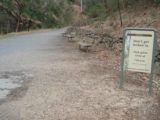 When we got to Morialta Conservation Park, there was an ominous sign that said "Don't get locked in." The gates would close at 7pm and it was 5:55pm by the time we were at the car park.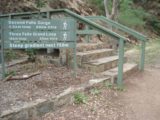 So I went out on my own first with Julie's camera and pretty much trail ran all the way to the First Falls. I had passed by some interesting caves and the stream looked like it had some water in it. But when I finally saw the waterfall, it was just wet rocks.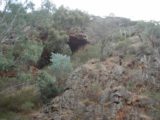 There were actually two more waterfalls, but I figured this whole Adelaide part of the trip will have to be redone at another time in the future.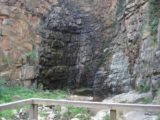 So I headed back to the car park when I saw Julie coming towards me. I told her the falls were dry and she saw no further reason to move on.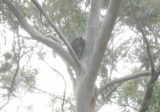 With the closure time looming over us, we walked back together. But on the way back, an Australian family going the other way noticed koalas on the trees. We started looking up where they were pointing and sure enough, there they were!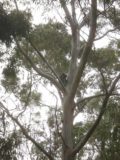 It was quite cool to see koalas in the wild as opposed to the zoo. The little guy was sleeping (apparently they spend 70% of their time asleep in a "prevent defense" strategy for survival to save energy) but in one moment it woke up wondering what all the commotion was.
It was a pity that I didn't have the SLR camera with me. I could've gotten better photos of the koala, but instead we had to settle for the limited zoom on Julie's point-and-shoot Sony Cybershot.
Finally at 6:26pm, we were back in the car. And we made it out of the park with plenty of time to spare.
After parking the car back in the garage of our accommodation, we just walked up the street to a busy Italian Restaurant called Parlamento. They had sticky date for dessert and some satisfactory linguini pescatores and pastas along with garlic bread so we figured it was enough for us. It was certainly better than forking out around 200 or more AUD per person for dinner at the Magill Estate.
And with that, we ended our short jaunt to Adelaide and its surrounds. It was time to go to bed and anticipate the start of the final leg of our trip – Tasmania. Plus, I was also anxious to get my DSLR camera back as well.
Visitor Comments:
Got something you'd like to share or say to keep the conversation going? Feel free to leave a comment below...
No users have replied to the content on this page