Day 1: NOT SO BLUE IN THE MOUNTAINS
It was about 8am when we arrived in Sydney after our red-eye flight from LAX. With this being our third trip to Australia, we knew that we had lost a day as we had crossed over the international date line. So even though our flight took off late at night on May 2nd, it was now the morning of May 4th Oz time.
It took a while before we got through passport control, then got our luggages, and then finally cleared customs. Julie and I were a little fatigued from the flight and we couldn't wait to check in, but we knew that it wasn't feasible to check in this early in the day. So after getting ourselves a little Brumby's meat pie from the airport, exchanged some money, and then got our rental car, we finally left the airport at around 10:30am.
Since we still had a lot of luggage with us, we figured that with the good weather we mind as well go drive to the Blue Mountains then return in the evening. By then, our room should be ready and we should be all checked in.
So off we went. After about 90 minutes of driving, we finally made it to the familiar Echo Point by Katoomba. However, the immediate car parks were all full so we started to drive a little further on Cliff Drive until we found some parallel parking at 12:15pm.
Julie and I took some time to get changed into some hiking gear in the car. Once I got my clothes on, I was having a little trouble with the zipper pocket on my REI hiking pants. It was stuck. Eventually, I gave it one heave to make it unstuck, but then the zipper head broke off. That really sucked because it was one of my better hiking pants. So now I had to deal with the zipper pocket a little differently (i.e. zipping and unzipping without the handle to make it easier to pull).
Not a good way to start the trip, but at least we were still sightseeing the beautiful Blue Mountains (or at least part of it) on this beautiful day.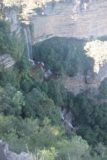 Eventually, Julie and I walked to the familiar Echo Point which was quite busy. We were busy snapping away at the nice panoramas here while also noticing the SkyWay cable car slowly making its way across the panorama by the Three Sisters.
When we had our fill of this place, we then made our way over to the Katoomba Falls kiosk at 1:10pm. From there, we quickly walked over to where there were views of the familiar Katoomba Falls, which to my surprise, was actually flowing quite well! I thought it would only flow during the Spring, but here we were during the Autumn in Australia, and we were getting our best photos of this waterfall as they were clearly way better than the rainy and foggy visit two years ago.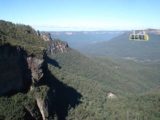 We were back in the car at 1:30pm. We didn't bother walking further down into the bush though. We figured that with this being our first day back in Oz, why push ourselves like that? So we took off from the Blue Mountains and headed back to Sydney. By 3:40pm, we were finally able to park at the Park Regis Hotel. Once again, the one-way streets were confusing, but we managed. Now we had to pay the pretty exhorbitant overnight parking fee.
The rest of the afternoon was pretty much spent napping, getting the rental car all set up for GPS tracking and navigating, and grabbing a quick bite downstairs. We wouldn't be going back to Sydney Harbour like last time though it probably would've been beautiful there on a day like today.
And so ended this half-day in Sydney. Tomorrow, we would embark on some longer traveling as the road trip from Sydney to Cairns would begin in earnest…